We test and review fitness products based on an independent, multi-point methodology. If you use our links to purchase something, we may earn a commission. Read our disclosures.
Can't get into a facility? Don't sweat it. You can build your own mini-gym or even take equipment with you on the go with these suggestions.
Since early 2020, the rush to build out home gyms continues to grow–a trend that is a silver lining to an otherwise crummy situation. The global health crisis drove many people out of commercial facilities and back into their own spaces.
Personal trainers are among the many who found themselves out of work or struggling to remotely help clients stay on track. Without equipment or a facility, what's a trainer to do?
I get it: We aren't Rockefellers, and we don't have that Gucci money. Fortunately, building out a small home gym to train clients isn't as hard or expensive as you might think. Collecting a few pieces of equipment to take with you to a client's home is even easier.
I have years of experience working alongside personal trainers, and I have even more experience testing and reviewing gym equipment. I'm here to tell you: You can still help clients reach their potential without having a formal facility. Here's how.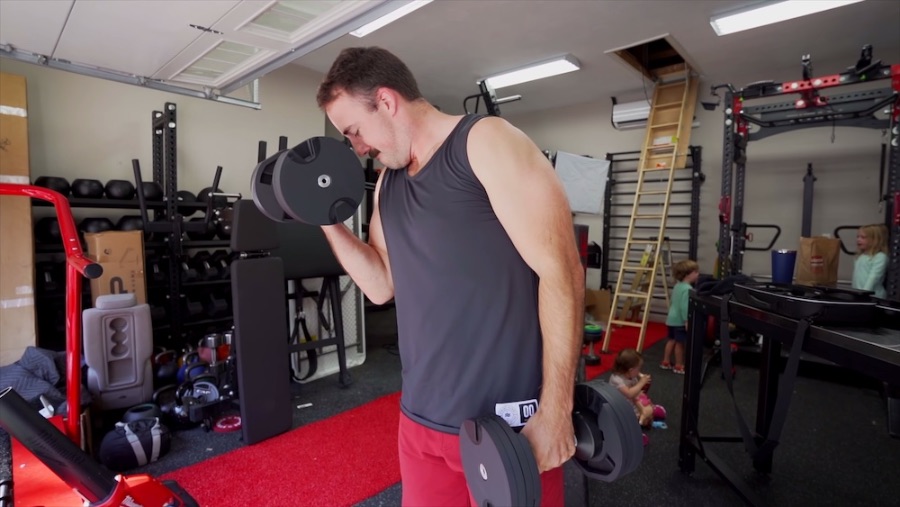 Key Considerations
Grab a pencil and paper, and start brainstorming. There are a few key factors to take into account before you start investing in equipment:
Your Clients' Fitness Goals
Write down their name and a quick summary of what they are working toward. Building strength and cardio endurance is one thing; working toward a first pull-up or 500-pound back squat is another. Different goals require different types of equipment.
Space Constraints
What kind of space are you working with? If you have a spacious three-garage with a high ceiling and a flat driveway, your options are pretty much endless, and you're also the envy of every garage gym fanatic out there. But if you just have a small space in your living room, you need to really look at the footprint of anything you're considering buying. It might not be worth it to splurge on a large treadmill and lose valuable floor space.
Budget
Itemize, itemize, itemize. Good for your taxes, good for your bank account, good idea all around.
Create a reasonable budget for yourself based on what you can afford. Don't spend $5,000 on equipment for one client who pays you $75/session once a month. Unless you DO have that Gucci money, in which case, have fun.
Best Fitness Equipment for Training Clients in Your Home
Okay, now that you know your space constraints, you know your budget and you have an idea of what kind of equipment you need, we can really get down to it.
The list below is meant for someone who might have a full garage or a dedicated room for fitness equipment; however, there are still space-saving items as well as budget-friendly ideas for any trainer, from those who have an entire house to those who are in small apartments.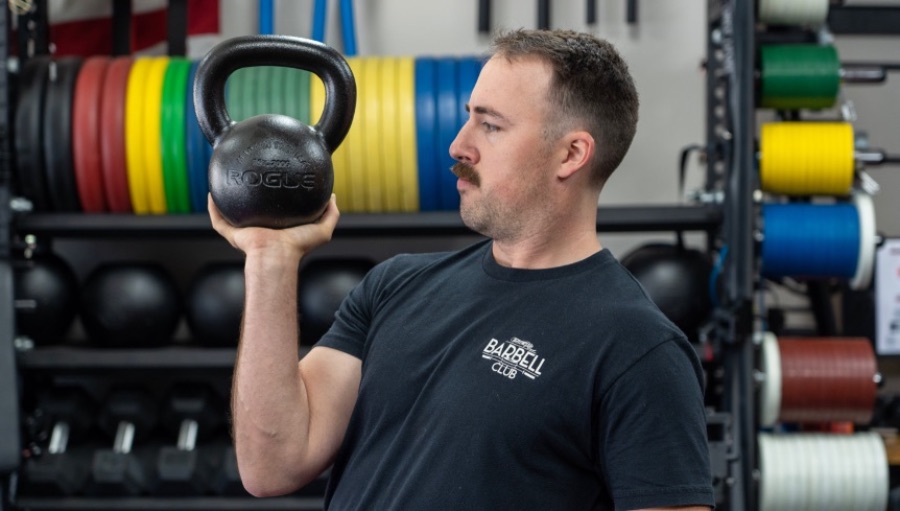 Weights
Resistance training is a crucial part of anyone's exercise regimen. However, that equipment can vary depending on needs. Here's what we like:
Kettlebells and Dumbbells
Dumbbells and kettlebells are often interchangeable, and you really can't go wrong with either one if you have to choose between the two. Price-wise, it's probably more affordable to get a pair of dumbbells as opposed to a pair of kettlebells. Space-wise, dumbbells tend to store and stack easier than kettlebells.
But, kettlebells are perhaps the most versatile piece of equipment there is. You can use them to build strength, condition, as mobility tools, for rehabilitation, stability work … the list goes on. Any personal trainer could easily incorporate them with clients of all ages and capabilities.
When it comes to dumbbells, whether you're buying a pair or a set, check out the Rogue Rubber Hex Dumbbells, which are actually some of the most affordable and reliable dumbbells out there. A full set of dumbbells can be pricey, so looking at the Bowflex SelectTech 552 Adjustable Dumbbells can save you some money as well as some space.
For training someone in your house, you don't really need the top-of-the-line, super durable kettlebells. We like the Titan Fitness Competition Kettlebells for their quality and price. If you need more than one, which you probably will if you have clients with different fitness levels, then buying an entire set is great–but it can be expensive, and it can take up a lot of room. Instead, check out the Bowflex SelectTech 840 Adjustable Kettlebell, which is essentially six kettlebells in one.

Barbells, Plates and Squat Racks
The barbell is the king of weight training equipment. Build muscle strength, size and endurance. There is such a sense of empowerment that comes with barbell lifting. The downside is that if you have a barbell, you'd want a squat rack and bumper plates, which cost more money and take up more space.
Barbell Recommendations: The Rogue Ohio Bar and the Rogue Bella Bar are great options for a multi-purpose barbell. A budget-friendly option would be the CAP OB-86B Beast Barbell on Amazon. For other ideas, I put together a list of the best barbells on the market.
Plates: Choosing the best weight plates largely depends on the style lifting your clients do. For most people, Rogue Echo Bumper Plates are going to be the way to go. They are a good value, reasonably priced and will last. If you want a more cost-effective option and don't care about having bumper plates, go for the REP Fitness Old School Iron Plates.
Squat Rack: You can certainly get away with not having a squat rack if you just do accessory work with the barbell. But, if you have people who want to lift heavy, you need a rack. If you can get away with it, it's good to have a multi-use squat rack that has a pull-up bar, like the Rogue SML-2C Squat Stand. You can squat and press, and you can also use the pull-up bar for bodyweight movements like chin-ups and ring rows.
Cardio
The simplest and definitely the most affordable solution to training cardio is to have your clients go for a run outside. But, sometimes the weather doesn't cooperate, and sometimes you want to check their form, and sometimes running just stinks.
There are a few great cardio equipment pieces we would recommend for your home:
Rower: The Concept 2 RowErg Rower is arguably one of the best rowing machines out there. Its simplicity and price make it great for training clients, and it stores really easily in your home by pushing up into a vertical position.
Bike: The Rogue Echo Bike is ideal for both interval training as well as recovery workouts and physical therapy. There are many other options for exercise bikes out there. The Echo is one of the more budget-friendly but still quality bikes, which is why I highly recommend it.
Battle Ropes: One of the more affordable options for blood-pumping fun, battle ropes are fairly easy to store and still deliver an intense workout. We like the Hyperwear Hyper Ropes specifically for personal trainers at home because you don't have to mount them or hook them up somewhere. Big bonus!
Accessories
Look, you can definitely piece together some killer workouts with bodyweight movements, weights and cardio equipment alone. However, a few accessories can help improve your clients' overall experience:
Exercise Bands
I love me some exercise bands. They are so good for warm-ups and prehab and accessory work. They are lightweight, easy to store, and–if you don't go too cheap on them–they can last. The type of band might vary depending on what your preference is for clients: I have a list of the best tube resistance bands, but I also really dig small loop bands for glute work, large loop bands for things like pull-up assistance, and large flat bands for stretches.
Bench
A weight bench is great for bench pressing, but, oh, it can do so much more! Use it as a tool for other exercises, such as hip thrusts, dips, step-ups and core work. Adjustable benches tend to be more expensive, but they do allow you to hit muscle groups differently, if that's something that is important to your clients. Otherwise, save your money and get a solid flat bench.
Plyo Box
Jump! Step up! Train those legs! A good plyo box adds another great element to personal training programs. You can go with a hard, wooden box, or opt for something like the REP Fitness 3-in-1. I like that one because it's a soft box, which a lot of people prefer anyway, but also gives you three different height options, so you can use it with various clients.
Foam Mat
Yes, you can totally have your client lie down on the hard floor or carpet. But it's probably gross and doesn't give them the best impression. Foam mats are literally everywhere. Just make sure you wipe them down after each use.
Cleaning Supplies
The last thing you want is for someone to feel like your equipment is dirty. However, if you're like most people, you're unsure of what's safe to use on your gear. I really like Simple Green. It works well, smells good and is affordable. Top: Buy the concentrate and save a little money.
Going to a Client's Home–or Elsewhere
It's one thing to build a garage gym of your own as outlined above, but it's another to have to take the gym with you. It could be that you're going to a client's home, or maybe you are doing small group training in a park.
In either case, portability is going to be key when looking at equipment that is easy to transport.
Below is what we recommend you consider as well as tips for gear that travels well.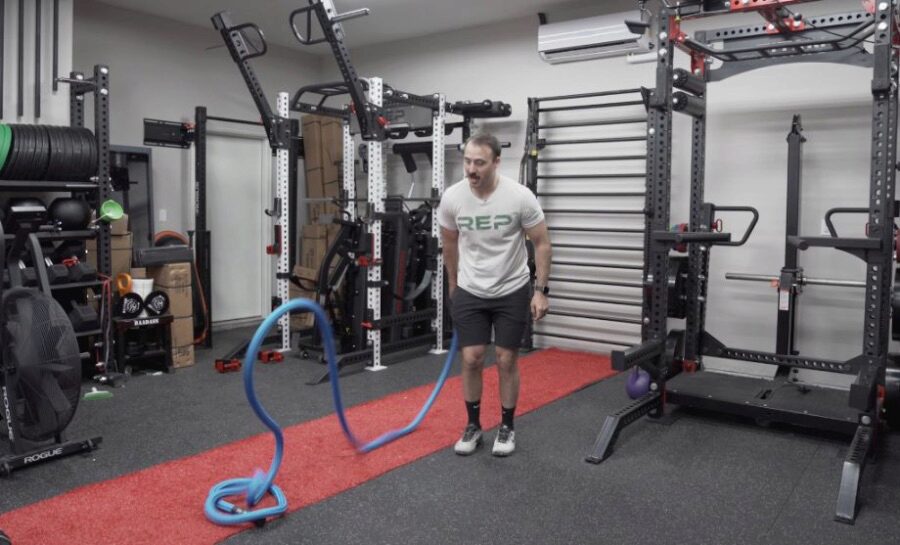 Dumbbells and Kettlebells
You can't take a whole rack of dumbbells with you, but you can take one pair of adjustable dumbbells if you need multiple weights. The same goes for kettlebells. If you have just one that you need, that's simple enough; but if you are using it in multiple ways (squats and presses, for example), an adjustable kettlebell gives you options without weighing down your car with multiple pieces of equipment.
RELATED: Best Adjustable Kettlebells
Resistance Bands
There are a lot of things you can do with resistance bands depending on the type of band you get. And these are also some of the most lightweight, easy-to-move pieces of fitness equipment in existence. Lastly, they are super affordable, so even if you leave them behind or one snaps, it's easy to replace.
Suspension Trainer
We said you might have to get creative, right? Don't sleep on suspension trainers. You can give a client an entire workout on a set of straps, or they easily integrate as complements for strength and core work. I personally really like the TRX Home Suspension Trainer because you can mount it anywhere, including on a tree or over a door. Also, it's incredibly lightweight and easily stows away in your trunk.
Coop's Final Thoughts
Lastly, there are a few small items you might want to consider having in your home or in your travel training kit, either for functionality for just for fun:
Stopwatch (yes, you can use your phone, but sometimes it's nice to leave the phone behind)
Bluetooth speaker for music
Hand sanitizer/wipes, because: germs
Honestly, it really doesn't take too much for you to get the gear you need so your clients stay on the right path. I would warn against going too cheap; I always say you can pay a little now and then a lot more later when you have to replace low-quality equipment; or you can make a smart investment from the start.
Good luck, and happy training!