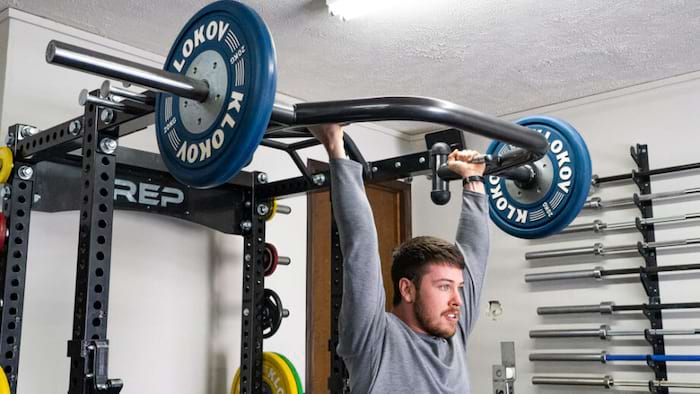 Reason #1:  The Trap Bar Has A Lot of Versatility
For the purposes of this article, when I say the word combo "Trap Bar," I'm using it as an all-encompassing word combo to refer to both the traditional style of trap bar as well as the newer open styles. You can definitely perform more activities with the open style, but the closed style still has much versatility as well.
Probably one of the greatest aspects of the trap bar is the said versatility. You could think of it as a barbell that doesn't get in the way. With a trap bar, the only contact you will usually have with the bar is only where your hands are gripping. Since no part is touching your legs at the top and bottom of the movement, this opens up your options for what you are able to do with it.
Farmer's Walks are a great exercise to do with a trap bar. Since the weight is one solid piece, you will have slightly more stability during the walk, meaning that you can increase the isometric output of your "core" muscles compared to using dumbbells or separate farmer's handles.
Other walking or stepping type motions include Trap Bar Lunges, step-ups, Farmer's medleys, etc.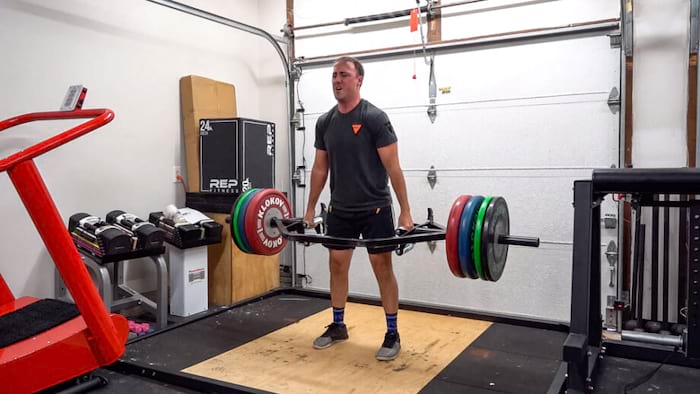 Some great lower-body stationary movements you are open to doing with a trap bar include seated deadlifts, normal deadlifts, RDL's, "Dead-Squat" deadlifts (more on this later) etc. Since your knees have nothing preventing them from moving forward as they would with a straight bar, you have more variability to choose from during these deadlift movements. You can perform a normal deadlift (with pretty close to the same body positioning as your would with a barbell).  Keep note though that during a straight bar deadlift, the bar is against your legs at the top which aids in trunk stability and prevents excessive movement in your lower vertebrae. With the trap bar, no part of the bar is touching your legs at the top, so more mindfulness is required to prevent excess/unwanted spinal movement at the top. 
Nowadays many trap bars are made to be rackable, so you can even perform rack pulls, reverse band deadlift movements, etc., as well. Also with the rackable (specifically open style) trap bars, you can even perform Giant Cambered Bar Style Squats!
Several cool upper-body trap bar options include Neutral Grip Presses (these can be very cool, but the lack of stability at the top/bottom of the movement will be a problem for many lifters joint wise), bent-over rows, and of coarse "Trap" work.
Trap bars are wonderful for shrugs! The muscular attachments of the trapezius muscle dictate that you are meant to "shrug" towards the back of your head (not your ears, as you see many fitness influencers do). What is cool about the trap bar is that since it aligns your arms at a slight angle away from your body, this will more directly align with the pull of a majority of the diagonal trap muscle fibers. This means the upper trap muscle fibers are in optimal position to directly fight the resistance (provided by the trap bar, weights you put on said trap bar, and gravity).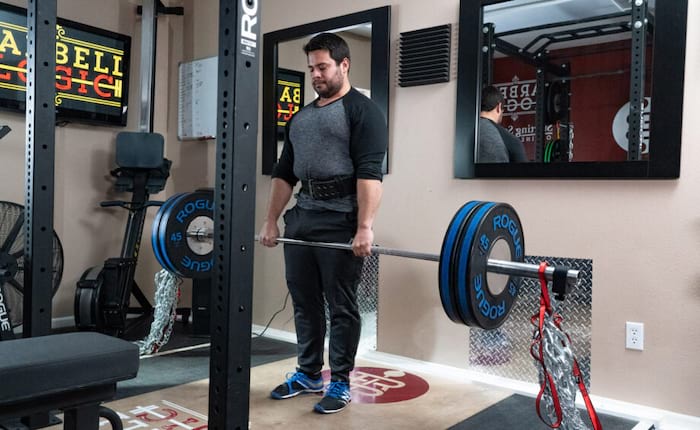 With a straight bar during shrugs, you are required to have more internal or external motion at the shoulder, which can be a problem for many lifters (even if they choose to grab wider). A trap bar works better since it will put most people in a better position away from both end range internal or external rotation at the shoulder (many call this position "neutral"). 
With heavy dumbbells during a shrug movement, your arms will end up hugging your sides - which will restrict the shrugging motion (unless you all your elbows to bend). Trap bars don't have this problem - your arms will stay angled out away from your sides regardless of how heavy you go. 
Even if you decide to never "deadlift" with a trap bar, the versatility of the other movements you can perform with it will cause most lifters to want to buy one!
Reason #2:  The Trap Bar Can Be Used for Deadlift and Deadlift-Type Movements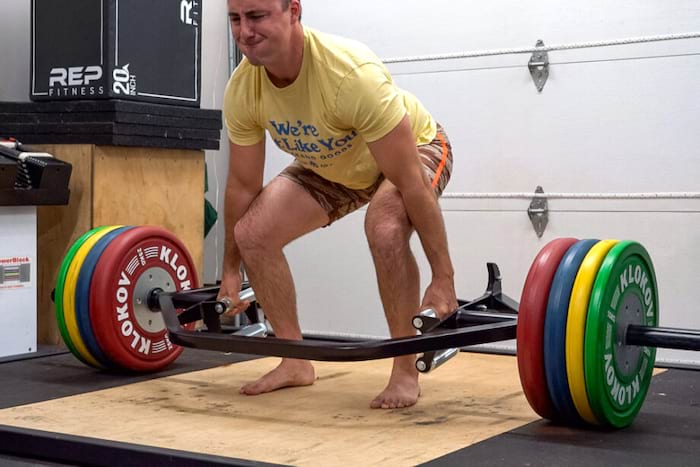 As stated earlier, the trap bar allows you to perform a multitude of deadlift type movements. In all honesty, the only deadliftish movement that you can't perform with a trap bar is sumo (but that isn't too big a deal for most lifters). 
In regards to deadlifting with a trap bar and knee positioning, you have more options with where to hold them. There is no straight preventing your shins from sliding forward, so you can either be more "quarter-squatty" or utilize a more "straight-bar deadlift" position when performing a trap bar deadlift. 
For a "quarter-squatty," "heavypantspull" (coined by Starting Strength/Barbell Logic coach Dr. Jonathan Sullivan), "dead-squat" style of trap bar deadlift, you are able to utilize your quads more at the bottom of the pull and maintain a much more vertical back angle. This makes the lift resemble more a squat than a deadlift, even though the bar is in your hands. This can be helpful for some lifters psyche if they just want the feeling of having heavy weight in their hands while performing a lift that many would consider a deadlift (since your pulling it from the floor). 
Depending on perspective and goal of the exercise, a "quarter-squatty" deadlift is not necessarily a "good" choice for an exercise, but some people like loading up and lifting heavy things regardless of whatever it is they want to specifically strengthen internally. Think of the"Car Deadlift" as you see in many strongman competitions. You don't perform a car deadlift for health reasons. You perform it to say that you can "Deadlift a car!" And since a trap bar can somewhat mimic that, that's the reason many will choose to do it.
Another aspect of the knees forward/more vertical back style of the trap bar deadlift is that for many, this will make something that "looks" like a barbell deadlift much easier to learn. This can be a great thing, especially for elderly people, who want to be able in the simplest sense to gain confidence in their ability to dead lift a weight off the ground. A barbell deadlift can be harder for many to learn, and the trap bar many just be what they need to give them some confidence.
 A more skilled lifter may choose to disregard the knees forward trap bar style of deadlift and go with something that more closely resembles the body positioning they would have if they were using a straight bar (this will be a more hip-dominant style of pull). This can be a strategic option for a seasoned lifter. 
In a proper straight bar deadlift, the bar will be positioned over the middle of your foot from heel-to-toe with the bar maintaining contact with your shins. The barbell has to stay in front of your legs with minimal forward knee travel, "butt back" positioning to maintain adequate hip dominance, and set spinal extension. Using a trap bar to mimic a proper straight bar deadlift, an invisible line connecting the middle of your grip (your middle fingers) can be drawn and it too will be positioned over the middle of your foot from heel-to-toe. The invisible line will also maintain contact with your shins at the bottom.
So far, everything seems to be about the same for both straight bar and trap bar. With the trap bar, you won't have to worry about the bar scraping your shins. Also, since you will be in a neutral grip, this will take stress off many lifters shoulders (and perhaps biceps, depending on the trap bars width). 
At the top of the movement there are some important things to note, however. With a straight barbell at the deadlift lockout, the barbell is against your things in a very stable position. With the trap bar at the top of the lift, the imaginary line going through both of your middle fingers will be centered inside of your thigh (not in front and against it as with the straight barbell). This means there is a slight moment arm change specific to your hip, knee, spine, shoulder, scapular joints and integrative relationships at the top (a moment arm change means that there is also a change in the resistance specific to each joint involved).
Also, since the trap bar is floating at the top, there is less stability for the muscles around your trunk, which means you must be more mindful to prevent excessive movement at the top so as not to tweak anything low back related. 
I say this because even if you try to mimic as much as possible your trap bar deadlift form to a proper straight bar deadlift form, both lifts will still have slight yet important differences, essentially making them two different styles of deadlifts when all variables are taken into consideration (shoulder/scapular relationships, low handle/high handle, etc.).
Reason #3: The Trap Bar Takes Stress Off the Biceps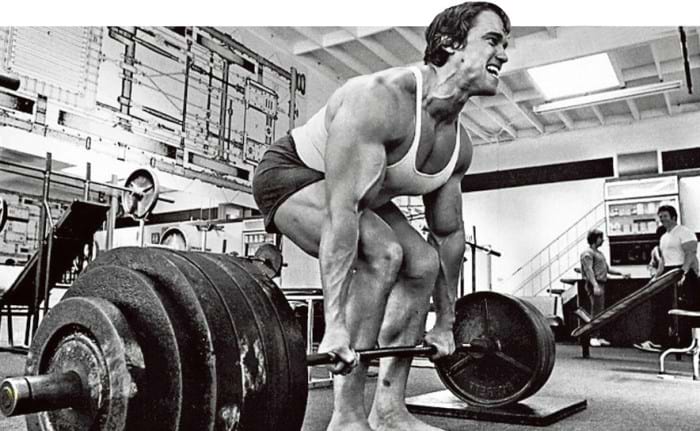 For many lifters with specific joint issues in the shoulder/scapular region, a trap bar can be a good choice since it will put the region of the body stated in more neutral positioning. Many lifters can better tolerate deadlifts if their shoulders are given some slack in regards to extreme ends of external and internal rotation ranges.
Also, the neutral positioning of the trap bar can be a big plus grip wise. Many lifters will use what is called a mixed grip (one hand over/ one hand under) with a straight bar when they get heavy enough. This can sometimes be a problem since the hand you grab under with changes the length of your lat muscle relative to the other side, which in term will change the tension of the lat muscle overall. Since your lat muscle connects to the low back area at the thoracolumbar fascia, the tension pulling on your low back on this side will be slightly different than on the other, which may not be good for some people.
The neutral grip position of the trap bar doesn't have this problem to deal with (as long as you grab evenly). Also, the main reason lifters used a mixed grip with a straight bar is solely so they can use more weight. The neutral grip of the trap bar is a strong position to be in grip wise (similar to mixed grip), so more weight is likewise easier to manage.
To reiterate, the neutral grip of the trap bar allows you to manage more weight grip wise, allows symmetrical tension in the low back region, and feels much more comfortable for many lifters with shoulder/scapula issues.
Reason #4: The Trap Bar Provides A Different Stimulus Than A Barbell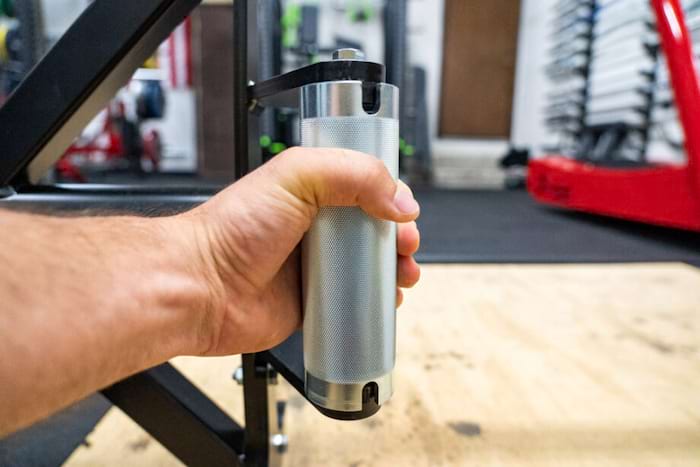 Similar to points made above, a trap bar deadlift is different than a straight bar deadlift, even when you are trying to mimic the physics as much as possible. And for many people, this is more than fine. "Life" isn't always practiced with a barbell, so having the option in your gym to lift with something fun, new, and different like a trap bar can be a good thing for you. Practicing with the instability the trap bar provides at the top of a deadlift motion can be a novel experience and slight skill you may wish to cope with. It may even cause some lifters to be more mindful of what is going on with the trunk musculature when they switch back to pulling with a straight bar.
This may be just the stimulus someone needs to better learn how to control the inertial effects of the trap bar mass itself - to be more mindful at the top and not allow your acceleration of the trap bar to cause rotational momentum that could potentially move your spine and low back stuff in positions/alignments that the joints may not be able to tolerate.