We test and review fitness products based on an independent, multi-point methodology. If you use our links to purchase something, we may earn a commission. Read our disclosures.
Between counting carbs, tracking blood sugar, managing body weight, and taking medications, it's safe to say a lot goes into managing diabetes. That's why we've narrowed down the best diabetic meal delivery services to help make the daily process a little easier.
A diabetic meal service should offer a variety of carb-conscious meals that are satisfying and easy to prepare. Our GGR team, which includes nutrition experts and certified personal trainers, has tested over 40 of the best meal delivery services to find the best options that fit the unique dietary needs of those with diabetes.
RELATED: Best Low-Carb Meal Delivery
We've included honest feedback regarding each of the following topics so you can get a feel for each service.
Cost: How much does each meal cost?
Ease of preparation: Can it be prepared quickly? Does it require a lot of cooking utensils?
Ingredient quality: Are high-quality, organic ingredients used? Are the ingredients fresh?
Variety: Do the meal options appeal to a diverse range of dietary preferences?
Taste: Are the meals appetizing? Do they require extra seasoning?
As a registered dietitian, I've also included my insights regarding ingredients and nutrient content for each meal service throughout this article. Because everyone's dietary needs with diabetes are different, consult with your healthcare provider or registered dietitian to ensure the meal service you choose is a good fit.
Medical disclaimer: This article is intended for educational and informational purposes only. It is not intended as a substitute for medical advice. For health advice, contact a licensed healthcare provider.
10 Best Diabetic Meal Delivery Services
Best Diabetic Meal Delivery Overall: BistroMD
Good for: Anyone looking for a variety of medically-tailored meals for diabetes, pre diabetes, and other health conditions.
BistroMD offers doctor-designed, chef-prepared meals that support diabetes, weight loss, and heart health. Their diabetic-friendly program is designed for those with diabetes and prediabetes to help control carbs and lose weight.
BistroMD diabetic-friendly meals include an impressive 30 grams of protein and 5 grams of fiber per meal on average. They are carb-controlled, with only 25 grams or less of net carbs per entree. Net carbs are the number of carbs in a meal excluding fiber since fiber is indigestible and passes through the body mostly intact. Studies show1 that fiber can also help promote regular bowel movements, reduce cholesterol, and maintain healthy blood sugar levels.
Lauren Strong, GGR staff writer and certified personal trainer (CPT) thought the portions were too small and rated them a 3.5 out of 5. "This is the drawback to this meal service. Most meals are under 400 calories, with most being in the mid-300s for calories. I just don't think that's enough for active folks."
As BistroMD meals are designed for weight loss, they are lower in calories and should be consumed with healthy snacks in between; otherwise, you wouldn't consume enough energy to support a healthy metabolism. Consider working with one of their registered dietitian nutritionists—available for consultations via email—to determine how many calories you should aim to eat each day.
There are 32 breakfast options and 39 lunch/dinner options on the diabetic-friendly plan at the time of writing, giving you plenty of diverse choices. Lauren says, "I thought there were tons of options. Lots of homestyle meals in addition to very healthy looking options and everything in between." She rated meal variety a solid 5 out of 5.
BistroMD ingredients are sourced from local, family-owned farms as often as possible. The company makes meals using environmentally responsible seafood, beef free of genetically-engineered hormones, and hormone-free chickens. Many, but not all, of their ingredients are certified organic, so Lauren gave BistroMD a 4 out of 5 in the ingredient quality category.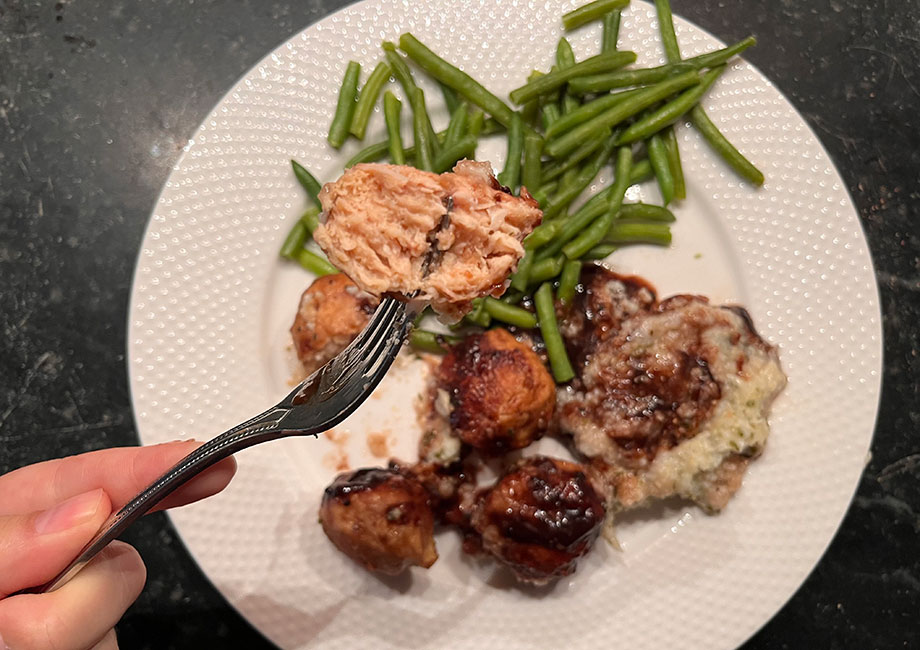 Regarding taste, Lauren says, "Pretty darn good for these being both health-conscious and frozen. I liked the Chicken Florentine Cannelloni the best so far and the Sloppy Joe with Cabbage Slaw was my least favorite." Overall, she was pleased with the flavor of most of the meals she tried and gave this category a 4 out of 5.
| | |
| --- | --- |
| Price per serving | $8.99-$14.99 |
| Type (meal kit or prepared) | Prepared meal |
| Meals per week | 10-20 |
| Delivery area | Nationwide except Hawaii and Alaska |
| Meals we tried | Sloppy Joe with Cabbage Slaw, Turkey Breast with Cranberry Apple Chutney, Merlot Meatballs with Grits, Chicken Florentine Cannelloni |
Best Diabetic Meal Delivery for Weight Loss: Diet-to-Go
Good for: Individuals with diabetes who want to improve their condition by eating healthy meals that support weight loss.
Diet-to-Go aims to simplify diabetes management and weight loss by delivering carb-conscious, high-protein meals to your doorstep. Their ready-made meals make eating healthier easy by eliminating meal prepping and cleanup.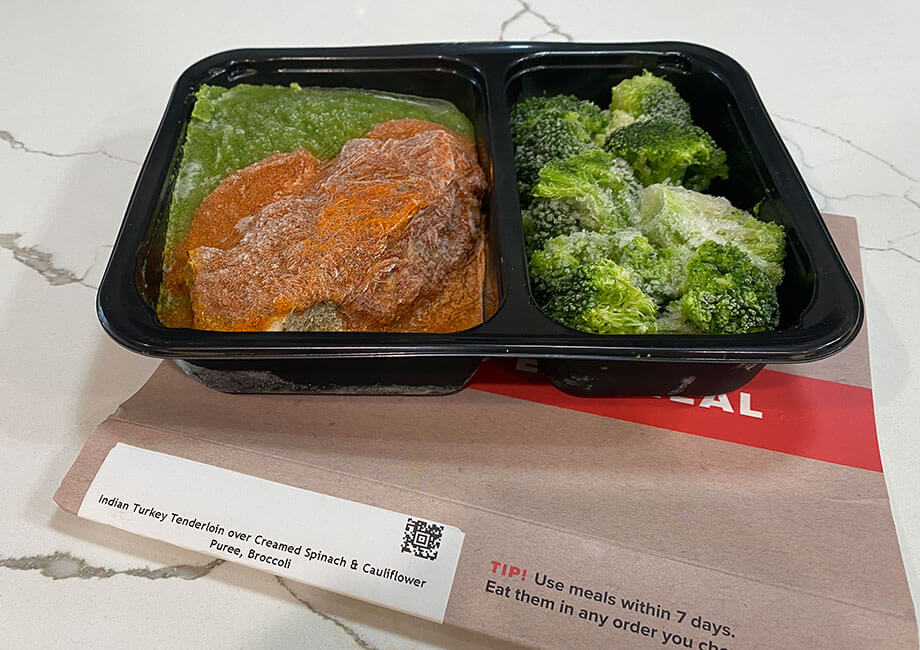 Being overweight or obese is linked to insulin resistance2, when the body does not respond effectively to insulin. Insulin is the hormone that allows sugar in the blood into cells to be converted to energy. Insulin resistance leads to higher blood sugar, but weight loss in those with type 2 diabetes can attenuate insulin resistance3.
The Balance-Diabetes plan is tailored for those with prediabetes and type 2 diabetes who are trying to lose weight and control their blood sugar. These meals contain more than 15 grams of protein, which helps slow the absorption of glucose4 (sugar) into the bloodstream and prevent spikes in blood sugar.
Meals contain no more than 45 grams of total carbs and contain between 300 and 500 calories each. Meals are lower in calories to help you maintain a caloric deficit for weight loss. However, you'll want to eat high-protein snacks between meals to help control blood sugar and ensure you're getting enough energy throughout the day.
RELATED: How to Get More Protein
Lindsay Scheele, GGR lead tester, rates variety at a high score of 5 out of 5. "Lots of variety! They have Italian flavored dishes, Indian dishes, keto, vegetarian, balanced, etc."
Meals are delivered frozen and require minimal preparation, so Lindsay gives this a 3.5 out of 5 and says, "Super easy, but will need to plan ahead. All of their meals need to be thawed before you heat them up, either in the microwave or the oven." However, cleanup is a breeze because you don't need to worry about a sink full of dishes.
The taste of the meals was a bit unpredictable. Lindsay says, "Man this was super hit or miss, some meals were amazing and perfectly seasoned, others were really bland and fell short." She rated taste at a 3 out of 5.
RELATED: Best Meal Delivery for Weight Loss
| | |
| --- | --- |
| Price per serving | $7.77-$11.12 |
| Type (meal kit or prepared) | Prepared |
| Meals per week | 10-21 |
| Delivery area | Nationwide except Hawaii and Alaska |
| Meals we tried | Chicken with Cauliflower Purée; Mushroom and Vegetable Ravioli; Pork Tenderloin with Indian Seasonings; Burger Patty with Green Beans |
Best for Prepared Meals: Trifecta
Good for: Individuals who are tired of spending hours in the kitchen prepping carb-conscious meals.
Trifecta provides ready-prepared meals designed to help improve physical performance and energy levels. While the company doesn't have a meal plan designated for diabetes management, the clean meal plan may help those with high blood sugar lose weight and obtain better glucose control.
RELATED: Prepared Meal Delivery
Kate Meier, NASM-CPT, USAW-L1, CF-L1, and GGR Head of Content, acknowledged the wide range of meal choices, rating variety at a 5 out of 5. "I really like the convenience and the macro-targeting Trifecta offers. There is a big selection of meals to choose from, so I didn't have any issues finding something I thought I would like."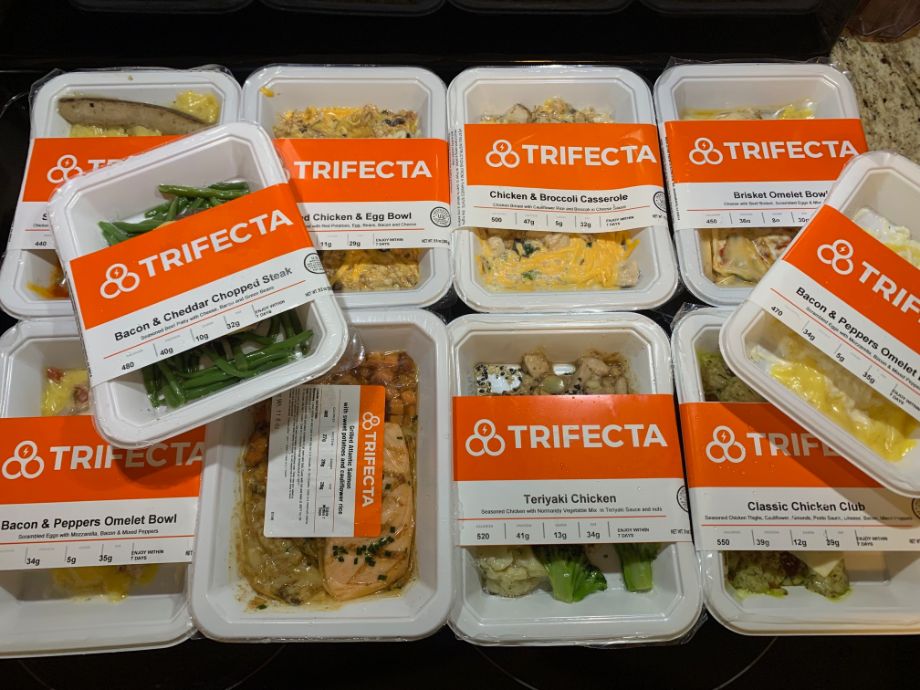 Trifecta's macro-balanced meals include protein, carbs, and healthy fats. Meals contain around 45 grams of total carbs and 29 grams of protein. Many people with diabetes aim to eat between 30-60 grams of carbs per meal; however, this varies based on activity level, gender, and body weight. A registered dietitian can help you determine how many carbs to consume per meal.
Meals only contain 350 to 500 calories, which may leave active individuals like Kate wanting a snack soon after. "I felt like the meals were a little on the small side. I was always hungry afterward."
Kate rated sustainable packaging a 3 out of 5, saying, "I feel like the box and ice packs produce a lot of waste. The boxes are large, the insolation is pretty significant in the box, and the ice packs are large. It produces a lot of garbage after delivery."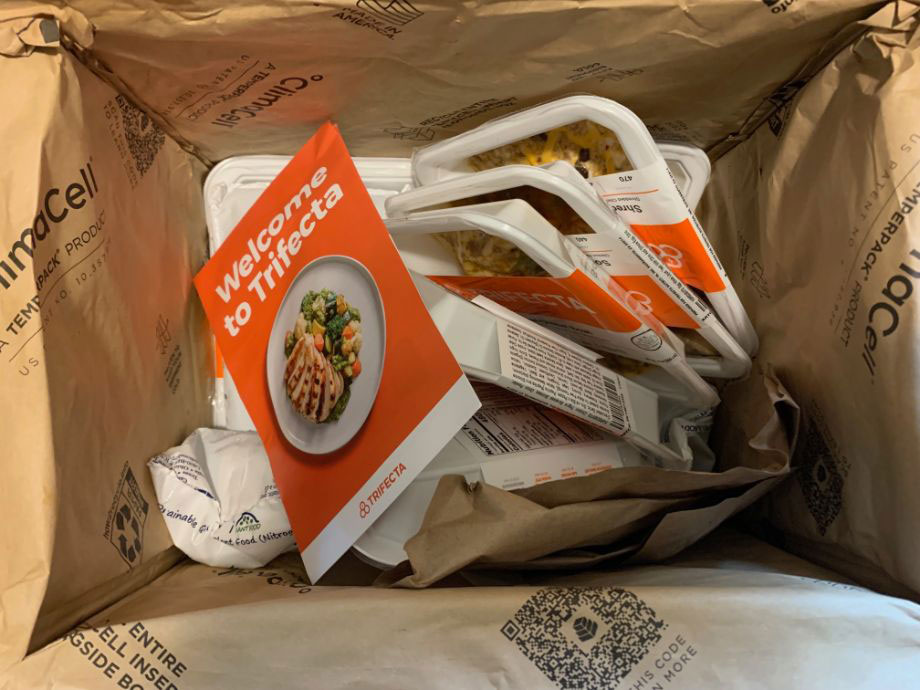 Trifecta meals are incredibly easy to prepare. Kate rates ease of preparation at 5 out of 5. "It is recommended that you use a skillet or a pan to heat the meals to have the best taste. I just put them in the microwave, and they came out fine. Probably better in the skillet, but I didn't want to dirty the pan," she says. When finished, Kate simply tossed out the meal tray and cleaned her fork.
Ultimately, meals got a thumbs up from Kate regarding taste, which she rated at a 4 out of 5. "I tried multiple egg scrambles, a salmon meal, a chicken and broccoli casserole—and I really liked the taste of all of them. I do think these are great for quick, healthy options."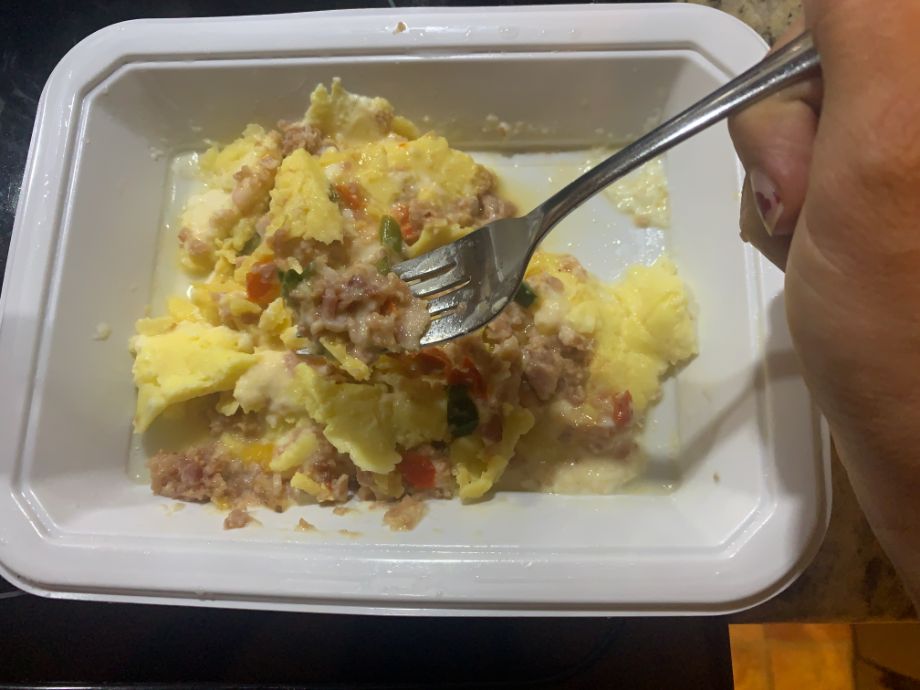 For more, read our in-depth review of Trifecta Meal Delivery
| | |
| --- | --- |
| Price per serving | $14.81-$15.49 |
| Type (meal kit or prepared) | Prepared |
| Meals per week | 5-14 |
| Delivery area | Nationwide |
| Meals we tried | Egg Scrambles, Teriyaki Chicken, Bacon and Cheddar Chopped Steak, Chicken and Broccoli Casserole |
Best Budget-Friendly Diabetic Meal Delivery: Hungryroot
Good for: Individuals wanting a one-stop shop for groceries and meal kits that won't break the bank.
With Hungryroot, you can order both affordable meals and groceries at the same time. Although Hungryroot doesn't offer a low-carb or diabetic meal plan option, they have an extensive list of meals suitable for those trying to manage their blood sugar and improve their health.
The nutrition information for each meal is clearly visible on the website, so you can choose entrees that fit your specific dietary needs. Plenty of options contain minimal added sugar and are lower in carbohydrates, which may fit into a diabetes-friendly meal plan. Unfortunately, these specific filters aren't available, so you'll need to click through meals to find what you're looking for.
Kate Meier, NASM-CPT, USAW-L1, CF-L1, and GGR Head of Content, rates meal variety a 5 out of 5, and says, "You essentially grocery/meal shop every week and pick things you like." Your options include grain bowls, tacos, stir-fries, salads, wraps, sandwiches, and more.
That said, the ordering process was a little puzzling and was therefore rated a 3 out of 5. Kate says, "It's honestly a little confusing—I feel like I need to [look over] the order to understand what's happening and how many meals I'm actually getting because it looks like I'm getting four recipes and then a bunch of groceries."
For those hoping to reduce time spent prepping and cooking in the kitchen, some meals can be made in as little as 10 minutes. Kate rated ease of preparation a 4 out of 5, adding, "I used a skillet and a pan for most meals; I didn't have to chop anything. Love that."
Hungryroot meals don't disappoint in the taste arena. Kate gives these meals a 5 out of 5, "Everything is so fresh, and you don't need to do any seasoning because most foods are prepared already for you with spices." A convenient meal service AND flavorful meals? Yes, please.
There's a minimum fee of $65 per box, much less than most other services charging $80 or more per order. Because you're ordering groceries and meals, there's a good chance you could save a little money on food by ordering from Hungryroot, so Kate rated the cost at a 4 out of 5.
| | |
| --- | --- |
| Price per serving | Minimum $65 per box |
| Type (meal kit or prepared) | Meal Kit and groceries |
| Meals per week | 3-8 |
| Delivery area | Nationwide except for Alaska and Hawaii |
| Meals we tried | Seared Chicken Breast and Corn Black Bean Rice Bowl, Everything Chicken Quesadillas, All-in-One Chicken Burrito Bowl, Turkey Meatloaf, Sweet Kale Salad |
Best Plant-Based Diabetic Meal Delivery: Splendid Spoon
Good for: Anyone looking for a variety of smoothies, meals, and soups full of antioxidant-rich micronutrients.
Splendid Spoon delivers 100% plant-based meals suitable for vegans, vegetarians, and flexitarians. Their meals are packed with fruits and vegetables loaded with antioxidants that reduce inflammation5 and may help lower your risk of chronic diseases6, such as diabetes.
Splendid Spoon allows you to filter out meal options that are low-sugar and blood sugar friendly. However, look at the nutrition information of the other meals, too, because many of them would likely fit into a diabetic meal plan.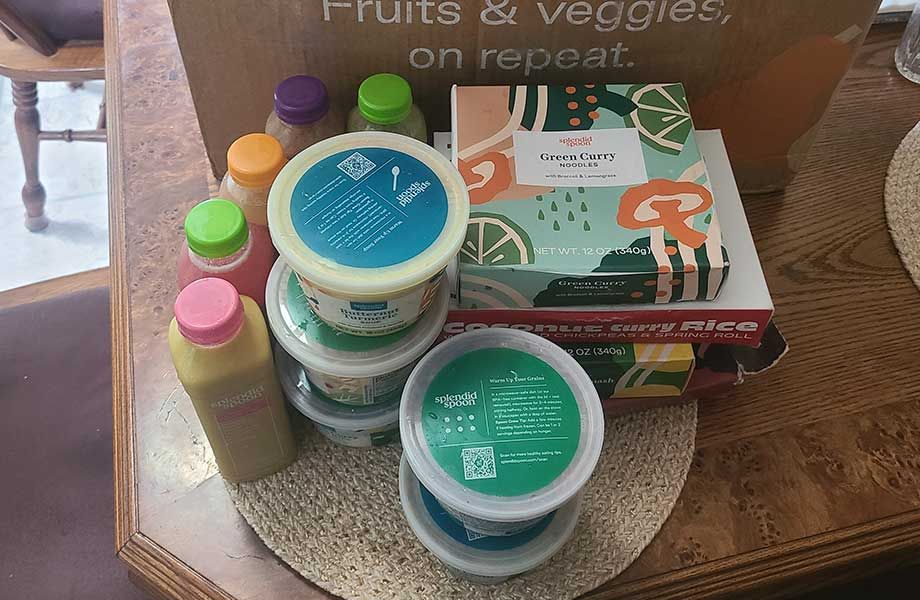 Frieda Johnson, GGR Editor and expert tester, says, "They do a good job of listing out all the ingredients, nutritional info, and potential allergens or other food restrictions. You can filter meals by dietary needs like lower sodium or lower carb, as well as by avoidances like tree nuts or soy." She rated access to nutritional information a 5 out of 5.
The food arrived a bit unorganized, so Frieda rated packaging and shipping a 3 out of 5. "Everything was jumbled together in the box; soup containers upside-down, cardboard sleeves on the TV dinner-style meals soaked and falling apart," she says.
Many Splendid Spoon soups and smoothies are less than 300 calories and don't provide enough energy to be considered a sufficient meal. So, consider pairing them with other high-protein foods. Frieda gives portion size a 3 out of 5 and says, "The smoothies did not seem very satisfying to me, but the rest of the food has all been a good amount for lunch. I think it would probably feel a little sparse for dinner, though."
Frieda wasn't overwhelmed by the taste of the smoothies but enjoyed the other meals she ordered, rating the taste a 3 out of 5. "The food is surprisingly good! The smoothies are hit-and-miss, though—the only one I've actually liked so far is the strawberry chocolate. The rest have been disappointing. But the food has all been really good, especially for gluten-free, vegan frozen meals." She'd tried other frozen meals before she wasn't impressed with, but these were much better comparatively.
For more, check out our in-depth Splendid Spoon reviews.
| | |
| --- | --- |
| Price per serving | $6.70-$10.99 |
| Type (meal kit or prepared) | Prepared |
| Meals per week | 7, 14, or 21 |
| Delivery area | Nationwide except Hawaii and Alaska |
| Meals we tried | Strawberry Chocolate Smoothie |
Best Organic Diabetic Meal Delivery: Green Chef
Good for: Anyone wanting a certified organic meal service with vegan and Mediterranean meal options.
Green Chef is a USDA-certified organic meal delivery service. Meaning their ingredients are grown without synthetic pesticides and other potentially harmful chemicals. They offer several meal plans that may suit the dietary needs of those with diabetes, including their Mediterranean, plant-based, calorie-smart, and protein-packed plans.
A 2020 study published in Nutrients7 shows that vegan and Mediterranean diets can help reduce A1C in those with diabetes. A1C measures your average blood sugar over three months and is used as an indicator to determine how well your condition is being managed.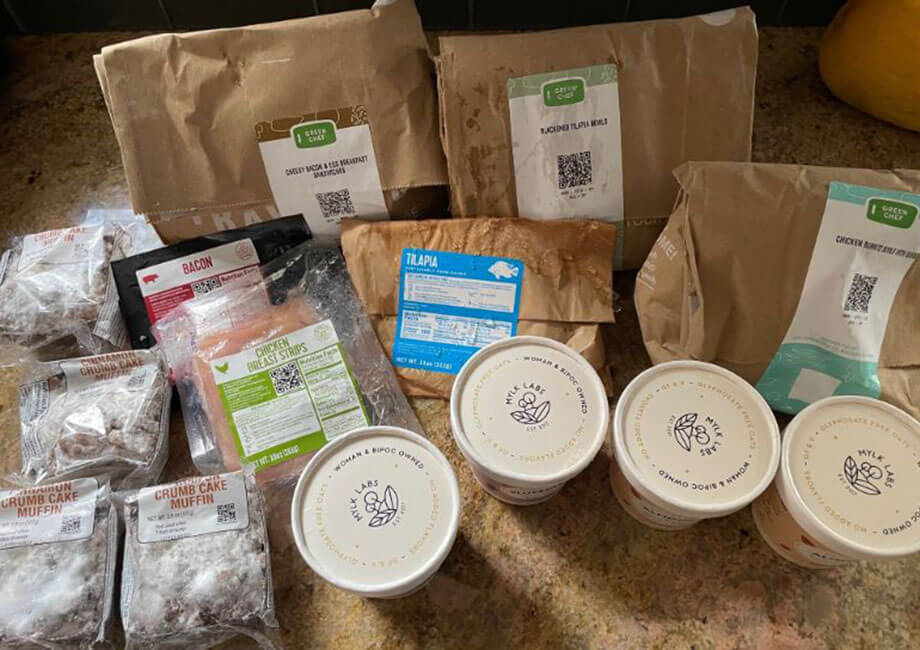 In addition to using organic ingredients, other sustainability efforts implemented by Green Chef include sending pre-measured ingredients to reduce food waste and using eco-friendly packaging. Certified nutrition coach, personal trainer, and GGR Senior Editor Nicole Davis rated sustainability efforts at a 5 out of 5.
Nicole rated the taste of the meals at a 4.5 out of 5. "The Monterey Jack cheese-smothered chicken with mushrooms and squash was delicious. So were the chicken burrito bowls." She tried a couple of breakfast options as well and says, "Oatmeals were just fine—good options to eat quickly in the morning. Muffins were good—my kids liked them a lot."
These meals took around 30 minutes to cook and did include a fair amount of pots and pans. Considering the time and cleanup required, Nicole gives ease of preparation a 3 out of 5. She also wasn't as enthused by the amount per meal. "I'm not impressed with the portion size—this is the only service I tried in which I felt this way." Those who are active may find thee meals aren't large enough to support their increased energy needs.
For more, read our in-depth Green Chef Reviews.
| | |
| --- | --- |
| Price per serving | $11.99-$13.49 per meal |
| Type (meal kit or prepared) | Meal kit |
| Meals per week | 3-4 |
| Delivery area | Nationwide except for Alaska and Hawaii |
| Meals we tried | Monterey Jack cheese-smothered chicken, French toast, Southwest Pork Tenderloin |
Best Gluten-Free Diabetic Meal Delivery: Snap Kitchen
Good for: Anyone looking for pre-made, gluten-free meals with the option to choose your own carb, calorie, and protein amount preferences.
Snap Kitchen delivers pre-made, gluten-free meals convenient for busy individuals wanting to improve their diet without the hassle of shopping and cooking. While the service doesn't offer specific meal plans, you can filter out meals based on the amount of carbs, protein, and calories you'd like.
RELATED: Best Gluten-Free Meal Delivery
Many Snap Kitchen meals could be appropriate for those with diabetes. Several options include complex carbohydrates, like brown rice and quinoa, which provide longer-lasting energy than refined carbs. Complex carbohydrates are typically higher in fiber, which slows increases in blood sugar8 following a meal.
If you have diabetes, you're more likely to also have heart disease. Most Snap Kitchen meals include lean proteins like chicken, which is low in saturated fat and cholesterol and better for heart health.
You could run out of options quickly if you order weekly. Brittany Combs, GGR Social Media Manager and expert tester, says, "There are 32 meals to choose from. There's only 3 breakfast options, which isn't awesome. Their website says they update their menu every 6-8 weeks." Because the menu is static for several weeks, we rated variety at a 3.5 out of 5.
Unlike some other meal services with tiny portion sizes, Snap Kitchen meals provide enough food. "I was impressed with the amount of food that comes in each container. My husband also felt satisfied after he ate. I never felt like "Oh my gosh I'm so full!" but I also didn't feel like I needed to eat more after either," says Brittany, who rated portions at a 5 out of 5.
The taste of these meals didn't disappoint, and Brittany rated this at a 4 out of 5. "Overall I really liked the flavor of the meals. They include different sauces in them that I really liked, though the ranch was almost kind of pickley, which was a bit odd. My favorite was the buffalo burger with roasted cauliflower, the Korean BBQ meatballs, and the Bison quinoa bowl." Her husband enjoyed the meals too, but with a little extra hot sauce.
| | |
| --- | --- |
| Price per serving | $11.92-$14.67 |
| Type (meal kit or prepared) | Prepared |
| Meals per week | 6 or 12 |
| Delivery area | Unspecified, they do not deliver to all states, you must enter your zip code to see if you are in a delivery zone |
| Meals we tried | Buffalo burger with roasted cauliflower, Korean BBQ meatballs, Bison quinoa bowl |
Best Diabetic Meal Delivery for Seniors: Magic Kitchen
Good for: Seniors looking for medically-tailored, ready-made meals that don't require cooking or cleaning dishes.
Magic Kitchen delivers ready-made, medically-tailored meals for different health conditions, including diabetes and kidney disease. Additionally, they offer meals just for seniors, with balanced nutrition and easy preparation. Many of the senior meals are also low-sodium and diabetes-friendly.
Our meal tester, Stephanie Lehner, rates the variety of meals at a 5 out of 5 and says, "They have a nice variety of foods available on their website, so you should be able to order different options each week and not get bored of eating the same meals consistently."
You can choose as many individual meals as you'd like or pick a package that includes 8 or 15 lunches/dinners.
The diabetes-friendly meals contain no more than 65 grams of carbs; however, most only have between 20 and 45 grams. They are also low in sodium, with most meals containing less than 500 milligrams per meal. The American Diabetes Association9 recommends consuming less than 2300 milligrams of sodium daily.
It becomes more challenging to prep and cook healthy meals as we age. With Snap Kitchen, you simply pop the pre-made meals in the oven or microwave. Stephanie rates ease of preparation a 3 out of 5 and shares, "Some required more time than what was stated on the package. The few that I made in the microwave were extremely quick and easy to prepare." What's more, there are no dishes to clean other than the fork you ate with!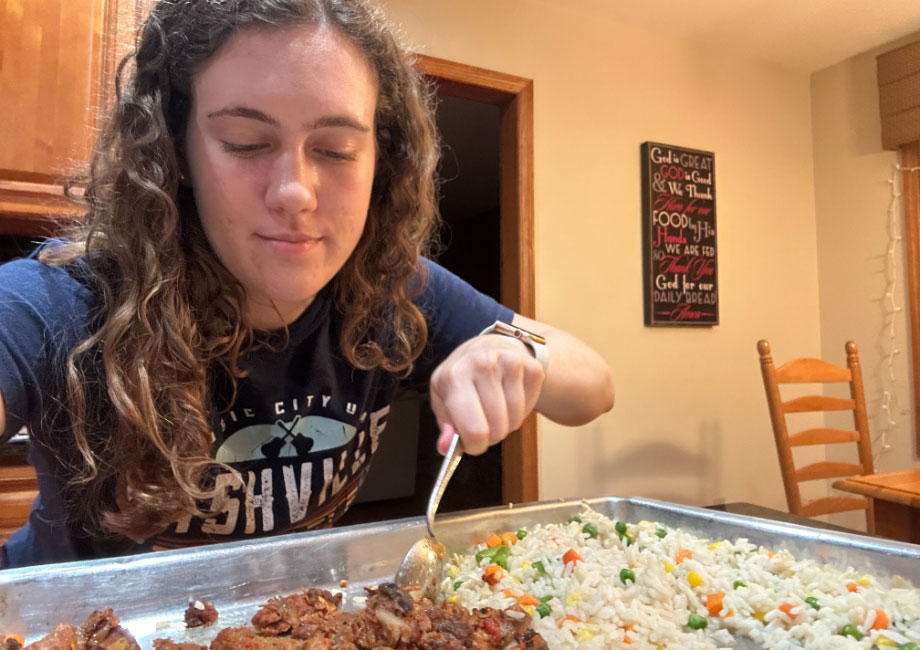 Stephanie gives the taste of these meals a 3 out of 5 and says, "Overall, the food was very good. The corned beef, salmon, veggie stew, and chicken were very flavorful. Some foods, such as the beef bourguignon, rice with mixed vegetables, and the mashed potatoes, were bland. I did not like the strawberry milkshakes because they tasted very artificial."
The taste of Magic Kitchen's shakes might not be for everyone, but they provide an easy and convenient way for seniors to get vitamins and minerals that could be lacking in their diet.
| | |
| --- | --- |
| Price per serving | $11.00 |
| Type (meal kit or prepared) | Prepared |
| Meals per week | A la carte |
| Delivery area | Nationwide except Hawaii and Alaska |
| Meals we tried | Corned beef, Salmon, Veggie Stew, Chicken Beef Bourguignon |
Best Keto-Friendly Diabetic Meal Delivery: Factor
Good for: Individuals wanting fresh, pre-made meals that adhere to the keto diet.
Factor (FKA Factor 75) delivers fresh, chef-made meals designed by registered dietitians that make eating healthier easy. They offer Keto, Vegan & Veggie, Chef's Choice, Calorie Smart, and Protein+ meal plans. For this category, we're focusing on the keto meal plan, as recent studies indicate10 that the keto diet may help reduce blood glucose levels, body weight, total cholesterol, LDL, and triglycerides in those with diabetes.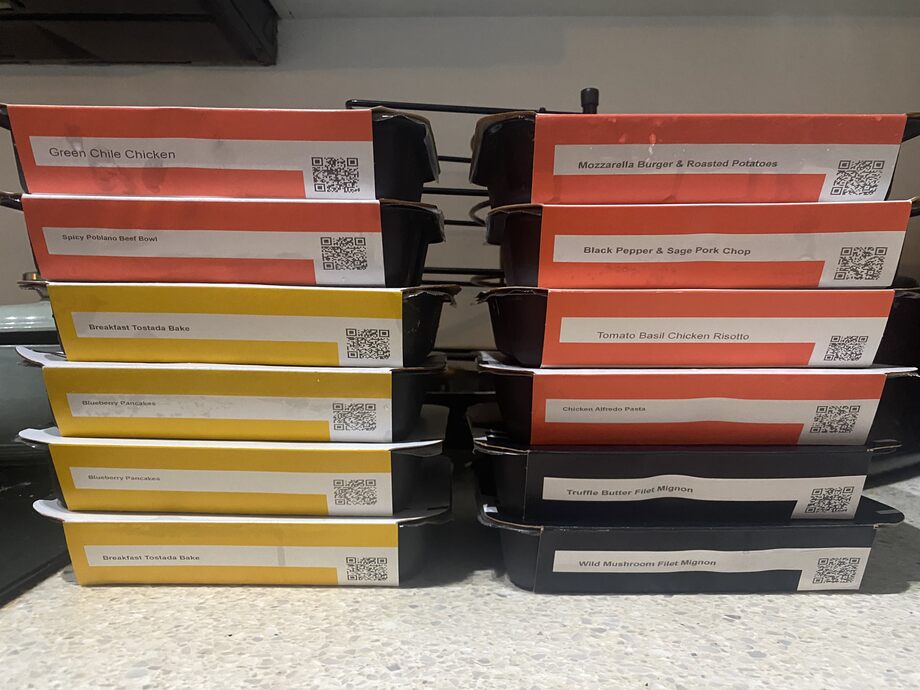 Factor Keto Meals consist of at least 60% calories from fat, 20% from protein, and no more than 10% from carbs. Meals contain anywhere from 350 to 900 calories, giving you the flexibility to choose entrees based on your calorie needs and health goals.
RELATED: Best Keto Meal Delivery Service
Regarding meal variety, Amanda Capritto, CPT, CES, CNC, CF-L1, and GGR Senior Staff Writer, rates Factor a 4 out of 5. "There are quite a lot of meals to choose from, and the menu changes at least partially each week. However, the meals all have the same format: a protein and a side of veggies and/or grains." You may start to feel like you're eating the same meal on repeat after a while.
Although Amanda considered her meal delivery well-packaged, she gives Factor a 2 out of 5 for sustainability, saying, "Factor does not seem to have a focus on sustainability. Each Factor meal comes in its own plastic tray, which is definitely a bit wasteful compared to cooking at home." Even so, the cardboard box and food containers are recyclable.
Factor meals get a lot of hype, but Amanda found the taste of these meals to be just satisfactory, rating them a 4 out of 5. "I can make better food for sure, but the convenience makes the 'just decent' taste more tolerable. I was very surprised at the steak meals. The steaks actually were pink in the middle even after microwaving and didn't turn into shoe leather, so shout out to Factor for that." She notes the meals are well-seasoned and don't require a lot of doctoring.
Most impressively, Factor offers sufficient portion sizes, which can be hard to find with meal services. Amanda rates portions a 5 out of 5 and says, "This is the only meal service I tried that had ample portions! These meals can fill up a triathlete in the middle of a tough training block, so they can fill up just about anyone." Again, some meals are higher in calories, so that's something to be aware of depending on your goals.
For more, check out our in-depth Factor Meals review.
| | |
| --- | --- |
| Price per serving | $10.99-$13.49 |
| Type (meal kit or prepared) | Prepared |
| Meals per week | 6,8,10,12,14,18 |
| Delivery area | Nationwide except Hawaii and Alaska |
| Meals we tried | Chicken Alfredo with Broccoli, Filet with Carrots, Blueberry Pancakes, Mozzarella Burger & Roasted Potatoes, Tomato Basil Chicken Risotto, Spicy Poblano Beef Bowl |
Best Frozen Diabetic Meal Delivery: 518 Kitchen
Good for: Anyone looking for keto or low-carb frozen meals that are easy to prepare.
518 Kitchen delivers keto and low-carb frozen entrees made from nutrient-dense whole foods that mimic home-cooked meals. Keto meals include no more than 5% of calories from carbs, and low-carb meals include 20 to 25% of calories from carbs. These options may appeal to those trying to control their blood sugar by reducing carb intake.
RELATED: Best Keto Protein Powder
Regardless of the plan, 518 Kitchen meals are high in fat with moderate amounts of protein. You'll likely feel fuller for longer—AKA satiety—which may help promote weight loss11. However, meals usually contain between 500 and 800 calories, so choose meals based on your personal calorie needs.
There haven't been many studies on the long-term effects of a keto diet (high fat, very low carb), but we know that eating too much saturated fat for a prolonged period can increase the risk of heart disease. Aim to choose keto meals with healthy unsaturated fats whenever possible.
Kate Meier, NASM-CPT, USAW-L1, CF-L1, and GGR Head of Content, rates 518 Kitchen's portion sizes a 5 out of 5 and says, "I was able to finish all of it, and I wasn't hungry afterward."
Because these meals are frozen, preparation couldn't be any easier. Kate rates this a 5 out of 5. "Peel off the film and nuke for 4 to 5 minutes, depending on the meal." So, when finished, just throw out the container.
Many meal delivery services pay a lot of attention to sustainability, but 518 Kitchen doesn't mention sustainability efforts anywhere on their website. For this reason, they get a 3 out of 5, also taking into consideration that the delivery box and food trays are recyclable.
For being frozen, Kate finds the meals tasted decent and rates them a 4 out of 5. "Overall, really good. The vegetables got soggy, as frozen vegetables often do. There was one meal—the egg bites—that were so salty, I literally couldn't eat them. Neither could my partner. We had to throw it out. It was the first meal I tried from 518, so I was very nervous that the rest would be horrible. Luckily, it seemed contained to that one meal, as the rest had perfectly normal amounts of seasoning."
| | |
| --- | --- |
| Price per serving | $10.00-$15.00 |
| Type (meal kit or prepared) | Prepared |
| Meals per week | A la carte |
| Delivery area | Not specified, based on zip code |
| Meals we tried | Steak Chili, Chicken Pesto, Egg Bites, Fajita Bowl, Short Ribs |
Other Diabetic Meal Delivery Services We Researched
Sprinly: Sprinly is a plant-based meal service that provides nutritious, pre-made vegan entrees that are gluten-free. Sprinly meals are made with plant-based protein options like quinoa, mushrooms, beans, and tofu. These meals never contain added sugar, which is linked to diabetes, heart disease, and weight gain. Sprinly got high marks for taste (4 out of 5) but faltered with their shipping as some of the meals didn't survive transit (1 out of 5).
Sunbasket: Unlike most other meal services, Sunbasket offers both meal kits and pre-made meals. This service could be a game changer for anyone wanting to learn new cooking skills without cooking every night. Many meals contain seafood like salmon, shrimp, and scallops, all sources of heart healthy omega-3 fatty acids. Where they scored lower with our expert testers was in the categories of ingredient quality (2.75 out of 5) and portion size (3 out of 5).
Meal Pro: Knowing how to eat when managing a medical condition can be confusing. Meal Pro has a vast array of medically tailored meal plans to make eating well much easier. Diabetic, low-sodium, renal, heart healthy, Crohn's, low-cholesterol, celiac, and anti-inflammatory diet plans are all available for those requiring a specialized diet.
How We Picked and Tested the Best Diabetic Meal Delivery
As previously mentioned, our team, consisting of certified personal trainers, nutrition experts, and CrossFit coaches, has tried over 40 meal delivery services. We recognize the value of convenient, healthy meals when trying to improve your health and manage a chronic condition. Taking into account several factors, we were able to narrow down the best diabetic meal delivery options.
Variety
Several different diet plans can fit the needs of those with diabetes, depending on their personal goals. We specifically sought after meal services with low-carb, high-protein, Mediterranean, diabetes-friendly, and Paleo plans because these are all options that may be suitable for a diabetic diet. Because diabetes is closely linked to heart disease and kidney disease13, we also aimed to choose options with low-sodium, low-fat meals. Additionally, many of the meal services chosen offer rotating menus, so you're not stuck ordering the same meals each week.
RELATED: High-Protein Meal Delivery
Price
We understand that everyone is working with a different budget. For some, managing a medical condition can cause financial stress. For that reason, we sprinkled in plenty of affordable options, as well as some pricier services. Depending on how much money you usually spend on groceries, some of these services may even even help you save money on food.
Ease of Preparation
Between work, appointments, exercise, and family, there's simply not always enough time to prep and cook a healthy meal. This is especially true for those with conditions that require medications and monitoring. You've got enough on your hands already, so we chose plenty of meal services that deliver ready-made fresh or frozen meals to help you save time and energy.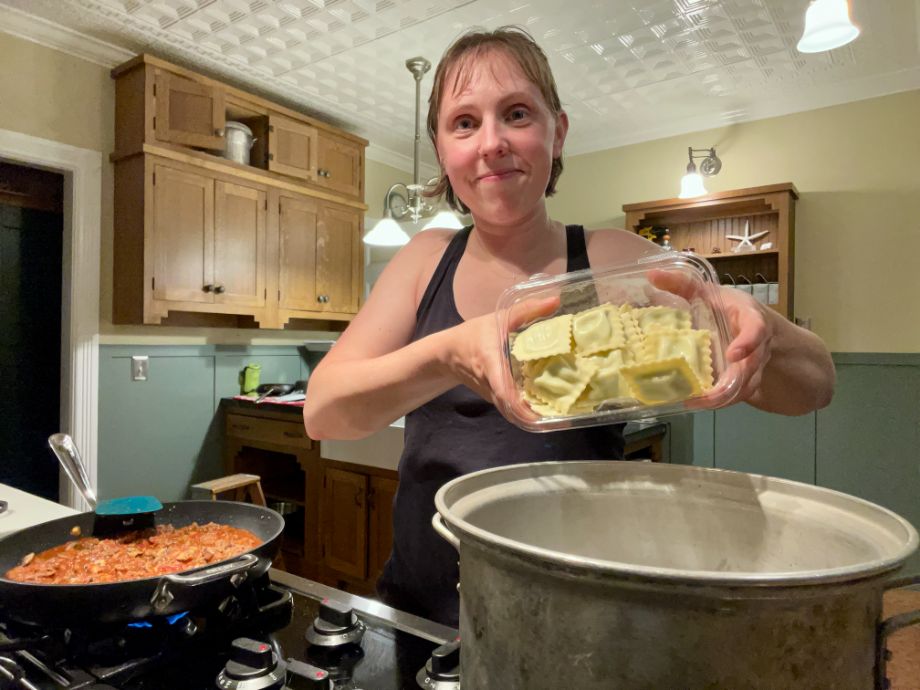 Benefits of Diabetic Meal Delivery
A diabetic meal delivery service can make it easier to manage diabetes and maintain a healthy eating pattern. Here are some of the key advantages:
Blood Sugar Management
Diabetic meal delivery services focus on crafting meals with the ideal balance of carbs, protein, and fiber to help stabilize blood sugar levels. This can make it easier for individuals with diabetes to avoid spikes or drops in their blood sugar levels.
Portion Control
It's important to be mindful of overeating when managing your blood sugar and body weight. Overeating contributes to weight gain, which makes it harder for the body to use sugar in the blood for energy. Meal services provide pre-portioned meals, helping consumers manage their calorie and sugar intake more effectively.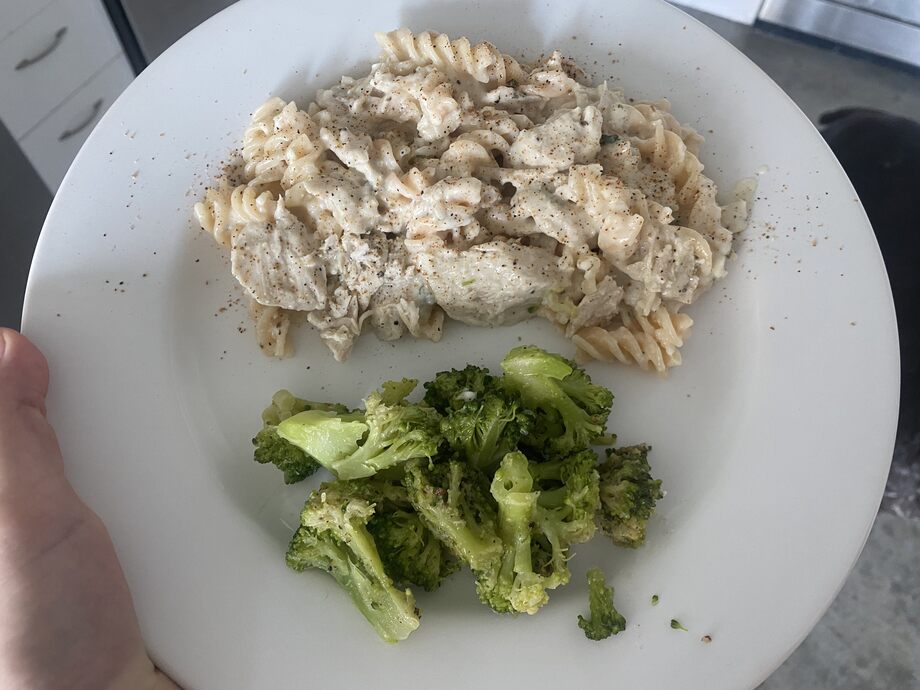 Access to Nutrition Info
When you cook at home, tracking ingredients and nutrition content can be difficult. With a meal delivery service, you can get detailed nutritional information for each meal, making it much easier to track your macros and calorie intake.
RELATED: Macros for Weight Loss
Education and Support
Some services include educational blog posts, coaching services, or support from registered dietitians. Learning about diabetes and how food impacts your condition is the key to successfully managing it. That way, you know how to make informed choices when going out to eat, going on vacation, or taking a break from the meal service subscription.
Diabetic Meal Delivery: FAQs
Is HelloFresh good for diabetics?
HelloFresh can be suitable for those with diabetes. Check with your healthcare provider or registered dietitian to see if the HelloFresh Meat & Veggies, Pescatarian, or Fit & Wholesome meal plans suit your dietary needs. 
What meal plan is best for diabetics?
We recommend the BistroMD meal service for those with diabetes. BistroMD provides doctor-designed meals that support diabetes, weight loss, and heart health. Their diabetic-friendly program is designed to help you control carbs and lose weight. As always, consult your doctor or nutritionist to see if this meal plan aligns with your needs.
Are ready meals OK for diabetics?
Yes, ready-made meals can be an appropriate option for diabetics. Generally, diabetics will want to choose pre-made meals made with whole food ingredients that are low-carb, high-protein, and high-fiber. 
Does Blue Apron offer diabetic meals?
Blue Apron doesn't offer meals specifically designed for a diabetic diet. However, several of their meal options are likely appropriate for many people with diabetes, depending on their personal dietary needs.
These statements have not been evaluated by the Food and Drug Administration. This product is not intended to diagnose, treat, cure, or prevent any diseases.
References