We test and review fitness products based on an independent, multi-point methodology. If you use our links to purchase something, we may earn a commission. Read our disclosures.
So you're trying to balance the different components of life including your career, eating healthy, exercising, and squeezing in time to decompress. But what happens when that's just not enough to achieve your goals? Thankfully, in recent years there has been a surge in meal delivery services so you can gain time back in your week.
We've tried over 40 different meal delivery services and even have curated a list for the best meal delivery for weight loss. We know your time is valuable and for that reason, we tested the Splendid Spoon plant-based meal delivery service to give you all the details so you have a better idea of what to expect before you subscribe. We're going to tell you the good and the bad in our Splendid Spoon reviews.
Medical disclaimer: This article is intended for educational and informational purposes only. It is not intended as a substitute for medical advice. For health advice, contact a licensed healthcare provider.
Over 40 Meal Delivery Services Tested
Here are Garage Gym Reviews, we have expert product testers to get tactile and real life experience for nearly everything we test (from our best treadmills for a home gym lineup to the best greens powder and everything in between). We are staffed with nutrition coaches, certified personal trainers, and Olympic athletes who all have a wide range of experience when it comes to nutrition and all things food.
For this Splendid Spoon review, our in-house expert product tester, Frieda Johnson, ordered and tested the plant-based meal delivery service. We also spoke with Perry Nix, R.D., L.D., about her overall impressions on this subscription-based healthy eating plan as a registered dietitian.
Splendid Spoon
GGR Score: 3.5
Product Highlights
Meal delivery service

Focused on bowls—soups, stews, noodles, etc.

Plant-based meals

Can choose between 7, 14, or 21 meals, and then customize meals

Non-GMO, gluten-free, whole ingredients
Pros & Cons
Pros
Non-GMO
Gluten-free
Whole ingredients
No artificial sugars
Cons
No animal protein for those that aren't vegan
Smoothies are included in the meal count
Bottom Line
Splendid Spoon is a meal delivery service focused on plant-based meals. You're able to choose between 7, 14, or 21 weekly meals, and then customize those meals from there. Meal plans will include smoothies, bowls, noodles, and main dishes.
A Quick Look at Splendid Spoon
Splendid Spoon was founded in 2013 by a French Culinary Institute-trained chef named Nicole Centeno. She also happens to be a former research biologist with work published in the journal Nutrition and Metabolism and is the author of the Soup Cleanse Cookbook.
The plant-based meal service started when Nicole felt the weight of how hard it was to have healthy eating habits, have a fulfilling career, and care for a family. Hence, Splendid Spoon offers meals that are prepared and packed with veggies delivered to your door.
Before You Buy
Part of the meal plan includes smoothies, which are low-calorie drinks (typically between 110-180 calories)
Be aware that these plant-based meals don't offer many high-protein options
The brand makes substantial effort to use sustainable and recyclable packaging
Is Splendid Spoon Worth It?
While Splendid Spoon will be suitable for some folks, it won't be the best option for anyone looking for high-protein foods for muscle building. According to Perry Nix, our panelist and registered dietitian, this particular service is more suitable for vegans, vegetarians, and flexitarians.
Good for:
Vegans and vegetarians
Gluten-free folks
People who enjoy smoothies
Weight loss
Not recommended for:
Big appetites
Protein junkies
Non-smoothie drinkers
Keto dieters
Splendid Spoon Specs
| | |
| --- | --- |
| Price per meal | About $9 to $12 (depending on how many meals) |
| Meals per week | 7, 14, or 21 |
| Subscription | Yes |
| Delivery cadence | Weekly |
| Meal kit or prepared | Prepared |
| Diet options | Vegetarian, Vegan, Gluten-free, Dairy-free, Soy-free, Plant-based, Low-sodium, Low-calorie |
| Fresh or frozen | Frozen |
| Delivery area | Contiguous United States |
Experience Using Splendid Spoon Meal Delivery
In GGR editor Frieda Johnson's experience, Splendid Spoon offered exceptional flavor for frozen meals. Frieda has a few dietary restrictions, and often leans toward gluten-free and vegan options and says Splendid Spoon is "surprisingly good—especially for gluten-free, vegan, and frozen meals."
RELATED: Best Vegan Protein Powder
We'll dive into this a bit later, but Frieda was not as impressed with the smoothies as she was with the whole-food meals. Plus, the meal plan includes the smoothies toward your meal count, so you can't opt out.
The brand offers a few main things: Noodle bowls, grain bowls, soups, smoothies, and green juices and wellness shots. While placing an order, you'll have to choose from the brand's preset categories (which we'll detail in the meals and customization section below).
You can expect that all meals and drinks from Splendid Spoon will be:
Plant-based
Gluten-free
Dairy-free
Soy-free
Non-GMO
Price Per Meal
It's worth mentioning right off the bat that Splendid Spoon is a subscription-based service with a weekly delivery cadence. You'll have the choice to order 7, 14, or 21 meals per week. Depending on how many meals you choose, the price varies from about $9.37 to $12.06 per meal (with a slight price break if you opt for more meals).
Frieda went with the 14-meal option, which works out to about $11 per meal. The main thing she highlights about this price is the fact that five of these meals are actually smoothies (and you can't swap them for whole-food options). Which means that you're paying $11 for the smoothies, too.
RELATED: Best Protein Powder for Smoothies
When you sign up you will have the ability to make menu selections, but it will be from the predetermined categories. It's not an a la carte selection from the entire menu. Instead, you can make choices within each category—but essentially you have to order from all categories.
When ordering and selecting her meals, Frieda notes that for the 14-meal plan you get 5 smoothies, 5 grain bowls or soups, 2 noodle dishes, and 2 main dishes.
Overall Taste and Portion Size
Our tester, Frieda, has several dietary restrictions, namely dairy and wheat, so it's easiest for her to adhere to vegan and gluten-free products to cover all her bases. Plus she has actually tried similar frozen meals over the years from grocery stores without luck. For this reason, she was excited to sign up for this subscription service and see what the buzz is about on this veggie-centric offering.
"The food is surprisingly good," says Frieda. But we're not that surprised with a menu lineup featuring flavorful spices like turmeric and tahini and hearty grains like quinoa and wild rice.
While Frieda fully enjoyed the meals (soups, grain bowls, and noodle bowls), she thinks the smoothies leave a lot to be desired. "The smoothies are hit and miss—the only one I've actually liked so far is the strawberry chocolate, the rest have been disappointing," she says.
"Unfortunately, since the smoothies are not very good and you don't have the option to order a plan with just the food, I'm going to have to give them a lower overall score for this category," Frieda adds.
While Splendid Spoon does have high-quality ingredients and "a fairly decent selection of meals, between the smoothies and light soups, it feels like you're getting far fewer actual meals than they claim," says Frieda.
Not only did Frieda not enjoy all the smoothies that came with her order, they also did not feel satiating with calories averaging 150 per smoothie.
When it came to reheating the frozen entrees, Frieda had a better experience but still notes, "the rest of the food has all been a good amount for lunch. I think it would probably feel a little sparse for dinner, though."
While the smoothies ranged from 110 to 180 calories, the soups were between 130 and 220, and the noodle dishes and main dishes were the most substantial at 420 to 430 calories per serving.
While this will work for some folks, it won't for all and we think it's important to note. In addition to the generally low-calorie meals, it's worth mentioning that most meals Frieda tried only offered around 13 or 14 grams of protein, with only one meal (out of 14) offering 22 grams of protein.
She also notes that the smoothies were around 2 to 8 grams per serving, which we think could be a lot better if the Splendid Spoon smoothies also featured some of the best pea protein powder the market has to offer.
Meal Plans and Customization
While Splendid Spoon offers a variety of meal options, we think the overall service isn't suitable for all vegan and vegetarian folks because you're locked into choosing an item from each category. If the brand allowed you to choose your items from the entire menu, this meal subscription would be much more versatile (even with the other obvious flaw: lack of protein).
"All plans require you purchase a combination of smoothies, bowls, noodles, and dishes, which isn't ideal for anyone not interested in all of these items," says Perry Nix, R.D., L.D. "The smoothies are considered a meal, but don't provide enough energy to be considered a sufficient meal replacement," she adds about the low-calorie drinks.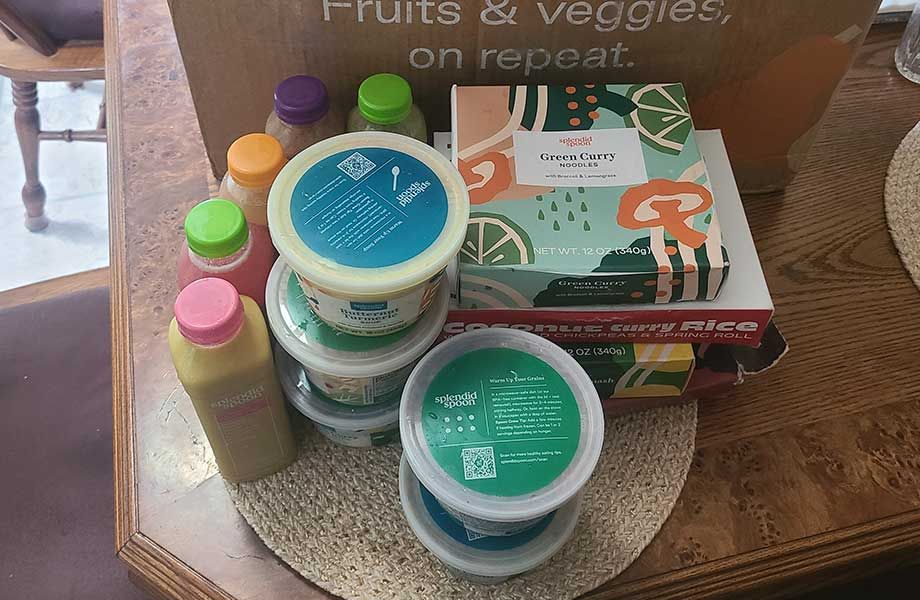 The four main categories you must choose from and will be in every order:
Smoothies

Examples: Power greens, blueberry coconut, mint chip, and dragon fruit berry

Grain bowls or soups

Examples: Lentil and kale soup, garden minestrone, butternut turmeric soup, black bean and plantain grain bowl, brown rice taco bowl

Noodle dishes

Examples: Creamy butternut squash noodles, tangy ginger noodles, and vegan meatball marinara

Main dishes

Examples: Vegan shepherd's pie, kimchi fried quinoa, and roasted cauliflower with falafel
If the above categories and examples don't bother you, then you'll like knowing that Splendid Spoon works well for anyone with a food allergy or who needs to read nutritional labels closely.
"They do a good job of listing out all the ingredients, nutritional information, and potential allergens or other food restrictions, even less common ones like beets and bananas. As someone with a lot of allergies and dietary restrictions, I appreciate their thoroughness," says Frieda.
"Plus, you can filter meals by dietary needs like low-sodium or low-carb, as well as by avoidances like tree nuts or soy," she adds.
Ordering, Packaging, and Shipping
When ordering, the Splendid Spoon website automatically fills your cart with popular items. Frieda notes that you have to remove them all so you can make your own selections.
While adjusting your shopping cart is not a dealbreaker, another point of frustration was when she logged back into her account after ordering: "One of the meals I'd picked was out of stock. It didn't show when I put it in my order and it wasn't mentioned in any of the email confirmations," she says. "When were they going to tell me to pick something else?"
Once the package arrived, Frieda notes that everything was jumbled together. "The soup containers were upside-down, cardboard sleeves on the frozen meals were soaked and falling apart, and the dry ice was all melted."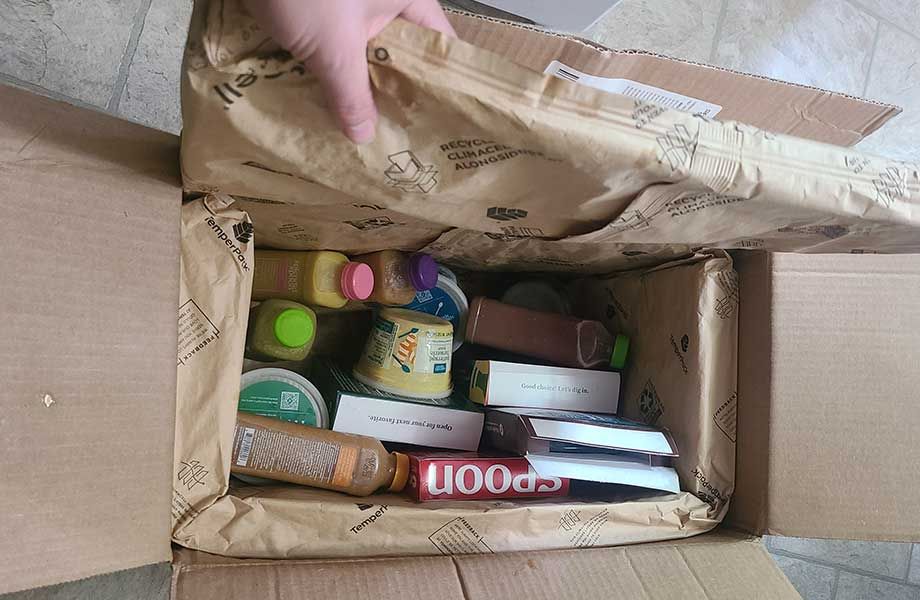 All that said, Frieda notes that everything felt cold enough that it did not pose a health risk.
One thing she did appreciate was the fact that 100% of the packaging is recyclable (including the ClimaCell insulation used to regulate the temperature during transit). She also notes that the company uses dry ice instead of gel packs and reduced CO2e emissions by 70,000 pounds when they opened a new distribution center.
Comparison to Daily Harvest
Daily Harvest
GGR Score: 3.0
Product Highlights
Frozen plant-based meal delivery service 

Smoothies, grain bowls, flatreads, and soups

Plant-based milk options available

Recyclable packaging
Pros & Cons
Pros
Frozen, nutrient-dense food
High fiber content
Free shipping
Ability to skip a week and modify delivery schedule
Manage your account on the iOS app or website
Cons
Will not satisfy high-protein diets
Some meal are under 300 calories
Bottom Line
Daily Harvest is a plant-based frozen meal delivery service that will provide you wholesome, nutrient-dense meals and snacks. The menu is made up of low-calorie smoothies, grain bowls, flatbreads, and soups. If you're looking for a meal delivery service that supports high-protein diets, this is not the subscription plan for you.
We think Splendid Spoon compares the best to Daily Harvest, another plant-based meal delivery service that got its start specifically with smoothies.
We think they have a similar price point, minimum amount of meals you can order, and weekly delivery cadence. While the dietary options are slightly different, both options are plant-based services that won't be suitable for folks seeking high-protein meal plans.
While the companies are similar, it's worth noting that our tester who ordered Daily Harvest reports liking the smoothies much more than the actual food, which is the opposite of Frieda's experience with Splendid Spoon.
| | | |
| --- | --- | --- |
| | Splendid Spoon | Daily Harvest |
| Price per meal | About $9 to $12 | About $8 to $12 |
| Minimum meals | 7 | 9 |
| Subscription | Yes | Yes |
| Delivery cadence | Weekly | Weekly |
| Fresh or frozen | Frozen | Frozen |
| Diet options | Vegetarian, Vegan, Gluten-free, Dairy-free, Soy-free, Plant-based, Low-sodium, Low-calorie | Plant-based, keto, paleo, low-calorie, Whole 30 |
| Types of meals | Smoothies, soups, grain bowls, noodle bowls, and entrees | Smoothies, flatbreads, harvest bowls, soups, forager bowls, and grains |
Customer Experience
Frieda had a slightly frustrating experience with customer service. She signed up for the service knowing it would be delivered on a weekly cadence, but intended to cancel her subscription after the first week.
However, Splendid Spoon charged her credit card on file for the second box before she received the first delivery. Frieda also realized that if she wanted to cancel before she received her first order, she needed to email customer service directly and wait to hear back.
Not only did she not want the second box of food shipped out, she also missed her chance to edit the second delivery (even if she had wanted it). "Splendid Spoon sent an email about it so closely after confirming the first delivery that I didn't realize it was for the next week already," she says.
All that said, she was able to cancel her subscription. "When I asked to cancel the second box, they told me it was too late, but canceled my subscription for after that week.
"But then they refunded my credit card for the second box and never sent it without telling me that had changed. So, I'm glad it worked out, but am less than impressed with their communication," she adds.
Customer Reviews
Splendid Spoon has over 1,000 reviews featured on the website, however the customers are reviewing individual meals, not the entire service. It's also worth noting that the reviews portion of the website is clunky and does not fully load.
Frieda went looking on TrustPilot for more reviews and read that many folks (not just her) didn't like the smoothies. She also read that other people had issues with food arriving in bad shape and issues with canceling orders or subscription plans.
Final Verdict of Our Splendid Spoon Review
In the end, Freida was not super impressed and says she will not order from Splendid Spoon again. "Although I really enjoyed most of the food, the smoothies were disappointing and the issues I had with the packaging and customer service were off-putting," she says.
Things to keep in mind with Splendid Spoon meal delivery service:
Every item is plant-based, gluten-free, dairy-free, soy-free, and GMO-free
Protein content is not top priority for this meal delivery service
Most items are fairly low-calorie, which won't be suitable for all folks
You will have to select smoothies as part of your order and the other preset categories
Splendid Spoon Rating
Splendid Spoon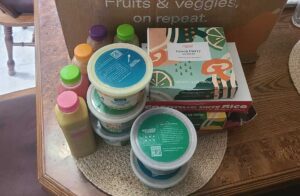 In our Splendid Spoon reviews, we're going to cover all the details of this plant-based meal delivery service and its sustainable packaging.
Product Brand: Splendid Spoon
Product Currency: USD
Product Price: 84.43
Product In-Stock: InStock
Splendid Spoon Review FAQs
How much does Splendid Spoon cost per meal?
Depending on your meal plan, the cost per meal ranges from about $9 to $13. 
Is Splendid Spoon enough calories?
While the noodle bowls and entrees are certainly enough calories to feel satiated, the smoothies are typically under 200 calories, which is not enough to replace the serving size of a full meal. 
Is Splendid Spoon fresh or frozen?
Splendid Spoon is a frozen, prepared meal delivery service. 
Who owns Splendid Spoon?
Splendid Spoon founder is Nicole Centeno who is also a French Culinary Institute trained chef. 
These statements have not been evaluated by the Food and Drug Administration. This product is not intended to diagnose, treat, cure, or prevent any diseases.