We test and review fitness products based on an independent, multi-point methodology. If you use our links to purchase something, we may earn a commission. Read our disclosures.
When a cardio machine is 10 years old, it doesn't mean you have to send it out to pasture. However, you won't be able to expect the same technology you find in today's latest machines.
The NordicTrack A2550 Pro treadmill is no exception—it's a solid machine but features technology from the early years of iFIT. Oftentimes discontinued products can still be found on third-party retailers like Amazon or Walmart, however, I only came across replacement parts for the A2550 Pro on Amazon and a handful of pre-owned machines on eBay.
In this NordicTrack A2550 Pro treadmill review I will cover the pros and cons of this cardio machine in case you happen to find a heck of a deal secondhand. I will also offer an alternative NordicTrack treadmill that is currently available and the most comparable to the A2550.
We've Walked Hundreds of Miles on NordicTrack Treadmills
Here at Garage Gym Reviews, we have a team of expert product testers with industry experience to back up our claims on all things fitness. We're a group of certified personal trainers, CrossFit Level 1 Trainers, and nutrition coaches.
We also have extensive experience with the NordicTrack brand, from rowers to ellipticals and everything in between. Our treadmill experience is bar none with reviews on dozens of brands, models, and price ranges.
Although we haven't tested the NordicTrack A2550 Pro, we think our collective knowledge of the cardio industry paired with our experience with NordicTrack qualifies us to give the rundown on this discontinued model.
Looking for an Alternative to the NordicTrack A2550 Treadmill?
The NordicTrack A2550 is a discontinued model from nearly a decade ago. That said, it can be quite hard to find. The good news is that the NordicTrack EXP 7i will likely suit your needs if you were interested in the A2550.
The EXP 7i features an iFIT-enabled touchscreen and is priced around $1,300—which is similar to the original price of the A2550 when it first came out.
The NordicTrack EXP 7i differs from the A2550 Pro with a longer 60-inch deck, a stronger motor, and slightly higher incline options. The EXP 7i also has a 300-pound user weight capacity, which is less than the 350-pound capacity of the A25550. Both machines have maximum speeds of 12 MPH and have foldable designs.
Additionally, I like the fact that the EXP has a built-in workout fan and over-sized storage trays for large water bottles like a Nalegene or Yeti.
For more details on the NordicTrack EXP 7i, read the full review.
Best Alternative to NordicTrack A2550 Pro Treadmill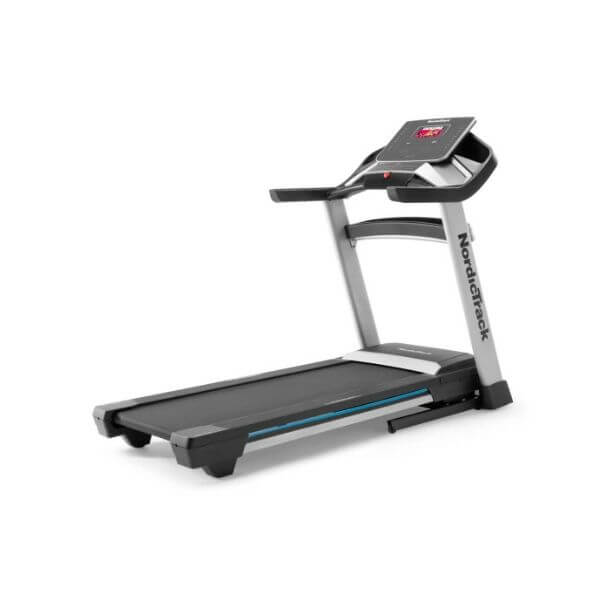 GGR Score: 4.12
Product Highlights
7-inch touchscreen display

iFIT-enabled and comes with a free 30-day family membership

3.0 CHP motor suited for walking or running

Speeds from 0 to 12 mph with incline ranges up to 12%

Folding design

20-inch-by-60-inch cushioned running deck to reduce stress on joints and back

Supports weights up to 300 pounds

Conveniences include Bluetooth connectivity, a console fan, and tray for storage
Pros & Cons
Pros
Interactive 7-inch screen allows for easy access to the iFIT library
Folding design
Large running surface for a folding treadmill
Cushioned running deck
One-month family membership to iFIT is included with purchase
Cons
Small screen
No tablet or phone holder
Heavy
Bottom Line
True to the NordicTrack brand, the NordicTrack EXP 7i is a high-quality treadmill best suited for walkers, joggers, hikers, and the casual runner. With iFIT connectivity, you will have no shortage of motivation to stay on track towards your fitness goals.
A Quick Look at the NordicTrack A2550 Treadmill
Although the NordicTrack A2550 is discontinued, this model offers features that are still appealing to the modern-day home gym owner. If you happen to come across the A2550 secondhand, it's worth knowing that the machine will provide a solid foundation for cardio workouts but the technology will seem outdated compared to new NordicTrack machines.
Pros:
10 incline options
Max speed of 12 MPH
350-lb user weight capacity
Lifetime warranty
CardioGrip heart rate pulse sensors
Foldable design
16 preset workouts that don't require a WiFi connection
Cons:
55" running deck is not enough for tall folks
Outdated iFIT training options
Built-in speakers are not wireless
2.5 HP motor is not designed for avid runners
NordicTrack A2550 Treadmill Specs
Due to the fact the NordicTrack A2550 is discontinued, these are the specs I could gather based on research:
| | |
| --- | --- |
| Original price | About $1,300 |
| Footprint | N/A |
| Running deck | 55" L x 20" W |
| Weight capacity | 350 lbs |
| Preset workouts | 16 |
| Incline options | 10% |
| Speed range | 12 MPH |
| Motor | 2.5 HP DURX |
| Display | 3 LCD display windows |
| Foldable | Yes |
| Warranty | Lifetime frame and motor warranty |
Key Features of the NordicTrack A2550 Treadmill
You might have a hard time finding the A2550 Pro, but the specs still hold up to some of the best treadmills you can find on the market today. At the time this model was available to buy, it was priced around $1,300. A decade ago this price range promised the latest in high-tech treadmill features including built-in workout programs, the beginnings of interactive programming, and a built-in sound system with the option to play music from your own iPod.
In addition to some of the high-tech features from a decade ago, the A2550 has a 2.5 horsepower motor that can handle speeds up to 12 MPH and incline up to 10-percent grade.
The handrail features heart rate monitor pulse sensors which displays on the "grafixx" LCD display. There are three LCD window displays on the A2550, two of which are small and display basic metrics like incline, calories, speed, distance, elapsed time, and heart rate.
The window in the middle offers a larger view for iFIT training programs. Today, this display will look dated but at the time, this was sure to impress home gym owners.
In addition to iFIT capabilities, the treadmill features 16 preset workouts: four weight loss, four distance, four timed, and four performance workouts. Much like today's trainer-controlled workouts on iFIT, the preset workouts on the A2550 automatically control the speed and incline of the machine.
Durability
Based on industry standards and what features we like to see for durability purposes, this treadmill meets our standards for durable exercise equipment with a 2.5 horsepower motor and a 350-pound user weight capacity. These factors create a solid machine that won't create excessive shaking or movement, which extends the life of the treadmill.
Additionally, the A2550 has a lifetime warranty on the frame and motor, which is not seen in the brand's newest models.
Portability
I like the fact the A2500 has a vertical folding spacesaver design and transport wheels. However, to release the deck from the folded position, you'll have to unlock the latch knob on the bottom of the treadmill and slowly lower the deck to the ground with both hands.
Today's NordicTrack treadmills come equipped with a gas shock folding mechanism that automatically folds the deck down to the floor with little-to-no effort. This soft drop feature is safer for pets and kids so that you don't risk crashing the running deck down to the floor if your grip fumbles.
Ergonomics
The NordicTrack A2550 has a Comfort Shox cushioning system, which provides shock absorption for ankles, knees, and hips. Many current NordicTrack treadmills have FlexSelect cushioning which can be turned on for a softer landing or off to simulate road running. Although it's not a bad thing, it's worth noting that the A2550 does not have the ability to turn off the cushioning.
Speaking of your comfort, the A2550 offers a roomy tread belt measuring 55 inches long and 20 inches wide. For tall runners we like to recommend at least 60 inches on the running deck, but 55 inches will be fine for average-height users or anyone planning to use the treadmill for walking.
Technology Benefits and Conveniences
If the A2550 stills sounds like an intriguing piece of fitness equipment for you, the iFIT capabilities might change your mind. This is where things get a little complicated.
According to the owner's manual—which was published in 2012—the console has a button that allows you to switch into the iFIT training mode, which allows the treadmill to communicate with your wireless network.
This connection enables you to download iFIT workouts to your console and your results will be uploaded in real time to the iFIT website. Google Maps workouts are also available, but you have to select them from an online library or draw your own route before you hop on the treadmill.
Additionally, the owner's manual instructs you to purchase an iFIT Live module from the iFIT website. However, in a recent iFIT blog post, the company announced that technologically obsolete machines will no longer have support after April of 2023.
Final Verdict of Our NordicTrack A2550 Pro Treadmill Review
The NordicTrack A2550 Pro treadmill might have dated technology, but the machine itself has the power to bring you through all types of workouts including endurance runs and high-intensity intervals. Here are some of the standout features from the A2550:
Vertical folding design
55" running deck
2.5 CHP motor
Incline options up to 10% grade
Max speed of 12 MPH
Inclusive 350-lb max user weight capacity
EKG heart rate pulse sensors
16 preset workout
NordicTrack A2550 Pro Treadmill Rating
NordicTrack A2550 Pro Treadmill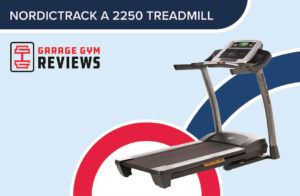 We're covering the details on a discontinued cardio machine in this NordicTrack A2550 Pro Treadmill Review.
Product Currency: $
Product Price: 1299
Product In-Stock: InStock
NordicTrack A2550 Treadmill FAQs
What is Nordictrack FlexSelect cushioning?
Many NordicTrack treadmills feature FlexSelect cushioning systems, which allows you to adjust the feel of the running deck. You can simulate outdoor running by turning the cushioning off or lessen the impact of running by turning the cushioning back on.
Which NordicTrack treadmill is best for me?
Our expert product testers often choose the NordicTrack Commercial 1750 as top pick when it comes to performance and tech specs for home treadmills. Lucky for you, we've put several others to the test, too. You can even read an entire roundup dedicated to the best NordicTrack treadmills we've tested.
Do NordicTrack treadmills need maintenance?
Yes, home treadmills will require regular cleaning and routine maintenance. Every machine is different and we recommend referring to your user's manual for the best way to care for your machine. You can also read our top six tips to keep your machine in tip-top shape. 
Are NordicTrack treadmills easy to move?
Aside from the NordicTrack incline treadmill series, most other models the brand offers are foldable and come equipped with transport wheels. It's not to say it won't be a challenge, but a folding design and wheels will make it easier.