The ShouldeRok is one of the most unique pieces of training equipment I have ever used, and I have used a lot of equipment. It combines a complete upper body workout with an emphasis on mobility and core stability. Not to mention the mad scientist behind the ShouldeRok is none other than Chris Duffin. If you don't know who he is, this video of him breaking the 220 lb. Raw Squat World Record with 881 lbs should be enough to convince you Chris is a man worth knowing:
Now, let's get's into the ShouldeRok and see if it's just another piece of equipment touting benefits beyond it's abilities, or if it's the real deal.
How it was acquired:
I saw a video of Chris giving a demonstration of the ShouldeRok to Raw World Record Holder in the Benchpress Eric Spoto which you can find here. Being a bench specialist you could imagine Eric having mobility issues, and although Eric has one of the strongest upper body's of all time, the ShouldeRok was a challenge for him. So, I began to do some research on the so-called "ancient" art of Gada swinging.
I actually find quite a bit of information on the Gada swing, but the video I enjoyed most is this about Indian Clubs:
So, I decided to contact Chris and offer an honest review in exchange for the product. Chris kindly obliged and sent me the ShouldeRok, what I didn't expect was a bombproof piece of equipment that I now use ever training session.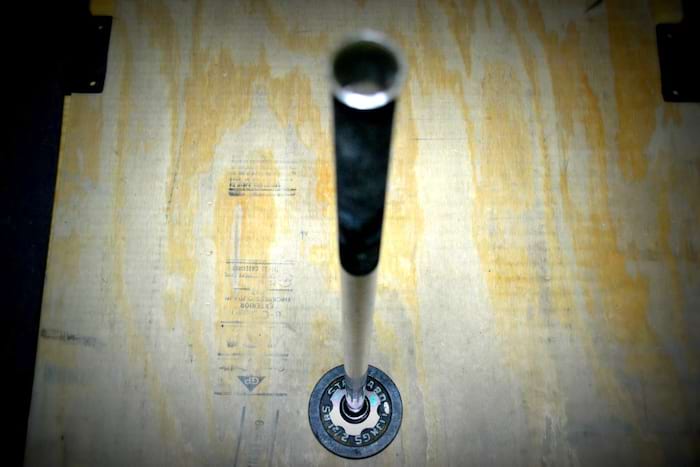 Benefits of the ShouldeRok:
The main advantages I found to the ShouldeRok from a training perspective were its total body warming up properties, mobility enhancement, lat engagement, and most of all it's benefit to spinal stabilization and core involvement.
Starting out the ShouldeRok can be difficult to use. It takes a fair amount of coordination and strength even when starting light. Chris has great instructional videos he sends when you purchase the ShouldeRok, but it still takes some work to get used to the movement.
I have now owned the ShouldeRok for about a month and have noticed my shoulder mobility increased on any overhead or handstand movement and also much more engagement of my core during deadlifts and squats (speaking of which check out Chris Duffin's squat instructional video here, it's one of my favorites on YouTube.)
Build of the ShouldeRok:
The ShouldeRok is constructed like a tank. At the base, you'll find a machined screw piece that is the diameter of the barbell and securely holds weights 2" plates. The screw piece is welded (very clean welds, actually) to a 30 mm pipe and is 47" long in total. The beautiful thing about the ShouldeRok's construction is it is obviously made by somebody who uses it. At the top of the handle, there is knurling much like your favorite barbell that is very grippy and has the feel of a Texas Power Bar, to be honest. It built up some calluses on my thumbs actually.
At the end of the pipe, there is a nice lip that allows for good handling and keeps the ShouldeRok from slipping from your hands. The entire unit weighs I would say around 8 lbs, and is made to last.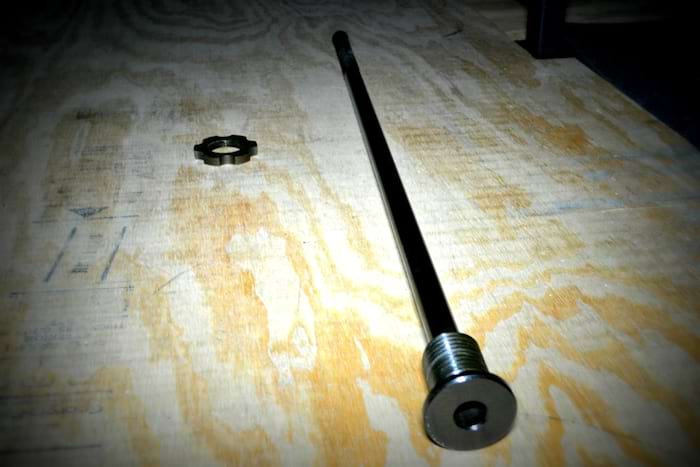 The ShouldeRok vs. It's Competition:
In all reality, there isn't another loadable mace like the ShouldeRok. However, there are some things that are close, and I'd like to speak to the differences. The maces I'm mainly familiar with are made by Onnit. If you've listened to the Joe Rogan Experience Podcast or Tim Ferris's Podcast, you're likely aware of the company. (If you don't listen to those podcasts I recommend perusing them.)
Onnit makes maces ranging from 7 lbs to 25 lbs. It's cool and all, but in my mind, having the ability to have one piece of equipment that is loadable and is the construction of the ShouldeRok is irreplaceable.
Tips for using the ShouldeRok:
I'm not kidding when I saw the ShouldeRok can take some time to learn. I would urge you to first try it in a very open space and follow the progressions.
A few basic tips I've found are when the ShouldeRok is behind you, stretch your triceps and lats while keeping your core tucked/engaged and then when you bring the ShouldeRok up, engage the lat as if you were going to be chopping wood.
Workout Examples:
I like using my ShouldeRok as a warm up. I get in the gym (it's in my garage, but it's still a gym) and start jump roping to get my heart rate up, do some general mobility work, and then begin using the ShouldeRok.
Outside of a warm up try these out.
Superset Deadlifts with the sets of 5 with the ShouldeRok. I found these two movements to be a beautiful combination.
Three sets of 10 same weight.
EMOM sets of 5 each side.
Final Thoughts:
The ShouldeRok is a great tool and is far from gimmicky. Typically when a new training tool is introduced, they can catch a crowd but fall short with results. This, however, does not hold true with the ShouldeRok. If you're a strength athlete looking to increase your mobility (this should be everyone), improve coordination, as well as increase core engagement the ShouldeRok is for you. Give it a shot, and you won't be disappointed.