We test and review fitness products based on an independent, multi-point methodology. If you use our links to purchase something, we may earn a commission. Read our disclosures.
You've decided to add a great squat rack to your home gym, and you can't wait to squat, bench press, and pull-up until you're exhausted. Do you really need to take an afternoon to bolt down your rack? Or can you start lifting as soon as that power rack is assembled? Like most things in life, it depends.
As always, our team at Garage Gym Reviews is here to give you all the information you need to build your workout space. Usually, that's helping you pick the best home gym equipment, but today, that's helping you figure out the answer to, "Should you bolt down your squat rack?"
There are a few things to consider when making this decision. Bottom line, the absolute safest thing you can do for your gym is bolt down your squat rack. There are alternatives to making your squat rack safer, too, if you don't want to drill into your floor.
4 Reasons to Bolt Your Home Gym's Power Rack
Whether you're a powerlifter, CrossFit athlete, Olympic weightlifter, or just trying to lift heavy weight, there are a couple reasons to bolt down a squat rack. It can make your workouts easier and protect your home and equipment. The most important reason is safety, for yourself and others.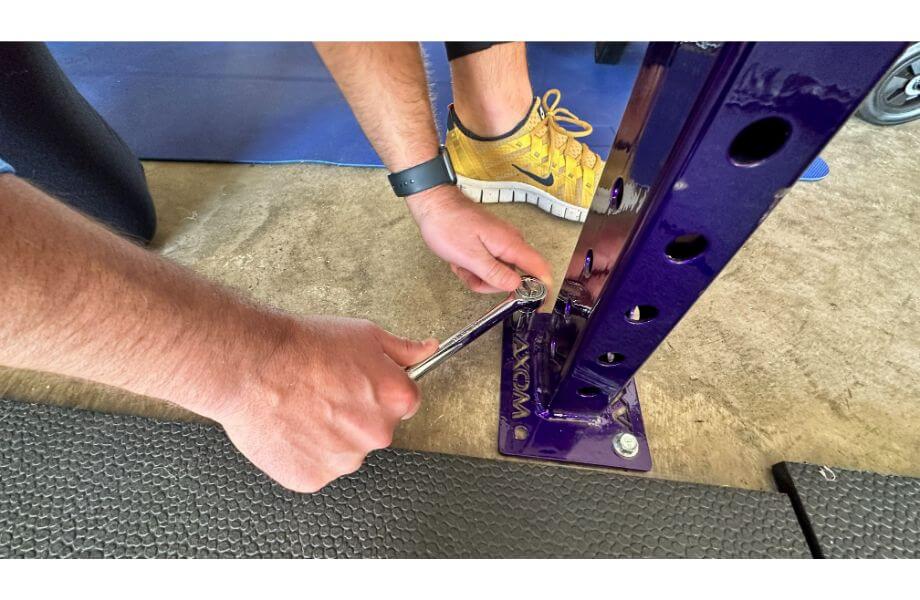 Reason 1: Your Safety
The absolute last thing we want while finishing a heavy set or going for a PR is for your squat rack to wobble or tip over. There are certain exercises, like a pull-up, especially if you are kipping, that are more likely to make your rack fall over. When you're doing kipping pull-ups, you're exerting lateral forces at the top of your squat rack. That's a perfect recipe for getting something to fall over.
You don't have to be doing kipping pull-ups for your squat rack to be unsafe. If your squat rack wobbles while you're working out, you're in an unsafe situation. Listed weight capacities are for static weights, they don't take into account movement, like aggressively re-racking a barbell after a heavy squat. I can't be the only one seeing gym fail videos of racks wobbling or falling over with people doing squats.
There's a reason commercial gyms bolt down their strength equipment: It is safer.
RELATED: Expert Tips on Squat Rack Safety
Reason 2: Less Movement
Bolting your squat rack in place will ensure that it doesn't move around your gym. If you're anything like the team at Garage Gym Reviews, you spent a lot of time figuring out the optimal arrangement of your home gym equipment. If you don't bolt down your rack, it is going to start moving across your gym floor. Every time you re-rack your barbell, or pull on a resistance band attached to an upright, the rack could shift a little bit.
These small movements aren't as much of a hazard as the rack tipping over, but it still isn't ideal. It can distract you and increase the difficulty of re-racking weights. Equipment moving, even a little while you're using it, can lead to injury. Your workouts will be easier and more effective if you are focused on your exercise instead of worrying about your rack moving around your gym. Also, it is really annoying to have to shift your rack back in place after every workout.
Reason 3: Prevent Damage
Squat racks are heavy duty pieces of equipment. High-quality racks are built to last a lifetime. It's pretty obvious that a squat rack that falls over is going to cause damage to you, your home, and your equipment.
A squat rack that is constantly shifting can create lasting damage on your floors. You can always install some gym flooring to help protect them, but the best method of protecting your flooring is to make sure your squat rack isn't going anywhere by bolting it down.
Reason 4: Children and Pet Safety
We love working out at home because our loved ones are nearby. We have to make sure our space is safe for them. As much as we'd love our kids and pets to follow gym safety rules, that's just not likely. Kids and pets want to play, and your gym has a lot of cool toys. The squat rack looks like a great place to climb. If the rack moves or falls while your kids are climbing on it, they could get very hurt. We can totally eliminate this worry by bolting down your squat rack.
RELATED: REP Fitness PR-4000 Power Rack Review
How to Bolt Your Squat Rack to the Floor
If you want the absolute safest option to give you peace of mind, here are instructions for completing the job. It isn't overly complicated, but you'll need some specialty tools to drill into the concrete. If you don't already have them, they are easily purchased or rented from your favorite home improvement store.
Materials
Concrete screws/anchors
Concrete drill aka hammer drill
Marker
Wet/dry vacuum
Protective equipment: Goggles, gloves (please don't hurt yourself in pursuit of safety)
Razor blade (only if you need to cut mats)
A friend (optional, does make it easier)
Instructions
Remove rubber flooring if you have it.
Use a marker to draw the outline of the foot of the power rack.
Using the razor blade, cut and remove that section of the mat so your mat is sitting directly on the concrete floor. (Your squat rack needs to be directly on the concrete floor so it is level and stable.)
Move your squat rack into position.
Drill pilot holes using the concrete drill.
Vacuum the dust
Insert and tighten your concrete anchors/screws
Test the rack: Lean on it and rack a barbell in the j-cups. It shouldn't move now!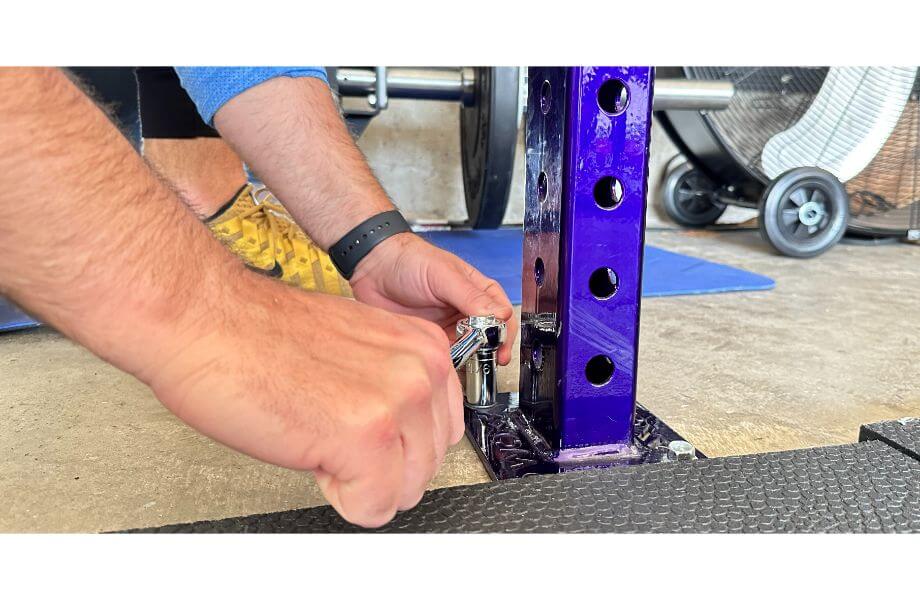 Alternatives to Bolting a Power Rack to the Floor
If you don't want to drill into your concrete flooring but still want to have a safe and secure power cage, there are some other options to improve the stability of your rack. Here they are, in no particular order.
Mount to a Wall
If you have limited space, a wall-mounted rack is a great option. These racks have two uprights and crossbars that attach to your wall. It'll be safer than a free-standing squat stand since it is anchored to the wall. If you are really pressed for space, you can even purchase folding squat rack options.
Use Weight Storage Options
An easy way to make a rack more stable is to add weight. It takes more force to move heavier objects, which you know from lifting. Plus, you already have the weights! When you add-on storage pegs to your rack, simply storing your weight plates improves the safety and stability of your rack. You need a place to put all those weights anyways. You can also leave a loaded barbell in the j-hooks for some added stability.
Rack Extensions
An extension will give your existing squat rack a larger footprint and add weight. Both things increase the stability of your rack. This will also give you more room for weight plate storage. For example, Titan Fitness even sells a rack extension with the plate storage built-in
Buy a Flat-Footed Rack
These racks are designed to be more stable. If you compare a flat-foot rack to a traditional power rack, you'll notice the feet have more contact with the ground, making them more stable. However, you should not lift outside the footprint of a flat-foot rack. Rogue Fitness notes that band pegs and safety spotter arms should not be used with their Rogue RML-390F Flat Foot Monster Lite Rack.
Lifting Platform
I don't blame you if you're hesitant to drill into your concrete floor. Luckily there is another way. If you're an Olympic lifter, a powerlifter, or someone who loves heavy deadlifts, we recommend adding a lifting platform to your gym regardless, so you might as well attach your squat rack to the platform. It is a pretty simple DIY platform project.
Should You Bolt Down Your Squat Rack? Final Thoughts
You should do something to improve the stability of your squat rack. Even the best power racks aren't 100% stable, especially if you're going to be doing CrossFit workouts with kipping pull-ups.
A simple afternoon project could save you time, money, and pain. Bolting down your squat rack will prevent it from moving or toppling over, keep you and your family safe, and prevent damage to your home and fitness equipment.
If you don't want to bolt down your rack, you can always add weight by storing your weights on your rack or adding a rack extension. You can also attach your rack to a lifting platform. The process is a bit different and requires more supplies but it is doable.
Whatever you decide, lift heavy and stay safe.
Should You Bolt Down Your Squat Rack: Q&A
Should I bolt my power rack to the floor or platform?
Maybe, it depends. If you want to protect yourself, your family, and prevent damage to your home it is the safest option for your gym. There are alternatives if you don't want to like purchasing a flat-foot rack, which is designed specifically to not be bolted down. You can also achieve more stability,with wall-mounted racks and weight storage. 
How do you bolt a squat rack to the floor?
You need tools specifically for drilling into concrete but other than it is pretty simple. You can complete it in an afternoon. Basically, you're going to drill pilot holes into your floor. Once you've drilled holes you're going to insert and tighten concrete anchors/screws. You're done. 
If you're more of a visual person, Rogue has a video explaining how to complete this process.
How do I make my squat rack more stable?
The best way is to bolt it to your floor or weightlifting platform. If you don't want to do that you can add weight to the stand via storage pegs. You can also use a wall-mounted rack or flat-foot rack instead of a traditional power rack, but those are decisions you'll have to make before your purchase.