We test and review fitness products based on an independent, multi-point methodology. If you use our links to purchase something, we may earn a commission. Read our disclosures.
ProForm is the sister company to NordicTrack, but some of the best budget-friendly treadmills on the market. ProForm manufactures all types of cardio fitness equipment including ellipticals, rowing machines, exercise bikes, and a smattering of strength training equipment, too.
In this collection of ProForm treadmill reviews, we'll start with a spec chart to get a bird's-eye view of how all the treadmills compare and then break it down per model.
Not only have our expert product testers had a ton of hands-on experience with some of the best treadmills for a home gym, we also have extensive experience with ProForm and its sister brand NordicTrack. We've written dozens of treadmill reviews on both brands and personally tested 4 out of the 5 treadmill machines ProForm offers.
ProForm Treadmill Lineup
ProForm Treadmill Specs: Comparison Chart
| | | | | | |
| --- | --- | --- | --- | --- | --- |
| | Pro 9000 | Pro 2000 | Carbon T10 | Carbon T7 | City L6 |
| Price | $2,299 | $1,799 | $1,299 | $1,403 | $599 |
| Tread belt | 60" L x 20" W | 60" L x 20" W | 55" L x 20" W | 55" L x 20" W | 45" L x 17.5" W |
| Weight | 263 lbs | 262 lbs | 205 lbs | 205 lbs | 125 lbs |
| Weight capacity | 300 lbs | 300 lbs | 300 lbs | 300 lbs | 250 lbs |
| Touchscreen display | 22" | 10" | 10" | 7" | No |
| Incline | -3-12% | -3-12% | 0-12% | 0-10% | No |
| Max speed | 12 mph | 12 mph | 12 mph | 10 mph | 8 mph |
| Motor | 3.6 CHP Mach Z | 3.25 CHP Mach Z | 2.75 CHP | 2.6 CHP | 1.6 CHP Mach Z |
| Foldable | Yes | Yes | Yes | Yes | Yes |
| Workout fan | Yes | Yes | Yes | Yes | No |
Discontinued ProForm Treadmills
The ProForm Carbon T14 was recently discontinued by the brand and was remarkably similar to the Carbon T10. The main difference was the top speed. The T14 could go to 10 mph while the T10 can run up to 12 mph. That said, we have tested it and have all the details in our ProForm Carbon T14 review.
Which ProForm Treadmill Should You Buy?
There are three main groupings of ProFrom treadmills, including the Pro, Carbon, and City series.
The Pro series is the most expensive and is designed for serious runners with 60-inch running decks and powerful treadmill motors. Additionally, they are foldable with EasyLift assist, which are gas shocks for safe folding and unfolding. These treadmills also feature both incline and decline training.
The Carbon series offers a slight price break with slightly shorter, 55-inch running decks and reduced horsepower. The Carbon models offer incline training, but do not feature decline training. This series also features EasyLift assist.
Lastly, the City series (which consists of just one model: the L6) has a unique space-saver design that folds completely flat by bringing the console and uprights down over the tread belt so you can store it under a bed. This model is significantly smaller with a 45-inch deck and is primarily meant for walkers.
Although the capabilities of these treadmills vary quite a bit, here are the similarities all six model share:
Foldable
iFIT-enabled
Bluetooth capabilities
Coolaire workout fan (with the exception of the L6)
10-year frame warranty
Deck cushioning
ProForm Pro 9000 Treadmill
Good for: Serious runners who want incline and decline options for HIIT workouts
The ProForm Pro 9000 is a solid home treadmill for several reasons including the ability to run on at a 3 percent decline in addition to incline settings up to 12 percent.
This wide range of incline options paired with the library of the best iFIT workouts makes for an endless array of running possibilities.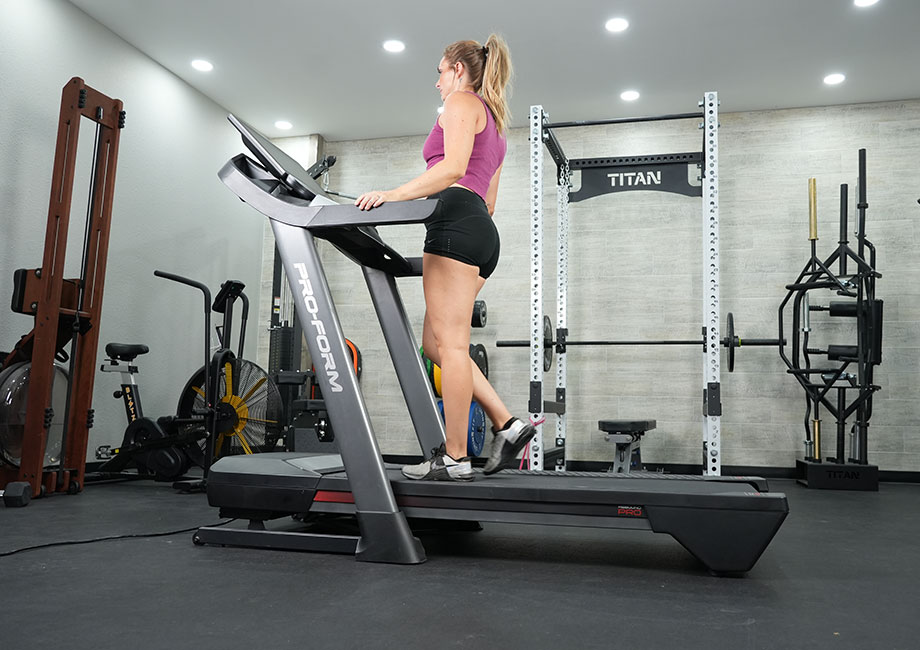 The Pro 9000 also features automatic trainer control that allows your virtual coach to control the incline, decline, and speed of your workouts based on coaching cues. Additionally, if you use the Google Maps feature in iFIT, the same automatic trainer control takes place based on the terrain of the location you choose.
This model also features a large, 22-inch HD touchscreen to bring your iFIT workouts to life. Speaking of large: The tread belt is spacious at 20 inches wide and 60 inches long, which is suitable for all sorts of runners—even for you taller folks out there.
If you want to hear more details from the founder of GGR on his experience with the treadmill, head over to Coop Mitchell's in-depth ProForm Pro 9000 treadmill review.
| | |
| --- | --- |
| | ProForm Pro 9000 |
| Dimensions | 77.3" L x 35.3" W x 59.6" H |
| Weight capacity | 300 lbs |
| Motor | 3.6 CHP Mach Z |
| Speed | 12 mph |
| Incline | 12% |
| Decline | -3% |
ProForm Pro 2000 Treadmill
Good for: Runners who need a motor with horsepower than can keep up sprint intervals
The ProForm Pro 2000 is similar to the Pro 9000 but with a slightly smaller (but still powerful) motor and a smaller touchscreen display. Both of these factors drop the price below the $2,000 mark to make this a more affordable choice for anyone wanting the best home treadmill for running.
The 60-inch-long running deck allows you to take a full stride and the powerful 3.25 CHP motor will keep up with long runs, intervals, and switching between both incline and decline. Our expert product testers recommend that anyone planning to run regularly invests in a treadmill with a motor horsepower of at least 3.0 to keep up with the demands of running.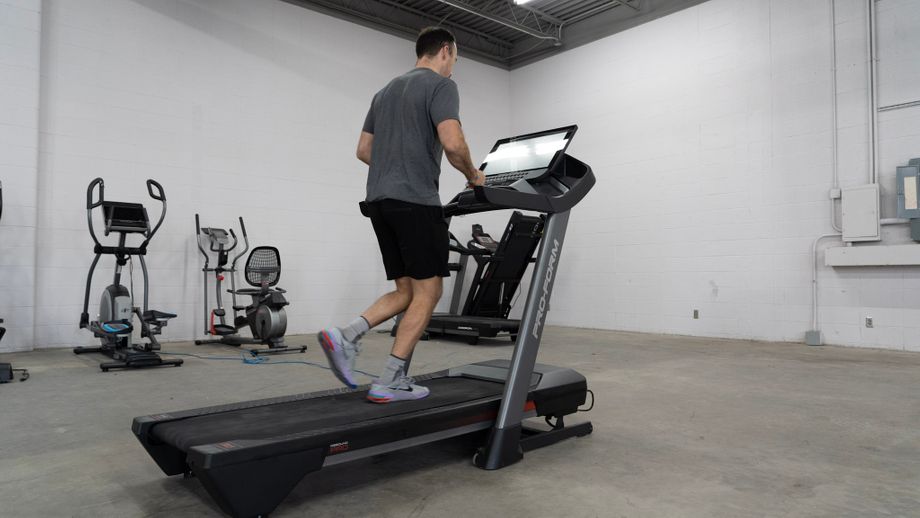 You might also like knowing this model features ReBound Pro cushioning with patented shock absorbers to dampen the impact of running. Although our GGR experts have not personally tested the ProForm Pro 2000, we have a review covering all the specifications and details based on research and our knowledge of the brand.
| | |
| --- | --- |
| | ProForm Pro 2000 |
| Dimensions | 77.3" L x 35.3" W x 59.6" H |
| Weight capacity | 300 lbs |
| Motor | 3.25 CHP Mach Z |
| Speed | 12 mph |
| Incline | 12% |
| Decline | -3% |
ProForm Carbon T10 Treadmill
Good for: Walkers or joggers who want a folding treadmill
Although all the treadmills on the ProForm lineup have a space-saving foldable design (and some are even featured on our best folding treadmill roundup) it's worth noting that the Carbon T10 has a slightly smaller footprint and tread belt than the Pro series treadmills.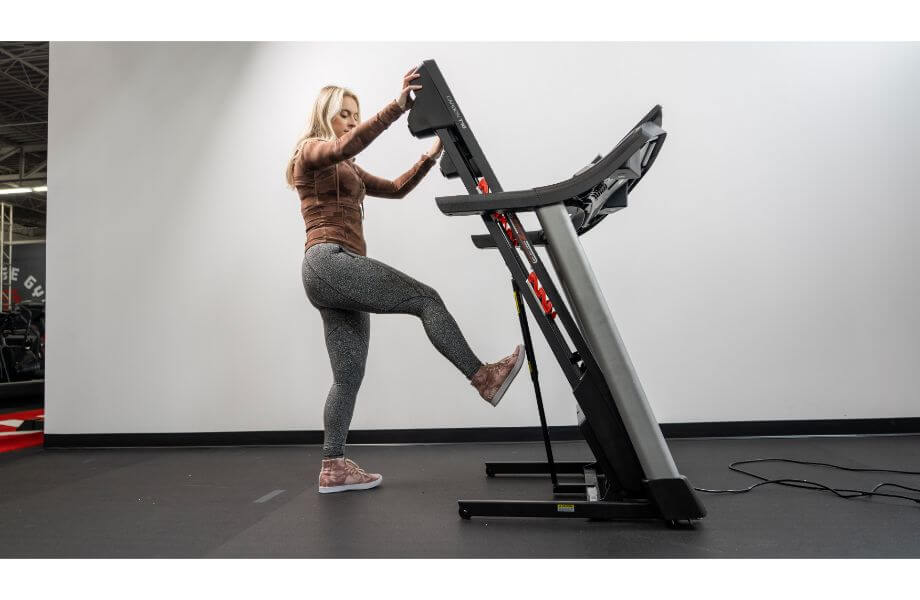 That said, it also features a smaller 2.6 CHP motor, which can work for occasional running but will be suited for walking and light jogging. A motor under 3.0 horsepower can sustain speeds for running, but our GGR expert product testers know that the machine's overall longevity comes into question with the reduced power.
Another reason this treadmill is better for walkers and joggers is because the walking belt is only 55-inches long, which will make it hard for a lot of people to run with a full, natural gait.
If you're curious about our firsthand experience (plus more details on iFIT and the built-in 10-inch touchscreen display) read our in-depth the ProForm Carbon T10 review.
| | |
| --- | --- |
| | ProForm Carbon T10 |
| Dimensions | 73" L x 34" W x 58" H |
| Weight capacity | 300 lbs |
| Motor | 2.75 CHP |
| Speed | 12 mph |
| Incline | 12% |
| Decline | No |
ProForm Carbon T7 Treadmill
Good for: Beginners who want interactive programming and incline options
The ProForm Carbon T7 is part of the ProForm Plus program, which allows you to get a pretty sweet bundle deal on this solid treadmill.
Essentially, the ProForm Plus program lets you commit to the cost of a 3-year family plan iFIT membership and with that you get the T7 treadmill for free. The word free might be an exaggeration because you're still spending over $1,000 for this bundle.
This opportunity could be worth it for folks who are excited about using a iFIT subscription. If you combine the value of the treadmill at MSRP (about $1,000 based on our actual experience ordering the T7 prior to this deal) and the cost of 3 years' worth of iFIT (which is $39 per month) you are saving yourself quite a bit of cash.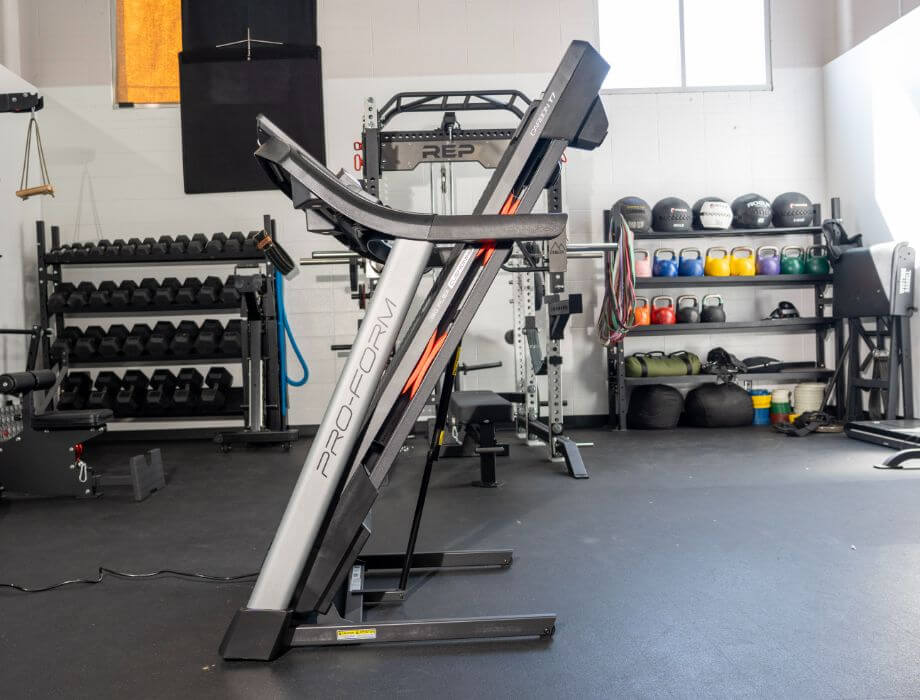 For that reason, this treadmill is ideal if you're just starting your fitness journey and you want a treadmill with built-in programming that makes it interesting and engaging to hop on and press start.
RELATED: Treadmill Workouts for Beginners
Nicole tested the Carbon T7 and notes that the treadmill got a little shaky when she cranked up the speed. Nicole had no problem with her stride as she's fairly short at 5 feet and 3 inches tall. You can read more about Nicole's experience in our ProForm Carbon T7 review.
| | |
| --- | --- |
| | ProForm Carbon T7 |
| Dimensions | 66" L x 33.5" W x 57" H |
| Weight capacity | 300 lbs |
| Motor | 2.6 CHP |
| Speed | 10 mph |
| Incline | 12% |
| Decline | No |
ProForm City L6 Treadmill
Good for: Walkers who need a simple, space-saving treadmill at an affordable price
The ProForm City L6 is an affordable and compact machine that folds completely flat for easy storage. Although the City L6 will not be everyone's cup of tea, it could be the best cardio machine if you're short on space and need the ability to stow a treadmill away fully.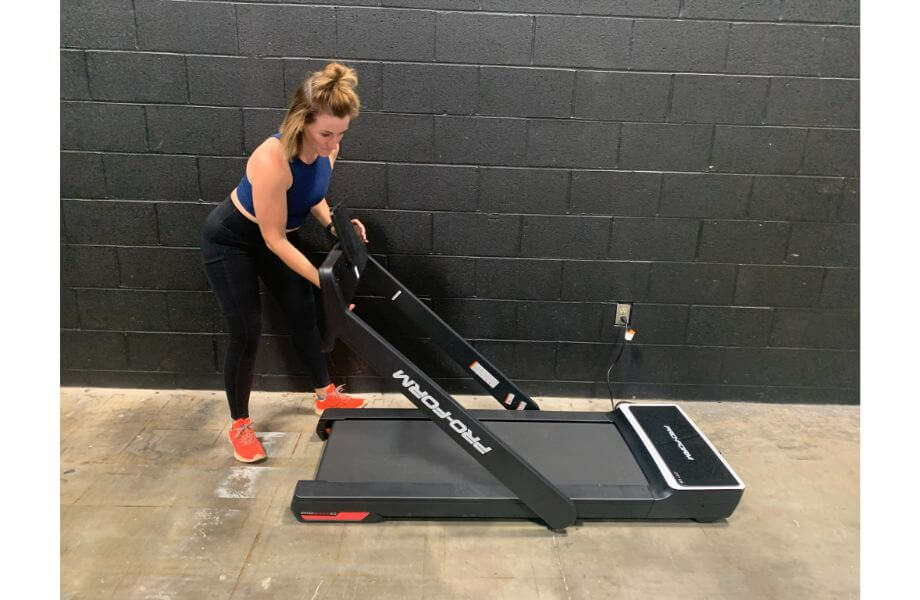 The budget price point is seen in the short, 45-inch walking deck and the small LCD display. Although the City L6 lacks a high-tech touchscreen, you will be able to connect with iFIT via Bluetooth and set your own smart device on the tablet holder to follow along with iFIT workouts. It's actually one of our top picks for the best treadmills under $1,000.
The City L6 does not have incline options, but when using iFIT you will still have access to automic trainer control that matches the speed of the tread belt to the pace of the workout.
Nicole hopped on the City L6 for a trial workout and was quite surprised how much this small but mighty machine offers. You can read about Nicole's experience in her in-depth ProForm City L6 review.
| | |
| --- | --- |
| | ProForm City L6 |
| Dimensions | 70.25" L x 29" W x 44.5" H |
| Weight capacity | 250 lbs |
| Motor | 1.6 CHP |
| Speed | 8 mph |
| Incline | No |
| Decline | No |
What to Look For in ProForm Treadmills
We know the treadmill buying process can be overwhelming—that's why we wrote a treadmill buying guide because there is so much to consider between searching for the best price and comparing sepcs.
If you're a serious runner, the ProForm Pro series is designed to withstand continuous running and a running deck that allows for a natural gait.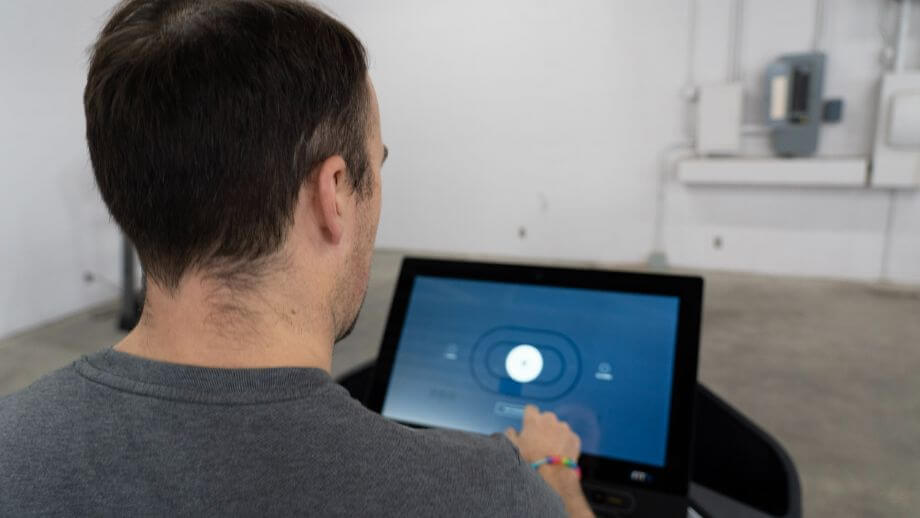 The Carbon series can support running, but won't be the best option for taller people (about 5 feet, 9 inches and above) because of the 55-inch deck. The City treadmill is best for anyone looking for a compact and space-saving solution for tackling daily steps.
Brand Policies
It's worth noting that our GGR product testers all agree that ProForm customer service is hit-or-miss through parent company, iFIT. I've personally had polarizing experiences from waiting a week for an email response to getting a timely live chat answer within minutes.
Thankfully ProForm has fairly consistent policies on the entire treadmill lineup, which we'll break down in more detail here:
Warranty
All ProForm treadmills come standard with a 10-year frame warranty. The parts warranties differ depending on what model you purchase, but it's either a one or two-year policy. Additionally, labor warranties last one year on all treadmills.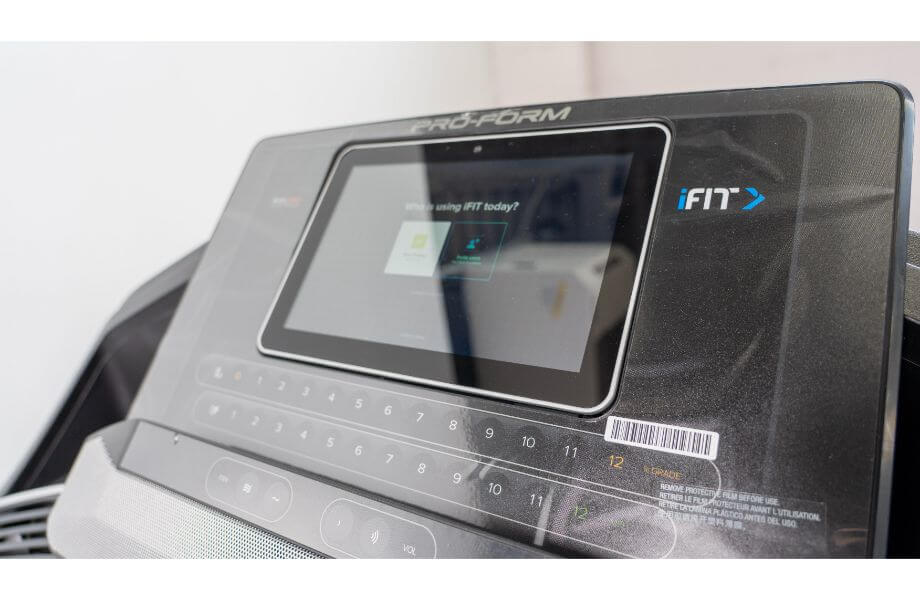 According to the brand's website, the warranty policy does not cover any issues caused by freight damage (oh my!), abuse, misuse, and abnormal usage. Essentially, the warranty only covers manufacturer defects.
During the checkout process, you will have the option to extend your treadmill warranty, but I'd personally suggest skipping that based on what the warranty covers (i.e., not normal wear and tear).
Returns
ProForm gives you a 30-day window from your delivery date to request a return if you're not totally thrilled with your treadmill purchase. Although it's fairly common, it may surprise you that if you decide to return your treadmill you'll be on the hook for $250 in shipping fees and a 10% processing fee.
Also, if you paid for any upgraded services like in-home delivery or assembly, those fees are non-refundable.
Financing
ProForm teams up with TD Bank to offer treadmill financing directly through the website at checkout. After entering your personal information, you will have the option to enter your credit card for a one-time payment in full or apply for financing. If you qualify, you can receive 0% APR for terms ranging from 12 to 39 months.
Final Verdict of Our ProForm Treadmill Reviews
At the end of the day, ProForm offers home gym owners a solid option for treadmills. Although the price tags vary from about $600 to $2,300, it's likely you can find one that works for your budget, square footage, and personal fitness goals.
All that said, I think if you are interested in a ProForm treadmill you will also want to be excited about iFIT interactive workout programs. The treadmills are designed to work with iFIT and our product testers agree that manual mode is pretty underwhelming.
With iFIT, you'll also have to pay for a monthly subscription on top of the machine's base price. If you're not jazzed about interactive programming, ProForm might not be the brand for you.
ProForm Treadmill Reviews FAQs
Is the ProForm treadmill worth it?
To determine if a ProForm treadmill is worth it will be highly subjective for each individual. It will depend on your budget, space, your fitness goals, and how frequently you plan to use it. An expensive piece of fitness equipment (like a treadmill) is often worth it when you use and enjoy using it. 
Which one is better: NordicTrack or ProForm?
NordicTrack and ProForm treadmills are similar machines due to the fact they share the same parent company. That aside, it's worth noting that NordicTrack treadmills are often referred to as the higher-end option, while ProForm is marketed toward budget-conscious shoppers.
Is the Peloton better than the ProForm?
Peloton and ProForm both manufacture treadmills, but to say which is better depends on your needs, budget, and overall expectations of a treadmill. ProForm offers treadmills in varying price ranges and that are doable for a variety of home gym owners.
Is ProForm the same as Peloton?
ProForm is owned and operated by iFIT and is unrelated and completely distinct from Peloton.