We test and review fitness products based on an independent, multi-point methodology. If you use our links to purchase something, we may earn a commission. Read our disclosures.
Historically, most gadgets and devices start out big and bulky, and, over time, advancements in technology result in slimmer, more aesthetically pleasing items. (Does anyone remember their first office computer, box TV, or cell phone?).
The same thing has happened to massage guns. Now, you can find devices weighing a hair over 1 pound that packs as much power as a full-sized device. In my guide to the best mini massage guns, I detail my experience with some of the smallest handheld massagers you can find online.
Why You Should Trust Us
I've personally tested more than 40 different massage guns, including more than a dozen mini massage guns, using them before, during, and after workouts, as well as on rest days. Additionally, I've been following percussive technology since early 2018 when massage guns started increasing in popularity.
Best Mini Massage Guns in 2023
Best Overall Mini Massage Gun: Ekrin Athletics BANTAM
Good for: Everyone, but especially those who want to maximize value in their purchase.
Ekrin Athletics is one of my favorite manufacturers of percussive therapy devices. The Ekrin Athletics BANTAM in particular is a wildly impressive mini massage gun, and it's become one of my all-time favorites.
Most notably, the BANTAM features a 35-pound stall force, which far surpasses the 20-pound stall force of the Theragun Mini (from the brand considered the gold standard in percussion therapy), and is the highest stall force I've yet to come across on a mini massager.
The BANTAM actually has progressive stall force, which means the stall force increases with speed. This massage gun has three speeds: At the lowest speed, it has 28 pounds of stall force; at the middle speed, it has 32 pounds of stall force; and at the highest speed, it has 35 pounds of stall force. This, to my knowledge, is unique to the BANTAM.
You get three fixed speed settings on the BANTAM: 2,000; 2,600; and 3,200 percussions per minute (PPM), reaching a maximum decibel level of 50 on the quiet brushless motor.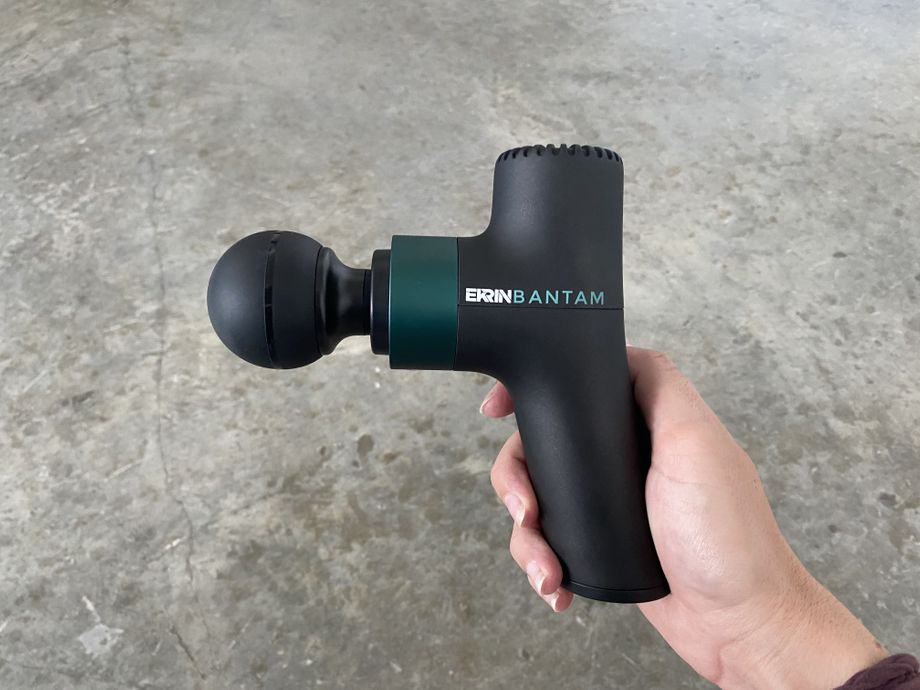 The 10-millimeter amplitude isn't remarkable—in fact, rather average for a mini massage gun—but the stall force largely makes up for that since you can manually dig into your muscles with the gun.
The BANTAM comes with four massage heads: a silicone ball attachment, a flat attachment, a fork attachment, and a bullet attachment: This is everything you need for good treatment quality and versatility.
Finally, the 1600 mAh Samsung lithium-ion battery has impressive six-hour battery life. It charges with a USB-C cable, which means if you lose your charging cable, you can buy a replacement from Amazon or anywhere, really. However, the cable does not come with a cube, so you'll have to buy a USB wall converter or use one you have on hand.
The handle features an LED battery indicator that lights up blue when the massage gun is charged to between 80 and 100%; it changes colors to reflect battery life as you use up the juice.
The BANTAM weighs just 1.1 pounds, which makes all of its specs even more impressive. It comes with a nice carrying case for the gun, attachments, and a charging cable. Everything in the case weighs around 1.5 pounds.
Runner-Up Mini Massage Gun: Hypervolt Go
Good for: Anyone who doesn't mind spending a little bit more for a name brand device
Once upon a time, the Hyperice Hypervolt Go was my top pick for a mini massage gun. The Ekrin Athletics BANTAM usurped it because it has objectively better specs—specifically stall force, battery life, and size—for a lower price. (The BANTAM used to be $50 cheaper than the Go, but now that Hyperice has released the Hypervolt Go 2, the original Go dropped in price from $199 to $150. This means the BANTAM is only about $10 cheaper now.)
That said, the Hypervolt Go is still a good massage gun. I'll never be pleased that Hyperice doesn't disclose essential specs on its massage guns (as detailed in my Hypervolt vs. Theragun comparison), but based on feel alone, I can say the Go packs a lot of features and power into its small size than many other mini massagers I've tried.
This pocket-sized Hypervolt weighs in at just 1.5 pounds, which is 0.4 pounds heavier than the BANTAM, and its 40-watt motor provides up to 2.5 hours of percussive therapy.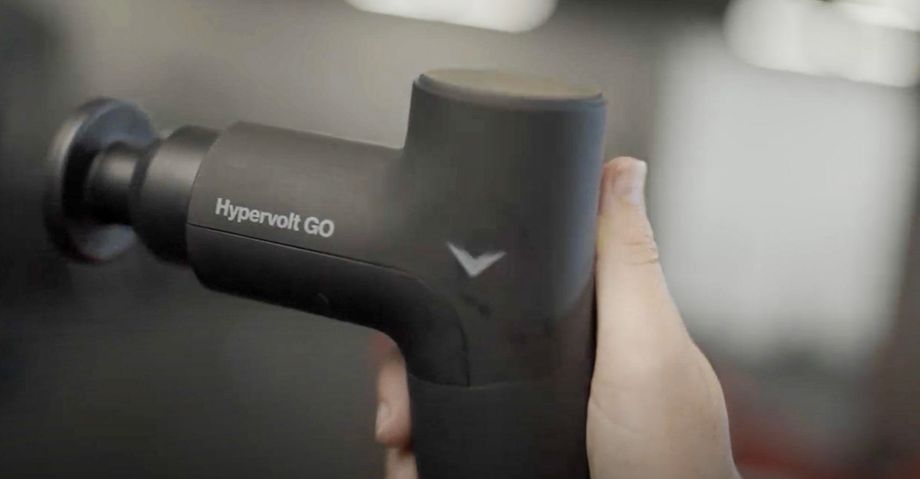 It has three-speed settings reaching up to 3,200 PPM and two interchangeable massage head attachments, the bullet shape and the flathead. The bullet attachment is best for targeting muscle knots and smaller areas, like the arch of your foot, while the flathead is great for sweeping across large muscles, such as the quads.
I do wish the Hypervolt Go came with more attachment heads, but then again, that could reduce the portability. Speaking of portability and travel, the Hypervolt Go is TSA-approved for carry-on. Technically, all massage guns are allowed, but it's at the discretion of each TSA agent to allow them through, so having outright TSA approval for carry-on is best.
Read my full Hypervolt Go review. Hyperice released the Hypervolt Go 2 in April 2023, which we haven't had a chance to try yet, but will ASAP.
Best Mini Massage Gun for Athletes: Theragun Mini
Good for: People who need a small massage gun that digs deeper into muscles than most mini massagers
The Theragun Mini is the smallest massage gun that Therabody offers, but it's still quite powerful.
Most mini massage guns have amplitudes that stop short of 10 millimeters, meaning they don't dig very deep into the muscle tissue. The Theragun Mini has an amplitude of 12 millimeters, which tops all of the other mini percussion massagers I've tried.
However, the stall force doesn't live up to the Theragun name. The Mini has a stall force of just 20 pounds, which pales in comparison to the Ekrin Athletics BANTAM's 35 pounds.
I'm a bit disappointed in this, especially because Theragun is known for its impressively powerful massage guns (like the Theragun Pro's whopping 60 pounds), but the deeper amplitude makes up for the lack of stall force.
In fact, the 12-millimeter amplitude is the primary reason I chose this massage gun as the best mini massage gun for athletes. People who need to perform physically will need a deeper amplitude to effectively massage sore muscles and relieve muscle tension.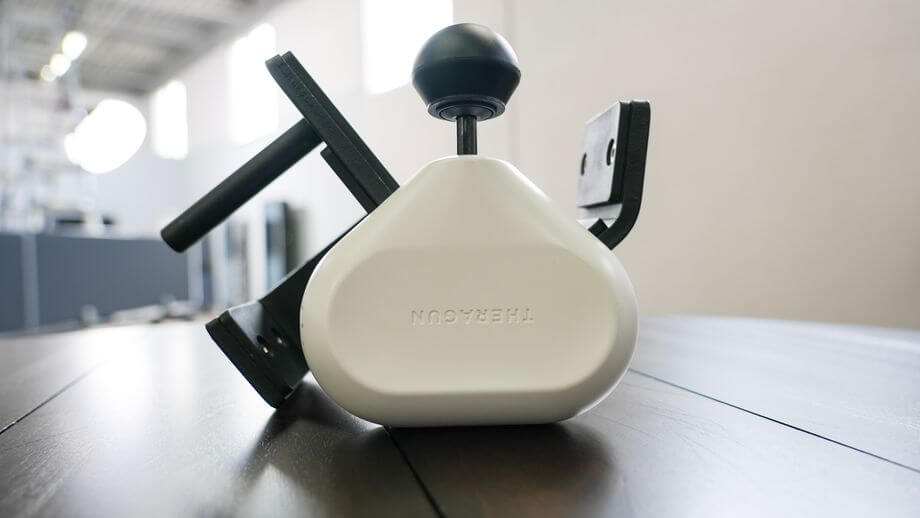 The Theragun Mini also has a unique grip compared to other portable massagers. It's a play on Theragun's patented triangular grip, although I'm not convinced that the Theragun Mini has a more ergonomic design than other minis.
Weighing a hair over 1 pound, you can easily fit the Theragun Mini into a small backpack or gym bag. It has a two-hour battery life, which is decent, but not great, for a mini massage gun.
Although it's the least expensive Theragun model, the Mini still costs a pretty penny at $200.
What I don't love about the Mini is that it only comes with one massage attachment. It is compatible with all fourth-generation Theragun massage head attachments, but they must all be purchased separately for $20 to $30 per attachment. The Mini doesn't connect via Bluetooth to the Therabody app like the full-sized models do, either.
Read my full Theragun review of all four Theragun models.
Best Theragun Mini Alternative: Bitfinic Mini Massage Gun
Good for: People who want an ultra-affordable massage gun with a unique design.
If you're looking for a Theragun Mini dupe, look no further than the Bitfinic Mini Massage Gun. Upon first finding the product listing on Amazon, I thought for sure that this portable massage gun wouldn't last long due to its obvious copycat design. But it's still available online, with many happy customers to boot.
My favorite thing about this compact massage gun is the handle, and it's the major selling point in my opinion. The Bitfinic Mini looks a lot like the Theragun Mini, but it has a more ergonomic grip. The only thing that could make it better, I think, is a rubber coating to prevent sweaty hands from slipping.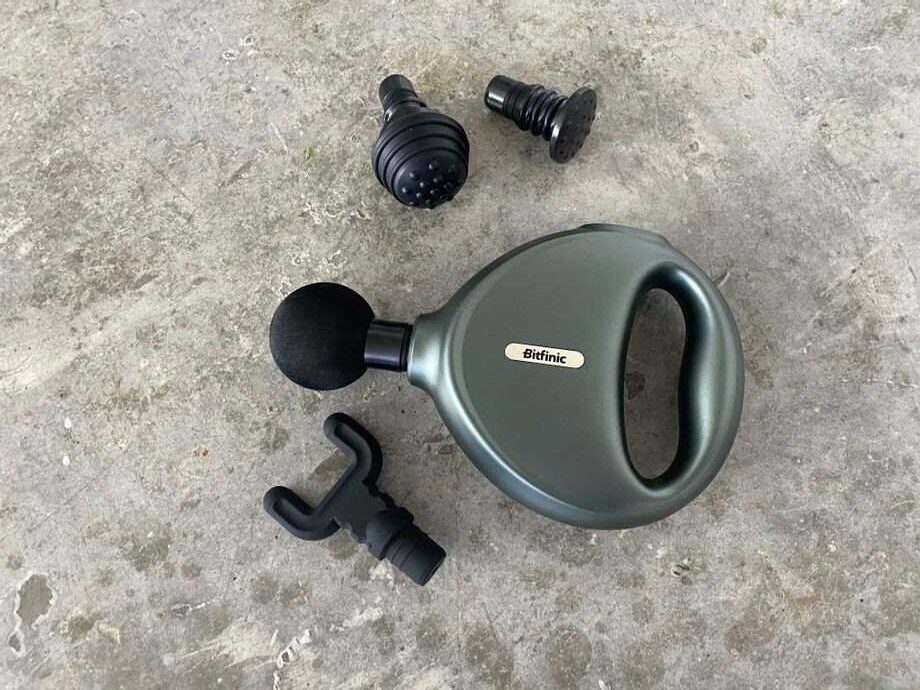 Next up in notable features is the stall force. The Bitfinic Mini has a 22-pound stall force, which tops the Theragun Mini's 20 pounds. The Bitfinic might actually be the most powerful budget massage gun if you're looking at stall force alone.
The Bitfinic has an average amplitude of 10 millimeters and four speeds up to 2,560 PPM. This is rather slow compared to the average range of 2,400 to 3,200 PPM across different brands, but it doesn't seem to make much of a difference in use.
It comes with four attachments: ball, fork, dampener, and flat. The dampener and the flat attachment have little bumps on them, which irritated my skin more than interchangeable heads with a smooth surface. I'm not sure what the purpose of the textured surface is.
Bitfinic lists the battery life as three to 10 hours, which is a massive range. I used the Bitfinic for more than two weeks consistently, and it didn't die, so it seems to reach the higher end of that range. It does take three hours to get a complete charge, which is quite a long time.
Best Budget Mini Massage Gun: Recoverfun Mini
Good for: People who want a decent massage gun for under $100
When it comes to massage guns, you can't get much for under $100. But you can get the Recoverfun Massage Gun Mini, which is one of the best massage guns I've tried that costs less than three digits.
As a fair warning, though, you get what you pay for. You can't expect to spend less than $100 on a massage gun and get $500-worthy treatment. You're buying an Amazon-popular massage gun, not the Theragun Elite.
You'll have to look elsewhere if you want deep-tissue massage and high-tech specs.
However, if you want a decent massage from a device you can fit in the pocket of your favorite sweatpants—and you don't want to spend more than $100—you're in the right place.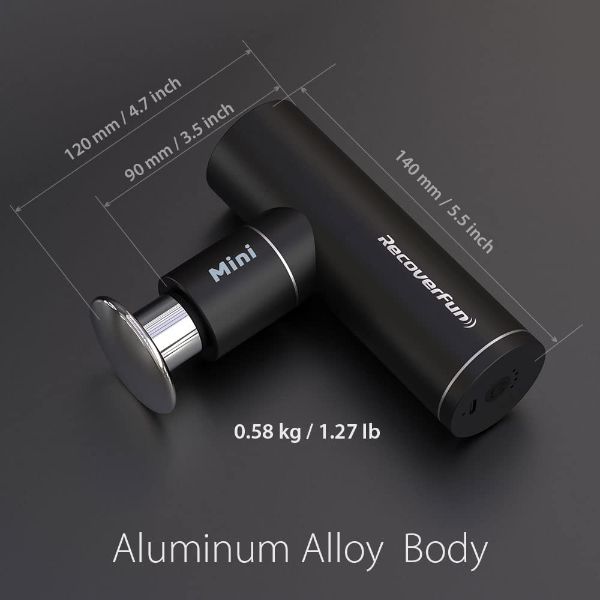 Let me tell you why: The Recoverfun Mini reaches speeds up to 3,200 PPM with four preset speed settings, running at 1,800 PPM on the slow end. It only weighs a hair over 1 pound and comes in a tiny drawstring bag. The five-hour battery life is impressive for such a tiny device.
It provides a very light massage with an amplitude of just 6 millimeters, but I found it to be useful on days I was extra sore or just wanted quick and easy pain relief. It comes with a bullet massage attachment, which helps dig into trigger points.
In addition to the bullet attachment, the Recoverfun Mini also comes with a fork attachment, round attachment, and an aluminum alloy flat head attachment. I love the aluminum attachment because you can pop it in the freezer and use it for a cryotherapy massage, or run hot water over it for a heated massage.
All in all, this massage gun is exactly what I would expect to get for less than $100. For a great price, you get a simple device that's easy to operate and provides decent treatment quality.
Related: The Best Workout Recovery Tools
Other Mini Massage Guns We Tried and Researched
Aside from our top five mini massage gun picks, we researched and tested several others.
Sportneer Mini Massage Gun
This massage gun is comparable to the Recoverfun Mini, both in price and in features. I would recommend them both, but the Sportneer Mini didn't hold up for me. The handle started to come loose and, overall, it doesn't feel very durable.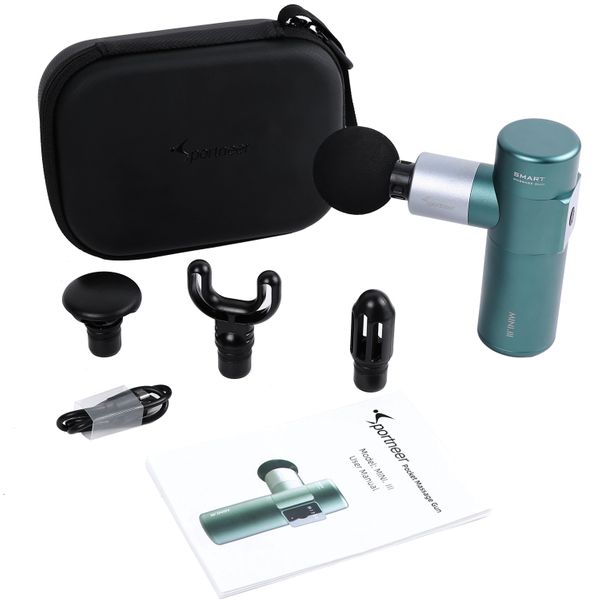 Valor Fitness MG-2 Mini Massage Gun
The Valor Fitness MG-2 Mini Massage Gun is very similar to the Recoverfun Mini and Sportneer Mini massage guns in both design and power, featuring four speeds and four attachments. I couldn't find information on amplitude, but during use, I estimated it to have a depth of 5 to 7 millimeters, just like many other similar guns.
Bob and Brad Q2 Mini Massage Gun
The tiny Bob and Brad Q2 massage gun was designed by two physical therapists and is the little sibling to the Bob and Brad C2 massage gun. It weighs less than 1 pound and has five speeds, five attachments, and a 7-millimeter amplitude.
Addsfit Mini
The Addsfit Mini is one of the least expensive mini massage guns I've ever come across. It's available on many retailer sites at prices ranging from just $35 to $50. It's similar to the Recoverfun Mini Massage Gun with a 6-millimeter amplitude and three speeds. It has a fully metal body and two aluminum attachments. I haven't personally tried this one, so I can't confidently recommend it.
Renpho Mini Massage Gun
The Renpho Mini Massage Gun is your run-of-the-mill mini massager found on Amazon, as are the others in this section. It's inexpensive, listed at about $80 and often on sale for $50 or $60, but decent. It features five speed levels, a 10-minute auto shutoff feature, and four interchangeable attachments.
Read my full Renpho massage gun review on the full-sized version of this massage gun.
Pulseroll Mini Massage Gun
While I haven't tried this massage gun, the Pulseroll Mini shows up frequently in other guides to mini massage guns, and it has lots of favorable reviews on various retailer websites, including an average rating of 4.5 out of 5 stars on Amazon at the time of writing. It has specs similar to the rest of the mini massage guns described here.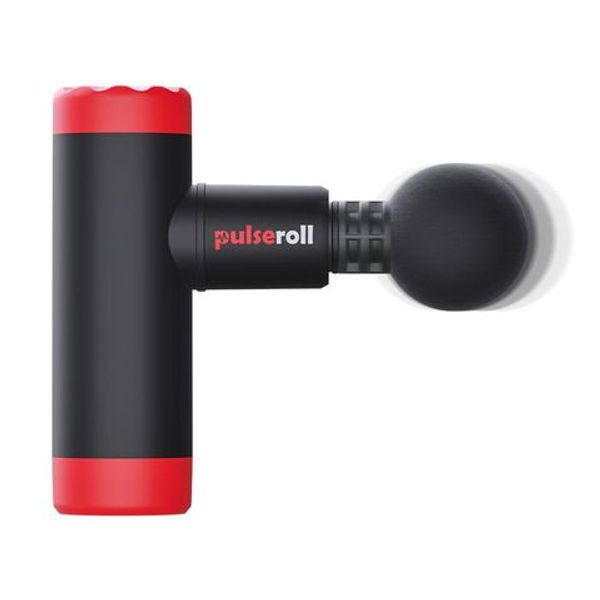 How We Picked and Tested the Best Mini Massage Guns
Our expert testers at Garage Gym Reviews truly go hands-on when looking at any fitness product. I have years of experience in analyzing massage guns and recovery tools; here's the process I go through when preparing to write an article like this.
Research
At Garage Gym Reviews, everything starts with research. Although I've been testing massage guns for more than four years now, I still started this project with a compilation of more than 20 massage guns that might be worthy of inclusion on this list. After thorough research on specs and considering past experience where applicable, I created a shortlist of products to order.
Testing
After creating our shortlist, we ordered the products and got to work testing them in a variety of scenarios. I used the massage guns before, after, and during workouts, as well as on rest days. In addition to using each product in isolation, I spent a good amount of time using them back-to-back to see how they compared.
Judging
Finally, I rated each product against a set of criteria specific to massage guns, which includes:
Portability (weight, size)
Charging and battery life
Amplitude (depth of tissue the massage gun reaches)
Percussions per minute (speed settings)
Stall force
Accessories (massage head attachments, extra batteries, carrying case etc)
Tech capabilities (Bluetooth connectivity, companion app)
Sound level in use and stated decibel levels
Warranty
Ergonomics (how it feels in hand during use)
Price
Benefits of Mini Massage Guns
If you're on the fence about buying a mini massage gun, these benefits might convince you.
Improved Workout Recovery
Just like standard-sized massage guns, mini massage guns can promote better workout recovery through improved blood circulation, releasing trigger points in connective tissue, and potentially even reducing total muscle damage during a workout. Massage guns also provide fleeting benefits, such as temporary relief from post-workout muscle soreness and reducing muscle fatigue.
Portability
The main benefit of mini massage guns over standard massage guns is the added portability. What you lose in power or speed is well made up for travel-friendly features. Most mini massage guns weigh just 1 to 1.5 pounds and measure less than 6 inches in height, which makes them ideal for tossing in a backpack or carry-on bag.
Mini Massage Gun Buying Guide
Here are a few factors to consider before you buy a mini massage gun:
Portability
If you're looking for a mini massage gun, I feel like I can safely assume you want it to be portable or, at the very least, super easy to store. Luckily, every mini massager I recommend weighs less than 2 pounds. In addition to looking for one with a low weight, look for one that comes with a handy travel case that fits the charger and attachments.
Power
Compared to standard-sized massage guns, mini massage guns don't pack as much power. This is because the smaller housing doesn't allow for the more powerful motors found in standard massage guns. However, if you're willing to pay for a mini in the $150 to $200 range, you can get amplitudes up to 12 millimeters and stall forces of up to 35 pounds. On the ultra-budget end, you'll be looking at amplitudes of 6 to 9 millimeters and stall forces of 15 to 20 pounds.
Speeds
Every mini massage gun I recommend has at least three speeds, and I don't recommend buying one that has fewer than that. Some of the more expensive ones have five to six speeds, which is great, but not a necessity for most people.
Attachments
At least three massage heads is ideal, but some mini massage guns only come with one or two. Some come with four or five. It's really up to personal preference and understanding what the different attachments are used for before paying for them.
Noise Level
I generally recommend buying a massage gun that doesn't reach more than 60 decibels. Anything louder than that makes it a little difficult to have a conversation or watch TV while you're using it.
Battery Life
Smaller massage guns sometimes lack in battery life, but this isn't a rule. Most of the mini massage guns on this list have a rechargeable battery that can last more than five hours on a single charge. I recommend looking for at least two hours of battery life.
Quality and Price
Just because a product is teensy doesn't mean it lacks in value. Most consumers shop around with the intent of finding the best quality product that fits their budget. For mini massage guns, the best quality products hover around the $150 to $200 price range, but you can find good products in the $60 to $100 range, as evidenced by the Bitfinic Mini and Recoverfun Mini.
Best Mini Massage Guns FAQs
Do massage guns really work?
Yes, percussion massage guns do work. They work similarly to foam rollers: By manually massaging muscles and fascia, a type of connective tissue in the body, they improve blood flow and reduce muscle soreness and tension. 
How do you use a massage gun?
You can use a massage gun in several ways. The primary use is for muscle recovery, so people tend to use them post-workout to help flush out lactic acid and other metabolic byproducts of exercise. However, you can also use a massage gun as part of a warm up, to improve blood flow, ease back pain, or promote general wellness.
Is the Theragun Mini powerful?
The Theragun Mini is one of the more powerful mini massage guns available. It has a 20-pound stall force and 12-millimeter amplitude.