We test and review fitness products based on an independent, multi-point methodology. If you use our links to purchase something, we may earn a commission. Read our disclosures.
For massage therapy on the go, look no further than handheld muscle massage guns. These popular workout recovery tools can reduce muscle tension and expedite recovery so you crush your next tough workout. Problem is, there are just so many of these massage guns on the market it's hard for people to choose one.
That's where I come in: In my Renpho massage gun review, I'll let you in on who should buy this massage gun and who should look elsewhere.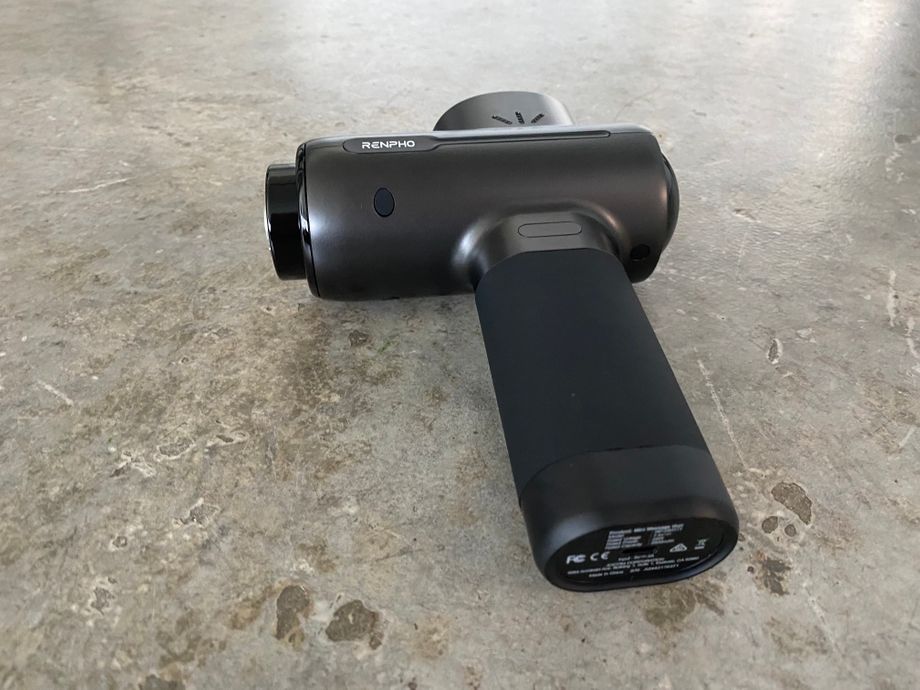 Why You Should Trust Us
Somehow, along this whole fitness writing journey, massage guns became a little specialty niche of mine—looking back, it's probably because I wrote one of the first in-depth reviews on Theraguns in 2018 and continued writing about the technology that drives percussive therapy ever since. Over the last four years, I've written more than 20 articles about massage guns (yes, I counted), including an in-depth guide to the best massage guns.
Renpho R3 Massage Gun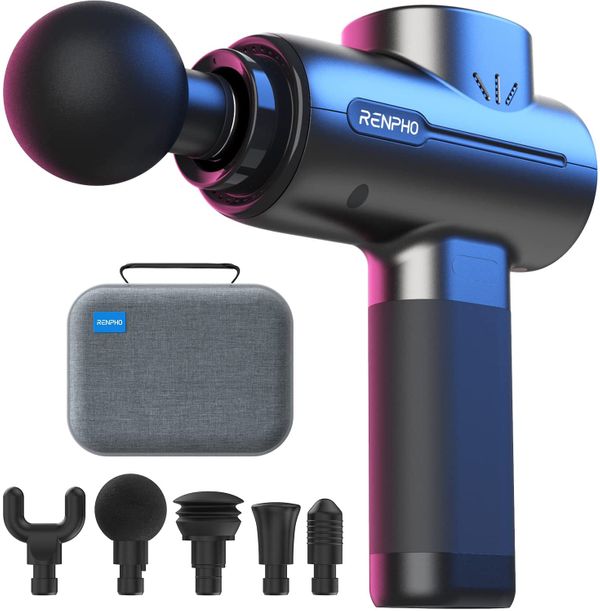 Renpho R3 Massage Gun
The ultra-lightweight, super quiet, and powerful Renpho R3 Mini Massage Gun is widely loved by users with over 10,000 great reviews on Amazon. This little beast of a gun comes with its own traveling case complete with five head attachments and a USB charger.And with a low noise level of only 45 decibels and weight of 1.5 pounds, it makes for a great sidekick when traveling. Use the R3 anywhere you want without worrying about disturbing others. The R3 is designed with  metal housing and a powerful brushless motor that delivers a relatively deep muscle tissue penetration (given its size) at a 10-millimeter amplitude. When targeting different muscle groups, choose between the five different massage heads and select from five speeds running from 1,800 RPM to 3,200 PPM.When used at the lower speed settings, the R3 is designed to hold a battery charge for up to 150 minutes, which is quite a bit less than competing models. However, the R3 does feature a 10-minute auto-off timer for improved battery life and user safety.
A Quick Look at the Renpho R3 Massage Gun
Renpho is a global brand that was founded in California in 2016. The company first released a smart scale and followed up with a foot massager based on Shiatsu concepts. In 2020, Renpho launched its mini massage gun, quickly following with the launch of the Renpho R3 massage gun in 2021.
The Renpho brand ethos seems to be grounded in providing a good value, so it makes sense that most of their products are affordable compared to competitors in their product categories. The Renpho R3 massage gun is no exception: It offers decent specs for a good price, all of which I'll break down in this review.
My Tips:
Some product listings and reviews call the R3 a mini massage gun, but it's not quite a mini massager in my opinion. It's slightly larger than most minis at 7.3 inches in height, so keep that in mind.
Set your expectations correctly: This isn't an elite-level percussion massage gun, so don't buy it if you're expecting a professional-grade massage. That said, buyer feedback indicates the R3 provides the perfect amount of pressure for most people.
My Favorite Things:
Compact and lightweight
Comes with five interchangeable heads
Runs at a maximum of 45 decibels
My Callouts:
Isn't a pro-level solution
Amplitude maxes out at 10 mm
Integrated battery (not removable or replaceable)
Speeds
Motor
Attachments
Battery Life
Noise
Product Weight
Product Dimensions
1.5 lb5 (1,800-3,200 PPM)
Brushless
5
150 minutes
40 dB max
1.5 lb
7.3" L x 5.7" W x 2.3" H
Is the Renpho R3 Massage Gun Worth It?
Usually, I answer this question with "it depends," as whether or not a product is worth the price does depend on many factors, largely personal budget.
However, I'm quick to recommend the Renpho R3 massage gun due to its value proposition:
For $100, you get five interchangeable massage heads, five speed settings ranging from 1,800 to 3,200 percussions per minute (PPM), an ultra-quiet brushless motor, and a near-2-hour battery life all packed into a portable 1.5-pound device. All of this comes in a nice carrying case that neatly fits all of the attachments and the USB-C charging cable.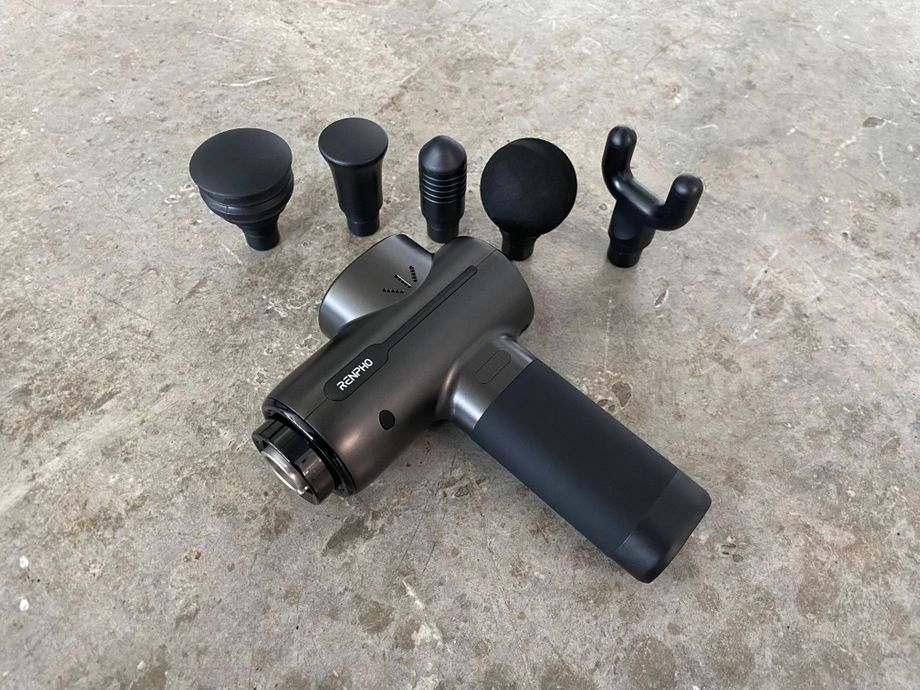 To be fair, though, I would recommend any $100 massage gun with similar specs, honestly—and there are so many.
No, the Renpho R3 massage gun isn't the best, most powerful, feature-rich percussion massage gun. For anyone with a budget of around $100, though, it's a solid option.
(See which products made our guide to the best budget massage guns—the Renpho didn't quite cut it, because there are better massagers out there for around $100.)
Great for:
People who want a gentle but effective massage gun
Trainees who need a super quiet recovery tool
Anyone looking for a good value
Not recommended for:
People looking for the most powerful massage gun
Trainees who want advanced features, like a force meter or Bluetooth connectivity
People who want a massage gun with a replaceable battery
Using the Renpho R3 Massage Gun
My experience with the Renpho R3 massage gun met my expectations spot on. Read on for my analysis of this affordable handheld massager.
Related: How to Use a Massage Gun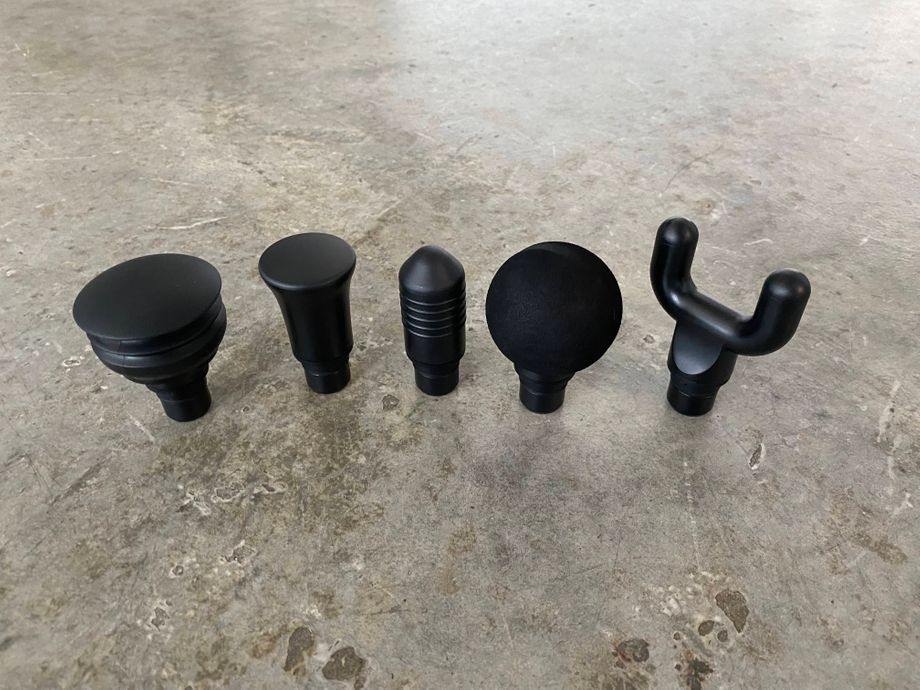 Attachments
The R3 comes with five attachments: bullet, fork, ball, flat, and dampener. These are all basic, except for the dampener, which isn't often included with massage guns.
Dampener massage head attachments are designed so that they compress slightly when they make contact with the body. This makes them great for very sore or tender muscles, as the impact won't be as blunt.
The bullet attachment works well for targeting trigger points, while the ball and flat attachments are great for sweeping across large muscles.
The bullet head, flat head, and fork attachment are made of plastic; the ball head attachment is a dense foam; and the dampener features silicone construction.
Experience
The Renpho R3 massage gun provides a good—but not great—massage. It has an amplitude of 10 millimeters, which means it doesn't actually qualify as a percussive massage gun. (If you want to get technical, the R3 provides a vibration massage, not a percussive massage.)
Still, thousands of buyers have left reviews on Amazon and elsewhere that the R3 provides plenty of power. Some have even gone so far as to call the device too powerful. (I disagree, but I always take into account the customers' thoughts.)
The R3 features five different speed settings ranging from 1,800 to 3,200. The individual PPM settings are 1,800, 2,500, and 3,200 PPM. In use, you can easily change the speed by pressing the button in the center of the "display," which is not truly a display but has little LED lights to indicate what speed you're on, as well as the remaining battery life.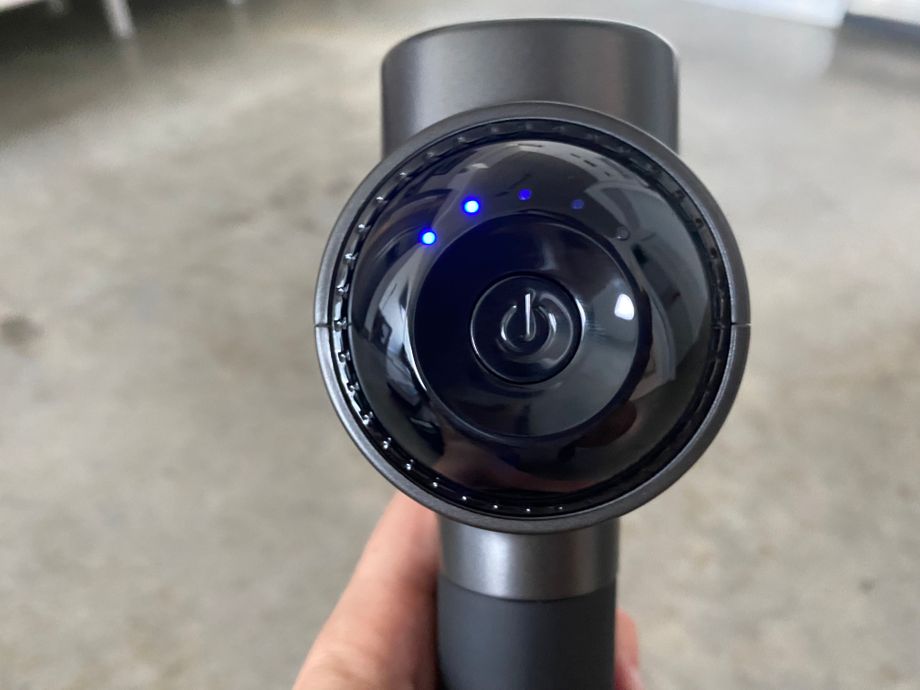 It sports the same type of brushless motor found in the average massage gun—it's alright, but doesn't come close to Theragun-level treatment. The brand doesn't disclose the wattage of the motor nor the stall force, so it's hard for me to speak to power.
Based on my past experience with massage guns and my knowledge of specs, I estimate the max stall force on the R3 to hover around 30 pounds, which is more than sufficient for most people. The Theragun Prime, my all-time favorite pick, has a stall force of 30 pounds for reference.
I found the R3 to be a solid choice for extra sensitive muscles and for use immediately post-workout. Despite its shallow amplitude, it seems to moderately help with warm-ups, too.
To learn more about these specs, read our guide: Do Massage Guns Work?
Noise Level
The Renpho R3 massage gun is one of the quietest I've used, clocking in at just 40 to 45 decibels—perfect for lounging on the couch, watching "Friends" reruns, and recovering for your next workout at the same time.
Battery Life
Renpho could've done better in regard to battery. The R3 holds a 2500 mAh lithium-ion rechargeable battery, which is a pretty common type of battery amongst massage guns, but the battery life is a mere 150 minutes.
Other massage guns with the same type of battery—and some with more power—boast longer battery lives than this, so I'm not really sure what's up with the Renpho battery situation. For example, the Ekrin Athletics BANTAM massage gun, my favorite under-$150 massage gun, lasts up to 6 hours on a Samsung 1600 mAh lithium-ion battery.
Also, the Renpho R3 has an integrated battery, which means it isn't removable nor replaceable, so if it dies, you're on the hook for replacing the entire gun.
Perhaps one redeeming quality here is that the R3 charges with a USB-C cable: If you lose the charger, you likely have an identical one lying around somewhere.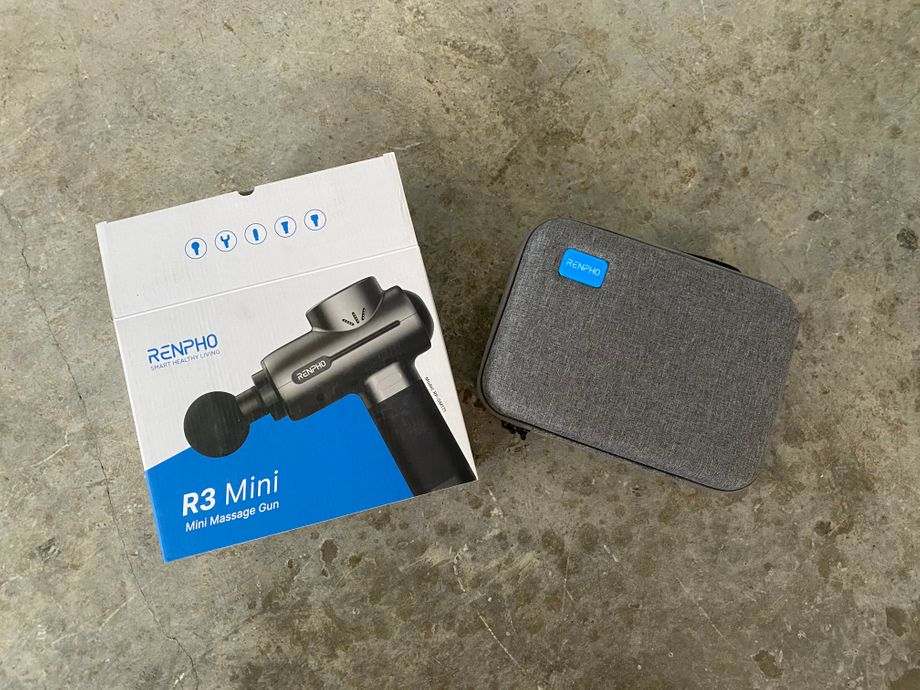 Traveling With the Renpho R3 Massage Gun
Taking the R3 along for a vacation or work trip wouldn't be cumbersome per say, but this isn't a true mini massage gun, so it's not toss-in-a-purse tiny. The product dimensions are 7.3 long by 5.7 inches wide by 2.3 inches high; case dimensions are approximately 8 inches by 10 inches, or about the size of a piece of paper.
The carrying case is nice and protective, with dedicated spaces for all of the attachments, as well as the charging cable. It has a hard protective shell, so you can place the whole thing in a checked suitcase without worry.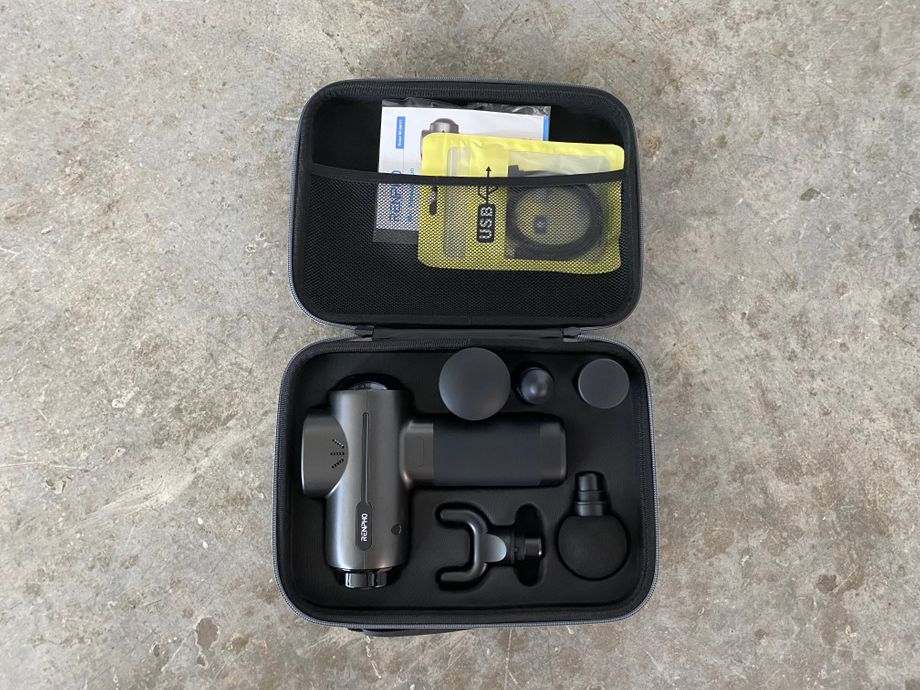 The Ergonomics
I really like the handle on the Renpho R3 massage gun. It's thinner than the handle on most massage guns, but the Renpho R3 still sports the typical T-shaped style. You can easily reach many different muscle groups with the R3, despite its smaller size.
Between the slender grip and the product weight of just 1.5 pounds, I find the R3 easier to hold for longer periods of time compared to other similar massagers. For comparison, massage guns that aren't explicitly categorized as minis tend to weigh between 2.5 and 4 pounds. As I mentioned earlier, the Renpho R3 isn't quite a mini, but it isn't quite full-sized either. Basically, it has a low weight for its size.
The grip features a silicone wrap, so no need to worry about sweaty, slippery hands after a workout.
Technology Benefits and Conveniences
This massage gun doesn't have smart features like an integrated force meter that tells you how much pressure you're applying to the device or an adjustable ergonomic arm. It also doesn't have Bluetooth connectivity, and thus none of the in-app controls that are becoming mainstays in higher-end percussive devices.
I'll be the first to say I don't think those features really matter. Sure, they're a nice touch and grounds for bragging rights with your gearhead friends—but they don't improve the functionality of a massage gun by much.
The ability to choose a precise speed within a given PPM range via an app is cool, but it isn't earth-shattering and everyone will fare just fine with the five fixed speeds on the Renpho R3.
Ordering the Renpho R3 Massage Gun
Nothing unusual or frustrating occurred during ordering or delivery of the Renpho R3 massage gun. The box arrived intact, and everything was packaged well. The product showed up at my doorstep clean and undamaged. Gotta love good first impressions!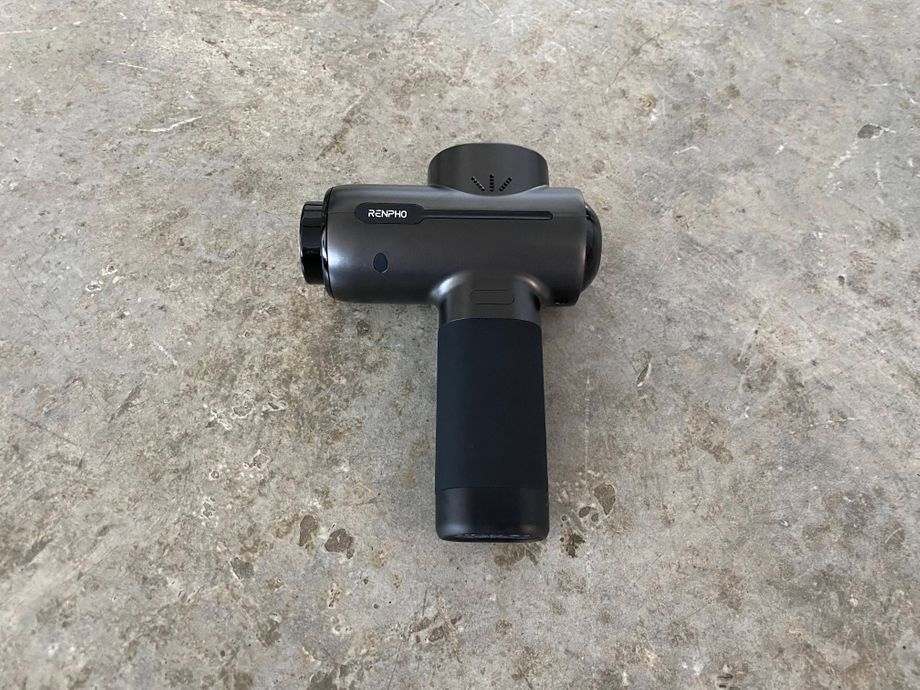 Customer Experience
The Renpho customer experience will differ widely based on where you purchase your massage gun. If you buy on Amazon, you're subject to Amazon policies and customer service.
If you buy on the Renpho website, you can finance through Klarna. Wherever you buy, there's a 30-day return policy and one-year limited warranty for manufacturer's defects.
Customer Reviews
Buyers have left mixed reviews for the Renpho R3 massage gun. While it boasts a 4.7-star average on Amazon with more than 11,000 total reviews, lots of reviews mention poor customer service (although that's not really Renpho's fault if the product is purchased on Amazon) and report that the battery eventually stops charging to 100%.
However, many other reviews praise the Renpho R3 for the convenient USB-C charging cable; five massager heads; its quietness; and its ability to soothe back pain.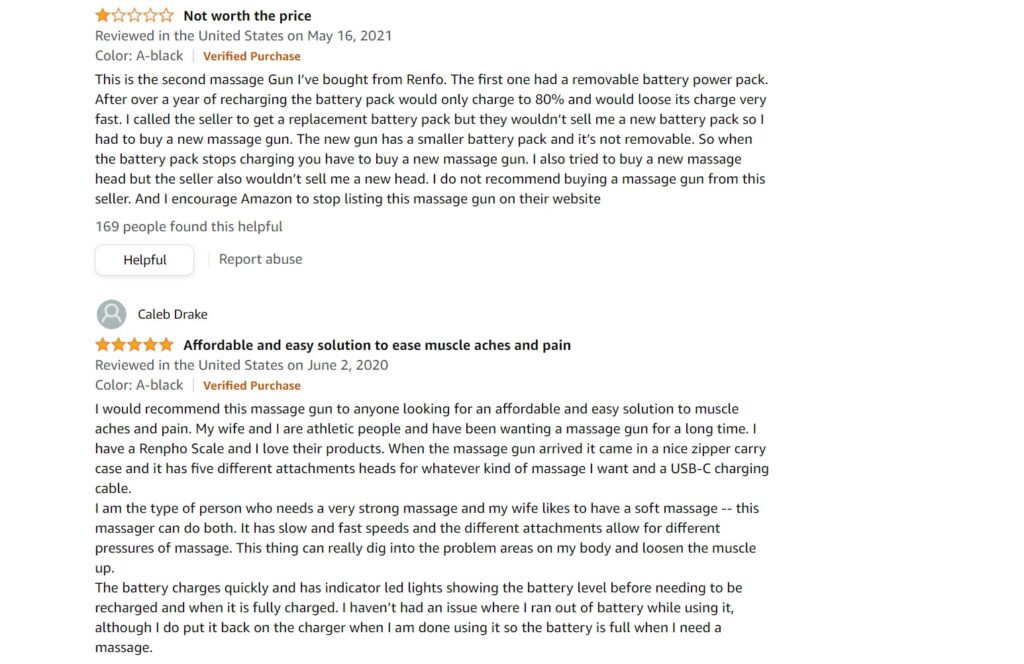 Final Verdict of Our Renpho R3 Review
After thoroughly testing the Renpho R3 massage gun and comparing it to many, I can confidently say I'd pay $100 for this massage gun. It's definitely not the best out there, but it also doesn't cost $300 to $600.
For the price, the Renpho R3 massage gun is a good value. It has an average amplitude for a massage gun of its size, and it comes with multiple attachments and a carrying case for added portability.
You won't get Theragun-or Hypervolt-level treatment with the Renpho massage gun, but it should do the trick for the majority of recreational exercisers.
When all's said and done, the Renpho R3 does a moderately good job of providing pain relief and massaging sore muscles.
Full Rating
Renpho R3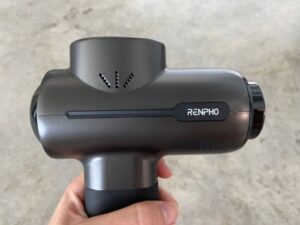 The Renpho massager is affordable, but does it work? Our Renpho massage gun review answers this question and more.
Product Brand: Renpho
Product Currency: USD
Product Price: 169.99
Product In-Stock: InStock
Renpho R3 Massage Gun FAQs
Here are some of the most commonly asked questions about the Renpho R3 massage gun:
Is the Renpho massage gun good for muscles?
Any handheld massager can have a positive effect on muscle tissue. The Renpho massage gun can help relieve muscle soreness, loosen tight muscles, and increase blood flow to treated areas. It won't provide a deep-tissue massage, but it can reduce muscle pain in different parts of the body.
What is the Renpho massage gun's max stall force?
Renpho doesn't list the max stall force of its massage guns online. Based on my experience with other massage guns that do have this information available, I estimate the Renpho massage gun's max stall force is about 30 pounds.
Is Renpho a good brand?
Renpho is a decent brand with an average customer service experience. This brand doesn't make top-of-the-line products, but they are of acceptable quality and come at an affordable price.
Where are Renpho products made?
Renpho was founded in California, but the company is largely based in Shenzhen, China, where its products are made. Renpho also has offices in Taiwan, Germany, and Japan.