We test and review fitness products based on an independent, multi-point methodology. If you use our links to purchase something, we may earn a commission. Read our disclosures.
Are you on a mission to find the best low-sugar protein bars? If so, you've likely heard about Pure Protein Bars. Maybe you've even tried them already and you're looking for a deeper analysis about the nutritional value of these bars. I mean, they taste like candy, so I wouldn't blame you for wondering how such a tasty treat can be a high-protein, nutritionally dense snack. In this Pure Protein Bar review, I'll take you through the nutrition facts label and ingredients list so you can understand if these bars are worth adding to or keeping in your diet.
Medical disclaimer: This article is intended for educational and informational purposes only. It is not intended as a substitute for medical advice. For health advice, contact a licensed healthcare provider. GGR also recommends choosing a product that has been third-party tested for quality.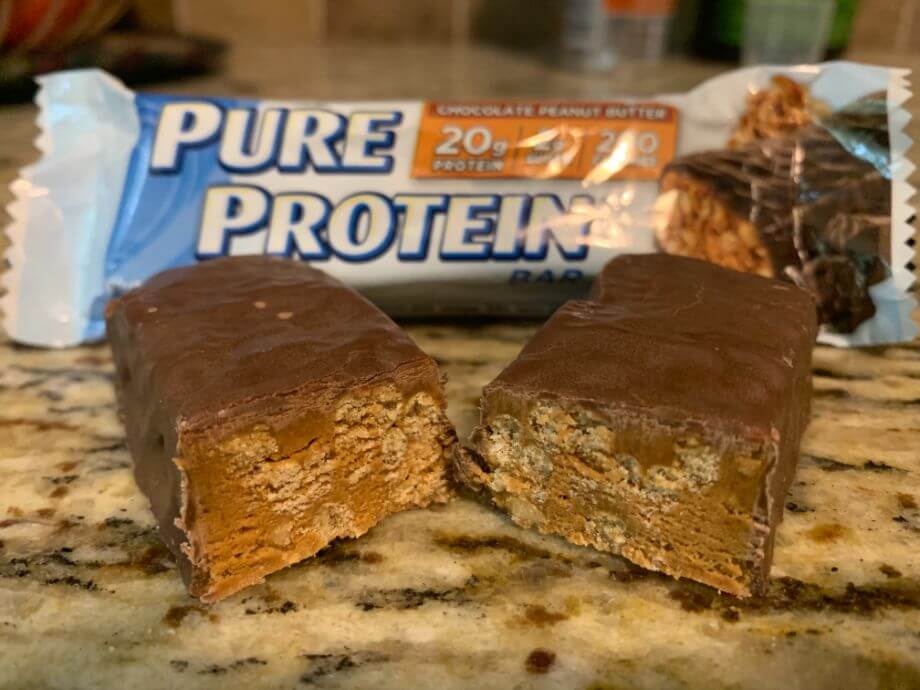 Nearly 50 Protein Bars Tested
At the time of writing, our team of product testers and certified fitness professionals has tested nearly 50 different protein bars for taste, texture, side effects, and nutritional profile. We deeply analyze every product we receive in our quest to bring you reviews that help you make smart purchasing decisions.
Pure Protein Bars
GGR Score: 4.3
Product Highlights
Low-sugar

Gluten-free

20 g of protein per bar

Great taste and flavor options

Affordable
Pros & Cons
Pros
Packed with protein that helps you feel full and reduce cravings
Great price for overall quality of product
Gives you fuel to keep an active lifestyle going
Variety of flavor options to satisfy any sweet-tooth
Tastes like candy
Cons
The specific carb and calorie count will vary by flavor
Uses artificial flavoring
Includes artificial sweeteners
Some customers felt these had a bit more aftertaste than other bars
Bottom Line
If you are trying to keep a diet that is balanced and are struggling to get enough protein in, this would be a great bar to add to your shopping cart, online or in person. Pair it with a piece of fruit, maybe a healthy carb, and a glass of water and you have a great meal on the go.
A Quick Look at Pure Protein Bars
Pure Protein Bars are made by the food and supplement brand Pure Protein. They are low-sugar, high-protein snack bars that come in several flavors. They're ubiquitous in grocery stores; whatever chain you shop, you've likely seen them in the snack or health food aisle.
RELATED: Best Protein Bars for Men
Before You Buy
While these are often marketed as a keto-friendly protein bar, beware that the net carbohydrates in some flavors top 10 grams, which can kick you out of ketosis if you aren't careful.
There are few grams of sugar in these bars, but they contain maltitol, a sugar alcohol, and sucralose, an artificial sweetener.
These are not a meal replacement! At 180 to 220 calories per bar, you should treat Pure Protein Bars like a pre-workout or post-workout snack, or something to take the edge off in between meals.
Are Pure Protein Bars Worth It?
Pure Protein Bars are one of the more budget-friendly protein bar options available. They're a worthwhile buy for the right customer. Here's a look at who might enjoy them and who should pass.
RELATED: Best Protein Bars for Women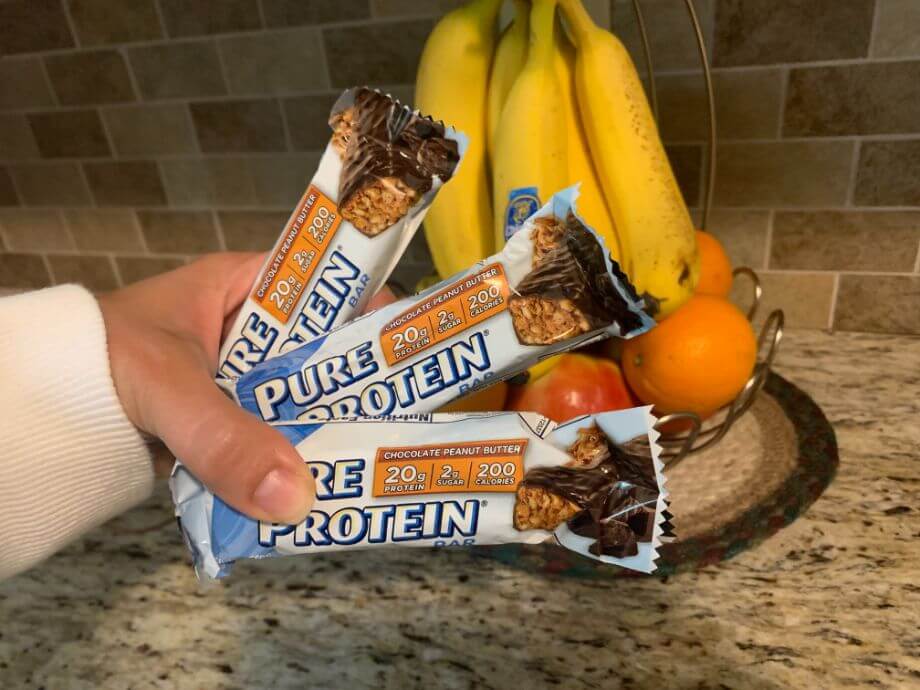 Great for:
People with few dietary restrictions
Macro-focused individuals
Anyone who wants what is basically a high-protein, low-sugar candy bar
Not recommended for:
Vegans, vegetarians, and lactose-intolerant individuals
People who prefer to avoid artificial ingredients
People with allergies to soy, tree nuts, or peanuts
Pure Protein Bars Specs
| | |
| --- | --- |
| Price per serving | Usually under $2 per bar on Amazon, but up to $3 per bar |
| Calories | 180–200 |
| Protein per serving | 20–21 g |
| Carbs per serving | 16–18 g |
| Fiber per serving | 1–2 g |
| Fat per serving | 5–8 g |
| Sugar per serving | 1–4 g |
| Sweeteners | Maltitol, sucralose |
| Protein source(s) | Protein blend that varies based on flavor, can include: whey protein isolate, soy protein isolate, milk protein isolate, and whey protein concentrate |
| Suitable for | Low-carb (net carb) or low-sugar diets |
| Not suitable for | Vegan, vegetarian, paleo, gluten-free, soy-free, non-GMO, or lactose-free/dairy-free diets; those with allergies to soy, peanuts, or tree nuts; those with sensitivities to artificial sweeteners |
Experience Trying Pure Protein Bars
Several people on our team have tried Pure Protein Bars, including myself, GGR performance editor Anthony O'Reilly, and GGR head of content Kate Meier. We all enjoy them and they're something any one of us might scoop up on a grocery run randomly.
Kate, who tends to only enjoy a given protein bar for a few servings and then moves onto something else, says that Pure Protein Bars are one of the only supplements/snacks that she can see herself continuing to consume for the long haul. 
"I'm someone who likes a bar for like three servings and then I hate the bar. But this is probably one bar I could see myself eating more often because I really like the taste, and it isn't dry like many other bars are," she says.
RELATED: Best-Tasting Protein Powder
Price Per Serving
The price per serving of Pure Protein Bars is quite volatile and depends on a number of factors, including the flavor, the size of the package you buy, where you buy it, and when you buy it. However, you're highly unlikely to pay more than $1.80 per bar if you buy a box of them, which makes these a very budget-friendly protein bar.
If you buy the bars in singles from a brick-and-mortar store, they can cost more than $3 per bar which is, quite frankly, outrageous, so I recommend avoiding that.
Formulation and Ingredients
The nutrition facts labels on Pure Protein Bars boast impressive macros, although digging deeper, it's apparent that some health and fitness enthusiasts may not be stoked about the ingredients.
The macros vary slightly depending on the flavor, but 20 grams of protein is standard across flavors. The variation comes from the dietary fat, carbohydrate, sugar, and alternative sweetener content.
In the Chewy Chocolate Chip flavor, the macros are as follows:
200 calories
5 g fat (3.5 saturated)
18 g carbs (2 g dietary fiber, 3 g sugar, 2 g added sugar, 5 g sugar alcohol)
20 g protein
There are also 15 milligrams of cholesterol and 110 milligrams of sodium in the Chewy Chocolate Chip bar.
Pure Protein Bars are sweetened with maltitol and sucralose, and the protein comes from a blend of whey, milk protein, and soy protein.
Other ingredients in the bars include hydrolyzed collagen, glycerine (humectant), maltodextrin (a processed carbohydrate), palm kernel oil, milk, tapioca starch, soy lecithin (emulsifier), butterfat, xanthan gum (emulsifier, thickening agent), peanut flour, nut butters, canola oil, and tocopherols (flavor preservative). 
Finally, you will see a variety of flavoring ingredients, such as dark chocolate, cocoa, salt, vanilla powder or extract, fruit extracts, or spices.
So, the ingredients list is long, and it contains many items that a very health-conscious person may not always want to consume. That said, I—and others on our team—eat these protein bars with no problems and so do many other people.
Thanks to the milk and whey proteins, Pure Protein Bars provide 10% of the daily value for calcium, at 150 milligrams per bar. They provide minimal potassium and iron as well.
RELATED: Best Whey Protein Powder
Taste and Texture
Probably the best thing about Pure Protein Bars—and the reason they're so popular—is the decadent taste and candy bar-like texture. These protein bars have a candy-like coating and an interior that resembles nougat. Between the maltitol and sucralose, they're very sweet, too.
There are many flavors to choose from, including:
Chocolate Deluxe
Chocolate Peanut Butter
Birthday Cake
Chewy Chocolate Chip
Cookies & Cream
Chocolate Peanut Caramel
Chocolate Salted Caramel
Lemon Cake
I've tried several flavors, and my favorites are Cookies & Cream and Chewy Chocolate Chip. I do detect a bit of an artificial aftertaste from the sugar alcohol and sucralose, but nothing so strong that I don't return to these bars.
Side Effects
Some people may have adverse reactions to some ingredients in Pure Protein Bars.
Sugar alcohols and artificial sweeteners may cause GI distress such as bloating
Whey and milk protein cause GI distress in lactose-intolerant individuals
Soy, tree nut, and peanut products are common allergens and should be avoided by people who have known allergies
Pure Protein Bars vs Quest Bars
Quest Bars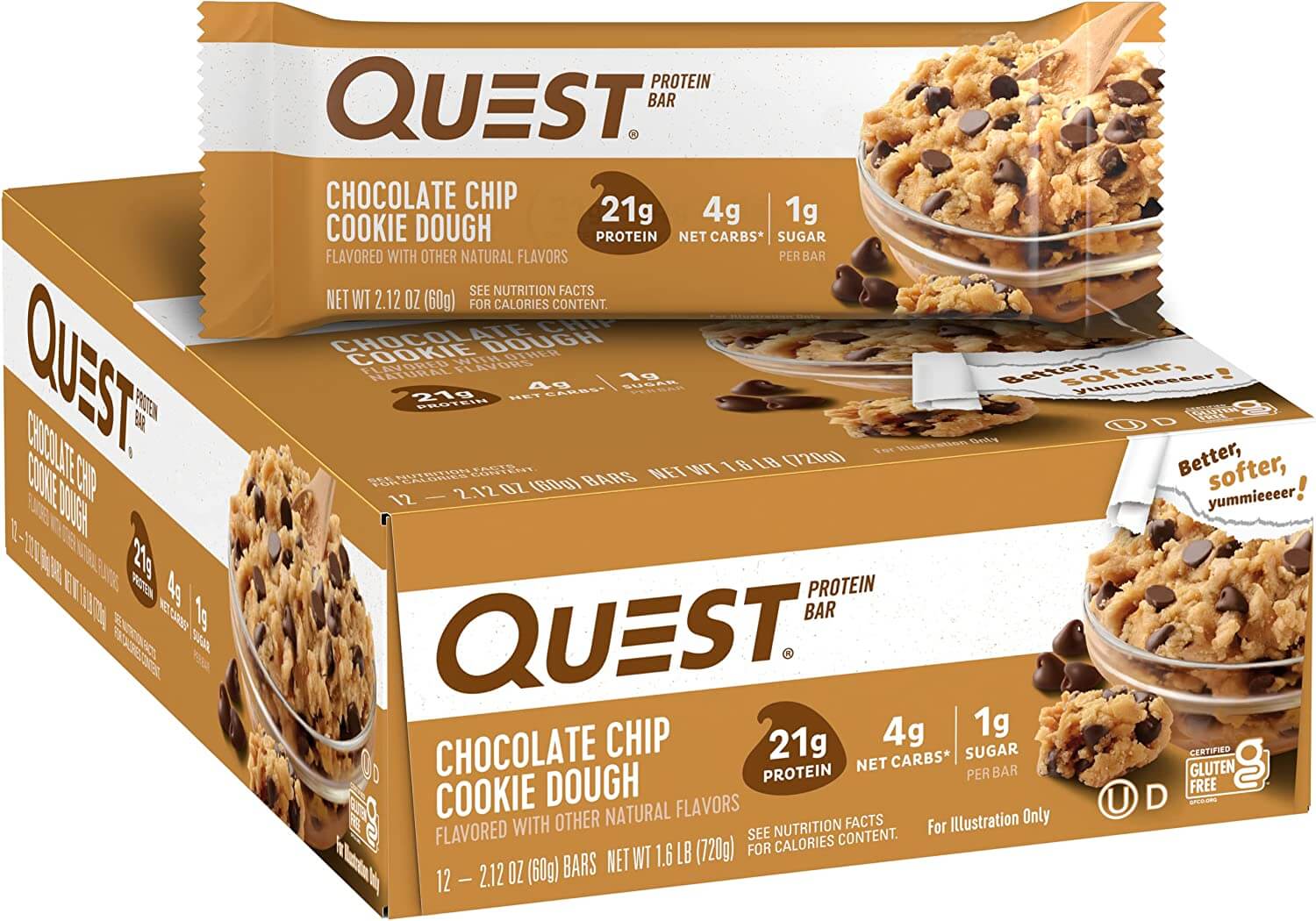 GGR Score: 4.1
Product Highlights
Gluten-free

Low-sugar

16 flavor options

17-21 grams of protein depending on the flavor

Low net carbs
Pros & Cons
Pros
Great product to keep your macronutrients on target
Simple, grab-and-go snack
Gluten-free helps with dietary restrictions
Low in sugar
Very filling
Cons
Chewy texture isn't for everyone
Uses sugar alcohols, which can upset digestion
The company recently changed the formula a bit and several customers didn't like the change
Can get too soft if gets too hot (like in a car or gym bag)
Bottom Line
Quest Nutrition has been serving the health and protein market since 2010 and they continue to give people high-quality products. They offer some unique flavors in their bars not seen by competitors such as White Chocolate Raspberry, Chocolate Sprinkled Donut, and Lemon Cake.This is one of the few bars that is actually recommended to stick in the microwave for about 15 seconds to produce a rich, tasty treat. Using a high-quality dairy-based protein, Quest Bars are dense and chewy in texture.These bars fall pretty well right in the middle as far as price point so you don't have to break the bank to get your protein in consistently. You will want to pay attention to the ingredients as many of the customers who have used Quest for a long time were not fans of the newer formula, although if you don't have anything to compare it to, you might find you like it just fine.
Quest Bars are another popular protein bar among fitness enthusiasts. I've tried both, so I can provide a comparison between Quest Bars and Pure Protein Bars. This chart outlines the primary similarities and differences.
| | | |
| --- | --- | --- |
| | Pure Protein Bars | Quest Bars |
| Price per serving | Usually under $2 per bar but up to $3 per bar | $2–3 per bar |
| Texture | Soft and chewy | Chewy, but dense and heavy |
| Coated? | Yes | Only some, most are not |
| Protein per serving | 20–21 g | 17-21 g |
| Carbs per bar | 16–18 g | 24-25 g |
| Fiber per bar | 1–2 g | 8-13 g |
| Fats per bar | 5–8 g | 6-9 g |
| Sweeteners | Maltitol, sucralose | Erythritol, stevia |
| Calories | 180–220 | 180–220 |
| Flavors | Chocolate Deluxe, Chocolate, Peanut Butter, Birthday Cake, Chewy Chocolate Chip, Cookies & Cream, Chocolate, Peanut Caramel, Chocolate Salted Caramel, Lemon Cake | Dipped Cookies & Cream, Chocolate Chip Cookie Dough, Oatmeal Chocolate Chip, Chocolate Peanut Butter, S'mores, Caramel Chocolate Chunk, Lemon Cake, Chocolate Brownie, Chocolate Sprinkled Doughnut, Mint Chocolate Chunk, Birthday Cake, Blueberry Muffin, Double Chocolate Chunk |
| Protein Source | Protein blend (whey protein isolate, soy protein isolate, milk protein isolate, and whey protein concentrate) | Protein blend (milk isolate protein, whey isolate protein) |
Customer Experience
Pure Protein Bars are sold in tons of stores—basically anywhere you can buy food—so there's no streamlined customer experience to report on. In general, I'd assume most people just grab a box during their grocery run. You'll be subject to the policies of whichever retailer you buy from, although you can get in touch with Pure Protein via their website with any persistent issues.
Ordering Pure Protein Bars
You can find these bars at virtually any retailer, from Costco to Walmart to your closest gas station, but you likely won't find them at a Whole Foods or Sprouts since they aren't au naturel. We ordered them on Amazon and find that to be the easiest way to buy in bulk in the flavors we want.
Customer Reviews
It's clear that Pure Protein Bars are a favorite of many people. On Amazon, the bars have an average rating of 4.5 out of 5 stars at the time of writing, with most customers raving over the texture, taste, and affordability.
"I'm always on the go and need something quick and easy to snack on, and these bars are perfect for that. They taste amazing and are packed with protein to keep me fueled throughout the day," one reviewer wrote. "I love that these bars are also affordable and come in a variety of flavors, so I never get bored. Plus, they're a great option for anyone who's trying to stick to a healthy lifestyle and needs a quick protein boost on-the-go."
Negative reviews are few and far between, and they generally complain of a lack of quality assurance. Some customers have received boxes of stale or dry, crumbly protein bars instead of the fudgy bars they were expecting.
Final Verdict of Our Pure Protein Bar Review
If you don't have any dietary restrictions and you are looking for a sweet, high-protein snack, I recommend picking up a variety pack of Pure Protein Bars and trying out the flavors. You'll likely find one you like and then you'll have a new tool in your arsenal for taking the edge off between meals and, if it pertains to you, controlling sugar cravings to help with weight loss.
Pure Protein Bar Full Rating
Pure Protein Bar
Pure Protein Bars are popular and budget-friendly–but are they healthy? Find out in our Pure Protein Bar review.
Product Currency: $
Product Price: 16.99
Product In-Stock: InStock
Pure Protein Bar FAQs
Are Pure Protein Bars healthy? 
It depends on your definition of "healthy." If by healthy you mean a high-protein snack with a great taste without added sugar, then yes, Pure Protein Bars can be considered healthy. They're a highly processed food, though, so they won't appeal to people who follow specific diet types.
What are the best protein bars?
Is it OK to eat Pure Protein bars everyday?
If you don't have any allergies or reactions, such as GI distress, to any of the ingredients in these bars, then yes, it's perfectly safe to eat one every day.
These statements have not been evaluated by the Food and Drug Administration. This product is not intended to diagnose, treat, cure, or prevent any diseases.