We test and review fitness products based on an independent, multi-point methodology. If you use our links to purchase something, we may earn a commission. Read our disclosures.
The Kabuki Strength Duffalo Bar has sat high on its throne as one of the best specialty barbells, and certainly the best Buffalo bar for several years. And though some may be a better value when it comes to price, no challenger has come close to taking the crown from the mad scientist Chris Duffin. But could today be the day that changes?
Our Rogue CB4 Buffalo Bar review takes a close look at this bar that's already been vetted by some of the best powerlifters on the planet. We'll let you know if it's also great for a garage gym environment, and whether it's the Buffalo bar that will end Duffalo's reign.
We've Seen the Ups and Downs of the Barbell Industry
We've tested the best Olympic barbells, safety squat bars, powerlifting bars, and barbells just for CrossFit. In other words, we've had our hands on a lot of different types of barbells, some of which cost several hundred dollars and some that are less than $100. It's safe to say that we know a thing or two about what makes a good barbell, and what makes one just OK.
And as CrossFit and weightlifting coaches, certified personal trainers, and competitive lifters, we can also tell you exactly how a specialty bar like the Buffalo Bar works differently from a traditional straight bar, and who should invest in one.
New Kid on the Block

Rogue CB-4 38mm Buffalo Camber Bar
The Rogue CB-4 38mm Buffalo Camber Bar is a collaboration between the strength training equipment manufacturer and Westside Barbell, one of the most iconic powerlifting gyms in the world. What the two sides came up with is one of the strongest bars meant for some of the strongest people.At 38 millimeters thick, this thing is big, and first that might seem intimidating but that extra surface is actually a good thing. It means the bar will have more contact with your back or hands, depending on what movement you're doing, which means you'll have extra stability and security during your lift.A Buffalo-style bar's design takes pressure off the shoulders, making it a great choice for those with joint issues or powerlifters trying to load up heavy weights without causing unnecessary stress.
A Quick Look at the Rogue CB4 Buffalo Bar
The Rogue CB4 Buffalo Bar, the fourth Rogue camber bar and the first to utilize the Buffalo-style design, was developed in collaboration with one of the most iconic powerlifting gyms, Westside Barbell.
Westside and its founder, the late Louie Simmons, have helped develop some high-quality gym equipment in the past (Simmons is credited with inventing the reverse hyper machine), so this was far from their first rodeo.
As one might expect, a collaboration between one of the best barbell manufacturers and some of the best powerlifting minds resulted in a really heavy-duty piece of equipment. The bar was first used during the 2023 Arnold Strongman Classic during a max squat event, which was won with a 966-pound squat by Canadian strongman JF Caron.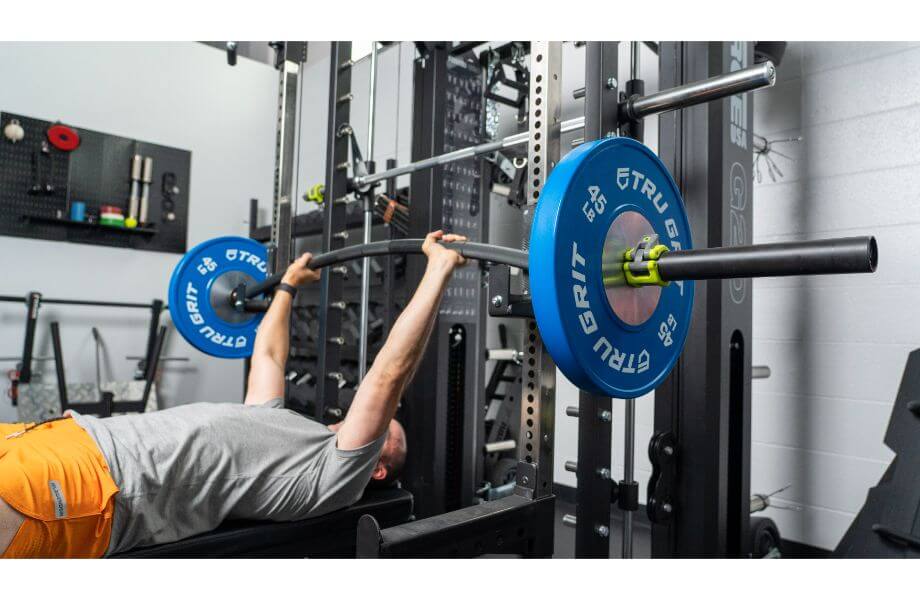 So yeah, this bar can withstand quite a bit of weight and still work at a high level for some of the best athletes. I'd be curious to know how many of our readers are regularly squatting 966 pounds, but I think that's a sign that this bar will probably hold up well for our squatting needs.
Our Tips
Rogue can be expensive, but we have a handy guide on how to save money on Rogue Fitness equipment.
Pros:
Thicker steel provides more comfort and security during lifts
While expensive, it's a great value for a specialty bar
The entire bar is made of high-quality materials, like cerakote and brass bushings
Cons:
Multiple complaints of bars arriving in damaged boxes with scratches on them
Knurling is blunted due to manufacturing process
We've seen some complaints of bars having bent sleeves
Video Review
Is the Rogue CB4 Buffalo Bar Worth It?
The Rogue CB4 Buffalo Bar sells for $495, before shipping and handling, which can be very expensive depending on where you live. Buffalo bars in general or one of those pieces of home gym equipment that's needed by very few people.
One such group are those with shoulder injuries, because the cambered design takes substantial stress off the shoulders. Powerlifters love that feature, too, because it allows them to load up the bar with more weight since they won't be stressing their joints quite as much.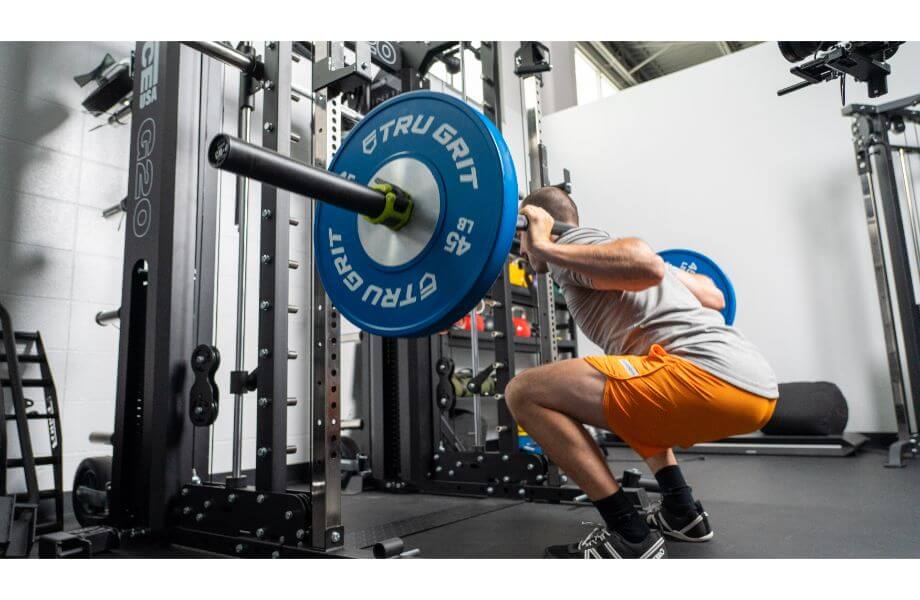 If you fall into one of those categories, then this bar is definitely worth it. The construction is top-notch, it feels great in use, and Rogue backs it with a lifetime warranty. It's also $125 less expensive than Kabuki Duffalo Bar, so it's a far better value.
Great for:
Those with sensitive shoulders
Powerlifters looking to lift very heavy weights
Home gym owners who want a versatile specialty bar
Not recommended for:
Anyone on a budget
Lifters who want to focus on deadlifts (get a trap bar instead)
Those just starting their home gym (buy a multipurpose bar first, then focus on specialty bars)
Rogue CB4 Buffalo Bar Specs
Barbell length
Loadable sleeve length
Diameter
Bar weight
Bushing/Bearing
Shaft coating
Sleeve coating
Made in USA?
95"
16"
38mm
60 lbs
Brass bushings
Cerakote
Proprietary Matte Black Finish
Yes
Lifting With the Rogue CB4 Buffalo Bar
Coop's been able to put this bar to the test with several series of squats, bench presses, and overhead presses. And his initial assessment: This bar feels great. The bar has a 4.4-inch "drop," or the difference between the top of the curve and the point where it's aligned with the sleeves.
This puts the weight plates slightly below your shoulders, which reduces the amount of pressure on your joints. Lifters have said this, and the bar's curve, allows them to get a better range of motion because it allows them to squat deeper, and also helps them get more reps in.
The curve also doesn't change your stance, the same way a safety squat or Marrs-Bar does.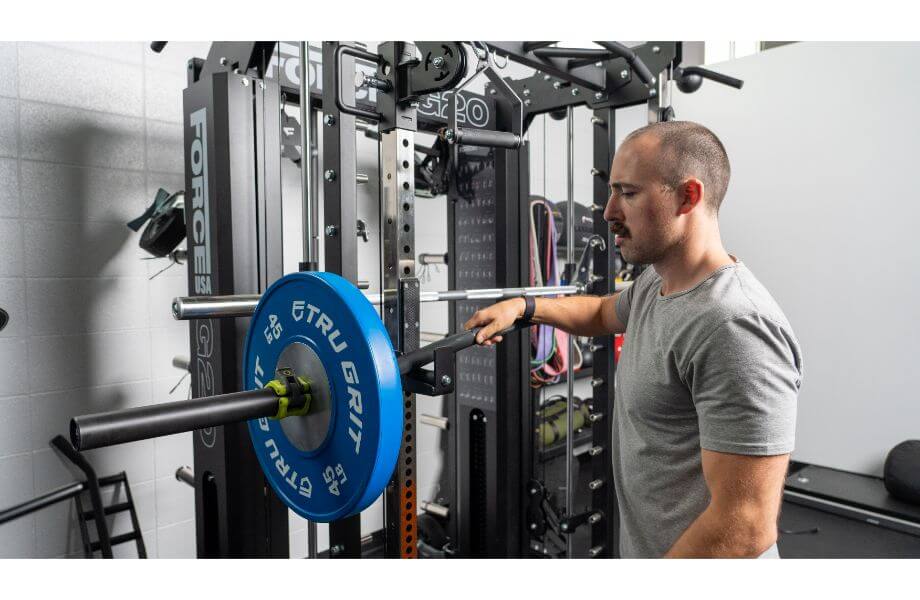 Coop said he didn't notice any difference between Rogue's deeper curve and other Buffalo bars, and that it felt similar to the Duffalo.
Rogue's Buffalo Bar, however, felt more comfortable on the back and in the hands due to its thickness.
And when we say this thing is thick, we're talking about a chocolate milkshake that was left in the freezer type of thick. It's 38 millimeters in thickness, and the Duffalo Bar is only 32 millimeters thick (quite a big jump).
Because the bar is primarily meant for powerlifting workouts, that extra thickness is actually a good thing. The bar has more surface area to make contact with your back during squats, and your hand during any pressing movements.
Coop said this led to the bar feeling more comfortable than the Duffalo Bar and other thinner bars.
The bar's creators also claimed thinner steel caused the bar to wobble when several hundred pounds were loaded on it.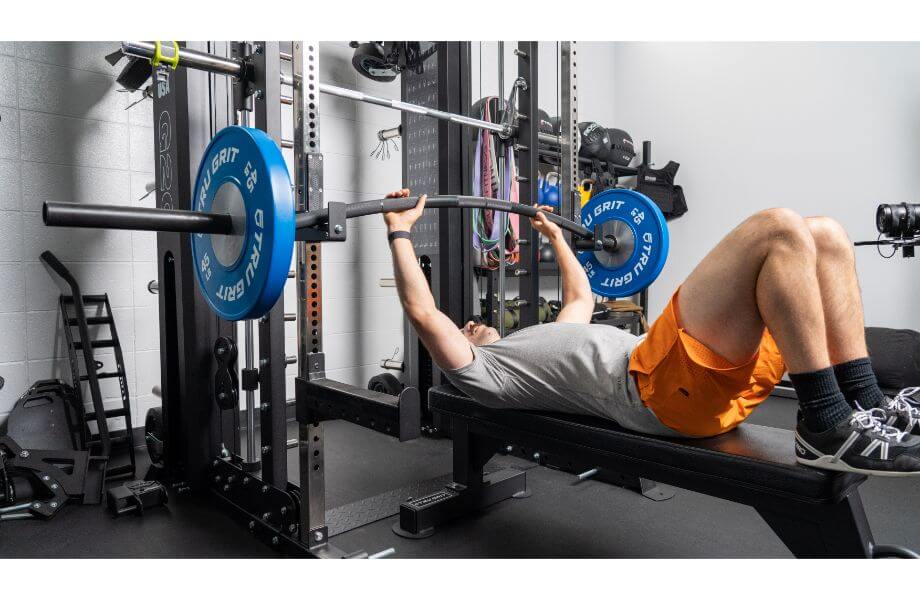 Knurling
The bar comes with the same knurling found on the Rogue Ohio Power Bar, which is a deep and coarse knurl (it doesn't feel sharp like some powerlifting bars). This is some of the best and most beloved knurling in the lifting community, and it's rare to have it placed on a specialty bar like this, especially on the center knurl portion.
You'll certainly get added grip with this knurling, but it does feel a bit blunt compared to what it's like on the Power Bar. This is due to the fact that the bar is pressed, with quite a bit of pressure, to give it its trademark shape. That pressing process, however, causes indentations on the knurl marks.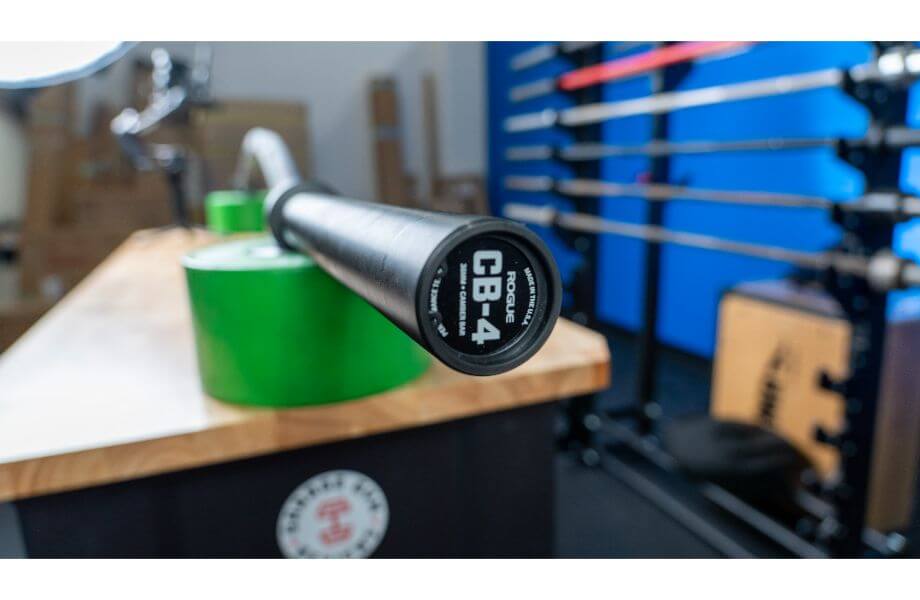 Sleeves
The sleeves are the same as the Rogue Ohio Bar 2.0S, which are coated in a ​​proprietary matte black finish developed by Rogue. This coating is very scratch- and corrosive-resistant, to the point where the coating will actually scratch weight plates' steel inserts. It also comes with a 16-inch loadable sleeve length, so you can place a lot of weight on it (especially if you're using thinner plates).
Brass Bushings
As with any good powerlifting bar, the Rogue CB4 Buffalo Bar uses bushings, which is perfect for powerlifting because it causes minimal spin on the sleeves.
Bars that use needle bearings, on the other hand, have a good amount of spin on the sleeves, which is something you want if you're doing Olympic lifting or CrossFit.
Bushings are also more durable than bearings, and Rogue uses brass, which is one of the most durable metals on Earth.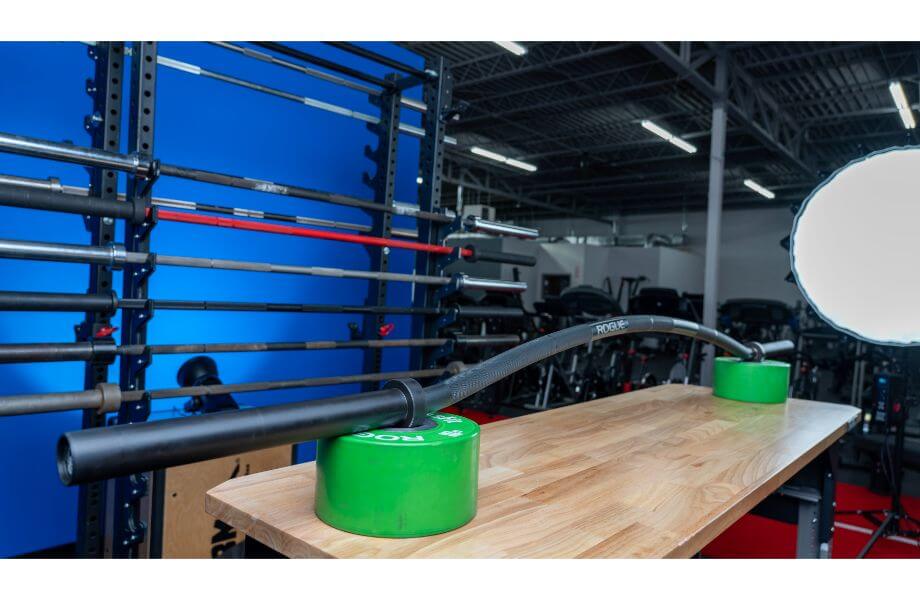 Cerakote Coating
The center of the Rogue CB4 Buffalo Bar is coated with cerakote, a high-quality finish that protects the bar from corrosion or rust for many years.
Rogue CB4 Buffalo Bar vs. Kabuki Strength Duffalo Bar
The Reigning King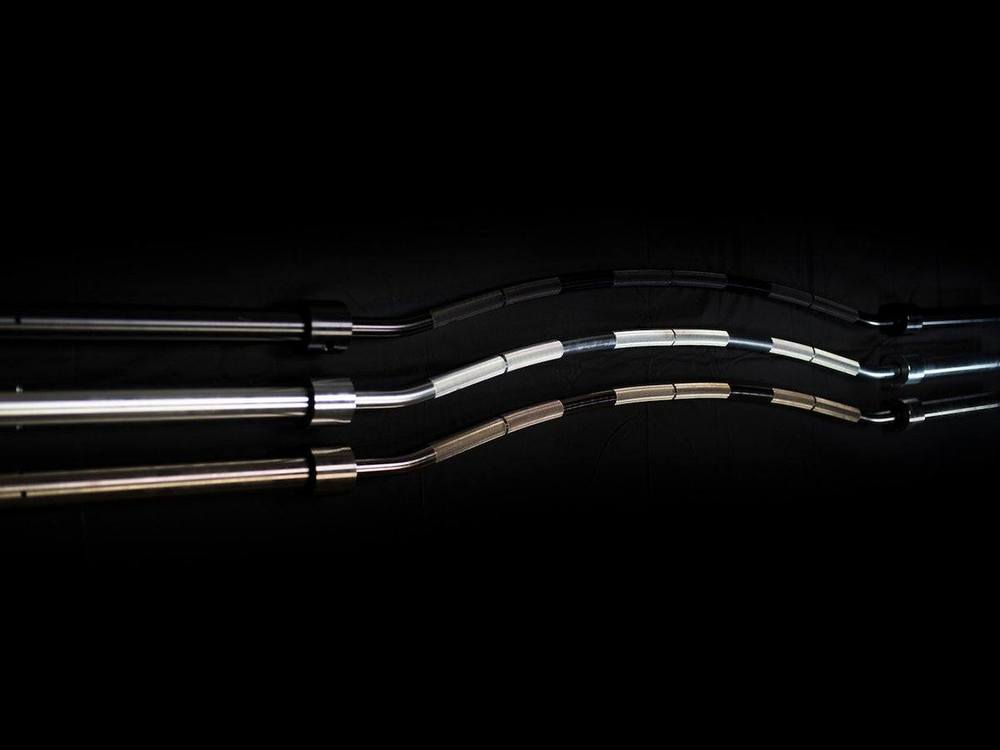 Kabuki Strength Duffalo Bar
The Duffalo Performance Squat and Bench bar is the ultimate bar for squatting and bench pressing, correctly, safely, and for performance. We honestly believe that outside of competition, every lifter would benefit from using the Duffalo Bar vs. a standard barbell. Our proprietary bends allows scapular retraction and also reduce stress on the easily irritated Bicep tendon in the shoulder. It does so while eliminating the counter productive center peak on similar bars. Reducing direct strain on the bicep tendon plus allowing increased back rigidity and proper joint centration through scapular retraction are incredibly important. Additionally our bar improves the ability to improve core stability and conversely improves lumbar stability. Our proprietary bends optimize the wrist angle when held in the pressing positions. This positioning cues proper joint centration in the shoulder while also improving both lat and scapular engagement. Despite the increased ROM of the press users report significantly reduced (eliminated) shoulder pain while gaining increased training effect from the additional range of motion. The improvements in joint centration as well as both lat and scap engagement, grooves the correct pressing patterns, automatically ensuring the proper engrams are programmed.
So here's the thing: If you were to ask us if you should get the Rogue CB4 Buffalo Bar or the Kabuki Strength Duffalo Bar, we'd say go Rogue. We say that because it's $495, before shipping and handling, whereas the Duffalo Bar starts at $620.
But if price isn't an issue for you, and you just want the best Buffalo-style bar, there are reasons you could go either way.
Rogue is a bigger company, so they're going to have fewer availability issues (the Duffalo bar is frequently out of stock because manufacturing can't compete with the demand). The Duffalo Bar has better quality knurling, 1.25 more inches of loadable sleeve length, and is also capable of holding professional strongman levels of weight.
Coop's a fan of Rogue's thicker steel frame, but that's also subjective and there are some people who might not like it.
Read our Kabuki Strength Duffalo Bar in-depth review to get our full thoughts on this iconic bar.
| | | |
| --- | --- | --- |
| Bar | Rogue CB4 Buffalo Bar | Kabuki Strength Duffalo Bar |
| Price | $425 | $620 |
| Bar length | 95" | 96" |
| Shaft finish | Cerakote | Varies |
| Diameter | 38mm | 32mm |
| Bar weight | 60 lbs | 55 lbs |
Rogue CB4 Buffalo Bar vs. Titan Fitness Yukon Bar
The Budget Buffalo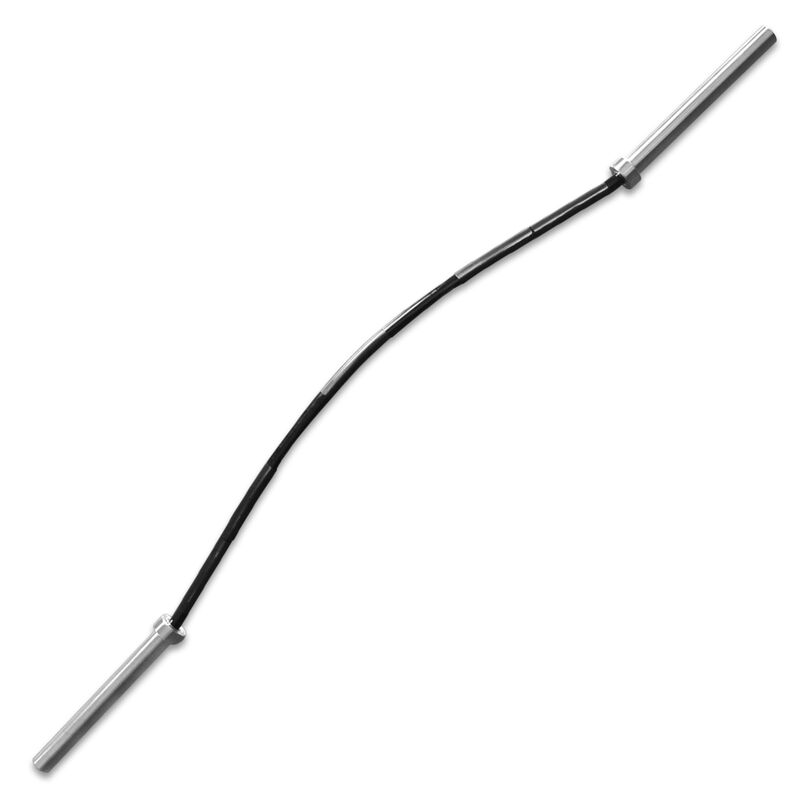 Titan Yukon Bar
Don't settle for unnecessary strain and discomfort, pick up the Yukon Bar from Titan Fitness and give yourself a better workout! Lose your worrisome back and shoulder pain with the brilliantly curved barbell design. The Yukon bar is longer than our other curved barbell, the Bison Bar, at 96" instead of 87" – and a loadable sleeve length of 17 1/2" for each side. Our older Bison Bar maxes out at 500 LB, but the Yukon Bar comes in at a whopping 2,000 LB capacity. Other functional design changes were made, for example, the Yukon Bar will now remain upright when it's racked.Our Yukon Bar will rest comfortably on your shoulders for squatting, with a 6" curvature that feels more natural than an ordinary barbell. The black oxide coating ensures that your barbell's stunning finish is resistant to rust and corrosion. Knurling on the handle stretches across five different sections of the bar; including knurling directly at the center. Between the loadable Olympic sleeves, this bar measures 58 1/8" in handle to handle length. The barbell grip measures at 32 mm, or 1.26" in diameter.LOSE UNNECESSARY PAIN: Using the black oxide-coated Yukon Bar means adding six inches of barbell curvature to help keep your body in pristine form, and put an end to back and shoulder pain from squatting.OUR BEST CURVED BARBELL: The Yukon Bar is longer than our Bison Bar (96" instead of 87"), comes with more loadable sleeve length (17 1/2" instead of 16") and a higher weight capacity (2,000 LB versus 500 LB).BLACK OXIDE COATING: Your barbell will last longer, look great, and exceed expectations with the black oxide coating process – guaranteeing a resistance to rust and corrosion.TOUGH STEEL CONSTRUCTION: Never fear your barbell suffering under too much intensity. Bring your toughest workout to the Yukon Bar – the durable steel construction will make it through.DIMENSIONS: Between sleeves, this barbell measures at 58 1/8", and the grip size is 32 mm (or 1.26") in diameter. The Yukon Bar is designed with a 6" curvature.SPECIFICATIONS: - Overall length: 96" - Length handle to handle: 58 1/8" - Loadable Sleeve Length: 17 1/2" - Grip Diameter: 32 mm / 1.26" - Barbell Curvature: 6" - Coating: Black Oxide - Weight Capacity: 2,000 LB - Weight: 50 LB
The Titan Fitness Yukon Bar is $249, which is a great price for a specialty bar and it can reportedly hold the same amount of weight as the Duffalo Bar and Rogue CB4 Buffalo Bar. But the Yukon bar has one major flaw, which is that anytime we tried to add a plate to one side the other flipped over.
It goes without saying, but that's a pretty big flaw that presents a safety risk. We think it's a better idea to save up first and just get a more expensive option.
| | | |
| --- | --- | --- |
| Bar | Rogue CB4 Buffalo Bar | Titan Fitness Yukon Bar |
| Price | $425 | $620 |
| Bar length | 95" | 96" |
| Shaft finish | Cerakote | Black oxide |
| Diameter | 38mm | 32mm |
| Bar weight | 60 lbs | 50 lbs |
Rogue CB4 Buffalo Bar vs. Fringe Sport Longhorn Buffalo Bar
Used to be Great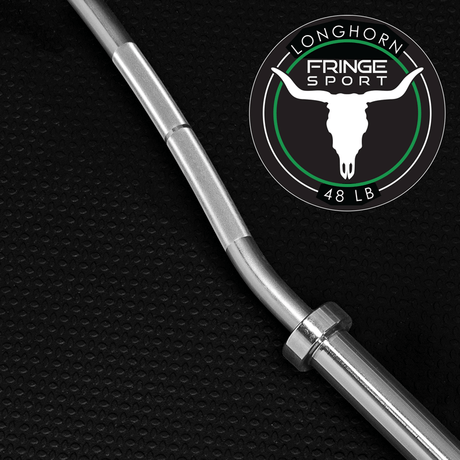 Fringe Sport Longhorn Buffalo Bar
In Texas, Longhorns ranged from the Red River to the Rio Grande, east to the Louisiana line and west to the upper breaks of the Brazos River. These early longhorns, almost completely wild, continued to roam Texas until the end of the Civil War.After the Civil War many men returned home to find their fields destroyed. But they did find one thing- wild Longhorns roaming about. The Longhorn was their ticket out of economic hardship.For decades after the Civil War Longhorns made cowboys and their meal ticket."Challenging" might describe the job of transporting cattle north to beef-hungry cities. Overland cattle drives became the norm via famous cattle trails such as the Western, Chisholm and Goodnight-Loving to iconic rail hubs in Kansas, Wyoming and other northern states.The Texas Longhorn rules cattle country. After setting foot on North American soil nearly 500 years ago, the beast has triumphed through survival of the fittest as the lone cattle breed in America, without human aid, to truly adapt to America.So too will the Longhorn bar adapt to you. Here's why:Born in the U.S.A. American sourced steel, 100% made in America and a maker's mark that will make you the toast of the town. You'll make Uncle Sam forever proud. Plush Back Seat. Backs aren't flat. They have roundness and contour shapes. When you saddle up to the Longhorn, it's going to sit with unmatched stability and comfort on your back, perfect for those long training drives. If you haven't felt one on your back yet, don't be surprised when it feels equivalent to sitting in a La-Z-Boy. Super Utility Player. After spending some time in the saddle, you won't even feel the Longhorn sitting on your back as it rests with natural ease either in a high bar or low bar position. No More Joint Rolling. You'll be delighted with the relief and comfort the Longhorn offers your shoulders, wrists and even biceps. Enjoy the smoothest ride ever that the Longhorn bar provides thanks to the altered angles and relaxing bend. Works wonders to reduce shoulder torque and wrist strain. If you have any shoulder issues, don't think twice to add this beast to your stable to reduce your burden. Power..uplift. Specifically designed for the dynamic duo of power lifts (squat and bench press) you'll squat easier and bench deeper. Enhances your position and bracing by improving lat engagement and scapular retraction. Be a real cowboy and saddle up for front squats and even rows. No More Dive Bars. Going from a straight bar to the Longhorn is like going from a hotel pillow to memory foam. The upgrade will make you never want to miss leg day ever again. Lifetime Warranty. You'll never have to worry about breaking bad with us, or bending it like Beckham. We want you to lift off, not to tee you off.
Coop once liked the Fringe Sport Longhorn Buffalo Bar, but that was when the company made it in Texas. Manufacturing has since moved to China, and the specs listed online indicate that it's not as good of a bar as the American-made one that Coop originally recommended.
It's $400, which is not that much cheaper than the Rogue CB4 Buffalo Bar. The extra money, in our opinion, is worth it for a bar that's made with more durable American materials and labor.
| | | |
| --- | --- | --- |
| Bar | Rogue CB4 Buffalo Bar | Fringe Sport Longhorn Bar |
| Price | $425 | $399 |
| Bar length | 95" | 87.5" |
| Shaft finish | Cerakote | Chrome |
| Diameter | 38mm | 32mm |
| Bar weight | 60 lbs | 46 lbs |
Shipping Issues
The one overarching complaint about the Rogue CB4 Buffalo Bar is that many people, Coop included, received theirs with major shipping issues. The boxes often arrive in damaged condition, with the endscaps sticking out of the box. Rogue is apparently trying to create better packaging to prevent this problem.
We get that shipping a 95-inch long barbell, especially one the shape of a Buffalo Bar, but considering the price point of this bar there shouldn't be as many problems as there are.
The bar is shipped in one piece and there's no assembly required.
Customer Service
Rogue Fitness can be reached via a live chat function on their website, as well as through email, phone, and social media.
Financing, Warranty, Returns
Rogue offers financing options through Affirm, which can be selected at checkout.
The Rogue CB4 Buffalo Bar is backed with a lifetime warranty, which is the best policy on any Buffalo Bar. For comparison, the Duffalo Bar comes with no warranty at all, and the Titan Yukon Bar only comes with an 18-month warranty.
You can only return the bar if it's unused, and you send it back within 30 days of delivery.
Customer Reviews
There are no online customer reviews of the Rogue CB4 Buffalo Bar as of this writing, but we will update this section when customers start reviewing the product.
Final Verdict of Our Rogue CB4 Buffalo Bar Review
On its own, the Rogue CB4 Buffalo Bar is an incredible specialty bar that we'd recommend to anyone looking for a powerlifting bar that can take stress away from their shoulders. It's a bar that gives the Kabuki Strength Duffalo Bar a run for its money, even though the former costs less.
The thicker steel will give you a lot of contact with the bar, which is something you want with heavy lifts. The Duffalo Bar has better knurling, can hold more weight plates, and while we like the thicker steel we're sure those people who would prefer the smaller diameter of the Duffalo.
You can't go wrong with either bar, but if you're looking for the best value then the clear winner is the Rogue CB4 Buffalo Bar.
Rogue CB4 Buffalo Bar Rating
Rogue CB4 Buffalo Bar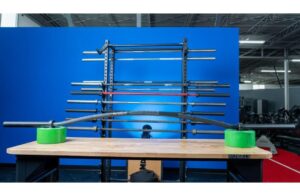 Our Rogue CB4 Buffalo Bar review lets you know if this specialty bar is for you, and whether it's better than the iconic Duffalo bar.
Product Brand: Rogue
Product Currency: $
Product Price: 495.00
Product In-Stock: InStock
Rogue CB4 Buffalo Bar FAQs
Are Rogue Boneyard bars worth it?
The Rogue Boneyard is a collection of barbells that aren't quite up to Rogue's standards (because something went wrong during the manufacturing process), but are still usable and are discounted. If you're OK with some minor damage or aesthetic issues, a Boneyard bar is well worth the price.
What is the purpose of a Buffalo bar?
A Buffalo bar is a cambered bar with a slight curve in the center shaft, which does a few things. For one, it puts the weight plates below your shoulders and this takes pressure off of them. This is why it's great for those with shoulder injuries, and strongmen who want to squat heavy without causing any strain to their joints. 
Lifters have also said the curve of the bar allows them to get deeper during squats, which allows for greater range of motion.
Are Rogue bars good?
Rogue Fitness makes some of our favorite barbells, including the Rogue Ohio Power Bar, Rogue Bella Bar, and the Rogue Ohio Deadlift Bar, to name a few. The Rogue CB4 Buffalo Bar is yet another example of how Rogue got to be so big in the home gym equipment industry.