We test and review fitness products based on an independent, multi-point methodology. If you use our links to purchase something, we may earn a commission. Read our disclosures.
The latest, greatest treadmills often come in well over $1,000. If your budget is considerably smaller, a sturdy, older (and yes, outdated) model like the NordicTrack T 6.7 S could be a good addition to your home fitness equipment. When we say outdated, we're not talking about a manual belt. This machine has good bones, but doesn't have the built-in touchscreen of NordicTrack's newer treadmills.
In this NordicTrack T 6.7 S Treadmill review, we'll cover the pros and cons and why this treadmill could still be a good deal for you. And don't count it out, especially if you find it for under $500 on eBay, a secondhand Amazon seller, or a used fitness equipment site. We also have an alternative option—the NordicTrack T 6.5 S—if you'd rather buy new.
We Can't Stop Running
Here at Garage Gym Reviews, we collect fitness nerds like they're going out of style. Our group of certified personal trainers, nutrition coaches, CrossFit Level 1 Trainers, and former athletes of many levels strive to provide accurate information so you can find the best equipment for your home gym.
While we haven't tested everything ourselves, as an educated group of testers, we've put in countless hours on treadmills, ellipticals, rowers, and everything in between. We combine our professional and personal experience to bring you honest reviews and recommendations.
Looking for an Alternative to the NordicTrack T 6.7 S?
The NordicTrack T 6.7 S is by no means a bad treadmill, but it certainly isn't top-of-the-line these days. It can connect to iFIT via Bluetooth using a separate device. However, NordicTrack puts screens on almost all of their new treadmill models.
If you've loved your T 6.7 S for years and can't find a replacement or are on the hunt for a similar machine, NordicTrack's T 6.5 S is still available new. This treadmill is almost identical to the T 6.7 S except it has a slightly smaller display.
Best Alternative to NordicTrack T 6.7 S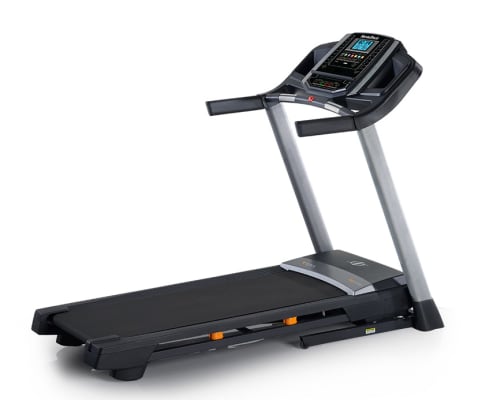 Nordictrack T 6.5 S

If simplicity is a priority and you are looking to save some cash while investing in a treadmill, this may be a great fit. The NordicTrack T 6.5 S is a basic treadmill at a low price point. For under $600, this treadmill offers access to automatic stats tracking, iFIT capabilities and an iPod compatible sound system. It also comes loaded with 20 onboard workouts offering users variability in their cardio routine. If you want to utilize iFIT, you will have to run the app and watch training via your iPad or tablet. The NordicTrack T 6.5 S is equipped with a surprisingly cushioned 22-inch-by-55-inch tread belt. While this smaller size is great for those looking to save space, taller people may find it constricting. It does, however, have a weight capacity of 300 pounds, which is pretty standard for this sized treadmill.  This NordicTrack T 6.5 S maintains speed ranging from .5-10 miles per hour and an incline up to 10 degrees. While the 2.6 continuous horsepower motor will not support long distance or heavy running, the varied speed and incline is enough to get your heart rate going. As such, it is best suited for walking or light jogging. 
A Quick Look at the NordicTrack T 6.7 S
The NordicTrack T 6.7 S was meant for more casual, rather than competitive, runners and walkers. The 2.6 CHP drive system works well for average-weight runners at moderate speeds. However, you might start to notice some belt slippage if you're closer to the maximum weight limit of 300 pounds and/or running at speeds closer to the machine's max of 10 MPH.
For the majority of casual users (with a good pair of treadmill running shoes), it has the speed, incline, and convenience features for a good daily workout using one of the 20 on-board workout programs.
Pros
20 on-board workout programs
Folds to save space
Works with iFIT
0-10 MPH
Up to 10% incline
Cons
No built-in touchscreen
2.6 CHP motor might not be enough for larger users at higher speeds
NordicTrack T 6.7 S Treadmill Specs
| | |
| --- | --- |
| Footprint | 73.5" L x 36.5" W x 65.75" H |
| Foldable | Yes |
| Weight | 202 pounds |
| Weight capacity | 300 pounds |
| Tread Belt | 20" W x 55" L |
| Display | 6" multicolor |
| Programs | 20 |
| iFIT compatible | Yes |
| Speed | 0-10 MPH |
| Incline | 0-10% |
| Heart rate | EKG grip pulse |
| Motor | 2.6 horsepower |
| Warranty | Lifetime frame, 25-year motor, 1-year parts and labor |
Key Features of the NordicTrack T 6.7 S Treadmill
The NordicTrack T 6.7 S might not seem like anything special by today's treadmill standards, but it has the solid build you'd expect from NordicTrack, which is why you can still find a few models floating around.
One of its greatest strengths is the 20 on-board workout programs. Many treadmills now have very few on-board programs in favor of smart programs through iFIT and similar interactive fitness apps. While the 6.7 S can connect to iFIT using a separate device, you can use the on-board programs to do hills, HIIT, or intervals at varying levels. It has a built-in tablet holder to secure a tablet or phone. There's also the option of plugging your device directly into the dual 2-inch speakers.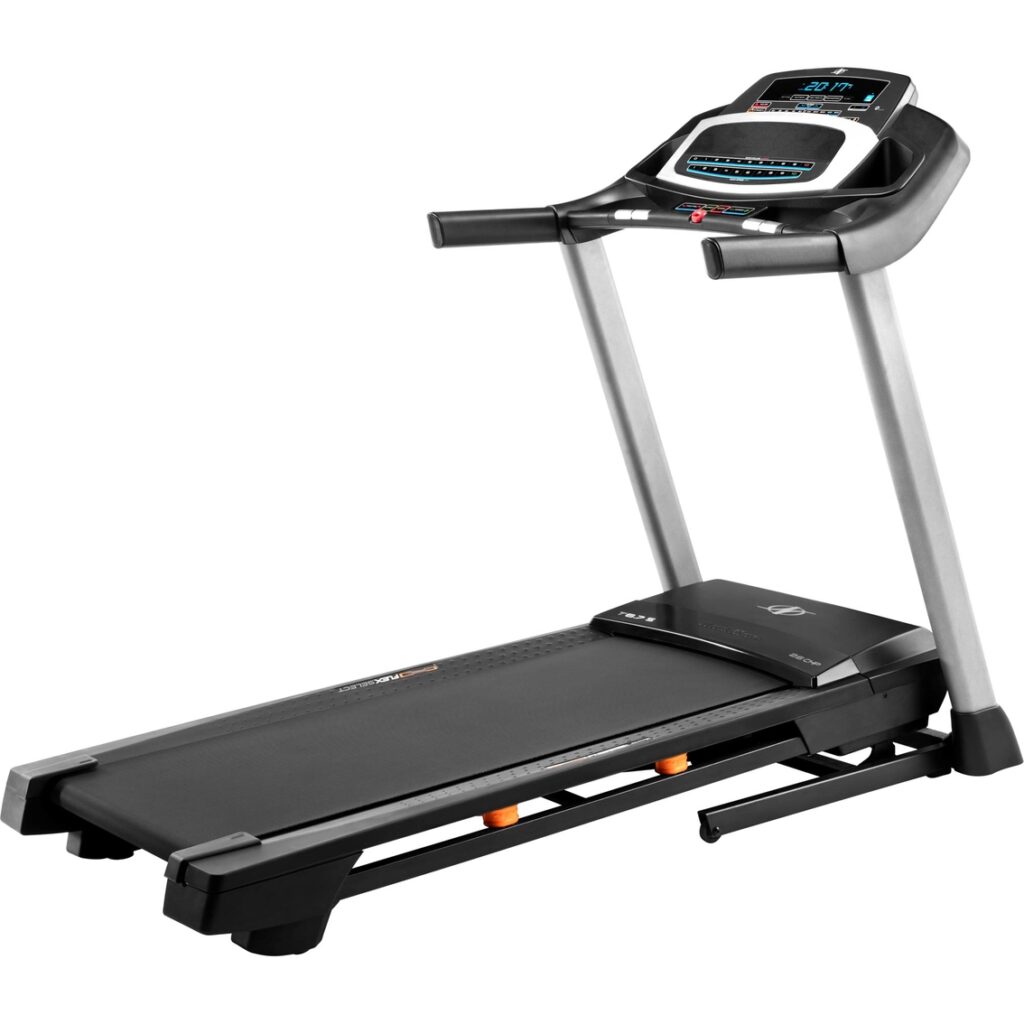 The motor power, at 2.6 CHP, isn't extraordinary. In fact, we recommend 3.0 HP or higher for running, but 2.6 CHP can work for jogging and walking without trouble. Everything about this model leans toward a more casual runner, including the 10 MPH speed settings and 0-10 percent incline. For the majority of people, except competitive runners and athletes, those speed and incline settings will be enough.
Footprint, Portability, and Durability
This treadmill has a footprint of 73.5 inches long by 65.75 inches high by 36.5 inches wide. The belt, at 20 inches by 55 inches, can be a bit narrow for taller, faster runners, but if you're careful, you should be fine.
The Spacesaver design with EasyLift Assist is definitely a plus. This feature uses hydraulics to help you lift and lower the deck. It's a big plus if you're hurting for space. The treadmill weighs 200 pounds, so it's not designed to be portable, but you can awkwardly maneuver it around your space if needed.
As far as durability goes, NordicTrack doesn't make these models anymore, yet they're still floating around on eBay and with a few other secondhand and budget sellers. They've got some durability as long as you can find one that has a good few miles left in it.
Ergonomics
The only real ergonomic advantages of this model are the FlexSelect cushioning system and the manual adjustment buttons. The cushioning system reduces the shock of each footstrike. While there are better cushioning systems on the market, this one works well and will feel softer than road running.
This model also has individual speed and incline buttons on the control board. But we like the convenience of the simple speed and incline controls on the bars near the EKG pulse grips. If you're running (or walking) hard, you'll need that easy speed and incline adjustment.
Technology Benefits and Conveniences
The NordicTrack T 6.7 S is iFIT-compatible if you have the app on a separate device like a phone or tablet. You can connect the device to the treadmill using Bluetooth. From there, you can access workouts, destination runs, and other iFIT content. When connected, trainers can make speed and incline adjustments to the treadmill directly through the app. However, iFIT has a monthly subscription fee that's $39 per month for a family or $15 per month for an individual. If that's not an investment you want to make, you can use one of the 20 on-board workout programs.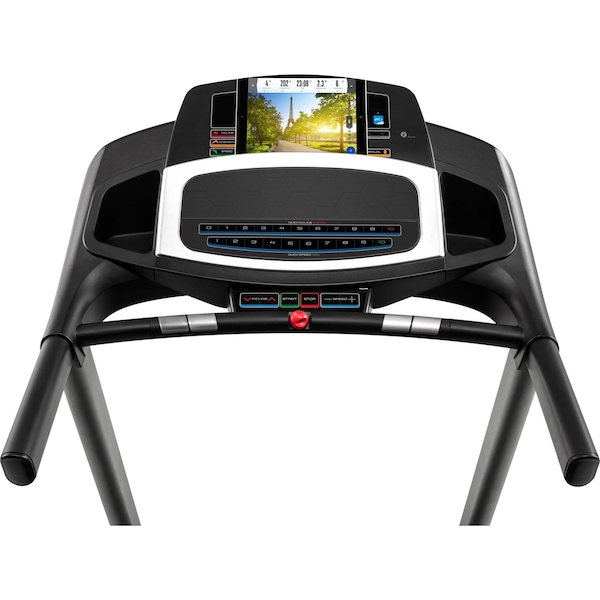 A few other conveniences include two 2-inch speakers that can connect to a device via an auxiliary port. You can check your pulse using two EKG grip pulse handles, but be careful when running. The final conveniences are manual speed and incline buttons that make it easy for quick changes.
Final Verdict of Our NordicTrack T 6.7 S Treadmill Review
Buying second hand has its drawbacks, like no return policy or manufacturer warranty, but sometimes you have to sacrifice those to stay within budget. Check the condition of the treadmill and find out if it's been refurbished or had more than one owner.
If you find a good deal on a NordicTrack T 6.7 S that's in decent shape, this is a solid treadmill for your cardio workouts. Competitive athletes might need something more powerful, but for the average user, the 6.7 S is a folding treadmill with miles left to go. It can also connect to iFIT, which is a common feature on much more expensive treadmills. This model may run more basic, but it can still give you access to on-demand workouts from the comfort of your home.
NordicTrack T 6.7 S Rating
NordicTrack T 6.7 S Treadmill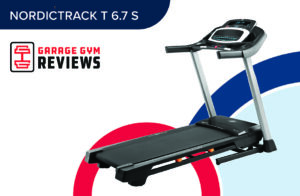 This discontinued cardio machine still has quite a bit to offer, if you find one second-hand. In our NordicTrack T 6.7 S treadmill review, find out what, and which machine you should look at as an alternative.
Product Currency: $
Product In-Stock: InStock
NordicTrack T 6.7 S Treadmill Review FAQs
Are NordicTrack treadmills worth it?
NordicTrack treadmills are often a great deal, especially for those who like to use the iFit app. Today's NordicTrack treadmills rely more and more on iFit for their onboard programming. However, some of the older models, like the 6.7 S provide a fair amount of onboard programming that you can expand with iFit. However, if you aren't that interested in a treadmill that connects to an app, ProForm and Sole offer models that aren't as technologically advanced but instead focus on durability and construction. 
What is the difference between the NordicTrack T 6.5 S and T 6.5 Si?
The NordicTrack 6.5 S and T 6.5 Si are very similar machines with the same power, speed and incline settings, for example. The difference is in the screens. The 6.5 S has a five-inch backlit LCD screen with a tablet holder. The 6.5 Si has a 10-inch tilting HD touchscreen on which to connect and watch iFit workouts. 
What is the NordicTrack S series?
Wat is the NordicTrack S series?The NordicTrack S series was a series of treadmills that were compatible with iFit. They're no longer produced. NordicTrack currently offers NordicTrack commercial, incline, EXP and C lines, though the C series that replaced the T series is on its way out.