We review free products that we receive and participate in affiliate programs, where we may be compensated for items purchased through links from our site.
See our disclosures page for more information.
The REP AB-5200 FI Adjustable Bench
is one of the best incline benches we've ever reviewed. Not only is it feature-packed with a laser-cut ladder style system, grippy vinyl, and a stand-up feature, but it offers all of this in at an excellent price point compared to the competition. It is a big, heavy bench and is still pretty more expensive than some prefer, but for those that want a high-end adjustable bench at a price most can swallow, this is an excellent option for your home gym.
Best Value Adjustable Bench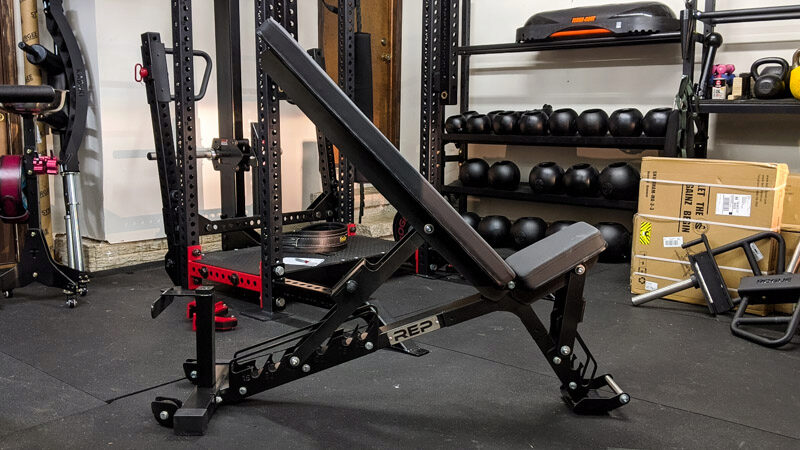 Rep AB-5200 FI Adjustable Bench
Our beefiest adjustable bench ever made, and chock-full of design details that improve typical limitations found on other benches. When it comes to durability and portability, this utility bench offers comfort under any load. The AB-5200 is our heaviest-duty ladder-back designed bench. Made with 11 & 7 gauge steel, this bench weighs in at 125lbs, but is still maneuverable in any space with 2" wheels and an intelligently positioned stainless steel horizontal pull handle for easy mobility. If you're tight on space, the AB-5200 was engineered with you in mind! It's uniquely designed to allow vertical storage, shrinking its footprint to 2.8 square feet when stowed away. The AB-5200's features our well-reviewed and sought after grippier pad for no-slip performance while lifting any weight. Finally, we've closed the pad gap to about 1.8" (at flat) while keeping the hinge well below pad level. This ensures your tailbone doesn't rest on a high rising hinge like other competitor's benches. REP is known for having some of the best flat and adjustable benches available in the world. The AB-5200 continues to push the envelope - an adjustable bench we are sure you'll love. SPECS: 11-7 gauge steel throughout 2x3" steel frame with a 1,000 lb capacity. 7 back pad adjustments with laser cut degree markings in 0, 15, 30, 45, 60, 75, and 85 degrees. 3 seat pad adjustments to find the perfect angle. High-grip pad material with ultra-dense foam core, backed by 3/4" plywood. Ladder back design with cage. Nylon cover over bolts to protect paint on the ladders. Urethane-covered back pad handles. Oversize stainless-steel handle and wheels with a low lift-off point for easy maneuverability. Thick steel wheel guards to protect the wheels when being maneuvered, and to lessen tripping hazard. Space-saving design allows bench to be stored in upright position. Stainless logo plates. 17.75″ to top of pad in flat position. 12" back pad width. 1.8" pad gap in flat position. 125 pounds. Total pad length is 55", width at base is 20.5". >>Simple 20-minute assembly with a wrench and allen key (provided). Four(4) bolts attaching the base to frame, and eight (8) bolts attaching pads to frame.
Written Review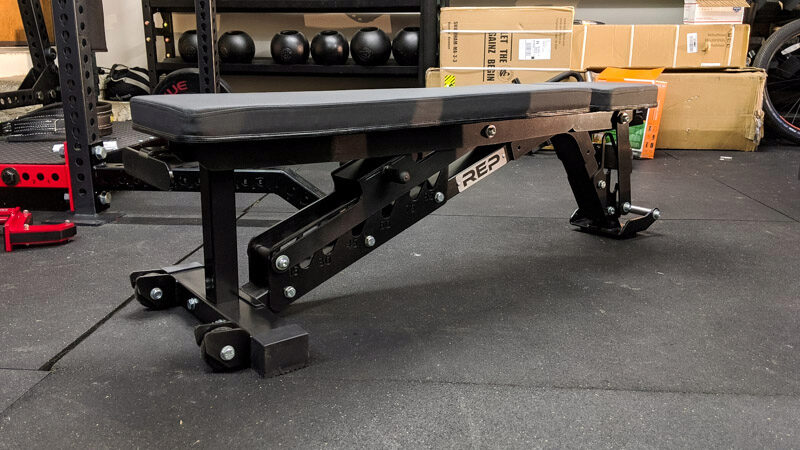 The AB-5200 Adjustable Bench from Rep Fitness is one of many great benches that Rep sells. It's pretty unusual for one company to take the top spot in two product categories in our Best-In-Class Reviews, especially with products that aren't made in the US, but Rep has continually exceeded expectations in this area. The AB-5200 isn't the most expensive bench on our list, it's also not the cheapest, but it combines a host of features at a price point better than most.
In preparing this article (they typically take a few months for the more in-depth ones) we initially had the Rep AB-5100 andAB-5000 ZERO GAP Adjustable Benches in a tie for this position. However, when the AB-5200 was released, we were first surprised (I mean, Rep has more bench offerings than they do barbells and plates) and second intrigued. Our question was, "with other great adjustable bench offerings, some within the past year, why release yet another one?" Well, we're thankful they did as the AB-5200 is honestly, for the price, the best adjustable bench for most people currently on the market.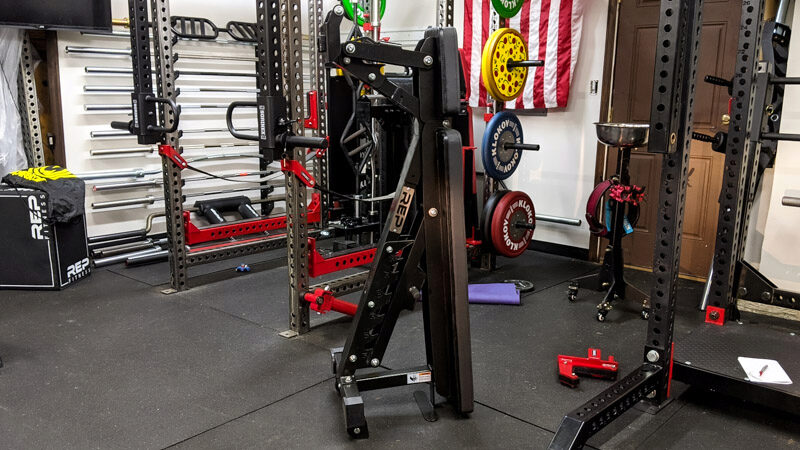 Rep Fitness has yet again taken features from much more expensive offerings and applied them to a morebudget-friendly, yet high-quality bench of their own creation. For instance, the stand-up feature is very similar to theSorinex 0-90 NP3 Adjustable Bench (of which we have two because we like them so much.) The vinyl is the same as what is used on our Top Pick for the Best Flat Bench, the Rep FB-5000 which is taken from the Rogue Thompson Fat Pad. The ladder system is similar again to the Sorinex Adjustable Bench as well as the Prime Adjustable Bench and some from Hammer Strength and PowerLift. The optional Spotter Decks on the AB-5200 are most similar to what can be seen as an add-on for theRogue Adjustable Bench 2.0. This all adds up to a Frankenstein of sorts that still has great aesthetics and even better performance.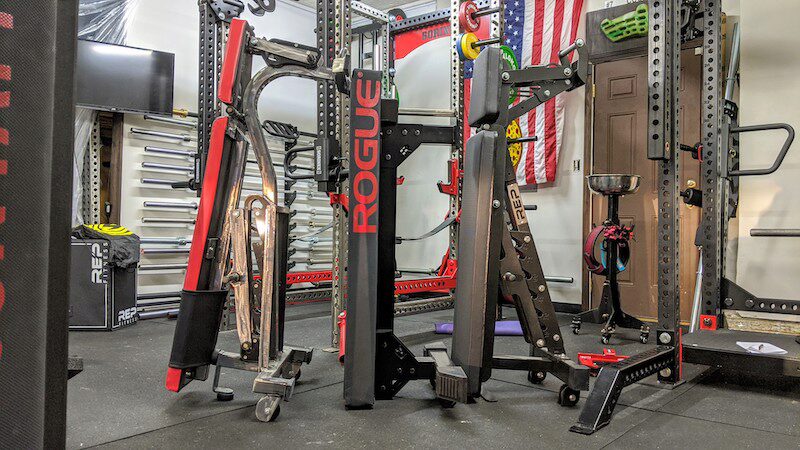 As previously mentioned, the Rep AB-5200 uses a ladder-style adjustment system. Personally, I like the ladder-style the best due to how quick and easy it is to adjust. Rather than having to use two hands for a pop-pin style bench like the Rogue AB-3 and Rep AB-5000, the AB-5200 can be operated with a single hand for both the back pad and seat pad. This means going from incline bench, to flat bench, to incline curls, to overhead press is a breeze. The adjustment system also has quite a few options including 7 back pad adjustments and 3 seat pad adjustments. The back pad adjustments include the following: 0, 15, 30, 45, 60, 75, and 85 degrees that are laser-cut in the side of the ladder system. This is a premium feature typically found only on benches much more expensive.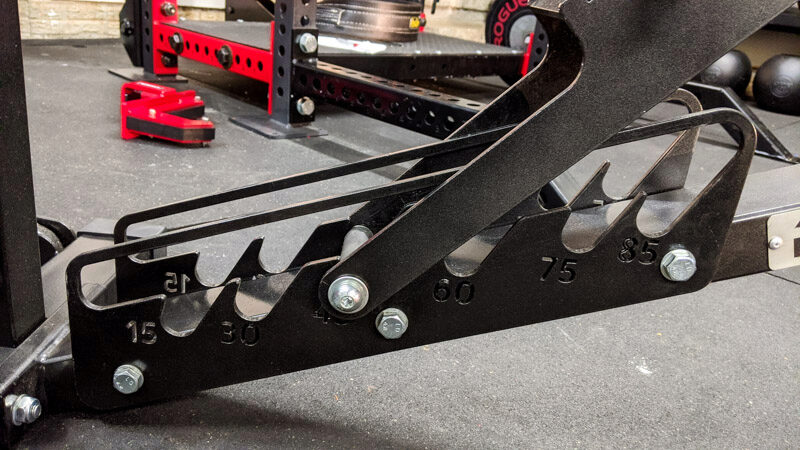 When flat, this incline bench is 17.75" tall from the floor to the top of the pad. Ideally, it would be 17", however, this is extremely hard to do in an incline bench, if not impossible, so this is a good compromise. Although we'd suggest most who can afford a bench at this price also buy a cheaper flat bench, you could easily get away with this being the sole bench in your garage gym. To maneuver the bench, there's a smooth stainless steel metal handle on the front (it would have been cool to see this knurled) that you can pick up the front of the bench and then thanks to the commercial-grade casters on the back, you can place it where you like. Understand though that this is a heavy bench. Weighing in at 125 LB, it shouldn't be an issue for most to maneuver, but thanks to its weight, it's extremely stable. When you're ready to store it, the bench can be placed upright along a wall or anywhere else you desire thanks to the stand on the back post of the bench. This is a great design addition for home gyms and one I hope more companies implement.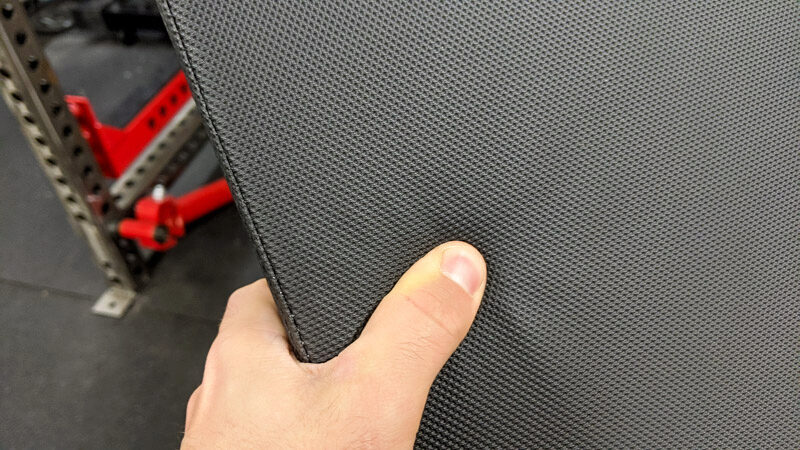 The pads themselves are premium with a grippy vinyl top, high-density foam core, and a plywood backing. The benchtop has a width of 12" with, most notably, only a 1.8" gap between the back and seat pads. This means that when using the bench in the flat position there won't be a huge annoying gap. Although it won't feel as nice as Reps other adjustable bench, theAB-5000 ZERO GAP, it will be nicer than many competitors.
There are many other features we could talk about including the stainless steel logos, wheel covers, and welded handles, but we think we've covered enough. The Rep AB-5200 is the best adjustable bench for most people in our opinion. It's priced well enough for many to afford, but it should be the last bench you have to buy. There are some benches that we think are better, but not by much and definitely not when you factor the value along with the price.
Full Rating