We test and review fitness products based on an independent, multi-point methodology. If you use our links to purchase something, we may earn a commission. Read our disclosures.
Are you looking for a compact, lightweight indoor rowing machine to support your fitness goals? While the Proform 440R rowing machine isn't anything high-tech or fancy, it could be a good fit for your home gym if you're tight on space and on a budget. In my Proform 440R rowing machine review, I examine the specs of this indoor rower and will help you decide if it's the right machine for you.
Row, Row, Rowing Our Way to Fitness
Our roster of product testers includes several people who've sat their behinds on dozens of rowing machines. We've thoroughly tested a number of magnetic rowing machines, water rowing machines, air rowing machines, and hybrid machines. We've given tutorials on how to use a rower and studied the benefits of rowing machines compared to their cardio counterparts like exercise bikes and ellipticals.
Proform 440R Rowing Machine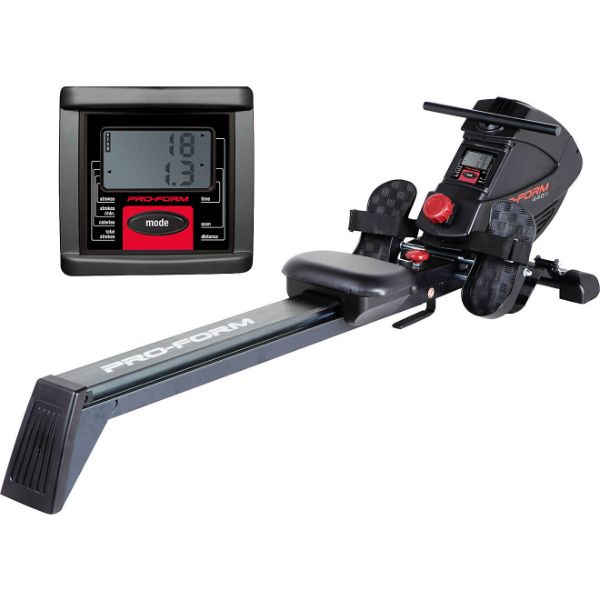 ProForm 440R Rower
The ProForm 440R Rower is an economical rower featuring oversized pivoting pedals with an adjustable nylon foot strap, 8 levels of magnetic resistance, transport wheels, and a folding frame design. A large LCD monitor displays strokes per minute, total strokes, distance, time, and calories throughout the workout. Equipped with a low pulley station, the 440R functions not only as a rower but also as a strength training tool. This lightweight cardio machine folds and with its front transport wheels, it is easy to move and store when not in use. Its compact nature, however, is limiting. The shorter rail length makes it difficult for taller individuals to use it comfortably and with proper form. Although the price is on the lower end, the unpadded handrail is still disappointing and particularly uncomfortable for many users. There have also been reviews of the rowing cord/rope fraying and breaking after only moderate use. And, if you are looking for pre-programmed workouts for some external motivation, you will not find that in the 440R but you do receive a one month free membership to iFit. Still, the build quality is on par with other models at this price point. The footrests are large enough for most users which contributes to a comfortable rowing position for most. While the seat does fall on the smaller side, it is well padded.  
A Quick Look at the Proform 440R Rowing Machine
The Proform 440R is a budget model from Proform's rowing machine roundup. With a price tag of just under $400, it contains basic features and tracking capabilities. It certainly isn't a Hydrow or Concept2 RowErg, but it has its place.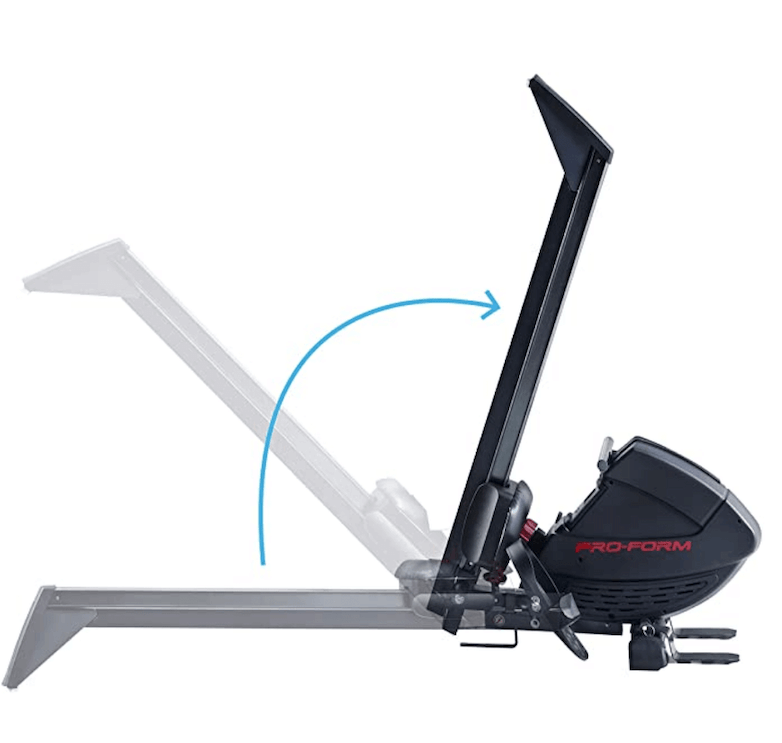 My Tips
Keep your smartphone or tablet handy. You'll need it to stream iFIT workouts while you row, since this machine doesn't have a touchscreen display like other models.
Financing is available for as little as $11 per month, making this machine even more affordable.
Pros:
Lightweight and compact
Easy to move around
Folds for storage
Tracks basic rowing metrics
Aluminum frame
Inexpensive
Financing available
Cons:
Low to the ground
Short seat rail
Not a very durable build quality
Not good for tall individuals
Is the Proform 440R Rowing Machine Worth It?
The Proform 440R rowing machine is inexpensive, all things considered. At about $400 and with financing available for $11 per month, it's probably not out of range for most people. That said, this is the type of machine that makes me think you'll have to replace it sooner rather than later.
Although I haven't actually tested this rower, I can tell from the specifications and my experience with other rowing machines that the build quality likely isn't great. It weighs just 75 pounds and supports a maximum user weight of 250 pounds, which is below industry standards.
Still, the 440R might be a decent choice for exercisers who are looking to do some casual, relatively infrequent rowing and need a compact model that won't break the bank.
Great for:
People on a budget
Small home gyms
Casual/infrequent use
Not recommended for:
CrossFitters
Serious rowing athletes
Heavier people
Proform 440R Rowing Machine Specs
| | |
| --- | --- |
| Dimensions | 76.6″ L x 20.5 "W x 38.3" H |
| Weight | 75 lbs in box |
| Weight capacity | 250 lbs |
| Handle | Soft-touch |
| Programming | iFIT-enabled |
| Levels of resistance | 8 |
| Resistance type | Magnetic resistance |
| Display | LCD screen |
| Frame | Aluminum |
| Seat rail length | Not disclosed |
| Pedals | Oversized pivoting pedals, Velcro adjustable foot straps |
| Foldable | Folding Spacesaver® design |
| Seat | Ergonomic molded seat, padded |
| Heart Rate | No monitoring capabilities |
| Warranty | 5-year frame, and 90-day parts & labor warranty. |
Customer Reviews
Because it's such a large company with a vast product lineup and availability on multiple retailer websites such as Amazon and Best Buy, mixed reviews are inevitable.
Most reviews of the 440R are favorable, with customers saying that the machine certainly isn't high-end, but that the build quality and full-body workout opportunities are great for such a low price point.
On the Proform website, one buyer said: "The low price had me expecting something I would use for a few months and upgrade later. The unit is much sturdier than expected and I have not had any issues. I have been using the unit for 4 months now and have no plans to get anything else."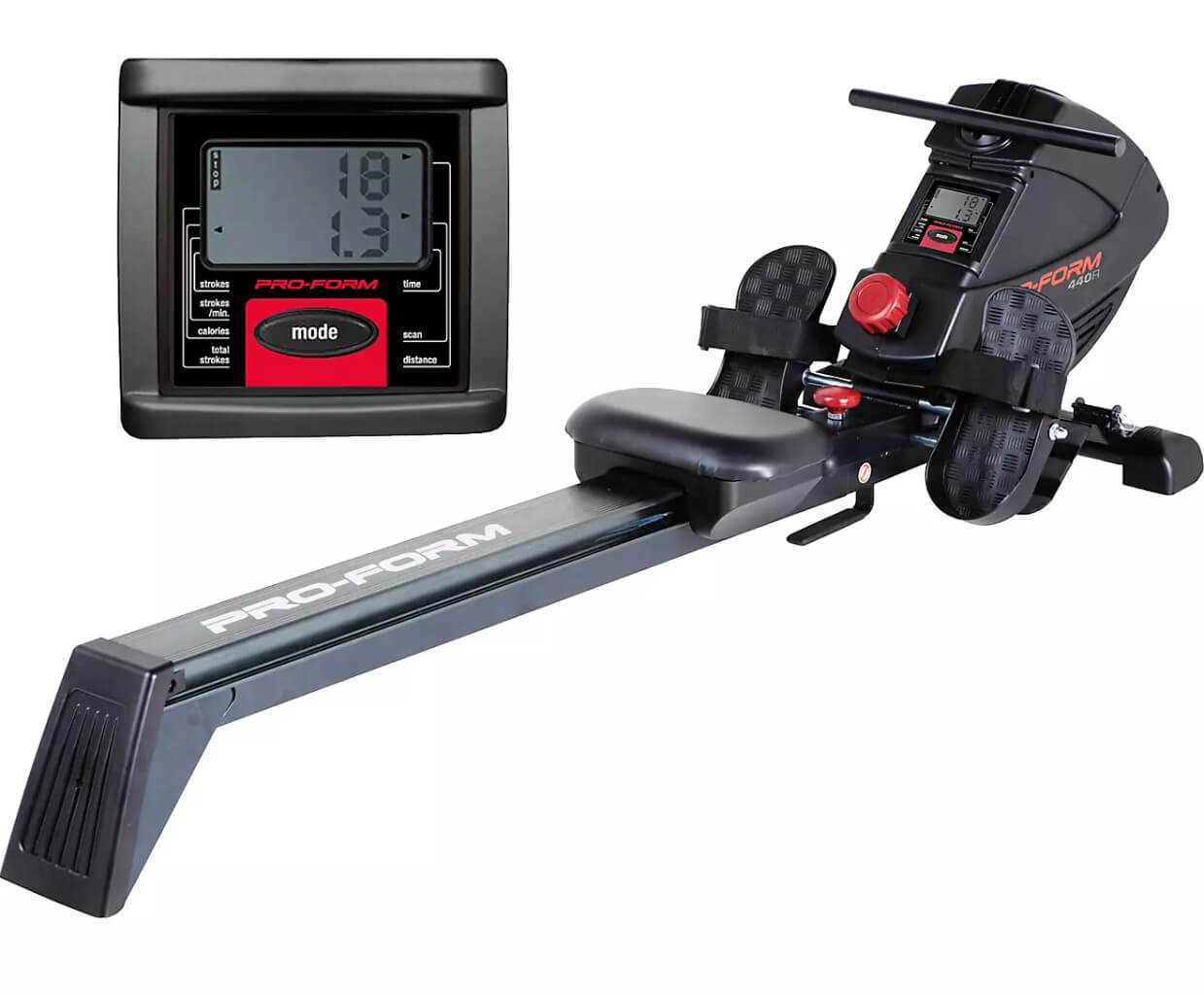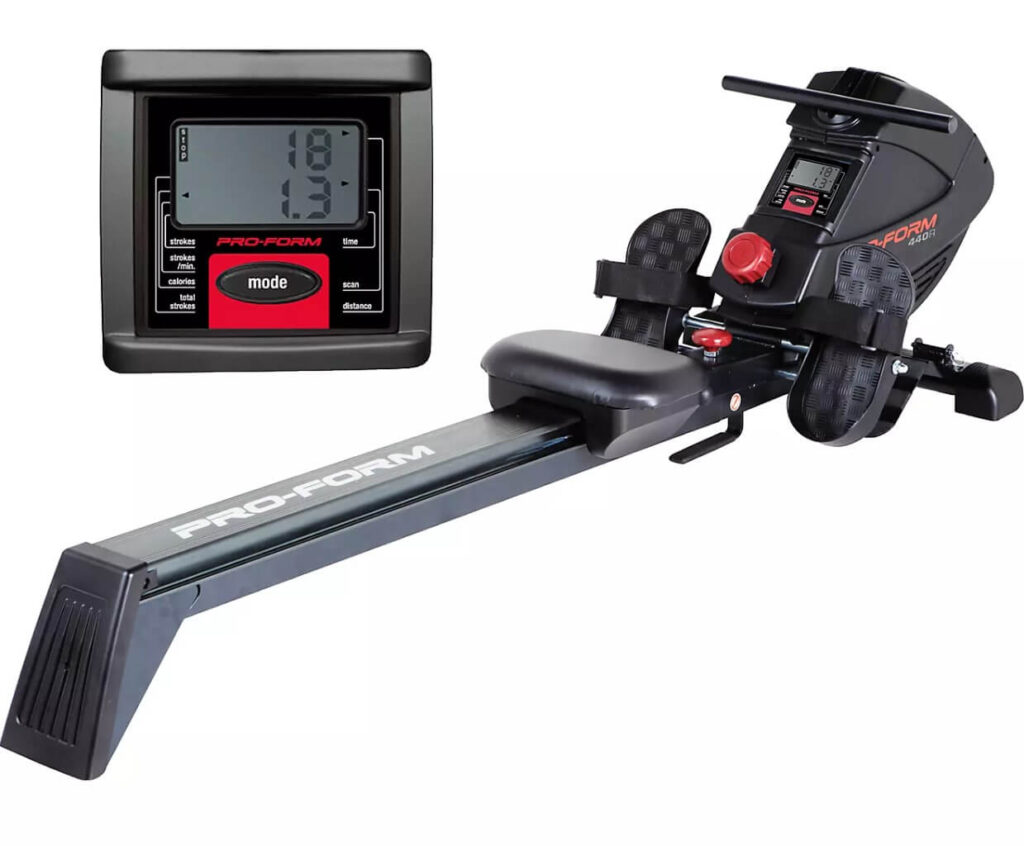 On Amazon, another buyer accurately noted: "The ProForm products are a good value but you're not going to get the top of the line in exercise equipment with the ProForms—you get what you pay for. If you're not rough with the ProForms they will last, but they are not what you'd find in a gym. For me, however, they are good enough and a good value. I rated this 4 stars because I do get a good workout with it and so far (only after one month) it's working great."
Workout Experience, Ergonomics, and Construction
In my experience, rowing machines at this price point just aren't great. Although there are some decent budget rowing machines out there, they tend to be wobbly and feel unstable during use; the seat often catches on the slide rail bolts; and the workout metrics and programming are lacking.
Based on the specifications of the 440R and my experience with similar rowers, I'm inclined to say that might be the case with this model.
Though the 440R features some nice components, such as oversized pivoting pedals and a soft-touch handle, the build components that really matter aren't to industry standards. For example, the rower is only 6.3 feet (76.6 inches) in length total, meaning the slide rail (the part that the seat slides along for the rowing stroke) is likely less than 4 feet in length.
For most exercisers, this will not be enough length to accommodate a full rowing stroke and full extension of the legs.
For a frame of reference, the Concept2 RowErg, formerly known as the Concept2 Model D Rower, is 90 inches in length overall (7.5 feet) and features a 54-inch (4.5-foot) monorail length. This accommodates exercisers with inseams of up to 38 inches.
Additionally, the 440R features a thin, bungee-like pull cord, which doesn't give me high hopes for its longevity. A chain is the best type of pull cord, with a nylon ribbon being a close second.
One thing worth noting is that the 440R has a unique low-pulley station that can also be used for some strength training exercises, such as upright rows and bicep curls.
Footprint and Portability
I'll give credit where credit is due: If you need a compact, lightweight rowing machine that you can fold up and store away when not in use, the 440R could be a good fit for you.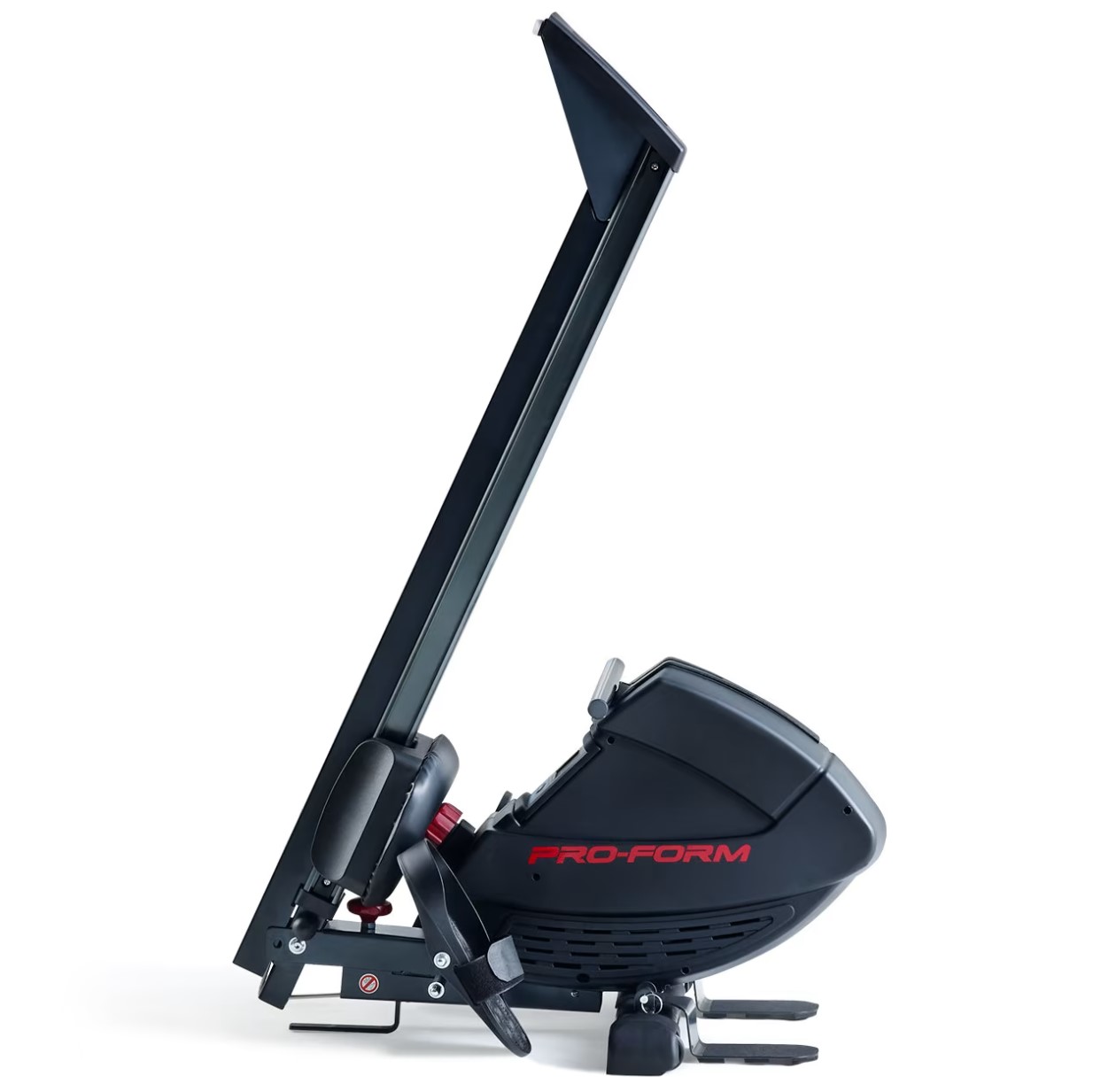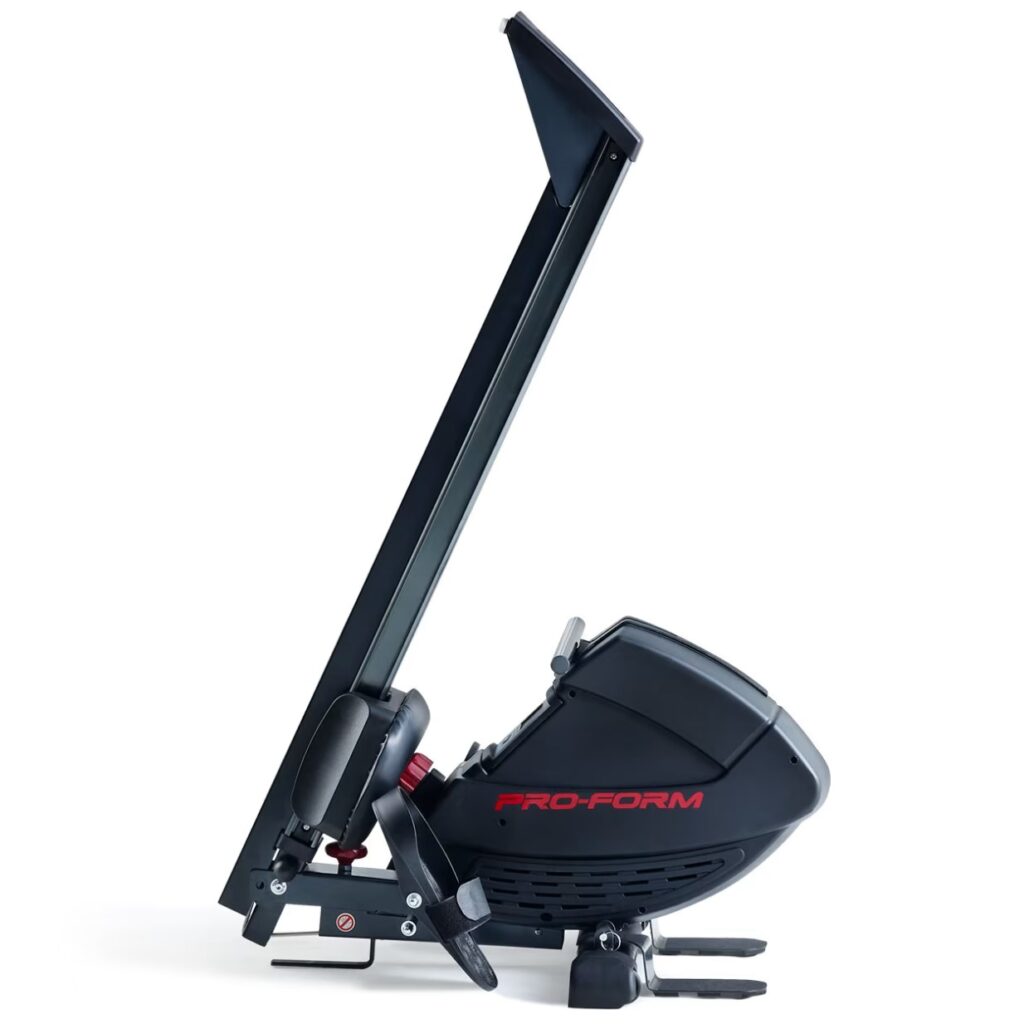 This machine measures just 76.6 inches long, 20.5 inches wide, and 38.3 inches high—and it folds up to about half of that! It also features transport wheels and weighs just 75 pounds in the box, so it should be reasonably easy for the average person to move.
Tech Specs
You won't get much in terms of tech from the Proform 440R. This machine sports an extremely basic display, which Proform markets as a "large LCD monitor," but it's actually quite small. The ergometer can track a few rowing metrics, such as total strokes, total time, distance, and calories burned.
The rowing machine is iFIT-enabled, but you'll have to use your own device to stream workouts. It's unclear whether the 440R is capable of iFIT's AutoAdjust technology. No specs indicate that this rowing machine is Bluetooth- or WiFi-enabled.
Proform 440R Rowing Machine vs Sunny Health & Fitness SF-RW5801
Proform 750R Rowing Machine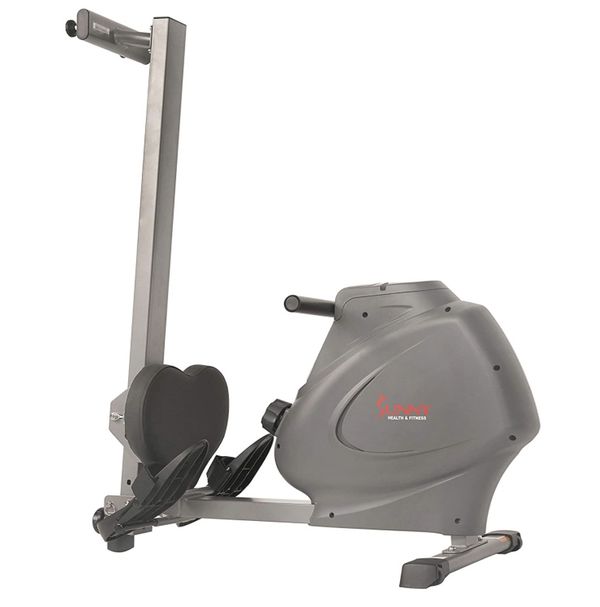 Sunny Health & Fitness SF-RW5801 Magnetic Rower
Looking for a small-space-friendly and budget-friendly rowing machine? Check out the Sunny Health & Fitness SF-RW5801 Magnetic Rower, which features 16 levels of magnetic resistance and a comfortable seat for less than $300. In addition to its palatable price tag, this rower has a space-saving design with a slide rail length of just 43 inches and a total length of 77 inches (most rowers have a total length between 86 and 90 inches). This rower also folds up when not in use so you can store it out of the way.Keep in mind that a shorter seat rail means this rower might not be a good fit for taller people, as they may not achieve full extension of the legs. Still, for the average person, this rower will get the job done.The RW-5801 has a basic LCD display that tracks time, calories, and distance. It also has a device holder so you can stream your favorite rowing workouts on different apps or YouTube.
The Sunny Health & Fitness SF-RW5801 is another budget-friendly rower around the same price as the Proform 440R. I tested the SF-RW5801 and, to be frank, my thoughts on it are very similar to my thoughts on the 440R.
The SF-RW5801 is a magnetic rower with a compact, foldable frame and an LCD display.
What I want to call out here are the actual workout opportunities. Even though the Proform 440R has a small LCD screen, it's still iFIT-compatible, so you can use your smartphone or tablet to stream iFIT workouts and track them.
iFIT is a phenomenal workout app, and even though you won't get the full experience on a budget rower like the Proform 440R, it's nice to know you can still use them together.
Read our full Sunny Health & Fitness SF-RW5801 rower review.
Proform 440R Rowing Machine vs Proform 750R Rowing Machine
Proform 750R Rowing Machine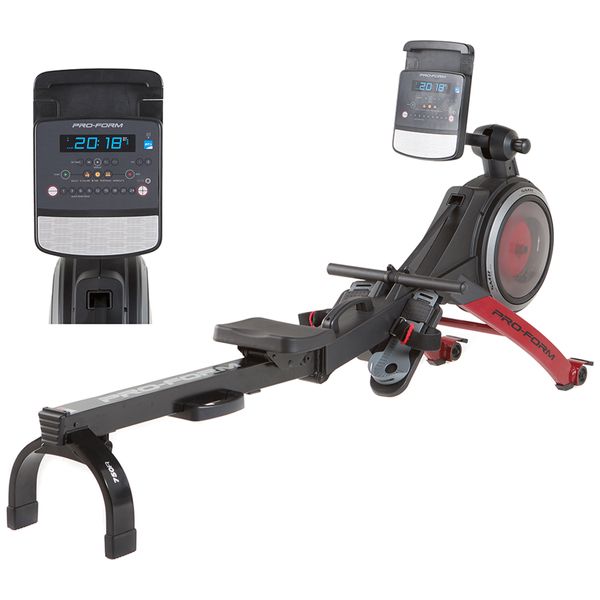 ProForm 750R Rowing Machine
The ProForm 750R Rowing Machine is a magnetic rower that works with an iFIT subscription. It's certifiably mid-tier as far as rowers go, clocking in at around $800 but still packing plenty of features. It has a full-length slide rail that folds when not in use, plus a console that adjusts vertically to accommodate different heights and preferences.This rower doesn't have a large display like some other fancy smart rowing machines, but it does have a sturdy device holder that can support a full-sized tablet. So, to stream workouts, you'll need your own device, but that makes the 750R a great option for people who already have a tablet. Because there's no big touchscreen, you can store this rower vertically if you need to.The 5-inch high-contrast display shows basic rowing metrics, including time elapsed, estimated calories burned, distance rowed, and pace.
The Proform 750R Rowing Machine is a much higher-quality rower than the 440R. It costs about $800—so, about double the price of the 440R—but you'll enjoy many more features and a better build quality.
Some of my favorite features of the 750R are the raised seat height and wide feet on the base. This provides a much more stable and smooth rowing motion than what you'll get on the 440R's compact and low-sitting build.
Like the 440R, the 750R has an LCD display and is iFIT-compatible. It is also a dual air and magnetic rower.
Read our full Proform 750R rowing machine review.
Customer Experience
ProForm customer service is hit or miss. Our team has had some bad experiences and some decent ones, but many customer reviews cite bad customer support. You can contact Proform via phone, email, and online chat.
The warranty on this product isn't great: You get five years for the frame and 90 days for parts and labor. This is a poor warranty compared to what you'd get on a higher-end Proform cardio machine. Normally, iFIT-enabled equipment comes with a 10-year frame warranty; two years for parts; and one year for labor.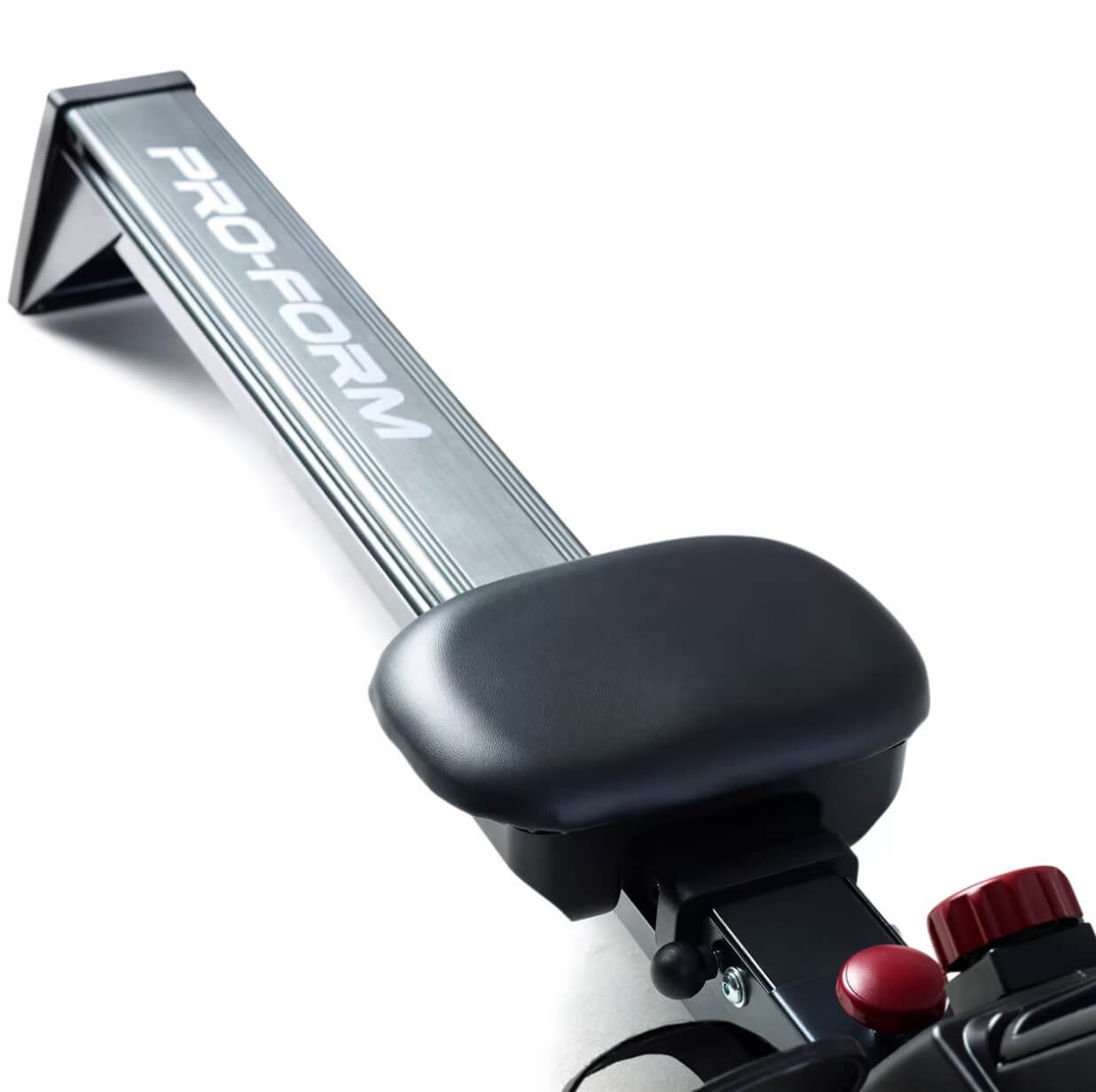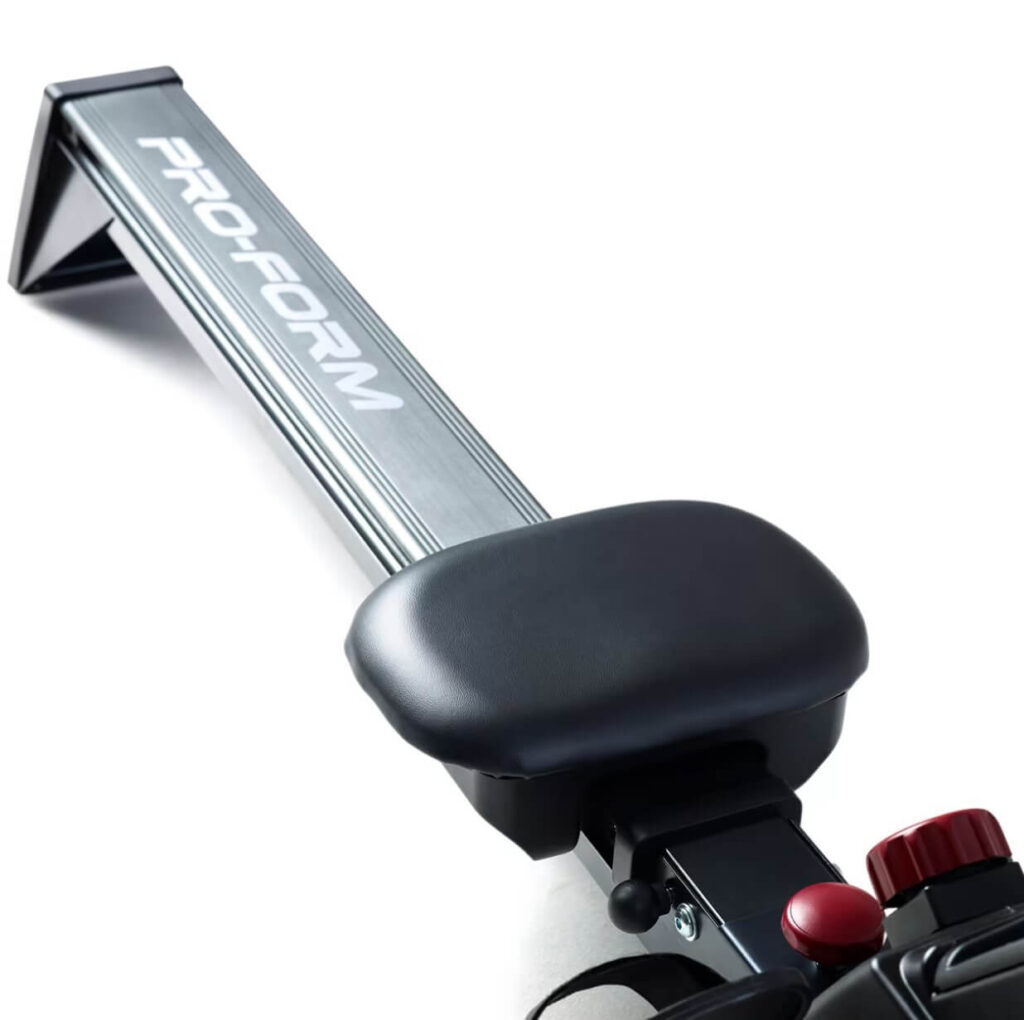 To be honest, this warranty doesn't give me much faith in the product's longevity. You may find yourself needing to upgrade soon after buying the 440R.
Ordering and Assembling the Proform 440R Rowing Machine
Since we haven't had our own hands on this machine, we can't paint a super detailed picture of what it's like to assemble. However, I did find the product manual and assembly instructions online, and here's what I can gather based on that:
You'll have to assemble several parts using a variety of nuts and bolts.
There are four different types of bolts, acorn nuts, and five different sizes of washers. Extra parts may be included, so don't be alarmed if you have extra once the rower is assembled.
There are 13 steps in total, so it may be a lengthy process.
Final Verdict of Our Proform 440R Rowing Machine Review
The 440R is a compact and lightweight piece of fitness equipment. It will probably provide a decent cardio workout, but we don't see it lasting very long. You may need something new for your home gym sooner than you'd like.
Full Rating
Proform 440R Rower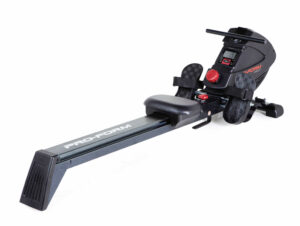 In this Proform 440R rowing machine review, we look at the features and specifications of this budget-friendly rower.
Product Brand: Proform
Product Currency: $
Product Price: 399
Product In-Stock: InStock
Proform 440R Rowing Machine FAQs
What are the best rowing machines? 
Can you do upright rows on a rowing machine? 
Indoor rowing machines are not typically designed for strength training exercises like upright rows, despite the fact that they have pulleys similar to what you'd see on a cable machine. However, the 440R features a unique low pulley station that supports upright rows and bicep curls!
RELATED: Best Home Weight Machine
What to look for in a rowing machine? 
When you buy a rowing machine, you'll want to get one with a durable flywheel (whether it's an air rower or another type), secure foot straps, transport wheels, a good warranty, multiple resistance levels, an ergonomic handle, and a sturdy, smooth seat rail. You will also want to ensure the maximum user weight capacity supports your body weight and the price range fits your budget.