We test and review fitness products based on an independent, multi-point methodology. If you use our links to purchase something, we may earn a commission. Read our disclosures.
There are the best low-carb protein bars; there are the best protein bars for weight loss; and then there are the best-tasting protein bars. Power Crunch Bars fall squarely into the latter camp, based on my many years of experience with these protein bars, and that of GGR editor and product tester Nicole Davis—and, they can serve as a tool in your weight loss or muscle-building journey, too.
If you haven't tried these bars yet, I encourage you to pick some up on your next grocery run or from Amazon. After reading my Power Crunch Bar review, in which I detail the great taste and texture of these snacks, you'll know why!
Medical disclaimer: This article is intended for educational and informational purposes only. It is not intended as a substitute for medical advice. For health advice, contact a licensed healthcare provider. GGR also recommends choosing a product that has been third-party tested for quality.
Power Crunch Protein Bars
GGR Score: 4.3
Product Highlights
Wafer protein bar made with whey protein

Protein ranging from 12–14 g

Available in a variety of flavors

Aimed to satisfy sweet cravings
Pros & Cons
Pros
No sugar alcohols
Added vitamins and minerals
Good dessert replacement if you have a sweet tooth
Cons
Contain sucralose
Only 12 g of protein per serving
Long list of ingredients
Bottom Line
The Power Crunch Protein Bars are a fairly low-calorie, low-sugar protein bar that satisfies a sweet tooth.
A Quick Look at Power Crunch Bars
Power Crunch Bars are a unique option and a nice change of pace in the protein bar market. If you've ever tried Quest Bars, RXBARs, Pure Protein Bars, GoMacro Bars, or other popular protein bars, you know that they all have a similar texture: very dense and very chewy.
In contrast, Power Crunch Bars have an airy, lightweight, crunchy texture reminiscent of wafer cookies. Nicole says they remind her of the triple-layer wafer cookies we all used to eat as kids. Ya know—these ones. (Ask anyone above the age of 20 about these cookies and you'll soon be convinced we all lived the same childhood, by the way.)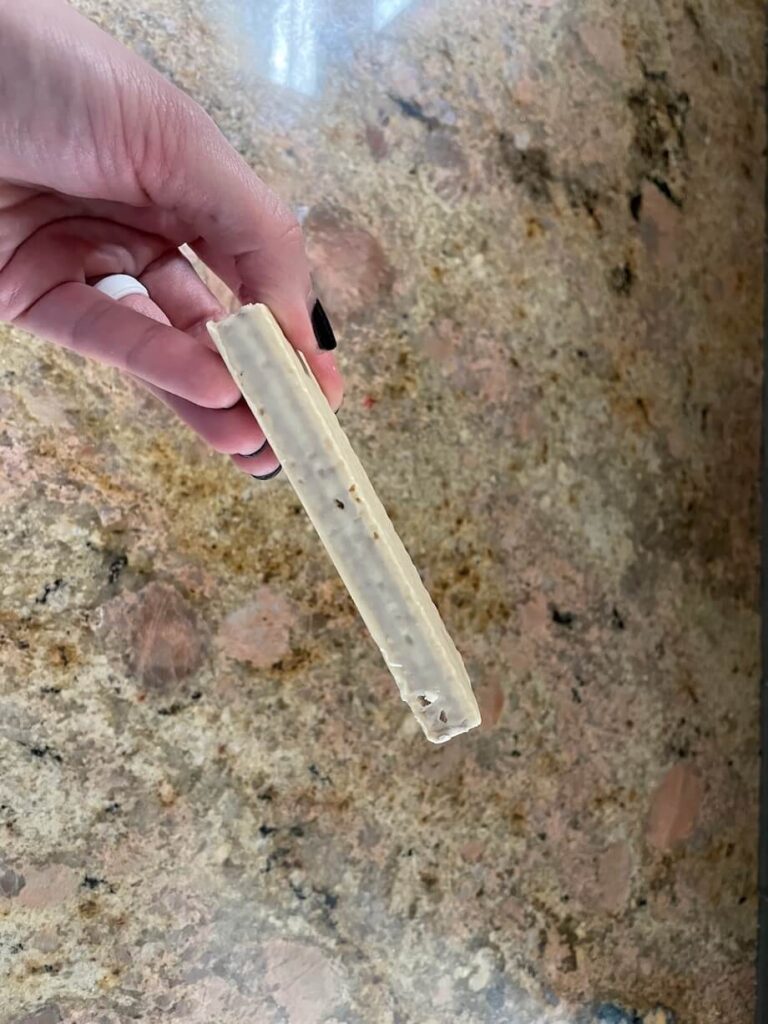 This review looks at the original Power Crunch wafer bars, although the brand has released a few different products since these first came out.
Before You Buy
These are not your average protein bars! While most protein bars have a dense, chewy texture, Power Crunch Bars are light, airy, and crunchy—like a wafer.
There are 13 flavor options available on the Power Crunch website, but if you're not ready to commit to a full box, most major grocery stores and supplement shops stock these and sell them as individual bars.
Are Power Crunch Bars Worth It?
Power Crunch Bars typically cost less than $2 per serving, and they pack 12 to 14 grams of protein with a reasonable amount of sugar (4 to 8 grams). For most people, they are a worthwhile grab if you find them yummy.
Great for:
People who can consume whey protein
Anyone tired of the typical dense protein bar
Those who are fine with a lower-protein (but still decent) option
Not recommended for:
People looking for meal replacement bars
Those who would prefer a very low- or zero-sugar bar
Individuals looking for at least 15 grams of protein per bar
Power Crunch Bar Specs
| | |
| --- | --- |
| Price per serving | $21.99 for 12 bars = $1.83 per bar |
| Flavors | 13 options |
| Calories per serving | 215-220 |
| Protein per serving | 12-14 g |
| Sweeteners | Sugar, stevia, monk fruit |
Experience With Power Crunch Bars
I've been eating the original Power Crunch bars since college, when I first started getting really into health and fitness. I'd pick them up at grocery stores or on my (many) trips to GNC.
Nicole's experience is much the same. "These are one of my OG protein bars," she says. "I've been picking them up here and there for years. If I'm traveling, I tend to go for these in airports or at gas stations, because I know that I like them."
With only 12 to 14 grams of protein, they're not the best protein bar in terms of actual protein content, Nicole points out, and she's right—there are plenty of options out there with 15 grams of protein or more, and with less sugar. But, Nicole and I agree that these simply taste amazing, and they're still a decent option for a protein snack.
RELATED: Benefits of Protein
Price Per Serving
The list price for a box of Power Crunch original wafer protein bars is $21.99, and they come 12 to a box. This makes the price per serving about $1.83.
However, the price changes based on where you buy and in what quantity you buy. For instance, the price per serving is almost always higher if you buy them as individual bars in a grocery store.
On Amazon, the price per serving can be lower if there is a sale, coupon, or overstock.
Formulation
The ingredients in Power Crunch bars are fairly typical of processed protein bars. The ingredients list reads*:
Proto Whey protein blend (micro peptides from high-DH hydrolyzed whey protein, whey protein isolate, milk protein isolate)
Palm oil
Sugar
Palm kernel oil
Enriched flour (wheat flour, malted barley flour, niacin, reduced iron, thiamine mononitrate, riboflavin, folic acid)
Fructose
Canola oil
Cocoa processed with alkali
Coconut oil
Chicory root fiber
Trehalose (a sugar)
Soy lecithin
Natural flavors
Annatto extract
Milk fat
Maltodextrin
Stevia leaf extract
Carmine (natural color)
Baking soda
Ammonium bicarbonate
Salt
Monk fruit
*This list is from the Red Velvet flavor. The ingredients will vary slightly depending on the flavor; for example, Peanut Butter Fudge obviously contains peanut butter.
Not everyone will be OK with all of these ingredients. For starters, those with lactose intolerance should avoid Power Crunch bars due to the dairy-derived protein sources and milk fat. Environmentalists and sustainability activists may not be thrilled about the palm and palm kernel oils. Power Crunch bars also aren't suitable for people with gluten allergies or sensitivities. And those on a keto diet will find that these bars contain too many carbohydrates.
Otherwise, though, Power Crunch bars are well-tolerated and have plenty of positive reviews.
As for the macros, like Nicole pointed out, these aren't the most high-protein bars. They contain 12 to 14 grams of protein and 4 to 8 grams of sugar; there are options out there that would be better for post-workout purposes if that's your main reason for buying protein bars.
Still, for a tasty snack with some protein, we like these a lot.
RELATED: Macros for Weight Loss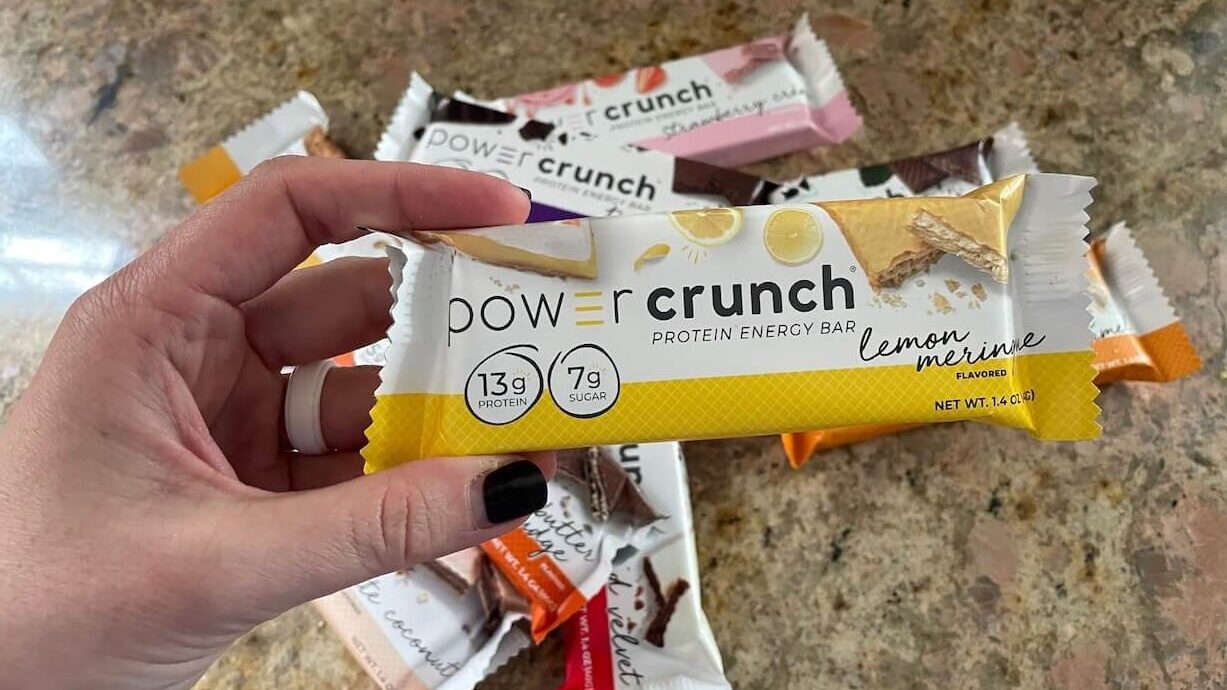 Taste and Texture
To me, Power Crunch bars taste like a candy bar! I look forward to eating them and generally don't buy them by the box because I will scarf them down so fast. They're just like a creme-filled wafer bar.
Nicole is also a big fan, saying, "I got the sampler pack with all 13 flavors. I've tried Strawberry Creme, S'Mores, Wild Berry Creme, Cookies & Creme, Red Velvet and French Vanilla. They are all good TBH, which is wild.
"Normally, I'd favor one or two flavors, but all of these were good enough to eat again," she says. "They're a touch sweet, so some people might not care for them, but I think the flavors are a shining quality of this bar."
You have 13 flavors to choose from:
Red Velvet
Strawberry Creme
Cookies & Creme
Salted Caramel
Peanut Butter Fudge
Chocolate Mint
Chocolate Coconut
French Vanilla Creme
Lemon Meringue
S'Mores
Triple Chocolate
Peanut Butter Creme
Wild Berry Creme
My personal favorites are Red Velvet, Chocolate Mint, and French Vanilla Creme, but I'd gladly eat any of them!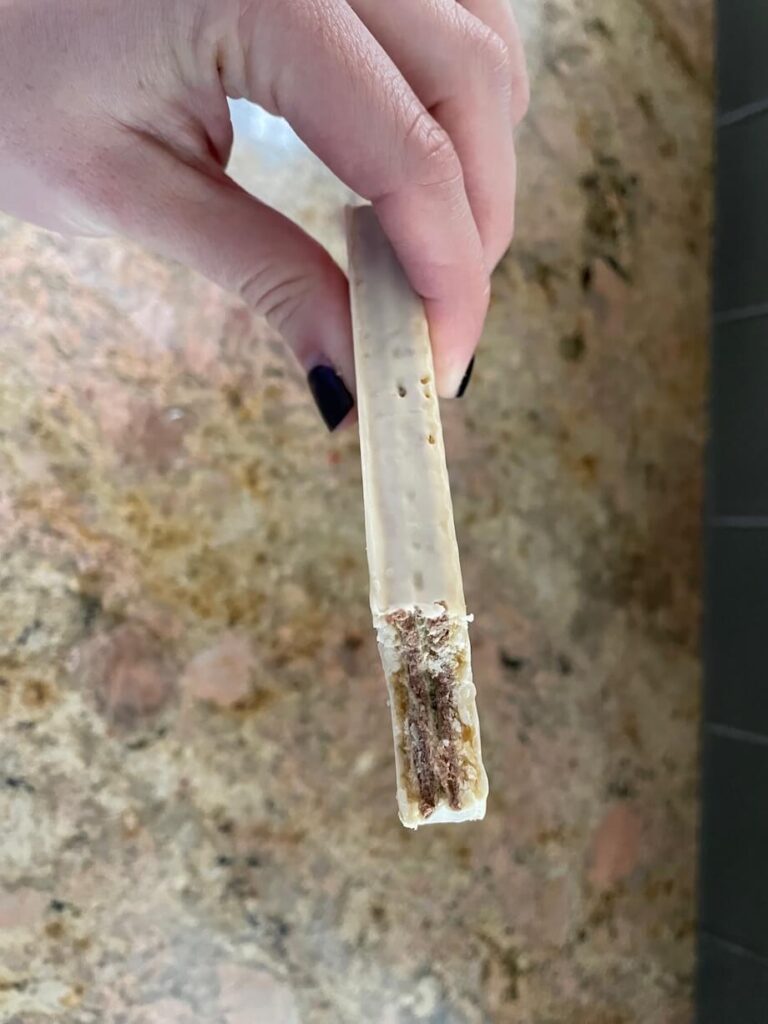 Side Effects
There are a few ingredients in Power Crunch bars that may cause reactions in certain people, including wheat flour, dairy products, coconut oil, and soy lecithin. If you do not have a known allergy or sensitivity to any of these ingredients, you shouldn't have any problems with Power Crunch bars.
Power Crunch Bar vs Quest Bars
Quest Bars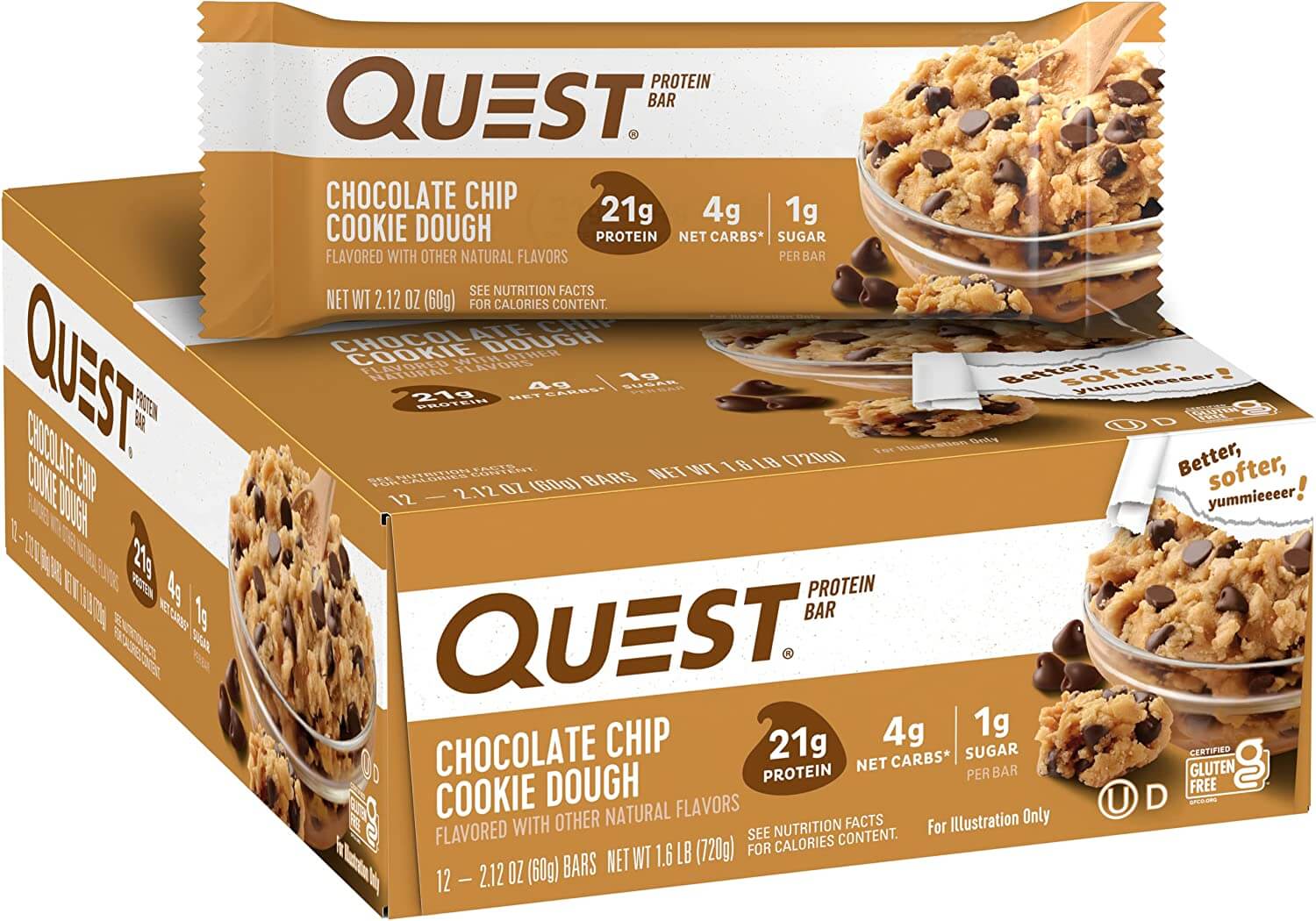 GGR Score: 4.1
Product Highlights
Gluten-free

Low-sugar

16 flavor options

17-21 grams of protein depending on the flavor

Low net carbs
Pros & Cons
Pros
Great product to keep your macronutrients on target
Simple, grab-and-go snack
Gluten-free helps with dietary restrictions
Low in sugar
Very filling
Cons
Chewy texture isn't for everyone
Uses sugar alcohols, which can upset digestion
The company recently changed the formula a bit and several customers didn't like the change
Can get too soft if gets too hot (like in a car or gym bag)
Bottom Line
Quest Nutrition has been serving the health and protein market since 2010 and they continue to give people high-quality products. They offer some unique flavors in their bars not seen by competitors such as White Chocolate Raspberry, Chocolate Sprinkled Donut, and Lemon Cake.This is one of the few bars that is actually recommended to stick in the microwave for about 15 seconds to produce a rich, tasty treat. Using a high-quality dairy-based protein, Quest Bars are dense and chewy in texture.These bars fall pretty well right in the middle as far as price point so you don't have to break the bank to get your protein in consistently. You will want to pay attention to the ingredients as many of the customers who have used Quest for a long time were not fans of the newer formula, although if you don't have anything to compare it to, you might find you like it just fine.
Quest Nutrition Quest Bars are a longtime favorite of fitness enthusiasts, myself included, although I did take a long hiatus after eating them daily for many years. In truth, Power Crunch bars are nothing like Quest Bars. The texture—and, honestly, the entire experience—is completely different.
For one thing, Quest Bars contain 20 to 21 grams of protein compared to the 12 to 14 grams in Power Crunch bars. Quest Bars also contain fewer grams of sugar (1 to 2 grams) but they contain sugar alcohols, which Power Crunch bars do not have.
Quest Bars are dense and chewy, while Power Crunch bars are light and crunchy. Some of the flavor options overlap, but Quest makes more flavors, including the very popular Chocolate Chip Cookie Dough, which Power Crunch lacks due to the distinctive texture.
Which bar is right for you depends on your ingredient tolerance, flavor and texture preferences, and how badly you want the extra 6 to 8 grams of protein.
Read our full Quest Bar review.
Customer Experience
If you buy from the Power Crunch website, your purchase is eligible for free shipping if it is over $60, and it's eligible for returns. Power Crunch accepts returns under these conditions:
"The merchandise must be received by [the company] within 30 days of your purchase; no returns will be accepted after this time period. All consumable product returns are only accepted if it was purchased through Powercrunch.com for which 75% or more of the product was unused."
For support, you can contact the company via the contact page on the website.
Ordering Power Crunch Bars
You can buy Power Crunch bars directly from the Power Crunch website or from Amazon. You can also most likely find them at your local grocery store, convenience store, supplement shop, gas station, and even airports. For the best prices, we recommend going to Amazon.
Customer Reviews
At the time of writing, Power Crunch bars have an average rating of 4.7 out of 5 stars on Amazon.
"It's been difficult to find protein snacks that taste great and don't get boring to eat regularly, and these are perfect," wrote one reviewer.
Another review says they taste great and gives the bars a 4-star rating, but complains that they have too much sugar for their liking.
Most reviews are very similar across the board: Customers love Power Crunch bars for the distinctive texture and the great flavors.
Final Verdict of Our Power Crunch Bar Review
If you don't have gluten or dairy allergies, and are OK with the amount of sugar in these bars, I recommend giving them a try. I think they're a great snack, and while they aren't the highest-protein or most natural option, they are a great change of pace compared to the typical protein bar.
Power Crunch Bar Full Rating
Power Crunch Bar
In our Power Crunch bar review, learn why these tasty, crunchy protein bars are one of our favorites.
Product Currency: USD
Product Price: 16
Product In-Stock: InStock
Power Crunch Bar FAQs
More questions? We have more answers.
Are Power Crunch Bars good?
Taste is wildly subjective, but our product testers think Power Crunch bars are some of the best-tasting protein bars available—and we've tested more than 40 types. Customer reviews indicate that the vast majority of buyers really enjoy Power Crunch bars, too.
Are Power Crunch Bars healthy?
We can't lie: Power Crunch bars are not the most nutritious protein bar option. They include some ingredients that aren't tolerable for everyone and they contain up to 8 grams of sugar per bar, while topping out at 14 grams of protein. Still, we wouldn't exactly call them unhealthy. They are a suitable snack when you're on-the-go and want something tasty with a decent amount of protein that doesn't have to be refrigerated.
Do Power Crunch Bars give you energy?
Power Crunch bars provide calories, which is a form of energy. If you're feeling sluggish or lightheaded due to hunger, a Power Crunch bar can hold you over until you can get a real meal. These bars do not contain caffeine, so they won't provide you with the mental alertness that a cup of coffee will.
These statements have not been evaluated by the Food and Drug Administration. This product is not intended to diagnose, treat, cure, or prevent any diseases.