We test and review fitness products based on an independent, multi-point methodology. If you use our links to purchase something, we may earn a commission. Read our disclosures.
Two good signs that you've completed an intense workout session is if you have sweat stains and smelly workout clothes. As annoying as this is, I've learned to accept that it just comes with the territory. But you want to know what bothers me even more? When I can't fully get the sweat smell out of my workout gear!
If you're like me and are trying to figure out the best detergent for sweaty clothes, you're at the right place. For this piece, we consulted with Taylor Sutherland, detergent expert and president of natural cleaning supplies company Charlie's Soap, as well as Kieran McSorley, who has a B.S. in chemistry and currently serves as the COO of Brentwood Physiotherapy.
It's Time To Come Clean
Our GGR testers, which include certified personal trainers, exercise specialists, and more, have decided it was time to come clean about which detergents to use on the best workout leggings, tops, running socks, and more. We don't want you spending your money on a container of laundry detergent just to discover that it's not going to put a dent in your workout gear. We sought out expert opinions to break down the ingredients in each of these and offer why they might be a good addition to your laundry room.
Best Detergent for Sweaty Clothes in 2023
Best Overall Detergent for Sweaty Clothes: Hex Performance Advanced Laundry Detergent
Good for: Protecting the integrity and performance of tight-knit activewear without compromising the environment. 
When it comes to the best laundry detergent for activewear overall, HEX takes our top spot. Kieran states that "HEX Laundry Detergent is a multi-functional detergent formulated to remove tough stains and odors, making it a suitable option for washing workout clothes."
Why? Kieran explains that the "combination of surfactants, chelating agents, enzymes, and fragrances can effectively clean and refresh athletic wear."
Although surfactants are found in mod laundry detergents (since they're responsible for the bulk1 of the cleaning power), not all surfactants are the same. Interestingly, many aren't small enough to penetrate the tightly woven workout gear that fabrics are made of today. As a result, your washed workout clothes end up still carrying the same grime and build-up that you thought your typical laundry detergent would get rid of. Fortunately, the HEX molecule is said to be small enough to perforate your gym clothes so they can get the deep cleaning they require.
In addition, the HEX detergent isn't anionic (negatively charged) like most other detergents. Anionic surfactants1 are known for removing positively-charged particles like clay, dirt, soil, and oily stains very effectively and at a low cost. But guess what it doesn't remove very well? Negatively charged particles like sweat and bacteria. Thankfully, the HEX molecule is positively charged, so it should attract the very things that make clothes smelly and dirty after a workout.
HEX can be used in all washing machines (including high-efficiency ones) and is effective at all water temperatures. You can find this product on Amazon, but the pack of one is occasionally sold out. Therefore, you might have to get two, which is around $23.00.
| | |
| --- | --- |
| Price per load | $0.37 per load (in a pack of 2) |
| Scent(s) | Fresh & Clean, Citrus Woods, Crisp Linen, Lavender, Fragrance-Free |
| Size options | 32 fl oz |
RELATED: Best Workout Shorts for Men
Best Multipurpose Detergent for Sweaty Clothes: WIN Sports Detergent
Good for: Using hot water to remove stains and smells from workout gear cost-effectively
WIN Sports Detergent has been on the market for over 20 years and is ideal for microfiber, synthetic, and technical fabrics. The brand recognizes how the oils from our skin tend to stick to the synthetic fibers of our clothing, causing a pungent odor. Therefore, by removing the oil from those fibers, you can restore your running headbands, leggings, sports bras for running, and other gym clothes to nearly new. That's what their detergent does.
WIN Sports Detergent contains ingredients like hydrogen peroxide and benzene sulfonic acid, which Kieran McSorley states "makes it a good choice for washing workout clothes." Those ingredients, as Kieran mentions, "work to remove sweat and odor while protecting the fabric from fading."
According to a 2022 study2, using eco-friendly hydrogen peroxide in hot washing temperatures does assure disinfection and can increase the hygiene of washed textiles. This may explain why WIN liquid laundry detergent has to be used in hot water. While many people don't like washing their clothes in hotter temperatures because they can fade bright clothes and shrink certain fabrics, WIN's formulation effectively keeps activewear clean while still maintaining the fabric. That's because it has a low pH chemistry that preserves elastics.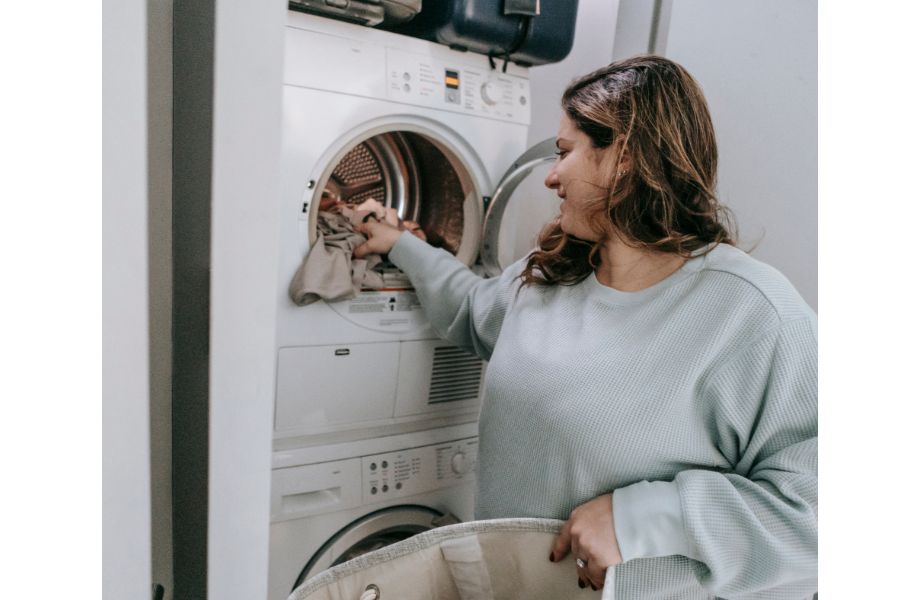 On Amazon, you can purchase WIN's 32-ounce detergent for almost $15 or opt for the 64-ounce version, priced around $23. They also offer two fragrance options: Active Blue, a light and fresh scent, and Free and Clear for those who desire a fragrance-free choice.
The only real downside people report about this product is the design and functionality of the cap. For example, you cannot use the cap to measure your detergent. Some users also report that the cap leaks.
| | |
| --- | --- |
| Price per load | $0.47 per load & $0.35 per load |
| Scent(s) | Active Fresh, Free, and Clear |
| Size options | 32 and 64 oz |
Best for Sensitive Skin: Arm & Hammer Sensitive Skin Free & Clear
Good for: Cleaning clothes in all temperatures without irritating the skin 
If you have skin conditions like eczema or psoriasis or have sensitive skin in general, you must be very careful about the products you use. Yep, that even includes your laundry detergent! Make sure it's hypoallergenic, free of dyes and perfumes, and dermatologist-tested. However, it should still be tough enough to perform as an odor remover and stain remover for your workout gear.
RELATED: Best Workout Shorts for Women
Arm & Hammer's Sensitive Skin liquid laundry detergent is one such product that checks all of those boxes. For less than $10, you'll get a 144.5-ounce bottle of detergent that should last you about 107 loads. That's a good deal, especially for a product that claims to be twice as powerful as its competitors! Not only that, but it's been clinically tested and certified for sensitive skin by a third-party company known as SkinSafe. But how do they achieve that without super harsh chemicals?
Well, Kieran notes that this Arm & Hammer detergent contains sodium laureth sulfate, sodium carbonate, and sodium bicarbonate, which are good ingredients for removing sweat and odor from activewear.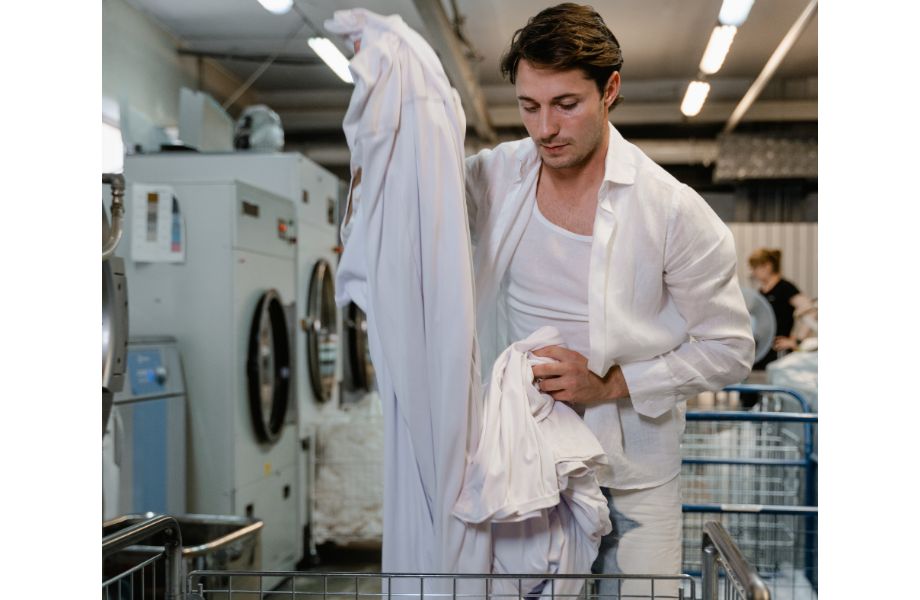 Kieran says, "Its ingredients work to penetrate and remove the tough build-up of sweat, oils, and other grime, leaving clothes fresh and clean." Kieran added that the "inclusion of sodium hydroxide and tetrasodium EDTA helps to soften water, making it easier to launder workout clothes."
Ultimately, this is a great option for those with sensitive skin, but there are some things you should keep in mind. For instance, this product isn't fragrance-free, and some people don't like the smell. Lastly, although this detergent can be used in any machine and all temperatures, it performs best in cold water.
| | |
| --- | --- |
| Price per load | $0.09 per load |
| Scent(s) | Free and Clear |
| Size options | 144.5 fl oz |
Best-Smelling Laundry Detergent for Sweaty Clothes: Tide PODS Plus Febreze Sport Odor Defense
Good for: Efficiently completing laundry and achieving great-smelling workout gear. 
If you've decided that you're completely over regular laundry detergent and want a convenient option that doesn't require you to measure, say hello to pods. We've discovered that one of the best-smelling options on the market right now for sweaty clothes is Tide PODS Plus Febreze Sport Odor Defense.
Most users love the smell this detergent leaves on their loads of laundry, but others may find it overpowering. Some even wonder if it's actually an odor remover or if it just temporarily masks the scent of sweaty clothes with its potent smell.
According to Kieran, Tide Pods "contain a combination of nonionic and anionic surfactants and enzymes, making them effective at removing sweat and odor from athletic wear." And research supports this. One study1 found that when nonionic surfactants are combined with anionic surfactants, the latter adds to cleaning performance in soil removal. At the same time, the former contributes to making the surfactant system less sensitive to water hardness. Plus, based on the ingredients, Tide's claim to "offer six times the cleaning power in half the time" might be valid.
Here's something else you might appreciate: These pods are easy to pack. If you go on vacation, you can take your trusted detergent with you and keep up with your travel workouts.
The design of the pods is very unique. They have three compartments so that the key ingredients are kept separate from one another during the wash cycle. You may notice sometimes the plastic doesn't completely dissolve. Also, this tends to be on the more expensive side of detergents.
| | |
| --- | --- |
| Price per load | $0.41 per load |
| Scent(s) | Active Fresh |
| Size options | 30 oz |
Best Unscented Detergent for Sweaty Clothes: Sports Suds Laundry Detergent
Good for: Removing grime and tough stains in an environmentally-friendly way. 
If scented detergent isn't your thing and you just want something that'll get the grime out of your clothes, Sports Suds Laundry Detergent is a good choice. Not only does it not have a scent, it also claims to completely remove any odors from workout clothes without leaving residue.
This is an environmentally friendly product that hasn't been tested on animals and is free of dyes, fillers, softeners, scents, and chemical additives. Made in the United States and Canada, the brand states they prioritize sourcing raw materials locally so they know exactly what's going into their products. But what ingredients are in the product that cleans your clothes?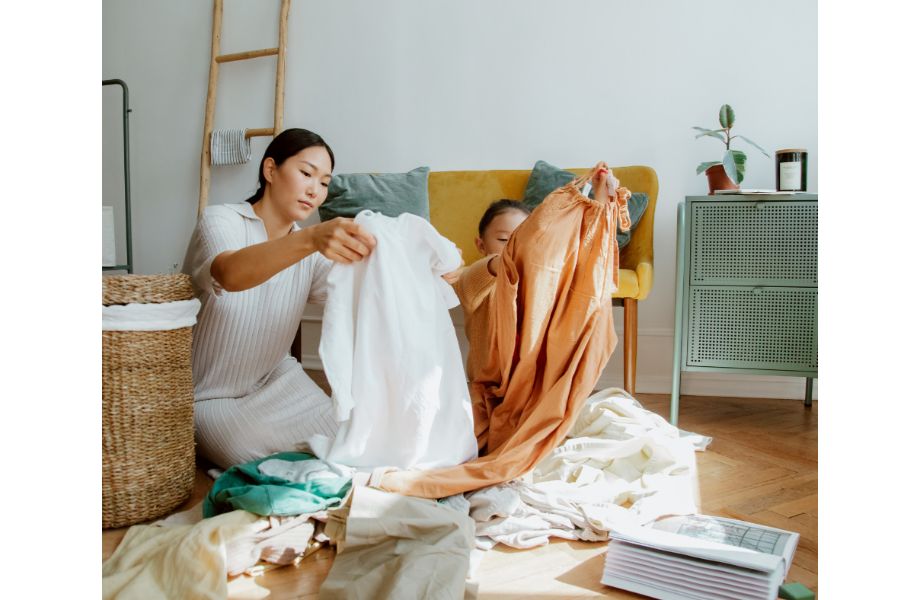 The main ingredients in this detergent are sodium carbonate and nonionic surfactants. Since it has a high pH level, sodium carbonate3 is really good at breaking down acids and oils. In addition, it's beneficial for those who have high mineral water (AKA hard water). Hard water makes cleaning clothes in the washer more difficult because it doesn't let the ingredients work as intended. However, sodium carbonate can soften the water by binding to the minerals and letting the detergent work its magic.
In terms of the other ingredient, research1 has verified that "nonionic surfactants have good cleaning power, are milder to human skin, and are highly soluble."
Therefore, if you're looking for something biodegradable that's strong enough to clean your workout clothes but also safe enough for an infant, this is your detergent. It works in all machines, removes any residue build-up left by other detergents, and can be used in hot and cold water.
While some users felt it didn't completely remove odors, it appears that most consumers stand by the product. Even with it being a bit more expensive than other brands, it's got a nearly 5-star review on Amazon.
| | |
| --- | --- |
| Price per load | $0.57 per load and $0.45 per load |
| Scent(s) | Unscented |
| Size options | 1.1 lbs and 3.97 lbs |
Best Heavy-Duty Detergent for Sweaty Clothes: Sweat X Sport Laundry Detergent
Good for: Deep cleaning sweaty and stinky fabrics with toxic-free ingredients. 
If traditional laundry detergents in your grocery store aisles aren't strong enough or formulated in the right way to get the funk out, you might need something heavy-duty. However, not heavy-duty to the point that it negatively interferes with your fabric's performance and wicking capabilities. And that's where Sweat X Sport Laundry comes in.
This detergent is biodegradable and includes toxic-free ingredients, making it safe for both you and your clothes. Plus, it doesn't have any dyes, perfumes, and brighteners in it, so even people with the most sensitive skin can use the product without risking irritation. Yet, how does it really work?
Kieran explains the formulation of this detergent, noting that "its blend of anionic and nonionic surfactants, sodium salts, and sodium lauriminodipropionate work to penetrate and remove the tough build-up of sweat and oils." The sodium lauriminodipropionate is considered a surfactant cleansing agent4, and that helps the water mix with oil and dirt so those undesirable things can be rinsed off. Then the sodium salt5 likely makes it difficult for bacteria to survive, much like it does when preserving food.
On top of that, Sweat X uses their proprietary NANOVASIVE™ technology. This allows them to deploy teeny-tiny molecules that can exfoliate the very sweat beads and stains that cause stinky odors.
Today Sweat X claims that more than 200 professional and collegiate teams use their products, so that says a lot. It's also great that you don't need to use dryer sheets or fabric softeners along with it. We should note that Sweat X runs at about $0.44 per load, which is more expensive than some other brands on this list.
| | |
| --- | --- |
| Price per load | $0.44 per load |
| Scent(s) | Free & Clear, Original Activewear, Max Odor Defense |
| Size options | 45 fl oz |
Best Affordable Detergent for Sweaty Clothes: NATHAN Power Sport Wash
Good for: Effectively removing soils and stubborn stains in both workout clothes and equipment.
In the grand scheme of things, worrying about stinky-smelling clothes is only part of the battle. We also have to worry about the smell of our favorite cross-training shoes and other equipment! The good news, though, is that NATHAN Power Sport Wash is great at getting the stink and stains out of both your workout clothing and your shoes, all at an affordable price.
So what makes NATHAN great? According to Kieran, it's the "blend of surfactants and enzymes, making it effective at removing sweat and odor from athletic wear." The key ingredients include sodium coco-sulfate, Cocamidopropyl betaine, and sodium laureth sulfate, which "work together to clean and refresh workout clothes," Kieran explains.
Cocamidopropyl betaine is an amphoteric surfactant6, so that it can react as both an acid and a base. This may explain why this detergent carries a neutral pH level, which helps protect fabrics from abrasion. Then there's sodium coco-sulfate7, another surfactant, that comes from the fatty acids of coconut oil. It can dissolve and/or trap oil-based dirt so it can be rinsed away. Finally, the anionic surfactant, sodium laureth sulfate8, aids in removing residues and oily stains.
Together, all of this creates a powerhouse of a product that claims to remove 99.9 percent of stains and odors from even the grossest and dirtiest workout clothes. This is all accomplished while protecting the color vibrancy and ensuring that the washing process does not negatively affect the clothing's moisture-wicking properties or breathability. This is a huge perk for people who have spent a lot of money buying their workout wear and want to ensure it lasts.
There were two main downsides we uncovered about NATHAN's. First, their newer formula is much thicker and, as some reviewers say, doesn't remove odors as effectively. The second complaint was regarding their plastic packaging, as it's difficult to recycle.
| | |
| --- | --- |
| Price per load | $0.43/load & $0.30/load |
| Scent(s) | Unscented |
| Size options | 42 oz and 64 oz |
Best Cold-Water Detergent for Sweaty Clothes: Tide Coldwater Clean Liquid Detergent
Good for: Color-based workout clothes being laundered in a high-efficiency washing machine. 
Some of us are done wearing monochromatic workout wear and want to embrace bright clothing that adds a pop of color to our workout. However, bright colors usually mean you need to use cold water to protect color vibrancy. As a result, people worry that cold water won't clean as effectively as hot water. Fortunately, Tide Coldwater Clean Liquid Detergent may be a viable option.
A 2021 study9 explained that when washing clothes, "temperatures of 104°F to 140°F and/or the use of bleach is needed for more resistant enteric and dermal pathogens." Therefore, how does Tide Coldwater detergent effectively clean in water that's 40°F? This result is achieved by using a careful mixture of biodegradable anionic and nonionic surfactants and enzymes that work well in low temperatures. (However, Tide does note on their website that your garments would get the best cleaning experience in warm or hot water.)
One thing that Tide really drives home with this product is how switching to cold water can offer 50% more energy savings. While such a claim might be questionable, a customer on their website stated, "It saved me a lot of money through the year."
Overall, most of the customer reviews for the product on Amazon are outstanding. The biggest complaints are that if you use too much of the product, you can get an overabundance of suds in your machine and some residue on your clothes. The best way to avoid this is by making sure you use the recommended amount of the product.
Before buying this product, there are three additional things to consider. One is that this detergent may be irritating to those with sensitive skin. Secondly, the fragrance may be very overpowering to some. Lastly, it is currently only available for high-efficiency machines.
| | |
| --- | --- |
| Price per load | $0.14 per load |
| Scent(s) | Fresh Scent |
| Size options | 92 fl oz |
Other Laundry Detergents We Researched
While these other laundry detergents didn't make our best-of list, they still deserve an honorable mention.
OxiClean Odor Blasters Stain & Odor Remover: For getting really tough stains out of your gym clothes, OxiClean might be a good solution. It brightens whites and is budget-friendly but requires you to pre-soak your clothes. Hot water is also needed to dissolve it properly.
Boardwalk Low Suds Industrial Powder Laundry Detergent: An excellent option for large families who do a lot of laundry. Although it's almost $45, it comes in a large bucket where you can easily portion each load.
How We Picked and Tested the Best Detergents for Sweaty Clothes
Picking the best detergents for sweaty clothes was no easy feat because so many are out there. Nonetheless, some kept coming up in conversation as either "really good" or "really bad." So, the GGR team started noting the detergents they used, asking their clients and peers what they used, and compiled a list. We also took to the Internet and researched popular detergents to see what buyers had to say.
Once we had a complete list, we narrowed it down based on factors like:
Formula: We asked an expert in the field to analyze ingredients
Cost: We chose options that included picks for the budget-minded
Fragrance: We analyzed scented and unscented options
Effectiveness: Does it do what it claims to do?
Tips for Cleaning Your Workout Clothes
Taylor knows a thing or two about laundering clothes. Here are tips for cleaning high-performance workout gear, straight from the expert's mouth:
Get the clothes CLEAN! Follow the first-time user instructions about detoxing your machine and your garments.
Once you wear them and sweat, make sure you wash them soon. Sweat and polyester are close in chemical structure and they will dissolve into each other making the stink difficult to remove.
You can add bleach to the wash to kill any odor-causing bacteria, but the detergent is going to be doing most of the heavy lifting.
Running a buffer load between your gym clothes and everything else is a good idea.
Benefits of Detergent for Sweaty Clothes
Yes, you could just use any old detergent, but how about choosing one that works?
Protect Your Clothing/Skin
The type of detergent you use matters because if it's too harsh, it'll break down the moisture-wicking properties of the fabric. Specifically-formulated activewear detergent protects your garments while stripping away the oils and dirt you don't want.
Taylor Sutherland, detergent expert and president of the natural cleaning company, Charlie's Soap, explains, "Some detergents leave residues, and that's a way to 'stimulate' cleanness. The problem is that those residues ruin the specific characteristics of performance garments. And worse, when you sweat and start to stir up those residues, they are going to go right into your pores, which can cause skin reactions."
Odor-Removing Properties
One big reason to use a detergent made explicitly for workout clothes is the smell. Unfortunately, regular detergent isn't designed to perform exceptionally well as an odor remover for performance gear. As Taylor says, "Sweat and polyester are close in chemical structure, and they will dissolve into each other, making the stink difficult to remove."
A study9 confirmed Taylor's statement by revealing that "greater malodors are more often associated with polyesters because the odor-producing hydrophobic compounds attach more strongly to these fabrics than to cotton." Therefore, you need a formula that has molecules small enough to get the stink out.
Removes Stains
Nothing is more frustrating than having a stubborn stain on your workout clothes. Detergent plays a significant role here because not all detergent formulas are great for stain removal.
As one study1 clarified, "Enzymes are incorporated primarily for stain removal as they catalyze the breakdown of peptide bonds in complex stains and soils." While most laundry detergents include enzymes, certain heavy-duty ones are used in detergents made primarily for workout clothes.
What to Look for in the Best Detergents for Sweaty Clothes
Now that you know just how vital detergents for sweaty clothes are, it's time to clarify how to select one for you.
Formula
One of the most important things you should do when selecting laundry detergent is take a look at the ingredients. You'll want to pay close attention to the type of surfactants1 used, as they're the most critical ingredient in detergent formulations. Are they anionic, nonionic, or a mixture?
You'll want to note any mention of additives, like bleaching agents, enzymes, and builders. Bleaching agents can kill or stall the growth of microorganisms, which is great, but is it a color-safe bleach? For example, sodium perborate is considered color-safe, but sodium hypochlorite is not.
Enzymes are beneficial, but specific ones can't be combined with certain surfactants, or they'll cause degradation. Then there are builders, like Zeolite A, which are there to eliminate the effects of water hardness and prevent damage to fabric fibers. That's pretty important if you want to protect the integrity of your clothes.
Fragrance
Scent matters for many reasons, but it really comes down to preference. For instance, some people love the smell of strong laundry detergent, but others find it overwhelming. Then there are others who need an unscented option because the perfumes or phosphates used are skin irritants.
You also want to ensure that the fragrance isn't just there to mask smelly clothes. No one wants dirty clothes that smell good.
Cost Per Load
As you've seen on this list, the cost per load can vary quite a bit. Some are as low as $0.09, and some as high as $0.57. What you choose basically comes down to your budget, but also pay attention to other factors. For instance, the cost per load may seem expensive, but are you saving money on energy? Do you still have to buy fabric softener or dryer sheets?
Biodegradability
Most people don't think about this, but using laundry detergent may have a negative environmental impact10. Detergents can enter the earth's soil and water bodies, thus affecting our ecosystems. On top of that, the pollution from them can affect the performance of our water treatment centers. Therefore, eco-friendly detergent is essential. The best ones for biodegradability are made with plant-based ingredients that can be broken down by the environment.
FAQs
Should you Wash Workout Clothes in Cold Water?
Ultimately, washing workout clothes in warm or hot water are best for killing off bacteria effectively. However, you can still get your clothes clean using cold water if you use the right detergent. Some of them are specially formulated to still perform well in cold water.
What Detergent Removes Body Odor?
All of the detergents on this list are primarily designed to get the stinky smell out of sweaty clothes.
References
Cheng KC, Khoo ZS, Lo NW, Tan WJ, Chemmangattuvalappil NG. Design and performance optimisation of detergent product containing binary mixture of anionic-nonionic surfactants. Heliyon. 2020;6(5):e03861. Published 2020 May 6. doi:10.1016/j.heliyon.2020.e03861
Tavčer PF, Brenčič K, Fink R, Tomšič B. Influence of Hydrogen Peroxide on Disinfection and Soil Removal during Low-Temperature Household Laundry. Molecules. 2021;27(1):195. Published 2021 Dec 29. doi:10.3390/molecules27010195
Shields J. What is washing soda, and how is it used? HowStuffWorks. https://home.howstuffworks.com/home-improvement/household-hints-tips/cleaning-organizing/washing-soda.htm. Published December 3, 2021. Accessed April 7, 2023.
Burnett CL, Bergfeld WF, Belsito DV, et al. Safety assessment of lauriminodipropionic acid, sodium lauriminodipropionate, and disodium lauriminodipropionate as used in cosmetics. Int J Toxicol. 2013;32(5 Suppl):49S-55S. doi:10.1177/1091581813497765
Henney JE, Taylor CL, Boon CS, eds. Preservation and Physical Property Roles of Sodium in Foods. National Library of Medicine. https://www.ncbi.nlm.nih.gov/books/NBK50952/. Published 2010. Accessed April 7, 2023.
Iijima S, Murayama K, Takayama N, Akiyama T, Sugiyama M, Matsunaga K., A CASE OF ALLERGIC CONTACT DERMATITIS CAUSED BY DETERGENTS CONTAINING COCAMIDOPROPYL BETAINE IN WHICH AN IMPURITY WAS THE POSSIBLE CAUSATIVE AGENT. Arerugi. 2022;71(9):1136-1142. doi:10.15036/arerugi.71.1136
Ewg Skin Deep®: What is sodium coco-sulfate. EWG. https://www.ewg.org/skindeep/ingredients/706033-SODIUM_COCOSULFATE/. Accessed April 7, 2023.
Sodium lauryl sulfate (SLS). The American Cleaning Institute (ACI). https://www.cleaninginstitute.org/industry-priorities/policy/other-issues/sodium-lauryl-sulfate-sls#:~:text=Sodium%20Lauryl%20Sulfate%20(SLS)%2C,remove%20oily%20stains%20and%20residues. Accessed April 7, 2023.
Abney SE, Ijaz MK, McKinney J, Gerba CP. Laundry Hygiene and Odor Control: State of the Science. Appl Environ Microbiol. 2021;87(14):e0300220. doi:10.1128/AEM.03002-20
Mousavi SA, Khodadoost F. Effects of detergents on natural ecosystems and wastewater treatment processes: a review. Environ Sci Pollut Res Int. 2019;26(26):26439-26448. doi:10.1007/s11356-019-05802-x