We test and review fitness products based on an independent, multi-point methodology. If you use our links to purchase something, we may earn a commission. Read our disclosures.
If you're shopping for an indoor rowing machine, you've probably come across the Concept2 RowErg (formerly called the Concept2 Model D or Concept2 Model E rower). It's basically the gold standard of rowing machines and continuously rated as one of the best rowing machines for home gyms and commercial gyms alike.
However, if you're someone who is tech-savvy and likes the idea of interactive programming, NordicTrack offers iFIT-enabled rowing machines with personal trainers to guide you through rowing sessions and a vast library of non-rowing workouts, too.
In this comparison of the NordicTrack Rower vs Concept2, we're going to look at the differences between each brand's most popular machine plus the differences between air vs magnetic rowing machines.
NordicTrack RW900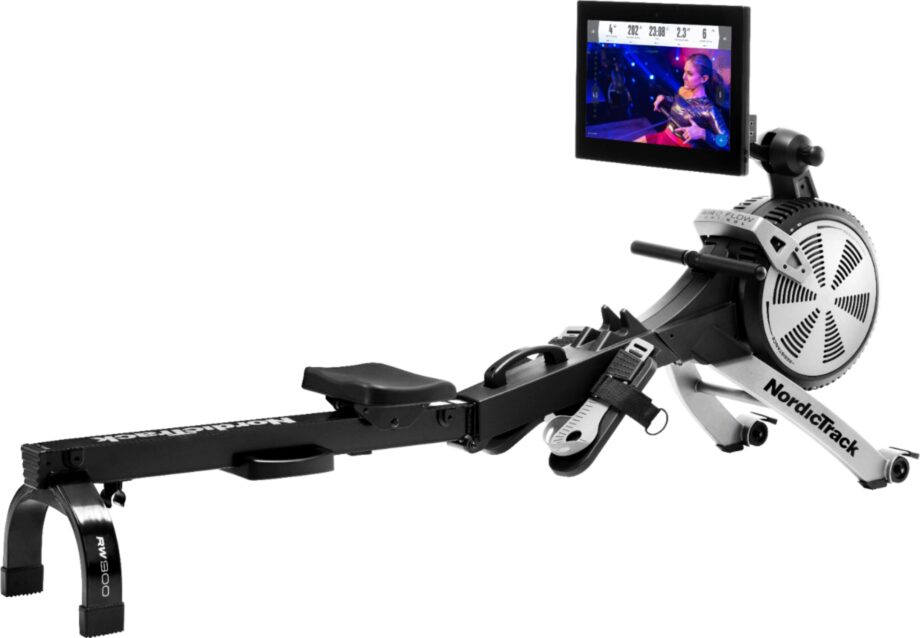 GGR Score: 4.1
Community Score: 3.5
Product Highlights
Rotating smart HD touchscreen
Immersive workouts
Solidly built
Smooth ride
Made in USA
Pros & Cons
Pros
Massive 22" HD touchscreen display
Pivoting and tilting screen for use off the rower
Solid build quality
Comfortable padded seat
26 digital resistance levels
Auto-adjust resistance
Large foot pedals and adjustable straps
Quiet ride
iFIT workouts
Soft, grippy handles
Bluetooth-enabled
Cons
Monthly subscription required for full functionality
Large footprint
Doesn't fold
Requires an outlet
Can't store in a garage (voids warranty)
Low 250-lb weight capacity
Heavy at around 160 lbs, but has transport wheels
Bottom Line
If you're looking for a high-end rowing machine with interactive rowing workouts, this is a great pick.
Concept2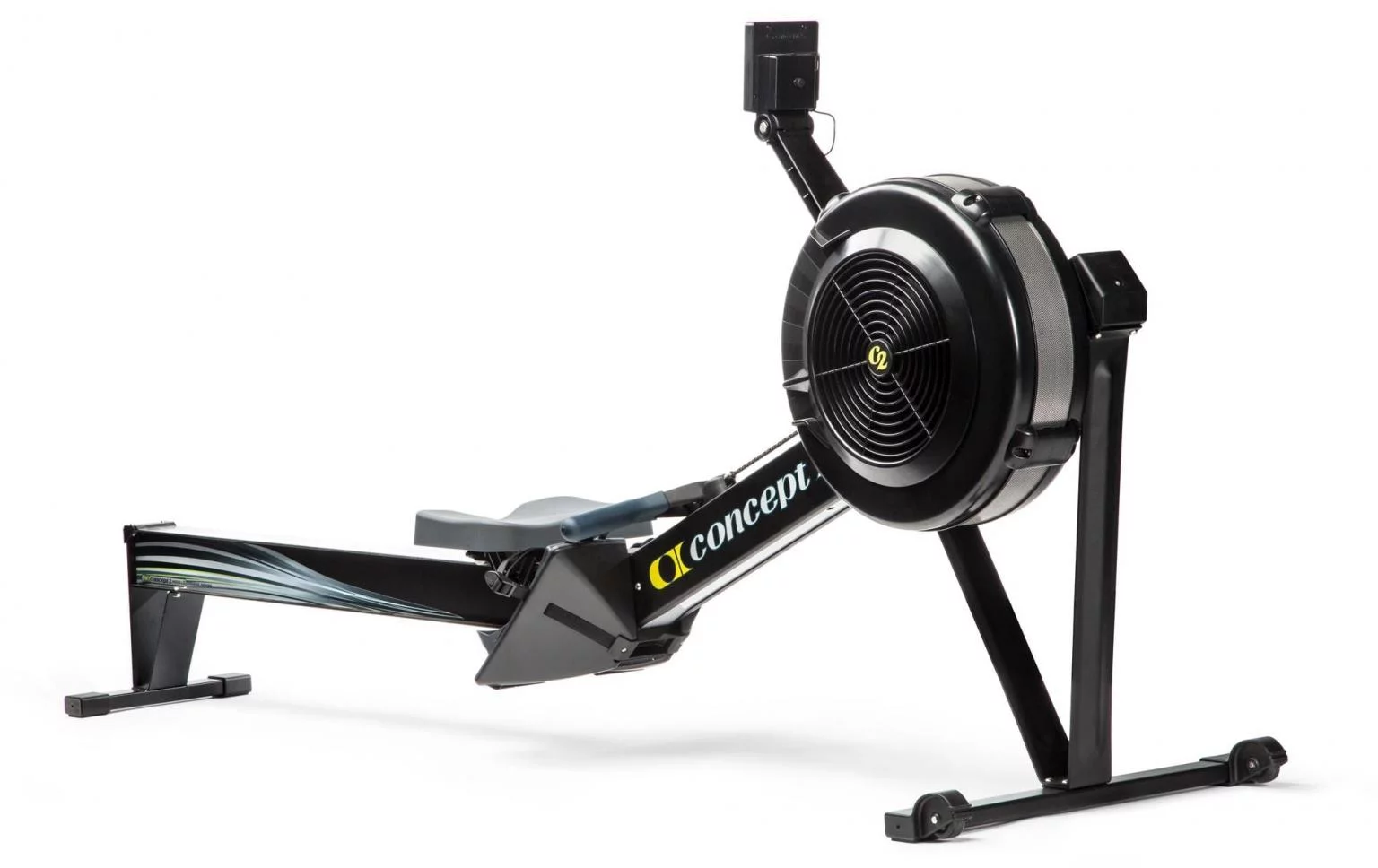 GGR Score: 4.6
Community Score: 3.3
Product Highlights
Priced around $1,000

Uses air resistance generated by the fanned flywheel

Advanced PM5 Performance Monitor

Low impact full-body workout fitness machine

Lightweight and easily portable

Can be broken down into two pieces for storage

Can also be hung for storage
Pros & Cons
Pros
Best-selling rowing machine in the world
Easy assembly
Accommodates users up to 6.6 feet tall and 500-pound weight
Ergonomic seat and handlebar
Seat is 14"
10-degree angle on handle for natural grip
Air-resistance
Adjustable airflow
Performance Monitor 5 (PM5) monitor
Nickel-plated steel chain
Adjustable footrests
Easy to store
Limited 5-year warranty
Cons
Priced around $1,000
Few built-in workouts
Bottom Line
The Concept 2 Model D Rower is the best rowing machine we've tested and reviewed, including those that are much more expensive like the WaterRower. There's a reason you can find Concept 2 products in nearly every gym in the world, including CrossFit Boxes, and home gyms. After having the Model D for over two years, we are still as satisfied with it as we were on day one.
NordicTrack vs Concept2 Comparison Spec Chart
| | | |
| --- | --- | --- |
| | Concept2 RowErg | NordicTrack RW900 |
| Price | $990 | $1,999 |
| Footprint | 96" L x 24" W (with an option of a 14" or 20" seat height) | 82" L x 22" W x 54" H |
| Type of resistance | Air (with a manual damper) | Magnetic; 26 levels |
| User weight capacity | 500 lbs | 250 lbs |
| Height limit | 6' 6" | N/A |
| Product weight | 57 lbs (standard legs); 68 lbs (tall legs) | 163 lbs (in box) |
| Display | LCD monitor (PM5) | 22" tilt and pivot HD touchscreen |
| Bluetooth | Yes | Yes |
| Programming | No | iFIT |
| Warranty | 5-year frame, 2-year moving parts and computer | 10-year frame, 2-year parts, 1-year labor |
Which Rower is Right for You? NordicTrack Rower vs Concept2
Concept2 offers two different rowing machines. However, the Dynamic Indoor Rower is not available to purchase online. That said, for this comparison we'll focus on the Concept2 RowErg—it's the brand's most popular option and one of GGR's overall top picks for best home gym equipment.
NordicTrack also offers two rowing machines: the RW900 and RW700. At the time of writing this review the RW700 is on closeout sale, which indicates this model is likely to be discontinued. For that reason, we're going to focus on just the RW900 for this comparison.
Whether you're just learning how to use a rowing machine, or you're an experienced rower, either rower will provide you with a high-quality home rowing machine. The best choice for you is a matter of what you want from your fitness equipment (and how much you're willing to spend).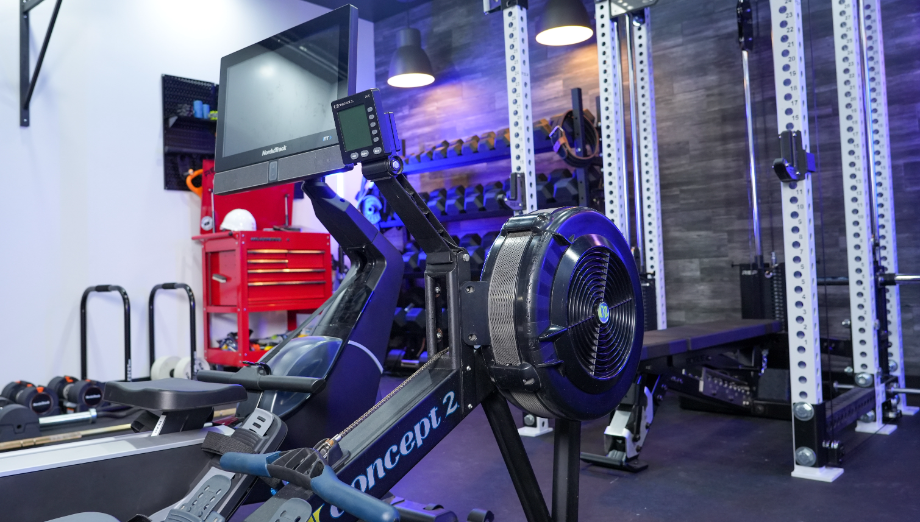 Who Should Buy The NordicTrack RW900
People who enjoy immersive on-demand workout programs
Individuals who are willing to pay monthly fees for an iFIT membership
Beginners who might want (or need) to row slowly at times
Anyone who wants a near-silent rowing experience
People who have the floor space to accommodate a large piece of cardio equipment
Who Should Buy The Concept2 RowErg
Experienced and conditioned exercisers
Anyone who prefers air resistance rowing machines
Folks who just want the basic workout metrics
Those looking for a solid, lightweight, no-frills machine
People who need the option to break a rower into two parts for easy storage
Key Similarities Between NordicTrack and Concept2
Low impact, full-body workouts
Bluetooth connectivity for heart rate monitors
Adjustable footrests and straps
Ergonomic seat
Transport wheels for easy movement
Important Differences Between Concept2 and NordicTrack
Concept2 provides a higher user weight limit by 250 pounds
Concept2 does not require a power outlet
NordicTrack RW900 has tilt and pivot iFIT-enabled HD touchscreen, while Concept2 features a basic performance monitor to display basic workout metrics
NordicTrack RW900 is $1,000 more than the Concept2 RowErg
Concept2 RowErg is not exactly foldable but can be separated into two pieces
NordicTrack features silent magnetic resistance, while the air resistance on the RowErg will create more noise
RW900 provides 26 levels of digital resistance, while the RowErg uses a manual damper to provide 10 different levels of resistance
Technology: NordicTrack Rower vs Concept2 Rower
When it comes to technology features, the NordicTrack comes out on top with a 22-inch touchscreen that pivots and tilts for viewing the screen on and off the rower. That means the RW900 smart rower can serve as the anchor in your home gym for streaming iFIT workouts for rowing interval workouts, dumbbell strength sessions, and even yoga.
The RW900 has atomic trainer control, which is a feature that adjusts the resistance levels according to the iFIT trainer's cues—all without you taking your hands off the handlebar.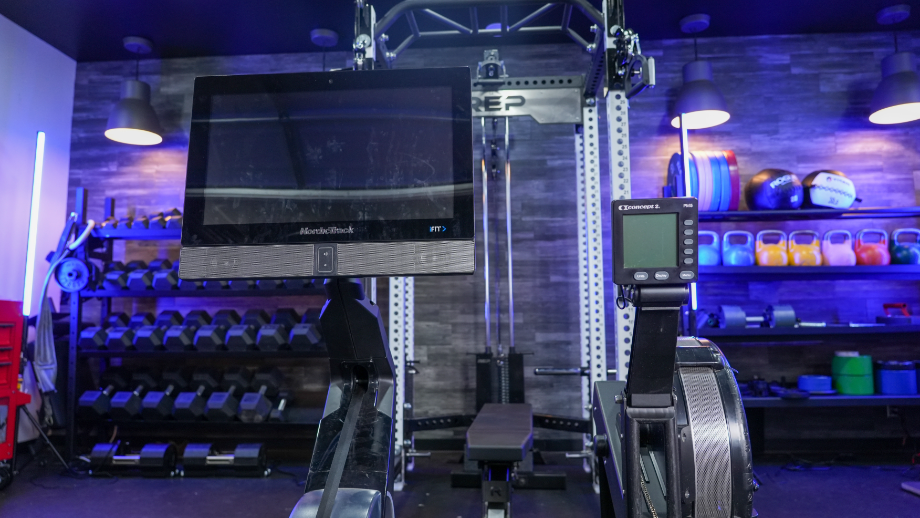 Additionally, the RW900 offers Bluetooth headphone connectivity, which will allow you to hear the iFIT instructor (and the music) without disturbing anyone in your home. And if you choose to go without headphones, you'll be able to hear everything clearly with the powerful 30-watt premium sound system.
To read more about our hands-on experience with this rower, check out our in-depth NordicTrack RW900 rower review.
The Concept2 rower is a much more simple machine in the tech department, but it has all the basics covered. The PM5 performance monitor on the RowErg provides metrics like distance, time, pace, stroke per minute, watts, and calories.
You can also choose from five preset workouts or customize your own interval workout. The preset programs include set distances of 2,000 meters, 5,000 meters, and 10,000 meters in addition to one workout with a 30-minute set time and one interval workout featuring 500 meters of rowing followed by one minute of rest.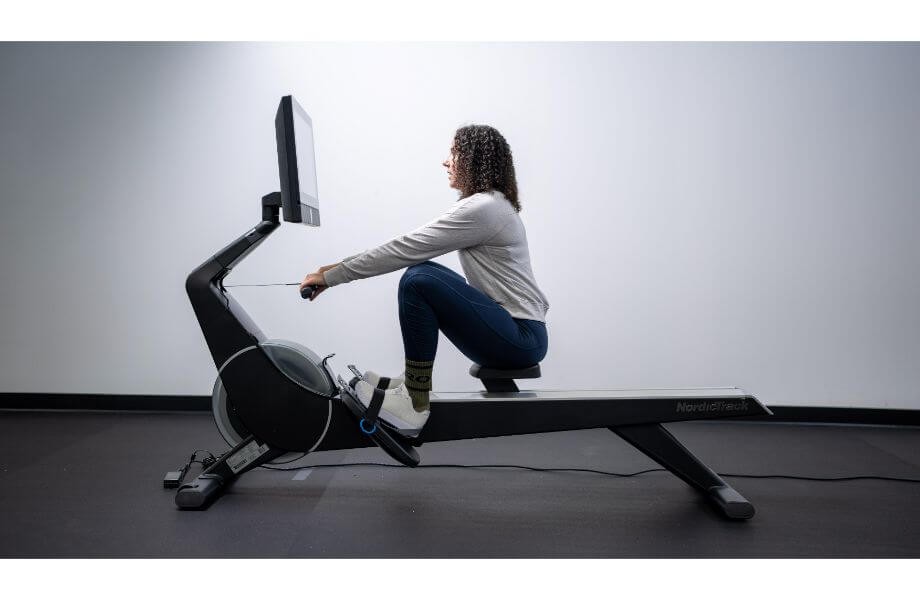 The performance monitor can also connect via ANT+ and Bluetooth technology to compatible wireless heart rate monitors in addition to popular rowing apps like Zwift. The monitor can also be used with a USB flash drive storing and tracking your workout data.
Our Concept2 RowErg review has even more details about our workout experience and the assembly process.
Workout Feel: Air vs Magnetic Rowing
Air rowing and magnetic rowing flywheels are similar but deliver slightly different experiences. Air rowers are controlled by your own speed and effort, which means the faster you go, more air can be drawn into the intake fan, which creates more drag (aka resistance).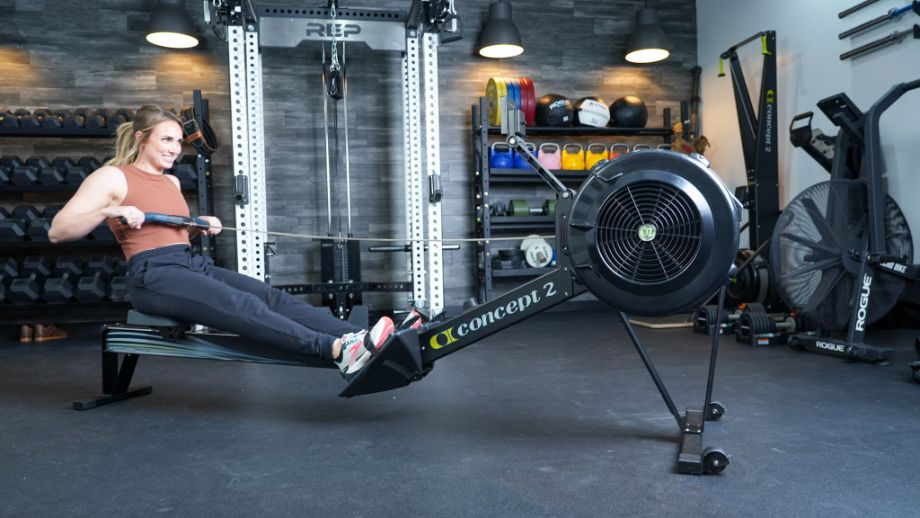 The Concept2 rower also features a manual damper with 10 levels to help dial in just how much air the fan can intake, but ultimately it's your efforts that dictate how hard a workout is going to feel.
On the opposite side of the rowing spectrum, the NordicTrack features digital silent magnetic resistance, which can be adjusted without you even touching a button with atomic trainer control.
The best magnetic rowing machines offer set levels of resistance, which is more comparable to using an elliptical or treadmill and selecting a certain level of resistance. The RW900 will give you 26 levels of resistance, which can accommodate beginners and experienced rowers alike.
I personally think that magnetic rowers are great for beginners or anyone returning to exercise because the set levels of resistance (plus the inertia-enhanced flywheel which keeps things running smoothly) can actually allow you to go fairly slow if you get tired or just don't want to go super hard. It's a little harder to slow down your pace on an air rower, but certainly not impossible.
RELATED: Treadmill vs Rowing Machine
Company Policies
Here is a look at the differences in NordicTrack and Concept2 company policies:
Warranty
The RW900 follows the standard NordicTrack warranty policy with a 10-year frame warranty, two-year parts, and one-year on labor. This warranty for a rowing machine will serve you well, but it's worth noting that NordicTrack customer service can be hit or miss. In my experience the live chat function on the brand's website has led to both super timely answers and delayed responses that come to my email days later.
The Concept2 RowErg has a five-year frame warranty and a two-year policy on moving parts and the performance monitor. The brand explicitly states in the warranty policy that it does not cover damage to the finish of the machine or damage from neglect or abuse.
Although the warranty period is half the length as the NordicTrack rower, the Concept2 website states that the warranty is fully transferable to each subsequent owner during the term of the warranty should you sell it or give it away (which is pretty uncommon for fitness equipment).
Return Policies
NordicTrack offers a 30-day window after your delivery date to make any returns. You will have to contact customer service to initiate your return and you can expect some fees with returns including $250 to ship it back and a 10% restocking fee.
Similarly, Concept2 offers returns within the first 30 days only if you call customer service at 1-800-245-5676 before making a return. You will be on the hook for shipping and handling fees, too. It's also worth noting the brand's website states that return offers apply to factory direct sales in the U.S. and Canada only.
Financing Options
NordicTrack offers financing at checkout through TD Bank. If you qualify, you can receive 0% financing with loan terms between 12 to 39 months. Standard purchases will receive up to 29.99% APR based on your credit history.
For Concept2 shoppers, it's worth noting that you won't have financing options available on the brand's website. However, the RowErg is sold on other retailer sites like Amazon and Rogue Fitness if you'd prefer to pay over time.
Final Thoughts on Concept2 vs NordicTrack Rower
The best rowing machine for you is the one you enjoy using. So if that means investing a little more money in a high-tech machine to keep you engaged, then we fully support that! If all you want is the basic metrics on a solid machine, then you'll never go wrong with the Concept2.
Here are the main differences between the NordicTrack Rower and the Concept2 RowErg:
The NordicTrack features a large touchscreen with interactive programing, while the PM5 on the Concept2 has just five built-in workouts and basic metrics.
The Concept2 does not require a monthly subscription to use the machine at its full functionality, while you will want to buy an iFIT membership to use the RW900 at full capacity.
The RW900 is about $1,000 more expensive than the RowErg.
The Concept2 can tolerate a user weight capacity of 500 pounds, while the RW900 is only rated for 250 pounds.
NordicTrack Rower vs Concept2: FAQs
What is the best brand rower?
Can you use the NordicTrack rower without a subscription?
NordicTrack rowers can be used with an iFIT subscription, however you will still need a WiFi connection to access manual mode.
Can I watch TV on the NordicTrack rower?
The NordicTrack HD touchscreens are designed to work with iFIT programming and are not compatible with other streaming platforms.
How much does iFIT cost per month?
IFIT monthly memberships are $15 per month for individuals and $39 per month for a family plan.