We test and review fitness products based on an independent, multi-point methodology. If you use our links to purchase something, we may earn a commission. Read our disclosures.
Editor's Note: The NordicTrack CX 1000 Elliptical is no longer in production. We suggest viewing the ProForm Carbon EL as the best alternatives, or view our Best Elliptical Machine For Home Gyms roundup for more options.
The NordicTrack CX 1000 Elliptical is a folding cross trainer that was manufactured over a decade ago. At the time, this was NordicTrack's first attempt at a foldable, space-saving design for an elliptical trainer.
Although this particular machine is not so easy to find anymore, there is a chance you're landing on this review because it's time to upgrade your elliptical trainer now that it's seen over a decade of use.
Alternatively, perhaps you're here because you came across the NordicTrack CX 1000 at a garage sale and you know buying used equipment can get tricky. However, in this NordicTrack CX 1000 Elliptical review, I'll break down the facts I can gather for this discontinued machine and give you two alternatives if you're looking for a present-day option.
Cardio Experts Here to For Your Elliptical Needs
Here at Garage Gym Reviews, we take our product reviewing process very seriously. Our team is staffed with industry experts including certified personal trainers, nutrition coaches, and CrossFit Level 1 Trainers.
We not only have years of collective experience in the fitness industry, we've also had hundreds of hours using and testing everything fitness-related, ranging from resistance bands to rowing machines. Ellipticals for home use are no different—we've tested all the top brands including several models from NordicTrack and sister company ProForm.
Although we have not tested this NordicTrack CX 1000 Elliptical, we're confident that our knowledge of cross trainers and the NordicTrack brand will help us deliver the most accurate information available about this discontinued machine.
Looking for an Alternative to the NordicTrack CX 1000 Elliptical?
When looking for an alternative to the NordicTrack CX 1000, it's inevitable that you'll find more features and technology in today's machines than you did a decade ago. That said, both NordicTrack and sister company ProForm have a lot to offer when it comes to tech and interactive programming.
I think the ProForm Carbon EL is the best alternative to the NordicTrack CX 1000 because it does have modern features but is not overwhelming in the tech department. You will not see a built-in touchscreen, but rather a tablet shelf and Bluetooth connectivity for streaming iFIT on your own device.
The Carbon EL is not only iFIT-enabled, it has an adjustable stride length, and comes equipped with an inertia-enhanced flywheel for a smooth pedaling experience. Additionally, the Carbon EL uses auto-adjust technology to alter your resistance settings as you follow along with trainer-led classes on iFIT. 
Best Alternative to NordicTrack CX 1000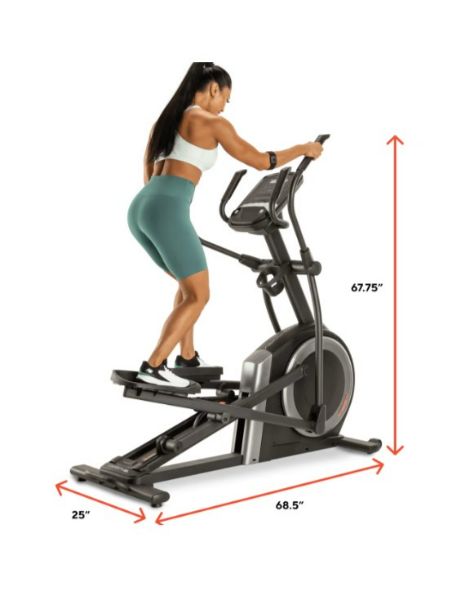 Product Highlights
Feature-rich elliptical with impressive specs

19" adjustable stride

0-  to 20-degree power adjustable ramp/incline

24 levels of digital resistance with Silent Magnetic Resistance technology (SMR)

25-lb flywheel, dual 2" Bluetooth speakers, 10" HD touchscreen

CoolAire console fan, water bottle holder

iFIT-enabled for interactive training options

A 3-year iFIT family membership is included with your purchase 

Front-drive design for a more compact footprint
Pros & Cons
Pros
3-year membership included with purchase
Quiet (thanks to SMR)
Adjustable stride and ramp
Compact
Cons
After 3-years will require a paid membership to use
Some users find the 19-inch stride constricting
Bottom Line
If you are looking to add a feature-rich, interactive cardio machine to your home gym, the ProForm Carbon E10 may be for you.
A Quick Look at the NordicTrack CX 1000 Elliptical
According to the owner's manual, the NordicTrack CX 1000 was manufactured around 2008. Due to the fact this machine is nearly 15 years old, there are slim pickings to purchase this elliptical today (even on sites like eBay).
If you currently own the CX 1000 (or you've found one used) you will have some peace of mind knowing there are still replacement parts available from retailers like Amazon and Walmart. If you're looking for parts, just search the model number (NTEL79960) to get replacement parts that will work.
However, if you're considering picking up used a CX 1000 machine, here are some things you'll want to know:
Pros:
Foldable, space-saving design
8 preset workout programs
EKG heart rate monitoring
Adjustable stride
Cons:
Basic console and LCD display
No tablet shelf or tray
Stride adjustments are manual
Not iFIT-enabled
NordicTrack CX 1000 Elliptical Specs
Due to the fact the NordicTrack CX 1000 Elliptical is discontinued, here are the specs I could find based on research:
| | |
| --- | --- |
| Footprint | N/A |
| Weight | N/A |
| Weight capacity | N/A |
| Drive system | Rear drive |
| Display | LCD screen |
| Heart rate monitor | Yes |
| Foldable | Yes |
| Built-in programs | 8 |
| Warranty | 1-year limited warranty |
Key Features of the NordicTrack CX 1000 Elliptical
The NordicTrack CX 1000 doesn't quite compare to the brand's current elliptical lineup with iFIT-enabled smart touchscreens, auto-adjust technology, and incline training. However, when this machine was released in 2008, this rear-drive elliptical provided a suitable exercise machine for home gyms across the country.
An interesting feature to the NordicTrack CX 1000 is the fact it does not come equipped with a power cord—instead it's powered with five D-batteries stored in the console. If you bought this new back in the day, the batteries were not included in the purchase of the CX 1000.
The CX 1000 features a simple console with a display showing metrics like time, resistance, and revolutions per minute. There are even pulse sensors flanking the elliptical console where you can monitor your heart rate.
NordicTrack CX 1000 Foldability
Although the footprint and weight of this machine is not disclosed on the owner's manual, we do know the CX 1000 folds up and gives you back about half of your dedicated floor space.
Folding ellipticals are fairly rare and the way this machine folds is pretty unique in my opinion—first you have to detach each pedal and then fold the frame. When you're ready to fold the CX 1000 for storage, you'll start by releasing the latch under each foot pedal and lifting the pedals off the sleeve of the crank arm.
The next step is to raise the pedals until they are held in place by the adjacent magnets located on the uprights of the machine. Now that the foot pedals are folded and stored out of the way, you can grab the handle on the rear of the machine and lift up until it locks in a vertical position.
From the folded position, you can use the handlebar on the back of the macchine to tip the elliptical onto the transport wheels to move it out of the way.
When you're ready to workout on the CX 1000, you'll use the latch located on the bottom of the machine (now exposed because it's folded upward) to release the frame down to the floor. You'll then have to pull the pedals off the magnets and reattach the sleeves to the crank arms.
Once you're working out, if you notice any side-to-side motion, you can use the leveling feet on the back stabilizers to eliminate any unwanted movement.
Ergonomics and Comfort
The CX 1000 has an adjustable stride length that can be moved into one of three positions manually—when you're off the elliptical, of course. Although most modern exercise equipment makes these kinds of adjustments electronically, on a machine nearly 15 years old, manual adjustments are standard.
According to the owner's manual, adjusting the stride is a fairly easy process: You just need to find the adjustment knob and pull it free and select one of the three stride length options. The knob can be found on the crank arm, which is located where the flywheel is housed on the machine (and where the pedal arms attach to the drive).
Although the CX 1000 has three options for stride length, the manual doesn't specify length of any of the settings. Generally speaking, rear-drive machines are a little bigger and often can give you a longer stride to make the pedaling motion feel more like walking.
Another feature I noticed about this machine was the large handlebar in the shape of an arc on the top of the console. Typically we see ellipticals with sets of handlebars (one moving with the pedals, and the other set fixed). However, the CX 1000 features handlebars built into the sides of the console and the big one I mentioned over the top. Either of these fixed handlebar positions provides an option to grab onto something stable while getting on and off the machine which is good for everyone, especially older folks.
Benefits and Conveniences
Although the CX 1000 does not feature the modern technology and interactive programming of the NordicTrack models on the market today, the CX 1000 is a solid machine that still delivers a quality cardio workout. You will even find eight built-in workout programs that do not require an internet connection.
Although the console is simple, it offers just enough to keep you comfortable during a cardio session with a built-in workout fan to keep you cool while training and a water bottle holder attached to the upright for easy asses while pedaling.
Final Verdict of Our NordicTrack CX 1000 Elliptical Review
At the end of the day, the NordicTrack CX 1000 elliptical can still provide a heart-pounding cardio workout despite the fact the machine is over a decade old. If you happen to come across the CX 1000 for sale, here are the highlights to remember:
Foldable, space-saving design
Preset workout programs
EKG heart rate monitoring
Tracks revolutions per minute
Replacement parts are still available on Amazon and Walmart
NordicTrack CX 1000 Elliptical Rating
NordicTrack CX 1000 Elliptical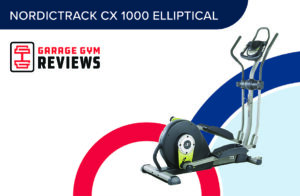 If you're interested in an alternative to the NordicTrack CX 1000, check out the ProForm Carbon EL
Product Currency: $
Product In-Stock: InStock
NordicTrack CX 1000 Elliptical FAQs
Is a NordicTrack elliptical worth it?
This will be highly subjective and dependent on your fitness equipment wants and needs, including your budget and the amount of space you have in your home gym area.
How much does a NordicTrack elliptical weigh?
Each NordicTrack elliptical is different, but most of the brand's elliptical machines weigh between 200 to 300 pounds.
Why won't my NordicTrack elliptical turn on?
In the case of the NordicTrack CX 1000, one or more of the five D-batteries might need to be replaced for the machine to turn back on. For other NordicTrack elliptical machines, refer to the owner's manual for how to restart your machine using the power switch.