We test and review fitness products based on an independent, multi-point methodology. If you use our links to purchase something, we may earn a commission. Read our disclosures.
The Ghost Strong Combo Rack HD is one of the most high-quality, custom squat racks on the market. Designed specifically for powerlifting, not only is the function of this rack extremely high, but so is it's good looks. If you want one of the best squat racks and don't mind paying for it, this is a hard rack to beat (although there are some things we would like to see improved.)
Ultimate Combo Rack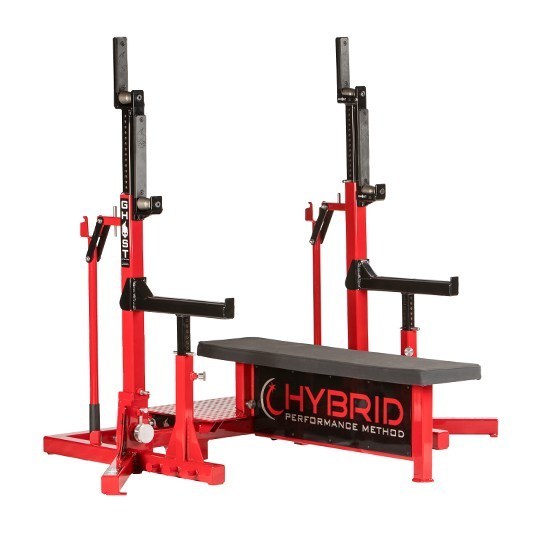 Ghost Strong Combo Rack HD
When designing the Combo HD, We had several goals in mind: Stability, ease of use, unmatched quality, & a better main joint design.Ultimate stability requires the right geometry and weight. However, we didn't want to just throw weight at it, we wanted the weight to be in very specific areas. So we considered our options and internally weighted the Combo "HD" so the extra weight is primarily the in the areas that actually need the extra weight for stability's sake.To make the life of a user, gym owner or meet director easier, we've always engineered our combo racks to be completely tool-less. No tools required for assembly, no tools required to convert from bench to squat and no tools required to disassemble. Leave the toolbox and your frustrations at home. Additionally, although every other part of our combo is completely different, we have matched the ER combo exactly on hole positions. This means that if you know your rack and safety height on ER Equipment, you know them on Ghost Strong combo racks. Easier for the lifter, easier for meet directors, and easier for everyone to phase in Ghost Strong combos into their gym or meet.Like all Ghost Strong products, we obsess about the quality we put into our Combo "HD". From inception, through 3D design, fabrication, finishes and final assembly, we want our products to stand out above the rest. Yes, that ads cost, it ads time, but if your gym is going to have a piece of equipment for years and years, your lifters deserve it. Value shows up in your bottom line over the long haul, not just in saving a buck on the initial purchase.We've never liked the old slip collar design for combo racks for in/out rack positions, even on our own original combo. We wanted to re-think the entire thing with a clean sheet of paper and come up with something better. A tighter design, something easier to adjust, and something that just didn't look so clunky. A lot of thought was put into our Patent Pending joint/cam adjustment system, and our customers love it.Ghost Strong Combo "HD" Features:Patent Pending Ghost Strong Return Rollers on all 4 rack points Patent Pending Joint/Cam Design Internal Weighting for Maximum Stability 3/16" Wall Tubing Dual Stage Pad with Gripper Cover Band Pegs on removable safeties Full Size Spotter platform Tool-Less Design Laser Cut Numbers Exact ER upright and safety heights Cedar lined uprights for quicker pin adjustments Easy to customize for your gym, color combinations Bench is on wheels and will come out the front OR the back
The Ghost Strong Combo Rack HD, to give you a comparison you might understand, is just a piece of gym equipment in the same vein that a custom chopper is just a motorcycle. For some, it will function somewhat similarly to other squat racks on the market. To those that understand and like all of the various details associated with high-end products, this is one of the most unique and custom pieces of gym equipment on the market. If you're a Powerlifting Meet Director or just want to practice like you play, this is one of the best, most unique combo racks on the market.
Video Review
Who is Ghost Strong?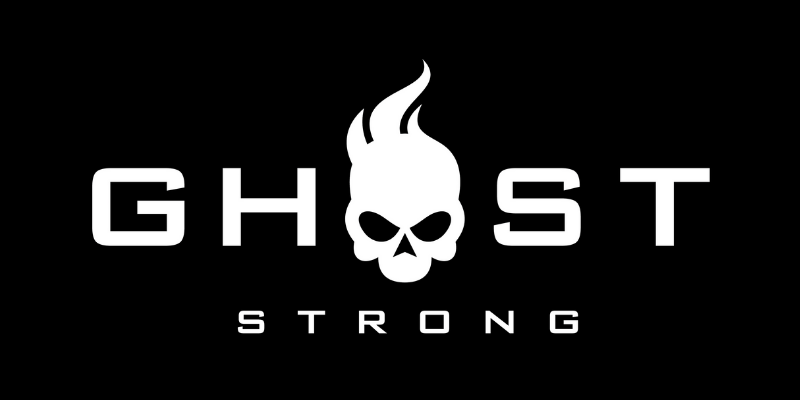 Ghost Strong came onto our radar in the middle of 2019. As usual, I was researching equipment suppliers and new designs and came across some of the best weight benches that were done by Ghost Strong for Hybrid Performance Method's Gym where Stefi Cohen trains. What initially struck me was how much detail was put into the various laser-cut logos and attachment points.
Come to find out, Ghost Strong, although somewhat new to building strength training equipment, has been around for 100+ years doing metalwork and fabrication in a 50,000 sq ft. shop with over 75 employees. It's obvious that Ghost Strong knows what they're doing when it comes to welding, cutting, and fabricating. Everything they sell is made in the US using US-sourced steel and is designed to be the absolute best with no cost spared. This means many of their products are pricey, but for those that like quality, this is yet another competitor for companies like Sorinex, Rogue Fitness (on some of their Monster and new Reflex lines,) Powerlift Equipment, Williams Strength/EliteFTS, Dynamic Fitness, Legend Fitness, and others.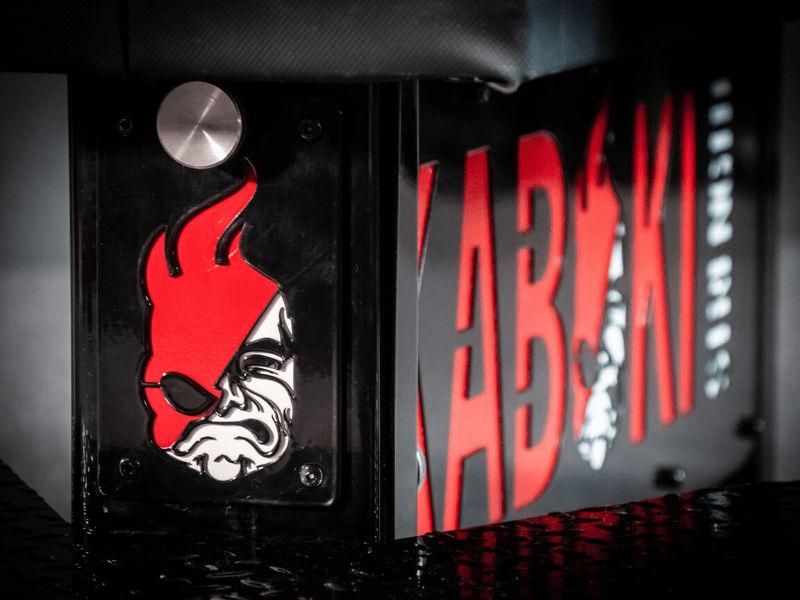 Not only has Ghost Strong caught the attention of many consumers, but they're also now even garnering attention from competing companies such asChris Duffin from Kabuki Strength who now sell a collaborative version of the Ghost Strong Combo Rack HD and i s the same rack that Chris squatted 1,001 LB for three reps on.
What is the Ghost Strong Combo Rack HD?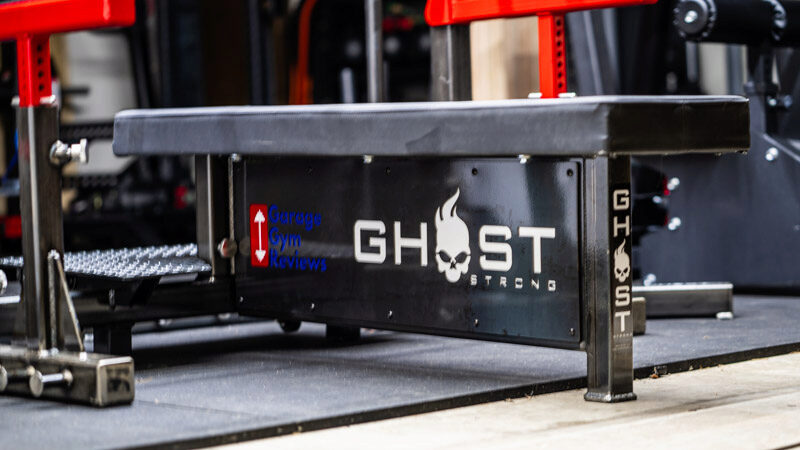 The Ghost Strong Combo Rack HD is designed to be the ultimate combo rack for those that train and compete in powerlifting. Go to any powerlifting meet today, especially USPA and you're almost guaranteed to see at least one combo rack (unless it's a geared meet and then you'll find monolifts, which they also make.) A combo rack combines a squat rack and competition flat bench that is removable. These racks are extremely strong, functional, easy to move, and made to take a lot of abuse.
The Ghost Strong Combo Rack HD is not the first combo rack, but it is an extremely well thought out interpretation on the design originally created by ER Equipment. It focuses on a vast amount of customization and small, yet impactful refinements—the patent-pending Ghost Return Roller that brings the barbell to the front of the j-cups as well as the patent-pending Joint/Cam Design that allows the uprights to come in or at an angle for those that like to grip the barbell wide during a back squat or be completely vertical during the bench press.
If you're hosting powerlifting meets or like to practice as you play, then, as you'll see, this is one of the best options on the market (so long as you don't mind paying for the quality.)
What We Like About the Ghost Strong Combo Rack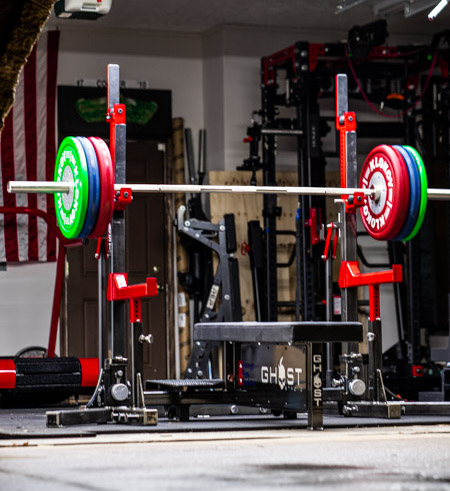 There's a lot to like about the Ghost Strong Combo Rack HD, especially for someone like me that is often putting time in on testing and providing reviews on budget-friendly home gym equipment—which is the exact opposite of what this rack is.
Although Ghost Strong makes other equipment, in my opinion, this and their monolift are the best examples of what they bring to the table. Here's what I like about the Combo Rack HD.
Nearly Every Detail Is Well Thought Out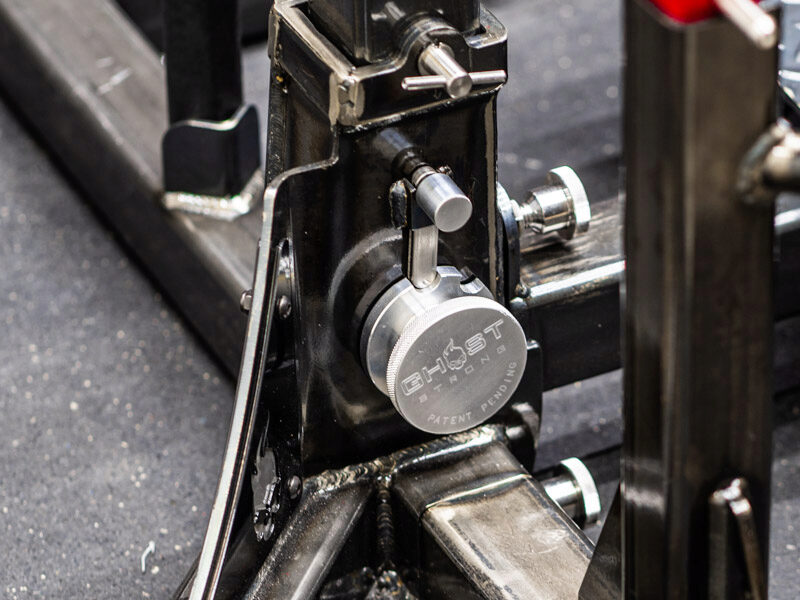 It's obvious as soon as the shipping box shows up on your doorstep that Ghost Strong isn't just trying to make another product. They're trying to make a Ferrari, or better yet, a Ford GT40 as the rack is made entirely in the US.
This is the box that showed up on my doorstep: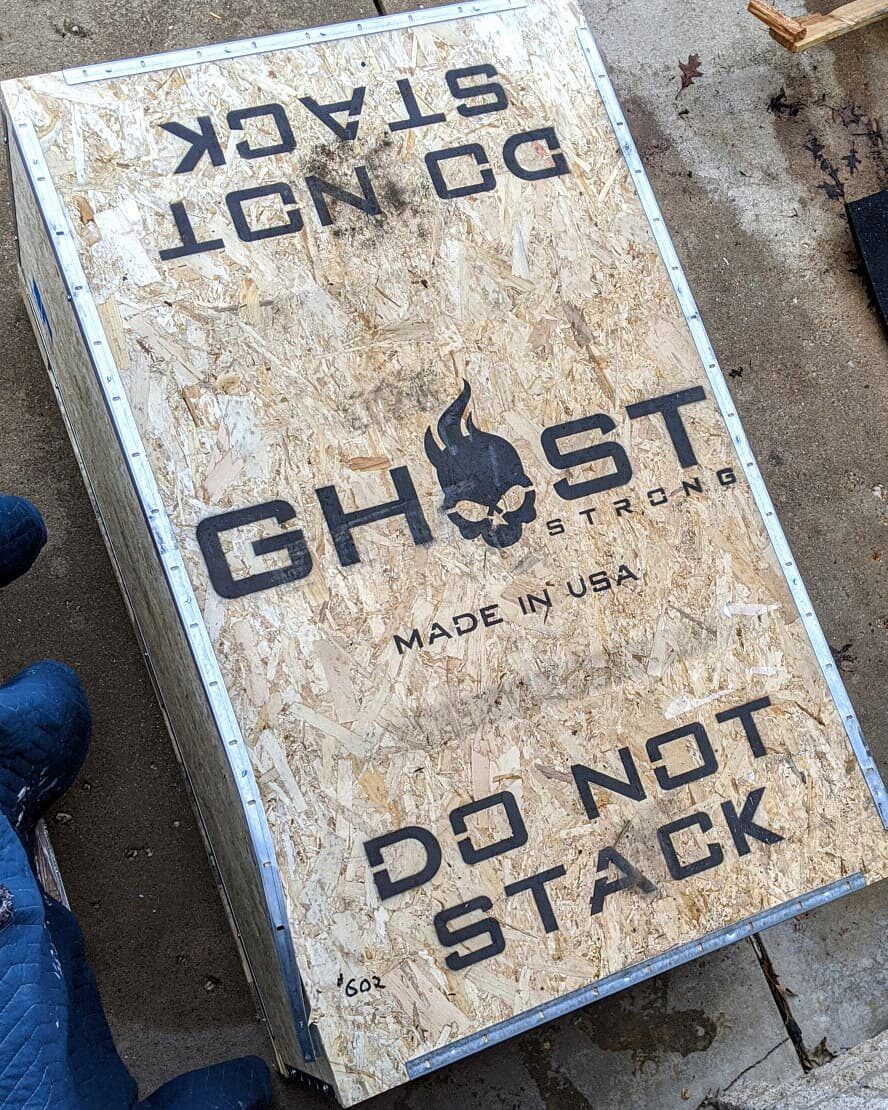 By far, this is the most over the top packaging I've ever received a piece of equipment in. The crate is made by SharkCrates and utilizes thick chipboard and aluminum strips screwed at the corners. If the rack was anywhere near the level of quality of the box it was shipped in, then I knew it would be special.
Once I unwrapped every piece, which by the way were all individually wrapped in foam to prevent any metal on metal contact, I quickly assembled the beast.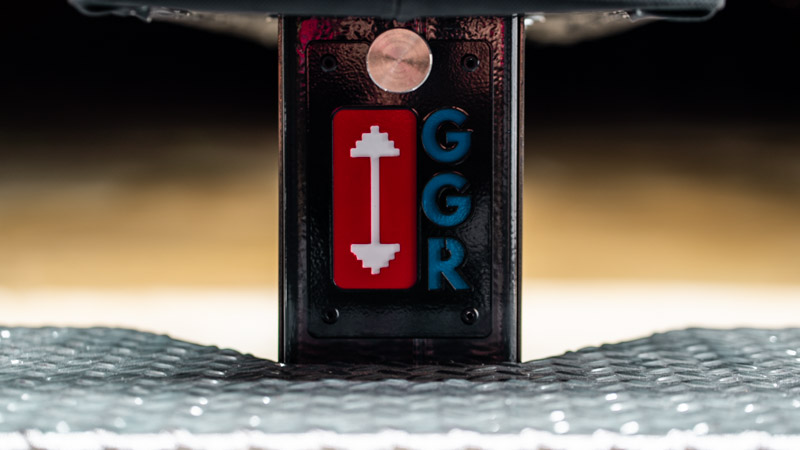 One thing that stood out to me is the fact that I didn't have to have a single tool in my hand during assembly. The rack uses a completely toolless design (unless you need to replace the Return Rollers or UHMW Plastic.) Instead of using a myriad of different bolts, nuts, and screws, Ghost uses a single style of hand-tightened, knurled-edge screws. Oh, and they're all machined in house:
These screws are easy to tighten, make the rack secure without having to use wrenches, and give the rack a great look.
I will get more into the details on the customization aspects, powder coating, and the like later in this review which are things that really stood out to me, the two most unique features of the rack are what Ghost Strong currently has pending for patents. Those are the Ghost Return Rollers and the Joint/Cam Design.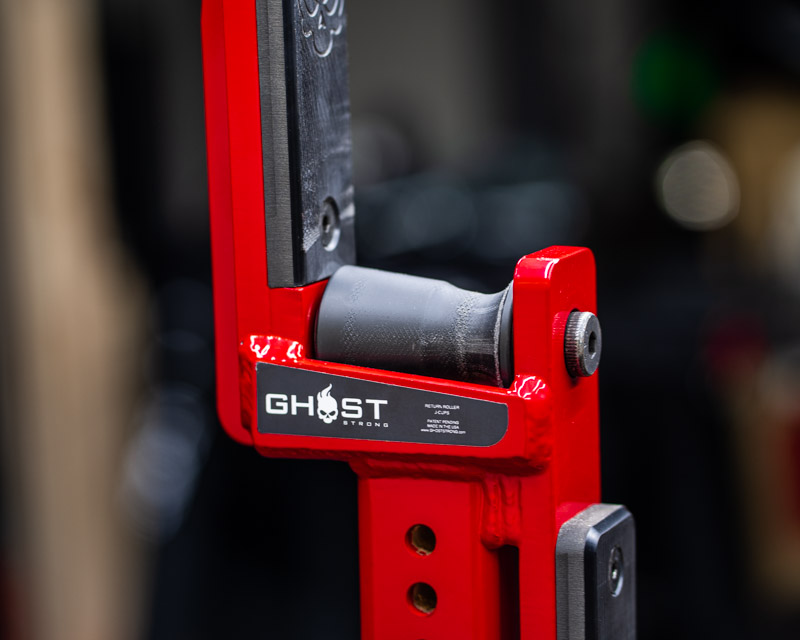 We've posted about the Ghost Return Roller J-Cups previously and use them frequently on my Sorinex BaseCamp Power Rack. The idea of the roller is that it's shaped in such a way that forces the barbell to roll to the front of the j-cup. Rather than sit in the middle or just have a platform that it rolls on, the bar will roll to edge pretty much every time you rack, unless it's very uneven and an extremely heavily loaded bar. This allows you to set up in the same position every time. In addition to rolling the bar forward, they also sit on ABEC Bearings that allows the trainee to roll the bar side to side to even it on the rack regardless of how much load is on the bar (we tested it with over 700 LB and still no issues.)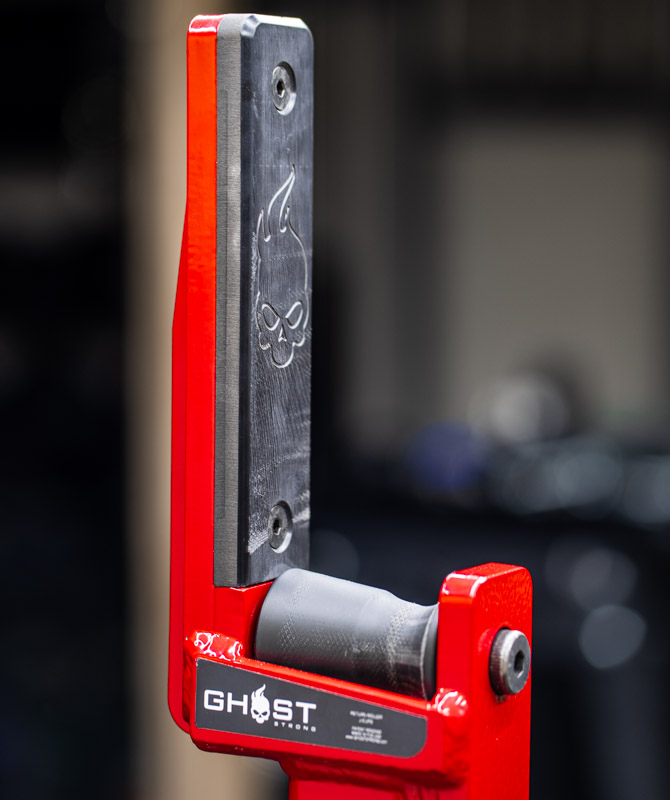 Although it takes some getting used to if you come from a standard style or even sandwich j-cups, we really like the design and found that others that used it did as well.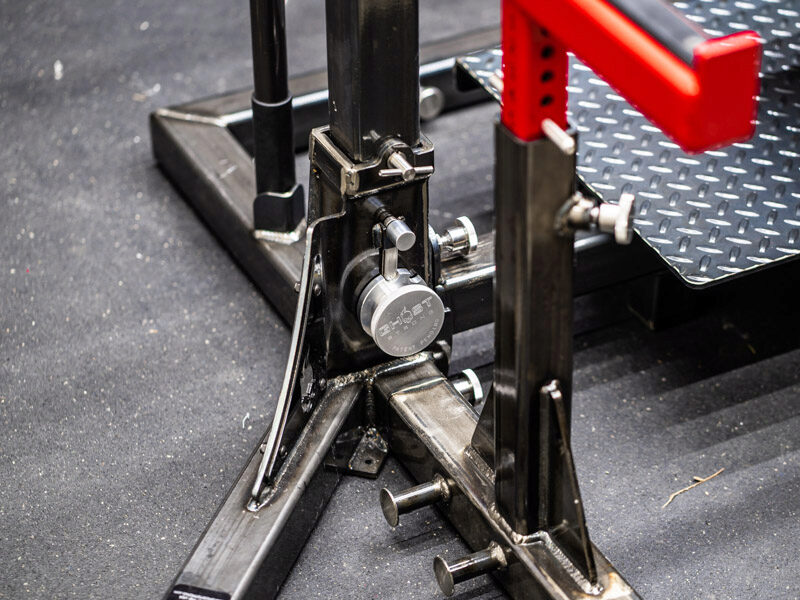 The other patented piece on the rack is the Joint/Cam Design which is at the base of the uprights. This design allows you to easily adjust the width of the uprights depending on the movement. For instance, when you're squatting, it's preferred by most to have the uprights directed inwards so you can grip wide (most powerlifters due to their muscle mass and lack of mobility grab the bar out near the sleeve collars.) When you're benching, the uprights can be directed vertically so there's more room to grip the bar. This Joint/Cam Design was not only easy to adjust, but it felt secure every time.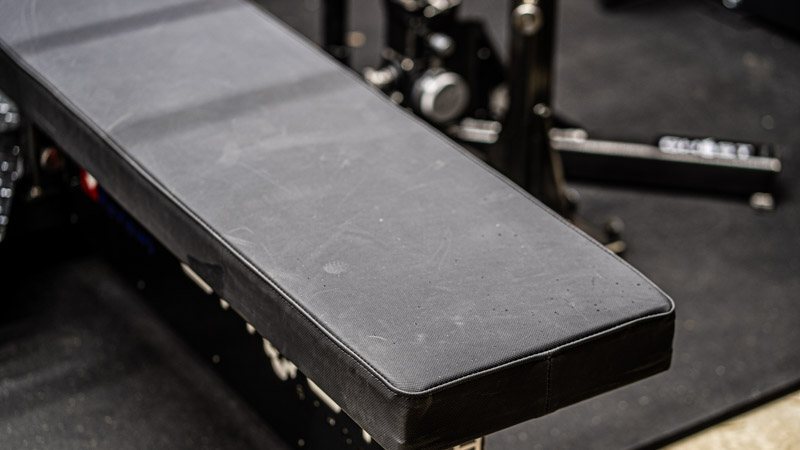 A few other details worth noting that we were happy to see. The bench top uses a grippy vinyl that is comparable in feeling to the most loved bench pad of all time, the Rogue Thompson Fat Pad (and is also kind of seen on a more budget-friendly version, theRep FB-5000 Competition Flat Bench.) The foam beneath the pad is dense and should keep its shape for decades. The foam then sits on a sheet of UHMW plastic that lines the entire bottom of the bench. This is actually a very unique and premium feature considering even the best benches in the world still use plywood as their base.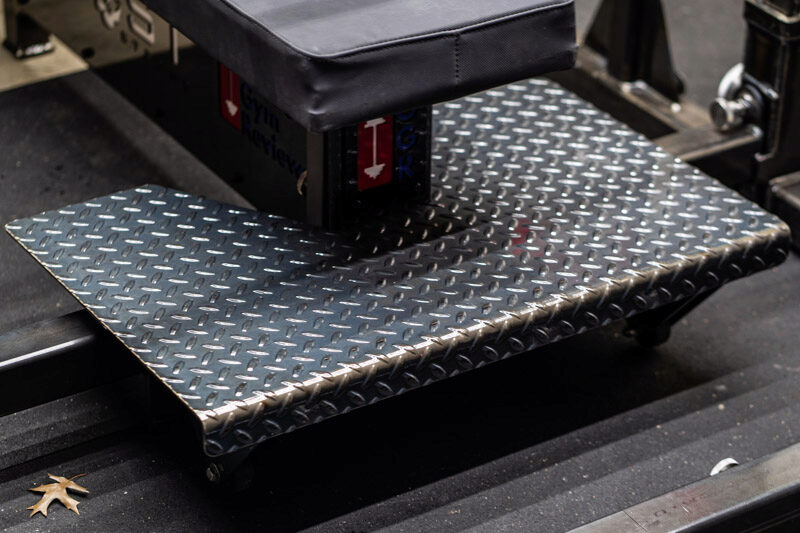 The bench top sits on one of the heaviest, most stable bench frames that has diamond plate spotter platforms and castor wheels that allow the bench to drop into the squat rack.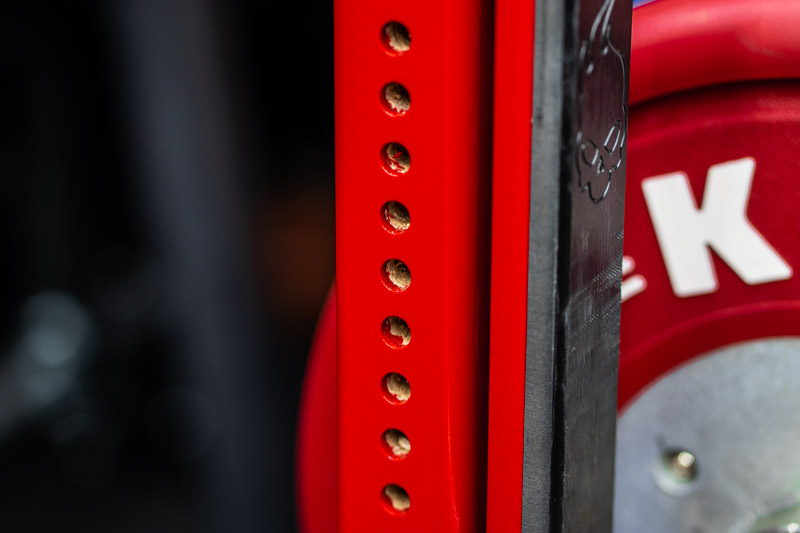 Lastly, the inside of both the spotter arms and uprights are filled with cedar wood that makes pushing the pin through and finding the other hole seamless.
The more you go through the rack, the more you see little details that are often unthought of.
The Combo Rack HD is Quick and Easy to Adjust and Use
A combo rack needs to be quick and easy to adjust, especially when it's going to be used in powerlifting meets with varying height and strength lifters.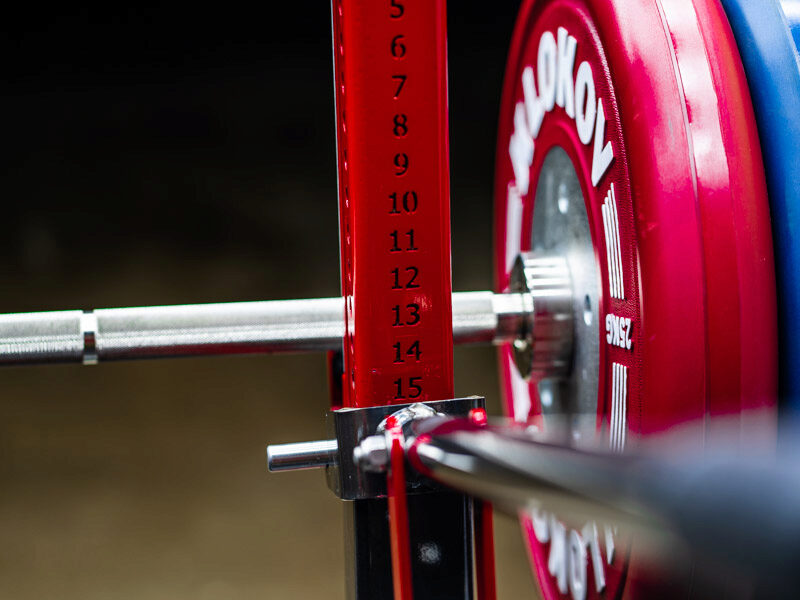 There are five main adjustment points that I feel are worth mentioning. First is just the fact that the entire rack can be disassembled in less than 10 minutes. I did this three times as I transported it between my garage gym and personal training studio.
The next adjustment points are the Cam/Joint Design, Return Rollers, and drop-in bench which we already detailed.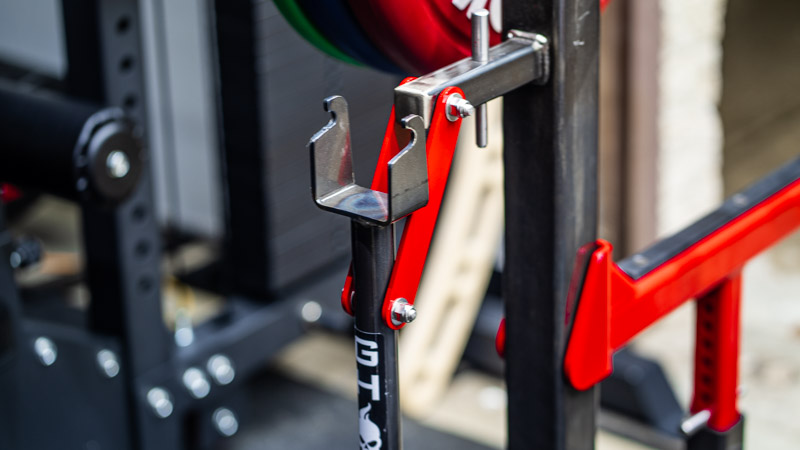 On the front of the rack are two spotter arms. These spotter arms are really only designed to be used during the bench press, although I'm sure you'd be fine using them while squatting. They use a square male end that inserts into a female hole which is then secured with thumbscrews. The spotter arms themselves adjust up and down using the same pin as the uprights for security and also have laser-cut numbers to make evening them out a cinch.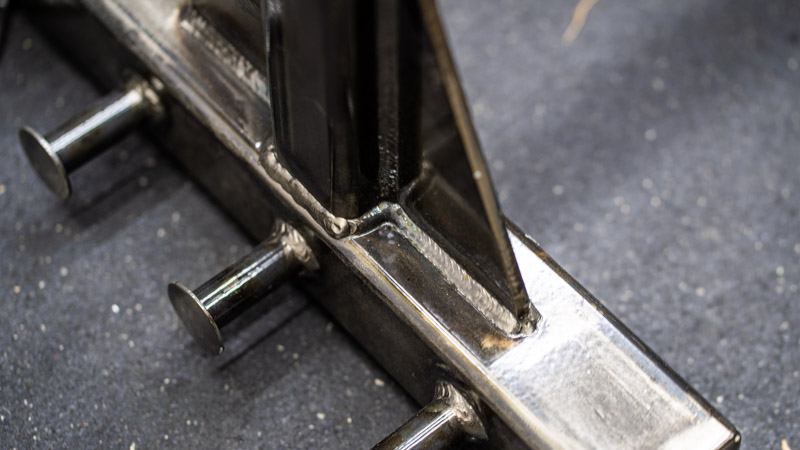 The bottom of the spotter arms have band pegs welded on to allow for bands in training.
The last adjustment point I want to highlight, and the one that will most often be used is the adjustment of the uprights. In order to raise and lower the uprights, even while the bar is loaded with 1,000 LB or more, the uprights use a pin and hole along with a lever mechanism to provide leverage when adjusting the height of the bar for different lifters.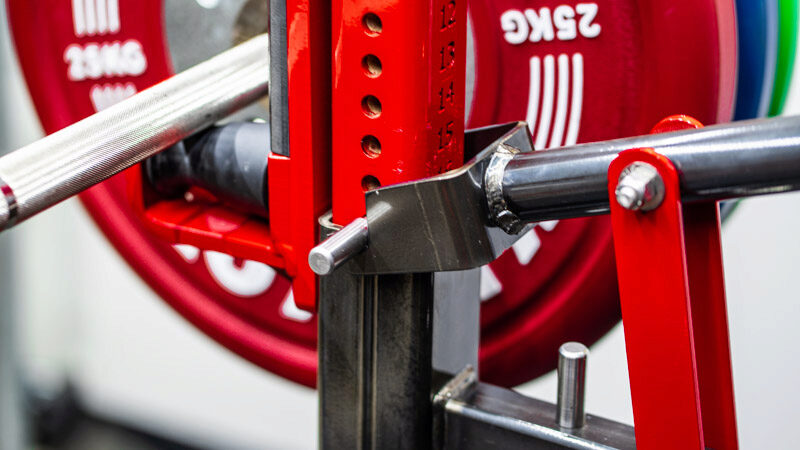 As we noticed when running a squat session with 10 of the strongest lifters in our area, adjusting the height of the uprights to between lifters needs to be quick, safe, and easy to do. Without explaining anything, the lifters were able to adjust the uprights between each lift with only one problem (which will be explained in the improvement section.) This is an awesome design that although Ghost Strong didn't invent, they did a good job implementing it. If you lift with a lot of different people on the same rack and want to use the same bar, this is one of the most enjoyable features we've used in a rack outside of a jack on a monolift (which is more expensive and takes up more space.)
Overall, the Combo Rack HD allows for easy adjustments, assembly, and use. If you want something even easier to disassemble and move, Ghost Strong now makes a combination rack made specifically for meet directors that move equipment often.
The Customizability is Nearly Limitless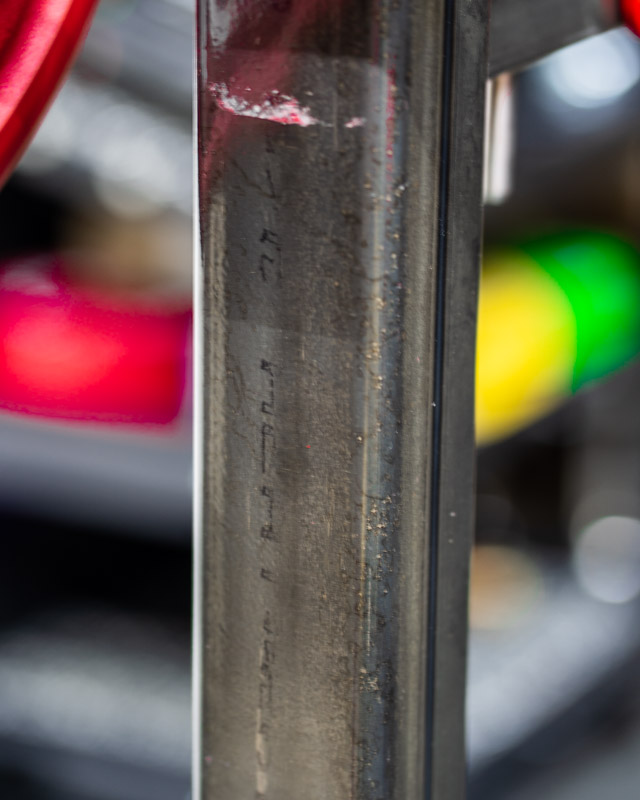 As you've probably noticed, this rack doesn't have a run of the mill color scheme or look. Nearly every part is able to be customized with colors or logos. The color scheme I chose to go with was a glossy clear coat and red accent color to match the rest of my equipment. Clearcoat is my favorite as it allows all of the hard work and qualities of the company to show off. For instance, on parts of the rack you can see that the steel is US-sourced and the quality welds with no overspray show up really well.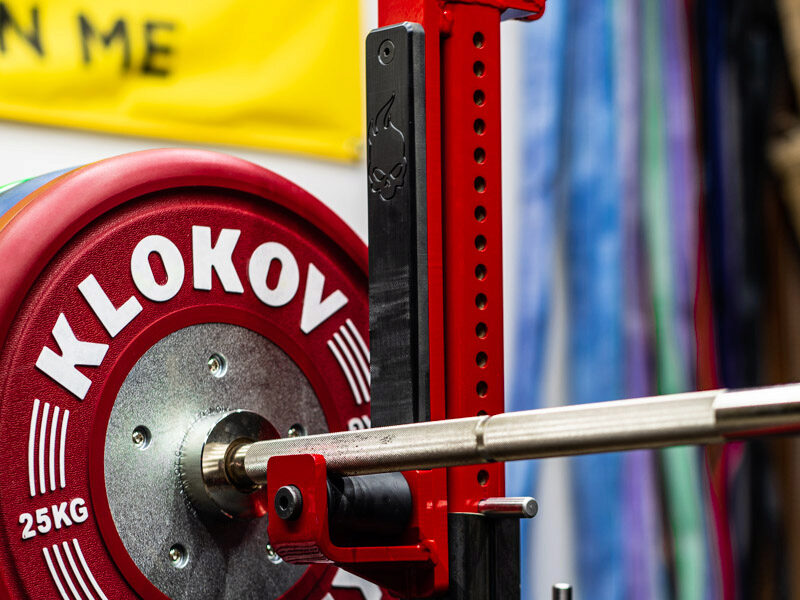 The part of the rack that is essentially a banner for custom work is the bench spine. Using what I believe is 14 gauge steel sheets, Ghost Strong made a banner featuring both their logo (which by the way is one of my favorite in the industry) and the Garage Gym Reviews logo. Utilizing four different sheets of steel to make up the layers of the banner logos allows it to have depth and contrast. It truly is one of a kind.
The way I like to describe Ghost Strong is they're a custom chopper shop that decided to make gym equipment.
What We Think Could Be Improved
Although the Ghost Strong Combo Rack HD is one of the best currently available, there are things we would like to see improved.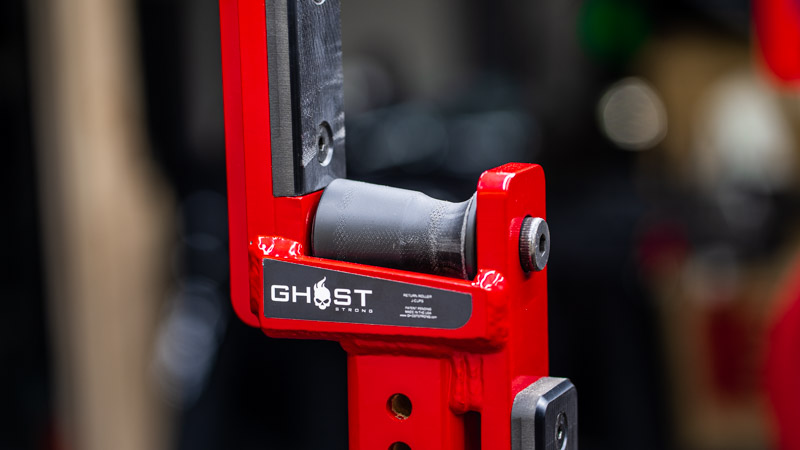 First off, and this is the most minor of all, is the use of stickers throughout the rack. There are many laser-cut logos featured throughout the rack, but in addition, Ghost added stickers. I don't like stickers, but they're easy to remove and don't leave a residue to if you get a rack, you can decide to keep them or not.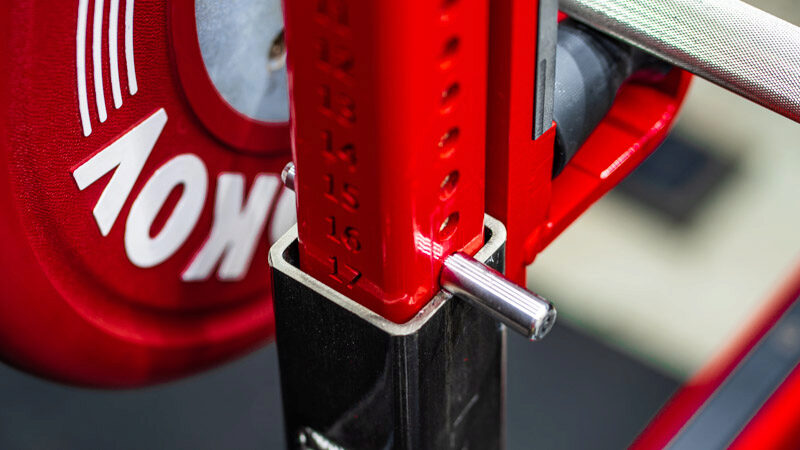 Next, one thing that isn't necessarily something they should improve, but I should have considered is powder-coated uprights and spotter arms. I really like the contrasting red color to the clear grind, but it scratches like crazy when adjusting them up and down. Looking back on it, if I knew what I know now, I would not have chosen a color for the uprights but instead requested stainless steel which is seen on the new Ghost Strong X Kabuki Strength Combo Rack HD. I would suggest you listen to me on this one.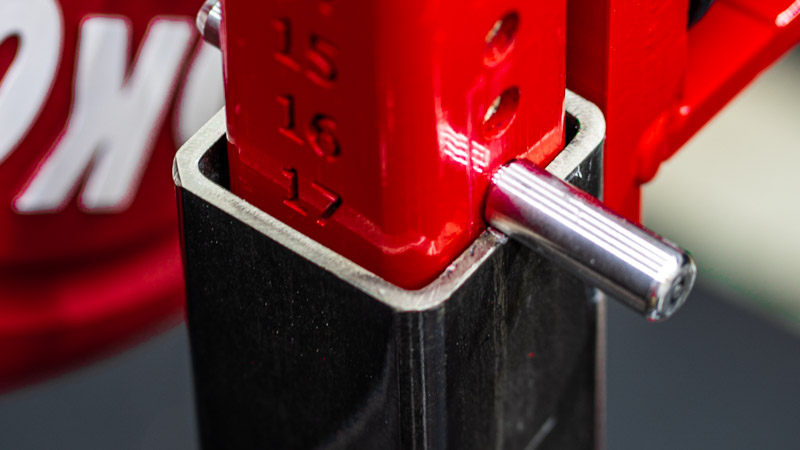 The next area for improvement is one that's not very surprising to me, but I do think needs to be addressed. Put simply, there is too much metal on metal contact. We had the same comments when we received theirGhost Return Roller J-Cups and there was no UHMW plastic between the inside of the j-cups and the squat rack uprights. They've since made the change and I think the should design a solution for the Combo Rack as well. The biggest issue here is the sleeved upright that houses the moveable upright has no protective plastic between the two. This means, whenever you adjust the height, the metal on the pieces rubs together and absolutely scrapes the paint off. If the uprights where stainless steel, this wouldn't be as much of an issue, but I still think there should be some sort of protective plastic there as well as on the spotter arms. There should also be protective plastic on the points where the bench drops into the rack to again prevent metal on metal contact and unnecessary scratching of powder coat.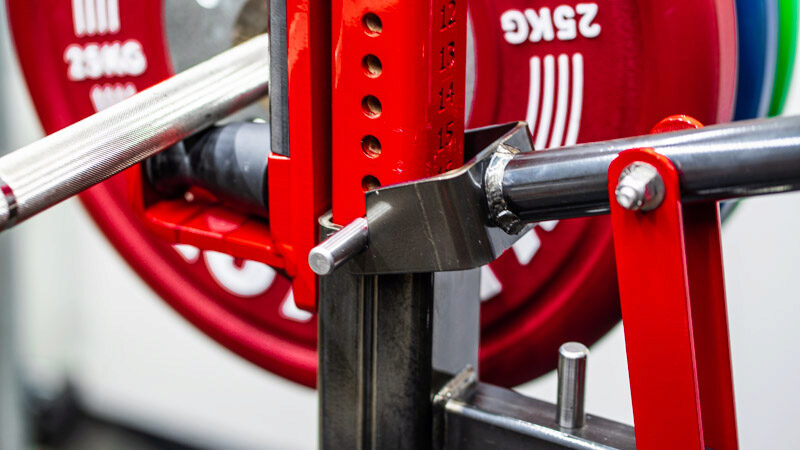 Lastly, an issue we encountered while testing the rack is that during squats as the bar got heavier, adjusting the uprights with the lever arm became more difficult as it would sometimes get stuck due to the upright angling in. I think the attachment pieces between the leverage arms and the uprights should be more sturdy with less wobble. The additional play allowed in the braces for the arms also made it so that if you dropped the lever arm without paying attention, it would often go around the angle bracket designed to hold it.
All in all, the Ghost Strong Combo Rack HD is an incredible rack; we just think it could be even better.
How Does the Ghost Strong Combo Rack Compare to the Competition?
There are quite a few combo racks on the market today. Here are the ones we've used that we think are closest competitors.
Rogue Combo Rack vs. Ghost Strong Combo Rack HD
Rogue Fitness vs. Ghost Strong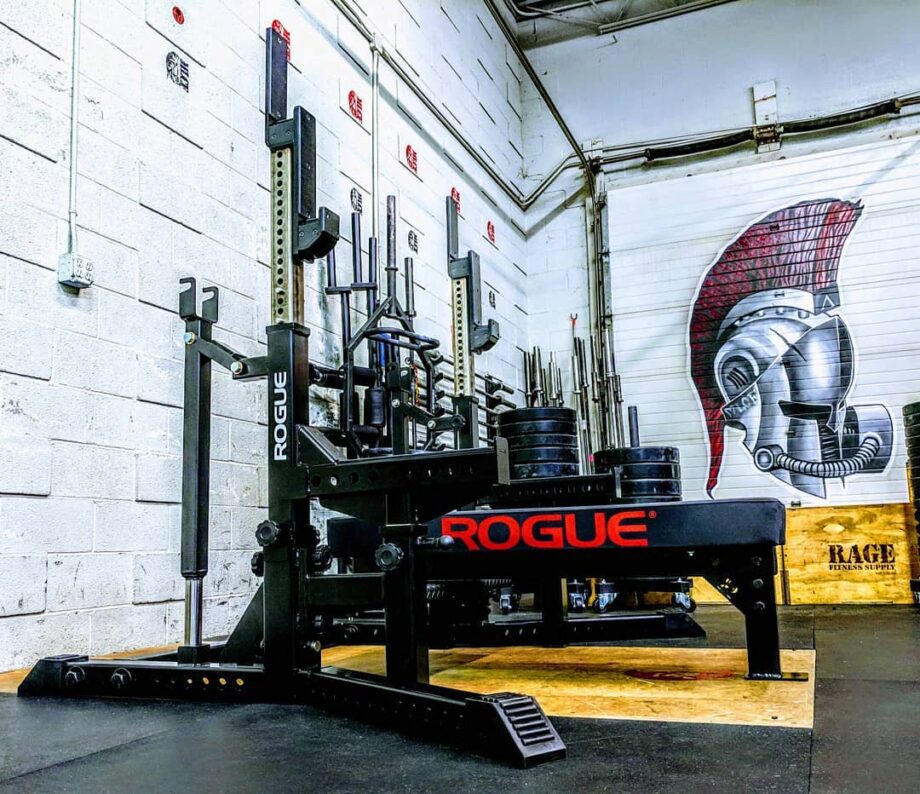 Rogue Combo Rack
In developing the Rogue Combo Rack, we worked directly with the International Powerlifting Federation to produce a 2-in-1 bench/squat rack that's not only IPF certified for 2019 competition use, but also uniquely engineered for easier custom adjustments and greater overall stability.Manufactured with pride in the USA, the Combo Rack features a sturdy wide-angle base, two fully adjustable 3x3" 7-gauge steel uprights, a set of drop-in Safety Spotter Arms, and a removable Rogue Bench equipped with a competition Fat Pad and diamond-tread spotter decks. All of these components come with tightening knobs for a lock-in set-up and extra peace of mind.When you want to switch between athletes of different sizes, the height of the J-cups can be quickly adjusted using our unique jack system—with no need to waste time removing plates from your barbell. Simply use the lever arms to raise or lower the position, referring to the laser-cut numbers in the uprights for guidance. Both the jack handles and the telescoping tubes of the uprights are made from stainless steel, as are the (4) machined pins used to set the upright height. Storage for these pins is integrated into the jacks themselves.As another unique feature, the Combo Rack's uprights can be positioned straight or angled inward 5 degrees, allowing larger athletes to put their hands on the outside of the J-cups while squatting.The Combo Rack comes equipped with a lever-arm jack system and telescoping uprights to enable custom height adjustments without having to remove plates from the bar in advance. Because there are two separate pairs of J-cups (one set for Squat and one for Bench), the racked bar height is adjustable from a minimum height of 29.461" (from the floor) up to 68.405". Shorter athletes can also elect to use the higher bench J-cup positions for squats.Bench J-Cup Range (from floor): 29.461" up to 57.461"Squat J-Cup Range (from floor): 40.405" up to 68.405"Each J-cup also includes an acetal roller where the bars rests to allow for easy adjustments left to right while the user is getting set up.The uprights on the Rogue Combo Rack are manufactured from 3x3" 7-Gauge Steel with laser-cut numbering and an MG Black powdercoat finish. The telescoping tubes are made from stainless steel. A set of (4) stainless steel machined pins are used to set the uprights' height, which can be adjusted using the 1" on-center holes. Athletes can set-up the uprights either straight-up or angled inward 5 degrees; the latter set-up enables larger athletes to put their hands on the outside of the J-cups when squatting.The Combo Rack's bench comes standard with a competition Fat Pad (50" L x 12.5" wide x 4.5" thick). The top of this durable pad sits 17.5" above the floor. The bench also includes two diamond tread spotter decks that are finished in a texture black powder coat to provide "grip" and a stable platform. Athletes can easily remove the bench to set up the rack for squats.The steel spotter arms on the unit measure 19.5" in length x 3" wide, and include stainless steel telescoping tubes + a UHMW plastic covering to protect the bar should a lift be failed. The spotters are also easy to remove when you switch over to squats.Made in the USA Squat/Bench Combination Rack IPF Competition Certified Footprint (w/ bench): 77.25" x 80.25" Inside Width: 43.5" Total Weight (including bench): 505LB 3x3" 7-gauge steel construction Jack - Lever Arms for height adjustment (2) Adjustable Uprights with laser-cut numbering & MG Black powdercoat finish (4) Machined Pins (4) J-Cups (2) Steel Safety Spotter Arms - 19.5" x 3" (1) Bench w/ Fat Pad and Spotter Decks Rubber Feet and UHMW Plastic to protect equipment and surfaces
For most people, the Rogue Combo Rack from Rogue Fitness is a better value due to better pricing and shipping cost. However, I don't feel the Ghost Strong Combo Rack HD is really designed to compete with Rogue's offering. If you want something off the shelf, go with Rogue. You're going to get a high-quality, extremely well thought out piece of equipment with outstanding customer service. If you want something custom with all the bells and whistles and something truly one of a kind, Ghost would be my pick.
ER Equipment Combo Rack vs. Ghost Strong Combo Rack HD
The Original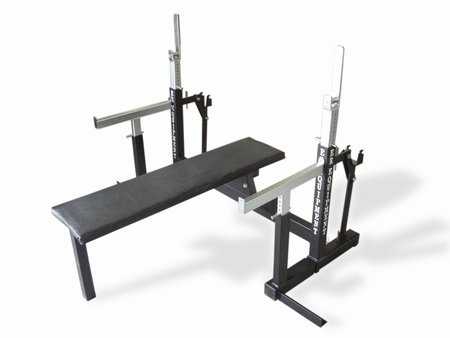 ER Equipment Squat & Bench Press Combo Rack
Now with laser cut numbers on uprights, Heavier bench press portion to stay stable with heavier loadsAvailable colors: Black, Red or Royal BlueSpecial features of the squat & bench press rack are:· The first IPF - approved rack of its kind· Easy to dismantle and transport· Easy to convert from one discipline to another· Quick and easy to adjust the height of the bar, by means of the tilting bar principal· Easy to place the bar correctly as it rests on the rollersSpecial features of the squat:· Clear foot positioning by moving one step away from the rack (sumo-squat).· Clear positioning of the hands on the bar. This is possible due to the fact that the bar holder can be changed quickly from wide to narrowSpecial features of the bench press:· The seat is fitted with a hard wearing cover· The bench can be mounted onto the squat rack with ease and without the use of special tools· The bench has a fixed platform for use when lifting the barIncludes bench press safety racks
Although ER Equipment came out with the first Combo Rack, it's not near the level of quality of many of the newer competitors, yet it still carries a hefty price tag. Honestly, I wouldn't suggest the ER Equipment Combo Rack, unless you just really want the original.
Full Rating
Ghost Strong Combo Rack HD
The Ghost Strong Combo Rack HD is one of the most high-quality, custom squat racks on the market. Designed specifically for powerlifting, not only is the function of this rack extremely high, but so is it's good looks. If you want one of the best squat racks and don't mind paying for it, this is a hard rack to beat (although there are some things we would like to see improved.)
Product Brand: Kabuki Strength
Product Currency: $
Product Price: 6610
Product In-Stock: InStock
Ghost Strong Combo Rack HD FAQs
Is a combo rack worth it?
Combo racks provide several advantages and are beneficial to both athletes and gym managers. Combo racks are fantastic for gym owners because they conserve space and kill two birds with one stone, in addition to being adaptable for athletes.
Who is the owner of Ghost strong?
Tim Grissel is the owner of Ghost Strong.