We test and review fitness products based on an independent, multi-point methodology. If you use our links to purchase something, we may earn a commission. Read our disclosures.
The NordicTrack FS7i FreeStride trainer elliptical is a versatile piece of equipment, allowing you to use the machine as a traditional elliptical in addition to mimicking the movement of a treadmill or stair-stepper. Basically, the FS7i was a way to have three low-impact cardio machines in one—a home gym owner's dream for cardio.
The FS7i is no longer available to purchase on the NordicTrack website, however the brand still manufactures two models in the FreeStride Trainer Elliptical series: The FS10i and FS14i.
In this NordicTrack FS7i review, I'll cover the ins and outs of this discontinued model (in case you find the FS7i for sale on a site like eBay) and give you some similar fitness machine options available for purchase today.
Our Elliptical Knowledge is a Stride Above the Rest
Our product testers are a group of cardio and strength junkies, ranging from CrossFit Level 1 Trainers to nutrition coaches and former college athletes. We put machines to the test on the regular and know the details home gym owners want to hear.
Although we haven't had our hands on the discontinued NordicTrack FS7i, we've tested a multitude of elliptical machines and endless cardio equipment from NordicTrack. GGR editor and product tester, Nicole Davis recently had her hands on the two current FreeStride models (the FS10i and FS14i) at a recent product testing trip to NordicTrack (and sister company ProForm's) parent company, iFIT, headquartered in Utah.
Looking for an Alternative to the NordicTrack FS7i?
Since the FS7i is no longer manufactured by NordicTrack, you may want to search for an alternative product. The good news with this model is that it was recently on the market; the features in the current FreeStride lineup of ellipticals are extremely similar to the FS7i.
The most comparable is the NordicTrack FS10i, which is priced at $1,999—nearly the same price the FS7i was when it was available. The biggest difference between the FS10i and the FS14i is the monitor size. The FS14i has a larger touchscreen and is priced $600 more than the FS10i.
Best Alternative to NordicTrack FS7i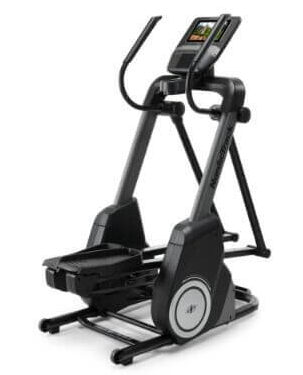 NordicTrack FreeStride FS10i
When you're looking for a high-intensity but low-impact workout, ellipticals are a great option to save your joints from the inevitable wear and tear running brings. NordicTrack's cardio legacy is respected for providing quality machines, solid warranties, and technology-driven programming.  The NordicTrack FreeStride FS10i trainer lives up to its brand's reputation. Featuring a 32-inch adjustable stride length, up to 10% incline options, 24 levels of resistance, and a respectable 375-pound user weight capacity, the FS10i may be entry-level, but it's anything but basic. This trainer is the ideal combination of an elliptical, stepper, and treadmill all in one compact, multipurpose unit. It's sturdy, durable, and user-friendly.This trainer comes equipped with iFIT providing access to thousands of live and on-demand workouts. The interactive HD screen is on the smaller side but it does enable an immersive and motivational workout experience. Not interested in a membership platform? Not a problem with the FS10i, as it houses 56 pre-programmed workouts to choose from. One drawback: The FS10i works off of a 20-pound inertia-enhanced flywheel, which falls on the lighter side—meaning, it may not provide enough resistance or stability for more conditioned athletes.
A Quick Look at the NordicTrack FS7i
The design on the FreeStride Trainer FS7i allows the pedals to move in different planes, making them multi-directional. You can manipulate your stride pattern from the traditional elliptical orbit pattern to a strictly up-and-down stair-stepping pattern, or a walking (more like gliding) motion. Having the ability to switch your stride to a stepping motion will allow you to focus more on the muscle groups on the back of your legs including the glutes, hamstrings, and calves.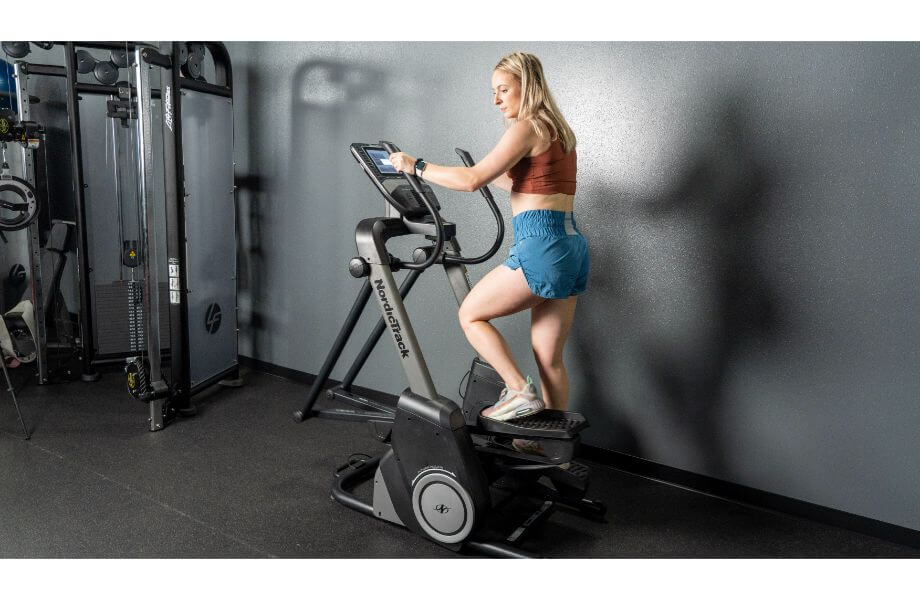 The multi-directional pedals also have an impressive 32-inch stride length, which is unmatched compared to other ellipticals on the market. This machine can be a great asset for taller people who need something more accommodating than the industry standard 18-to-20-inch stride.
The FS7i might be discontinued, but if you find one, you'll still be able to access the iFIT cardio workouts and iFIT coaches. Accessing the vast library of on-demand workouts from iFIT will require an ongoing monthly membership, which is sold separately.
Pros:
Three types of machines in one
Long stride length
375-lb user weight capacity
iFIT capability
Color touchscreen
Cons:
Only one set of handlebars
Slightly difficult to change stride patterns
Monthly iFIT subscription fee
NordicTrack FS7i Specs
| | |
| --- | --- |
| Footprint | 58.5" L x 29.5" W x 74" H |
| Weight | 284 lbs (not confirmed by NordicTrack) |
| Weight capacity | 375 lbs |
| Drive | Center |
| Display | 7" smart HD touchscreen |
| Resistance Levels | 24 |
| Flywheel | 20 lbs |
| Incline range | 0-10% |
| Preset programs | 35 |
| Stride length | 32" auto-adjustable |
| Warranty | 10-year frame, 2-year parts, 1-year labor |
Stand-Out Features of the NordicTrack FS7i
What we like about the FS7i elliptical trainer is that you can switch up your style of training just by changing your pedaling mechanics. This unique feature, paired with the long 32-inch auto-adjustable stride, and the 375-pound user weight capacity accommodates a diverse range of user heights and weights.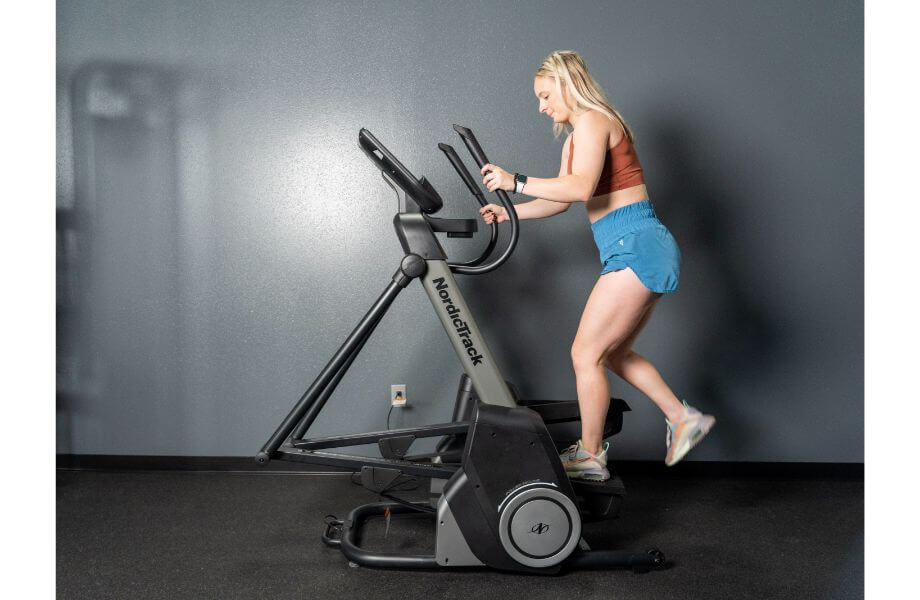 When testing the NordicTrack FS14i, Nicole was impressed with the versatility of two movement patterns, but she explains that the walking motion left a lot to be desired. "Referring to the FreeStride as a treadmill is a stretch—it's more like gliding," she says.
It's not surprising to hear the FreeStride elliptical trainers don't actually feel like a treadmill. We think it's because both feet stay in contact with the machine, rather than one foot leaving the ground (or treadmill) during your natural walking gait.
Another feature we like is the 35 on-board workout programs that are hardwired into the FS7i. The current NordicTrack FreeStride trainers that are available today do not have built-in workouts. The new models rely on a wireless connection to access iFIT programming.
We also like the fact the FS7i has power incline options, a heavy 20-pound flywheel (with silent magnetic resistance), and 24 digital resistance levels. These three features (in addition to your preferred stride method) add a ton of variety to a stale cardio routine.
RELATED: Elliptical Workouts for Beginners
Footprint and Portability
The FS7i is a pretty big piece of fitness equipment. Although the weight has not been confirmed by NordicTrack, based on reading forums and reviews, in addition to our knowledge of the FS10i and FS14i—we think this machine is about 284 pounds. At that weight, this won't be an easy machine to move on your own.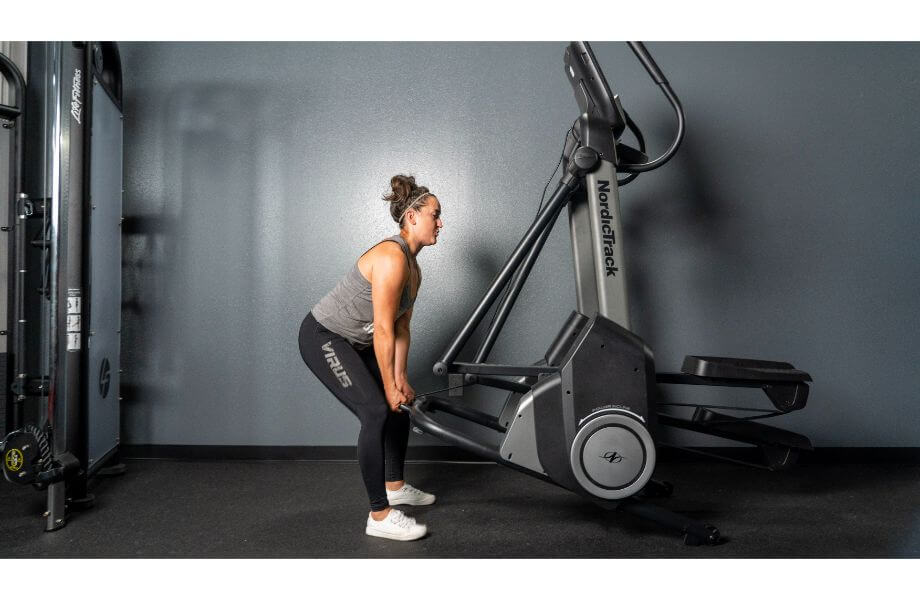 It does have an accessible handle and transport wheels on the bottom of the frame, but the weight still makes it challenging to maneuver. Because this elliptical is a center-drive machine, the majority of the weight sits in the middle, meaning that even when you tip up on the wheels, you're still carrying a lot of the load.
When you get the machine placed and ready for use, the oversized leveling feet come in handy to accommodate for uneven flooring or unsteadiness.
Comfort and Ergonomics
There are several features that we like on this machine that are featured on both the FS10i and the FS14i, including oversized cushioned pedals and a 32-inch auto-adjustable stride length. The FreeStride lineup of ellipticals also features a water bottle holder, and an AutoBreeze workout fan.
One thing Nicole noted after testing the FS14i was there was only one set of handlebars. They were cushioned with soft touch grips, and not equipped with an EKG heart rate monitoring system. Compared to other cross trainers, which often feature a set of moving handlebars and another set of fixed handlebars, the FS7i misses a nice-to-have feature that makes it easier to get on and off the machine.
Technology and Conveniences
For a discontinued model, you might assume the machine is out-of-date. However, if you were to find and purchase an FS7i, you might be surprised to know you can access iFIT with the built-in 7-inch color touchscreen.
That also means that when you join a trainer-led session, you'll have the option to give your personal trainer control and let the machine auto-adjust your resistance and incline levels based on the coaching cues.
A few other tech features to note on the FS7i:
Auxiliary music port
Two 2" speakers
Google Maps technology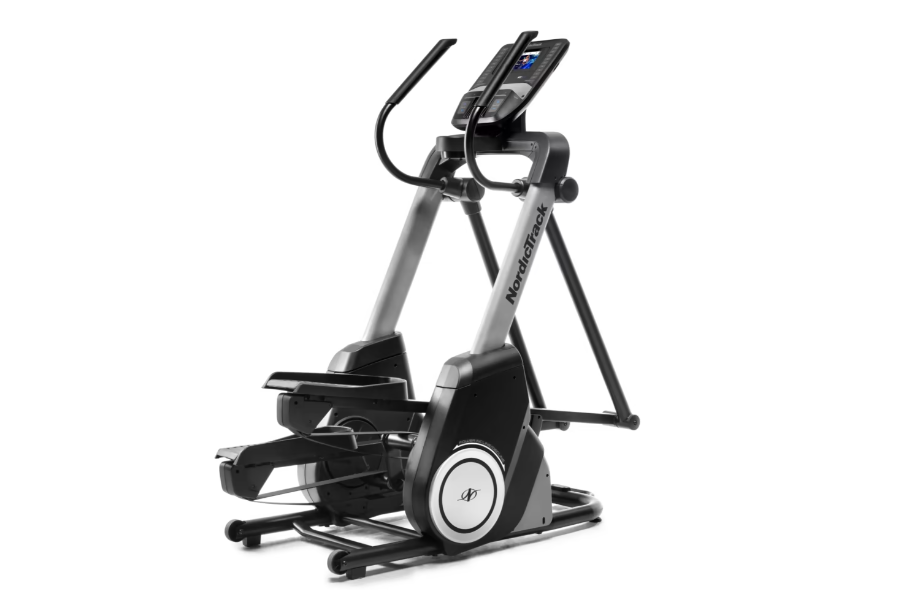 Final Verdict of Our NordicTrack FS7i Review
The FS7i is a discontinued model that is not available on the NordicTrack website or third-party retailers like Amazon or Best Buy. If you're hard-pressed to find this model, you may have luck with finding it used.
We think the current models in the FreeStride series have kept a lot of the stand-out features we like about the FS7i, making both the FS10i and the FS14i comparable options. The main difference is the size of the touchscreen and the price.
The one call out I have is that newer models don't include the on-board programs that are featured on the FS7i. This makes the newer machines reliant on a strong, stable internet connection and monthly subscription to iFIT programming.
NordicTrack FS7i Rating
NordicTrack FS7i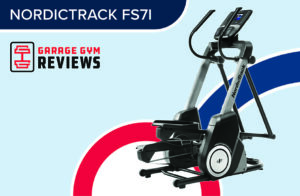 We know the NordicTrack FS7i is a discontinued machine, so we're here to help you find a comparable elliptical in this NordicTrack FS7i review.
Product Brand: NordicTrack
Product Currency: $
Product In-Stock: InStock
NordicTrack FS7i FAQs
Is the NordicTrack FS7i worth it?
The NordicTrack FS7i could be worth it for the right home gym owner! We don't think that this machine could replace your treadmill, but if you're looking for an elliptical with options to change up your stride and routine (and have a lot of accommodating features for user height and weight) one of the NordicTrack FreeStride models might be the machine for you.
How heavy is the NordicTrack FS7i?
Although not confirmed with NordicTrack, we believe the FS7i is about 284 pounds.
How much space do you need for a NordicTrack Freestride?
With the footprint of almost 60 inches long, nearly 30 inches wide, and 74 inches tall, you'll need an adequate amount of space for the machine and a few extra feet of ceiling height to accommodate for bobbing up and down on the machine during use.
How do I use the NordicTrack Freestride?
You are in control of how you pedal. You can pedal in an up-and-down stair-stepping pattern, an elliptical pattern, or open up your stride into a glide most similar to walking.