We test and review fitness products based on an independent, multi-point methodology. If you use our links to purchase something, we may earn a commission. Read our disclosures.
I love a hidden gem. A thrift store with cheap prices, a hole-in-the-wall dive bar, or even an overlooked cardio machine. Yes, everything in my life seems to relate back to exercise, but I digress. Treadmills that are inexpensive but are truly quality are few and far between, which makes this investigation into the C 700 from NordicTrack even more intriguing.
In this NordicTrack C 700 review, I'll provide an in-depth, research-based review that encompasses all you'll need to know about this possible hidden gem. Will it live up to its brand name, or will it be another piece of forgotten cardio equipment? Keep reading to find out. 
C (700) Why We're the Best at Treadmill Reviews
I may like making subpar puns (or excellent jokes, if you share my sense of humor), but I think I enjoy mansplaining treadmill information just as much. Whether you're curious about how a machine stacks up to industry standards, or just want to know all the little details about a treadmill, I have you covered. Better yet, I'm not the only one who has your back.
The entire squad at Garage Gym Reviews is full of fitness enthusiasts who are certified personal trainers, nutrition coaches, and former college athletes. This is our passion and our profession––so come C (700) why we're the best at what we do.
NordicTrack C 700 Treadmill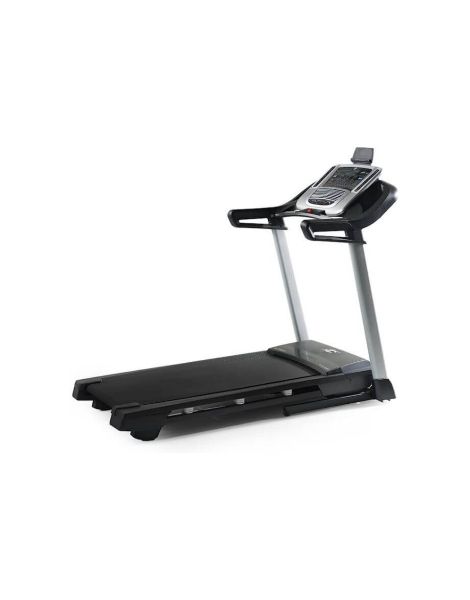 NordicTrack C 700 Treadmill
Advertised as an at-home folding treadmill, the NordicTrack C 700 is equipped with a 7-inch interactive multi-window touchscreen that allows you to view multiple things at once. With your 30-Day iFIT trial (which is included with your purchase), you can explore live events and on-demand workouts with top trainers. The treadmill also comes with two, 2-inch digitally amplified speakers, so you can hear your instructor or listen to music during your workout. And if you decide to opt-out after your iFIT trial, you can still choose from one of the 20 built-in workouts included on the machine.The NordicTrack C 700 treadmill is equipped with speeds ranging from zero to 10 MPH and incline levels from 0% to 10%, both of which can be adjusted by your virtual trainer to match terrain or meet workout requirements. But if you prefer to adjust your speed and incline manually, you can do that as well. It also comes with a tablet holder, so if you decide not to use an iFIT program, you can mount your tablet and watch whatever you would like during your workout.
A Quick Look at the NordicTrack C 700 Home Treadmill
NordicTrack currently has three different treadmills under the closeout section of their website: The C 1100i, the T 6.5 Si, and the C 700. You'll be able to purchase any of these three previous-season models for under $1,200.
The NordicTrack C 700 treadmill is available for under $1,000 and has a lot to offer for a budget machine. With your purchase, you'll get the same warranty you've come to expect from the brand, foldability, and a 30-day iFIT trial.
My Tips:
Save money by using our NordicTrack promo codes!
Get this machine while it's hot––it is currently on closeout on the NordicTrack website, which means it won't stick around forever.
Pros:
Under $1,000
300-lb weight capacity
Foldable
Adjustable cushioning
Great financing options
Compatible with iFIT programming
Cons:
2.75 CHP motor
Have to use your own tablet or smart device
Speed maxes out at 10 MPH
Is the NordicTrack C 700 Treadmill Worth It?
The C 700 treadmill is a lesser-known model from the popular cardio brand NordicTrack. NordicTrack is notorious for updating their lineup of treadmills each year, so they routinely put previously sold models under the Closeout section.
This can be a great way to score a deal, but it isn't the best idea for everyone. Check out who I think will eat the NordicTrack C 700 up with a spoon, and who should consider purchasing something else.
Great for:
A budget-conscious individual
Someone who doesn't mind using their own tablet for programming
Those who need a foldable treadmill
Not recommended for:
Someone who wants to store their treadmill in their garage
Tech enthusiasts
NordicTrack C 700 Treadmill Specs
| | |
| --- | --- |
| Footprint | 67.5" L x 36" W x 60.5" H |
| Weight | 216 lbs |
| Weight capacity | 300 lbs |
| Motor | 2.75 CHP |
| Treadmill belt size | 20" W x 55" L |
| Warranty | 10-year frame, 2-year parts, and 1-year labor |
| Rollers | 1.9" non-flex rollers |
| Speed range | 0-10 MPH |
| Incline options | 0-10% |
| Programming | iFIT (subscription sold separately after 30-day free trial) as well as 20 preset workouts |
| Available on | NordicTrack, Amazon, and Walmart |
Customer Reviews
NordicTrack doesn't always put customer reviews on product pages, and the C 700 treadmill was no exception. Luckily, I found that the machine was available for purchase on Walmart (and over 250 people had left a review). The C 700 scores a respectable 4.1 out of 5 stars, with over 150 of those reviews being five stars.
This budget-friendly treadmill has no shortage of positive comments and supporters. Happy customers lauded the iFIT compatibility, inexpensive price, and easy assembly.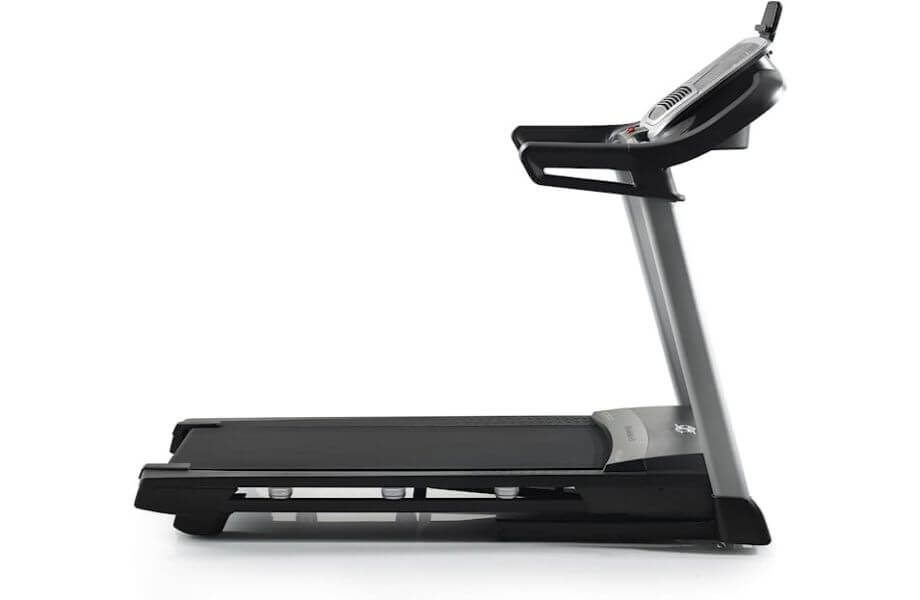 "This is a really solid, smooth treadmill with easy-to-use controls," customer Glorybound333 explained. "I bought this from my local Walmart store and put it together myself with very little assistance from my husband, other than him bringing it in the house, lifting the heavy base, and tightening some bolts for me."
Displeased customers were confused with the many editions of the C 700, thought some of the pieces were poorly constructed, and found the machine to be a bit "jerky" and loud.
"We (both me and my husband) really like the look and feel of the treadmill, but we are going to have to return it due to belt slipping," customer April explained. "Even after being tightened, and to the point that you can not walk or run without holding on, the belt still slipped."
It is worth noting that Walmart appears to be selling a different edition of the C 700 (either 2019 or 2020) because there is a very small touchscreen on this model. On the NordicTrack website, the C 700 only has an LED display and an integrated tablet holder for you to put your own device. However, this edition does have a slightly more powerful motor, so I guess you win some and you lose some.
Workout Experience on the NordicTrack C 700 Treadmill
Our team recently went out to Logan, Utah, to the NordicTrack headquarters. Our goal? To test as many of their products as possible, which included all their currently produced treadmill models. However, since the C 700 is on the closeout page, they did not have one for us to test, as they plan to eventually phase this machine out.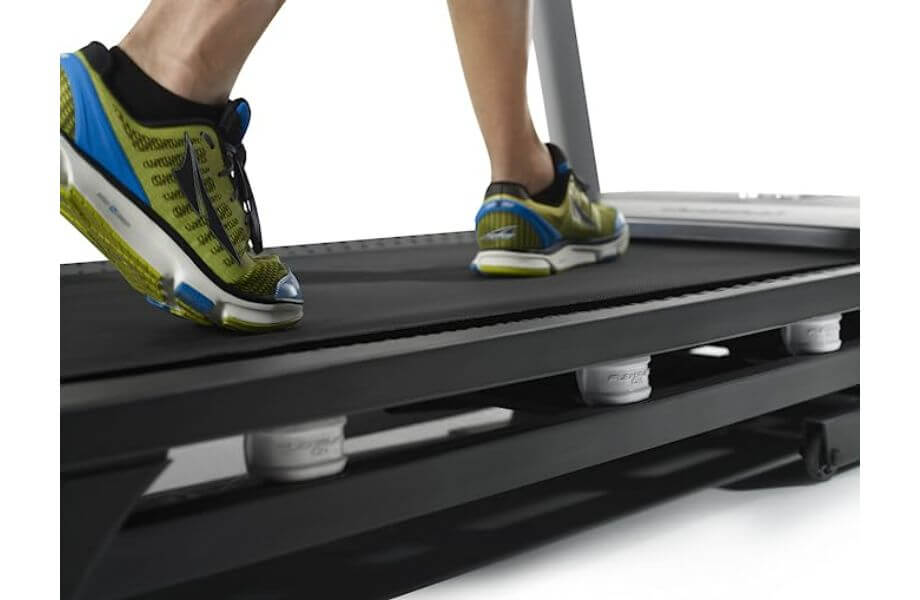 I'll be basing my thoughts off of the C 700's specs and using my experience testing the similarly priced NordicTrack EXP 7i folding treadmill.
Based on the length of the deck and the power of the C 700's motor, I'd recommend this machine for people who primarily want to walk or occasionally jog on their treadmill. The 2.75 CHP motor isn't terrible, but it isn't the 3.0 CHP we'd expect to see out of a machine geared towards runners.
The 20-inch-by-55-inch deck is best for shorter people, those with compact strides, and individuals who don't plan to seriously run on their machine. Generally speaking, we want to see a deck with an additional five inches of length. This makes it easier to stride more naturally.
I was pleased to see that the C 700 features FlexSelect cushioning, which means the deck cushioning is adjustable. Some of us have joint problems at 25 years old (not speaking from experience or anything), so having the chance to make a workout experience more comfortable is always welcome. However, if you don't like the bounce of lots of cushioning, you can easily turn down the intensity using the dampers on the side of the treadmill.
The NordicTrack C 700 is one of the only NordicTrack treadmills that features preset workouts independent of iFIT. You'll be able to choose from 20 different workouts built into the machine, even if you don't want to cough up the monthly cash for interactive programming.
Technology and Programming
Like all other NordicTrack treadmills, the C 700 currently offers a free 30-day trial of iFIT with your purchase. This can be a good way to get your feet wet with quality interactive programming, and may help you see if iFIT is a good, well, fit (lol) for you.
It is worth noting that you'll need to be prepared to enter your credit card information at the time of redemption. If you don't want to continue with the subscription, it is important to cancel iFIT before it charges you for an additional month.
This machine doesn't have a lot of the technology features you may be used to seeing on other NordicTrack machines–, like Bluetooth connectivity, a heart rate monitor, Google Maps, or a workout fan.
Footprint and Portability
The NordicTrack C 700 is 216 pounds when it arrives at your door in its box. Although this may seem really heavy, it honestly isn't for a quality treadmill. Most of NordicTrack's other offerings are much heavier, with their largest machine tipping the scale at over 500 pounds.
I'd still recommend grabbing another set of hands when you're moving the C 700, especially if it is going up or down a flight of stairs.
The C 700 can be folded using an included gas shock, so this machine is ideal for people who need a way to store their treadmill. After folding the C 700, you'll be able to easily tip the machine onto the transport wheels and move it around a room.
Comparison to NordicTrack EXP 7i
The NordicTrack EXP 7i is the fraternal twin (or maybe cousin, whatever floats your boat) to the NordicTrack C 700. See the similarities and a few differences in the chart below:
Want to learn more? Check out our full NordicTrack EXP 7i review.
| | | |
| --- | --- | --- |
| | NordicTrack C 700 | NordicTrack EXP 7i |
| Price | Under $1,000 | Around $1,100 |
| Tread belt | 20" W x 55" L | 20" W x 60" L |
| Foldable | Yes, EasyLift assist with a Spacesaver design | Yes, EasyLift assist with a Spacesaver design |
| User weight capacity | 300 lbs | 300 lbs |
| Weight | 216 lbs | 222 lbs |
| Built-in workouts | Yes, 20 preset workout programs | No, iFIT membership only |
| Fan | No | Yes, AutoBreeze workout fan |
| Motor horsepower | 2.75 CHP | 3.0 CHP |
| Incline range | 0-10% | 0-12% |
| Top speed | 10 MPH | 12 MPH |
| Sound system | Two digitally-amplified speakers | Two digitally-amplified speakers |
| Display | LED display | 7" HD touchscreen |
| Warranty | 10-year frame, 2-year parts, and 1-year labor warranty | 10-year frame, 2-year parts, and 1-year labor warranty |
NordicTrack EXP 7i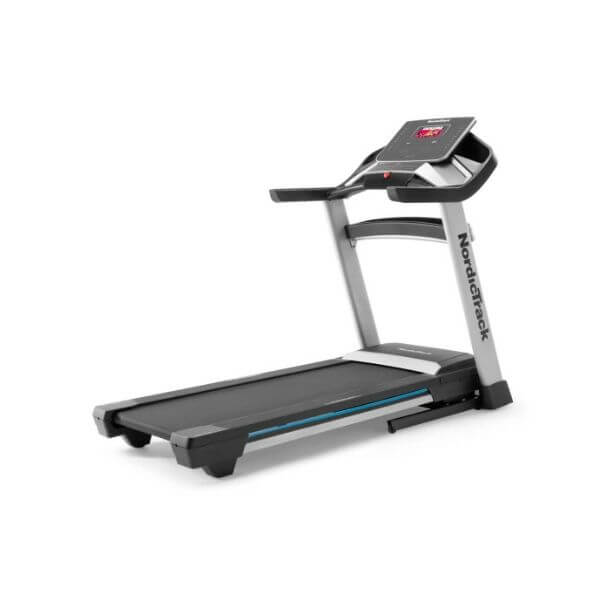 NordicTrack EXP 7i
The NordicTrack EXP 7i offers the reputable NordicTrack-quality build and virtual training experiences at an affordable price. Powered by a 3.0 CHP, the EXP 7i reaches speeds up to 12 miles per hour and supports incline ranges up to 12%. Featuring a folding design, compact footprint, cushioned running deck, and a 7-inch interactive touch screen, the EXP 7i could be a good option for those with limited space.The roomy 20-by-60-inch running deck has a FlexSelect cushioning to reduce impact to joints and back. Training for a road race? Simply turn off the cushioning for a road running experience. And, with membership to the iFIT training platform, you can mock any global terrain and immerse yourself in the virtual images. Or, choose from over 16,000 live and on-demand videos to be guided by elite personal trainers. AutoAdjust technology on the EXP 7i allows these trainers to virtually change your speed and incline so you can focus on your workout.There are also some added conveniences that add a nice touch to this treadmill. The console is equipped with two digitally amplified speakers, a console fan, and a storage tray. There is no tablet holder, but the storage tray has the capability to hold whatever you may need. Bluetooth connectivity makes it easy to sync headphones for a wirefree experience.The 7-inch screen does sit high on the console which may make it hard for shorter individuals to see it clearly. Some users have disliked the smaller screen size, but for the price and its capabilities, it is more than you would find on comparable treadmills.
Customer Experience
NordicTrack offers the same warranty on all of their treadmills––10 year-frame, two-year parts, and one-year labor. The industry standard for treadmill warranties is at least 15 years on the frame, so NordicTrack does not pass the test in this category. However, since the C 700 is one of the least expensive offerings from the brand, I feel a little better about the duration.
Customers have 30 days to return their NordicTrack order if they aren't satisfied. It is worth noting that you'll be subject to a $250 shipping charge (ouch) and a possible restocking fee based on the condition the machine is returned in.
Ordering and Assembling the NordicTrack C 700 Treadmill
Although I haven't personally assembled the NordicTrack C 700 treadmill, I do have insight into what the process is like. Our NordicTrack rep explained the hardest part for people is often lifting the heavy deck to attach it to the display and handles. You'll also likely need another person to help with the process, so grab your best friend and guilt trip them into assisting.
You can currently order the C 700 underneath the closeout section on the NordicTrack website. You have the option to choose free standard delivery or pay an additional $199 for professional assembly.
If you're interested in financing this treadmill, NordicTrack offers an option to do so through TD Bank. You may pay as little as $24 per month for 39 months (with 0% APR). It is worth noting that you have to qualify based on your credit score, so it is advisable to apply in advance of your potential purchase.
Final Verdict of Our NordicTrack C 700 Review
The NordicTrack C 700 treadmill is an inexpensive cardio machine under $1,000. Here are my main takeaways:
Due to the 2.75 CHP motor and 55-inch deck length, the C 700 is best for walkers and occasional joggers.
Make sure you have a tablet or other smart device to use with the C 700, as the model on the NordicTrack website doesn't have a touchscreen.
The adjustable deck cushioning is an excellent bonus, especially for those sharing a treadmill with others.
Make sure you don't store this piece of fitness equipment in the garage––NordicTrack will void your warranty if you do.
NordicTrack C 700 Treadmill Rating
NordicTrack C 700
Take a look at our NordicTrack C 700 review to see my thoughts on this budget-friendly treadmill.
Product Brand: NordicTrack
Product Currency: $
Product Price: 999.00
Product In-Stock: InStock
NordicTrack C 700 Treadmill Review FAQs
Can you run on the NordicTrack C 700?
You can run on the NordicTrack C 700, but it might be a better choice for walkers. The 2.75 CHP motor is slightly weaker than I'd recommend for a serious runner and the deck is a bit shorter than the industry standard of 60 inches. 
If you're looking for a running treadmill under $1,000, I'd recommend the Horizon 7.0 AT.
How much does the NordicTrack C 700 weigh?
The NordicTrack C 700 weighs 216 pounds when it arrives at your door.
Are NordicTrack treadmills any good?
Yes, NordicTrack treadmills are great for cardio enthusiasts. Whether you're looking for a budget option or a tricked-out treadmill, NordicTrack has you covered. They produce a variety of machines within different price ranges.