We test and review fitness products based on an independent, multi-point methodology. If you use our links to purchase something, we may earn a commission. Read our disclosures.
No matter if you're more of a walker while watching TV or sprinting with sweat dripping in your eyes, we all have something in common: we want to find the best treadmill for our own personal home use.
In this Lifepro Pacer Folding treadmill review, I'll tell you the pros and cons of this under $1,000 cardio machine. You never know, it might just be your new favorite piece of exercise equipment. Let's find out.
Why You Should Trust Us
Our team at garage Gym Reviews is composed of CrossFit L1 coaches, certified nutritionists, former D1 college athletes, USA Weightlifting coaches, and personal trainers. We know the industry standards on the equipment we test, and we're sure to thoroughly check out all of the features available on each machine. Getting the right home gym equipment can be tough, so we're here to help you reach your fitness goals by providing you expert, in-depth product reviews you can feel confident about.
Still not sure what you're personally looking for in a treadmill? Check out our treadmill buying guide to get a better idea of what's out there.
Lifepro Pacer Treadmill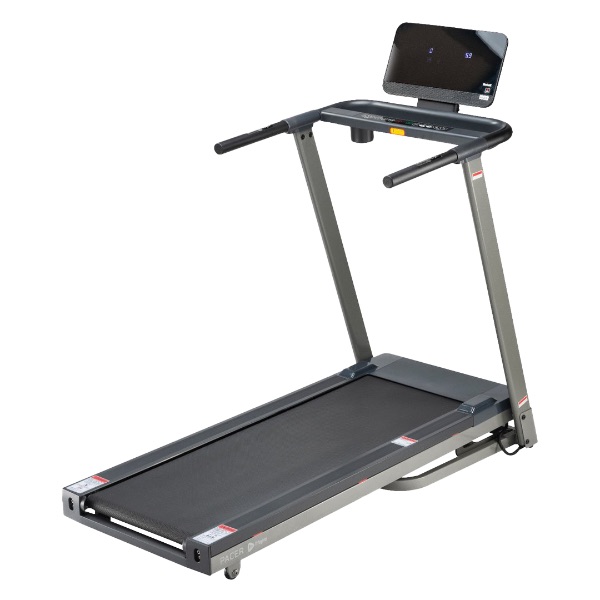 Lifepro Pacer Folding Treadmill
The Lifepro Folding Treadmill has a lot going for it, but it won't be the best option for everyone. If you're tight on space, but want a reasonably priced treadmill you can fold to store away, you'll love the Lifepro. However, if you're a serious runner or someone with a particularly long stride, you likely won't be thrilled with this treadmill. The running deck is small at just 49.2" L x 16.5" W. Plus, with a motor HP of just 1.75, this treadmill is hitting below the industry standard for a motor that can handle serious amounts of running. It is also worth noting that the Lifepro is only 115 lbs, which can be both a blessing and a curse. Since it is so lightweight compared to comparable treadmills, it can more easily be moved from room to room, which can be a big plus for those tight on space. However, with the light weight of the treadmill comes a low weight capacity at just 220 pounds. This makes the Lifepro not a particularly inclusive option.Something that really stands out to me on this treadmill is the lifetime warranty. Even if this more budget-friendly option has issues down the road, it is clear that Lifepro stands behind their products. 
A Quick Look at the Lifepro Pacer Folding Treadmill
If you're someone with a small space who needs a compact treadmill for walking or jogging, the Lifepro Pacer might be a good choice for you. This machine isn't a Peloton, but for the semi-affordable price tag (as far as cardio machines are concerned), it doesn't particularly matter.
My Tips:
Check out one of 36 pre-set programs available on the Pacer.
If you hold on to the handles on the sides of the treadmill, you'll be able to get a read on your pulse.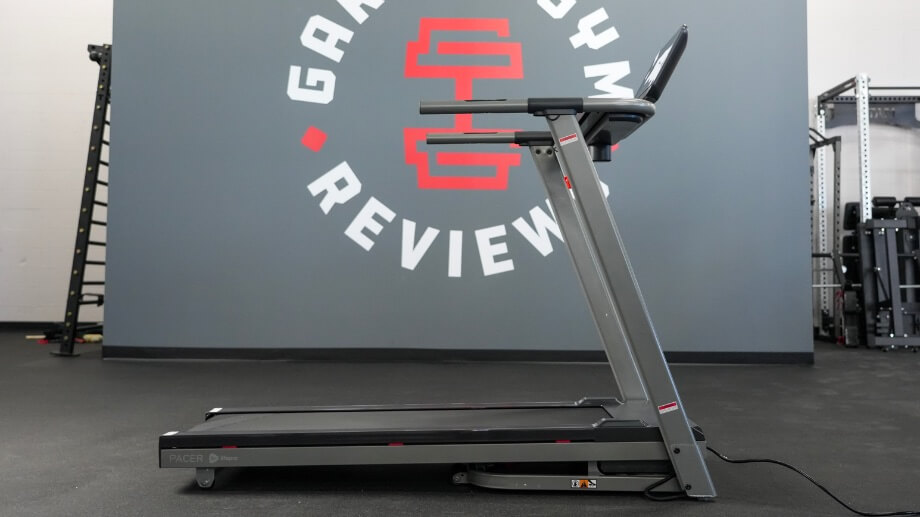 My Favorite Things:
Foldable and easy to move around
Under $1,000
Easy to assemble
12 incline options
My Callouts:
1.75 CHP motor is on the weaker side
220 lb weight capacity
49-inch deck
Is the Lifepro Pacer Folding Treadmill Worth It?
The Pacer is a foldable treadmill priced competitively under $1,000. However, I wouldn't recommend this budget-friendly machine for everyone. Take a look at who I think will appreciate this treadmill, and who should look at something else.
RELATED: Best Budget Treadmill
Great For:
Smaller spaces.
People who want to walk on their treadmill.
Those who want a simple cardio machine.
Shorter people
Not Recommended For:
Serious runners
Tech-y people with an appetite for interactive programming
People over 6 feet tall.
Lifepro Pacer Folding Treadmill Specs
| | |
| --- | --- |
| Motor | 1.75 HP motor |
| Max Speed | 9.9 MPH |
| Weight Capacity | 220 lbs |
| Preset Training Programs | 36 |
| Running Deck | 49.2 x 16.5 in |
| Display | Backlit LCD display |
| Size Folded | 32.1 x 27.2 x 54.5 in |
| Size Unfolded | 59.4 x 27.2 x 53.1 in |
| Weight | 115 lbs |
| Incline | 0-12 |
Using the Lifepro Pacer Folding Treadmill
After unboxing and quickly assembling the treadmill, I was pretty much ready to go. I used an extension cord to plug in the Pacer and get started.
Display
The display is an LCD screen with only three metrics shown at a time. These can range between time elapsed, distance, speed, incline, pulse, and calories burned (depending on the program you select).
I was surprised by how large the screen is, especially considering there is not any interactive programming. With so much blank space on the large screen, it feels pretty empty to me.
Although there is an option to connect Bluetooth to the Pacer, I struggled to do so. Based on reviews for this treadmill, I don't think I was alone. Honestly, you'd be better off just using your own earphones and listening through those versus the treadmill speakers.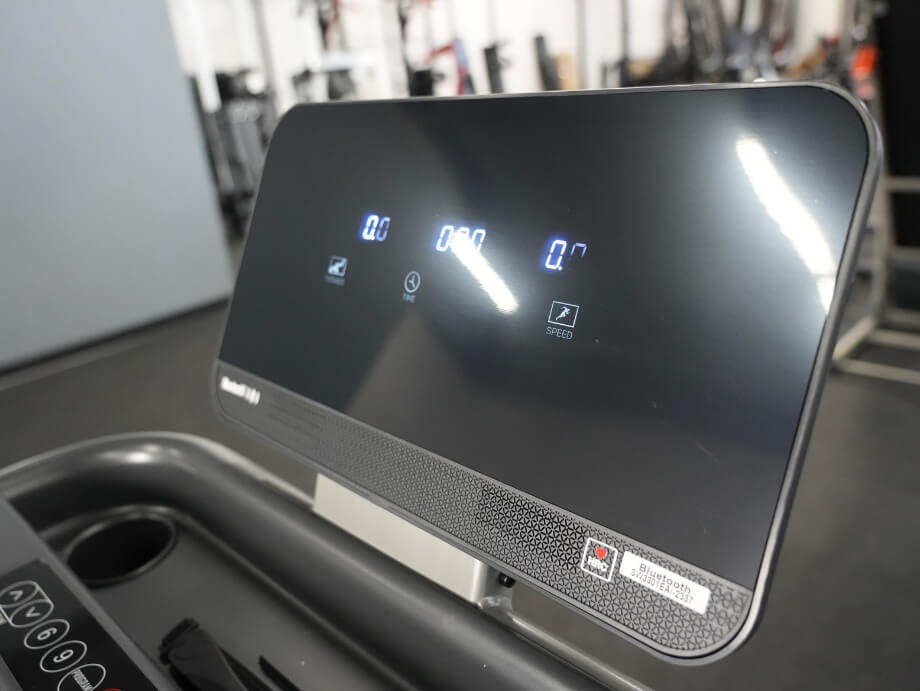 Programs
There are 36 different programs, and each feature something different. For example, one of the programs puts emphasis on a high incline, while another is focused on getting your pulse elevated. I like that there are a variety of options to choose from, and you can simply just start the machine if you want to choose your own thing to focus on.
Buttons
The storage tray is spacious and can easily house your keys, a water bottle, and a phone or other device. There are also multiple buttons just in front of the tray including:
Increasing or decreasing automatic incline
Workout program selection
Start/Pause
Stop
Mode
Quick jump to incline level 6 and 9
Quick jump to speeds 3.3 and 5.6
You can also adjust the incline and speed using the handles. However, I was disappointed by how slow the incline adjusts, so keep in mind I wouldn't recommend this for quick sprint intervals (because you'd likely miss out on half your sprint waiting for the machine to catch up).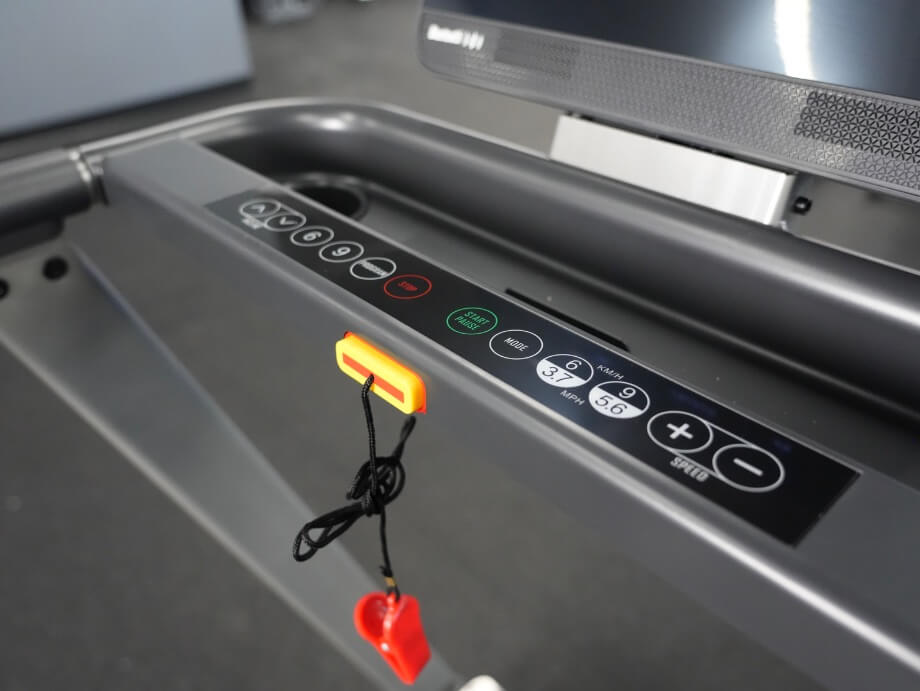 Deck
The 48-inch deck of the Pacer is slightly shorter than what I'd recommend for most people to run on. Typically, you want to see a 55-inch or greater deck length to accommodate people of various stride lengths and heights for running or walking. If you're a shorter person, this likely won't bother you.
If you're over 6 feet, I would not recommend the Pacer for you. The website itself even says this treadmill is best for people under 6 feet. I do slightly call the build of the machine into question because the maximum capacity of 220 pounds is well below the industry standard of 300 pounds. I'm wondering what about the Pacer makes it unfit to carry a heavier load than 220 pounds.
Motor and Noise
Let me put it plainly: The 1.75 CHP motor is disappointing. This is a really weak motor in the grand scheme of things (3.0+ CHP is best for running), and one that wouldn't be suitable for most people to run on. If you plan to walk on this machine, it doesn't really matter the motor strength, but you might be surprised by how much the treadmill struggles if you try to up your cardio. However, a 1.75 CHP motor isn't uncommon for a machine that is under $750. Shortcuts like a weaker motor or shorter deck are reasons why a treadmill might not cost as much.
At 5'9" and 150 pounds, I thought the motor was pretty noisy. I'm not sure if this is due to the fact that I'm close to the height limit, or that I really pushed this treadmill to the edge to see what it could do. Either way, it's worth keeping in mind that this is not a quiet machine that won't wake up your sleeping family at 5 a.m.
Footprint and Portability
At 59.4 x 27.2 x 53.1 inches, the footprint of the Pacer is moderate when unfolded. However, I like that this machine folds and unfolds really easily. When you're ready to store your Pacer, just pull the pin out of the screen to allow the display to bend forward. You'll then be able to pick up the deck from the back and secure it upright with the gas shock lever underneath the machine.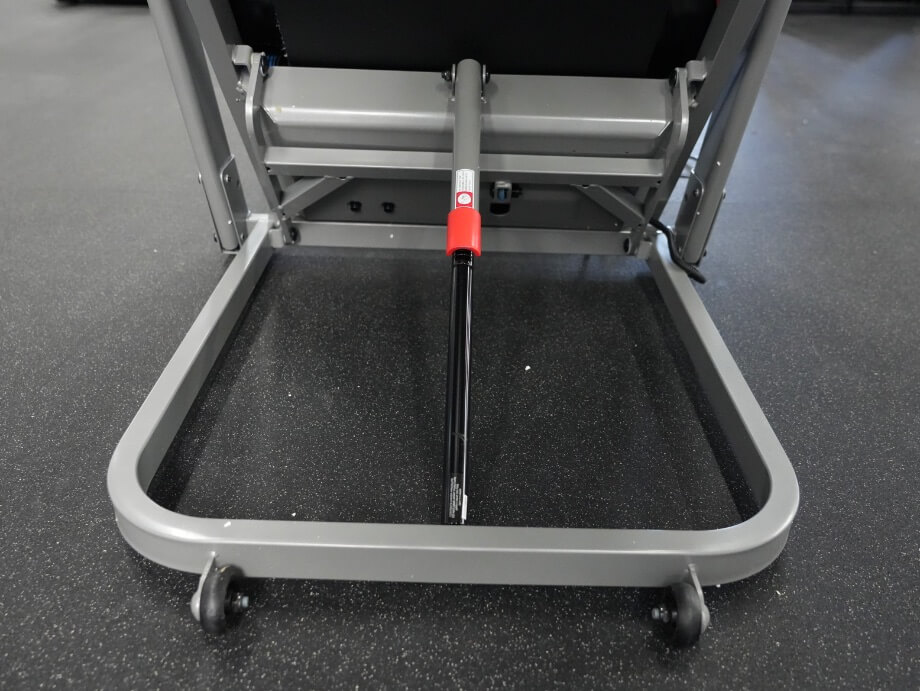 It's worth noting that while the Pacer folds, it doesn't fold completely flat like the Echelon Stride treadmill does. However, it still compacts itself enough to store with relative ease.
The gas shock underneath the Pacer also allows you to softly drop the deck when you're ready to unfold the treadmill. This is a very similar setup to that of the Sunny Health & Fitness (SF-T4400), which allows the deck to drop without slamming on any feet or toes.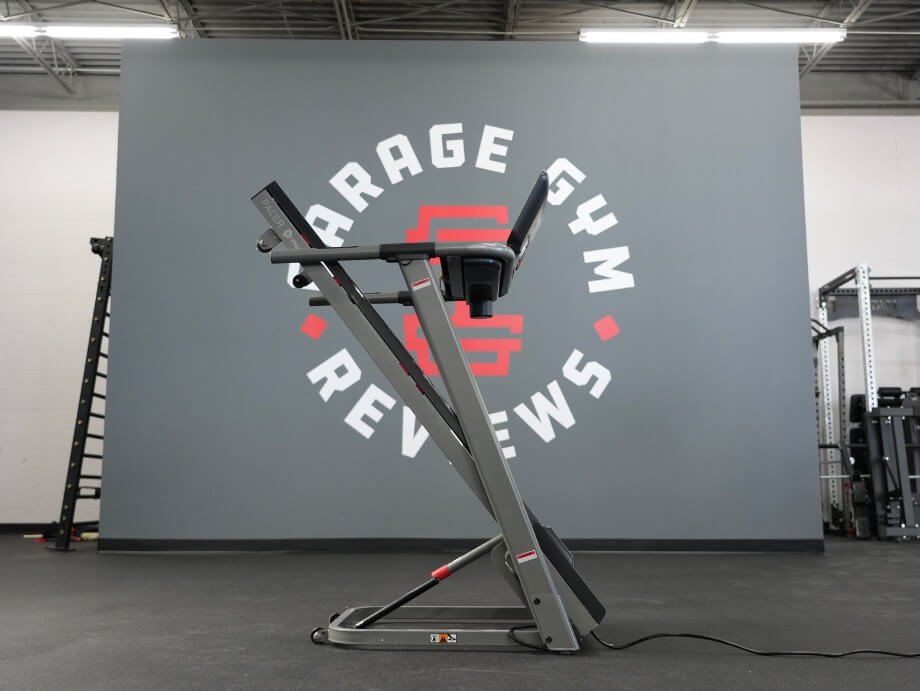 Comparison to the Lifepro Electrostride
After taking a look on both the Lifepro site and the brands Amazon store, I was impressed by the amount of exercise equipment they carry. Everything from foldable exercise bikes, to adjustable dumbbells (and even pet treadmills?!) were represented. 
RELATED: Best Exercise Bikes
Besides the Lifepro Pacer, there is another treadmill within a similar price range called the Electrostride. I wanted to do a quick comparison between the two so you can see what your extra $150 is getting you.
| | | |
| --- | --- | --- |
| Electric Treadmill: | Lifepro Pacer | Lifepro Electroslide |
| Price: | $749.99 | $599.99 |
| Footprint: | 59.4 x 27.2 x 53.1 in | 57.8 x 30.0 x 51.2 in |
| Motor: | 1.75 CHP | 2 CHP |
| Product Weight: | 115 lbs | 91.5 lbs |
| Weight Capacity: | 220 lbs | 200 lbs |
| Display: | Large LCD display | Small LCD display |
| Running Deck: | 49.2 x 16.5 in | 48" L x 17.7" W |
| Foldable | Yes; hydraulic folding mechanism | Yes |
Customer Experience
Impressively, the Pacer (and all other Lifepro machines for that matter) have a lifetime warranty. Yep, you heard me right. You can easily register your treadmill online (provided you keep your order number handy) to be able to cash in on the warranty at a later date.
The return policy is slightly more standard: you can return your machine within 30 days, provided it is in new condition. Depending on the condition when the treadmill is received, you may be subject to a 15% restocking fee. Lifepro will not cover return shipping costs unless you are returning a product due to the company's error.
I was also pleasantly surprised by the variety of ways you can contact Lifepro's customer service. Since this is a smaller brand (not like other cardio giants such as NordicTrack or Bowflex), I expected less ways to get a hold of the company. I was definitely wrong. In the bottom right hand corner, you can chat with customer service, or contact the company through text, calls, or email.
Ordering and Assembling the Lifepro Pacer Folding Treadmill
Ordering the Pacer was a breeze. Simply add the treadmill to your cart on the website, and either pay the full $750 up front, or break the larger sum up into smaller payments with Affirm. Provided you qualify based on your credit score, you could pay as little as $68 per month for your new treadmill. Even better? Lifepro offers free shipping on all orders, so don't worry about a hefty extra fee tacked on at checkout.
Of all the cardio machines I've assembled, the Lifepro Pacer Folding Treadmill has to be one of the easiest I've set up (probably alongside some foldable exercise bikes). When you receive this treadmill, it's almost completely put together for you already. In less than 15 minutes, I was able to unbox the machine and attach the arms and screen with the 10 bolts included. I'm a huge fan of the simple assembly, because I've spent hours upon hours assembling some of the bigger treadmills I've reviewed.
Customer Reviews
On the actual Lifepro website, there are 30 written reviews for the Pacer with an average score of 4.8 stars out of 5. I find this a suspiciously high score and rather low number of reviews, especially considering when I attempted to filter by lowest stars given, there were none under 4 stars.
I then checked out Amazon where there was a more realistic score of 4.3 out of 5 (with over 200 reviews written). Customers did like the compactness of the machine, clear assembly instructions, and the available pre-set programs. On the other hand, some people didn't like the loudness of the Pacer, spotty Bluetooth connectivity, and plain display.
Final Verdict of Our Lifepro Pacer Folding Treadmill Review
For under $1,000, the Lifepro Pacer has a lot going for it. I like the easy-fold mechanism, the lifetime warranty, and the easy assembly. I do think the motor strength is something to keep in mind (since it isn't very powerful), and Lifepro recommends you be under 6 feet to use this machine since the deck is on the shorter side.
Lifepro Pacer Folding Treadmill Rating
Lifepro Pacer Folding Treadmill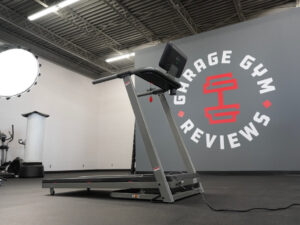 The Lifepro Pacer treadmill is under $1,000 and is a great budget option for people with small spaces.
Product Brand: Lifepro
Product Currency: $
Product Price: 800
Product In-Stock: InStock
Lifepro Pacer Folding Treadmill FAQs
Are folding treadmills good?
Yes! Folding treadmills can be wonderful additions to your home gym. Coop and the team at Garage Gym Reviews have tested quite a few foldable options that we love. Check out our full list of the best compact treadmills on the market.
Does the Lifepro Pacer treadmill have incline options?
The Lifepro Pacer does have 12 incline options. However, you'll need to be patient when switching between incline levels, as it is a bit slow to switch.
What extras does the Lifepro Pacer Folding Treadmill have?
The Lifepro Pacer has a water bottle holder, auto incline, built-in heart rate monitor in the handrails, Bluetooth speakers, USB cord for charging your phone, and a large LCD display for a variety of metrics.
What apps are compatible with the Lifepro Pacer?
Surprisingly, although the Pacer says a variety of apps can be paired with the machine, only two are mentioned: AnyRun and Kinomap. If you want to use something like iFIT, you're better off streaming that separately on your phone or other device while using the treadmill.
Is weight loss possible with the Lifepro Pacer Folding Treadmill for home?
As with any workout routine, always consult your doctor before trying something new (or before trying to shed pounds). However, running or walking on a treadmill can help you burn calories and get your heart pumping.
RELATED: Best Treadmill Workouts