We test and review fitness products based on an independent, multi-point methodology. If you use our links to purchase something, we may earn a commission. Read our disclosures.
No matter if you're more of a walker while watching TV or sprinting with sweat dripping in your eyes, we all have something in common: we want to find the best treadmill for our own personal home use.
There was a time when we would've told you to read our Lifepro Pacer Folding treadmill review to find out why it was our top pick for such people, but the popular cardio machine has since been discontinued. No matter, since there are many other treadmills out there with similar features that we can recommend in its place.
Why You Should Trust Us
Our team at garage Gym Reviews is composed of CrossFit L1 coaches, certified nutritionists, former D1 college athletes, USA Weightlifting coaches, and personal trainers. We know the industry standards on the equipment we test, and we're sure to thoroughly check out all of the features available on each machine. Getting the right home gym equipment can be tough, so we're here to help you reach your fitness goals by providing you expert, in-depth product reviews you can feel confident about.
Still not sure what you're personally looking for in a treadmill? Check out our treadmill buying guide to get a better idea of what's out there.
Looking for An Alternative to the Lifepro Pacer Folding Treadmill?
Best Alternative to Lifepro Pacer Folding Treadmill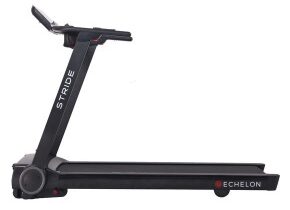 GGR Score: 4.3
Product Highlights
Folds flat to just 10"
Lightweight and very portable
Smaller motor is ideal for walkers
Bluetooth connectivity to apps
Pros & Cons
Pros
Auto-fold technology
When folded, is just 10" deep
Lightweight and easy to move
Super simple assembly and usability
Bluetooth connectivity to Echelon United
Cons
Weaker motor
Short running surface at 55"
Short 1-year warranty
Bottom Line
The Echelon Stride is ideal for walkers and those who jog recreationally, especially people looking for a treadmill that folds flat.
The Lifepro Pacer Folding Treadmill was a perfect example of why less is sometimes more, especially in a day and age when some home gym equipment seems to be more computer than anything else. If you're still in the market for one of the best treadmills for walking, the Echelon Stride is a great choice. It's slightly more expensive, but you get a 10-inch touchscreen to access your metrics, 8 preset workout programs, and the thousands of live and on-demand workouts on the Echelon Fit app.
Like the Lifepro Pacer Folding Treadmill, the Echelon Stride folds to a small footprint (only 10 inches in depth) and has 12 levels of incline, but has a higher maximum speed of 12 miles per hour. If you're disappointed that the Lifepro Pacer Folding Treadmill was discontinued, you'll be happy with the Echelon Stride.
A Quick Look at the Lifepro Pacer Folding Treadmill
The Lifepro Pacer Folding Treadmill was one of the best treadmills for walking or jogging. This machine isn't a Peloton, but for the semi-affordable price tag (as far as cardio machines are concerned), it doesn't particularly matter.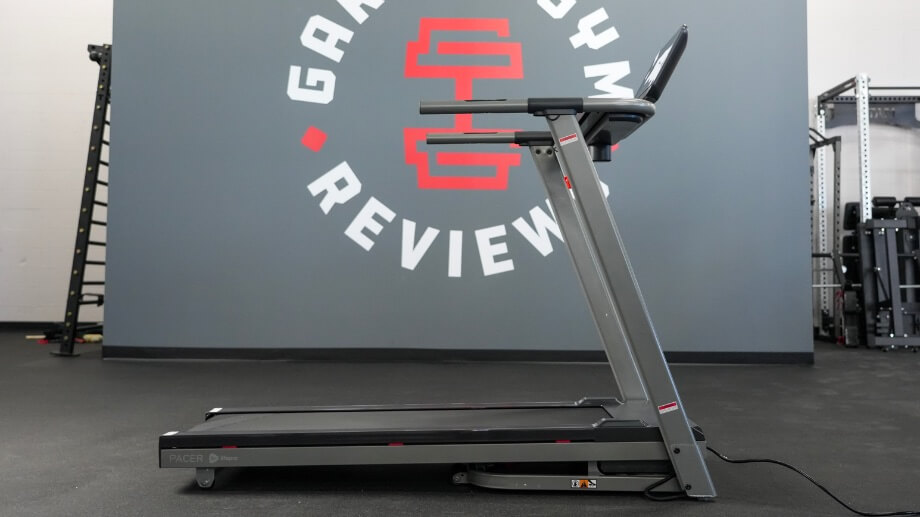 Pros:
Foldable and easy to move around
Easy to assemble
12 incline options
Cons:
1.75 CHP motor is on the weaker side
220 lb weight capacity
49-inch deck
Lifepro Pacer Folding Treadmill Specs
| | |
| --- | --- |
| Motor | 1.75 HP motor |
| Max Speed | 9.9 MPH |
| Weight Capacity | 220 lbs |
| Preset Training Programs | 36 |
| Running Deck | 49.2 x 16.5 in |
| Display | Backlit LCD display |
| Size Folded | 32.1 x 27.2 x 54.5 in |
| Size Unfolded | 59.4 x 27.2 x 53.1 in |
| Weight | 115 lbs |
| Incline | 0-12 |
Key Features of the Lifepro Pacer Folding Treadmill
The Lifepro Pacer Folding Treadmill was one of our favorite cardio machines when it was available for purchase, which was surprising since it was so affordable (compared to many other treadmills).
The display was an LCD screen that only showed three metrics at a time. These ranged between time elapsed, distance, speed, incline, pulse, and calories burned (depending on the program you select).
I was surprised by how large the screen was, especially considering there is not any interactive programming. With so much blank space on the large screen, it feels pretty empty to me.
There were 36 different programs, and each featured something different. For example, one of the programs put emphasis on a high incline, while another focused on getting your pulse elevated.
The 48-inch deck of the Pacer is slightly shorter than what I'd recommend for most people to run on. Typically, you want to see a 55-inch or greater deck length to accommodate people of various stride lengths and heights for running or walking. If you're a shorter person, this likely won't bother you.
Motor and Noise
Let me put it plainly: The 1.75 CHP motor was disappointing. This is a really weak motor in the grand scheme of things (3.0+ CHP is best for running), and one that wouldn't be suitable for most people to run on. However, a 1.75 CHP motor isn't uncommon for a machine that is under $750. Shortcuts like a weaker motor or shorter deck are reasons why a treadmill might not cost as much.
Footprint and Portability
At 59.4 x 27.2 x 53.1 inches, the footprint of the Pacer is moderate when unfolded. However, I like that this machine folds and unfolds really easily. When you're ready to store your Pacer, just pull the pin out of the screen to allow the display to bend forward. You'll then be able to pick up the deck from the back and secure it upright with the gas shock lever underneath the machine.
It's worth noting that while the Pacer folds, it doesn't fold completely flat like the Echelon Stride treadmill does. However, it still compacts itself enough to store with relative ease.
The gas shock underneath the Pacer also allows you to softly drop the deck when you're ready to unfold the treadmill. This is a very similar setup to that of the Sunny Health & Fitness (SF-T4400), which allows the deck to drop without slamming on any feet or toes.
Final Verdict of Our Lifepro Pacer Folding Treadmill Review
For under $1,000, the Lifepro Pacer has a lot going for it. I like the easy-fold mechanism, the lifetime warranty, and the easy assembly. I do think the motor strength is something to keep in mind (since it isn't very powerful), and Lifepro recommends you be under 6 feet to use this machine since the deck is on the shorter side.
Lifepro Pacer Folding Treadmill Rating
Lifepro Pacer Folding Treadmill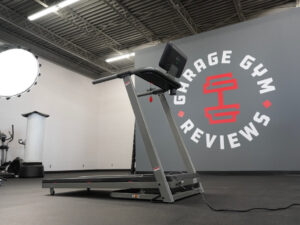 The Lifepro Pacer treadmill is under $1,000 and is a great budget option for people with small spaces.
Product Brand: Lifepro
Product Currency: USD
Product Price: 800
Product In-Stock: InStock
Lifepro Pacer Folding Treadmill FAQs
Are folding treadmills good?
Yes! Folding treadmills can be wonderful additions to your home gym. Coop and the team at Garage Gym Reviews have tested quite a few foldable options that we love. Check out our full list of the best compact treadmills on the market.
Does the Lifepro Pacer treadmill have incline options?
The Lifepro Pacer does have 12 incline options. However, you'll need to be patient when switching between incline levels, as it is a bit slow to switch.
What extras does the Lifepro Pacer Folding Treadmill have?
The Lifepro Pacer has a water bottle holder, auto incline, built-in heart rate monitor in the handrails, Bluetooth speakers, USB cord for charging your phone, and a large LCD display for a variety of metrics.
What apps are compatible with the Lifepro Pacer?
Surprisingly, although the Pacer says a variety of apps can be paired with the machine, only two are mentioned: AnyRun and Kinomap. If you want to use something like iFIT, you're better off streaming that separately on your phone or other device while using the treadmill.
Is weight loss possible with the Lifepro Pacer Folding Treadmill for home?
As with any workout routine, always consult your doctor before trying something new (or before trying to shed pounds). However, running or walking on a treadmill can help you burn calories and get your heart pumping.
RELATED: Best Treadmill Workouts