We test and review fitness products based on an independent, multi-point methodology. If you use our links to purchase something, we may earn a commission. Read our disclosures.
So you want to maximize the airflow in your home gym? Well, you're in the right place, because our team of product testers here at Garage Gym Reviews is here to help you with all things gym related—from the best treadmills to the best speakers for home gyms.
For this roundup of the six best fans for garage gyms, we started by pulling from our own experiences using fans and then looked to our Home Gym Community group on Facebook for further recommendations. We picked a variety of fans—from ones that can be wall-mounted to ones that oscillate. We also picked budget fans and a few splurge options, too.
Not only has our team of product testers used dozens of treadmills, squat racks, and running shoes—we also know a thing or two about the general setup of a gym. We're a group of fitness professionals ranging from Olympic athletes to nutrition coaches. Many of us even have experience owning and operating commercial gyms and own home gyms, too.
Best Fan for Garage Gyms
Best Overall Fan for Garage Gyms: Maxx Air Direct-Drive Drum Fan
Good for: Folks looking for a powerful floor fan built with safety in mind
This Maxx Air drum fan is sure to blow you away! The industrial design can be used for anything from curing concrete on a job site to an indoor air circulation fan for commercial or home gyms.

The Maxx Air drum fan provides up to 9,000 CFM (cubic feet per minute) of airflow at the highest setting. Our Home Gym Community was quick to chime in about the Maxx Air Fan. Group member Martinez writes the "Maxx Air fan does make a difference!"
Another member, Joe, comments on the power saying, "Maxx Air fans are amazing but don't expect a true 'low' setting. Even the lowest setting is a hurricane."
This drum fan might not oscillate or tilt, but the reason it made it to the top of our list is because it's an ultra powerful fan that is also rated for safety. It's UL Listed, which means it meets the safety standards set by the global leader in safety testing and inspection.
Additionally, Facebook member Natasha says she likes her Maxx Air fan: "It's about 90 [degrees] and super humid this morning [in Florida] and I just finished working out. Sweaty, but manageable with the fan," she notes.
RELATED: Best Garage Door Screen
| | |
| --- | --- |
| Price | $249.99 |
| Dimensions | 37.5" L X 12.5" W x 39" H |
| Power rating | 120 volt |
| Warranty | 2-year limited warranty |
Best Waterproof Fan for Garage Gyms: Big Ass Fans AirEye Wall Mount Fan
Good for: Anyone looking for a heavy-duty fan to withstand dust, chalk, water, and sweat
If you are serious about lifting chalk in your home gym, the Big Ass Fan AirEye might be the fan for you. It has an IP65 rating, which means it's dustproof and waterproof, making this fan ideal for indoor and outdoor gym settings.
Plumes of chalk in the air or sweat flinging off your hair has nothing on this Big Ass Fan.
It's also wall-mounted so you won't have to worry about freeing up any of your precious gym floor space for this Big Ass fan.
GGR Head of Content and gym owner Kate Meier helped install these fans in her CrossFit gym. "We love these as coaches, because they were so easy to put on," she says. "We had a 7,000-square-foot facility, so we installed four of these, which circulated air wonderfully."
RELATED: Best Garage Shelving
Another thing to note about this wall-mounted fan is the occupancy sensor that uses passive infrared detection to run the AirEye when the fan detects movement and heat. This unique feature not only gives you a hands-off experience, it can also help reduce energy consumption.
Additionally, you will have a remote control connected via cable wire to the fan so you can move to different speed settings. In fact, you'll even have infinite variable speeds with the remote control dial to adjust the power of the cool air in your gym.
"The corded remote is nice because you can easily change up the speed, but you don't have to worry about losing the remote," Kate says.
According to the Big Ass Fan website, the AirEye models can push cool air up to 120 feet away. However, with all this power comes a price. It's worth noting that the fan is priced over $900. Certainly not the most budget-friendly option for moving air in your gym.
| | |
| --- | --- |
| Price | $976.65 |
| Dimensions | 19.5″ D x 38.2″ W x 38.2″ H (other sizes available) |
| Power rating | 120 volts |
| Warranty | 5 years |
Best High Velocity Fan for Garage Gyms: Central Machinery 24-in High Velocity Fan
Good for: Individuals seeking maximum airflow in the gym for under $200
This Central Machinery High Velocity Fan is simple in its design and delivery. It doesn't tilt or oscillate, but it offers a lot of power for large rooms and garages. It's also fairly lightweight at 24 pounds, has two handles, and transport wheels making this a portable fan that you can use in your gym or workshop.
One of our Facebook Home Gym Community members, Nicholas, writes that Central Machinery "fans [are used] to dry carpets after shampooing. They move a lot of air—just need two of those and you'll be good," on a suggestion thread about home gym cooling.
We also like the fact this Central Machinery brand is UL Listed for safety standards and has a grounded power cord. It's worth noting that the power cord is only 6 feet long, but for most people that should suffice.
Another Facebook member writes, "I got the one from Harbor Freight. It's big and loud but it cools things off." That is a common complaint we noticed about this brand: the noise. Yes, fans are loud, but multiple folks say that this fan is particularly loud.
| | |
| --- | --- |
| Price | $189.99 |
| Dimensions | 26.5" L x 10.25" W x 27.5" H |
| Power rating | 120 volt |
| Warranty | 90 days |
Best Wall-Mounted Fan for Garage Gyms: Simple Deluxe 20-inch Fan
Good for: Anyone looking for a wall-mounted fan that can also tilt 270 degrees
This 20-inch Simple Deluxe fan is on the smaller side compared to some of the other fans on this list. However, we still think this is a powerful option that also offers wall-mounting capabilities, 14-pound lightweight frame, and 270 degrees of rotation.
We think all these factors together will allow for an easy mounting process and customization of where you want to direct your air. Some of the other wall-mounted fans on the market are stationary and do not adjust.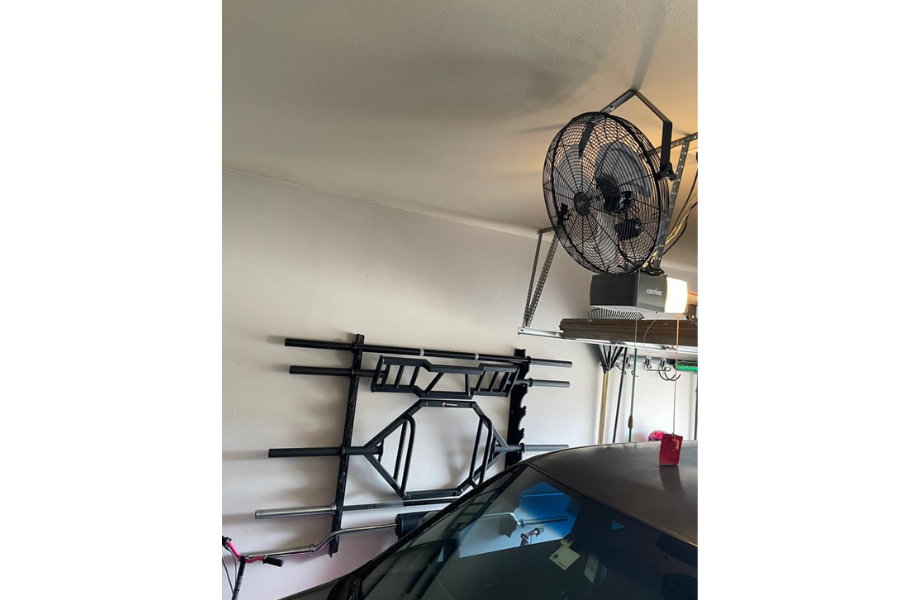 One Facebook member notes they "bought this one from Amazon and then mounted it [to the ceiling] by the garage door opener so the power was already there to connect to." We think that sounds not only resourceful but like it was an easy installation process, too.
Another group member, Jarod, writes he also mounted his Simple Deluxe fan to the ceiling behind the garage door opener. He also reports after over a year of use, it's still holding up.
The one drawback we see is the pull cord that controls the three speed settings on this fan—we mention this because it could potentially break after the hundredth pull. That said, this fan is also reasonably priced under $100.
| | |
| --- | --- |
| Price | $89.99 |
| Dimensions | 23″ L x 7″ W x 22″ H |
| Power rating | 115 volts |
| Warranty | 5 years |
Best Budget Fan for Garage Gyms: VIEAIR 24-in Floor Fan
Good for: Folks looking for a budget-friendly drum fan with a an adjustable fan head
The VIEAIR Floor Drum Fan is one of the more budget-friendly drum fans on this list. It's priced just over $100 on Amazon. The drawback to this budget price is the short 30-day warranty policy in addition to some plastic parts used on the wheels and stand bracket.

That said, you will need to assemble the stand bracket to the fan ahead, but once it's assembled this is one of the only drum fans on this list that offers an adjustable tilt to the fan head for more than 180 degrees of rotation.
It's also fairly lightweight at 28 pounds and features transport wheels and two handles for carrying around to different parts of the gym or your house. The one thing we noticed and didn't like was the power cord is less than 6 feet in length.
RELATED: Important Budget Home Gym Tips
| | |
| --- | --- |
| Price | $117.31 |
| Dimensions | 24" L x 8.25" W x 30.25" H |
| Power rating | 120 volts |
| Warranty | 30 days |
Best Standing Fan for Garage Gyms: Vyper Turbo Fan
Good for: Anyone looking for a high-quality and energy efficient pedestal fan
The Vyper Turbo Fan is the Cadillac of garage gym fans. It not only comes with an adjustable height tripod and a wall-mounting kit, but also, you don't have to decide which option you want until it arrives in your space.
The Vyper is also an oscillating fan with 70 degrees of rotation. It has variable speed with a dial control so you can customize how powerful you want your wind speed. According to the website, you can adjust the speed anywhere between 600 to 1,200 revolutions per minute.
Additionally, the brushless DC motor installed in the Vyper allows this fan to run efficiently, keeping your electric bill to a minimum. The five-blade design on the Vyper might lead you to believe that it will be loud but the brushless motor allows this fan to run quietly so you can still hear your workout jams in the background.
RELATED: Best Workout Headphones
The one callout we have with this high-end brand (and high-end price) is the short 90-day limited warranty. Ideally we'd like to see a one-year warranty or more.
| | |
| --- | --- |
| Price | $495 |
| Dimensions | 27" L x 6" W x 27" H |
| Power rating | 110 volt |
| Warranty | 90-day limited warranty |
Other Fans for Garage Gyms We Researched
Lasko 20″ High Velocity Fan: This fan didn't make it to this list because it's ultra similar to the Simple Deluxe brand wall-mounted fan we included. Noise levels on both brands are a common complaint.
Dewalt Drum Fan from Costco: Many home gym owners in our GGR Home Gym Community group on Facebook recommended or asked about this fan. We didn't pick this one because some of the drum fans on this list offer UL-Listing and OSHA-compliant safety ratings. However, we do like the fact there is a 12-foot power cord on this fan.
Honeywell Tower Fan: Although a tower fan is an ideal space-saving solution, a fan like this is not always the best choice for a garage fan. During workouts, it's likely you're looking for something more powerful than what you'll use in your bedroom to sleep at night.
How We Researched and Picked Garage Gym Fans
Here at GGR, when we compile roundups for the best home gym equipment, we always start with some initial internet research. This helps us determine the most popular and sought out products on the market and where the general price range is.
We also utilize our GGR Home Gym Community group on Facebook for recommendations. We scour through posts, comments, and photos to see what real home gym owners are actually buying, using, and enjoying. Additionally, we lean our internal team for recommendations and feedback, too.
After we cross-reference popular items with real feedback from our Facebook community, we dive deeper into product specs and customer reviews. This process helps us narrow down our choices and provide a curated list specifically for home gym owners.
Benefits of Garage Gym Fans
Here are some of the top three benefits we see to buying a home gym fan:
Low Energy Consumption
In comparison to an air conditioner, fans have relatively low energy requirements. However, this will depend on the type and size of the fan you buy (in addition to the fan speed you use).
Improved Air Circulation
Adding a fan to your garage gym can potentially improve air circulation, which may reduce odors and the feeling of stuffiness. Keep in mind that fans don't filter, so if you have a particularly dusty or chalky garage gym a fan can actually unearth those dust bunnies from under your squat rack and send you into a sneezing frenzy.
If that sounds like your gym, don't fear—we have a guide on how to clean rubber gym flooring so you can kiss those dusty bunnies goodbye.
Cooling Sensation
Even though a fan does not actively cool the air in your gym, it creates a breeze that can give you the sensation of feeling cooler. A fan does this with added airflow that helps sweat evaporate from your skin faster and makes you feel more comfortable overall.
Buying Guide for in Garage Gym Fans
When it comes to things like the best garage heaters and air conditioners, our expert fitness product testers know when we're out of our wheelhouse. That's why we talk to professionals in the HVAC industry for advice on things like airflow and air circulation.
For tips on buying fans for your garage gym, I turned to a trusted resource: my husband, Matt Strong, who is a professional engineer with nearly a decade of experience selecting and designing HVAC equipment.
Airflow vs Cooling
When buying a fan for your garage gym, it's important to understand that fans are designed to move air. While a fan can provide a cooling effect, it does not reduce humidity or the temperature of a whole room like you will find in best AC for a garage gyms.
A fan with high velocity, "gives us the feeling that the air is cooler than it is (i.e. windchill), but ultimately you will have a net heating effect on the space by adding a fan," says Matt. He also notes that fans can be "noisy, collect dust, and have motors which can increase the temperature of a space."
Types of Fans
We featured several different types of fans in our top picks, ranging from floor fans to wall-mounted fans. While some fans are portable, others are not. Some tilt or oscillate while some fans don't move at all.
The type of fan that is best for your home gym will depend on how much space you have and how much power you're looking for. Most of the fans we featured were either shop fans or industrial fans that offer a lot of power. If you have a smaller gym, it might be worth looking into a small table fan or tower fan you might buy for your living room.
Extra Features
Not all fans are created equal. Some fans will have a simple pull chain for on and off settings, while others come with remote controls. Keep in mind that some fans will feature multiple speeds, auto shutoff, and timers. Plus, fans that tilt or oscillate can provide extra comfort since you can point the fan directly on you while you workout out.
Best Fan for Garage Gyms FAQs
How do you ventilate a garage gym?
When you're looking to do more, use a fan to create airflow, you can ventilate your garage gym by opening the garage door, opening windows, or installing an air conditioning unit that brings outside air into your garage.
Should you put a fan in your garage?
If you workout in your garage gym, chances are at some point you'll want a fan to move around stagnant air. While a fan in your garage doesn't cool the air, it does help increase airflow in and can help ventilate your garage if you put your fan by a window.
Will a fan reduce humidity in the garage?
A fan can create the feeling of cooler air with wind speed, but the air temperature and humidity will not actually change with just a fan. You will need an air conditioning unit with a condenser to reduce the humidity of your garage in addition to bringing down the temperature.