We test and review fitness products based on an independent, multi-point methodology. If you use our links to purchase something, we may earn a commission. Read our disclosures.
When the NordicTrack C2155 came out, it was one of the best treadmills on the market for beginners. Practically everyone wanted this piece of fitness equipment in their home gym, and for a very good reason. It's compatible with MP3 players and iPods, is foldable, and falls into a decent price range. Plus, it has a high user weight capacity, adjustable cushioning, and a tread belt suited for most walkers and casual joggers.
In our NordicTrack C2155 treadmill review, we'll share everything you'd want to know about this now-discontinued treadmill. You might not see it at major retailers these days, but who knows? It could pop up at a yard sale. So if it does and you're interested, we think it's only fitting that you know what you're getting yourself into before you separate with your hard-earned money.
We The Best! (In DJ Khalid's Voice)
Our team of testers is truly the real deal. They include athletes, CrossFit-L1 trainers, weightlifting coaches, exercise specialists, and so much more. Thanks to all of this experience, we can obtain valuable information about treadmills that beginners just wouldn't be privy to.
For instance, we understand the different treadmill parts and how they all come together to help you achieve your fitness goals. We also recognize how budget treadmills differ from high-end ones and how you can make the most out of whatever you can afford.
We're knowledgeable about treadmill maintenance, too, and can assess a warranty plan to get an idea of the quality of a machine without even physically trying it. All of this knowledge comes from us thoroughly testing literally hundreds of treadmills so we can better serve you.
Looking for an Alternative to the NordicTrack C2155?
Best Alternative to NordicTrack C2155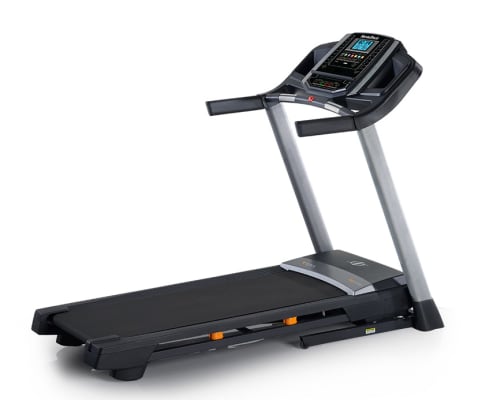 GGR Score: 3.8
Product Highlights
Entry-level foldable treadmill
iFIT-compatible
20 on-board workouts
2.6 CHP motor
Pros & Cons
Pros
Space-saver/folding deck
20 on-board workouts
iFIT- and iPod-enabled
300 pound weight capacity
Affordable
Cushioned running deck
Incline capability
One-touch controls
Cons
Requires a separate viewing device to take advantage of the benefits of iFit
Small 5-inch display
Customers consistently report that the T 6.5 S is very noisy
Motor will not support sustained running
Bottom Line
The NordicTrack T 6.5 S is a value purchase with some notable features. WIth a foldable design and compact footprint, it is a great choice for those with small spaces looking to dive into the world of cardio.
If the C2155 proves challenging to find or is just a tad bit too dated for your needs, consider the NordicTrack T 6.5 S. It's a folding treadmill with a 20-inch by 55-inch walking belt and a 300-pound user weight capacity. Although the length of the treadmill belt might not be ideal for taller runners, the width is one that wider trainees will appreciate.
The NordicTrack T 6.5 S offers a 0-10% incline range and a top speed of 10 MPH, so walkers and joggers will find this machine most beneficial. This is powered by a 2.6 CHP motor, which is decent, but we prefer to see at least a 3.0 CHP motor on a treadmill like this.
Suppose you're not sure what exercises to do; not a problem! This treadmill comes with 20 built-in programs, and it connects to iFIT, too. However, you'll need an iPad or another viewing device to utilize the iFIT benefits.
The T 6.5 S also has adjustable cushioning, which is vital for those who like to switch it up now and then. For instance, if you plan to participate in a 5K, you might want to turn off the cushioning to simulate running outdoors.
Overall, the NordicTrack T 6.5 S is an affordable, entry-level treadmill that'll help individuals meet their weight-loss goals.
A Quick Look at the NordicTrack C2155 Treadmill
Introduced to the fitness world in 2008, this budget-friendly treadmill has many features to admire. This is a good choice if you're a brisk walker or fast jogger looking for a durable machine with a couple of tech specs. It comes from a well-known fitness equipment brand that's been selling quality ellipticals, bikes, rowers, and more for years now. Plus, the treadmill has a warranty plan that isn't half bad.
Therefore, without further ado, we'll dig into the details with this NordicTrack C2155 treadmill review.
Pros:
Foldable
Autobreeze fan system
DuraSoft™ Adjustable Cushioning
iPod-compatible
iFIT workout card technology
Cons:
Weaker motor (2.0 CHP)
Inaccurate heart rate monitor
Complicated assembly process
1 year parts and labor warranty
NordicTrack C2155 Treadmill Specs
Due to the fact that the C2155 is off the market, our team had trouble finding reputable sources for some of these specs.
| | |
| --- | --- |
| Footprint | N/A |
| Weight | N/A |
| Weight capacity | 300 lbs |
| Display | Grafixx Hi-Resolution Display |
| Belt size | 55" L x 20″ W |
| Incline range | 0-12% |
| Maximum speed | 10 MPH |
| Preset Programs | 15 preset programs |
Key Features of the NordicTrack C2155 Treadmill
The NordicTrack C2155 comes with a top speed of 10 MPH and 12 incline levels, which means it's giving a good deal of variety. Seriously, that's not bad for an entry-level treadmill. In addition to that, you're getting 15 preset personal trainer programs. Five programs are focused on weight loss, five on performance, and five on aerobic exercises. This is great for someone who has absolutely no clue what to do or who desires to switch it up from their usual routine.
For walkers and some joggers, the treadmill belt size will be just fine. On the other hand, runners and taller people are better off looking at different machines. Here, you're getting a 20-inch wide by 55-inch long walking belt, so it's a little on the shorter side. Sixty-inch tread belts are best for tall folks, runners, and those with longer strides.
Although restricting in some ways (e.g., for taller runners), this treadmill is inclusive of heavier individuals, thanks to its 300-pound max user weight. The only issue with this is the machine's less-than-ideal 2.0 CHP DurX™ commercial motor. Smaller individuals who are walking or jogging probably won't have a problem. However, if you're heavier or start running, the motor that's claimed to be smooth and quiet may begin to be the exact opposite.
I can't forget to mention that the NordicTrack C2155 does have one-touch controls for changing the speed and incline. I love convenient features like this because no one wants to push multiple buttons on the console while working out.
Footprint, Portability, and Durability
I could not find the exact footprint of the machine or identify how much this treadmill weighs. However, based on the instruction manual, I can assume it's on the heavier side. Some manuals recommend that you have two people, but this one says two people are required to build, which is likely due to its size.
Although it's a bigger treadmill, it's still smaller than the ones you'd see at the gym. The NordicTrack C2155 has the patented Space Saver design. Therefore, it can fold vertically when it's not in use. You can also move the treadmill if you need to by tilting it back until it rolls freely on its wheels.
The NordicTrack brand is known for creating durable machines, but since this one is more affordable, is it still quality? Overall, I would say so, especially for the price. For instance, NordicTrack offers a lifetime warranty on this treadmill's frame and motor, which tells me they've likely used quality materials there. But the parts and labor warranty are questionable, as they only offer one year of coverage there.
Ergonomics
I'm sure you already know that a good workout session can really kick your butt. However, that doesn't mean certain features can't make the experience better. For example, the C2155 includes DuraSoft adjustable cushioning, which is said to reduce the impact on your joints by 33%.
But if for some reason you want to increase the firmness, you do have that option. Just step off the treadmill, unplug the power cord, and slide the cushion adjusters toward the front of the treadmill.
Another feature on this treadmill that makes working out more comfortable is the AutoBreeze fan system. Many treadmills under $1,000 don't include a fan. Heck, some $1,500 to $2,000 treadmills are missing fans, which is questionable. Nonetheless, this fan features three settings, which are low, high, and auto speed. With the latter, the fan will automatically decrease or increase based on the speed of the walking belt.
Technology Benefits and Conveniences
Who says a budget treadmill can't come with cool tech features? The NordicTrack C2155 conveniently comes with a dock for an iPod or MP3 player so that you can play your music or audiobook through the treadmill's two built-in speakers.
On top of that, you can place your hands on the handlebars if you want to activate the heart rate monitor. This simple but valuable feature will show you if you're within your target heart range. Unfortunately, many people complain that the treadmill's heart rate monitor is very inaccurate and unreliable. So if you have a smartwatch, maybe refer to that instead.
In addition to the above, this treadmill includes iFIT Workout Card Technology. So, if the 15 built-in workout programs aren't cutting it, you can purchase a preprogrammed card that contains an 8-week program guided by a personal trainer. It'll automatically adjust the speed and incline, too, which is helpful.
Admittedly, the Grafixx high-resolution display is a bit basic, but it shows you the desired stats. You'll quickly see your calories burned, pulse, speed, time, distance, and more. Plus, you'll see an animated figure walking or jogging through the workout along with you, so don't be surprised when it pops up.
Final Verdict of the NordicTrack C2155 Treadmill Review
At under $1,000, this NordicTrack machine is a good buy for someone who plans to use their treadmill primarily for walking or jogging. It checks many boxes for beginner trainees who want something durable, a little bit techy, and that offers variety.
While you're not going to get the most up-to-date features on this treadmill (their manual mentions CD players, after all), it still does what a treadmill was made to do. So you'll enjoy this machine as long as you're not looking for a 22-inch touchscreen and 15 MPH max speeds.
NordicTrack C2155 Treadmill Rating
NordicTrack C2155 Treadmill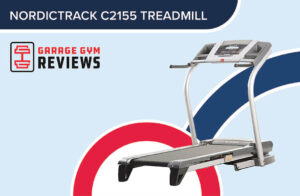 In this NordicTrack C2155 treadmill review, we identify who would get the most out of this machine, its key features, and so much more. Check it out!
Product Currency: $
Product Price: 699
Product In-Stock: InStock
NordicTrack C2155 FAQs
Which NordicTrack Is Best?
How Do You Fold and Move a NordicTrack Treadmill?
To fold the C2155 treadmill, you'll need to ensure that the incline is at its lowest level. Also, be sure that you can safely lift 45 pounds. After that, remove the key and unplug the power cord. Next, bend your knees and keep your back straight as you firmly hold the metal frame. Finally, raise the frame to the vertical position until the latch key locks into the storage position. 
When you're ready to move the treadmill, hold the frame and handrail while also placing a foot against one of the wheels. Next, slowly tilt the machine back until it rolls freely on its wheels, and then transport the treadmill to your preferred location. Once you've placed it, put your foot against a wheel while lowering it to the original storage position.
How Much Does the NordicTrack C2155 Weigh?
We're not sure how much this treadmill weighs, but based on a few customer reviews, it's not a light machine. Even its predecessor, the NordicTrack C2255, was heavy.