We test and review fitness products based on an independent, multi-point methodology. If you use our links to purchase something, we may earn a commission. Read our disclosures.
Editor's Note: The NordicTrack Z 1300i Treadmill is no longer in production. We suggest viewing the NordicTrack Commercial 1750 as the best alternative, or view our Best NordicTrack Treadmill roundup for more options.
Hear ye, hear ye! If you've been looking for a feature-packed treadmill to add to your home gym, you're in the right place. The NordicTrack Z 1300i is a now-discontinued treadmill that's suitable for practically everyone. Therefore, if you want to power walk, lightly jog, or get a good run in, it's got you covered.
On top of that, it comes with comfort features that will make burning calories just a tad bit more pleasant. Of course, we all know that cardio sessions are a challenge, but a workout fan, a decent sound system, and a shock-absorbing tread belt make it bearable. Plus, thanks to its many different onboarding programs and iFIT, you shouldn't get bored for a while.
In this NordicTrack Z 1300i treadmill review, you'll learn why this particular fitness equipment is a favorite among trainees. People would flock to Costco stores and Amazon's website just to get their hands on this machine. Even though it doesn't come with a touchscreen and has a higher price range, it's a solid choice.
So keep reading to see if the NordicTrack Z 1300i treadmill features align with what you need to reach your cardio or weight-loss goals.
We Put The "Work" in Workout
If they needed to add a picture next to the word "workout" in the dictionary, they'd more than likely use a photo of the GGR team doing what we do best. We work out a lot, which is what you'd expect from CrossFit-L1 trainers, certified personal trainers, and athletes. It pretty much comes with the territory.
Because we're always around some type of fitness equipment, our testers have been fortunate enough to try out all kinds of stuff. For example, we've done varying intensity workouts on treadmills from HIIT to steady-state cardio, and I can tell you that some treadmills perform better than others for each type of exercise. We've even been able to observe small but important things like treadmill WiFi connectivity. These things matter to consumers who want to make sure they spend their money on home gym equipment that'll meet their needs.
Looking for an Alternative to NordicTrack Z 1300i Treadmill?
Best Alternative to NordicTrack z 1300i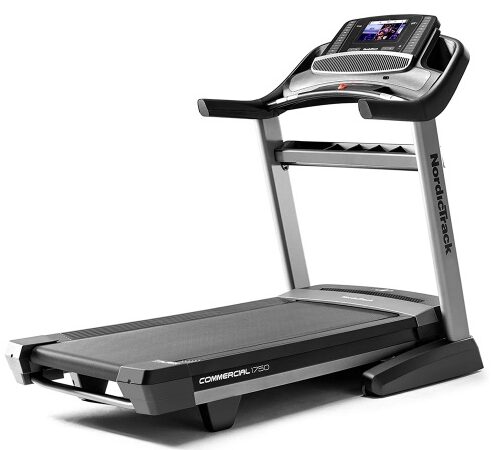 GGR Score: 4.5
Product Highlights
Spacious running deck
Compatible with iFIT
14-inch touchscreen
Incline and decline training
Financing available
Pros & Cons
Pros
Compatible with iFIT
3.5 CHP motor
Free trial of iFIT subscription with purchase
Treadmill with incline and decline training
Foldable to save space (EasyLift Assist)
Run that feels similar to road running
Financing options available through NordicTrack
Generous speed range
Wide running deck
Cooling fan
Cons
Big footprint
Heavy and not the easiest to move
Price is around $2,000
Warranty is voided if the treadmill is used/stored in a garage
Bottom Line
If you're looking to add a workhorse of a treadmill to your home gym, we recommend the NordicTrack Commercial 1750.
If your hunt for the Z 1300i treadmill proves unsuccessful, or you'd prefer something different, we've got another one you might consider. The NordicTrack Commercial 1750 has been regarded as one of the best treadmills ever to hit the market. It folds, has a strong 3.5 CHP motor, and includes a sizable running deck.
Trainees can enjoy trainer-led workout sessions from an iFIT Coach on the treadmill's tilt-and-pivot 14-inch touchscreen. Plus, thanks to this machine's -3% decline and 15% incline range, you'll be sure to get your heart rate up and burn more calories while exercising. Thankfully, the two cooling fans can make it more tolerable, and the easy-to-reach water bottle holder can help you stay hydrated.
As inclusive as this treadmill is, due to its 300-pound user weight capacity and 22-inch by 60-inch tread belt, it's still not for everyone. If cushioning is important to you, you won't find it in the 2023 version. Also, even though this machine folds, it's still massive and heavy. Coming in at 339 pounds, you'll definitely need an extra person or two to help with assembly.
You'll love this piece of exercise equipment if you like interactive programming, comfortable conveniences, and a durable machine. The NordicTrack Commercial 1750 is undeniably a beast and will take your home workout sessions to a new level.
A Quick Look at the NordicTrack Z 1300i Treadmill
During its prime, this treadmill was almost $1,500, which admittedly is on the pricey side. However, today you might be able to snag it for half that price, making it well worth it! So if you see it for sale somewhere and it seems like it'll fit your fitness needs based on this review, head to checkout right away before someone else buys it.
Besides the price, another great thing about this treadmill is that although it's now discontinued, it's not that old. The more dated machines often mention hooking up iPods and CD players, which most of us don't have anymore. In addition, iFIT might be available on some older machines, but you have to buy the SD workout cards. With those, you can only hear the personal trainer but can't see them. Bummer.
Fortunately, this treadmill gives you a dedicated space to place a tablet, and if you're an iFIT member, you can access their extensive library of trainer-led workouts. Plus, you can use Bluetooth to connect your tablet to the console, so it'll track your progress and more.
Want to know what else this treadmill has that trainees will love? Well, keep reading this NordicTrack Z 1300i treadmill review to find out!
Pros:
Folding treadmill
3.0 CHP motor
OneTouch controls (speed and incline)
AutoBreeze fan
Tablet holder
Nice warranty plan
Flex Select cushioning
350-lb user weight capacity
Cons:
No decline options
Audio cable needed to play music from personal device on console
Chest heart rate monitor compatible but not included
NordicTrack Z 1300i Treadmill Specs
| | |
| --- | --- |
| Footprint | 81″ L x 37″ W x 70" H |
| Weight | 225 lbs |
| Weight capacity | 350 lbs |
| Display | Multi-Window High-Contrast LED Display |
| Belt size | 20" x 60" |
| Incline range | 0-12% |
| Maximum speed | 12 MPH |
| Programming | 32 preset workouts and iFIT |
Key Features of the NordicTrack Z 1300i Treadmill
Where can we start? First, this machine doesn't have just 10 preset workouts, or even 20—it has a whopping 32 preset workouts for you to try out! So if you don't want to use iFIT, you don't have to. These onboard workouts will automatically control your speed and incline to make it easier for you to focus on burning those calories.
Speaking of incline and speed, how does the number 12 sound? You're getting a top speed of 12 MPH and 12 different incline levels, which is sure to give you plenty of variety. The powerful 3.0 CHP motor drives this treadmill, so it shouldn't have any issues handling frequent runs and providing smooth transitions. Then, when you pair that with the 20-inch by 60-inch tread belt, you're getting a worthwhile workout experience that gives you the space to achieve your goals.
Oh, did I mention the tread belt is maintenance free? This treadmill was initially priced on the higher end, and many more-expensive treadmills are typically self-lubricating. Most budget-friendly treadmills require that you lubricate them once per month, so I'm glad to see that you don't have to worry about that here. Since you won't have to think about treadmill maintenance like that, you can focus more on working out!
I also like that this treadmill is inclusive of heavier users, as it can accommodate individuals up to 350 pounds. Many machines can only handle 200 to 300 pounds, so it's nice to see that the NordicTrack Z 1300i is usable by taller and larger trainees.
Footprint, Portability, and Durability
The NordicTrack Z 1300i has the patented SpaceSaver design with Easy Lift Assist, meaning that it folds vertically so you can stow it away. When it's unfolded, expect it to take up almost 7 feet in length and 3 feet in width. Based on those measurements, it's larger than the NordicTrack Commercial 1750, which is nearly as big as clubhouse treadmills. Therefore, you're not dealing with a compact, under-desk treadmill here.
Thankfully, you can still move it around, although it's recommended that at least two people help with this. While the wheels will make portability much easier, understand that the machine is 225 pounds, so it's best not to do so alone.
As far as durability goes, you're getting a stable, well-built treadmill here. One way to tell is by looking at the warranty package. For instance, this treadmill has a lifetime warranty on the frame and motor, which tells me the frame is probably made of steel and the motor is built to last. It also comes with a three-year parts warranty and covers one year of labor. Therefore, the other treadmill parts, like the 2.5-inch balanced rollers, are high quality.
Ergonomics
I know HIIT treadmill workouts aren't pleasant, but you know what'll help? FlexSelect adjustable cushioning! The absorption system on this treadmill reduces the impact on your joints, which means quicker recovery and fewer injuries. So while it's not going to be as no-impact as an elliptical, it's still better than nothing.
One other feature that'll make working out somewhat more tolerable is the AutoBreeze adjustable fan. I recommend you use the auto setting because the fan will increase as your speed increases. The opposite is also true.
Technology Benefits and Conveniences
I like the console on the NordicTrack Z 1300i, but I recognize it might not be everyone's favorite. It has a multi-window high-contrast LED display that also includes a calorie burn rate meter. You'll be able to easily see important workout data, such as your pulse, distance, speed, time, and more.
You can also tell what training zone you're in so you can make adjustments if necessary. The three zones are health, fitness, and performance. Tap into the "health" zone if you prefer a slow and steady workout. If you want to take it up a notch and hit the ideal heart rate for your weight, you'll find yourself in the "fitness" zone. But if you're brave and want to reach your cardio max, the "performance" zone will welcome you.
You'll also find something called "custom-focus weight-loss workouts" on the console. When you enter your weight and your calorie or time goal, your workout will begin and continue until you've reached your goal.
Other conveniences you'll find on this treadmill include:
OneTouch speed and incline controls
Handgrip heart rate monitor
Final Verdict of Our NordicTrack Z 1300i Treadmill Review
Given all the features on this treadmill and the price you can get it for today, it'd be tough to pass this up if I came across it. Even with it being discontinued, this treadmill is still relatively new, so you could enjoy some of the newer technologies without paying over $1,000 for them!
Plus, this is a treadmill you can use as your fitness journey evolves. So if you start off walking, it would be able to handle you later using it for jogging or running. That's important! Because who wants to spend a bunch of money buying new treadmills every time they reach a new level? Not me!
I sure hope this NordicTrack Z 1300i treadmill review has been beneficial to you. I feel confident saying that if you see this somewhere and it appears to be in good condition, you should add it to your home gym.
NordicTrack Z 1300i Treadmill Rating
NordicTrack Z 1300i Treadmill
Looking for a treadmill you can use as your fitness journey evolves? Read this NordicTrack Z 1300i Treadmill Review!
Product Currency: $
Product Price: 2499
Product In-Stock: InStock
NordicTrack Z 1300i FAQs
How Much Does the NordicTrack Z 1300i Weigh?
This treadmill weighs 225 pounds, which is in line with most motorized treadmills. 
Does the NordicTrack Z 1300i Fold?
Yes, it comes with Easy Lift Assist. For clarity, that means the treadmill has a shock that helps lift the deck for easier storage.
Can You Run on the NordicTrack Z 1300i?
The max speed on this treadmill is 12 MPH which is undoubtedly considered running. In addition, the 3.0 CHP motor on this thing can handle individuals running three or more times per week. So if you have multiple people in your home, it should cater to everyone's fitness needs.