We test and review fitness products based on an independent, multi-point methodology. If you use our links to purchase something, we may earn a commission. Read our disclosures.
When it comes to choosing the ideal running hat, it's not just about style—it's about finding the perfect balance of functionality, comfort, and protection from the elements. That's why our expert product testers here at Garage Gym Reviews put seven different running caps to the test after careful research and combing through customer reviews.
Our goal is to help you find the best running hat for your head—because we're all different. In this roundup of running caps, you're going to hear our personal experiences in addition to the cold, hard facts. No matter how big or small the product is that we review, our team of experts review all products thoroughly just like we do in the best treadmills for home gyms or best running shoes for beginners.
Best Running Hats
Best Running Hat Overall: Smartwool Feel Good Cap
Good for: Runners looking for a comfortable, stretchy, and sweat-wicking hat
This Smartwool running cap features a five-panel design with stretchy polyester fabric on the exterior and a merino wool and polyester blend for the interior.
We know what you might be thinking when you read the words wool blend: I don't need a sweater on my head! But trust your friends here at GGR: wool is the OG of sweat-wicking materials. In fact, when we tested the best running socks, Smartwool was our top pick for moisture-wicking capabilities.
Expert product tester and GGR writer Amanda Capritto notes that this Smartwool cap "performed well in all kinds of conditions—it even started raining on me once and the hat didn't get heavy or soggy." Now that is what we like to hear about running gear.
Amanda also comments on the fit saying, "It's super flexible. There is almost no structure to this hat—it's like a beanie with a visor bill.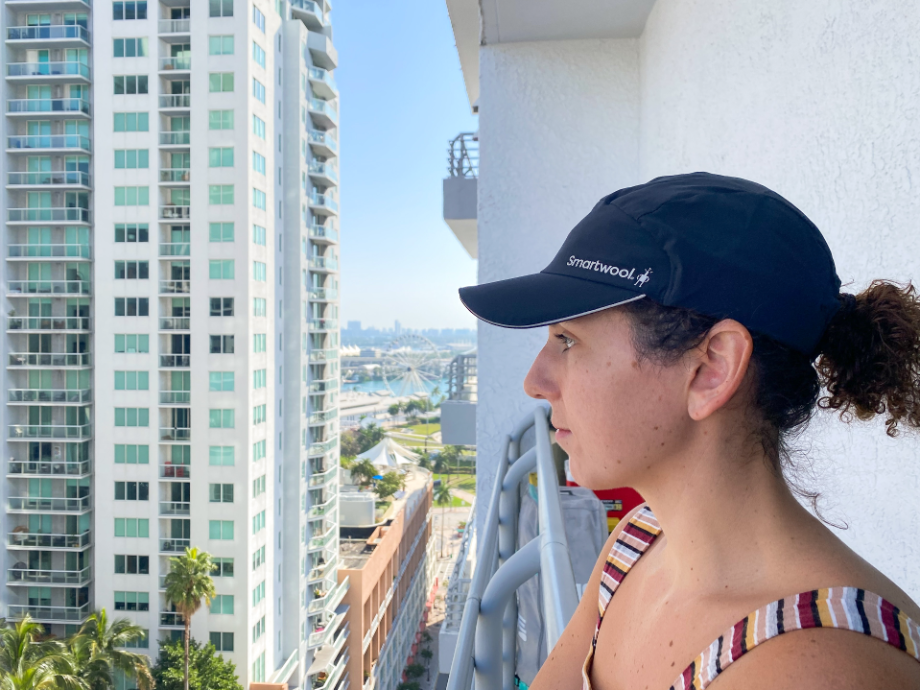 "It's also extremely lightweight and breathable, and flexible to the point where it feels like it molds to your head," Amanda adds.
Although the hat offers stretchy materials and a comfortable, lightweight fit, you'll also like knowing that you'll have an adjustable strap on the back of the hat for a customized fit. Plus, there are a few reflective details (including the edge of the visor) to keep you visible in low-light conditions.
| | |
| --- | --- |
| Price | $35 |
| Materials | Polyester and elastane exterior; merino wool and polyester blend liner |
| Adjustability | Strapback |
| Brim | Curved |
Best Running Hat for Sun Protection: Outdoor Research Sun Runner Cap
Good for: Anyone looking for a hat with a 40+ UPF rating plus extra neck and shoulder coverage
Although the Outdoor Research sun running cap is not the most aesthetically pleasing hat you'll ever wear, if you appreciate utility over fashion then keep reading. This hat features nylon fabric with a UPF 40+ rating to protect your skin from UV rays.
If you're anything like me and get sunburns easily, this hat takes sun protection headwear to the next level with a removable cape (yes, you read that right).
The removable cape is definitely the standout feature for this hat, which offers sun protection all the way down your neck and partially over your shoulders. For me, this is not only a good running hat, it's an ideal summer hat for hot days in a kayak or at the beach.
RELATED: Best Running Water Bottle
The interesting part about this (other than how ridiculous it looks) is how much the cape changes the way it feels around my head during the testing process. The hat alone offers a snug and comfortable fit, but once I used the metal snaps to fasten the cape on, the elastic band that is sewn into the back of the cape squeezed my head too much for my liking.
I did notice that when I wore the cape higher on my head (not directly over the adjustable strap on the cap) it was more comfortable. The higher position almost covers the side mesh panels for ventilation, but it's not a dealbreaker. The cap also features a wicking headband and a dark fabric under brim that helps reduce glare.
| | |
| --- | --- |
| Price | $40 |
| Materials | Recycled nylon and nylon |
| Adjustability | Fabric fastener; removable cape |
| Brim | Curved |
Best Running Hat for Women: Lululemon Fast and Free Running Hat
Good for: Ladies on the hunt for a running cap with a fashionable flare
The Lululemon Fast and Free running cap features a classic baseball cap design along with a breathable, durable, and moisture-wicking material.
Amanda tested the Lululemon cap and notes that it was her favorite of all four running hats she put to the test. "I've worn it more than any of the others because it feels like wearing a baseball cap but way more comfortable."
Amanda also admits that she never used to run in hats but says, "this particular hat converted me into a hat-wearing runner. It's light, comfortable, stays put, is easy to adjust, and keeps sweat and sun out of my face."
Well, you can't go wrong with a testimonial like that, can you?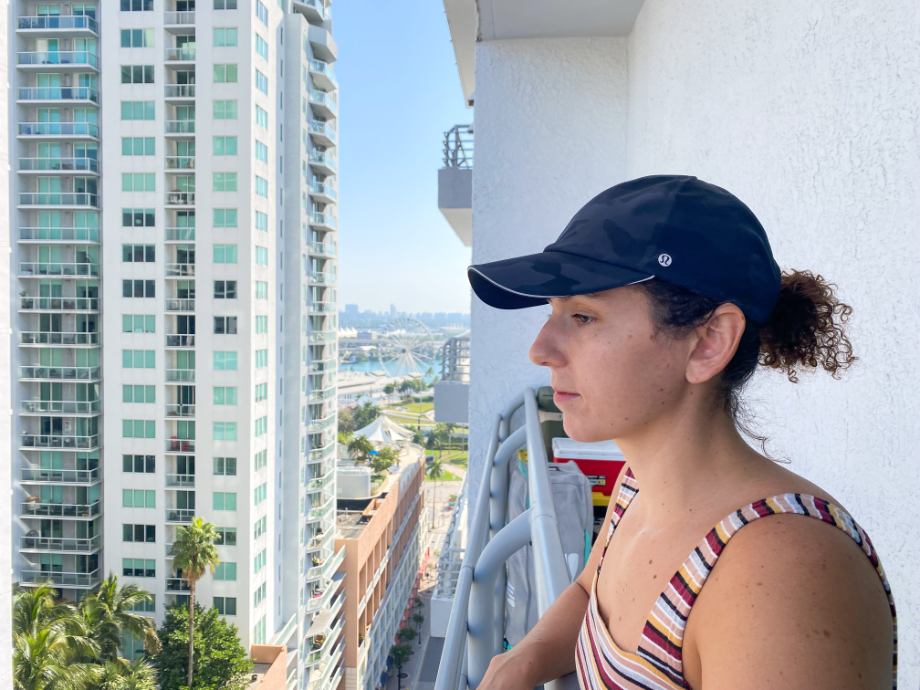 It's worth noting that because it fits more like a baseball cap, you may notice it covers more of your head than some of the other low-profile running caps we tested.
It comes in six different colors, has a plain front panel, and Lululemon custom branding on the adjustable back strap. It's also worth mentioning this running hat comes in one size and has a fabric hook-and-loop fastener on the back for a customized fit.
| | |
| --- | --- |
| Price | $38 |
| Materials | Nylon, lycra, polyester, elastane |
| Adjustability | Fabric fastener |
| Brim | Curved |
Best Running Hat for Hot Weather: Nathan Sports RunCool Hat
Good for: Folks in warm climates looking for a hat with built-in cooling solutions.
Runners living in hot climates: listen up! This Nathan running cap features dry tech polyester mesh pockets sewn into the side panels for ice.
You read that correctly. This hat is designed so you can put ice cubes on top of your head while you run on hot or humid days. On top of that, the polyester material is moisture-wicking, quick-drying, and doesn't leave you feeling drenched from your own sweat (or the ice cubes, which will inevitably melt).
I personally tested this hat in the middle of winter, so I didn't add ice for my morning walks or runs, but I did test how much ice you can fit in each side panel. Turns out you can put about four ice cubes per side!
RELATED: Best Hydration Vests for Running
It's also packable, machine washable, and features a flat and mostly pliable visor. The adjustable back strap is easy-to-use and offers a more custom fit to the one-size-fits-most option. It's also worth noting that the two-tone blue is the only colorway you'll find for this specific running hat with ice pockets.
Speaking of the fit, it's worth noting that this hat does feel tight on my head. Although I like it because it doesn't move around while I run, walk, or generally move around—I also have an average head and really thin hair. You may have a hard time with this hat if you have a larger head or a lot of hair.
| | |
| --- | --- |
| Price | About $30 on Amazon |
| Materials | Polyester, mesh |
| Adjustability | Plastic buckle and adjustable back strap |
| Brim | Flat and pliable |
Best Water-Resistant Running Hat: Arc'teryx Calvus Cap
Good for: Folks looking for a water repelling hat that is also stretchy and lightweight
The Arc'teryx Calvus cap is a simple, lightweight, and water-resistant running cap that will keep up with trail running or road running. The interior of the running hat features mesh to wick moisture and allow for breathability, while the exterior is polyester material featuring a light taffeta weave with stretch in addition to a DWR (Durable Water Repellent) finish to repel moisture.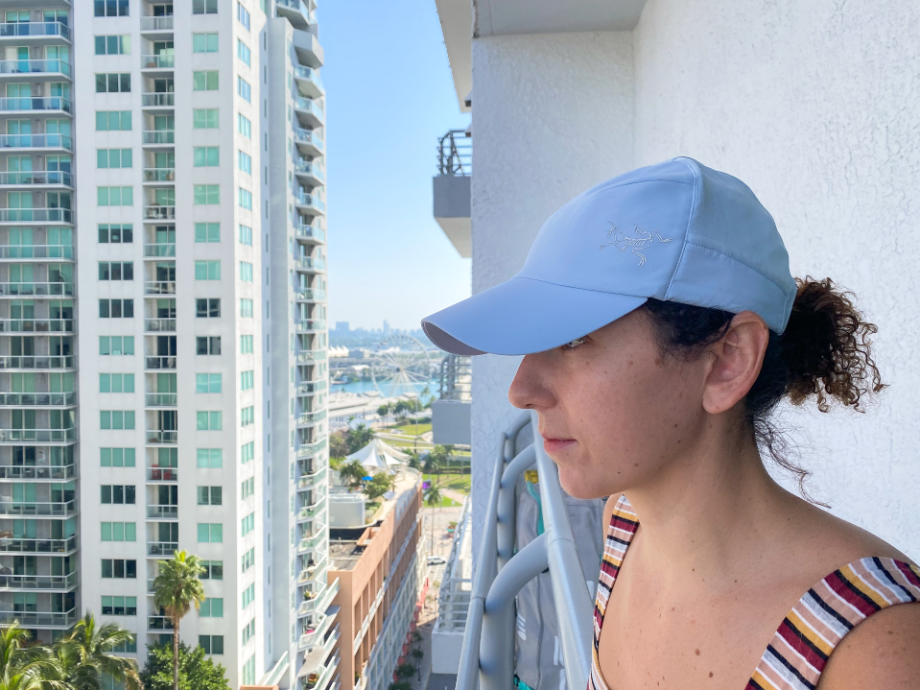 RELATED: Best Trail Running Shoes
Amanda tested this running cap and says, "The fabric is phenomenal. It's lightweight, flexible, and stretchy. There are mesh panels, too, for breathability."
She also notes that the look is ideal with just a small logo on the front panel and the aesthetic blend "between a trucker hat and a baseball cap," she says.
Amanda wanted to fully love this cap, but it didn't provide a snug fit on top of her head. She says, "It's too large for me, in the sense that it's too 'deep' vertically to fit my head. I'd have to pull it down almost over my eyes to prevent there from being space between my head and the top of the cap.
"I think I have a smaller head, so this probably won't be the case for everyone," she adds.
| | |
| --- | --- |
| Price | $35 |
| Materials | Polyester, polyester spacer mesh |
| Adjustability | Buckle closure and adjustability |
| Brim | Curved |
Best Ultralight Running Hat: Topo Designs Global Hat
Good for: Folks who want a super lightweight hat with several colors to choose from
If you're looking for an ultralight running hat that offers a comfortable fit and maximum breathability, this five-panel Topo Designs hat might be for you.
Other than the front panel (and the brim) the rest of the hat features a polyester mesh, which means it will be a lightweight cap with breathability benefits for the whole head.
The internal headband is absorbent and fast-drying while the brim is foam and pliable so it doesn't add weight to your runs.
Nicole Davis, GGR senior editor and expert product tester, ordered the Topo Designs hat in black and likes the fit and the look. There are several color options you can pick from including funky camo and sand patterns.
RELATED: Best Running Belts
Nicole notes that the brim comes flat and you can bend it to your liking but notes the brim didn't keep its shape if she tried to add more of a curve.
"This is comfy for sure. It doesn't fit my head exactly—there's extra space on the top on each side—so I think it looks a bit weird when on, but I will wear this if I plan on running outside on a summer day," says Nicole.
"Overall, it stays put and is breathable, so works great for me," she adds.
| | |
| --- | --- |
| Price | About $30 on Amazon |
| Materials | Polyester, spandex, mesh, nylon |
| Adjustability | Adjustable webbing buckle closure |
| Brim | Flat and pliable |
Most Breathable Running Hat: Kavu Trail Runner Hat
Good for: Folks looking for a unisex option with breathability for hot weather running
The Kavu trail running hat is another nearly full mesh cap we tested. Although not the best option for cold weather running, this Kavu cap provides some of the most air flow you can get without wearing a running visor.
Amanda tested this Kavu cap and notes, "One thing this hat does right is wick sweat. Your sweat won't even have time to build up because of the mostly mesh construction."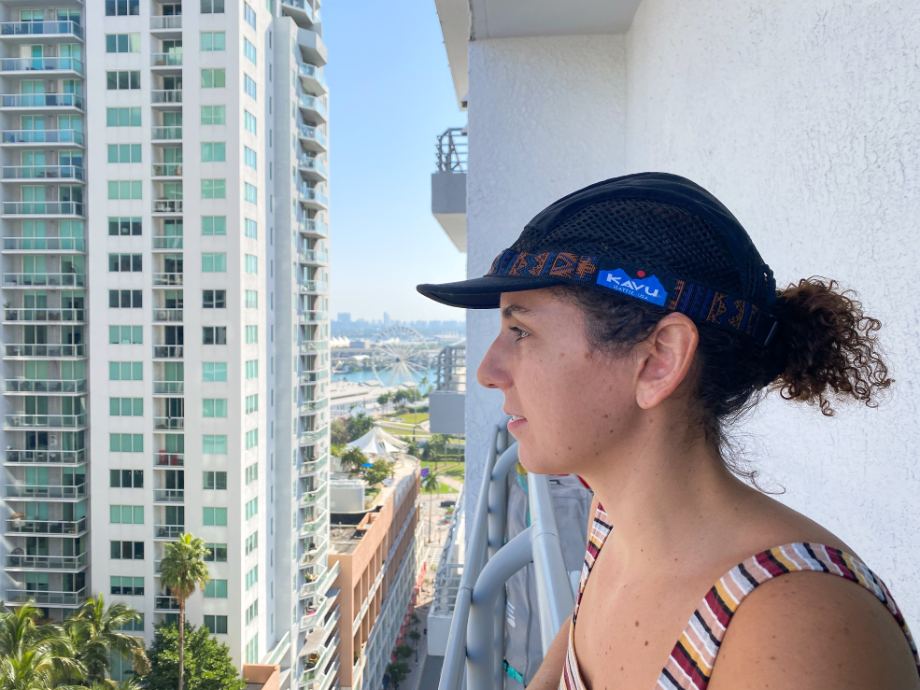 RELATED: Tips for Running in the Heat
Although similar to the Topo Designs hat from above, the Kavu actually has a polyester panel on the top and large mesh panels around the sides, rear, and front of your head.
However, she mentions the drawback to the polyester mesh is you may feel a little skin irritation. "The nearly full-mesh construction is a great concept, but in reality, it ends up being a bit itchy in use. Along the interior, most of it is mesh, except the front (the part that sits against your forehead), which is paneled in a softer material," writes Amanda.
Amanda admits she "loves the earthy colors and the 90s throwback designs," however she found the fit wasn't the best for her head and mentions she thought it looked silly. The short brim featured on this cap may make the aesthetic feel different than a traditional baseball cap or trucker hat.
| | |
| --- | --- |
| Price | $25 to $45 depending on color selection |
| Materials | Water-resistant polyester |
| Adjustability | Adjustable buckle closure |
| Brim | Curved |
Other Running Hats We Researched
Proviz Sports REFLECT360 Running Cap: We wanted to have a high visibility option for you folks at home, but during our testing process this hat was out of stock.
Nike Aerobill Featherlight Hat: Although we didn't try this dri-fit hat, we think it's a solid option and similar to the Lululemon Fast and Free running hat.
Ciele Athletics GOCap: Based on our research we thought this brand offers solid running hats. We didn't end up ordering and testing the GOCap because we thought the Nathan running hat with built-in gussets for ice offered more for runners with a similar design.
Headsweats Reflective Race Hat: Another popular running hat option that we didn't test. It comes in a one-size-fits-all option, several different colors, and features a classic buckle back closure.
How We Picked and Tested the Best Running Hats
Your friendly team of expert product testers, writers, and editors here at GGR work as a team to research, select, and test the products we review. For most roundups, we start with online research to see which products—in this case running hats—are available to buy, popular or trending, and actually worth testing.
From there, we narrow down our initial list to a smaller list of running hats we actually put to the test. Amanda, Nicole, and I personally ordered and tested each running hat on this list while walking, running, strength training, and even doing some yard work.
Benefits of Running Hats
Here are a few benefits we see to adding a running hat to your running gear:
Sun Protection
One of the primary benefits of wearing a running hat is the sun protection a wide brim or long visor can provide on your face, eyes, and neck. If you plan to run outdoors versus on a treadmill, you'll want to consider how you'll protect yourself against prolonged sun exposure.
Potential Temperature Regulation
While keeping the sun out of your eyes, a running cap can also help regulate your body temperature by wicking sweat away from your forehead. Especially ones with breathable mesh panels.
Improved Visibility
Visibility can go two ways here: A running cap can potentially reduce glare and help you see objects in front of you. The other factor is if your running cap has reflective elements, you will be more visible to drivers and other pedestrians in low-light conditions.
What to Look for in the Best Running Hats
When choosing a hat designed for running as a beginner, there are a few key factors to consider:
Moisture-Wicking
Look for a hat made of moisture-wicking materials (like polyester) due to the way it draws sweat away from your skin. This can help you stay dry and comfortable during warmer weather training.
Adjustable Fit
While some hats may offer a size selection, many are sold in a one-size-fits-all option. If that's the case, make sure there is an adjustable strap, buckle, or Velcro closure at the back that allows you to customize your fit.
Sun Protection
A wide brim and/or a long visor is the first feature to look for with sun protection. If you want to be extra cautious, try seeking out hat with UPF (Ultraviolet Protection Factor) ratings for effective UV protection.
Best Running Hats FAQ
What are the benefits of running hats?
If you wear a running hat, that is totally a personal choice. You can absolutely run without them. That said, one of the biggest benefits you get from wearing a hat while running is the protection it provides your skin and eyes from prolonged sun exposure and harmful UV rays. 
Are running hats worth it?
If a running hat (or any other running gear for that matter) is worth it will be subjective depending on when you run, how often, if you need sun protection, and how much you're willing to spend. Overall, the hats we tested were all under $50 and could be worth it for many runners. 
Should I wear a hat when running in the heat?
Wearing a hat while running in the heat can help protect your skin and eyes from the sun and harmful UV rays. Additionally, wearing a hat in the heat can help wick sweat away from your forehead and reduce sweat dripping in your eyes.