We test and review fitness products based on an independent, multi-point methodology. If you use our links to purchase something, we may earn a commission. Read our disclosures.
I'm a big fan of a well-designed backpack from both a utilitarian and aesthetic standpoint. I've also been known to enjoy trail running and hiking. When you're out for several hours—or days—you want to be sure you have the best and most comfortable gear you can afford. That includes everything from running socks and shoes to backpacks and outerwear.
In this roundup of the best backpacks for runners, we'll explore seven high-quality backpacks our experts tested and found suitable for runners of all types—from lightweight and compact options to overnight and durable packs.
Expert Product Testers Try Out Backpacks For Runners
Our team of expert product testers here at GGR are not only knowledgeable about equipment and fitness gear, we're also fitness industry professionals—ranging from Olympic athletes to certified personal trainers. We take special care any time we test new categories to make sure we're reviewing the best products and providing the most accurate, up-to-date information.
Our product testers had hands-on experience with all the backpacks features on this list. Not only did we run, walk, and bike with these bags, we considered the little details like the straps, buckles, comfort, front pocket size, and overall value.
7 Best Running Backpacks
Best Overall Backpack for Runners: Patagonia Altiva Pack
Good for: Anyone who needs a running pack that can double as a backpack for daily use 
The Patagonia Altiva Pack is a running backpack that is well suited for runners, day hikers, commuters, and anyone else who just needs a solid backpack.
The back-panel features a breathable mesh to help with airflow while you move, and it continues into the shoulder straps for additional ventilation. If you've ever been trail running on a hot day, you know the shoulder straps can get just as sweaty as your back, so we appreciate this feature. It's worth noting that this Patagonia bag has an adjustable sternum buckle but it lacks a hip strap for that extra locked-in feeling.
The recycled nylon material is water resistant for wet weather and comes with a raincover for more inclement weather. The inside of this pack features a sleeve to accommodate a hydration reservoir, although it does not come with one, which we found pretty common through our testing process.
"This pack features a streamlined and simple design," says expert product tester and GGR editor Nicole Davis. Nicole tested this backpack on walks, while traveling, and even at the zoo with her two kids and reports it's good for more than one activity.
While traveling, Nicole used the hydration pocket as a laptop sleeve and found there was plenty of space for a 13-inch device and other essentials, as well. She noted the side mesh pockets for water bottles were flexible and can accommodate a traditional shaker bottle, but probably not bigger bottles like a Nalgene or Yeti.
The zippered pocket on top is spacious enough for a cell phone and a few other small items like your wallet and keys. Additionally, the cord on the outside of the pack is adjustable and can hold extra layers while you're running, hiking, or traveling.
| | |
| --- | --- |
| Price | $109 |
| Capacity | 14 liters |
| Hydration Compatible | Yes |
| Material | 100% recycled nylon |
Best Budget Backpack for Runners: Osprey Daylight Backpack
Good for: Anyone who wants a simple running pack and doesn't want to spend over $100
I personally tested the Osprey Daylight Backpack and it not only impressed me with the budget price tag, but size and overall quality, too. In my experience it's hard to come by a running pack for under $100, and this one is priced at a reasonable $65.
It's worth noting that it's not a huge bag and the 13-liter capacity is not ideal for overnight trail running or hiking. However, this pack will get the job done and has a convenient water reservoir sleeve for hands-free hydration.
I also think the vibrant purple color I ordered is eye-catching while also being sleek and minimalist in the overall design. There are two zip pockets: One large compartment for a water reservoir and some larger items (like your lunch and extra layers) and the other for small items like keys, phone, snacks, or energy gels. There are also two side mesh pockets for water bottles.
I took the Osprey running and walking on the trails behind my house and I had no issues with chafing or slipping. The pack stayed in place with the adjustable sternum and hip straps. Another thing I appreciate about this pack is the fact the back panel is structured with rigid foam and can stand up on its own without anything packed in. Ultimately, this feature led to a comfortable fit regardless of how much (or little) it was loaded—it didn't lose its shape or feel.
In addition to trail walking and running, I also used the pack for travel. I used the hydration reservoir pouch for my laptop, which makes me think this could be ideal for anyone who needs a commuter backpack for walking, running, or biking to work.
| | |
| --- | --- |
| Price | $65 |
| Capacity | 13 liters |
| Hydration Compatible | Yes |
| Material | Recycled ripstop polyester |
Best Hydration Backpack for Runners: Salomon Trailblazer
Good for: Runners looking for a solid fit with hydration capability
The Salomon Trailblazer is a simple yet versatile running backpack ideal for anyone who wants a true hands-free hydration experience while running. Although this pack does not come with a hydration bladder, we think this Salomon pack offers a solid design for the ultimate hydration experience.
The Trailblazer is designed to funnel the bite valve of a hydration bladder onto your shoulder strap rather than in the center of the pack. This is a nice feature because you won't have to worry about feeling that plastic tube rubbing on your upper back (I speak from experience!).
In addition to having hands-free options for drinking water, you'll also have a mesh pocket on either side of the pack for additional water bottle storage. Another feature we like is the fact there is a small zippered pocket on the hip strap for small items like a cell phone or quick snack. Although this doesn't sound like it has to do with hydration, we think this is an ideal feature because you really don't have to worry about taking the backpack on and off to grab your phone or take a snack break.
Expert product tester, GGR writer, and avid walker Anthony O'Reilly took the Salomon Trailblazer backpack on several hikes and says he adores the pack for hikes and appreciates just how much stuff you can pack away. "It has a pretty basic design with only one pocket, but there's a few compartments in it for extra layers, snacks, and water," he says.
Anthony also noticed the buckles and straps are well constructed and the sternum strap and hip belt together allowed for snug fit, "with zero swishing." Additionally, Anthony was impressed with the reasonable $70 price tag and even more pleased when he noticed it was on sale for about $50.
| | |
| --- | --- |
| Price | $70 |
| Capacity | 20 liters |
| Hydration Compatible | Yes |
| Material | 88% Polyamide, 12% Elastane |
Best Race Day Backpack for Runners: Nathan RunAway Marathon Backpack
Good for: Anyone looking for a all-in-one bag for indoor training, outdoor workouts, and race day
The Nathan RunAway Marathon Backpack might not be the best backpack for running and hiking, but this is a solid bag for traveling to and from training or packing up for a race day.
I personally tested this pack and the first thing that stood out to me was the dedicated shoe compartment on the bottom portion of the bag, which can accommodate a pair of running shoes up to men's size 12.
In addition to the shoe compartment, there are two main zippered pockets: One can be used for a hydration bladder or laptop, while the other is ideal for larger items like more water or a change of clothes. This main compartment also features three small mesh pouches to organize your race day needs—I found it useful for organizing small things like my keys, wallet, wireless headphones, and charging cords.
I will note that the water bottle holders on either side of this Nathan pack are not made from the typical stretchy mesh material, but instead the same polyester material featured on the rest of the bag. Although my shaker bottle fits in the water bottle compartment, it probably won't be ideal (or stretchy enough) to accommodate anything larger.
Although this is not the most versatile backpack for the actual sport of running, this is an ideal bag for training. It will keep you organized with all the small compartments and keep dirty shoes aways from the rest of your gear.
| | |
| --- | --- |
| Price | $125 |
| Capacity | 30 liters |
| Hydration Compatible | Yes |
| Material | Polyester |
Best Compact Backpack for Runners: Lululemon Active Backpack
Good for: Folks looking for a compact running backpack with hydration pack compatibility 
The Lululemon Active Backpack is a compact and hydration compatible option for runners and hikers alike. In true Lululemon fashion, the all-black design is sleek, minimalist, and all around aesthetically pleasing.
GGR writer and product tester extraordinaire Amanda Capritto tested this 10-liter day pack and says it feels as good as it looks with "extremely soft, smooth, almost silky fabric." She also mentions the fabric is flexible and not stiff like a traditional backpack. That said, Amanda notes that "as much as I love the softness and flexibility of this backpack, I can't say it is (or will be) the most durable pack I own."
However, she's had no problems so far after testing this backpack on long runs, bike rides, and trips to the beach. Additionally, Amanda noticed right away that the shoulder straps feature mesh pockets that she found useful for energy gels and doggy bags, while she utilized the mesh pockets on either side of the pack for her smartphone and sunscreen.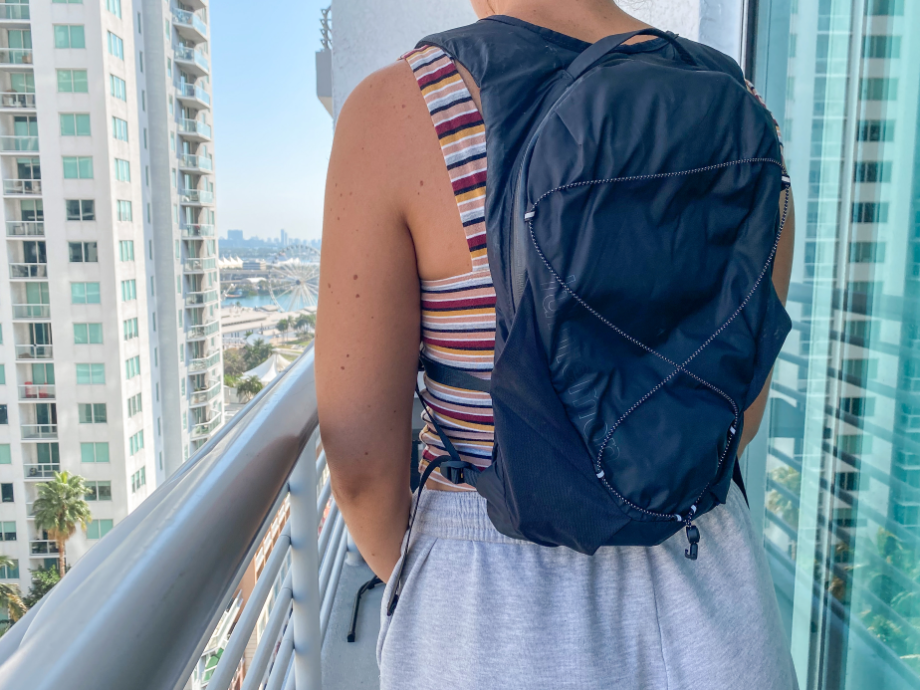 Amanda also likes the fact that the small, 10-liter pack can still accommodate a hydration bladder. The design also features reflective details on the front and back, which is helpful for anyone planning to run on the road.
One thing that Amanda thought was lacking was the hip strap. "This pack is so little that I'm sure that's the reason there isn't an additional buckle, but it would prevent what little bouncing there is when wearing this running," she says.
It does feature a sternum strap which helps keep the pack in place, and Amanda found that if she "tightened the shoulder straps a lot, I could prevent bouncing for the most part. I must say, the softness and flexibility of the fabric makes this the most comfortable backpack I have ever worn for sport activities. It's as flexible as a running vest."
| | |
| --- | --- |
| Price | $128 |
| Capacity | 10 liters |
| Hydration Compatible | Yes |
| Material | Nylon, polyester, and elastane |
Best Weather Resistant Backpack for Runners: Arc'teryx Arro Backpack
Good for: People who want a running backpack for all seasons and types of weather conditions
The Arc'teryx Arro Backpack is a standout bag when it comes to withstanding the weather. It features thick, durable, and water resistant nylon. The Arro also features watertight external zippers for additional peace of mind when you're running in the rain. The vertical kangaroo pouch on the front of the pack adds a unique design feature in addition to being useful for small items like keys, wallet, and phone.
Anthony O'Reilly tested the Arro Backpack and notes it's not suitable for folks who need to carry a lot of stuff—it only has a 16-liter capacity. However, he did find it ideal and durable enough for both hiking and airport travel. It's also compatible with hydration flasks or a 13-inch laptop.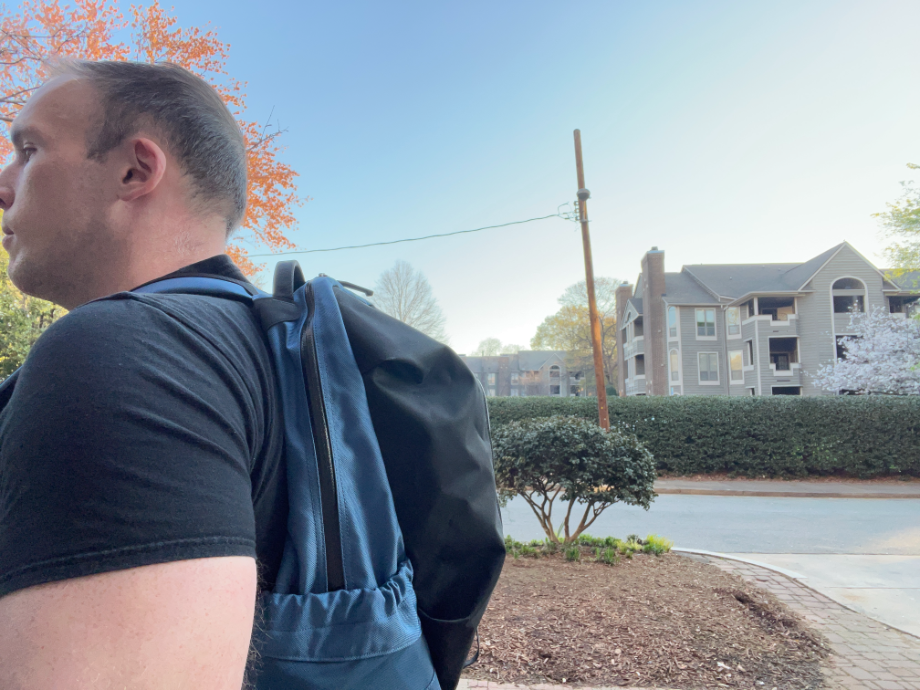 Anthony also appreciates this pack for being "very stable whilst running. There is minimal swishing sound and it stays attached to my back with no issues and isn't overly tight," he says.
Although Anthony likes the aesthetics and functionality, he's skeptical about the $150 price tag noting that, "if it remains durable, then sure, but it's pretty basic for me to say it's worth the price."
| | |
| --- | --- |
| Price | $150 |
| Capacity | 16 liters |
| Hydration Compatible | Yes |
| Material | 420d Cordura nylon (6,6 basket weave) and 210d nylon (plain weave) |
Best Backpack for Trail Running: Ultimate Direction Fastpack 30
Good for: Folks planning on trail running and camping overnight, too
The Ultimate Direction Fastpack is not designed for the average trail runner, it's designed for folks who blend overnight hikes with trail running, aka fastpacking.
Amanda Capritto is not only an expert product tester and certified personal trainer, she's also an endurance athlete. So when I wanted to know more about fastpacking, I turned to her for guidance. "Fastpacking is an increasingly popular sport that combines backpacking and ultrarunning. It's fast backpacking—i.e., running into the wilderness, spending the night, and running back, instead of walking/hiking," Amanda notes. "Yes, people do this! Yes, they're crazy!"
Amdanda admits she did not do any actual fastpacking while testing this pack. "However I did take it on some trail runs! You can imagine how silly I felt wearing this giant backpack on local park trails," she says. "It performed great, thanks to the two chest straps and one thick waist strap. There was some minimal bouncing, too, but I just don't think you can entirely eliminate bouncing in large backpacks."
Amanda tested this fastpack and appreciates the unique design, which is specific to the sport, noting that "the water bottle pockets sit in front when the pack is on for easy access, in the same way that a running vest places them."
This Ultimate Direction pack also features a whopping 15 pockets (in addition to the main compartment). "Some are specialized pockets, such as for water bottles, nutrition gels, or trekking poles. Overall you can largely customize this pack to work for your adventure," Amanda says.
It's also worth mentioning that this unique design is not hydration pack compatible, but rather features the chest water bottle holder and two mesh pockets for water bottles on either side of the pack.
| | |
| --- | --- |
| Price | $179.95 |
| Capacity | 31 liters |
| Hydration Compatible | No |
| Material | Polyester |
Other Running Backpacks We Tested
Hyperlight Daybreak Ultralight Day Pack: Amanda Capritto tested this backpack and truly had a difficult time discerning whether this pack should be recommended to you, our reader. She liked some aspects of this backpack but ultimately decided that the large size, stiff material, and high price tag ($228) didn't make this a good recommendation for folks who actually want to run with a backpack.
Amanda thinks the Daybreak pack is almost too large for runners and would be better suited for ultramarathoners. It's also made from DCH150 fabric, which is a commonly used fabric in ultralight camping and backpacking gear, making it extremely durable and expensive. She notes "for a running backpack, this isn't worth it. For a hiking backpack, I'd say sure, if ultralight is your thing."
Patagonia Slope Runner Endurance Trail Running Vest: We've tested (and loved) this hydration vest for runners, but it doesn't make the list because it doesn't offer runners the storage options of a backpack.
Nathan TrailMix Plus Hydration Belt: Although similar to a backpack (sort of), this running belt has storage and hydration options, but it's just not the same if you're looking for a true running backpack.
How We Picked and Tested
Here are some things we considered when choosing and testing running backpacks:
Price: Our team of product testers wanted to provide budget options in addition to some more high-end packs and compare what you can get for your money.
Versatility: What can it be used for? Trail running, distance runs, run commuting, or overnight fastpacking—we wanted to make sure this list encorporated options for all types of runners.
Storage space: This list has running packs with 10-liter capacity up to 30-liter capacity. We have this wide range because we know that not every backpack will suit every type of runner.
Hydration bladder compatible: Although not all backpacks on this list have the compatibility for a soft flask hydration bladder, our product testing team wanted to lay out some options of what is currently available on the market. We made sure to note when a running pack was not hydration compatible.
Hip belt and sternum straps: In our testing procedure, our product testers made sure to test out all the small features like the hip belt, sternum straps, and the fastening system, and note if the buckles felt durable.
Benefits of Backpacks for Runners
Here are some of the benefits of buying a backpack designed for runners:
Go Long-Distance
If you're someone who runs long distances (or wants to), having the ability to carry a few things with you on the journey is a bonus. For long distances, trail runs, and hikes, having warm layers, extra socks, snacks, and water can be the difference between completing the distance you set out to run or needing to turn back early.
Running Hydration
The ability to have water on hand for extended runs is a huge benefit to running with a pack—in my opinion, it's the biggest bonus! When I hike I always have a backpack so I have the ability to carry more than enough water and don't have to worry about running out.
Buying Guide for Backpacks for Runners
To find the best running backpack for your needs, consider this buying guide to help you make the best decision:
What Are Your Water Options?
When buying a running backpack, consider where (and how much) water you will be able to carry with you. I personally like having a hands-free experience with a water reservoir on my back, because sometimes even with mesh side pockets designed for water bottles, it can still be hard to reach back and grab the water bottle without taking off your pack.
Size and Storage Capacity
The amount of storage capacity you need will likely depend on what kind of training you're doing. If you're shopping for bags that can be packed for overnight and trail camping, you'll need something bigger than a daypack.
Adjustable Straps
Be sure the running backpack that you're considering has adjustable shoulder straps and a sternum strap. Depending on the size, not all bags come equipped with hip straps, but we think having one is awfully beneficial with the ability to shift some of the pack's weight off your shoulders and onto your hips.
Best Backpack for Runners FAQ
Do runners wear backpacks?
Although not all runners wear backpacks, it's not uncommon to see long-distance runners, trail runners, and ultramarathoners run with backpacks. This is due to the amount and energy it takes to trek long distances and the need to bring extra hydration and fuel with you.
How do I stop my backpack from bouncing when I run?
Using your adjustable straps for a customized fit can minimize the bounce of a running backpack while you jog. Be sure to make adjustments on the shoulder, sternum, and hip strap for the best fit.
How big should a running backpack be?
Depending on what duration you're aiming for, running backpacks range from 10 to 30 liters (or more).