We test and review fitness products based on an independent, multi-point methodology. If you use our links to purchase something, we may earn a commission. Read our disclosures.
It's long-established that carbohydrates are the "master fuel" for endurance athletes. Endurance exercise is performed at low-to-moderate intensities for long durations. As exercise intensity, volume, or duration increases, the body depletes its stored energy and begins to rely on the sugar in your blood. If you continue to exercise and don't replenish your blood sugar, fatigue will quickly set in. Running gels are conveniently packaged carb bombs that keep your blood sugar at adequate levels so you can keep moving and perform your best.
In this guide to the best running gels, I use my years of experience as an endurance athlete, certified nutrition coach, and certified personal trainer to explain how running gels work and which ones are worth your money.
RELATED: Best Carb Supplements
Medical disclaimer: This article is intended for educational and informational purposes only. It is not intended as a substitute for medical advice. For health advice, contact a licensed healthcare provider.
The Best Running Gels in 2023
What Are Running Gels?
Running gels, also called carb gels and energy gels, are small packets of carbohydrates that endurance athletes consume to maintain adequate blood sugar levels needed for long-duration exercise, once glycogen stores have been depleted. Glycogen1 is the form of carbohydrate stored in your muscles and your liver.
Endurance athletes may use gels before and during all training sessions, but they are of the utmost importance on race day, when relatively high-intensity exercise (greater than 65% VO2 max) is being sustained for hours on end, depending on the event.
These gels are a mix of simple sugars including monosaccharides (single sugars) and disaccharides (two sugar units). The monosaccharides typically found in the best energy gels include glucose and fructose; common disaccharides are sucrose and maltose. Increasingly, gels are beginning to utilize maltodextrin2, a novel carbohydrate that is highly processed to optimize digestion and absorption, and therefore optimized for delivery of nutrients to muscle tissue.
The exact blend of sugars varies from brand to brand and product to product, though the generally recommended amount is a 2:1 ratio of glucose to fructose, according to the National Academy of Sports Medicine's Sports Nutrition Coach3 certification program.
There are also whole-food or all-natural running gels, which contain high-sugar foods like fruit ground and blended into a paste. These gels don't have a perfect glucose-to-fructose ratio but they will still get the job done for most athletes.
Running gels typically also contain electrolytes for hydration and to support continued muscle contraction (sodium and potassium are critical in the muscle contraction process). Some contain branched-chain amino acids (BCAAs) and B vitamins, too.
There are caffeinated gels and uncaffeinated ones, and they come in all types of flavors, from citrus to espresso to salted caramel.
And by the way: Although these handy little packets of sugar are called running gels, they're not just running fuel. They are equally as fantastic for cyclists, triathletes, rowers, hikers, backpackers, and CrossFitters. Anyone who plans to exercise for longer than one hour at moderate intensities or longer than 20 minutes at high intensities can benefit from running gels.
RELATED: Half-Marathon Training Plan for Beginners
Best Overall Running Gel: Maurten Gel 100
Good for: Any type of endurance athlete looking for science-supported, easy-to-digest, quick fuel
Running gels don't get simpler than Maurten Gel 100. It's basically straight sugar in a packet, in an optimized ratio for quick digestion, absorption, and delivery of nutrients. The ingredients list is short, reading: water, glucose, fructose, calcium carbonate, gluconic acid (maintains the balance of electrolyte solutions), and sodium alginate (gelling agent).
These gels contain glucose and fructose in a 1-to-0.8 ratio, meaning there is 0.8 grams of fructose to every 1 gram of glucose. This is very close to the 2-to-1 ratio recommended by the National Academy of Sports Medicine. Additionally, Maurten claims that the hydrogel technology promotes faster digestion and absorption for optimized nutrient timing. It's hard to know if statements like that are true in practice, but I will say that I always feel great when I use Maurten gels.
The consistency of Maurten Gel 100 might come as a surprise to people who are familiar with other gels: It's more like Jell-O than the thick, syrupy consistency of most gels. To me, this makes the gel much easier to handle while running or cycling because it's less of a sticky mess.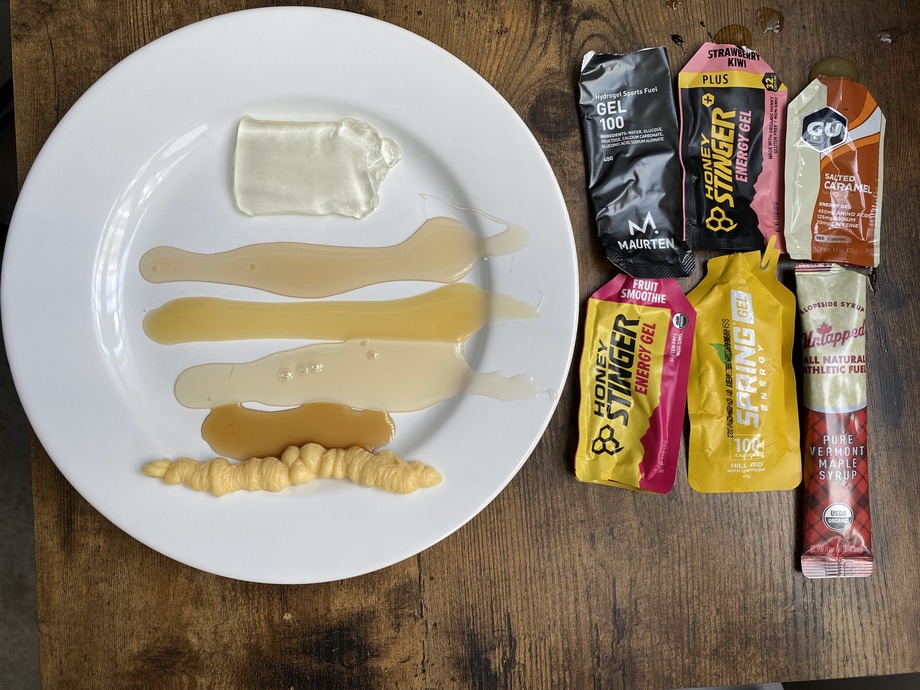 It's almost flavorless—it tastes like plain sweetness, kind of like sugar water—which isn't surprising considering the formula is essentially just sugar in water. The light taste and texture makes Gel 100 easy to get down when I feel repulsed by strong flavors, which often happens during heavy exercise.
RELATED: 11 Tips for Running Long-Distance
| | |
| --- | --- |
| Serving size | 40 g |
| Calories per serving | 100 |
| Carbs per serving | 25 g (25 g sugar) |
| Carb source | Glucose and fructose at 1:0.8 |
| Electrolytes per serving | 34 mg sodium; 21.6 mg calcium |
| Caffeine per serving | 0 mg |
| Flavors | Unflavored |
Best Caffeinated Running Gel: Honey Stinger Caffeinated Organic Energy Gel
Good for: Athletes who want an energy boost with their carb boost
Honey Stinger has been producing energy gels for more than 20 years, and the brand has been a staple in the running community for as long as I've been a part of it. Honey Stinger Organic Energy Gels are a whole-food gel composed primarily of tapioca syrup and honey for both energy and taste.
The other ingredients are potassium citrate, salt, citric acid, water, organic natural flavor, and green tea concentrate. The green tea concentrate provides 32 milligrams of caffeine per 31-gram packet. No, that's not a lot of caffeine, especially for people who intake a lot of it every day. But keep in mind that you'll likely be consuming these packets at regular intervals throughout your session or race, meaning you're getting a near-constant jolt of caffeine.
Plus, too much caffeine during exercise means you might be looking for a Port-A-Potty on your route… I think 32 milligrams is a nice compromise between a boost of energy and preventing unwanted digestive issues.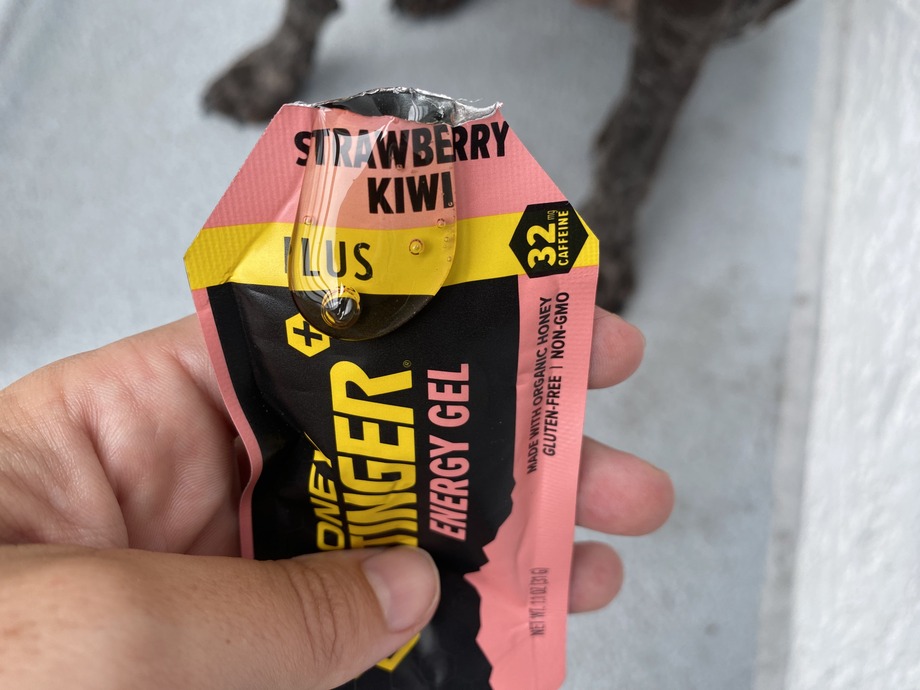 The honey flavor comes through nicely without being overpowering in the Strawberry Kiwi and Fruit Smoothie flavors (I haven't tried Acai Pomegranate yet). The Gold flavor doesn't have any added flavors, so it tastes like straight honey. That formula is a bit different; it includes B vitamins that don't appear in the other flavor options.
A friend of mine and member of my triathlon team, Laura, tried the caffeinated Honey Stinger, too, but she wasn't a fan. "It's too sweet, tasted fake, and was too gooey," she says. I didn't think it was terrible, but it's definitely not my favorite in terms of flavor.
The texture is very smooth and slightly liquidy, which makes it easy to consume compared to some thicker, molasses-like gels. Be careful opening these (don't squeeze them while ripping the tab open) so they don't spill.
RELATED: How to Build Stamina for Running
| | |
| --- | --- |
| Serving Size | 31 g |
| Calories per serving | 100 |
| Carbs per serving | 24 g (11 g sugar) |
| Carb source | Tapioca syrup, honey |
| Electrolytes per serving | 50 mg sodium, 4 mg calcium, 51 mg potassium |
| Caffeine per serving | 32 mg |
| Flavors | Strawberry Kiwi, Acai Pomegranate, Gold (honey), Fruit Smoothie |
Best-Textured Running Gel: PowerBar PowerGel Original
Good for: Those who struggle to get down denser gels during exercise
Truth be told, I didn't have high hopes for the PowerGel Original. I'm not typically a fan of other PowerBar products, but I decided to give these a go anyway, and I'm glad I did. I ended up really loving the texture of these gels. They are syrupy without being sickening, and the flavor is present but not too strong (I tried Tropical Fruit).
The texture is smooth—no chunks or grains like there are in whole-food options—and it goes down almost like a drink.
Even better than the superb texture is the 210 milligrams of sodium in PowerGel Original gels. This is really high compared to most gels, with sodium content generally falling between 50 and 100 milligrams. Sodium4 is essential for maintaining electrolyte balance (and therefore hydration), as well as continued muscle contraction.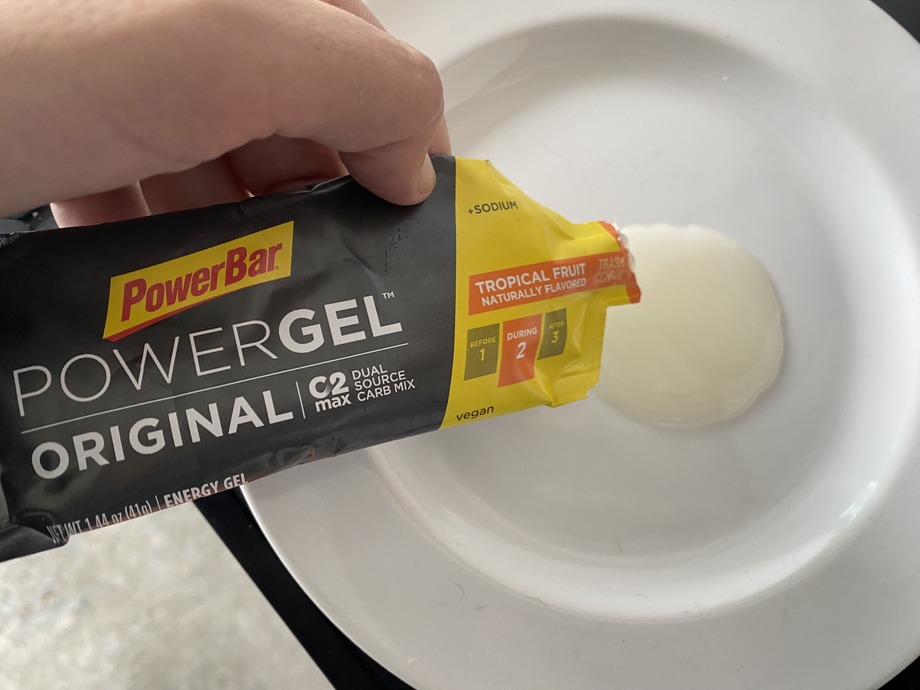 The carb source is also of note. PowerGel Original gels contain PowerBar's C2Max Dual Source Carb Mix, a combo of maltodextrin and fructose. Maltodextrin is a highly processed carbohydrate derived from starches like wheat, corn, potatoes, and rice.
It's heated, treated with acids and enzymes, and put through hydrolysis, which breaks chemical bonds in the carbohydrates. This makes maltodextrin extremely quick to digest. PowerBar doesn't state the ratio of maltodextrin to fructose, unfortunately.
PowerBar recommends consuming these gels with water to optimize hydration and nutrient delivery.
| | |
| --- | --- |
| Serving size | 41 g |
| Calories per serving | 100 |
| Carbs per serving | 26 g (11 g sugar) |
| Carb source | C2Max Dual Source Carb Mix (maltodextrin, fructose) |
| Electrolytes per serving | 210 mg sodium |
| Caffeine per serving | 0 g (50 mg in Green Apple Flavor) |
| Flavors | Green Apple, Tropical Fruit, Strawberry Banana, Vanilla, Salty Peanut |
Best Running Gel for Long Distances: GU Roctane Energy Gels
Good for: going the distance
GU energy gels might be the most well-known among all running gels. GU was the first running nutrition brand I was introduced to, and for a while, I only used GU products during all my training runs and races.
I like GU Roctane for my long training days, whether on the bike or on foot. Compared to the original GU gels, Roctane gels contain double the electrolytes.
They also contain triple the BCAAs, but the implications of BCAA intake on endurance exercise performance are unclear. Some research5 shows that consuming BCAAs during endurance exercise might reduce muscle damage; other research has shown that they might reduce perception of fatigue6. I wouldn't give too much weight to the BCAA content—as far as current research can tell, BCAAs are a "might help, won't hurt" sort of supplement.
What I really love about GU Roctane (other than the extra electrolytes and fast-digesting maltodextrin) is the inclusion of beta-alanine. Beta-alanine is a common pre-workout ingredient for its proven ability to fight fatigue during exercise7. This amino acid plays a role in the production of carnosine, a different amino acid, which acts as a buffer to lactic acid8.
Beta-alanine can increase your "time to fatigue" or TTF. This means you can exercise at higher intensities for longer periods of time. Studies have shown that beta-alanine can increase TTF by up to nearly 15%, such as in this study on cyclists9 who consumed it for four weeks.
GU gels are thick and sticky, which isn't for everyone. I don't mind them, but my teammate Laura said the gel stuck to her mouth and she needed more water to wash it down than with other gels,
However, a friend of mine who used some gels to complete an 18-mile ruck says "GU is just pushing out a good product" and that he favored GU gels over the others he used.
| | |
| --- | --- |
| Serving Size | 32 g |
| Calories per serving | 100 |
| Carbs per serving | 21 g (6 g sugar) |
| Carb source | Maltodextrin, fructose |
| Electrolytes per serving | 125 mg sodium, 35 mg calcium |
| Caffeine per serving | 35-70 mg depending on flavor |
| Flavors | Blueberry Pomegranate, Chocolate Coconut, Vanilla Orange (caffeinated), Pineapple, Cherry Lime (caffeinated), Strawberry Kiwi, Lemonade, Sea Salt Chocolate (caffeinated), Tutti Frutti (caffeinated), Salted Lime (caffeinated), Cold Brew Coffee (caffeinated) |
Best-Tasting Running Gel: GU Liquid Energy Packets
Good for: Beginners who aren't used to the "unique" taste and texture of gels yet
I've been running for years, so I'm used to gels and their properties that can be somewhat unpleasant. When your heart rate is high, you're hot and dripping sweat, and your muscles burn, sucking down a thick syrupy substance with a chemical taste is just… not ideal, to put it nicely.
Gels are an acquired taste, that's for sure—more of a necessity than something most endurance athletes actually want to consume. GU Liquid Energy Packets are a good option for beginners who still need some practice getting gels down out on the course. They are by far the easiest to get down mid-run. These aren't actually a gel, they're a liquid, so it's like drinking juice!
I tried the Cola and Lemonade flavors and loved both. I recommend refrigerating them for an even better taste. You can also freeze them for a slushy texture.
These contain highly digestible maltodextrin and fructose, although GU doesn't state in what ratio. They contain sea salt for flavor and hydration, boosting the sodium content to a very respectable 190 milligrams per serving.
The downside is that the packet itself is quite large compared to other gels. They don't fit in race belts with elastic loops to hold gels, so you'll need a running vest or a running belt to hold these. On the bike, I can stuff one into my cycling jersey pocket but it takes more effort to get out while in motion than a smaller package.
| | |
| --- | --- |
| Serving size | 60 g |
| Calories per serving | 95 |
| Carbs per serving | 23 g (7 g sugar) |
| Carb source | Maltodextrin, fructose |
| Electrolytes per serving | 190 mg sodium |
| Caffeine per serving | 20-40 mg depending on flavor |
| Flavors | Lemonade, Strawberry Banana, Orange (caffeinated), Cola (caffeinated), Coffee (caffeinated) |
Best Organic Running Gel: Honey Stinger Original Organic Energy Gel
Good for: Athletes who prefer to eat organic products
Honey Stinger Original Organic Energy Gel is the same as the Honey Stinger Caffeinated Energy Gel described above. The only difference is the lack of caffeine.
The first two ingredients are organic tapioca syrup and organic honey, which serve dual purposes as the carb sources and for taste. Potassium citrate and salt provide electrolytes, and citric acid, water, and organic natural flavorings make up the rest of the gel.
These organic gels are available in a few flavors, including Fruit Smoothie, Gold (honey flavored), and Acai Pomegranate. The Strawberry Kiwi flavor is only available in the caffeinated version.
I personally favor the Fruit Smoothie flavor, which has notes of strawberry, cherry, and orange. The texture is liquidy enough to be refrigerated without getting too thick or syrupy, and these taste great cold.
You'll get a nice energy boost with 24 grams of carbs and 11 grams of sugar from the tapioca syrup and honey, as well as 50 milligrams of both potassium and sodium.

RELATED: Best Long-Distance Running Shoes
| | |
| --- | --- |
| Calories per serving | 100 |
| Carbs per serving | 24 g (11 g sugar) |
| Carb source | Tapioca syrup, honey |
| Electrolytes per serving | 50 mg sodium, 50 mg potassium, 4 mg calcium |
| Caffeine per serving | 0 mg |
| Flavors | Fruit Smoothie, Gold, Acai Pomegranate, Strawberry Kiwi (caffeinated) |
Best All-Natural Running Gel: Untapped Athletic Fuel 100% Pure Maple Syrup Gels
Good for: People who like syrup
Folks, it really doesn't get more natural than this. Untapped Athletic Fuel gels are made entirely of natural ingredients—er, a single natural ingredient, actually. This is straight maple syrup in a tear-to-open packet.
Heads up: You will NOT like these if you do not like maple syrup. However, if you're a syrup fanatic, go buy these immediately. You can use them for your long runs and then pour one on your toaster waffles when you get back. Untapped Athletic Fuel plus Kodiak Cake protein pancakes equals *chef's kiss.*
Laura, a member of my triathlon team, agrees, saying that Untapped syrups are "way too sweet." She was unable to finish one, but ended up using it on breakfast instead. Another friend used Untapped during an 18-mile ruck workout and said, "Not much to this one—actually syrup. Bomb, 4 out of 5 stars." To each his own.
There are 26 grams of simple carbohydrates (25 of which are sugars) in Untapped Athletic Fuel 100% Pure Maple Syrup packets. That's par for the course when looking at other popular options.
Maple syrup contains more naturally occurring nutrients than lab-created gels, which is not necessarily a performance factor, but is a nice touch. Each 38-gram packet contains magnesium, zinc, thiamin, riboflavin, and manganese in addition to the normal inclusions of sodium, calcium, and potassium.
My main complaint is that there's virtually no sodium in these. If you plan to use maple syrup as your only gel during training or racing, please also have a sports drink with sodium or salt tablets handy. In some of the other flavors—Salted Raspberry, Salted Cocoa, Salted Citrus—there is 60 to 100 milligrams of sodium, which is much better.
RELATED: Best Running Shoes
| | |
| --- | --- |
| Serving Size | 38 g |
| Calories per serving | 100 |
| Carbs per serving | 26 g (25 g sugar) |
| Carb source | Maple syrup |
| Electrolytes per serving | 5 mg sodium, 39 mg calcium, 82 mg potassium |
| Caffeine per serving | 0 mg |
| Flavors | Maple Syrup, Coffee, Salted Raspberry, Salted Cocoa, Salted Citrus |
Best Gluten-Free Running Gel: Carb Boom! Apple Cinnamon Energy Gel
Good for: People who like applesauce
The gist here is similar to that of the maple syrup gels: If you like applesauce, add to cart. If you do not like applesauce, skip these—because they taste just like cinnamon applesauce, which is awesome if you love applesauce but not awesome if you don't.
I do like applesauce so I am pleased with Carb Boom! Apple Cinnamon Energy Gels. I'd honestly eat these just to eat them. The texture is smooth and a little sticky, but in a good way, like apple pie filling.
These contain an interesting 9-to-1 ratio of maltodextrin to fructose with 26 total grams of carbohydrates and 3 grams of sugar.
That's the biggest differential I've seen in any running gels to date other than Science In Sport gels (covered later in this guide). This could be really beneficial for people who tend to struggle digestively—such as with nausea or gut rumbling—when they consume too much sugar.
Carb Boom! Apple Cinnamon gels are made with real apple puree and apple concentrate, which is what makes the apple flavor come through so well. There are no artificial flavors, colors, or sweeteners, and all of the flavor options are gluten-free.
RELATED: How to Choose Running Shoes
| | |
| --- | --- |
| Serving Size | 41 g |
| Calories per serving | 110 |
| Carbs per serving | 26 |
| Carb source | 3 |
| Electrolytes per serving | 50 mg sodium, 50 mg potassium |
| Caffeine per serving | 0 mg |
| Flavors | Apple Cinnamon, Banana Peach, Grape Pomegranate, Raspberry, Strawberry Kiwi, Vanilla Orange (caffeinated) |
Best Vegan Running Gel: Huma Chia Real Food Energy Gels
Good for: Athletes who want a whole-food, vegan option
Huma Chia Energy Gels are a good choice for vegan athletes and anyone who would prefer to consume something that's more whole-food based. All Huma gels are vegan, gluten-free, and made with real fruit purees.
They're available in eight flavors: Strawberries, Apple Cinnamon, Mangoes, Blueberries, Mocha Cinnamon, Chocolate, Lemonade, Raspberries. The Mango was my favorite, but to be frank, I wasn't a huge fan of the chia seeds. The gels taste great and digest easily, but the chia component creates this bumpy, lumpy texture that I couldn't get past.
From a performance nutrition standpoint, Huma gels aren't the best because they contain fiber and protein. It's only 2 grams and 1 gram respectively, but you really don't want to consume anything that slows down the digestion process when you're training, and especially not when you're racing. They do contain a nice 105 milligrams of sodium, which is more than some lab-created gels.
Recreational athletes who are just trying not to bonk during a long session should do just fine with Huma gels. Those trying to smash personal records or training to be competitive athletes might want to go with something more dialed-in for performance benefits, like Maurten Gel 100 or GU Roctane.
My friend and teammate Laura said the taste is too sweet for her, but really liked the puree-style consistency and that these felt easy on her stomach.
I would highly recommend Huma gels for hiking and backpacking, though, since you're exercising at much lower intensities. Plus, the fruit flavors are sure to be refreshing on a hot trail day.
| | |
| --- | --- |
| Serving Size | 41 g |
| Calories per serving | 100 |
| Carbs per serving | 21 g (2 g fiber, 14 g sugar) |
| Carb source | Fruit puree, cane sugar, brown rice syrup |
| Electrolytes per serving | 105 mg sodium |
| Caffeine per serving | 0-25 mg depending on flavor |
| Flavors | Strawberries, Apple Cinnamon, Mangoes, Blueberries, Mocha Cinnamon, Chocolate, Lemonade, Raspberries |
Best Running Gel for Hydration: Science In Sport Isotonic Energy Gel + Electrolytes
Good for: Athletes who need to optimize hydration
Science In Sport gels are isotonic gels. An isotonic solution is one that has the same osmotic pressure as another solution. Osmotic pressure10 has a complex definition, but in simple terms, it can be described as the minimum pressure needed to stop the flow of water through a membrane—or osmosis, if you remember that from high school biology.
In this case, the gels are the isotonic solution and your body cells are the other solution. So Science In Sport gels are designed to have the same osmotic pressure as the cells in your body. This means that they should not alter the fluid balance of your cells, thus maintaining ideal fluid balance—and thus hydration—during exercise.
What this means practically is that you should be able to consume Science in Sport gels without the usual need for simultaneous water consumption.
As Science in Sport puts it, this formula "delivers easy-to-digest carbohydrate that can be used as part of your fueling strategy without the liquid volume that often leaves you feeling bloated and sluggish."
Of course, you still need to replace total water loss during exercise, so don't inadvertently dehydrate yourself by thinking these gels are a magic replacement for water. (See our full guide to hydration for runners for more information.)
In addition to the isotonic formula that helps with hydration, these gels contain an electrolyte blend that is 477 milligrams in total and contains sodium chloride, sodium citrate, potassium chloride, and magnesium citrate. In total, there are 118 milligrams of sodium, 9.5 milligrams of potassium, and 1.5 milligrams of magnesium.
I like the Salted Strawberry flavor best of the three available. It's sweet and definitely salty, but not terribly so. The texture is thin and runny, so these are quite easy to consume. The package size is larger than I like, but that's necessary due to the isotonic formula that contains more water than other gels.
| | |
| --- | --- |
| Serving size | Not stated |
| Calories per serving | 87 |
| Carbs per serving | 22 g (1 g sugar) |
| Carb source | Maltodextrin |
| Electrolytes per serving | 477 mg electrolyte blend containing sodium chloride, sodium citrate, potassium chloride, and magnesium citrate |
| Caffeine per serving | 0 mg |
| Flavors | Lemon and Mint, Salted Strawberry, Raspberry |
Other Running Gels We Researched
In addition to the above running gels, here are a handful more worth mentioning.
CLIF SHOT Energy Gels: I really liked these and they were slated to be the "best-tasting running gel" in this guide. Unfortunately, CLIF discontinued them as of May 1, 2023. You can still get them while supplies last.
Spring Energy Gels: I wasn't a fan of the texture of these. It's ultra-thick, much more solid than any other gels I've tried, and feels sticky in the mouth.
GU Energy Chews: These aren't gels, but gummy-like chews. They're fine, and they work, but I'd prefer a gel in most cases over something I have to chew.
Torq Energy Gels: I didn't get to try these, but wanted to mention them here because they contain the recommended 2:1 glucose-to-fructose ratio.
Muir Energy Gels: These aren't my favorite. They're a whole-food option; the texture is insanely thick, almost solid, and there are crunchy bits due to the berry seeds. They taste OK and might be good for hikers. But Laura, my triathlon teammate, liked the Muir gels, saying that they "felt natural, like a baby food, and that made my stomach feel good."
How We Picked and Tested the Best Running Gels
I personally chose all of the running gels on this list after buying them and using them during various training sessions and races, including a sprint triathlon and an Olympic triathlon. I took various gels with me on long runs, training rides, and even on a couple of hikes when I briefly escaped my ultra-flat home terrain of Florida.
To determine the best running gels, I noted factors like taste, texture, ease of consumption, packaging (i.e., was it easy to open while riding a bike?), ingredients, grams of carbs, and any side effects.
I also took note of how I felt during the training sessions, keeping in mind that performance is dictated by so many factors, including hydration, sleep, stress, weather, and more.
I enlisted some friends to help, too. One member of my triathlon team tried several of the gels during training; another friend used them to fuel during an 18-mile ruck competition.
Benefits of Running Gels
Running gels support endurance exercise by maintaining blood glucose levels and sparing glycogen stores.
According to the National Academy of Sports Medicine3, "As exercise duration increases, the body begins to use less of the stored forms of energy, which are glycogen [stored carbs] and intramuscular triglycerides [stored fats], and begins using more circulating glucose and fatty acids to fuel exercise. This is primarily because the muscular stores of fatty acids and glucose begin to run low over time."
When this happens, an exogenous energy source is required—that's food. Or, in this case, sugar.
If you run your muscular fuel sources dry and don't replenish with carbohydrates, your blood sugar levels will drop and, at best, you'll struggle to finish your training session or race and bonk. "Bonking" is the endurance athlete's term for hitting the wall as a result of low fuel, and it can feel like dizziness, shakiness, extreme fatigue, and legs-are-bricks syndrome.
At worst, you'll faint.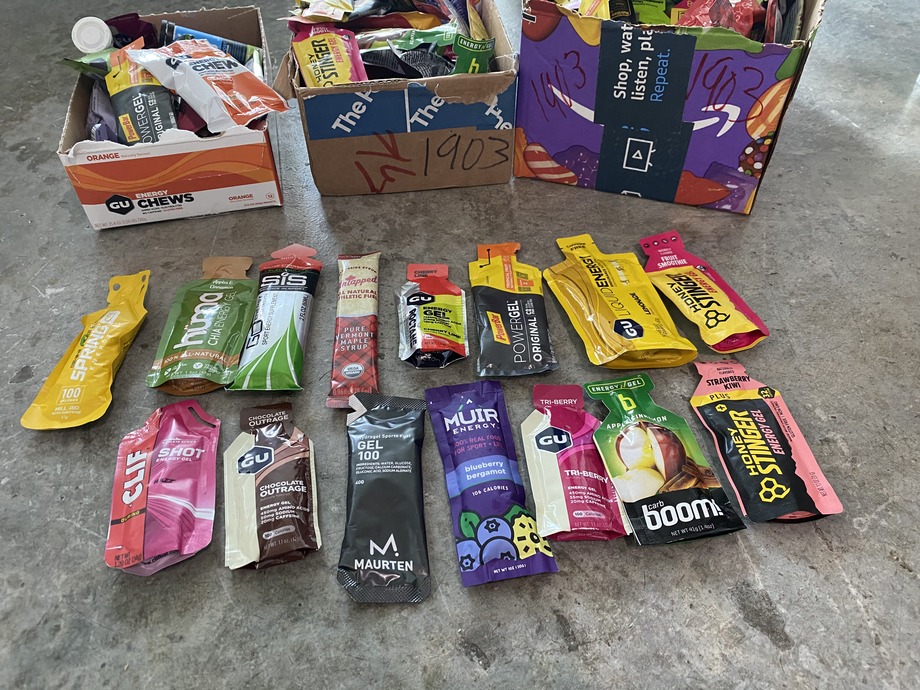 The National Academy of Sports Medicine3 says, "When blood glucose concentrations drop to such critical levels, the function of the brain is affected and results in poor decision making, slower reaction times, and enhanced perception of effort, because the brain solely relies on glucose as its primary fuel source. In this regard, it has been proposed that the brain is able to sense the diminished availability of glucose and brings about the termination of exercise as a protective mechanism."
In short, running gels keep you going when your body is in need of fuel in the near-immediate future. They're easily one of the best supplements for runners.
Third-Party Testing
Some running gels and energy gels are regulated as foods by the FDA, not as supplements, so they are subject to stringent FDA legislation and don't need to be third-party tested like pre-workout and BCAAs do. On a box of gels made of whole foods (such as Huma, Muir, or Honey Stinger) you'll see a complete nutrition facts label just like the labels you see on all foods in grocery stores.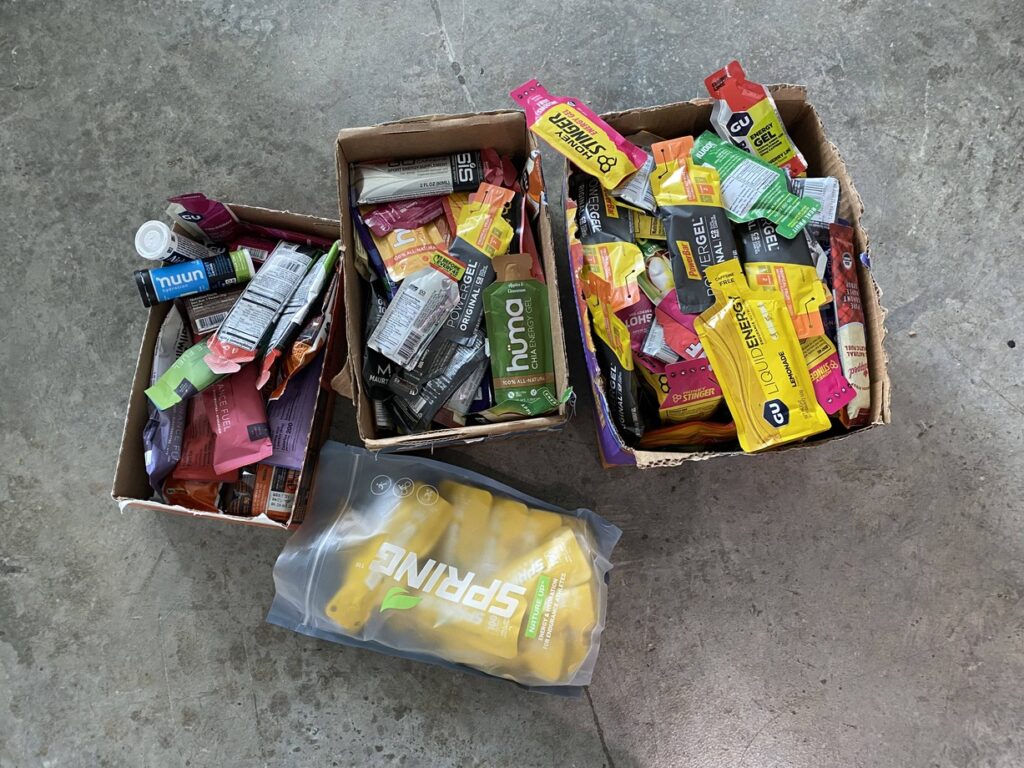 Other gels are sold as supplements and have a supplements facts label, not a nutrition facts label, in which case you will want to look for proof of third-party testing if that's important to you. Some gels are sold as foods with a nutrition facts label and are still third-party tested, which is the best-case scenario. Athletes who are subject to drug testing should always choose supplements that are screened for banned substances.
Buying Guide: What to Look for in Running Gels
The most important thing to understand about running gels and how they work is that the human body is only capable of processing a finite amount of carbohydrate per hour.
According to the National Academy of Sports Medicine3, the body can process 60 grams of glucose and 30 grams of fructose per hour, so 90 grams of carbohydrates per hour in total.
That said, here are the questions you should ask yourself when evaluating a running gel:
What types of carbohydrates are in the gel and how much of each?
What is the ratio of glucose to fructose or maltodextrin to fructose?
Does it contain caffeine? How much?
Does it contain electrolytes? Which ones, and how much? You'll want to intake a minimum of 300 to 600 milligrams of sodium11 per hour, so make sure your nutrition strategy aligns with that. (Generally, gels alone won't have enough sodium for very long-duration exercise, such as an Ironman or an ultramarathon.)
How many ounces/grams is the packet? Is it small enough to fit in a cycling jersey pocket or a running race belt?
Additionally, take a look at customer reviews to learn about the following factors:
Taste
Texture
Whether the packet is easy to open or a huge pain
Flavor options
Side effects
FAQs About Running Gels
Do running gels cause an upset stomach? 
People with sensitive stomachs may find that energy gels cause gastrointestinal problems, specifically nausea. Anyone, even those who don't have sensitive stomachs, may experience nausea from consuming too many gels in too short a timeframe. Remember, your body can digest and process a maximum of 60 grams of glucose and 30 grams of fructose per hour3. Consuming more than that doesn't do any good and can cause an upset stomach.
Which is better, energy bars or energy gels? 
Both energy gels and bars have their place. Many endurance athletes prefer gels because they come in very small packages and are easy to consume. Since they're in near-liquid form, they're also easier and quicker for your body to digest, which is essential during long sessions and races when glycogen is depleting. Energy bars are more beneficial when taken at least an hour before training or racing, and they can be good replenishment afterward.
Does an energy drink do the same thing as energy gel?
The standard energy drink does not compare to energy gels in terms of endurance nutrition. However, a sports drink that contains glucose, fructose, electrolytes, and, if desired, caffeine and amino acids, can work in place of gels. See the best sports drinks and best electrolyte drinks.
These statements have not been evaluated by the Food and Drug Administration. This product is not intended to diagnose, treat, cure, or prevent any diseases.
References