The Tsunami Barbell is no ordinary barbell. It doesn't look like a barbell (other than the fact that it's straight and long) and it certainly doesn't perform like a barbell. But, at least according to the creators, it should be able to outperform barbells in many areas.
Before I get into the build and performance of the bar, I want to discuss what it's made for and whether their claims are actually substantiated.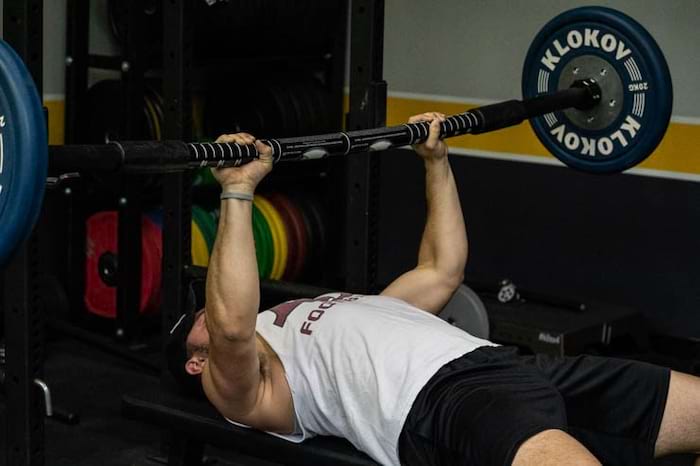 The Tsunami Bar is designed to be used to "train for force and speed with the same bar, which develops power and power is the foundation of athletic performance in most sports." In other words, although it can be used by the general public, its initial design was so it could be used for athletics, most notably football. In addition to its use in sport's training, it's also suggested to be used as training for the bench and squat for powerlifting.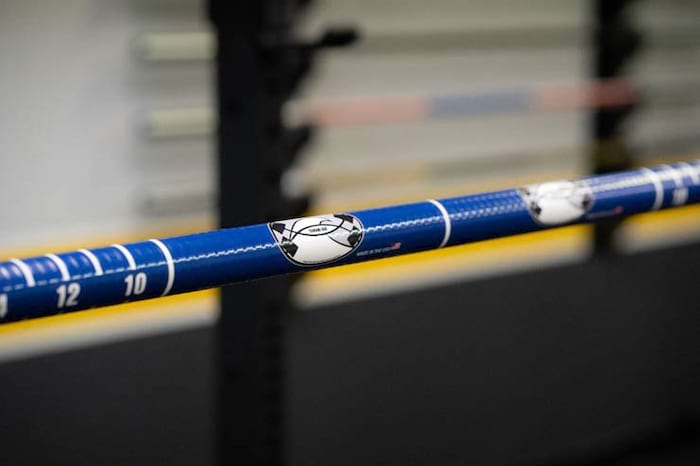 Although there is a ton of information on the Tsunami Bar website, I'll be the first to say it is a bit difficult to navigate and read. However, after scrolling and clicking through just about every link I could find, I've come away with a good idea for the purpose of the bar.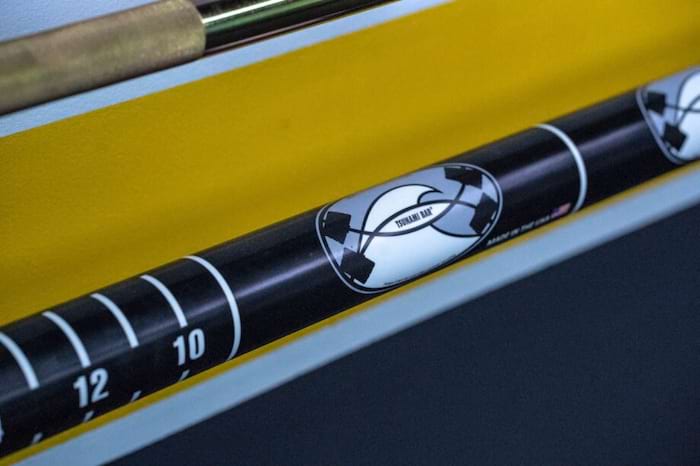 The Tsunami Bar is not designed to replace traditional steel barbells. Although I'm sure they would love to sell so many Tsunami Bars that steel barbells were done away with, they recognize that the traditional barbell is still very much-needed in training.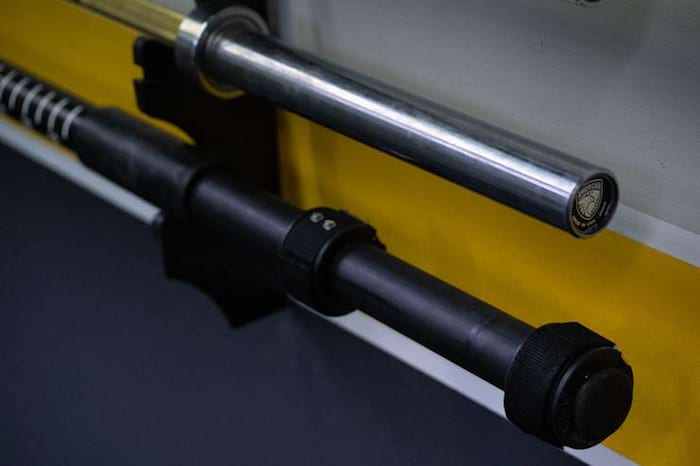 In fact, in a discussion with Rob Thames (Tsunami Bars Marketing Head) he informed me that he did not suggest people get rid of their barbells in favor of the Tsunami Bar. This is what he had to say, "I am not suggesting everyone trash their steel barbells. Steel bars, Tsunami Bars, camber bars, Swiss bars, axle bars, etc. are all tools in the toolbox, and each should be used in an effort to elicit different muscle recruitment patterns, motor neuron firing, CNS response, etc."
I really liked this response. Too many companies that come out with a "revolutionary" idea feel as if everything should be given up in favor of their new tool. This simply isn't so in the majority of cases, and certainly not for the Tsunami Bar.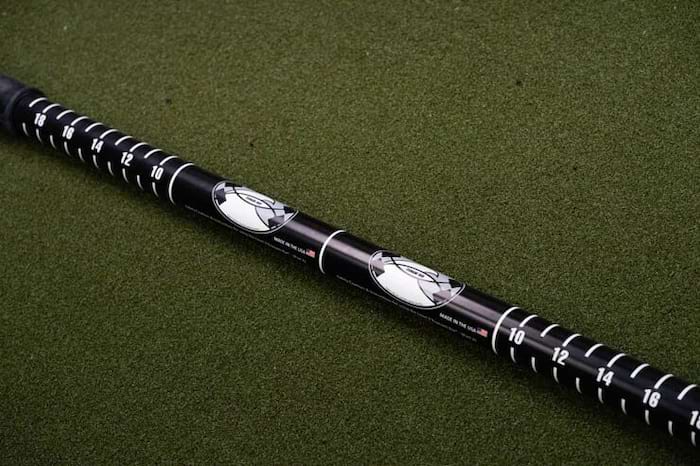 The creators of the Tsunami Bar are not reliant solely upon marketing language. Going through their site, it would sometimes seem like that, however, they have various independent studies that do prove the effectiveness of the Tsunami Bar.
For instance, in this study, it was determined that the Tsunami Bar generated significantly greater forces than an Olympic Barbell due to the "flexible nature of the Tsunami Bar allowing for greater force production." This study was done using varsity football players performing the bench press (the movement I feel in our tests was best suited for the Tsunami Bar.)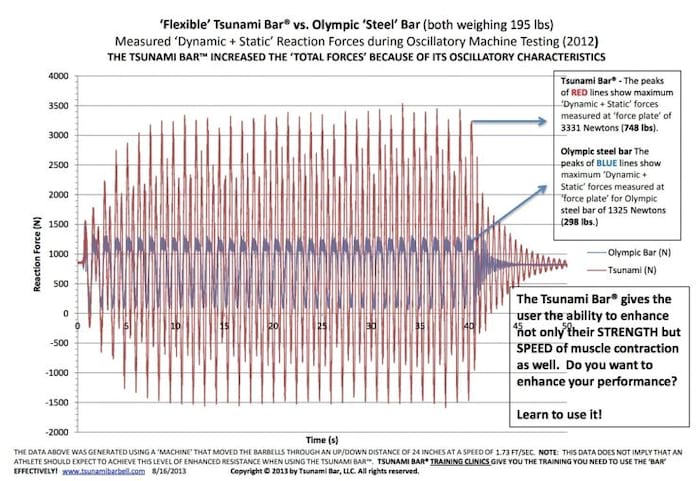 In addition, Tsunami Barbell has a chart showing the "Measured Dynamic + Static Reaction Forces during Oscillatory Machine Testing." In other words, they strapped two bars to a machine that oscillated up and down and measured the reaction forces. Due to its oscillatory characteristics, it was determined that the Tsunami Bar increased the "total forces" dramatically compared to an Olympic Barbell.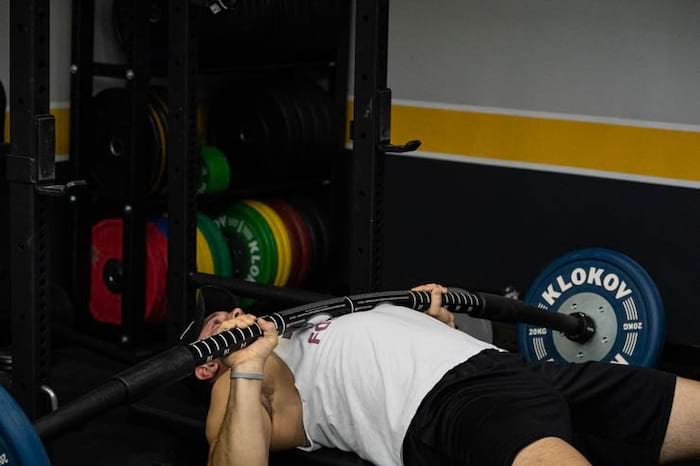 All of this is to say, there is evidence to suggest that the Tsunami Bar does what it claims: allow greater force production than a standard Olympic Barbell.
Now that we've determined the bar is more than just a gimmick, let's take a look at its build.
The Tsunami Bar is 90″ long and 3″ in diameter. You read that right, it has a diameter of 76mm which is almost three times the size of a standard Olympic Barbell. This fact, along with its oscillating properties is the reason the bar isn't used for things like deadlifts and other pulling movements. The 3″ diameter feels great for benching, overhead pressing, as well as squats, however.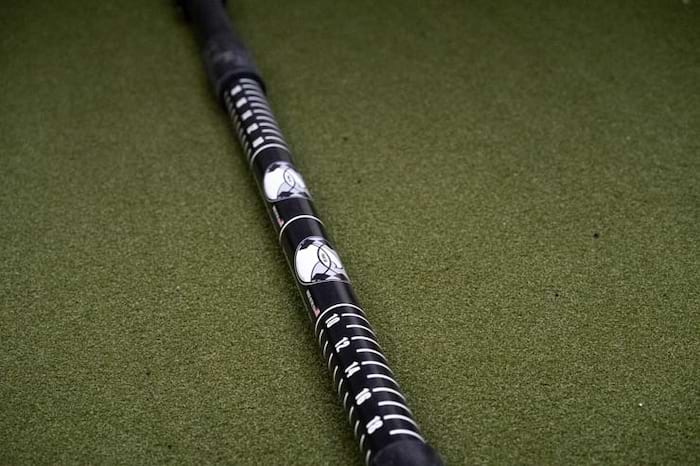 The bar itself feels like a really high-quality PVC pipe, however, it's much more than that. The Tsunami Bar is made of a patented composite and thermoplastic material that's both flexy and incredibly durable. Seriously, after talking to Rob at Tsunami Bar, it became apparent that there isn't much this bar can't take.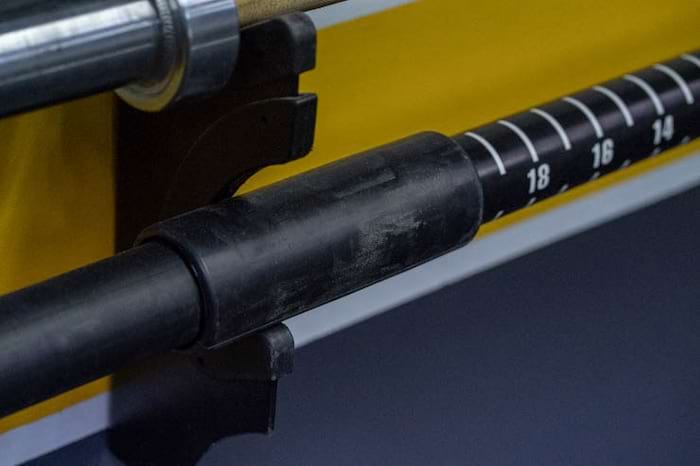 Due to the pliability of the material when a loaded Tsunami Bar is placed over the upper back and shoulders, the degree of direct axial spinal load is greatly reduced to its parabolic bend in the bar. Rather than the load being stacked on your spine, the perceived load is displaced towards the end of the bar where the plates are. This transfers the engagement from the axial spine to the sagittal plane. For this reason, the Tsunami Bar can actually be used for various plyometric movements where an Olympic Barbell would crush you.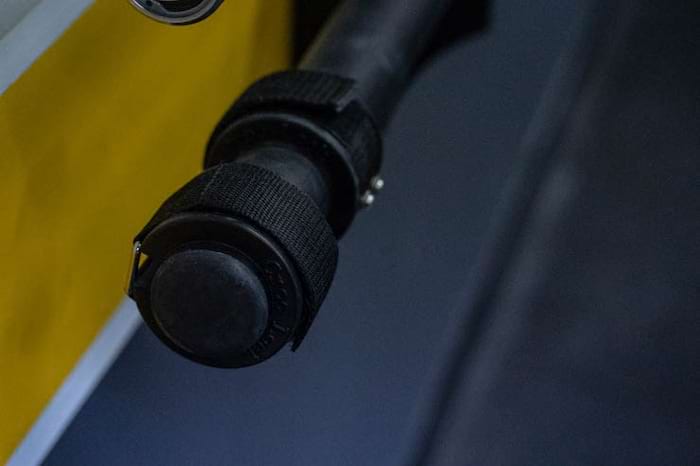 On the end of the bar are two Croc Lock Collars. These collars can be used for barbells, but are specially designed for the Tsunami Bar.
The way the collars work is you leave one on the inside, closest to the "shaft" of the bar, place the weight plate on, put the outside collar on (which has a metal pin to secure the plate on), and then slide the inside collar to sandwich the weight between the two collars.
They're easy to install and the velcro holds them tight (although I am worried the velcro could wear out over time.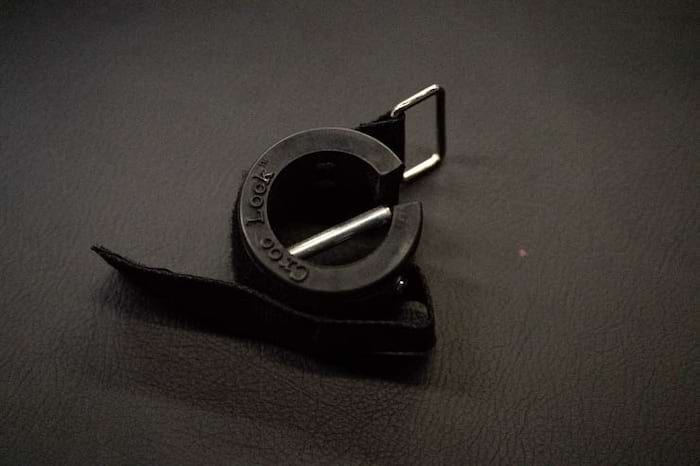 The Tsunami Bars we received for review are the Level 3 and the Light-Plus – Standard Grip. The Level 3 is their most popular bar while the Light Plus has a 1.25″ diameter that is closer to what most people are used to. The Level 3 Tsunami Bar can be loaded up to 135 lbs on each end of the bar (although I don't see any issues adding more) and the Light-Plus can be loaded up to 102 lbs total.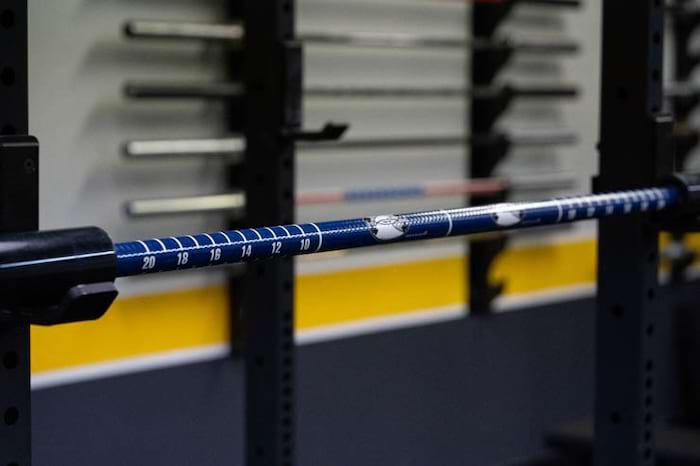 One thing that I feel needs to be mentioned is the vast amount of products that Tsunami Bar offers. Having only been introduced in 2012, it's crazy the amount of variations Tsunami Bar has brought to market. However, although there are many available for purchase, it's difficult to navigate and decide which bar to choose.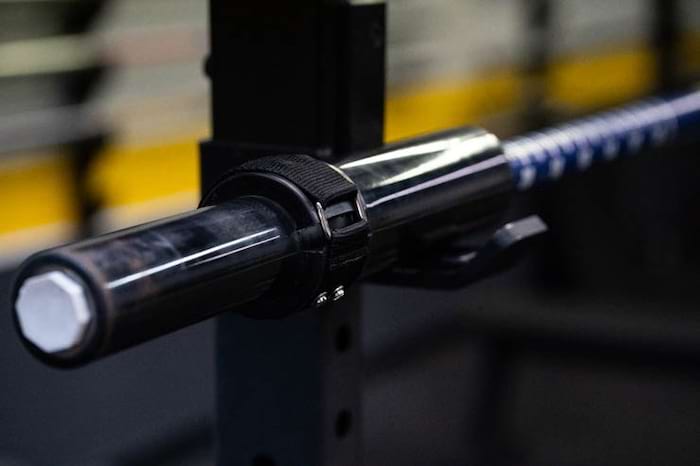 Here are Tsunami Bars that are sold through various retailers (these don't include LAT Bars, Rollers, Handles or any of their other products):
Tsunami Bar Light – Standard Grip
Tsunami Bar Light-Plus – Standard Grip
Tsunami Bar Ultra-Light – Standard Grip
Tsunami Bar LIGHT Plus
Tsunami Bar Camo
Tsunami Bar Ultra-LIGHT
Tsunami Bar LIGHT
Level 1 Tsunami Bar
Level 3 Tsunami Bar
Level 5 Tsunami Bar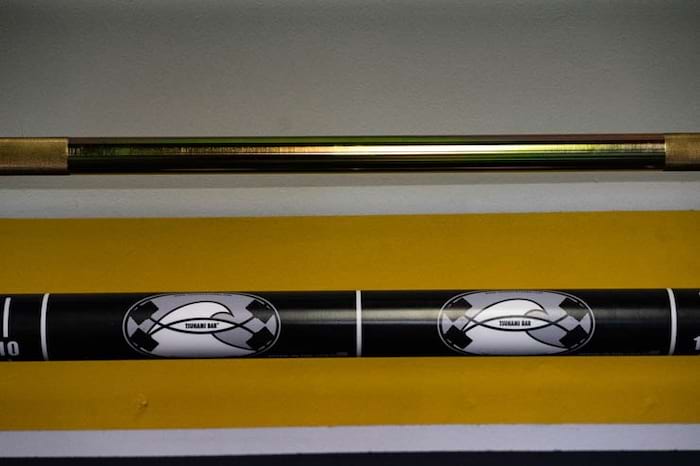 See what I mean? How do you decide which one to choose? Well, we'd like to have all of them in house to tell you which ones are best for certain applications, but at this time, we'd probably suggest that most of our readers stick to the Level 3 Tsunami Bar. It's going to be able to handle the weight you're likely to use with the bar and it's going to be the most versatile.
On the shaft of the bar is a big sticker. If you've read any of our reviews then you likely know how big a fan of stickers we are (we're not) and this was actually a disclaimer Rob (Tsunami Marketing Head) gave saying, "the bar is covered in a sticker, it's the best way we've figured out how to add grip and brand the bar."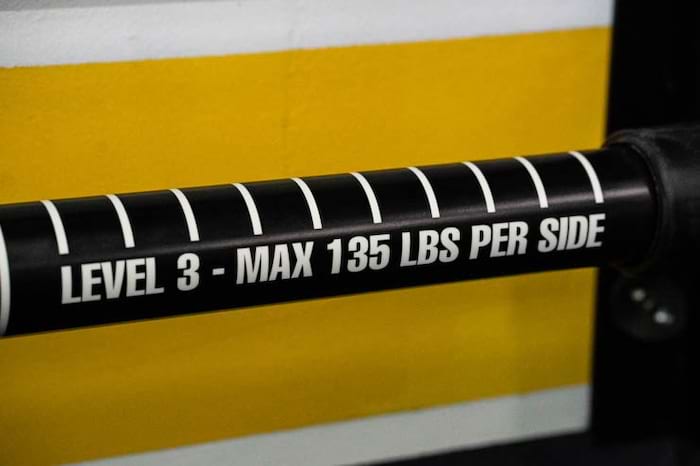 The sticker does help for evening up hand placement, and doesn't provide too bad of a grip. My main worry with it is that it will wear over time and end up looking less than attractive. I suggest using Cerakote. I'm not sure how it sticks to plastic, but It would allow for a lot of color as well as various markings.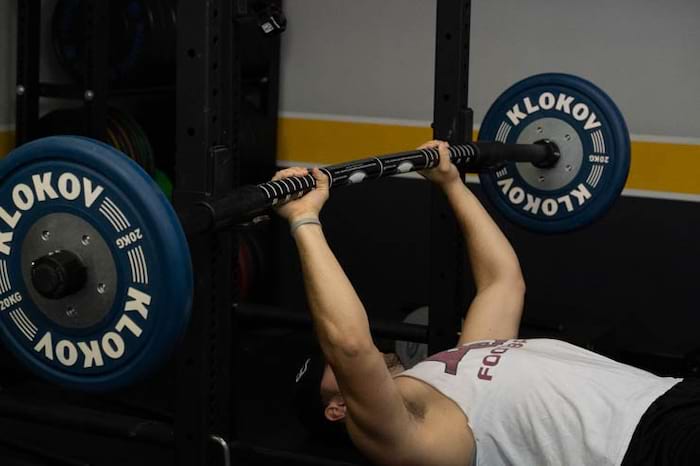 In regards to performance, I'm actually a believer. Do I think it should replace a steel barbell? No, of course not. But, I do believe it's a worthwhile tool to add to your specialty bar arsenal.
I found myself using it for bench sets as accessory work instead of the bamboo bar (these two bars are very different and would be an apple to orange comparison.) We've also used it with some of our athletes at the gym for various plyometric exercises and bounding. Some of our elderly clients like it as well because they find it less jarring on their joints.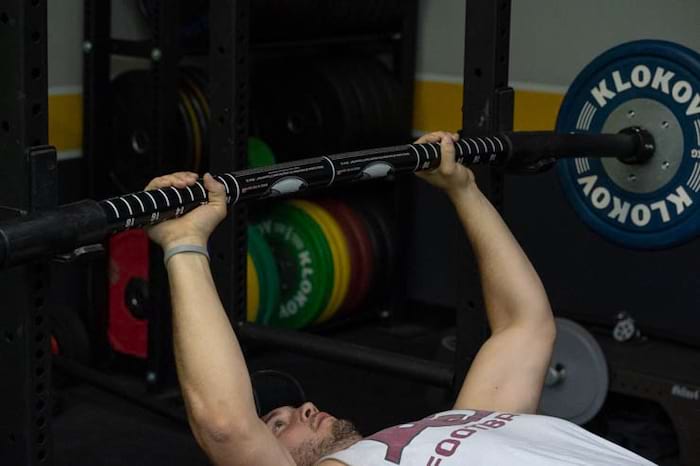 We were suggested to use the bar for power cleans, but to be honest, I didn't like it for that purpose. It was too hard to control (that may be the training effect) and I was worried about injury.
In conclusion, we see the usefulness of the Tsunami Bar. I believe many different strength programs would be benefited by their use and we're excited to continue to test the bar in various ways.