We test and review fitness products based on an independent, multi-point methodology. If you use our links to purchase something, we may earn a commission. Read our disclosures.
I've said it once and I'll say it again: There is nothing we at Garage Gym Reviews love more than a good value, and that's exactly what you'll get with our two-in-one Exxentric SingleExx review.
That's right, you're getting our thoughts on two pieces of exercise equipment—those being a leg extension machine called LegExx and a leg curl machine known as LegFlexx. These durable and high-end machines aren't a good value for most people, but there are some for whom this would be a good investment.
Want to know which category you fall into? Keep on reading to get our full thoughts.
We Have the Best Fitness Equipment Exxperts
Did you know that Butterball has a toll-free hotline staffed with turkey experts who can help you cook the perfect Thanksgiving turkey? Well, we're kind of like that but with home gym equipment recommendations.
While you can't give us a call, we are on social media, and our team of training equipment experts made up of certified personal trainers, CrossFit Level 1 Trainers, nutrition experts, and competitive weightlifters and endurance athletes will be happy to assist you.
You can also continue reading this review, or check out our many thousands of articles on everything from cleaning barbells to the best home gym flooring.
Exxentric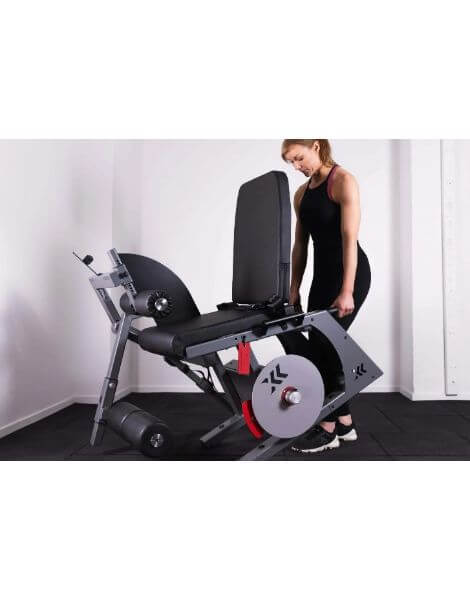 GGR Score: 4.2
Product Highlights
Uses the latest flywheel technology

Various resistance levels

Adjustable range of motion

Extra large flywheel
Pros & Cons
Pros
Pre-attached drive belt
Built-in handles for mobility
kGrip for eccentric overload training
Phone holder on the machine
Cons
On the more expensive side
Flywheels sold separately
You have to download the kMeter app to track your progress
Bottom Line
The Exxentric Single Exx uses revolutionary flywheel training technology that allows individuals to train their upper and lower body using a load that matches their own exertion level.
A Quick Look at the Exxentric SingleExx
The Exxentric SingleExx is a pair of high-end machines that each do a single exercise, hence the name. The Exxentric LegExx is a leg extension machine and the Exxentric LegFlexx is for leg curls, sometimes called hamstring curls.
These machines are special because they're powered by a flywheel instead of a weight stack or plates, as you see on other leg extension and leg curl machines. In addition to creating a smooth range of motion, the flywheel allows the trainee to overload their leg muscles during the eccentric phase of a lift, or the part of the exercise when you're lengthening the legs.
We'll dive a little deeper into the benefits of flywheels and the importance of eccentric training later in this piece.
Before You Buy
While the price tag is very high, there are many financing options available.
You can purchase additional flywheels on Exxentric's website to increase the resistance of your machine.
Video Review
Is the Exxentric SingleExx Worth It?
Let's be honest: Most home gym owners do not need an Exxentric LegExx or Exxentric LegFlexx. On top of being more than $6,000 each, which goes up to $7,000 when you factor in taxes and shipping and handling, both machines only do one exercise and they're not very compact.
Most home gym owners would be better off with finding machines that can do a variety of exercises rather than just one. That said, are there people who could probably benefit from the Exxentric SingleExx machines? Yes, but they're very few and far in between.
Great for:
Bodybuilders, powerlifters, or anyone else who needs to target specific muscles with heavy weights.
Anyone who owns a fitness center, such as a commercial gym
People who are looking for the best-of-the-best
Exxentric SingleExx Specs
| | | |
| --- | --- | --- |
| | Exxentric LegExx | Exxentric LegFlexx |
| Footprint | 31.5" L x 42.5" W x 43.3" H | 31.5" L x 37.4" W x 45.3" H |
| Exercise | Leg extensions | Leg curls |
| Weight | 210 lbs | 227 lbs |
| Maximum user weight | 772 lbs | 772 lbs |
| Usage area | 39.4" L x 54.7" W | 39.4" L x 57.1" W |
Workout Experience With the Exxentric SingleExx's Flywheel
Odds are you've used a leg curl or leg extension machine at a commercial gym, or perhaps you're lucky enough to know someone who has it in their garage gym. It's also likely those machines have used weight stacks, like you see on functional trainers, or were plate-loaded.
Well the Exxentric SingleExx series is different, in that the two machines use flywheel resistance. And if you're wondering what's so special about that, allow us to explain.
The flywheel, the metallic disc you can see on the side of either machine, is spun by the user as they perform the beginning part of a leg extension or leg curl, otherwise known as the concentric contraction. This is when a muscle is being shortened.
The harder one does that concentric movement the more inertia will be generated by the flywheel, which will make the eccentric phase, when a muscle is being lengthened, more difficult.
"It is rough," says Garage Gym Reviews founder and fitness equipment expert Cooper Mitchell. "It's so difficult at times…you can absolutely overload your quadriceps."
If you're wondering, "Why would I want to make leg day more difficult than it already is?" there are actually a few answers for that. The first answer is, because you can. No, really.
Studies1 have shown that most people are able to lift more weight in the eccentric than in the concentric. The problem with weight stacks and plate-loaded machines is that the weight you choose is going to be the resistance for the concentric and eccentric movements.
With the LegExx and LegFlexx machines, there's more weight on the eccentric, allowing you to place eccentric overload the muscles for increased hypertrophy2, otherwise known as muscle growth, and strength3.
Flywheel
Coop adds that all parts of the lift, not just the eccentric phase, feel great on the flywheel compared to a traditional weight stack of plate-loaded machines. "For these two movements, flywheels are amazing," he says of the Exxentric SingleExx machines.
Unlike the flywheels you see on exercise bikes, these flywheels are removable and you can even add more flywheels to your machines to make the variable resistance even harder.
The flywheels are available in five sizes from extra-small to extra-large and use a unit of measurement called kilogram square meter, or kgm, that measures the amount of mass over a surface—in English, it's how thick each flywheel is.
Vinyl
In his video review, Coop called the LegExx the "Ferrari of leg extensions," and it feels like that before you even get to lifting.
"The vinyl is very comfortable," Coop says.
The LegExx's foam leg rollers felt much more comfortable than other machines, Coop says, but the LegFlexx appeared to have vinyl over the LegFlexx's foam rollers that made it slightly less pleasurable than its sibling.
Adjustments
Both the LegExx and LegFlexx have a wide variety of adjustments for the leg rollers and backrest to accommodate people of all sizes.
kMeter App
The Exxentric SingleExx machines, the kPulley, and kBox are compatible with the kMeter App. This app, which is available for iPhones and Androids, connects to your Exxentric machines to show you how much inertia you're generating with each lift so you can have more accurate data on how hard you're training.
"It is worth using so you can see how much force you're exerting and how much resistance is being placed on you via inertia," says Coop, who's used the kMeter app. "This allows you to progressively overload, which can be hard with flywheels as you don't exactly know what kind of loads you're working with."
The kMeter feedback system is easy-to-read, Coop says, and can be a great training tool for those who need to do targeted lower-body exercises.
The kMeter app comes with strength training plans that start from a free basic package to kMeter Premium, which comes with coaching and the ability to track 999 user profiles (we'll explain why so many in just a second) for $19.99 per month.
Footprint and Portability
Both machines take up a fair amount of space and can only do one exercise each, so they're not the best from a space standpoint. Still, Coop says they're lightweight and easy to move around the home gym if needed.
Both weigh more than 200 pounds but come with convenient transport wheels and handles so most able-bodied people will be able to pick them up without a struggle.
Who is Exxentric SingleExx For?
The answer to this question and why kMeter Premium can track 999 user profiles is the same: The Exxentric SingleExx is meant for fitness center owners and coaches, not home gym owners. Does that mean a home gym owner can't buy this machine? No, but very few people are going to drop more than six grand on a machine that can only do one move.
And if you're willing and able to do that, can we be friends?
But in all seriousness, even if you're a home gym owner who's in the market for a single-use machine, there are much better values than the Exxentric SingleExx.
Exxentric SingleExx vs Titan Seated Leg Curl/Extension Machine
Combo Machine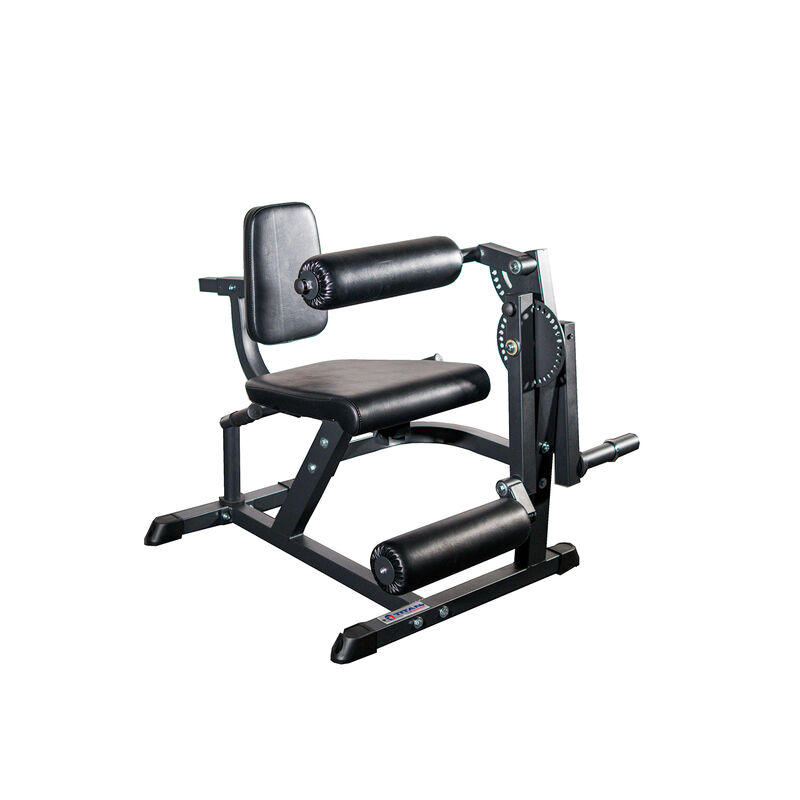 GGR Score: 4.3
Community Score: 2
Product Highlights
Dual-use machine
Affordable (for a leg machine)
More compact than similar machines
Easy assembly
Pros & Cons
Pros
Priced around $550, making it a great value gym machine
Combines two popular machines into one
Easy to assemble; I put mine together in under an hour by myself
Cons
It's more compact than similar machines, but not by much
Pads aren't the most comfortable when lifting with heavy loads
Heavier lifters may find it to be a bit unstable
Bottom Line
A dual-use and compact leg exercise machine offered at a competitive price.
For most home gym owners, we'd recommend the Titan Seated Leg Curl/Extension Machine over the Exxenctric SingleExx machines for the simple fact that Titan's machine is a two-for-one deal.
Even if you had the space for both SingleExx machines they each cost more than $6,000 before taxes and shipping and handling, and that's money that could be used for a high-quality barbell, squat rack, or other piece of equipment that's more versatile. 
The Titan Seated Leg Curl/Extension Machine may not give you the ability to overload the eccentric phase of a lift like the Exxentric SingleExx machines, but there are ways around that. For example, you can do the concentric movement with both legs and then do the eccentric with just one.
Read our full Titan Seated Leg Curl/Extension Machine review for more of our thoughts.
| | | | |
| --- | --- | --- | --- |
| | Exxentric LegExx | Exxentric LegFlexx | Titan Seated Leg Curl/Extension |
| Price | Around $6,150 | Around $6,150 | Around $700 |
| Footprint | 31.5" L x 42.5" W x 43.3" H | 31.5" L x 37.4" W x 45.3" H | 36" L x 42" W x 39" H |
| Exercise | Leg extensions | Leg curls | Leg curls/extensions |
| Weight | 210 lbs | 227 lbs | 108 lbs |
| Maximum user weight | 772 lbs | 772 lbs | 300 lbs |
| Resistance | Inertia-powered flywheel | Inertia-powered flywheel | Plate-loaded |
Financing, Warranty, Returns
Yes, the Exxentric SingleExx machines are expensive but there are financing options available for people who pre-qualify at checkout. Plans start at around $170 per month.
The warranty for these machines is only two years, which is very disappointing considering the price point. While the frames are made of heavy-duty steel and the flywheels are durable, it would've been nice to see more coverage on an expensive machine. I haven't seen many reviews about SingleExx machines breaking down quickly, but I wouldn't want to be the person who has one break on them after the warranty period ends.
The Exxentric SingleExx machines can be returned up to 30 days from date of delivery for a full refund, minus shipping and handling.
Ordering and Assembling the Exxentric SingleExx
Once you decide if you want one or both of the Exxentric SingleExx machines, you'll have a chance to save some money but, ironically, at a cost.
You can order the machine fully assembled and delivered straight to your home gym, but for close to $1,300, or order it unassembled and put it together yourself for around $400.
We didn't put ours together so we can't tell you much about the assembly process, but from the look of their manuals, it seems like it'd require more than one person and a few hours.
Customer Reviews
Exxentric doesn't post customer product reviews of its products on its website and they're not available on third-party websites like Amazon. We will update this review if that changes.
Final Verdict of Our Exxentric SingleExx Review
Although it's not for the typical home gym owner, the Exxentric Single Exx can be a fantastic machine for fitness center owners, personal trainers, bodybuilders, and others who are looking for a unique way to improve hypertrophy and lower-body strength.
We'd be more willing to suggest it for everyone if it were a combo machine, but since it's not, we're more likely to recommend a hybrid machine. They may not be as advanced as the SingleExx machines, but they allow you to save money for more versatile equipment and save room in your home gym.
Exxentric SingleExx Review Rating
Exxentric SingleExx
Our Exxentric SingleExx Review contains our thoughts on the high-end LegExx and LegFlexx machines, and lets you know who they're meant for.
Product Currency: $
Product Price: 6150
Product In-Stock: InStock
Exxentric SingleExx FAQs
Is flywheel training effective? 
Flywheel training is as effective as any other resistance training system, such as free weights, according to multiple studies3.
How does flywheel training work?
A flywheel will be powered by inertia during the concentric portion of a lift, or when the muscle is being shortened, which will adjust the difficulty of the eccentric portion, when the muscle is lengthened, based on how much force was generated by the user. 
What is a kBox?
An Exxentric kBox is a flywheel training system that comes in three different models: the kBox4 Active, kBox4 Lite, and kBox4 Pro. 
References
Higbie EJ, Cureton KJ, Warren GL 3rd, Prior BM. Effects of concentric and eccentric training on muscle strength, cross-sectional area, and neural activation. J Appl Physiol (1985). 1996;81(5):2173-2181. doi:10.1152/jappl.1996.81.5.2173
Schoenfeld BJ, Ogborn DI, Vigotsky AD, Franchi MV, Krieger JW. Hypertrophic Effects of Concentric vs. Eccentric Muscle Actions: A Systematic Review and Meta-analysis. J Strength Cond Res. 2017;31(9):2599-2608. doi:10.1519/JSC.0000000000001983
Wonders J. FLYWHEEL TRAINING IN MUSCULOSKELETAL REHABILITATION: A CLINICAL COMMENTARY. Int J Sports Phys Ther. 2019;14(6):994-1000.