We test and review fitness products based on an independent, multi-point methodology. If you use our links to purchase something, we may earn a commission. Read our disclosures.
The Titan Seated Leg Curl/Extension Machine is a compact, plate-loaded machine that doubles as a seated leg curl and leg extension machine that's ideal for home gyms. The price point, features, and quality are all a step above what Titan Fitness has offered in years past, and I recommend it if you have the space and want to pack some muscle on your quads and hammies.
In my Titan Seated Leg Curl/Extension Machine review, I'll give you my honest thoughts on this piece of gym equipment and let you know why it's one of the best value products for developing your lower-body muscle groups.
Why You Should Trust Us
For one, I don't skip leg day. More importantly I have a home gym that's stacked with countless pieces of strength equipment designed to strengthen the lower body, as well as the upper. From power racks to every type of barbell and everything else in between, I've personally tested more items than you can find in a commercial gym.
The important phrase there is "personally tested." I'm not just looking at a web page and reiterating information you can easily find online–myself, or a member of my team, has to have tried out something before you can read about it on this site. We try out the good and the bad so you don't have to, and because we want to make sure you're always aware of the next big thing out there.
Titan Leg Extension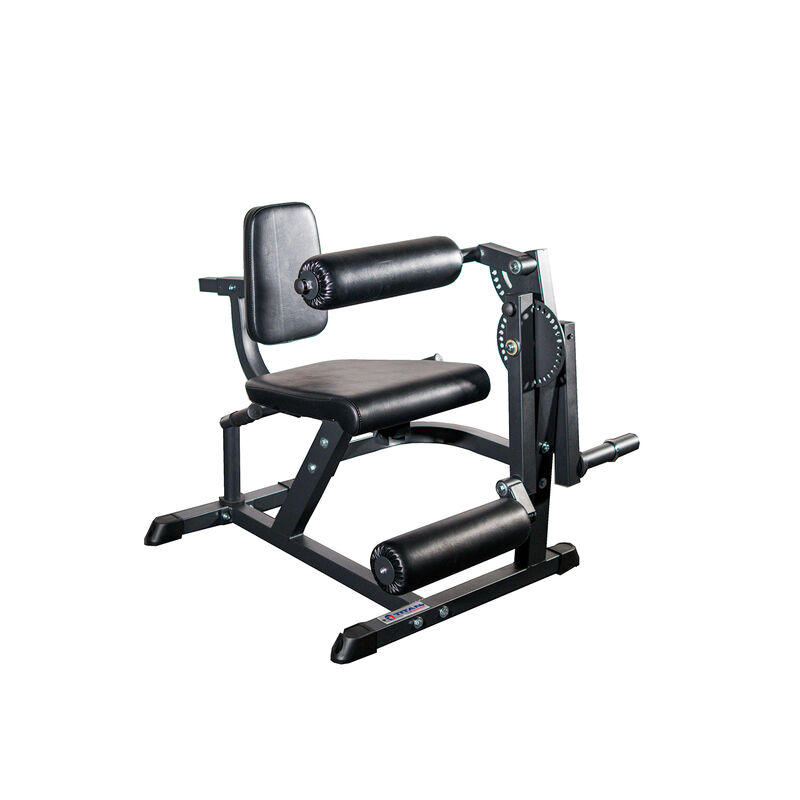 Titan Seated Leg Curl/Extension Machine
Strengthen your quadriceps and hamstrings with the Seated Leg Curl / Extension Machine from Titan Fitness. This high-quality unit lets you perform leg curls and leg extensions from the same, seated position. This unit was designed with a rotary leg clamp mechanism which easily allows you to enter the machine, lock your thighs in place, adjust the foot roller starting position, and perform full reps every time no matter the size of the athlete. It is not hard to switch from a leg curl to a leg extension workout simply flip the weight post to the opposite starting position. With this, you can strengthen your muscles in a simple and effective manner!
A Quick Look at the Titan Seated Leg Curl/Extension Machine
Titan Fitness continues its work of taking feedback from customers and improving its products. The Leg Curl/Extension Machine combines a leg extension machine with a leg curl machine, and also works as a standing leg curl machine. It gives home gym owners access to two of the most used lower-body machines found in commercial gyms.
The greatest benefit of the machine is the ability to load the best weight plates instead of traditional selectorized machines. If you're on a budget, but want to add machines to your home gym, this is a great place to start.
Coop's Tips:
Check to see you have the right plates for this machine (it uses 2" Olympic plates).
If you're low on gym space, prioritize a more versatile machine over something like this.
In order to get equal resistance through the range of motion, you'll need to play with the positioning of the leg pad.
My Favorite Things:
Priced around $550, making it a great value gym machine
Combines two popular machines into one
Easy to assemble; I put mine together in under an hour by myself
My Callouts:
It's more compact than similar machines, but not by much
Pads aren't the most comfortable when lifting with heavy loads
Heavier lifters may find it to be a bit unstable
Is the Titan Seated Leg Curl/Extension Machine Worth It?
Before we dig into this Titan Seated Leg Curl/Extension Machine review, let's start with the basics: what home gym owner is this machine best suited for? Budget obviously plays a factor, but for a machine like this that's pretty specialized, it will largely depend on the type of training and goals you have.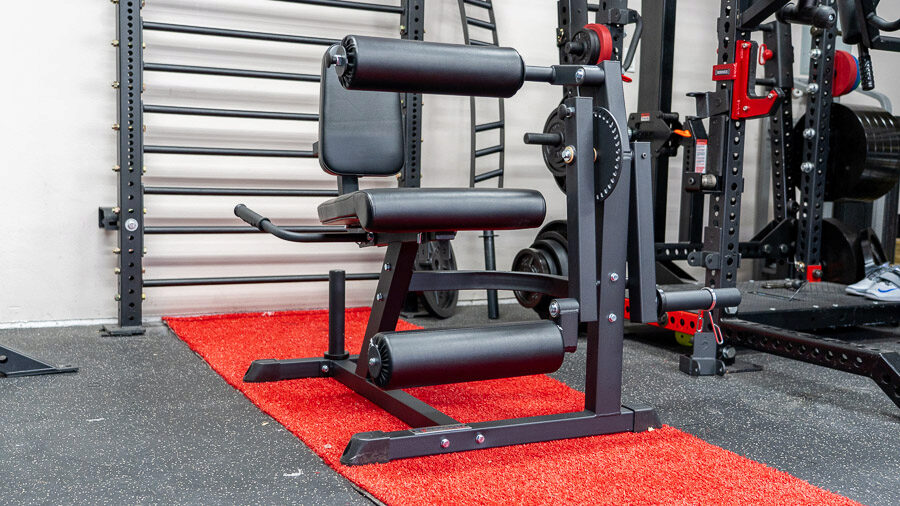 As with any Titan Fitness equipment, the price is one of the most attractive things about this machine. Coming in the mid $500s, this combo machine replaces what would normally be $1,000 to $2,000 worth of weight equipment. This machine is a much more viable option for home gyms as it is much more portable and it offers much greater value for what you can use it for.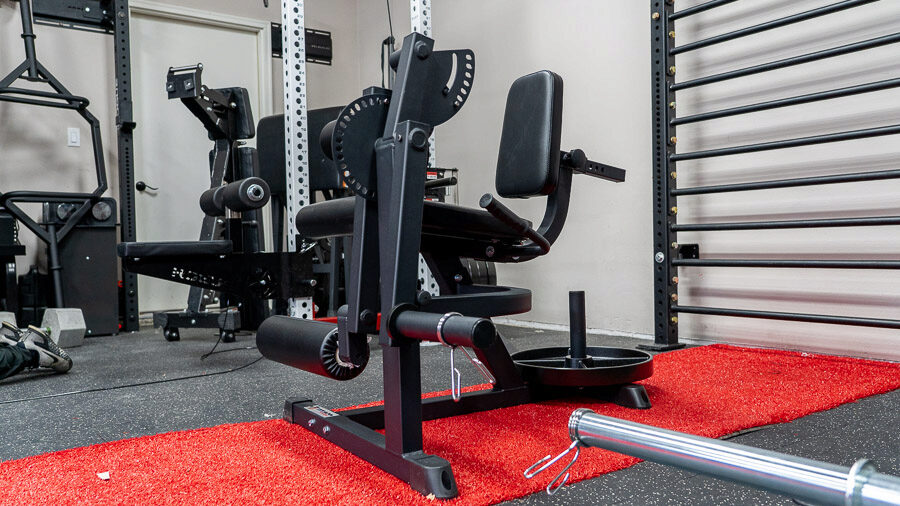 Here's who else might benefit from this machine, and who might want to look for something else.
Great for:
Those that train for hypertrophy or use a bodybuilding workout split

Those missing the machines at their commercial gym–this is a compact machine that gives a lot of bang for the buck

Anyone who has lower back issues that prevent them from squatting; leg curls and leg extensions are a great way to work the lower body without requiring a ton of core stabilization
Not recommended for:
Those who want a commercial-quality leg extension machine

People who only use standard plates, as this machine requires ​​2" Olympic plates

People who are tight on space
Titan Seated Leg Curl/Extension Machine Specs
| | |
| --- | --- |
| Footprint | 39" H x 42" W x 36" D |
| Weight | 108 lbs. |
| Weight capacity | 220 lbs. |
| Back pad | 15" H x 10" W x 2" D |
| Seat pad | 22" H x 15.5" W x 2" D |
| Roller pad | 17" x 5" |
| Adjustable seat height | 24" – 26.5" |
| Frame material | 11-gauge steel |
| Upholstery material | Vinyl |
| Finish | Powder-coated black |
| | |
Using the Titan Seated Leg Curl/Extension Machine
Titan Fitness has developed an efficient line of multi-use plate-loaded machines, and this one is surprisingly very good. With a lightweight, yet heavy-duty frame and a smaller footprint than bulkier commercial models, the Titan Seated Leg Curl/Extension Machine uses Olympic plates that are already used in nearly every home gym in the world for resistance, instead of bulky and expensive weight stacks.
A leg extension allows trainees to focus on building their quadricep muscles while a leg curl allows users to hit their hamstrings. This is definitely an accessory movement that is great when paired with heavy squats and can provide a tremendous pump and strength increase that's hard to replicate.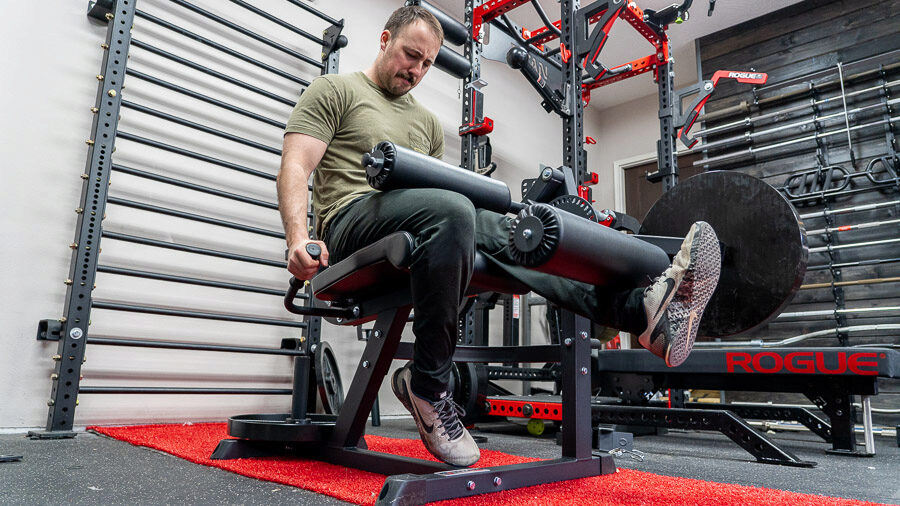 Outside of a leg press, these two machines are the most popular lower body machines for trainees, and Titan's version combines them into one.
The machine is actually one of the most functional plate-loaded machines I've used. With both an adjustable back pad and seat, anyone can use this and get an effective leg workout regardless of their size. The range of motion on the machine is actually quite good and you can get a full contraction without banging any weights around.
Stacking Weight Plates
The advantage of using a plate-loaded machine is that you can use weights you already have to create the load, something often overlooked by equipment manufacturers.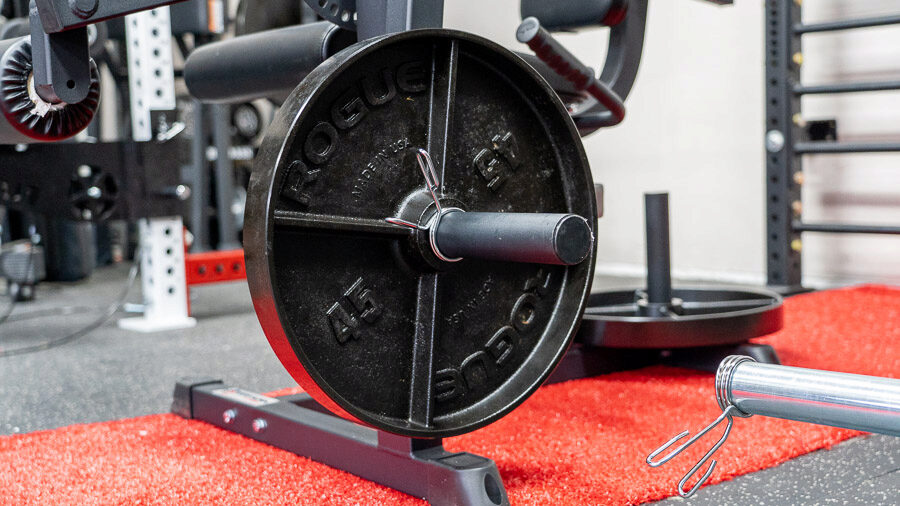 Titan added some nice details on this machine, which made me pleasantly surprised. For one, they added a counterbalance peg on the back of the machine that you can put weights on; this prevents most instability when you are performing the exercises.
The adjustment pins are also rather high quality for a budget, imported piece, enabling you to adjust all parts of the machine in a smooth manner and do it quickly.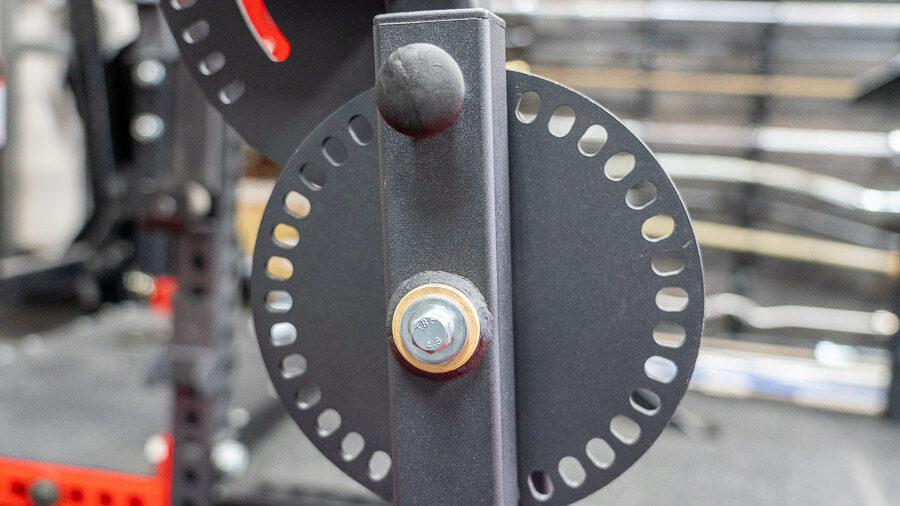 I'm glad Titan decided to give the machine the ability to be used for leg curls and extensions. To use it for leg curls, you simply flip the weight post 360 degrees so that you can pull your legs toward your glutes instead of pushing them away. It also works just as well for standing leg curls that can torch the hamstrings, which is a movement I really like.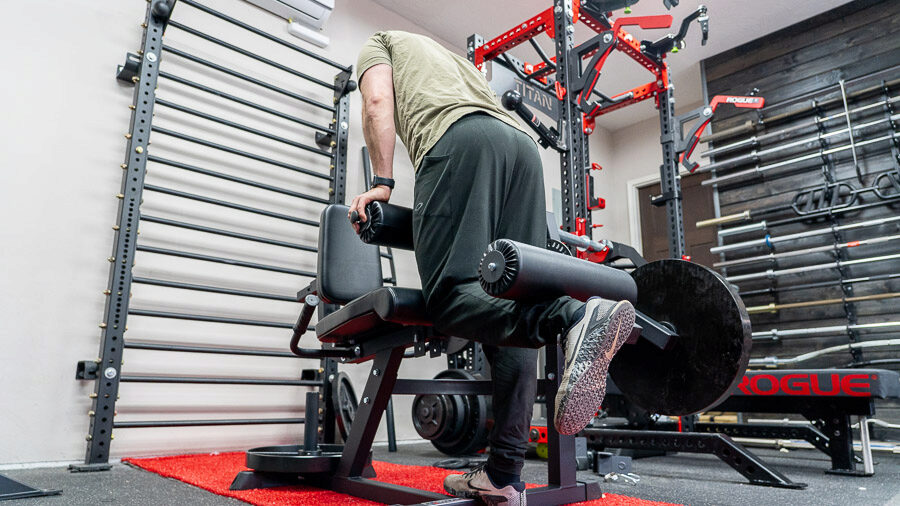 Padding
In order to allow for all sorts of angles to be achieved, the shin pad attaches to a circular piece of metal that has holes cut out around the entire perimeter. This allows the machine to be dialed in for the movement you're wanting to train and matching it to your flexibility.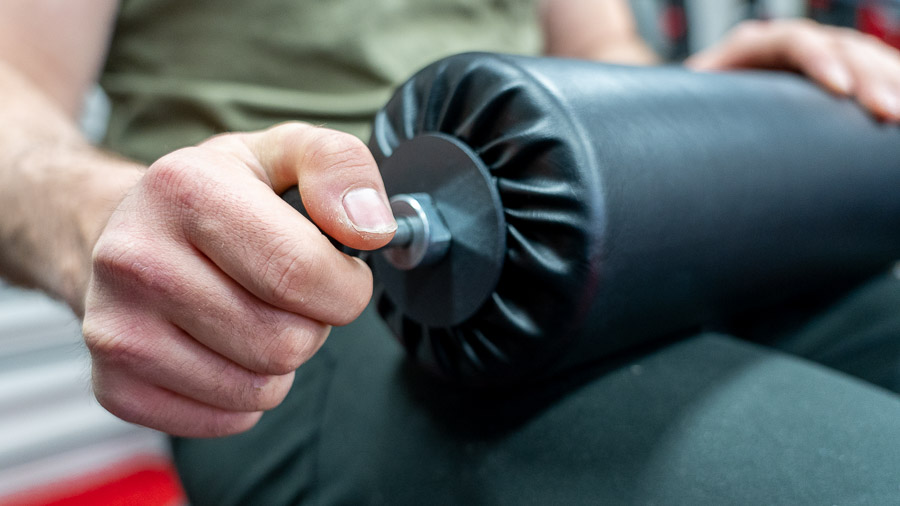 The quality of the thigh and shin pad isn't much to write home about, though. Although they are generally pretty solid, the pads are rather skimpy in some places and heavy leg extensions cause noticeable discomfort on my lower shins. Because of this, I have mostly used this machine for single leg isolation movements so that I can reduce the amount of weight I need to put on it and the pads do their job a lot better in this fashion.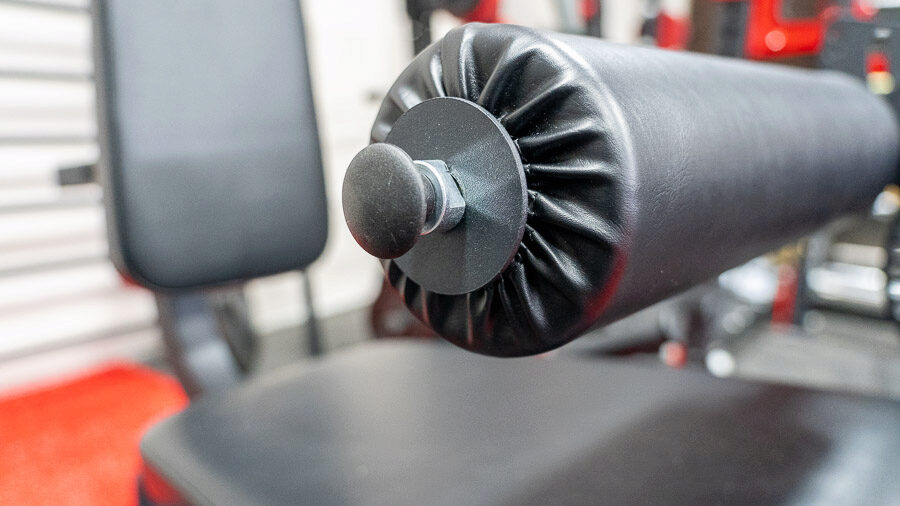 Stability
At the bottom portion of reps on the leg extension, the resistance is reduced due to where the weight is placed on the pendulum. This is annoying but can be improved by adding resistance bands to the weight peg and the back of the machine.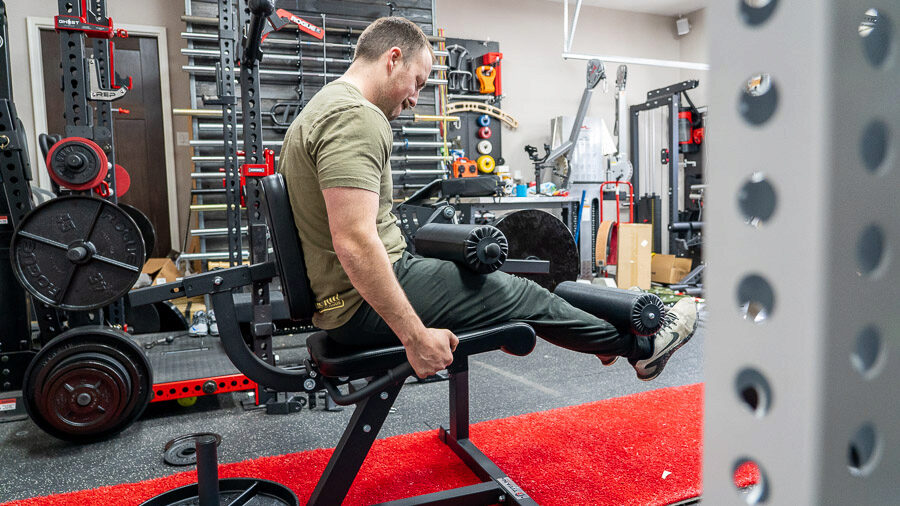 I've also found you can get more resistance at the beginning of the movement by playing with the adjustment of the leg pad. William Long, a commenter on our YouTube video, also suggested placing a low cable on the weight arm for added resistance.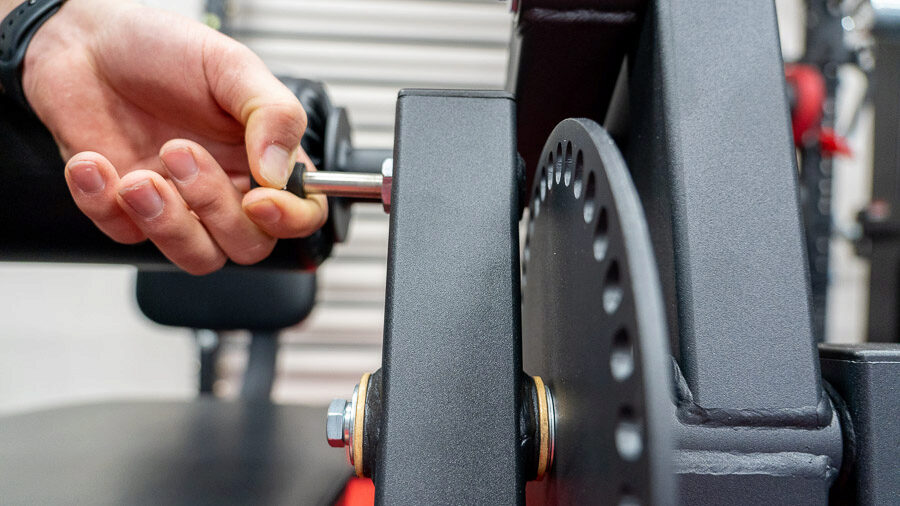 While the aforementioned counterbalance peg is nice, it's somewhat impractical. I had the machine located against a wall to save space and had absolutely no room to get to and actually use the counterbalance. After almost flipping the machine with quite a bit of weight on it, I was forced to sacrifice a larger dumbbell to stabilize the center beam of the machine.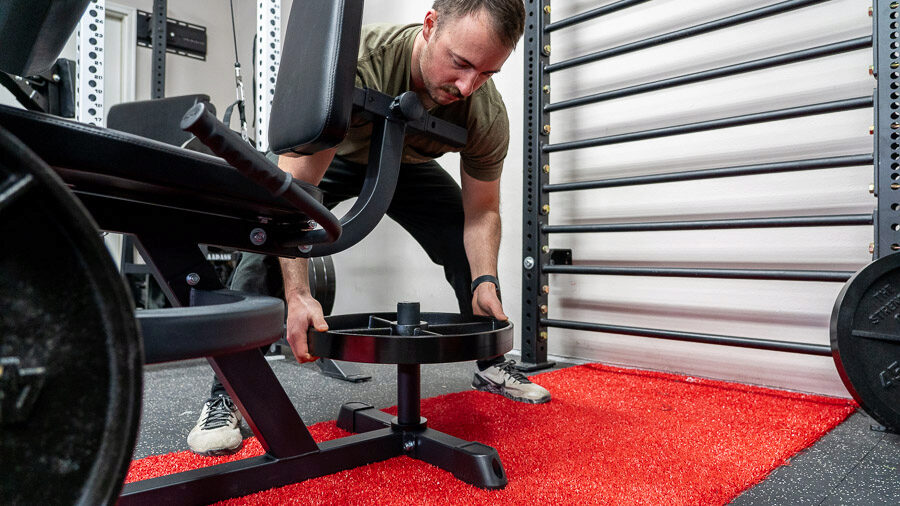 I am a bit weary of recommending this machine to super heavy lifters as my concerns over stability only increase with more weight added to the machine. The pads can also feel a bit uncomfortable at heavier loads.
Footprint
One big realization for people when they decide to go from a commercial gym to a home gym is the required space reduction. This ultimately then leads to the understanding that many of the machines used and loved at the YMCA will no longer be available to use. However, there are a few machines that combine movements and provide a big bang for the buck that can make sense in a garage gym and the Titan Seated Leg Curl/Extension Machine is a prime example.
Here are the dimensions of the Titan Seated Leg Curl/Extension Machine:
39-inch height
42-inch width
36-inch depth
Durability
Overall for a Titan piece, this machine is pretty high-quality with neat welds and an overall solid frame. In the beginning, we ragged on Titan a bit because their quality was so spotty, but they've really stepped up their game in recent years.
Although the welds seem clean, the pads are not the best quality I've seen but they certainly hold up to decent use and I had no problems with any rips or significant breakdown.
Customer Experience
Titan Fitness can be reached through phone, email, social media, their website, a live chat, and even through text.
Warranty: Titan Fitness only has a one-year warranty for the Seated Leg Curl/Extension Machine that really only covers any defects that might be found with the machine.
Returns: Titan Fitness has a great return policy that states you can return the product for any reason up to 30 days after it's been delivered. The product must be in new condition.
Financing: You can split the payment into monthly installments over the course of 3-18 months.
Ordering the Titan Seated Leg Curl/Extension Machine
The Leg Curl/Extension Machine showed up in a very large cardboard box on my doorstep. I was a bit worried it was going to be heavy to move, but it doesn't have a ton of parts, so it wasn't as bad as I was expecting.
There was hardly any cosmetic damage to the box and I'm happy to see that Titan continues to improve their package protection as they've been known in the past to have issues.
Assembly
Assembly was pretty straightforward and took about 40 minutes to secure all the bolts after getting it to settle in the part of the gym I plan to keep it.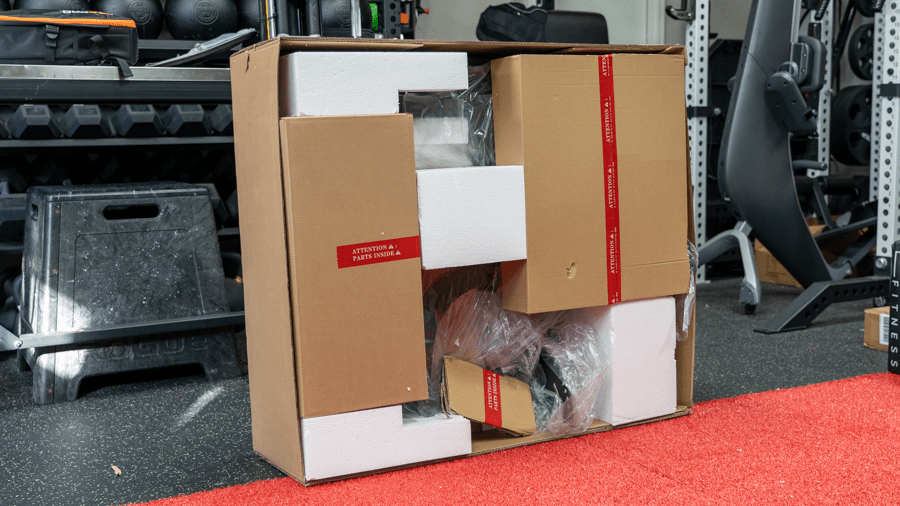 One pro-tip I'd give during assembly is to make sure the handles on the machine are placed forward. It can feel like they should go backwards as they would on a lying leg curl, but they actually face towards the thigh pad so you can hold them during extensions.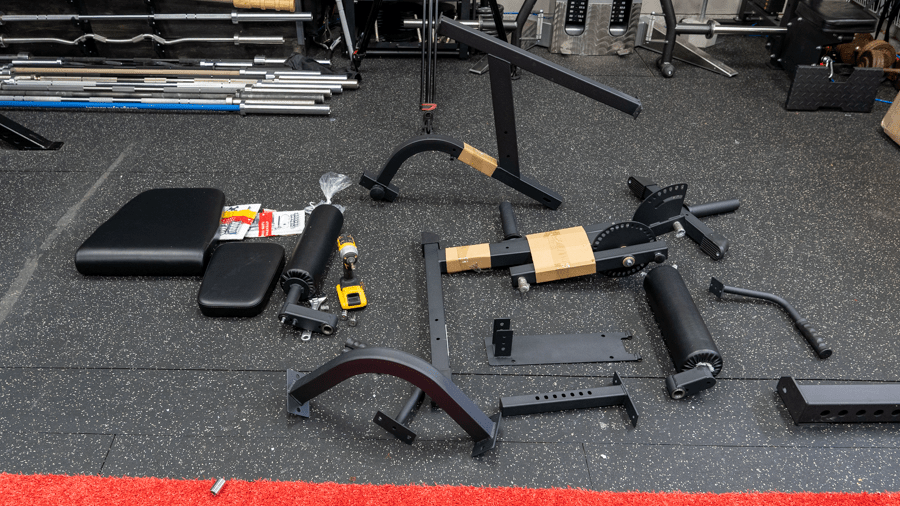 Customer Reviews
The Titan Seated Leg Curl/Extension Machine has a 4.8 average rating, with the vast majority of them being five and four star reviews. Only two people gave it three stars, with one of them saying they found the seat angle uncomfortable to get in and out of.
People who love it said they also use the machine for hamstring curls, found it easy to assemble, and helped them with overall leg development.
"Machine is excellent, very sturdy just like the gym machine," reviewer Mario B. wrote. "I would recommend to anyone looking to strengthen your hamstring and quad muscles."
Final Verdict of Our Titan Seated Leg Curl/Extension Machine Review
I would recommend this machine to pretty much anybody with a home gym looking to get a very useful and valuable piece of equipment. At about half the cost of any other machines of this quality, I would say it's a no-brainer purchase for anyone looking to add more machines to their designated workout space.
Not many companies offer affordable plate-loaded lines of equipment so it is definitely a nice option along with Titan's other similar pieces such as the plate-loaded Lat Tower and the Shoulder machine.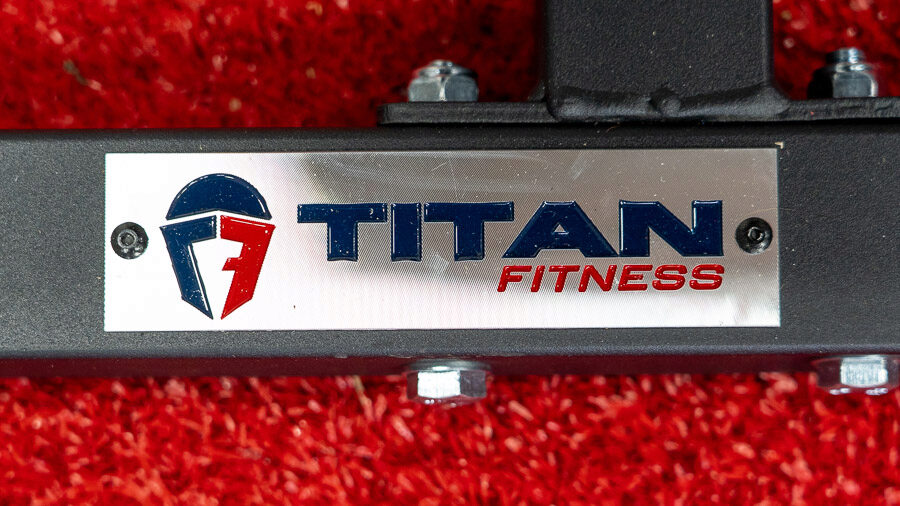 Full Rating
Titan Leg Extension and Curl Machine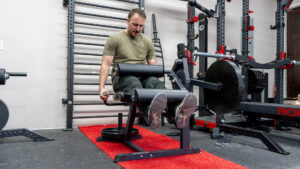 The Titan Leg Curl / Extension Machine is a compact, plate-loaded machine that doubles as a seated leg curl and leg extension machine perfect for home gyms. The price point, features, and quality are all a step above what Titan Fitness typically offers and I recommend it if you have the space and want to pack some muscle on your quads and hammies.
Product Brand: Titan Fitness
Product Currency: $
Product Price: 649.99
Product In-Stock: InStock
Titan Seated Leg Curl/Extension Machine FAQs
Are seated leg curls effective? 
Yes, seated leg curls are a great way to develop lower-body strength and muscles, specifically the hamstrings, calves, and thighs. They're especially good for people who may not be able to do compound movements like squats. 
How do you use the Titan leg curl machine?
First, you have to place some weight plates on the machine. After that, adjust the machine so your lower back is comfortable and the leg pad sits just below your calves. Holding the side handles, use your legs to pull the lever toward you and hold for a second before returning to the starting position. 
Do seated leg extensions work? 
Yes! They're a great move for your quadriceps and thighs and can be used to build muscle or strength. 
Is seated leg curl better than prone? 
One is not necessarily better than the other, but a prone leg curl does require more hamstring recruitment so it works the muscles more than a seated curl. But you can still get plenty of muscle recruitment with a seated leg curl and some people may find it easier to do.