We test and review fitness products based on an independent, multi-point methodology. If you use our links to purchase something, we may earn a commission. Read our disclosures.
Some people live for the pre-workout pump, some for the boost of energy. Still others are searching for a way to keep their concentration during intense workouts. As a sports dietitian, I'm constantly reminding athletes that their performance needs more than sheer strength.
RELATED: Best Pre-Workout
Maintaining mental focus is key to outplaying an opponent, but even for those who do casual strength training, keeping concentration goes a long way in preventing injury. Think about it—putting loads of hundreds of pounds on your body or over your head while distracted can be a very dangerous thing, and a slip in concentration could result in a drop or a muscle being pulled.
More scientifically, studies have shown that having a strong mind-muscle connection during strength training generates more muscle activity, which means you get a more effective workout when concentrating on what muscles you are using1. Thus, you could argue cognitive function is just as important to your workout as strength or muscle size.
As a final note, I want to acknowledge what most of you are thinking: the pre-workout tinglies. This comes from beta-alanine which, although being a neurotransmitter, can be a big distraction for people who get too overwhelmed by the sensation to properly focus2. With this in mind, we included some options on this list that contain beta-alanine and some that do not.
RELATED: What Is Beta-Alanine?
Medical disclaimer: This article is intended for educational and informational purposes only. It is not intended as a substitute for medical advice. For health advice, contact a licensed healthcare provider.
Best Pre-Workout for Focus
Coach's Choice: Onnit Alpha BRAIN Pre-Workout
Good for: Anyone who wants a well-formulated pre-workout to help with focus
Four North Carolina-based Endless Strength Weightlifting team members tried Onnit Alpha BRAIN Pre-Workout, and every single one noticed increased focus during their lifting sessions. Jacob Penner, USAW-L2 coach and owner of Endless Strength Weightlifting, says he felt "incredibly prepared" for his sessions after testing it out.
Onnit uses Dynamine, a compound that can enhance the benefits of caffeine, such as mental alertness and increased energy. With only 200 milligrams of caffeine per scoop, Alpha BRAIN is a great choice for anyone who needs an energy boost but doesn't want a pre-workout that will make them jittery from too much caffeine.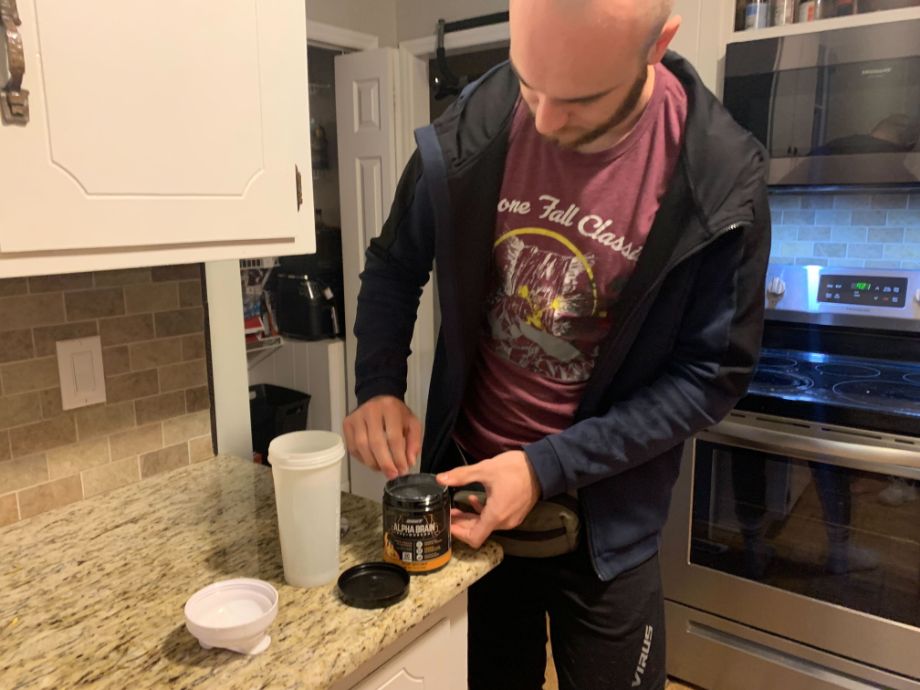 You might want to be careful what you eat or drink when taking this pre-workout supplement. Onnit warns that if you decide to take this supplement, you should not do it in combination with any other foods, drinks, or supplements that contain more than 50 milligrams of caffeine.
This is because Dynamine has a longer half-life than caffeine, meaning it takes longer to leave your system. Any additional caffeine could result in disruptions to your sleep cycle or possible health issues.
Some vital pre-workout ingredients are under-dosed—such as betaine anhydrous, beta-alanine and l-citrulline—but Jacob and the rest of the Endless Strength Weightlifting Team still got a pretty good pump after taking it.
The taste leaves a little to be desired. Kate Meier, GGR's head of content and an Endless Strength Weightlifting team member, couldn't finish the Yuzu Peach flavor, though Tiger's Blood received slightly better marks in the flavor department.
| | |
| --- | --- |
| Price per serving | $3 |
| Key ingredients | Caffeine, L-citrulline, beta-alanine, ashwagandha, African palm oil |
| Flavors | Tiger's Blood, Yuzu Peach |
Best Pre-Workout for Focus Overall: JYM Supplements Pre-JYM
Good for: People who want a pre-workout with multiple benefit and don't mind a large volume
Aside from the 300 milligrams of caffeine that you'll find in Pre-JYM, it also contains taurine, which is an amino acid known for helping encourage the proper functioning of the brain3.
I do need to note that Pre-JYM contains huperzine which is purported to enhance mental focus. However, a study published in 2021 has suggested that its effects may actually have been overstated in past research4. In spite of this, Pre-JYM remains our top pick for best overall pre-workout for focus as it contains 12 other ingredients that aid exercise performance.
These ingredients include creatine HCl, beta-alanine, beetroot extract, betaine, and BCAAs. Considering these compounds all play a role in muscle growth, improving blood flow and giving you more energy, you could consider this a great product for multiple purposes. Pre-JYM also contains electrolytes in the form of sodium and potassium, which can help with the often-overlooked performance enhancer I like to call "hydration."
RELATED: Best Electrolyte Drinks
With that many ingredients, it probably explains why Pre-JYM has a scoop size of 26 grams, which is twice the typical serving size of pre-workouts. That's why it's recommended to mix this pre-workout powder with up to a quart of liquid before using. Just a heads up!
Anthony O'Reilly, GGR performance editor and product tester says, "When it comes to pumps, move over Michelin man! My ego was through the roof after working out with this."
Jacob Penner, USA Weightlifting Coach and member of the GGR expert panel also likes this pre-workout. "I've taken this at least half a dozen times, and I always felt really clear and super stimulated for my workouts," he says. "This actually has ended up being the [weightlifting] team's favorite pre-workout of potentially all time, and these guys have literally used 50+ pre-workouts. For the last few months, this is the one they grab most often and enjoy the most, both in taste and in effects."
Check out our full JYM Pre-workout review for more details.
| | |
| --- | --- |
| Price Per Serving | $2.80 |
| Flavors | Raspberry Lemonade, Rainbow Sherbet, Grape Candy, Cherry Limeade, Orange Mango, Tangerine, Pink Lemonade, Black Cherry, Pineapple Strawberry, Strawberry Kiwi |
| Contains Caffeine? | Yes |
| Contains Beta-Alanine? | Yes |
Best Pre-Workout for Focus and Strength: Transparent Labs BULK Black
Good for: People who want a nice balance between a caffeine rush and laser focus
Not to be confused with Transparent Labs BULK, Transparent Labs BULK Black differentiates itself with slightly higher doses of caffeine and other stimulants. Since we know that the positive effects of caffeine on focus during exercise are well-established5, expect Black to give you an even bigger jolt than its little brother.
In addition to caffeine, BULK Black also contains 50 milligrams of theobromine. The primary alkaloid found in cocoa beans, theobromine has been shown to help improve mood and cognitive function, especially when taken along with caffeine6.
Additionally, Transparent Labs included other ingredients such as l-theanine and l-tyrosine which also improve the focus of the brain in synergy with caffeine7.
As far as strength, BULK Black makes our list due to its inclusion of a high dose of 8,000 milligrams of l-citrulline and 300 milligrams of Alpha-GPC. L-citrulline was just reviewed in 2020 by The Journal of Strength & Conditioning Research and it was concluded it has potential to aid in strength and recovery benefits8. Alpha-GPC has also been shown to aid in the improvement of muscular force production following supplementation9.
With over 17 grams of active ingredients contained in a manageable scoop size of 21 grams, you can expect a little bit of everything from BULK Black: a nice pump, an increase in energy levels, and a lot more focus.
GGR performance editor Anthony really likes the taste and effects of BULK Black: "I think I've only ever tried Blue Raspberry, but that's a nostalgia thing for me (I was raised on gas station candy, leave me alone). Anyway, this flavor is amazing. Not too sweet, not too chemical-tasting. Transparent Labs is just too good. To address the elephant, yes, this is worth the higher price. Energy was quick, long-lasting, and non-crashing. Face tingles were minimal, and the strength gains were noticeable."
| | |
| --- | --- |
| Price Per Serving | $1.83 |
| Flavors | Cherry Kiwi, Blue Raspberry, Peach Mango, Sour Gummy, Black Cherry |
| Contains Caffeine? | Yes |
| Contains Beta-Alanine? | Yes |
Best Natural Pre-Workout for Focus: Legion Pulse
Good for: People who want clinically effective ingredients in an all-natural package
My sports dietitian heart has a soft spot for Legion, as their protein powders and other great products are my go-to supplements to fuel my training sessions. They have products that not only taste great, but are high-quality and made with no artificial flavors or artificial sweeteners. Pulse's formulation is backed by 54 peer-reviewed scientific studies, all cited on the product page of their website.
Approximately 350 milligrams of caffeine are contained in Pulse, about the same amount as a cup of coffee. Moreover, it contains the amino acid l-theanine, which is typically found in green and black teas. L-theanine alone is a nitric oxide booster, according to science, which helps with blood flow10.
However, what we really want to discuss is that, when combined with 350 milligrams of caffeine, studies have shown that theanine can have a positive impact on mood and focus11. Taking the two ingredients together can be an effective way to increase motivation in the gym, and this in turn can lead to better physical performance.
Pulse contains both sodium and potassium electrolytes, as well as calcium. I am particularly impressed by the inclusion of calcium since sodium and potassium are always the main players when discussing hydration, but people rarely mention calcium even though it is also an electrolyte that is lost in sweat that must be replaced for optimal hydration.
As a final note, there is beta-alanine in Pulse, but at a low dose that minimizes the tingling sensation you usually experience. If you are sensitive to caffeine, no worries. Pulse has a stim-free version that still includes all the yummy nootropics you need to focus.
GGR senior editor and expert product tester Nicole Davis says, "It gives me energy for sure, and I haven't experienced any of the negative stuff. Many other reviewers tend to agree, saying that it provides amazing energy without that infamous stimulant-induced post-workout crash."
Check out our full Legion Pulse Pre-Workout review for more information.
| | |
| --- | --- |
| Price Per Serving | $1.80 |
| Flavors | Mojito, Fruit Punch, Apple Cider, Arctic Blast, Frosted Cranberry, Peach Ring, Strawberry Kiwi, Blood Orange, Blue Raspberry, Blueberry Lemonade, Cherry Limeade, Grape, Green Apple, Pink Lemonade, Sour Candy, Strawberry Margarita, Tropical Punch, Watermelon |
| Contains Caffeine? | Yes |
| Contains Beta-Alanine? | Yes |
Best Pre-Workout for Focus and a Pump: 4 Gauge
Good for: People who'd like a pump without the beta alanine
You know, typically I tell people to stay far, far away from pre-workouts that have packaging that is way too flashy. This is due to the fact that these products usually need obnoxious labeling to hide the fact that their ingredients don't work, are artificial, or outright adulterated. But despite 4 Gauge coming in a container shaped like a shell casing, it doesn't fall under this category of my skepticism.
The pre-workout 4 Gauge is made in a cGMP-certified facility and contains no artificial sweeteners or artificial flavors. Like many other pre-workouts, 4 Gauge contains both creatine and beetroot, which both increase blood flow to the muscles to give you a nice pump by boosting nitric oxide production12,13.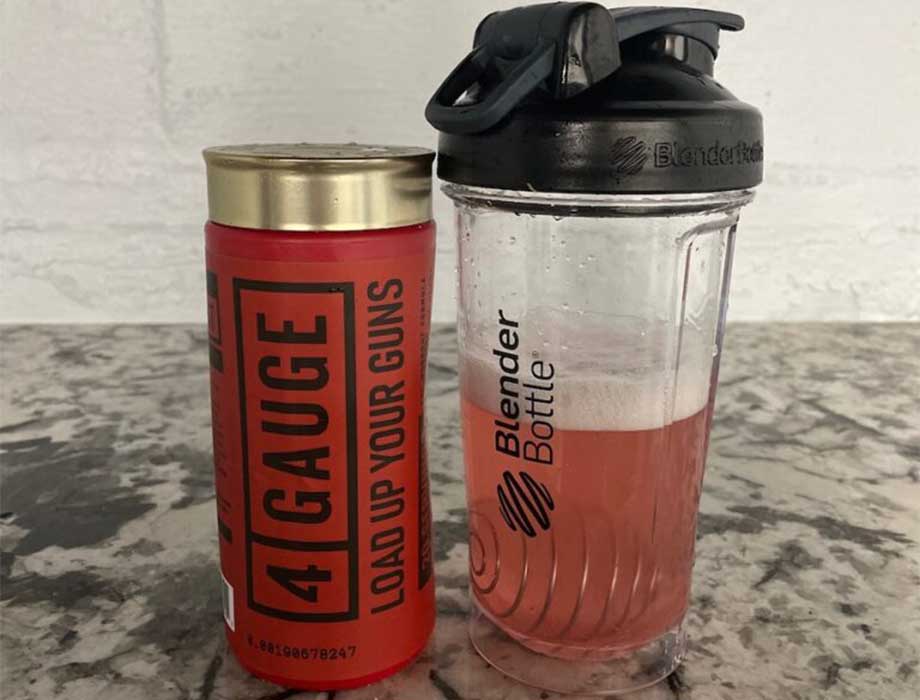 Rhodiala rosea is an uncommon ingredient contained in 4 Gauge, but an important one. A study that came out just last year found that it has a myriad of benefits to athletic performance. These benefits include lower muscle damage after training sessions, reduced inflammation, and improved athletic explosive power14.
What I really want to point out, though, is that the study also showed subjects experienced a reduced perceived exertion, meaning you don't feel like you're working as hard as you actually are14. This unique type of benefit to mental focus is why 4 Gauge has earned a spot on our list.
RELATED: Best Pre-Workout Ingredients
Lastly, if you hate the jitters you get from beta-alanine, you don't have anything to worry about here. 4 Gauge prides itself on omitting beta-alanine as an ingredient, so no pins and needles.
GGR senior editor Nicole said, "The flavor wasn't my favorite—it almost has a sour tinge—but it mixes up really well. I also definitely felt a pump but no tingles, which was great."
| | |
| --- | --- |
| Price Per Serving | $2.25 |
| Flavors | Frozen Lemonade, Fruit Blast |
| Contains Caffeine? | Yes |
| Contains Beta-Alanine? | No |
Best Pre-Workout for Focus with Creatine: Gorilla Mode
Good for: Those looking for a pre-workout that can help with both performance and muscle growth
Gorilla Mode proudly boasts having the most potent pre-workout formula on Amazon. It also contains 2,500 milligrams of creatine monohydrate to put the cherry on top of the nearly 25 grams of active ingredients in this powder. Now, if you want it to replace your creatine supplement, you'll have to take 2 scoops a day to get the clinically effective dose, but it's still a pretty nice bonus.
RELATED: Best Creatine Supplements
What Gorilla Mode also contains is l-tyrosine, which has been shown to improve cognitive function in athletes, especially athletes training in heat or other warm environments15. Kanna is also a featured ingredient that's uncommon in pre-workout supplements, likely because the science surrounding it is still very new. One study using Zembrin, a supplement that contains the active compounds of kanna, has shown that it has a calming effect on the brain.
Although this study was small and more research is still needed, this presents the promising possibility of kanna keeping the brain calm enough to boost mental focus on your workout16. This can be especially helpful if you get wired from stimulants, of which Gorilla Mode has plenty.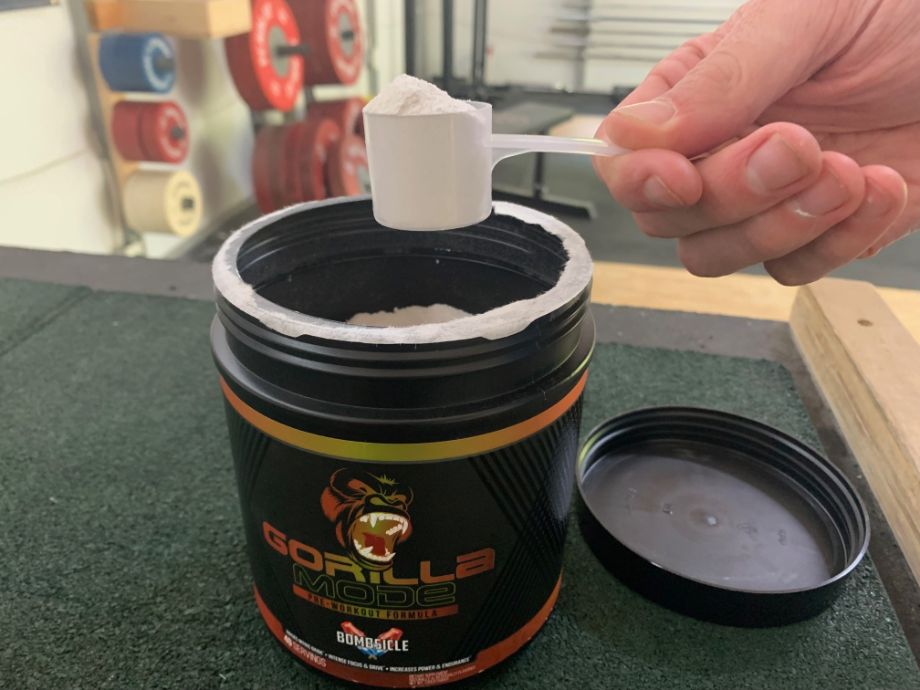 We do have to inform you that Gorilla Mode contains glycerol which expands blood plasma. Any substances that have this effect are banned by the World Anti-Doping Agency (WADA). So, if you're an athlete who gets drug tested, you'd be in big trouble taking this pre-workout. You can, however, take it no problem if you're just trying to get a nice pump or are a recreational athlete or casual weightlifter.
GGR expert panel member Jacob was impressed by how focused he felt taking this: "I took this about 15 minutes before my workout," he said. "Two hours later, and I still have a pump. I felt very calm but energetic; I felt confident. I got a pump almost immediately. I also noticed my skin felt warm. I didn't notice tingling at all with this one, which makes sense, because there is no beta-alanine. I'm also not crashing the way you sometimes do after taking a strong pre-workout. I still feel focused. I've taken 50+ pre-workouts, and this is one of my favorites. I'll definitely be using this in my workout routine."

Read our full Gorilla Mode Pre-Workout review for the full scoop.
| | |
| --- | --- |
| Price Per Serving | $1.25 |
| Flavors | Bombsicle, Cherry Blackout, Fruit Punch, Jungle Juice, Lemon Lime, Lemonade, Mojo Mojito, Orange Krush, Tigers Blood, Volcano Burst, Watermelon |
| Contains Caffeine? | Yes |
| Contains Beta-Alanine? | No |
Best Stim-Free Pre-Workout for Focus: Genius Pre
Good for: Individuals who exercise at night and value focus over an energy boost
Genius Pre positions itself as a nootropics-based pre-workout, so naturally we had to give it a try for the sake of building this list. It also prides itself on being a plant-based formula (which, in all fairness, most pre-workouts are) that has no artificial colors, flavors, or sweeteners. It also contains no proprietary blends or fillers, so if you're someone who dislikes both caffeine and junk in their pre, Genius may be just right for you.
RELATED: Best Stim-Free Pre-Workout
Since Genius is a caffeine-free pre-workout formula, you can enjoy the benefits of a nighttime workout without worrying about being up all night because you were chasing a pump and now have to pay the price of your stim jitters all night long.
With l-tyrosine, l-arginine, taurine, alpha GPC, theobromine and rhodiola rosea, this pre-workout is absolutely packed with nootropics. It even contains AstraGinTM, a patented compound that science has suggested can get your gut primed to comfortably absorb all of the pre-workout ingredients contained in Genius17.
"This is stim-free, so it doesn't get you all jacked up," Jacob says. "I felt almost euphoric taking this, with a very calm focus. It almost felt like taking a mood stabilizer, because I was relaxed, not stimulated; clear, and ready to take action."
Check out our full Genius Pre-Workout review to learn more.
| | |
| --- | --- |
| Price Per Serving | $1.90 |
| Flavors | Blue Raspberry, Grape Limeade, Sour Apple, Sour Cherry |
| Contains Caffeine? | No |
| Contains Beta-Alanine? | Yes |
Best High-Stim Pre-Workout for Focus: Nutrition Cartel El Jefe
Good for: People looking for an insane pre-workout energy boost
El Jefe is one of those pre-workouts that comes with a warning for beginners…start easy! This is because this pre-workout contains 400 milligrams of caffeine in its recommended serving of two scoops, which is derived from caffeine anhydrous as well as caffeine malate.
It also contains two patented ingredients, with one being Nitrosigine. Nitrosigine is a formulated compound derived from arginine that was originally created to treat heart disease. Now, it's a common ingredient in pre-workout due to its ability to act as a vasodilator.
According to research, Nitrosigine supplementation can increase exercise blood flow as well as reduce muscle fatigue following exercise. It is also possible to enhance the effects of Nitrosigine by taking it with citrulline malate, which, fortunately, is also an ingredient in El Jefe18.
The second patented ingredient is ElevATP, which is an ATP booster. ATP (adenosine triphosphate) is the body's unit of energy, and pilot studies have suggested that boosters like ElevATP can increase athletic performance by elevating the blood levels of ATP, though more research is needed to establish this19.
All in all, El Jefe contains the usual suspects of effective nootropics you'd find in a pre-workout, but we do have to urge you to exercise caution when supplementing regularly with this one. The huge doses of caffeine and vasodilators can be great, but so many stimulants in such a small package can make it very easy to go overboard.
Mike, a weightlifting teammate of GGR head of content Kate Meier, liked the Orange Creamsicle flavor: "The taste is good, kind of like an orange smarty. Not too sweet, just tangy. It definitely gives you a big pump and is quick to kick in," he says. "I didn't feel like my skin was crawling but still had that energy. The biggest thing was the focus—this is one of the best feelings of being "locked in" compared to others I've tried (and I've used 20-30 different ones)."
My final question is whether anyone can confirm the taste of Tiger's Blood, a flavor that's apparently gaining popularity in pre-workout these days, and if they'd recommend it because I'm insanely curious!
| | |
| --- | --- |
| Price Per Serving | $1.37 |
| Flavors | Tiger's Blood, Sour Gummy Bear, Orange Creamsicle, Peach Rings |
| Contains Caffeine? | Yes |
| Contains Beta-Alanine? | Yes |
Best Budget Pre-Workout for Focus: Live Relentless Drive Pre-Workout
Good for: Frugal individuals who don't mind a simple pre-workout formula that delivers the basics
I'm probably speaking for myself, but I have a soft spot for businesses that are owned by veterans. Created by an athlete and Army SF Green Beret, Live Relentless believes in sourcing the purest ingredients to make products to fuel your passions and offers discounts to military and first responders. With high quality like this, it's surprising to see that their pre-workout only runs you about $1.33 per serving.
One nootropic that's featured in Drive's very short list of ingredients is levodopa (L-dopa). Levodopa is a dopamine replacement that is used in people with Parkinson's disease to improve motor learning. While I can't say for sure that these results can be conflated to the healthy population, there's certainly a lot of science behind the impact of its most common use20.
There are 300 milligrams of caffeine, but Drive was kind enough to make the serving size 2 scoops, so that those sensitive to caffeine have the option to take just 1 scoop and still get the performance and focus-enhancing benefits.
Jacob, a member of GGR's expert panel liked this pre-workout, saying, "This is almost euphoric—probably due to the L-Dopa or the rhodiola. I absolutely felt a mood-boosting effect. I took this before working out and even just on a day when I had to be productive, and I found myself to be incredibly productive. There isn't any jittery effect, but you do feel the beta alanine tingle for a few minutes." He also enjoyed the flavor, saying it tastes "just like strawberry lemonade you would get from a restaurant."
| | |
| --- | --- |
| Price Per Serving | $1.33 |
| Flavors | Strawberry Lemon |
| Contains Caffeine? | Yes |
| Contains Beta-Alanine? | Yes |
Other Pre-Workouts for Focus We Tested
How We Picked and Tested the Best Pre-Workout for Focus
As you can see, we test all of the brands we choose to write about and have a criteria for whether or not it is wise to endorse them. When compiling this list of the best pre-workout supplements for focus, we didn't want to call out brands that had nasty side effects like crashes or excessive jitters. Here are some of the other standards we kept in mind:
Presence of Beta-Alanine
Beta-alanine is a non-essential amino acid that can help with delaying fatigue and muscle soreness, making it a super popular supplement in the bodybuilding world. However, it has other properties as a neurotransmitter, with its most noticeable being its ability to stimulate nerve endings just below the skin.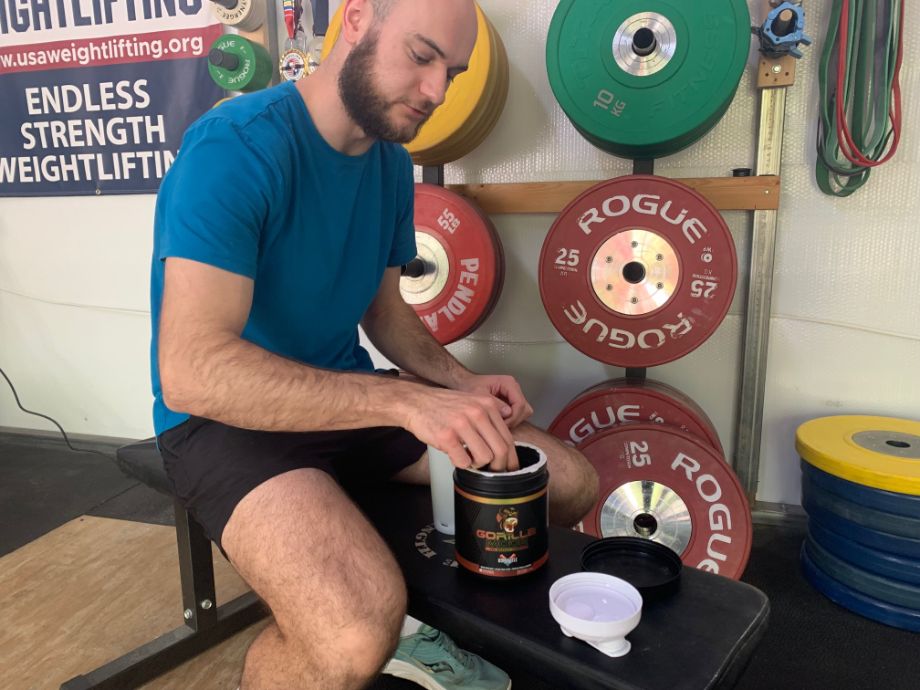 Consequently, beta-alanine has a dual function of helping you work out longer, and giving you a mad tingling sensation at the same time. It's a common story that people are very sensitive to these effects and the tingling can feel more like burning, with some people even getting a flush after taking beta-alanine.
The reason this is important is that, depending on your level of tolerance, this feeling can be pretty distracting. If all you can focus on is how on fire your skin feels, then taking a pre-workout for its concentration-enhancing properties is sort of counterproductive. That's why we included some brands that don't contain beta-alanine.
Efficacy of Nootropics
We did a lot of research in the spirit of making this list and wanted to be sure that the focus-enhancing ingredients, also known as nootropics, are ingredients that are actually backed by science. Since we are a team that incluses nutrition and fitness scientists, giving evidence-based advice you can trust is our top priority. So, we picked brands that formulated their pre-workout with similar values in mind.
Caffeine Content
A huge dose of caffeine to get that coveted, pre-gym energy boost is pretty much par for the course on a pre-workout ingredient list. As we talked about, caffeine has an ability to improve focus through several mechanisms in the brain. However, there are also some good reasons to take a stimulant-free pre-workout.
For one, say you're a coffee drinker who has several cups at work and then wants to take some pre for your after-work training sessions. This could not only keep you up literally all night, but could cause you to consume a dangerous amount of excess caffeine.
Additionally, if you're someone who gets wired (in the not-fun way) or has big crashes from caffeine, you might also do well to choose a stimulant-free formula and just focus on a nootropic-focused supplement. That's why we included both options on this list.
As a final note, we do have to recommend that, if you choose a high-stim formula, that you also pay attention to your hydration. Studies have shown that moderate amounts of caffeine are OK, but if you are consuming more than 500 milligrams all at once, it can cause your body to purge a lot more fluid than usual21. So, it would be wise to ensure you replace this fluid.
Other Performance-Boosting Ingredients
Ingredients like vitamin B6 and vitamin B12 among the other vitamins in the B family sound like nice additions to a pre-workout for boosting energy levels, but I cannot fathom how they got such a reputation for being a game-changing ingredient when they can be obtained pretty easily from food—at least if you're an omnivore. We believe the best pre-workout supplements are efficient in using their volume to include ingredients that actually work to improve your workout.
That's why we wanted to present options that not only had ingredients that worked at improving focus, but could elevate your workouts by helping to improve strength, aid in recovery, and increase blood flow. Ingredients like taurine, citrulline malate, nitric oxide boosters, l-carnitine and betaine can all help improve exercise performance in the body rather than in the brain, giving you a more well-rounded pre-workout supplement.
Benefits of Pre-Workout for Focus
So why in the world would you take pre-workout for focus of all things? Well, hear me out, because there are some surprising ways that focus can level up your training. I always tell my pro basketball players that basketball is as much of a game about mental toughness as it is about speed and skill. In the bodybuilding and strength training world, I believe the standards are no different. So, here are some benefits to taking a pre-workout to enhance your focus:
Supports Elevated Mood
Some of the nootropics contained in pre-workouts boast their ability to improve your mood. For anyone who has been having a bad day, received some bad news or just generally isn't "feeling it," you know how hard it is to drag yourself to the gym. Even when you get there, putting in the same amount of effort can seem to drain all of your willpower.
However, if you have something that can put you in the mood to work out, this can do wonders for your motivation. Now, you won't fall into the trap of subconsciously only half-doing your reps or cutting your cardio in half just because you want to get home and divebomb onto the couch as soon as you can. Never underestimate how a little boost in motivation can make an OK workout a great workout.
Movement Accuracy
A study we mentioned earlier talks about the benefits of caffeine, theanine, and tyrosine (common ingredients in most pre-workout supplements) on exercise performance. However, the focus of the study was not on their impact on strength and fatigue, but how the compounds improved movement accuracy during exhaustive exercise7.
I'm sure many of you have experienced firsthand how sloppy your movement can get when you start to get fatigued or distracted. By improving movement accuracy, not only can you enhance performance-based conditioning and training, but you can reduce the risk of injury, as well.
Maintain Concentration
Any good fitness trainer will tell you how critical maintaining a mind-muscle connection can be to your workouts. Whether it's music, sheer willpower, or a carefully-chosen pre-workout supplement, whatever helps you maintain concentration can help you with this connection.
RELATED: Types of Pre-Workout
It's not just bro science either, actual studies1 have shown that your muscles fire significantly more efficiently when you intentionally concentrate on what muscles you are using as you lift. This can result in faster strength gains, better form and even muscle growth over time. That's just one more reason to find a good pre-workout for focus.
Dosing and Interactions
Out of all the supplements out there, the risk of side effects is one of the highest when you take pre-workout. There are a variety of common ingredients and proprietary blends in pre-workout powder that have a significant effect on your heart rate, blood pressure, and your liver and kidneys, which must work overtime to process them and your health can be compromised if you take them incorrectly.
The first thing to keep in mind is that if your pre-workout contains stimulants such as caffeine, watch how much caffeine you take in from other sources, such as green tea or coffee, as this could lead to health-threatening pre-workout side effects.
Our general recommendation is not to take pre-workout if you suffer from heart problems due to common ingredients including multiple stimulants that could exacerbate heart conditions. If you suffer from any type of liver or kidney disease, then taking pre-workout supplements is also not recommended. In addition, if you take prescription medications, you should discuss pre-workout supplements with your doctor before starting a regimen that includes them.
Third-Party Testing
The risk of exposure to banned substances or illegal stimulants is high with pre-workout powder as this type of supplement is adulterated with these things more often than you think. Since the FDA does not regulate supplements, you want to be extra careful with which ones you decide to trust, especially if you are an athlete who drug tests.
So, we at GGR recommend choosing third-party tested supplements when you can. If your pre-workout is third-party tested, that means that it has been examined by an independent laboratory and has been determined to contain no banned substances or harmful ingredients.
If this is a concern for you, then it is advisable to choose a pre-workout supplement that has been third-party tested and is endorsed with a label from NSF for Sport of Informed Choice.
FAQs About Pre-Workouts for Focus
Does pre-workout help you focus?
There is a possibility that a pre-workout may help you focus if it contains certain nootropics, depending on your tolerance.
What part of pre-workout helps with focus?
Certain amino acids and other nootropics like caffeine have been known to help with mental focus. 
What is the best pre-workout for cognition?
Our pick for the best pre-workout for focus overall is JYM Supplements Pre-JYM due to its properties of containing both focus enhancers and compounds to boost exercise performance. 
What ingredient in pre makes you focus?
There are several nootropics in pre-workouts that can boost focus. The most common ingredients of this kind are l-tyrosine, caffeine, l-theanine, and l-arginine. 
These statements have not been evaluated by the Food and Drug Administration. This product is not intended to diagnose, treat, cure, or prevent any diseases.
References
Killer SC, Blannin AK, Jeukendrup AE. No evidence of dehydration with moderate daily coffee intake: a counterbalanced cross-over study in a free-living population. PLoS One. 2014 Jan 9;9(1):e84154. doi: 10.1371/journal.pone.0084154. PMID: 24416202; PMCID: PMC3886980.