We test and review fitness products based on an independent, multi-point methodology. If you use our links to purchase something, we may earn a commission. Read our disclosures.
Elliptical, stair-stepper, treadmill, rower—so many machines, so little space. A home gym forces you to closely consider what you really need (and will use) in your daily training. In this BowFlex Max Trainer M9 review, we'll take a look at a low-impact calorie-burner that won't gobble up all your precious workout space.
It's not an elliptical . . . exactly, nor is it a stair stepper . . . entirely. This hybrid machine combines the best of two worlds. Bowflex takes it up a notch with a bright touchscreen, large textured foot pedals, and resistance levels for days. The question is—is it the right machine for you? If you're low on space and you need a low-impact workout, it's an investment worth considering. BUT, be aware that this model has had some technical issues.
So Many Machines, So Many Experts
Our crew here at Garage Gym Reviews consists of personal trainers, nutrition coaches, CrossFit Level 1 Trainers, former college athletes, and other trained fitness professionals. We're a group that's visited a few gyms and ran around the block more times than we can count. We're also passionate about fitness, especially when it comes to helping people find the equipment, workouts, and gear that bring success.
While we haven't tested the M9 in person, we've put many stair-steppers and ellipticals through the works in the past. We've tested a previous iteration of the M9, so we'll be drawing on that experience, too, in this Bowflex Max Trainer M9 review. This hybrid went under the microscope to see if it could offer the low-impact, high-intensity workout it promises. We've researched, sifted through customer and pro reviews, and compared it to the best the market currently has to offer.
Bowflex Max Trainer M9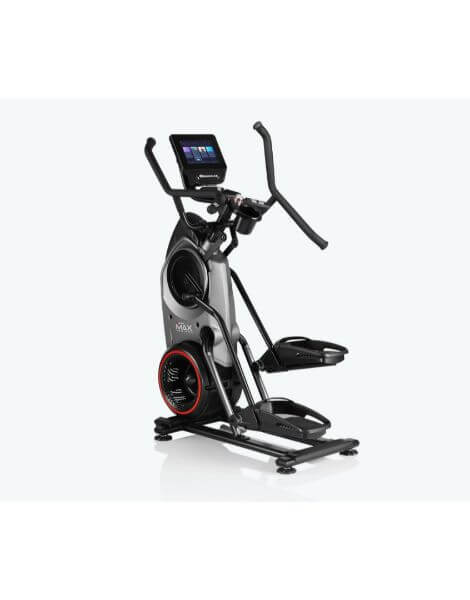 Bowflex Max Trainer 9
The Bowflex Max Trainer M9 is a combination of an elliptical and climber designed for total-body high intensity interval training (HIIT). The M9 has a 10" HD touchscreen where you can stream shows from your favorite streaming service or workouts via Bowflex's JRNY service.There are 20 resistance levels to challenge yourself; they can be adjusted by rotating a dial. The M9 comes with 4-grip handlebars and heart rate hand grips so there are multiple ways to find a comfortable position on the machine. The pedals are oversized and texturized so you won't have any trouble going all out. There is also a media shelf and water bottle holder so you can keep your phone and water close by.The reviews on the Max Trainer M9 have been mixed. Customers generally love the workout but are frustrated with the software. They found the JRNY workout streams to be buggy and crash a lot. They struggled with the display shutting off mid-workout. Users with a history of knee pain found the workout to be intense without increasing their knee pain. They also liked that they could get a good workout quickly.
A Quick Look at the Bowflex Max Trainer M9
The Bowflex Max Trainer M9 is the 2021-upgrade to the M8. In truth, there's not a big difference between the two models. The biggest changes revolve around the 10-inch touchscreen, which we'll get to later in the review.
Hybrid trainers like the Bowflex Max Trainer M9 came about in response to a growing need for low-impact home cardio machines. Ellipticals have traditionally filled that space. They're easy on the joints and thanks to moving handlebars, they work the upper and lower body at the same time. However, ellipticals eat up square footage faster than an aardvark on an anthill. They're big!
Many people turn to stair-steppers because their footprint is more vertical, leaving extra floor space behind. They're a great cardio workout, though they're harder on the hips and knees and don't activate the upper body.
That's where a hybrid machine like the M9 figuratively steps in. It features a low-impact design and offers a full-body workout like an elliptical, but it has a more vertical footprint like a stair stepper. Moving four-grip handlebars activate the upper body, so the calorie burn goes up in comparison to a standard stair-stepper.
My Tips
Take advantage of the one-year Bowflex JRNY membership that's included with the M9. It expands the on-board workouts significantly, and a whole year gives you plenty of time to decide if you want to pay for the subscription.
In-home assembly is an additional add-on that you don't need. Assembly is straightforward. Plus, Bowflex has assembly videos on its website.
Measure your ceiling height. There need to be at least 15 inches above the tallest user for safe clearance while on the machine.
Pros
Free 1-year JRNY membership
Onboard streaming with JRNY membership
Large, textured pedals
Four grip positions on the handlebars
Small footprint
20 resistance levels
Potential for an intense, total-body workout
Cons
Loud
Relatively short warranty
Touchscreen can be glitchy
Requires tall vertical clearance, especially for taller users
Cannot adjust the incline level or step length
Is the Bowflex Max Trainer M9 Worth It?
Of course, no one machine will work for everyone, but the Bowflex Max Trainer M9 certainly works for a wide variety of users. Much of that comes from the fact that it's low-impact, compact, and can torch through calories in a hurry.
Great for:
Those who are short on space
Those who need a low-impact workout
Intermediate and advanced users who want a fast way to burn calories
Beginners who want to slowly improve their fitness
Not recommended for:
Those who exercise in a shared space
Users at the extremes for height (unusually short or unusually tall)
Those on a limited budget
Bowflex Max Trainer M9 Specs
| | |
| --- | --- |
| Price | $1,999 |
| Footprint | 49.2" L x 30.5" W x 65.1" H |
| Weight | 148.8 pounds |
| Weight capacity | 300 pounds |
| Ceiling height | User height + 15 inches |
| Resistance levels | 20 |
| Preset workouts | 4 |
| Display | 10-inch HD touchscreen |
| Programming | JRNY |
| Pedals | Oversized and textured |
| WiFi | Yes |
| Water bottle holder | Yes |
| Media shelf | Yes |
| Bluetooth | Yes, Bluetooth speakers and armband |
| Heart rate monitoring | Yes, includes Bluetooth HR armband |
Customer Reviews
The Bowflex Max Trainer M9 has a 4.6-out-of-5 star rating on the Bowflex website. Pleased customers like the machine's compact footprint, butt-kicking workout capabilities, and ease of assembly. However, there seem to be recurrent issues with a glitchy console, and several reviewers also commented on how loud the machine is when it use.
"This is an amazing piece of equipment," says reviewer JenV on the Bowflex website. "I love that it doesn't take up much space. It does get a little loud when you really start upping the burn rate and we've had several technical issues with the console. Had to get a new one sent out because the program kept stopping and the whole thing would reset…sometimes multiple times. Overall though, very happy."
"I like the motion of the Bowflex trainer being a cross between and elliptical and a stair climber machine," says reviewer Z on the Bowflex website. "I would say I love it if it weren't for how loud the unit is and buggy the video software is. My unit makes a creaking sound every time my right pedal goes down. The unit also doesn't feel sturdy, it starts shaking when reaching the higher rpms. And like other reviews had mentioned, I am also experiencing my video crashing mid training session. When this happens, it doesn't save your work out results. I've had it crash 45 minutes into a 46 minute workout…. Imagine how that feels."
Workout Experience on the Bowflex Max Trainer M9
There's no doubt that the Bowflex Max Trainer M9 provides a killer workout that's very similar to the Bowflex Max Trainer M6, which we've tested and reviewed. If you're a beginner and that scares you, there are 20 levels of resistance, and you can go at whatever speed you want—meaning, It's beginner-friendly, too.
Stepping onto the machine, you'll notice the large textured foot pedals right away. They're large enough that the majority of users can find a comfortable foot position, and the texture keeps your feet in place. The handlebars offer four hand positions, letting you find a position that feels comfortable for you.
For example, shorter users can hold the handlebars at a lower position, while taller users can grip at the top. Depending on where you place your hands, you can activate different parts of the upper body.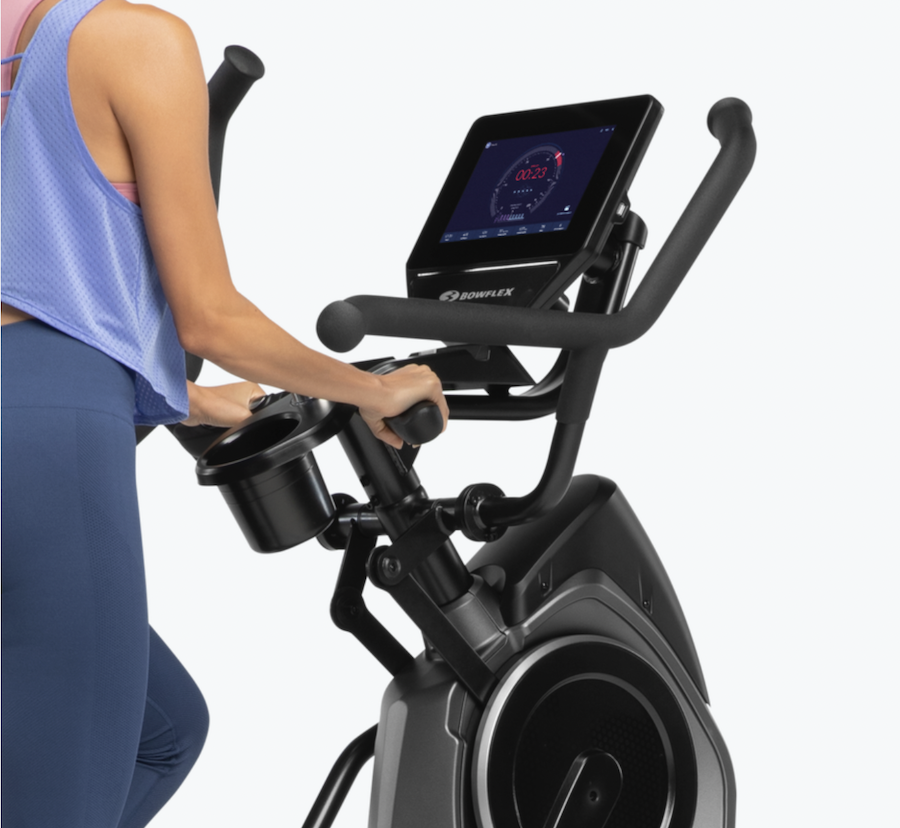 There are four preset workout programs, but logging into your JRNY account accesses a full library of options. Here's where there can be some issues. If the machine goes into sleep mode because you pause, you have to log into your JRNY account with your email and password, which can take some time using a touchscreen.
Additionally, the console/screen and JRNY app can be a bit glitchy. There are consistent mentions in reviews on the Bowflex website of the console shutting down mid-workout and erasing all progress. Some users work with customer service and get a new console or touchscreen, while others have been told a fix is in the works. However, as of this writing, a fix isn't out yet.
The manual and preset workout programs on the machine are less glitchy. Using them, you can do either a steady-state workout where you put in the same consistent effort for the entire workout or variations on a high-intensity interval workout (HIIT), including a 14-minute workout.
The M9 seriously activates the posterior chain, thanks to the handlebars and stair-stepper motion. You'll feel the workout in your shoulders, back, glutes, quads, hamstrings, and calves, which burns through calories faster than a machine that activates one or two muscle groups at a time.
Footprint, Portability, Durability, Construction, etc.
The Bowflex Max Trainer M9 is 49.2 inches long by 30.5 inches wide by 65.1 inches high. You need at least 15 inches of clearance above the tallest user. It comes with a floor mat to protect the carpet or hard floors. Two transport wheels and a handle on the backside of the console let you tilt the machine to move it when needed.
Bowflex machines, in general, are known for their durability and construction quality. The M9 falls in line with what you'd expect—quality and durability. However, while it's durable, this machine often develops a squeak on one side or the other. It creates enough noise that you probably don't want to use it in a bedroom or other shared space.
The Ergonomics
Those large, textured foot pedals let users of different sizes get comfortable on the machine. The handlebars are another strong point. Their L-shaped design offers versatile grips, which can be more comfortable and help you activate different muscle groups. However, shorter users may find that the distance between the pedals and the console is a stretch.
We also want to point out that you can't adjust the step height or angle. Some users may be less comfortable than others based on their height or step height.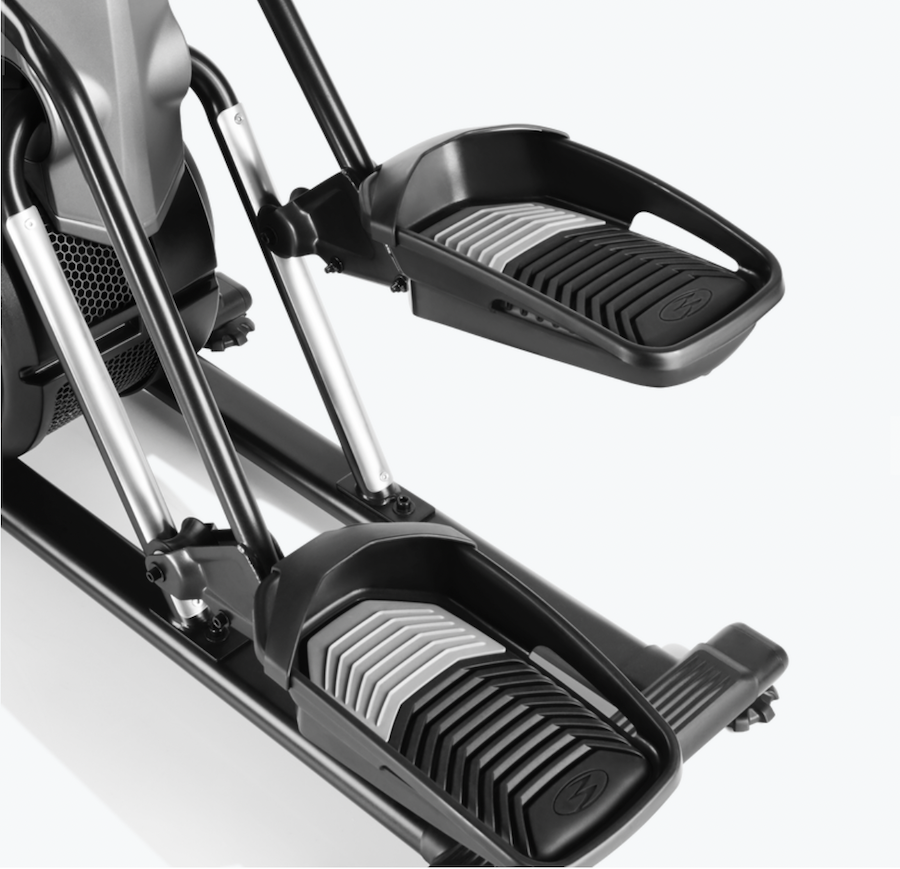 Technology Benefits and Conveniences
The Bowflex Max Trainer M9 has Bluetooth and WiFi capabilities. You must have WiFi to access JRNY. Bluetooth connects you to the included heart rate armband or a phone or tablet so you can play your own music through the built-in Bluetooth speakers. Metrics display directly on the touchscreen.
We can't talk about technology without a short dive into the JRNY app. You can set up an unlimited number of users so that each user can personalize their experience and track their progress. It also adjusts class choices based on past picks and performance.
The app also grants access to on-demand classes, adaptive workouts, intervals, and HIIT. You can also put on scenic destinations and explore the world while you work out. However, there are no live class options like those found on Peloton.
The app helps you set goals and offers virtual awards based on your progress. You can also use JRNY to access streaming services to which you have a subscription, including Netflix, Amazon Prime Video, Hulu, Disney+, and HBO Max.
If you don't want to wear the provided HR armband, you can use the heart rate monitor handlebars underneath the center of the console. The console also has a media holder, cup holder, and USB charging port. One convenience that's noticeably missing is any kind of built-in fan.
Comparison to Bowflex Max Trainer M6
Bowflex Max Trainer M6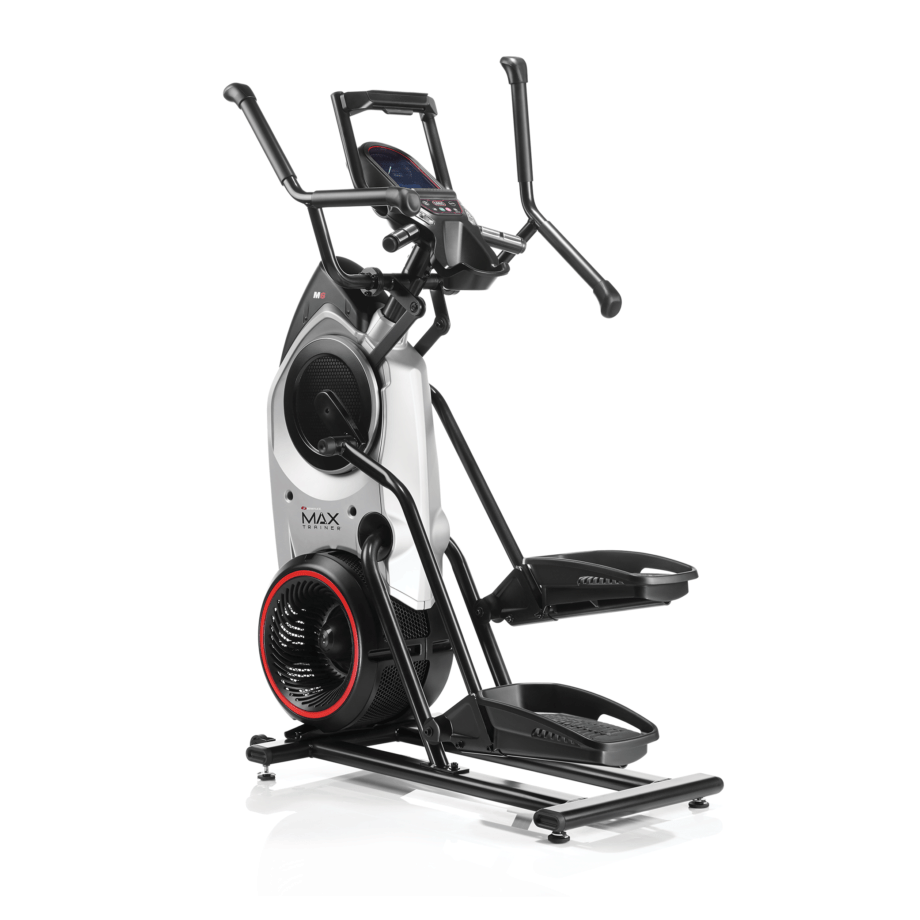 Bowflex Max Trainer M6
The Bowflex Max Trainer delivers full-throttle, high-intensity cardio that progressively gets harder as you get stronger. Challenge yourself with addictive, fast-paced, HIIT-style workouts that skyrocket your heart rate and propel you into the best shape of your life.
Kate Meier, GGR head of content and certified personal trainer, put the Bowflex Max Trainer M6 to the test and found that it packed in a powerful cardio workout. It leaned toward interval and HIIT training more than steady-state workouts. And we'd say that the M9 does about the same.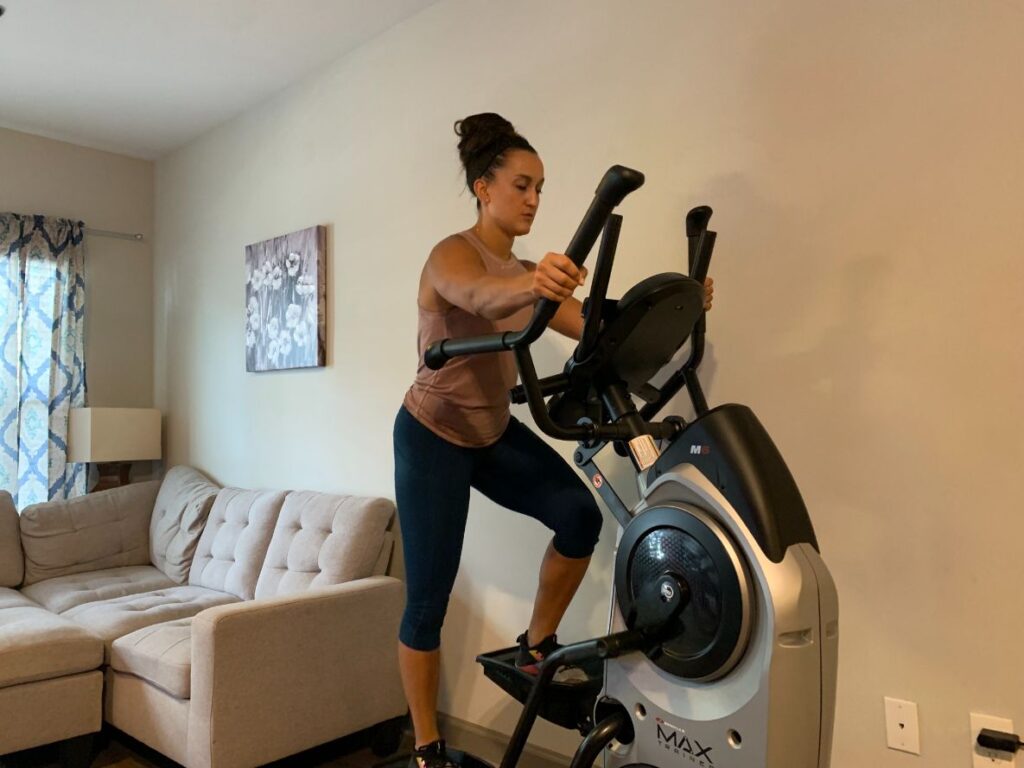 The M6 activates both the upper and lower body, but the lower-body workout is pretty intense. You'd expect that from a machine based on a stair-stepper. It hits the posterior chain, including the hamstrings, quads, glutes, and calves.
The M9 has a similar step height and handle design, so you're looking at the same type of workout, one that our tester found to be muscle-building and calorie-burning. The four handlebar positions activate different muscles in the upper body. The upper position hits the back and biceps, while the lower position works more of the triceps.
The biggest difference between these two machines is the console and touchscreen. The M6 has a pretty basic LCD display and no touchscreen. Consequently, you have to provide your own device to connect to JRNY.
The M9's screen eliminates the need for a separate device and provides more on-screen information. The M9 leans more toward JRNY workouts because it has fewer built-in programs than the M6. Price-wise, the M6 is $600 less. While still not a bargain cardio machine, the M6 saves money, and you can still access the full JRNY library if you don't mind providing your own device to use as a screen.
Customer Experience
The warranty is a place where the M9 can fall a little short. It has a three-year warranty on the frame and parts, a one-year warranty on electronics, and 90 days on labor. That's pretty sparse for a machine at this price point.
Customer service responds quickly to inquiries, but Bowflex has yet to address the screen and app issues experienced by a good number of users.
You'll get six weeks from the time you receive your M9 to return it if it doesn't work out for you, which is above average compared to other cardio brands.
Ordering and Assembling the Bowflex Max Trainer M9
Ordering is straightforward. You have the option of in-home assembly for an additional $169, and you can extend the warranty by three ($159) or five ($219) years. Bowflex throws in a floor mat and a 1-year subscription to JRNY for free.
There's also a financing option with a Bowflex credit card. The monthly payment usually falls around $100 per month for 18 months. As long as you pay off the full amount in that 18 months, there's no interest.
Assembly isn't too bad with this machine, though you'll probably want a partner to help with some of the bulkier pieces. Bowflex has assembly videos on its website to help you out.
Final Verdict of Our Bowflex Max Trainer M9 Review
The Bowflex Max Trainer M9 is a fantastic cardio machine that fits in a small footprint. It's the kind of machine that works for beginners and advanced users alike because you can adjust the workout intensity according to your fitness level.
You can use the four built-in programs or access a large library of workouts through the JRNY app. The app is free for the first year.
However, this machine isn't perfect. There's an issue with the screen/console and the JRNY app where the machine shuts down mid-workout. It's a problem that shows up enough that users should be aware of it. Customer service does a good job of addressing the issue, but it's one that could be present until a software update comes out.
Great machine for a quick cardio workout
Works the posterior chain
Good option for a small space
Watch out for glitchy software
Bowflex Max Trainer M9 Rating
Bowflex Max Trainer M9
The Bowflex Max Trainer M9 is a hybrid stair-stepper/elliptical that can provide a heart-pounding, low-impact cardio workout.
Product Brand: Bowflex
Product Currency: USD
Product Price: 1999.00
Product In-Stock: InStock
Bowflex Max Trainer M9 FAQs
Is the Bowflex Max Trainer M9 worth it?
The Bowflex Max Trainer M9 offers an intense workout in a short amount of time. It's also compact and easy on the joints, which bodes well for long-term use. However, considering the Bowflex Max Trainer M9s software issues, keep in mind that you may have to contact customer service for a replacement console. 
Can you use the Bowflex M9 without a subscription?
You can use the Bowflex M9 without a subscription. A built-in media holder and USB port give you everything you need to stream services or access workouts without using JRNY. However, you won't have access to the JRNY library or the built-in streaming services. 
Does the Bowflex M9 have a 14-minute workout?
Bowflex includes a built-in 14-minute interval workout where you sprint for 25 seconds, rest for 80 seconds, and repeat seven times. It's an intense workout, but you can burn a good amount of calories in a short amount of time.