We test and review fitness products based on an independent, multi-point methodology. If you use our links to purchase something, we may earn a commission. Read our disclosures.
Anything Rogue makes immediately gets my attention. High standards of quality coupled with lots of products made or assembled in the USA gets a thumbs up from me. I already own a Rogue Rack and the compatible Slinger so I was excited to get my paws on the seat.
In this Rogue Monster Lat Pulldown Seat review, I'll give you the 411 on price, durability, and overall value. This is just one of many accessories compatible with Rogue Monster Series rigs and racks. I like that Rogue thinks of literally everything you could want to attach or add like a pull up bar, hip thruster bench, speed bag, and more.
Why You Should Trust Us
Although there are only a few products like this on the market that I've tested and reviewed, including the Sorinex Bulldog Pad and Prime Fitness Lat Pulldown Seat, I have reviewed quite a few benches including the Rogue Monster Bench 2.0, Rep Fitness AB-5000 ZERO GAP Adjustable Bench, Fringe Sport Comp Flat Bench, and the PRx Incline Folding Bench. I know the durability that is expected of weight benches and am using that information as a guide to properly review this lat pulldown seat.
Rogue Monster Lat Pulldown Seat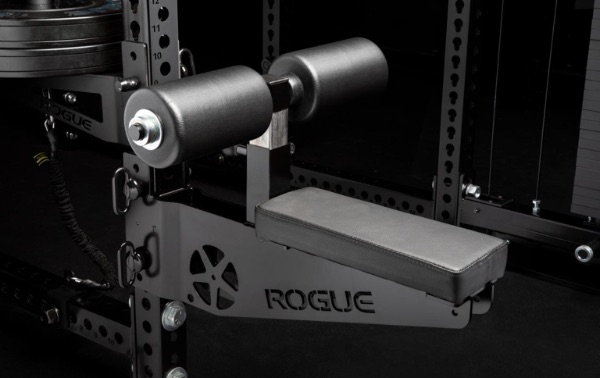 Rogue Monster Lat Pulldown Seat
The Rogue Monster Lat Pulldown Seat made its grand debut in January of 2021. It includes leg rollers and attaches to any Monster series rig. 
A Quick Look at the Rogue Monster Lat Pulldown Seat
The Rogue Monster Lat Pulldown Seat made its grand debut in January of 2021. Prior to that, you could find the attached version on the stand-alone Rogue Monster Lat Pulldown machine. The regular lat pulldown machine features a 300-pound weight stack, stainless steel lat bar, MilSpec cable pulley, and the ability to be a heavy duty low row machine.
Coop's Tips:
Make sure any rack you are attaching this seat to is fully bolted into the ground/properly secured.
Don't worry about a complicated assembly–the Rogue Monster Lat Pulldown comes mostly pre-assembled!
My Favorite Things:
Ability to add a second pulley for low rows (although it should come included.)
Premium material and construction
Rack mounted allowing you to use the Rogue Monster Slinger
My Callouts:
Almost $350
Slight rocking with the seat
Cumbersome to attach making it most likely to sit on the rack full-time for many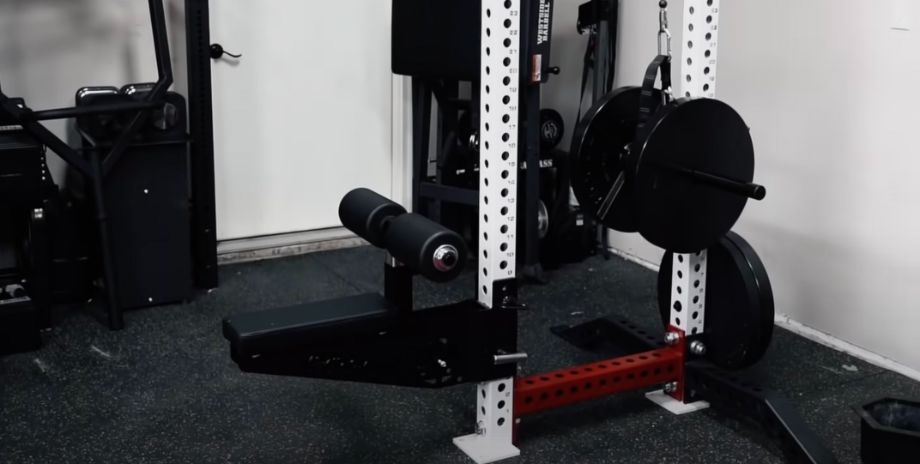 Is the Rogue Monster Lat Pulldown Seat Worth It?
If you're someone who has been eyeing the Monster Rogue Lat Pulldown machine but already has something like the Slinger, purchasing the Monster Rack Mount Lat Pulldown Seat might be a better option for you.
Great for:
Not recommended for:
People looking for budget home gym equipment
Individuals who own a Rogue Monster Lite rack/rig (Check out the Rogue Monster Lite Slinger Lat Pulldown Seat instead)
People who don't want a large/bulky seat
Using the Rogue Monster Lat Pulldown Seat
As someone who owns (and appreciates) the Rogue Slinger, I was excited to try the seat to make lat pulldowns a breeze. You can honestly use the Slinger by just scooting a regular bench up to your rack. However, the Monster Lat Pulldown Seat is more ideal because of the included leg rollers to easily keep you secured to the bench during heavier pulldowns.
The Rogue Monster Lat Pulldown Seat attaches to any Rogue Monster series rig or rack with hitch pins but can work with any 3×3 upright with 1-inch holes. The seat itself is almost 50 pounds, so it will require a little muscle to get it secured. I found the heaviness of the seat to be a good sign it was overbuilt to Rogue standards.
I saw a few people commenting about the width of the seat being a bit small, but I personally felt like it was just right. I don't need the seat to feel like I'm sitting on a recumbent bike or an easy chair and it reminds me of the thinness of the Sorinex Lat Pulldown Seat, which I've always really enjoyed using.
When actually using your Slinger or something like the REP In-Rack Lat Pulldown, expect to feel a little play vertically in the seat. I didn't feel like it was unstable at all, but it does move slightly up when you're pulling down.
I like that there are quite a few adjustability settings with the Monster Lat Pulldown seat. If you want it higher or lower, these are both options because of the hitch pins. You can also adjust the leg rollers between six different settings. This makes it an option for a variety of folks of different sizes.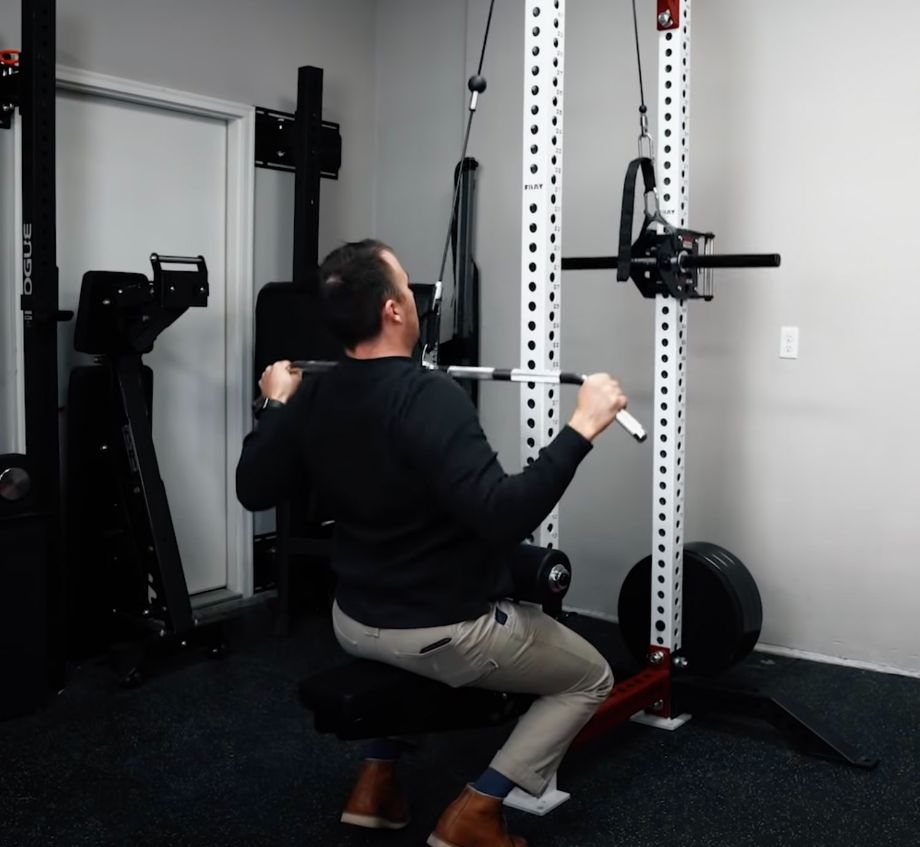 Footprint and Durability
This seat isn't exactly light at about 43 pounds. However, the footprint of 30.25″ L x 24″ W x 18.875″ to 23.875″ H is meant to match the Rogue Monster rack in general largeness. I think it would look kind of silly if the seat was scrawny. Plus, that doesn't exactly make one feel super supported while trying to make huge back gains.
The durability is typical Rogue quality – which essentially means it is top tier and battle-tested. If you're familiar with the Rogue Abram GHD, these rollers will look familiar as they use the same ones on both products. I find them to be both long-lasting and comfortable to use.
The 11-gauge steel is rigid and features laser-cut Rogue branding. It's honestly pretty sick. UHMW is used on the inside pieces to prevent damage to your racks' powder coat when you attach the seat. It is details like these that show how much time Rogue puts into their product designs. Major chefs kiss.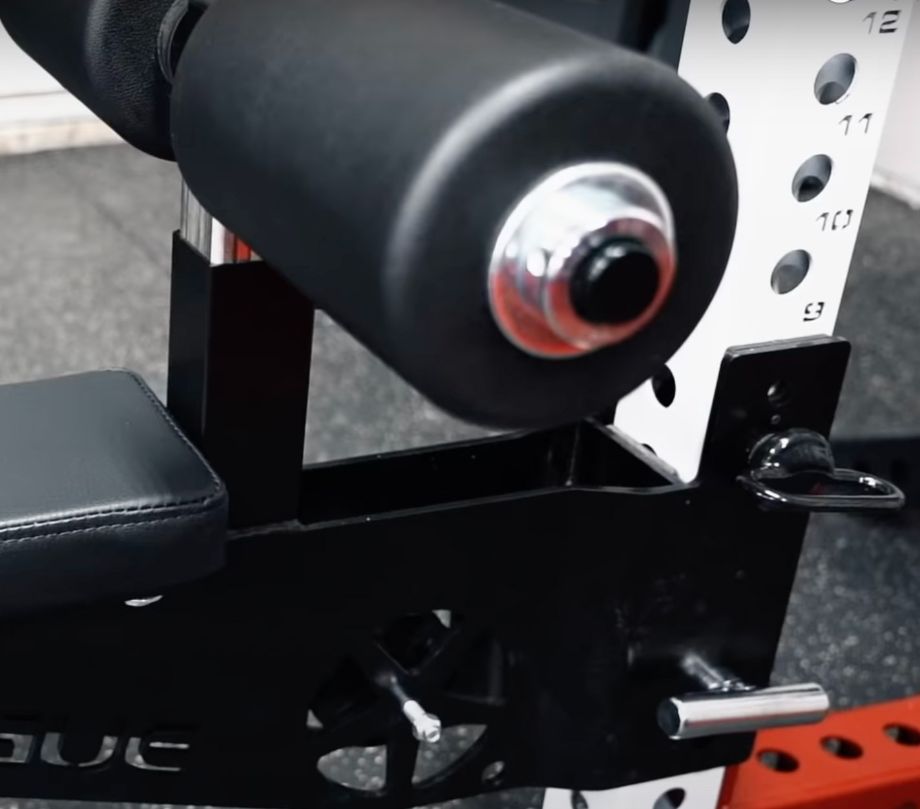 Rogue Monster Lat Pulldown Seat Specs
| | |
| --- | --- |
| Brand | Rogue Fitness |
| Made in the USA | Yes |
| Product Weight | 42.5LB (not including detent pins) |
| Height | 18.875″ to 23.875″ |
| Width | 24″ (including rollers) / 6″ (frame) |
| Length | 30.25″ (Total) / 27.25″ (from mounting upright) |
| Color | Black |
| Seat Dimensions | 16″ x 6″ x 2.25″ |
| Leg Roller Pads | 6 settings, 1" on center |
| Compatible with | Rogue Monster Racks/Rigs and Rogue Monster Slinger |
| Steel Notes | 1/4″ steel |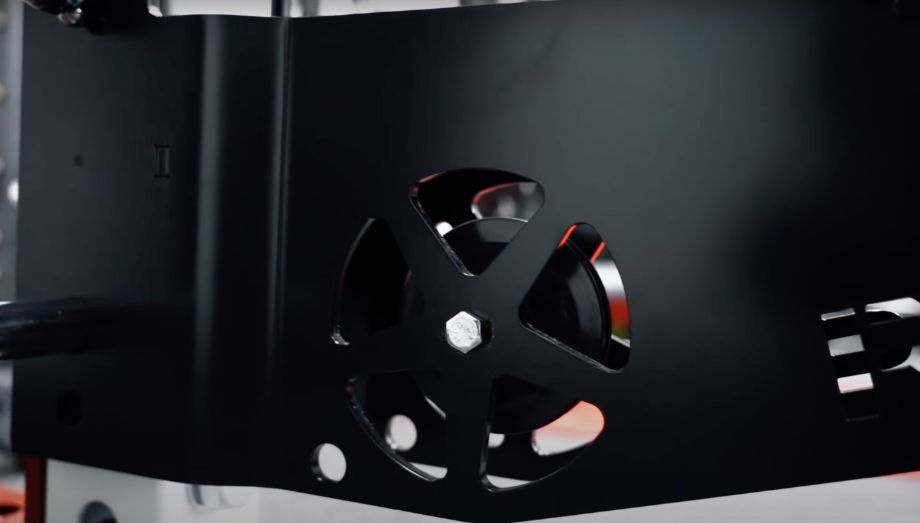 Customer Experience
Rogue has the option to live chat in the top right hand corner of the website. I like that you can reach out to customer service this way and it will tell you if anyone is online for you to talk to. I asked a few different questions about the warranty on the pulldown seat. Although the representative couldn't answer my question, they did direct me to an email address and phone number for me to contact.
I sent an email to Rogue and instantly received an auto-generated reply back about how they would respond within 1-2 days. They ended up responding within a few hours.
Warranty
In terms of warranty, the Rogue Monster Lat Pulldown carries the same general warranty the rest of Rogue products do. Each structural component of the seat has a different timeframe:
Frame: limited lifetime warranty
Structural welds: limited lifetime warranty
Upholstery: 90-day warranty
Sew items: 3-year warranty
Returns
If you don't love your Rogue Monster Lat Pulldown Seat, you can exchange it within 30 days of purchase for a refund. It must be in unused condition and in the original packaging. To get a return authorization form, go to the 'Returns' page and follow the steps. You are also responsible for the return shipping cost.
Customer Reviews
On the Rogue website, the Monster Rack Mount Lat Pulldown Seat has a 4.4 out of 5 stars. Customers mentioned the quality of the seat is great and on par with typical Rogue products.
Some felt there was too much play with the seat because it didn't have a fixed bolting capacity. Other criticisms included minor things about making the seat a few inches wider or including foot plates for added stability.
Ordering and Assembling the Rogue Monster Lat Pulldown Seat
You can easily order the Rogue Monster Lat Pulldown seat from the Rogue website for under $350. The website states that it will take between 30-60 days to ship an in-stock item once ordered but I have had things ship quicker than that in the past. Although Rogue doesn't do automatic free shipping like Titan Fitness, they do have a shipping deal of the day which can include select products or a minimum purchase to get free shipping.
I love that the Lat Pulldown seat comes almost entirely pre-assembled. As someone who has spent more hours than I'd care to admit assembling some of the best squat racks or exercise bikes, I like it when I don't have to do much work. Call me lazy, but I'm sure many of you feel the same.
If you're interested in financing your purchase, Rogue has a deal with PayPal Credit where this is possible. I know not everyone can afford to pay for something that is a few hundred dollars all at once, so this is a great option for many. If your order is over $99 and you pay in full within 6 months, you won't have to pay any interest. Sounds like a no-brainer to me!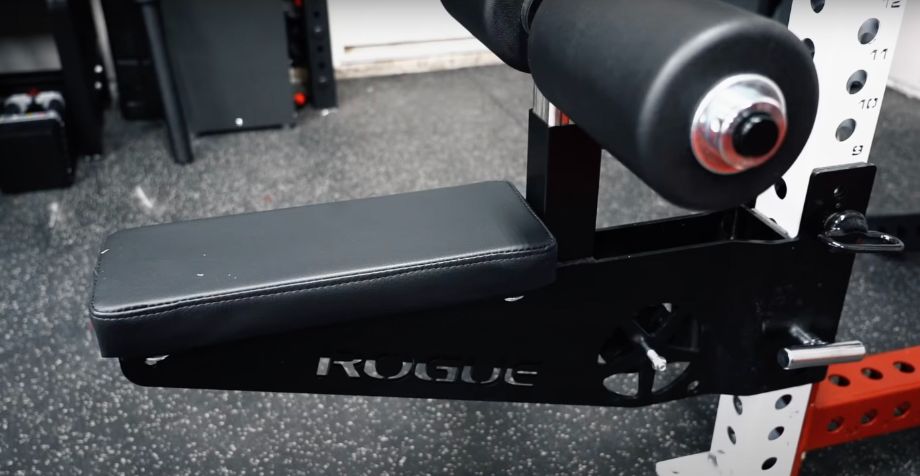 Full Rating
Rogue Monster Lat Pulldown Seat
Overall, the Rogue Monster Lat Pulldown Seat is impressive. Sure, it's expensive, but you're getting a product that is overbuilt to Rogue's high standards. If you're looking for a budget option, this isn't your best bet and I'm not completely sold on the Slinger as a true lat pulldown replacement. I would have liked to see the additional pulley included standard or at least available for purchase separately, but if you're in the market for a seat of this nature, it's a tremendous option, just a very niche product.
Product Brand: Rogue Fitness
Product Currency: $
Product Price: 365
Product In-Stock: InStock
Rogue Monster Lat Pulldown Seat FAQs
How much is the Rogue Monster Lat Pulldown Seat currently selling for?
As of now, this piece of equipment is currently selling for under $350.
Where is the Rogue Monster Lat Pulldown Seat made?

What is the Rogue Monster Lat Pulldown Seat compatible with?
The Rogue Monster Lat Pulldown Seat is compatible with any Rogue Monster series Rig, Wall mount, Power Rack, or Squat Stand.
Could I use this seat to do dumbbell work or do I have to have a pulley system like the slinger?
You don't have to have a cable machine or pulley attachment to own this seat. However, you need to make sure the seat does have a compatible rack to hook into. There is no obvious weight limit on the Rogue website for the pulldown seat so incorporate weights at your own risk. 
If you're feeling a diy moment, attach some resistance bands to your rack/rig and use it like you would any row attachment. Hashtag you're welcome for the awesome strength training tip.
What are some versatile exercises I can do using Rogue products?