A module that is going to be used for strength training needs to be pretty strong.
I can't tell you how many times I've dropped a weight on something I wasn't supposed to like my phone or a device.
The Beast Sensor is a small little yellow rectangle that comes in a sleek, almost Apple-like black box.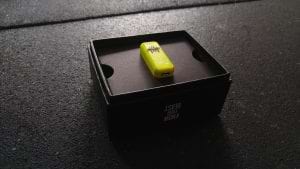 I had no idea how I would actually use the small little square in my training until I opened the box further and found that there was a supplied wrist strap.
Now, I'd like to talk a little about the size of the device as well as the wrist strap.
The wrist strap, in my opinion, is somewhat mediocre. It's a bit uncomfortable and has no padding on the underside to make it more comfortable. This is one area of the device I wish more attention was paid to as other companies I believe have done a better job making it feel more like a wrist watch.
I decided to strap the device to my wrist and use it on some clean and jerks.
I quickly realized that having a big strap on my wrist was inhibitive to my technique and was just plain uncomfortable.
I figured I could just take the device out and somehow tape it to the bar because, in reality, all the module is, is a complex accelerometer.
To my surprise, the Beast Sensor actually has a magnet on the underside that allows you to stick it to a barbell or if you have competition bumpers, to the metal hub.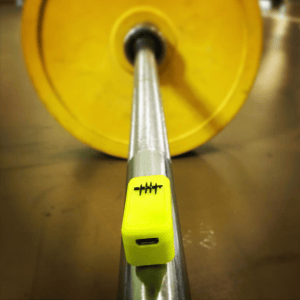 This was a game changer.
In my opinion, I'm glad Beast Technologies supplied the wrist strap, but I doubt I'll be using it much. The magnetic component is pure GENIUS!
I started sticking this bad boy to EVERYTHING.
One of the best ways I found a use for it was on my kettlebells.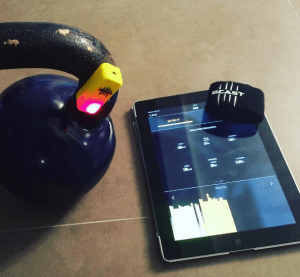 There is one part of the sensor that I wish was higher quality however and that is the switch.
The method for turning the device on is a simple black switch that you would find on the underside of an electronic McDonald's toy. I haven't had any problems with it yet, but I think it takes away from the overall great build quality. For the next iteration, I would suggest a simple button.
You can see it here: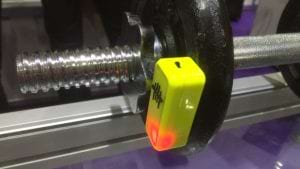 Now, if you've been reading on the site for any matter of time or follow me on Instagram, Facebook, or YouTube (shameless plugs) you're probably well aware of the fact that I am a big believer of the mindset of getting in, train hard, and getting out.
I really don't like things to over complicate my workout, especially if they're not really all that helpful.
This was my initial thought with the Beast Sensor.
Before using it, I simply assumed that this would be a hindrance to my training much more than a help.
I've used products close to this in the past, most notably the FORM Lifting Collar, and although I liked being able to track my bar speed, it was somewhat clumsy to use.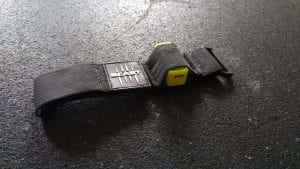 The Beast Sensor, however, isn't very inhibitive.
What I mean by that is, it takes a little bit of time to set up in the beginning, but then after that, you can move from one rep to the next without any setup time.
To me, this is where it really shines.
You can select what workout you're doing, the weight, and just start going to town.
This can get really fun when you're with training partners who have  large ego's to see who can move a heavy weight the fastest.