We test and review fitness products based on an independent, multi-point methodology. If you use our links to purchase something, we may earn a commission. Read our disclosures.
The Beast Sensor is a complicated and advanced accelerometer built into a module that can be attached to a provided wristband, or if so inclined can be magnetically attached to say a weight stack in a lat pull down or a barbell. In our opinion, the accuracy still needs some work, but it has potential.
Beast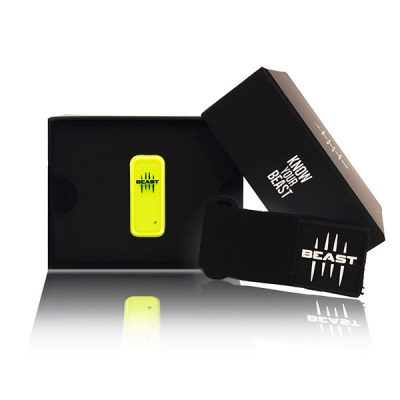 Beast Sensor
Enhance motivation Watch in real time how much you are pushing rep by rep on your smartphone screenAdapt lifting to your daily conditions Break fixed set & rep schemes and let your daily shape and performance dictate the optimal loads for your training sessionOptimize your strength training Beast knows your athletic profile and guides you towards the optimal training zone for reaching your goalsKeep track of all lifts All data is collected in the Beast Webportal, the first performance based training diary for weightliftingBeast sensor will become your #1 training companion using data to build your athletic profile and deliver a set of relevant information based on sports science, which is key to help you reaching your training goals faster. By measuring Power, Speed and Force of all movements with a high precision accelerometer technology you will be able to get instant feedback on the quality of your workout – and keep the level UP! You will receive easy to understand metrics to adjust workouts to your goals and adapt training loads on your daily conditions, preventing injuries and overtraining, being 100% sure you are giving the maximum every single training day. Beast will keep you constantly on the edge of your personal best. Every single time you hit the gym, no matter what's your story. Discover more about Beast for Athletes here.Package contains:• 1x Beast sensor • 1x wristband • 1x user manual • 1x micro-USB charging cable
More and more people are tracking every metric they can.
The reason is pretty simple, people want to eek out ever little bit of performance possible, and as such need to see every little piece of data available.
There are many devices available and even more coming out each day.
Today, however, I am excited to introduce to you and provide an in-depth review of the Beast Sensor from Beast Technologies.
What is the Beast Sensor?
It's hard to walk down the street without seeing a wearable on somebody's wrist these days.
With companies like FitBit and Atlas dominating the market, it's nice to see a new competitor. This being said the Beast Sensor is actually quite a bit different from the aforementioned.
You see, while the FitBit is great for tracking your steps and heart rate, it does absolutely nothing for tracking your strength.
And that's where the Beast Sensor really shines.
The Beast Sensor is a complicated and advanced accelerometerbuilt into a module that can be attached to a provided wristband, or if so inclined can be magnetically attached to say a weight stack in a lat pull down or a barbell.
In order to see what the beast sensor is tracking, you simply download their app from the App Store or Google Play Store and connect via Bluetooth.
It can literally track nearly all exercises from squats to curls.
The data is then saved in the cloud and accessible from your phone or even their online portal.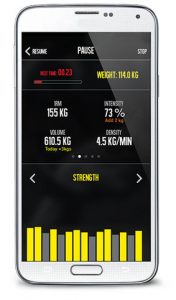 Beast Sensor Review
A module that is going to be used for strength training needs to be pretty strong.
I can't tell you how many times I've dropped a weight on something I wasn't supposed to like my phone or a device.
The Beast Sensor is a small little yellow rectangle that comes in a sleek, almost Apple-like black box.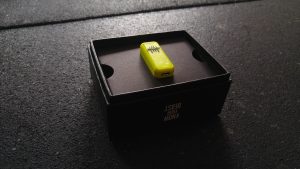 I had no idea how I would actually use the small little square in my training until I opened the box further and found that there was a supplied wrist strap.
Now, I'd like to talk a little about the size of the device as well as the wrist strap.
The wrist strap, in my opinion, is somewhat mediocre. It's a bit uncomfortable and has no padding on the underside to make it more comfortable. This is one area of the device I wish more attention was paid to as other companies I believe have done a better job making it feel more like a wrist watch.
I decided to strap the device to my wrist and use it on some clean and jerks.
I quickly realized that having a big strap on my wrist was inhibitive to my technique and was just plain uncomfortable.
I figured I could just take the device out and somehow tape it to the bar because, in reality, all the module is, is a complex accelerometer.
To my surprise, the Beast Sensor actually has a magnet on the underside that allows you to stick it to a barbell or if you have competition bumpers, to the metal hub.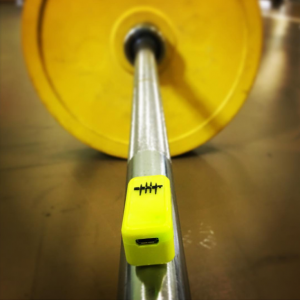 This was a game changer.
In my opinion, I'm glad Beast Technologies supplied the wrist strap, but I doubt I'll be using it much. The magnetic component is pure GENIUS!
I started sticking this bad boy to EVERYTHING.
One of the best ways I found a use for it was on my kettlebells.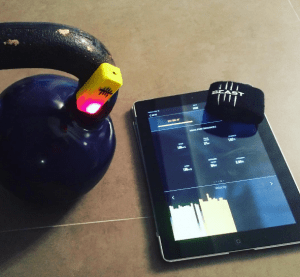 There is one part of the sensor that I wish was higher quality however and that is the switch.
The method for turning the device on is a simple black switch that you would find on the underside of an electronic McDonald's toy. I haven't had any problems with it yet, but I think it takes away from the overall great build quality. For the next iteration, I would suggest a simple button.
You can see it here: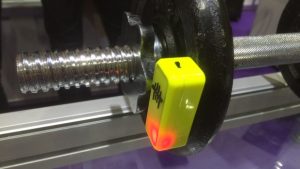 Now, if you've been reading on the site for any matter of time or follow me on Instagram, Facebook, or YouTube (shameless plugs) you're probably well aware of the fact that I am a big believer of the mindset of getting in, train hard, and getting out.
I really don't like things to over complicate my workout, especially if they're not really all that helpful.
This was my initial thought with the Beast Sensor.
Before using it, I simply assumed that this would be a hindrance to my training much more than a help.
I've used products close to this in the past, most notably the FORM Lifting Collar, and although I liked being able to track my bar speed, it was somewhat clumsy to use.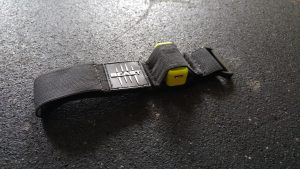 The Beast Sensor, however, isn't very inhibitive.
What I mean by that is, it takes a little bit of time to set up in the beginning, but then after that, you can move from one rep to the next without any setup time.
To me, this is where it really shines.
You can select what workout you're doing, the weight, and just start going to town.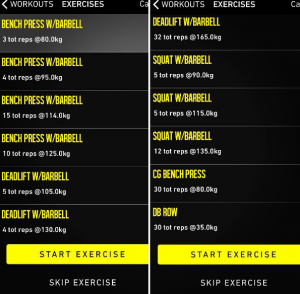 This can get really fun when you're with training partners who have large ego's to see who can move a heavy weight the fastest.
Final Thoughts
The Beast Sensor surprised me. I figured it would be another wearable that tracked things like the number of steps I took which has no interest to me.
However, after using it, I can see it has it's place and allows me to track my just how explosive and powerful I'm being.
I'm surprisedLouie Simmons hasn't picked this bad boy up yet because I could see this being right down his alley. Force x Mass = Acceleration.
This product is great for garage gym owners but even better for trainers and coaches who would like to track more of their client's progress than just weight on the bar. I mean, imagine using this for basketball players trying to increase their vertical jump.
The possibilities are endless!
Full Rating
Beast Sensor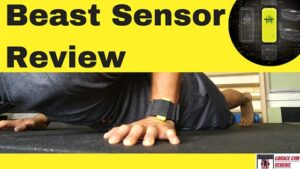 The Beast Sensor is a complicated and advanced accelerometer built into a module that can be attached to a provided wristband, or if so inclined can be magnetically attached to say a weight stack in a lat pull down or a barbell. In our opinion, the accuracy still needs some work, but it has potential.
Product Brand: Beast
Product Currency: $
Product Price: 289
Product In-Stock: InStock
Beast Sensor FAQs
What is the Beast Sensor?
The Beast Sensor is a small piece of physical gear that you attach to the bar or your body to measure speed data and send it to a smartphone app in real time. The gadget captures a ton of useful data from your exercises in real time, allowing you to evaluate how well you're sticking to your fitness schedule. Beast Sensor may also serve as a personal trainer, guiding you through the creation of the finest training routine.
How does the beast sensor work?
The Beast Sensor combines motion tracking technology with algorithms and user-supplied data to determine how hard you're working while exercising. The Beast Sensor recorded my reps in real time as the weights went up and down (you can follow along with the app opened on your smartphone).
Where to Purchase
Beast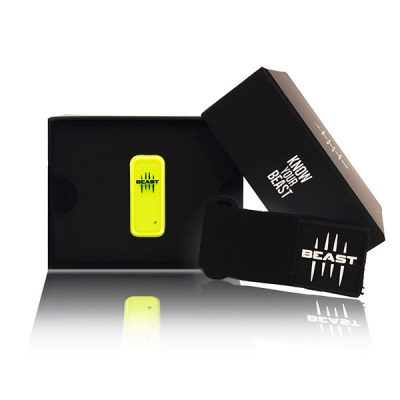 Beast Sensor
Enhance motivation Watch in real time how much you are pushing rep by rep on your smartphone screenAdapt lifting to your daily conditions Break fixed set & rep schemes and let your daily shape and performance dictate the optimal loads for your training sessionOptimize your strength training Beast knows your athletic profile and guides you towards the optimal training zone for reaching your goalsKeep track of all lifts All data is collected in the Beast Webportal, the first performance based training diary for weightliftingBeast sensor will become your #1 training companion using data to build your athletic profile and deliver a set of relevant information based on sports science, which is key to help you reaching your training goals faster. By measuring Power, Speed and Force of all movements with a high precision accelerometer technology you will be able to get instant feedback on the quality of your workout – and keep the level UP! You will receive easy to understand metrics to adjust workouts to your goals and adapt training loads on your daily conditions, preventing injuries and overtraining, being 100% sure you are giving the maximum every single training day. Beast will keep you constantly on the edge of your personal best. Every single time you hit the gym, no matter what's your story. Discover more about Beast for Athletes here.Package contains:• 1x Beast sensor • 1x wristband • 1x user manual • 1x micro-USB charging cable