We test and review fitness products based on an independent, multi-point methodology. If you use our links to purchase something, we may earn a commission. Read our disclosures.
Schwinn knows the ins and outs of bikes, both indoor and out. The brand currently produces two recumbent models, the Schwinn 230 and the 290, which replaced the Schwinn 270. But the Schwinn 270 is still popular and easy to find even though Schwinn no longer carries it on SchwinnFitness.com. It's worth taking a look at the Schwinn 230 vs 270 to compare features and price.
Recumbent bikes go easy on the joints, and they're a good option for people with balance issues. The 230 and 270 are both excellent recumbent bikes, but one is designed for affordability and the other for those who like a few extra features. Visually, they look similar, but everything from their displays to the number of preset exercise programs and resistance levels are different. Dive into this in-depth comparison to decide which one might work best in your home gym.
Schwinn 230
GGR Score: 4.25
Product Highlights
Recumbent bike comes with 16 levels of magnetic resistance
Highly adjustable, contoured and ventilated seat
Bluetooth connectivity
Costs $500
Made with lots of plastic
Display isn't great
Pros & Cons
Pros
Ventilated seat to keep you cool during long workouts
Easily adjustable for people of all heights
Lightweight, at only 80 pounds
A great value in the $500 price range (with free shipping)
Cons
Sells out frequently (you may be able to find it on Amazon)
Made with a lot of plastic
The console is not backlit
Bottom Line
The Schwinn 230 Recumbent Bike offers a great value with 16 levels of magnetic resistance and plenty of built-in features. And all at $500.
Scwhinn 270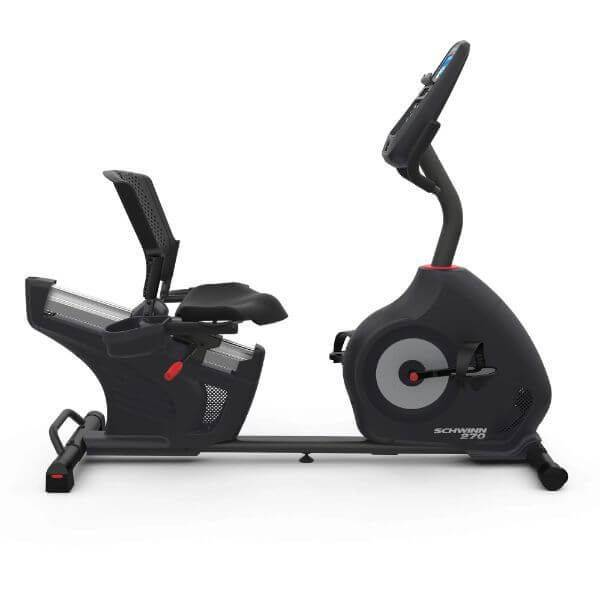 GGR Score: 3.75
Product Highlights
Recumbent bike that uses magnetic resistance

25 levels of resistance

Features a dual track, two-LCD screen system

29 pre-programmed workouts

Requires some dedicated floor space
Pros & Cons
Pros
29 programs
4-user capacity
USB port
Compatibility with Explore the World app and MyFitnessPal
Easy to use
Cons
Lacks technology features
Friction resistance bikes generally require more maintenance than magnetic
Bottom Line
The Schwinn 270 may be one of the brand's older models of recumbent bikes, but it still comes with a variety of basic, yet motivating features. There are some complaints about it breaking down (specifically the resistance) and, given the limited warranty, this is a viable concern.
Comparison Chart: Schwinn 230 vs 270
| | | |
| --- | --- | --- |
| | Schwinn 230 | Schwinn 270 |
| Footprint | 64" L x 27" W x 44.5" H | 64" L x 27.7" W x 50" H |
| Weight | 80 lbs | 86.6 lbs |
| Maximum user weight capacity | 300 lbs | 300 lbs |
| Display | 5.5" segmented LCD | Schwinn DualTrack blue light LCD screens |
| Resistance | 16 | 25 |
| Workout programs | 13 | 29 |
| Bluetooth connectivity | Yes | Yes |
| Warranty | 10 years (frame), 2 years (parts), 1 year (electronics), 90 days (labor) | 10 years (frame), 2 years (parts), 1 year (electronics), 90 days (labor) |
Quick Look: Schwinn 230 vs Schwinn 270
These two bikes have similar frame sizes, though the Schwinn 270 is five inches taller thanks to a dual-screen display. The Schwinn 270 outpaces the 230 in features, largely because it was designed as an advanced model. It's since been replaced by the 290, but it still has a long list of features for those who want extra preset workout programs and a well-cushioned seat.
Who Should Buy the Schwinn 230
Budget-conscious shoppers
Users with knee, back, or balance problems
Those who don't want or need the latest tech upgrades
Who Should Buy the Schwinn 270
People who want a good selection of preset workouts
Users with knee, back, or balance problems
Families or homes with multiple users
Users who need extra seat cushioning
Key Similarities Between Schwinn 230 and 270
Similar (though not identical) frame sizes and footprints
Bluetooth connectivity
Contoured, vented seatbacks
Adjustable seat rail system
Media shelf
Water bottle holders
Identical warranties (However, the Schwinn 270's current warranty may vary by the seller.)
Same maximum weight limit
Transport wheels
Important Differences Between Schwinn 230 and 270
The Schwinn 270 has 29 built-in programs to the 230's 13.
The Schwinn 270 has 25 levels of eddy current resistance to the 230's 16 levels of standard magnetic resistance.
The 270 has a padded seat bottom that contours to the leg area.
The 270 has heart rate grips on the handlebars.
The 270 has a three-speed fan and sealed acoustic chambers.
The 270 can set up four user profiles.
The 270 has 10 resistance quick buttons, while the 230 has none.
The 270 has pulse sensors extending from the console.
Built-in Programming and Connectivity
Built-in programming is one of the big differences between these two recumbent bikes. The 270 comes with 29 programs that include:
12 profile
Nine heart rate programs
Four custom
Two fitness tests
One recovery test
One quick start program
There's also the option to set up profiles for four users, making this a good option for homes with multiple users.
In contrast, the 230 offers 13 workout programs that include some of the same options as the 270, just not all of them. And only one user can set up a profile.
However, both bikes have Bluetooth connectivity, allowing them to connect with certain third-party apps, like Explore the World and Zwift (separate subscriptions required). These popular cycling apps include training plans and scenic rides to significantly expand the programming you can do on the 230 or 270.
Either bike will require you to use a separate device mounted on the built-in media shelf to watch third-party programming. However, neither bike syncs with the app, so you'll have to make resistance changes yourself.
Bluetooth connectivity also allows these bikes to connect to a heart rate monitor, though neither includes a heart rate strap.
Workout Feel
The difference in workout feel between these bikes starts with the seats. Both have a ventilated backrest designed for lumbar support. And both seats are built on a seat slider rail system, making them easy to get the right seat adjustment.
However, some shorter users may find that the 270 doesn't quite get close enough to the pedals. As one 5-foot, 1-inch user on SchwinnFitness.com put it, "I am sliding down off of the seat. . . I have tried different settings, but this still happens. Very uncomfortable to ending up laying flat on the bike."
There haven't been similar complaints about the adjustability of the 230. Having said that, the 270 has a padded, contoured seat bottom that the 230 lacks. As far as comfort, the 270 wins out. But the 270's padded seat has the potential to trap more heat than the 230's completely (non-padded) ventilated seat design. It might not be as comfortable, but it can keep you cooler.
Both bikes use magnetic resistance, but the 270 has eddy current resistance, which is supposed to be smoother. However, in a previous Schwinn 270 review, our in-person tester didn't find eddy current resistance too much smoother than regular magnetic resistance.
While the 270 has 25 levels of resistance and the 230 has 16, you can get a fairly good workout on either one. However, if you're training for a race, a recumbent exercise bike doesn't offer the specs of an upright bike. Neither bike will offer the kind of workout you can get from, say, the Schwinn IC4 or a Peloton.
Display and Console
Both of these bikes have a relatively simple and easy-to-use console design, though comparatively, the 230's is bare-bones. Simple and streamlined definitely describe this easy-to-use exercise bike.
The 270's console certainly isn't high-tech, but it is more complicated (and larger) than the 230's. It has dual backlit screens, one of which is covered if you use the media shelf. But that leaves the smaller lower screen to monitor distance, speed, and a few other metrics while riding. A noticeable difference is the 10 resistance quick buttons on the 270's console. These keys let you go directly to different resistance levels rather than using the scrolling buttons. The 230 only has scrolling buttons.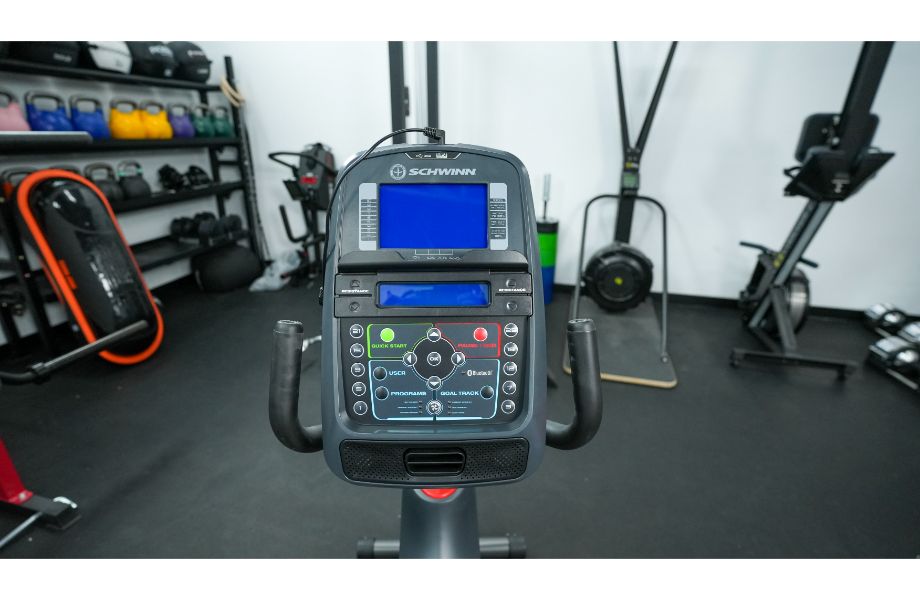 Don't underestimate the convenience of the 270's blue backlit screen and built-in USB port for charging. The extra display shows goals and other workout information for easy tracking. The 270 has some additional buttons on the screen because of additional features, like fan control and a button to select the user profile. The display's size adds an additional five inches of height.
The 230's display isn't backlit, which means if you're in dim conditions, it might be hard to see your program or metrics. And, the screen is covered if you place a device on the media shelf.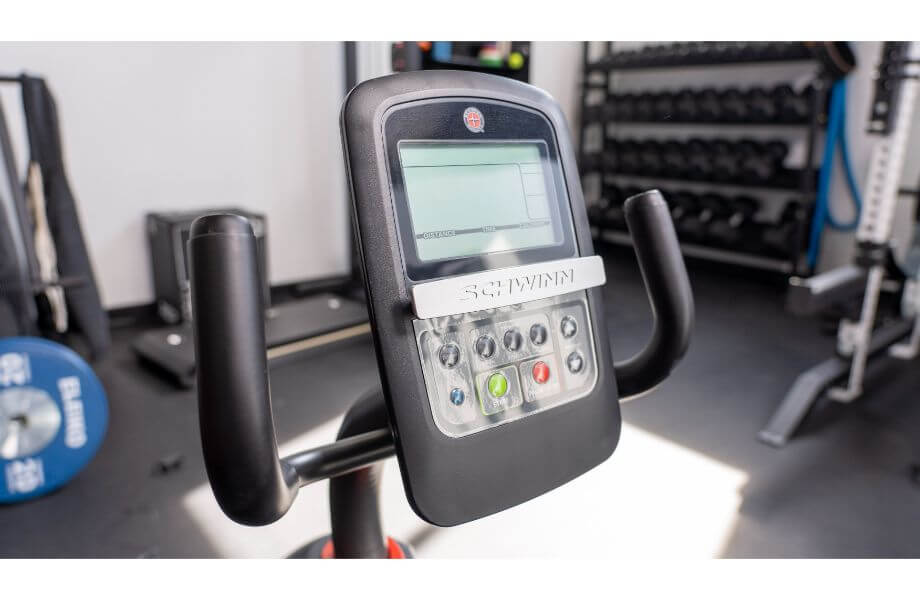 Customer Reviews
Overall, both bikes get positive reviews and feature reviews from people with various injuries or chronic conditions who find a recumbent bike offers the best exercise for their particular limitations.
However, users on SchwinnFitness.com consistently mention the benefits of the 270's programs and quiet resistance, "I use this bike around five times a week. Having it makes it easy to get some really good cardio in before I start my day. I recently had a knee replacement surgery and I wanted to have something to help keep my knees strong and this bike is great for that."
A user on Amazon.com summed up the 270's pros and cons well with:
"Had it for 10 days and so far we are very satisfied with this bike. Setup took about 1.5 hours at a leisurely pace, only issue was when I dropped a screw inside the flywheel casing and had to open it to recover it. An assistant would have come in handy but wasn't really needed."
The 230 gets similar positive reviews, though happy users tend to focus on the value and simplicity of use. One user on SchwinnFitness.com said, "Nice and quiet. It wasn't hard to put together, but you'll need to allow yourself about an hour and a half. Instructions were pretty good. Only negative is that the seat isn't as comfortable as our prior Schwinn—that one had a thicker padding instead of a hard plastic seat."
Company Policies
The Schwinn 230 has a 10-year frame warranty, two years on parts, one year on electronics and 90 days on labor. The frame and parts warranties are good, but the rest is fairly lackluster and disappointing. When the Schwinn 270 was sold on SchwinnFitness.com, it had the same warranty. However, it's only sold on third-party sites, so the warranty may vary by the seller. If you find a good deal on a Schwinn 270, check the seller's warranty closely to see if it matches the original Schwinn warranty.
As far as the 230, Schwinn gives you the option of in-home assembly for an additional $129 and three- or five-year extended protection on parts and labor for an additional $59 or $89, depending on length. You can also apply for financing through Schwinn. Final rates and monthly payments will vary based on your credit score.
Final Thoughts on Schwinn 270 vs 230
Both of these bikes have a strong frame and offer a beneficial workout to those with knee, back, or balance issues. If you prefer low-tech with few bells and whistles at an affordable price, the Schwinn 230 is a solid choice. But for not too much more, you can get the Schwinn 270 with its extra built-in programs, resistance and extra backlit display. However, you'll have to buy it from a third-party seller since Schwinn no longer carries it on the website. That could mean a less-than-stellar warranty, so read the fine print.
FAQs on Schwinn 230 vs 270
Can I connect the Schwinn 230 or 270 to a fitness app?
The Schwinn 230 and 270 are Bluetooth-capable so they can sync metrics with some third-party fitness apps, like Explore the World and Zwift. However, they aren't fully integrated with these apps, so resistance changes are manual.
Where can I get Schwinn recumbent bike parts?
Schwinn is the best place to get replacement parts, but you can find some on Amazon.com, too. If your recumbent bike is within the warranty period, you may get those parts at no additional cost to you. 
How effective are Schwinn exercise bikes in losing weight?
Exercise bikes, Schwinn or otherwise, can be a great tool when losing weight. However, it's all in how you use the bike and your overall weight loss plan. Keep in mind that working out consistently on an exercise bike needs to be coupled with an appropriate nutrition plan to achieve weight loss goals.