We test and review fitness products based on an independent, multi-point methodology. If you use our links to purchase something, we may earn a commission. Read our disclosures.
Try as we might, preparing every single meal at home sometimes just isn't realistic. Living a full and busy life means we may occasionally have to eat on the go. But if hitting the fast food drive-thru gives you pause, don't worry. Many fast-food restaurants have menu options that can fit into your healthy eating lifestyle and keep you on track to reach your fitness goals.
I'm a registered dietitian nutritionist (RDN) with several years of clinical experience, so I've seen firsthand how our food choices can impact our overall health. I'm passionate about helping people embrace their health through nutrition, but I also like to keep it real. There is no such thing as a perfect diet, and we all have unique individualized nutrition needs.
When included mindfully, fast food can fit into a healthy diet. In this article, we'll look at the nutrition behind some of the best healthy fast-food options available. And while these aren't the only menu items that can serve the body's needs, they're a great place to start the conversation. So, let's check them out!
Medical disclaimer: This article is intended for educational and informational purposes only. It is not intended as a substitute for medical advice. For health advice, contact a licensed healthcare provider
11 Best Healthy Fast Food Items
Below we've compiled a list of some of the most popular fast-food chains and a few of their healthy menu options. Since "healthy" is a subjective term, you'll notice that there isn't a set pattern to this list. While some menu items are lower in calories or fat, most of this list focuses on an adequate balance of protein, carbohydrates, and fats.
1. Chick-fil-A
Chick-fil-A's 8-Count Grilled Nuggets1 put a healthy spin on their infamous fried chicken nuggets. Eight of these grilled nuggets provide approximately 130 calories, so you have plenty of room to add more menu items as you build a well-balanced meal or snack. Need something with more calories and carbohydrates? Consider trying their grilled chicken sandwich.
| | | | | |
| --- | --- | --- | --- | --- |
| Total Calories | Protein | Carbs | Fat | Sodium |
| 130 | 25 grams | 1 gram | 3 grams | 440 milligrams |
2. Chipotle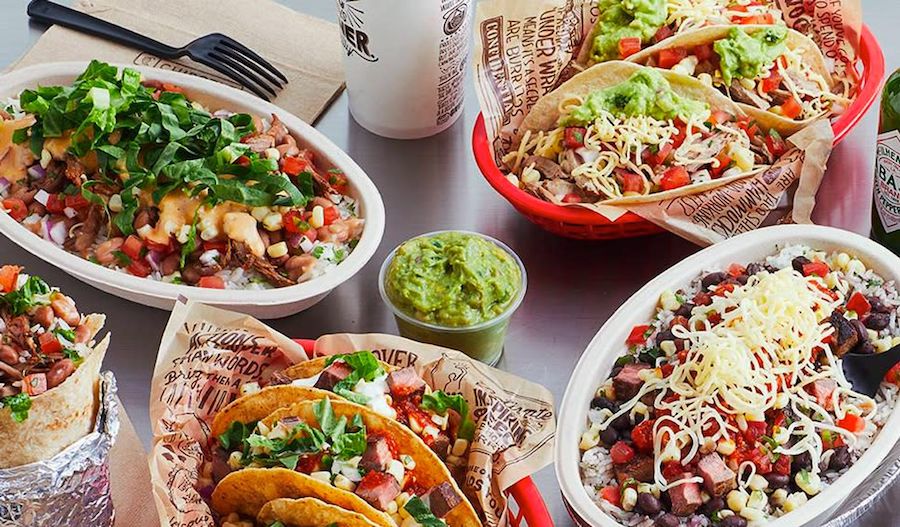 Chipotle Mexican Grill has an extensive list of burritos, burrito bowls, tacos, and salads, but their Chicken Tacos2 stand out as a healthy meal to grab on the go. Compared to other items on the menu, they are relatively low in calories and packed with protein. Plus, there are only 310 milligrams of sodium in three tacos. If you want to add some healthy fats, consider adding guacamole, or some fajita veggies for extra fiber.
| | | | | |
| --- | --- | --- | --- | --- |
| Total Calories | Protein | Carbs | Fat | Sodium |
| 380 | 35 grams | 29 grams | 16 grams | 310 milligrams |
3. Subway
When it comes to eating healthy, subs can be deceiving. Many of us assume a sandwich is a healthy option, but there can be a lot of hidden calories and sodium in deli subs. The 6-Inch Tuna Sub3 is high in fat compared to some of the other Subway menu items, but it has a good balance of all the macronutrients. Plus, you can build your sub to your liking by adding veggies, such as cucumbers, red peppers, onions, and more.
| | | | | |
| --- | --- | --- | --- | --- |
| Total Calories | Protein | Carbs | Fat | Sodium |
| 430 | 19 grams | 37 grams | 25 grams | 670 milligrams |
4. Dunkin' Donuts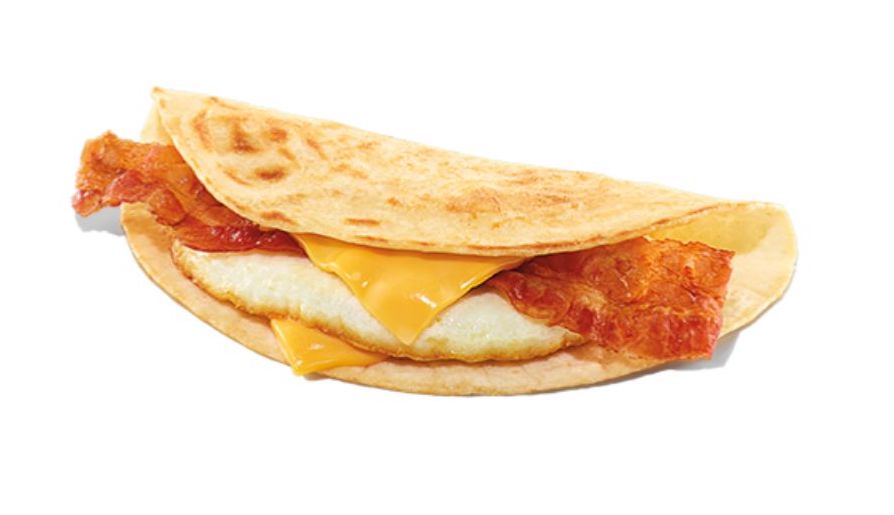 If you're stopping by Dunkin' Donuts for a coffee on the way to work, consider trying one of their Wake-Up Wrap with Turkey Sausage4 to add some protein to your morning commute. The wraps are made to order with egg, cheese, and your choice of protein.
A wrap made with turkey sausage provides 11 grams of protein and only 15 grams of carbohydrates. However, each wrap provides 680 milligrams of sodium, so if your Wake-Up Wrap is part of a balanced meal, consider adding fruits, veggies, or other low-sodium items to increase your meal's satiety.
| | | | | |
| --- | --- | --- | --- | --- |
| Total Calories | Protein | Carbs | Fat | Sodium |
| 340 | 11 grams | 15 grams | 15 grams | 680 milligrams |
5. Jimmy John's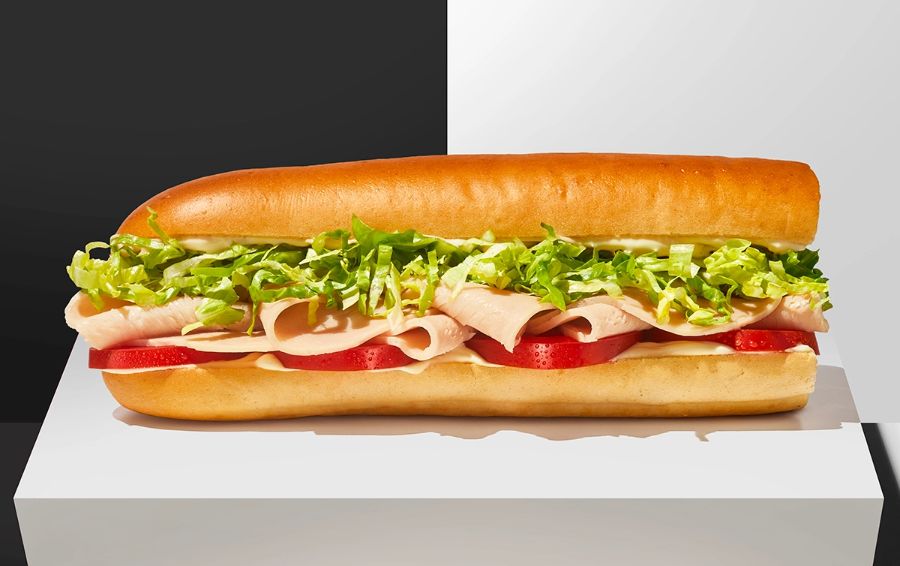 The 8-Inch Turkey Tom sub on French Bread5 from Jimmy John's is a satisfying meal in a pinch. The 8-inch sub provides 23 grams of protein and only 480 calories. You can dress it up with added veggies, but be mindful of hidden calories in vinaigrettes and other sauces. Additionally, the sub contains more than half the recommended daily sodium intake, so you'll need to be mindful of your intake throughout the rest of the day.
| | | | | |
| --- | --- | --- | --- | --- |
| Total Calories | Protein | Carbs | Fat | Sodium |
| 480 | 23 grams | 48 grams | 19 grams | 1160 milligrams |
6. KFC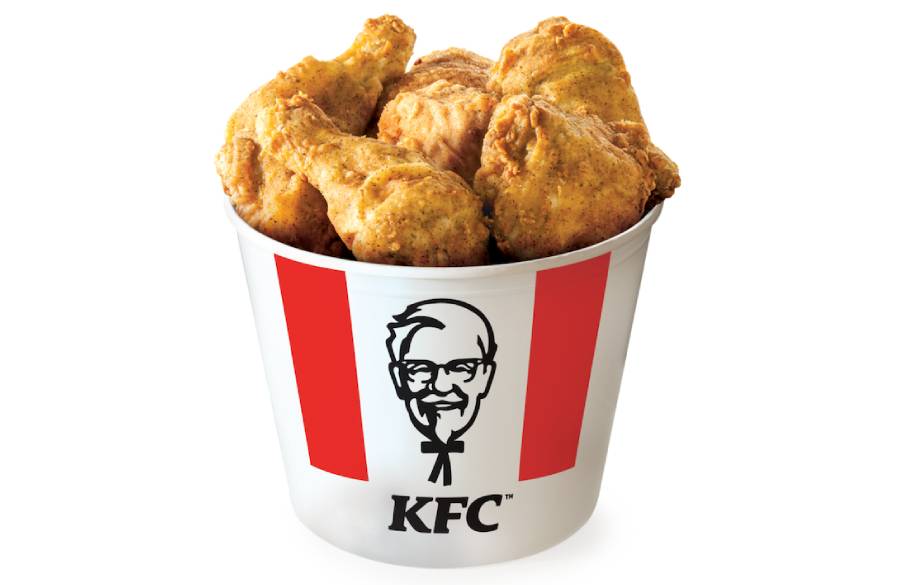 KFC is famous for their fried chicken, so of course, we had to find a way to include it here. Their Original Recipe Chicken Breast6 is a protein-dense entree item low in carbohydrates. You can chop it up and add it to a side salad or enjoy it as a sandwich on a whole-grain bun.
It's important to note that fried chicken is higher in fat than grilled chicken and often higher in sodium, so you may need to be strategic about the days you include it on your menu. KFC's chicken breast contains 1190 milligrams of sodium, which is more than half of the recommended daily sodium intake7. But if you had a heavy sweat day and you need to replace some sodium, a piece of KFC fried chicken might be especially delicious.
| | | | | |
| --- | --- | --- | --- | --- |
| Total Calories | Protein | Carbs | Fat | Sodium |
| 390 | 39 grams | 11 grams | 21 grams | 1,190 milligrams |
7. McDonald's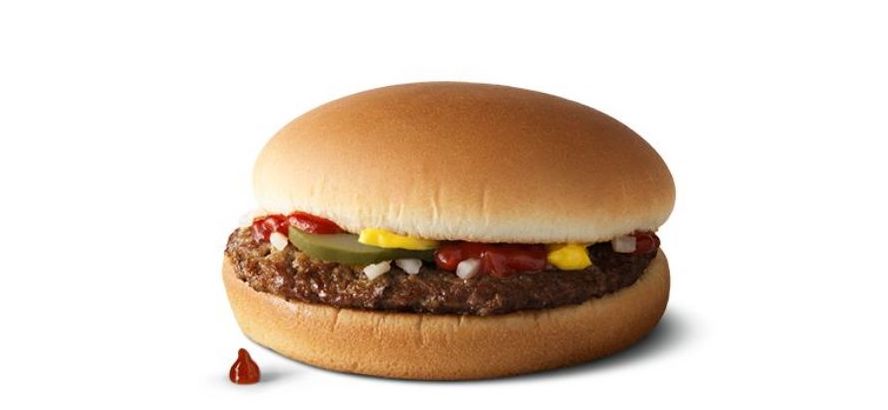 When it comes to healthy fast-food options, McDonald's doesn't usually come to mind. So, it might be surprising that a Classic McDonald's Hamburger8 can be part of a healthy fast-food order. The Classic Hamburger is actually lower in fat and sodium than many of the other menu items, including the Egg McMuffin and Chicken McNuggets. And at just 250 calories, you have wiggle room to add more food items that can bump the protein content of your meal.
| | | | | |
| --- | --- | --- | --- | --- |
| Total Calories | Protein | Carbs | Fat | Sodium |
| 250 | 12 grams | 31 grams | 9 grams | 510 milligrams |
8. Panera Bread
Panera Bread's Avocado, Egg White, Spinach & Cheese on Sprouted Grain Bagel Flat9 is a delicious fast-food meal to grab on a busy morning. With 19 grams of protein and 14 grams of mostly healthy fats, it's a satisfying and filling breakfast option. Plus, it's topped with fresh veggies that add flavor and fiber.
| | | | | |
| --- | --- | --- | --- | --- |
| Total Calories | Protein | Carbs | Fat | Sodium |
| 350 | 19 grams | 39 grams | 14 grams | 680 milligrams |
9. Starbucks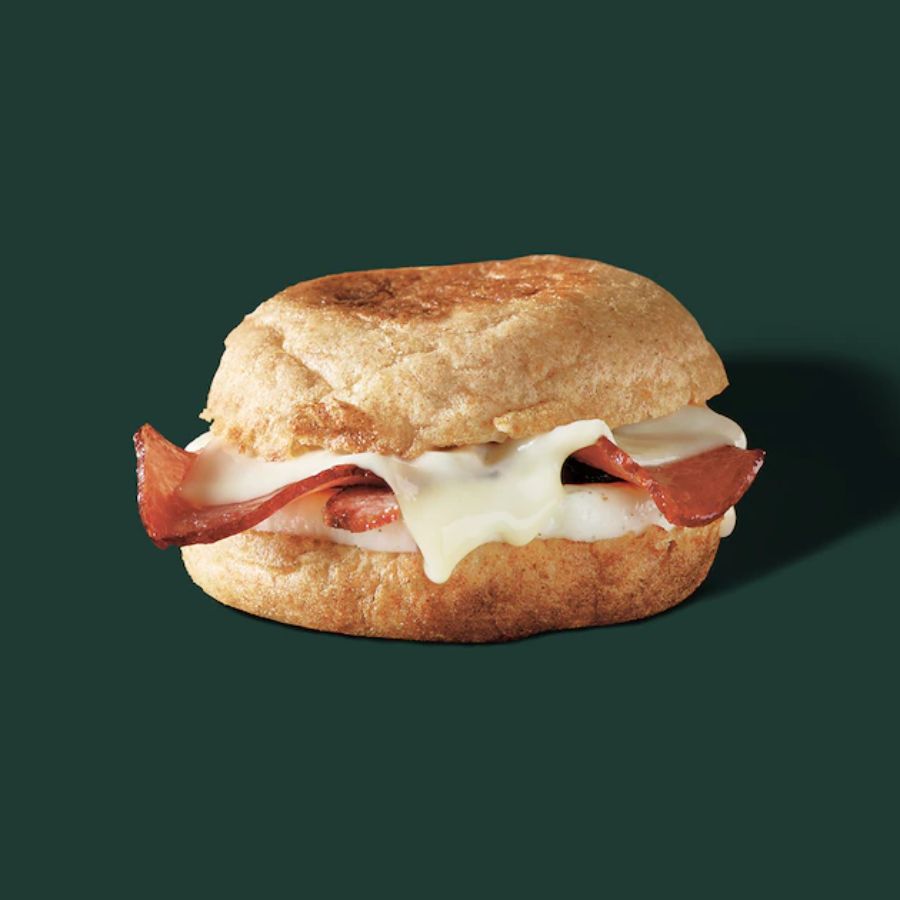 Starbucks is best known for its coffee selection, but they also have a pretty nutritious food menu. If you have a tough time choosing from the several healthy options available, consider trying the Turkey Bacon, Cheddar, and Egg White Sandwich10.
It's a satisfying breakfast sandwich served on a wheat English muffin and can easily be incorporated into a well-balanced meal. In addition, at only 230 calories and 28 grams of carbohydrates per sandwich, it leaves room for you to add more food items, such as a small fruit cup or side salad.
| | | | | |
| --- | --- | --- | --- | --- |
| Total Calories | Protein | Carbs | Fat | Sodium |
| 230 | 17 grams | 28 grams | 5 grams | 560 milligrams |
10. Taco Bell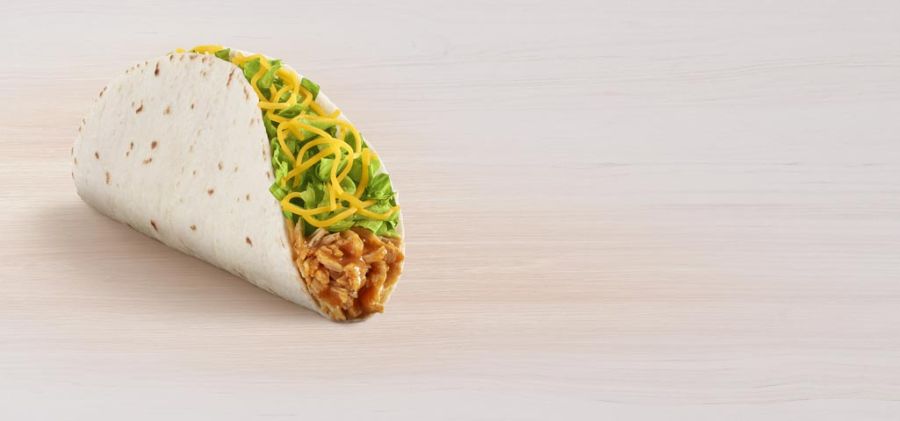 Taco Bell's menu is generally high in sodium, and many of their menu items are high-fat. However, their Soft Chicken Taco11 may be okay to grab in a pinch if you need a snack to hold you over until your next meal. If you're looking to grab a complete meal on the go, consider adding black beans to the taco to boost protein and fiber, or ordering it "Fresco style," which replaces cheese and heavy sauces with salsa.
| | | | | |
| --- | --- | --- | --- | --- |
| Total Calories | Protein | Carbs | Fat | Sodium |
| 160 | 12 grams | 16 grams | 5 grams | 510 milligrams |
11. Wendy's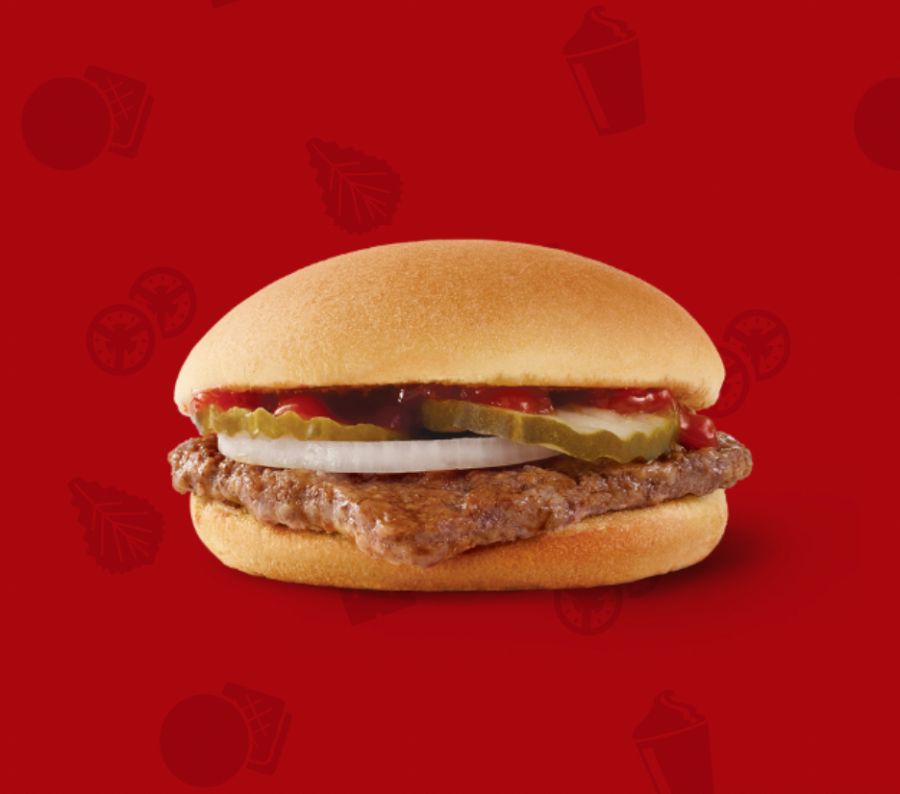 Finding fast food burgers that fit your healthy eating goals can be challenging, but Wendy's Junior Hamburger12 makes it easy to watch your portion sizes. The Junior Hamburger may not be as hefty as some of Wendy's other menu items, but it packs a punch. Each burger contains about 250 calories but only 11 grams of fat and 420 milligrams of sodium. Enjoy it on its own for a protein boost, or pair it with a side salad as part of a balanced meal. And if you prefer a cheeseburger, Wendy's also offers a Junior Cheeseburger.
| | | | | |
| --- | --- | --- | --- | --- |
| Total Calories | Protein | Carbs | Fat | Sodium |
| 250 | 13 grams | 25 grams | 11 grams | 420 milligrams |
Best Healthy Fast Food: Final Thoughts
Sometimes diet culture leads us to believe that fast food is totally off-limits. While it may not be something we should eat every day, enjoying a meal on the go can offer certain benefits. For example, as a dietitian, I'd rather you grab a healthy fast food item than skip the meal altogether.
And if your fast-food order includes items that aren't traditionally considered "healthy," don't beat yourself up. Nutrition is more than just fueling our bodies. It's cultural, social, and so much more. If you share some french fries with a friend, sure, it'll bump your calorie intake, but it's also a chance for fellowship and to make a fun memory.
Focus on your long-term health and eat the best you can. If you have questions about your individualized nutrition needs, consider meeting with an RDN. And remember:
Low-calorie does not necessarily mean healthy.
Try ordering just the entree instead of the combo.
Consider total fat versus saturated fat content in a fast-food item.
Check the sodium content of fast-food menu items you're considering.
Condiments like ketchup, hummus, sour cream, vinaigrettes, etc., can all add calories and sodium to your meal, so be mindful of serving sizes.
Also, if you're a vegan or dairy-free eater we recommend brining some of the best vegan protein powder on the road with you. As long as it's kept out of direct sunlight (maybe cover it with a blanket in your trunk) it should last a few weeks in your car and can help you make a delicious protein shake in no time.
Best Healthy Fast Food: Q&A
What is the healthiest fast food to eat?
The healthiest fast food to eat can vary depending on your nutrition needs at the moment, but some of the better fast food options offer a good balance of macronutrients. Additionally, fast food tends to be high in sodium, so look for menu items that fit within the daily sodium recommendations.
What is the No. 1 healthiest fast food in the world?
Since "healthy" is a subjective term, picking the healthiest fast food in the world can be tough. Chipotle Mexican Grill gets a lot of hype as a healthy fast-food option because of its lean protein and healthy grain options. However, you can always find healthy menu items at other fast food chains as well.
Is there such a thing as healthy fast food?
If included mindfully, fast food can be part of a healthy diet. When trying to order nutritious fast food meals, look for a balance of protein, carbs, and healthy fats. Make healthy substitutions when possible, and watch your portion sizes and overall sodium intake.
What are the top 10 healthiest fast foods?
Ten of the healthiest fast food chains include Chick-fil-A, Subway, Panera, Starbucks, Chipotle Mexican Grill, and Jimmy John's. And surprisingly, if you're strategic about it, you can also find reasonably healthy menu items at McDonald's, KFC, Wendy's, Dunkin Donuts, and Taco Bell.
References