We test and review fitness products based on an independent, multi-point methodology. If you use our links to purchase something, we may earn a commission. Read our disclosures.
Not to beat a dead horse—OK, that's exactly what I'm doing here—but the Concept2 RowErg is the gold standard in air flywheel rowing machines. More and more similar products keep coming to market, but none yet have surpassed the build quality and workout experience of the Concept2, in our humble opinion as a team of personal trainers who have tested more than a dozen rowing ergs.
Bells of Steel (BoS) even directly compares the Blitz Air Rower to the Concept2 RowErg on its website: "Like the world-class Concept2® RowErg, the Blitz Air Rower makes for a joint-friendly cardio workout," the product page reads.
Indeed, the Blitz rower looks nearly identical to the RowErg (as does the AssaultRower Pro). But how does it actually compare in terms of performance and comfort? Find out in our Bells of Steel Blitz Air Rower review, in which product tester Lindsay Scheele and GGR founder Coop Mitchell discuss the portability, ergonomics, workout experience, and more.
RELATED: Best Rowing Machines for All Home Gyms and Budgets
Erg Experts At Your Service
Coop, Lindsay, and I all have extensive experience with rowing ergs, from air rowers to magnetic rowers to water rowers. Collectively, we've been using rowing machines for decades and have used dozens of different ergs. As experts in gym equipment and fitness, we're well-positioned to help readers like you determine which rowing machine is right for them.
Bells of Steel Blitz Air Rower
GGR Score: 4.1
Product Highlights
Sturdy rower with an air flywheel 

Adjustable damper for resistance changes

LCD monitor shows various stats 

Assembly required

Front transport wheels included 
Pros & Cons
Pros
Molded ergonomic seat
5-year frame warranty
2-year parts warranty
Easy to move thanks to front-mounted wheels
Breaks into two pieces for storage
Cons
Cannot be stored vertically
Air flywheel is loud during use
No built-in workouts
320-pound weight capacity
A Quick Look at the Bells of Steel Blitz Air Rower
"This rower is designed to take down the Concept2 rower," says Cooper Mitchell, GGR founder, "which, as anybody knows—and we constantly talk about when we're talking about rowers—is the gold standard of rowers."
Sure enough, the Blitz Air Rower is eerily similar to the RowErg in both looks and features. It's in the same line of cardio equipment as the Blitz Air Bike, which you can learn about in our Bells of Steel Blitz Air Bike 2.0 review.
Is it a good rower? Yes. Is it better than the Concept2? Well…
Coop says, "The reality is, there just aren't that many legitimate competitors to the Concept2 rower. The price and features offered on the Concept2 RowErg is by far one of the best values in fitness equipment—it's ridiculous."
Before You Buy
Although the Blitz rower is "designed to be a legitimate competitor to the Concept2 at a lower price point," Coop doesn't think the price is low enough to justify buying the Blitz over the Concept2.
Both Coop and Lindsay have concerns over the long-term comfort of the seat and handle, saying they could become uncomfortable during long sessions.
Free shipping!
Bells of Steel Blitz Air Rower Video Review
Is the Bells of Steel Blitz Air Rower Worth It?
"Worth it" is always relative. In the case of the Blitz rower, it's hard for us to recommend it over the Concept2 when the price is so similar. The Blitz is listed at about $850 (free shipping to USA and Canada), while the Concept2 costs $990 ($55 shipping if bought directly from Concept2).
"You're looking at about $200 or so in savings, all things considered," Coop says. "Is it worth it for $200 less? Honestly, for most people, I'd say no."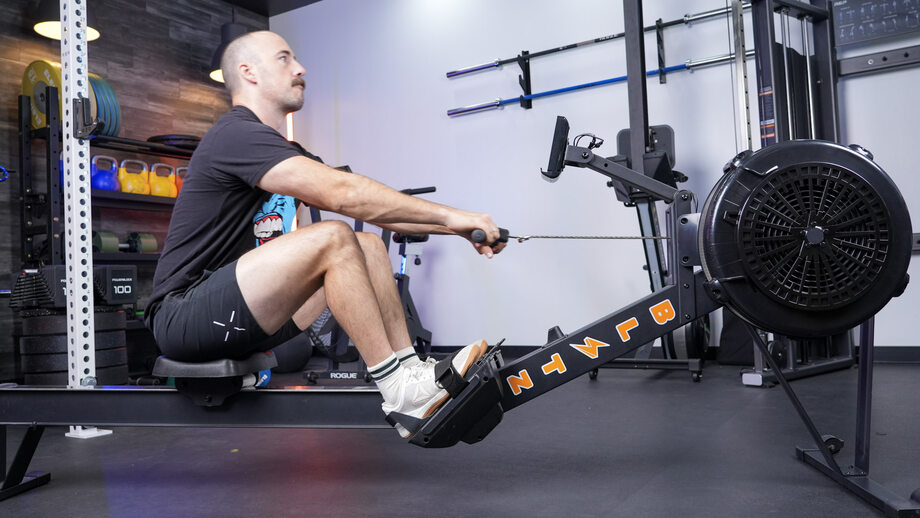 "Now if the price were lower, around $600, that'd be a different story," he continues. "But honestly, the quality is just not quite up to par with the Concept2, and if you're going to come out with a rower and it's going to compete against the one that is the best, it's got to either absolutely kill it in features or come in way under price—and this doesn't do either."
If you're looking for something less expensive, we have a guide to the best budget rowing machines and best rowing machines under $300.
That being said, it doesn't mean we don't recommend the rower to anyone at all. There is still a customer base for the Blitz Air Rower.
RELATED: Hydrow Wave Review
Great for:
People who aren't worried about minor component differences and would prefer to save the $200
Those who don't need or care for integrated workout programs on the monitor (the Blitz has none)
Low-impact exercise
Steady-state cardio to high-intensity interval training (HIIT)
Not recommended for:
Anyone who doesn't mind spending an additional $200-ish to get better components
People looking for good resale value in their equipment (the Concept2 will always have a higher resale value than its dupes)
Bells of Steel Blitz Air Rower Specs
| | |
| --- | --- |
| Price | $850 |
| Product Weight | About 90 lbs |
| Dimensions | 95" L x 24.24" W x 37.5" H |
| Max User Weight | 320 lbs |
| Max User Height | Not stated, but max inseam likely around 38" |
| Monitor | LCD |
| Bluetooth | Yes |
| Warranty | 5-year frame, 2-year parts |
Workout Experience: Using the Bells of Steel Blitz Air Rower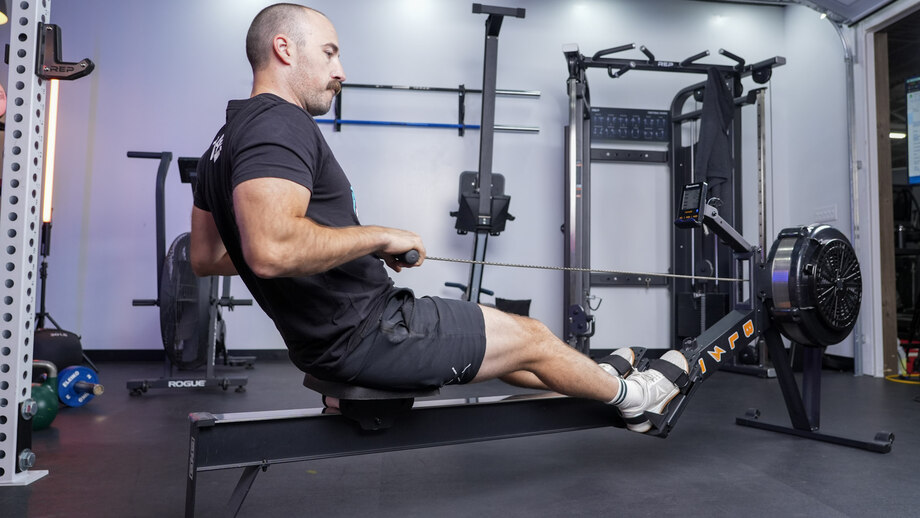 Product testers Lindsay Scheele, lead reviewer for GGR Everything, and Coop Mitchell, GGR founder, used the Bells of Steel Blitz Air Rower in our Springfield, Missouri equipment testing facility.
Each of them used the rower for workouts of various formats and lengths, ranging from steady-state endurance sessions to rowing interval workouts to CrossFit workouts mixing rowing with barbell or dumbbell work.
Coop and Lindsay also carefully inspected the rower and compared it to other similar equipment around the same price point. They rated the rower according to our equipment testing methodology for factors like durability, ergonomics and comfort, resistance, technology, and more.
Resistance
This rower uses air resistance generated by the fan flywheel. To adjust how much air enters the flywheel housing on each stroke, it includes a spiral damper you can adjust from a setting of one to 10, Lindsay explains.
"This functions much like the gears on a bike, affecting how much energy will be needed to accelerate from one stroke to the next," she says. "The highest setting, 10, allows in the most air for more wind resistance. For most people, the recommended setting is 3, 4, or 5."
RELATED: CITYROW GO Max Review
Footprint and Portability
The Blitz Air Rower measures 95 inches long, about 24 inches wide, and 37.5 inches tall at the highest point, which is the top of the monitor. It weighs about 90 pounds; for contrast, the Concept2 RowErg weighs just 57 pounds.
Beneath the flywheel, there are front-mounted transport wheels for easy transportation.
"They may say the extra weight is a benefit for stability, but I'd actually say it's a detriment because it's just harder to move around," Coop says. "And, when in use, those 33 pounds aren't going to make a difference in the feel of the rowing experience."
"So while I want to call out that it's a heavier rower and it's a little harder to move, it's still not crazy heavy," he continues. "It'll just feel heavy when you're picking it up, but most of the weight will rest on the wheels when moving it, so it's not going to feel that much heavier." 
RELATED: Best Compact Exercise Equipment
Bells of Steel states on the website page for the rower, "Unlike the Concept2 Row Erg, this air rower should not be stored vertically."
That's unfortunate, since not everyone has a ton of floor space available to keep a rower out at all times. You can quickly disassemble the rower into two parts (be careful when doing this because it's a pinch point, Coop says) but that's a bit more difficult than just being able to roll it up to a wall.
Ultimately, Lindsay gave the Blitz 4.5 out of 5 stars for footprint and portability since it's still very easy to move around, and it does break down if you need to save space when it's not in use.
Durability and Construction
The Blitz rower may seem more heavy-duty than its competitor at first due to the heavier weight. But that extra heft doesn't necessarily mean greater durability, our testers say.
The aluminum monorail is nice, Lindsay says, but she points out that there are several plastic components throughout. Coop noted this during testing too, saying that the plastic components on the Blitz don't feel as high-quality as the plastic components on the Concept2. "It seems like maybe it's not as durable of a plastic," he says.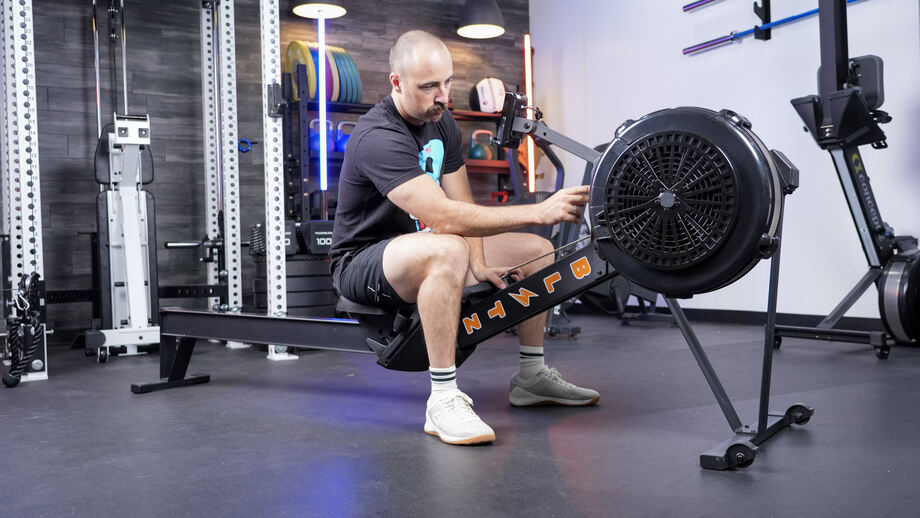 Like the Concept2 RowErg, the BoS Air Rower utilizes a chain drive instead of a belt drive. "Because it uses a chain mechanism, it may require more maintenance to remain in good working condition relative to rowers that use a belt-driven system," Lindsay says. Belt drives require less maintenance because there's no need to oil them like a chain drive.
Worth noting, too, is that the weight capacity on the Blitz is 320 pounds, whereas the Concept 2 rower supports up to 500 pounds.
Lindsay rated the Blitz Air Rower with 4 out of 5 points for durability, noting that the plastic components and low weight capacity influenced her scoring.
RELATED: Peloton Rower Review
The Ergonomics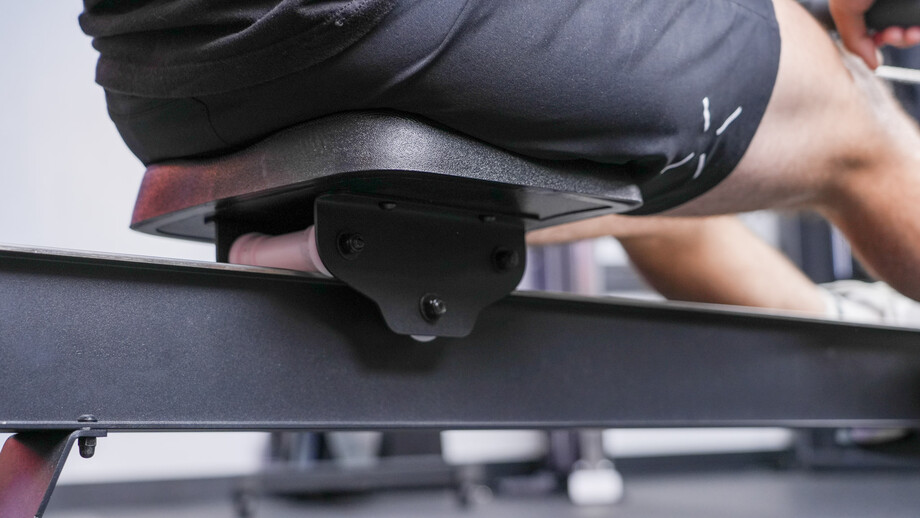 The Bitz Air Rower earned 4 out of 5 points in the ergonomics category, with Lindsay and Coop saying the rower is plenty comfortable for typical sessions, such as interval workouts and CrossFit metcons, but that long endurance sessions might get uncomfortable.
Movable Console
The console is located on a plastic arm that moves up and down and can be angled for different viewing positions, as well as for storage, which Lindsay says is a nice touch and can help if you tend to have neck pain on the rower. 
Ergonomic Seat
The seat is contoured and designed to be ergonomic for the shape of your bottom, but it is hard plastic, Lindsa says. "I think that after spending an extended amount of time on it, you'll be uncomfortable."
That's not unusual for the Concept2, either, though. In fact, Rogue Fitness sells a seat pad for the RowErg that I've seen in several CrossFit gyms, because complaints about brush burn and pain in the tailbone are common. 
Handle
Coop and Lindsay agree that the handlebar on the Blitz Air Rower seems to tax grip strength more than the Concept2 handle. "It's a little thinner, and has different foaming around the handlebars," Lindsay says. "I don't love it."
For people with smaller hands and/or shorter fingers, the thinner diameter may be a positive feature. 
Adjustable Foot Straps
The footpads are adjustable to accommodate shoes of just about any size, Lindsay says, but she points out that the Velcro straps seem like they'll wear out quickly.
Coop mentions the same thing: "Honestly, one of the parts that I think is the worst compared to the C2 rower are these Velcro foot straps versus tension straps that are used on the C2," he says. "This is the cheapest Velcro I think I've ever seen—you can already see there's threads coming off; it's not going to stick very long term."
Still, in terms of adjustability, they're just fine. 
Technology Benefits and Conveniences
Air rowers as a category lack in tech compared to smart rowers like the Hydrow or Aviron (see our Hydrow Review and Aviron Review). But the Blitz is one of the least tech-enabled rowing machines our testers have experienced at this price point. Lindsay rated the Blitz with 3 out of 5 points in this category.
"It has Bluetooth capabilities, but there is no clear instruction on how to set that up," she says. "The monitor is bad. You have three buttons: mode, reset, set. And you only have the option of rowing on the manual setting, which shows you your metrics." 
The monitor displays the damper setting (which is unique and fun, Coop says), as well as 500-meter split time, elapsed time, calories, and projected finish.
Unfortunately, there are no workouts available on the monitor, and it doesn't have the capability for you to program your own workouts.
RELATED: Air vs Magnetic Rowing Machine: Which Is Better?
Bells of Steel Blitz Air Rower vs Concept2 RowErg
Concept2 RowErg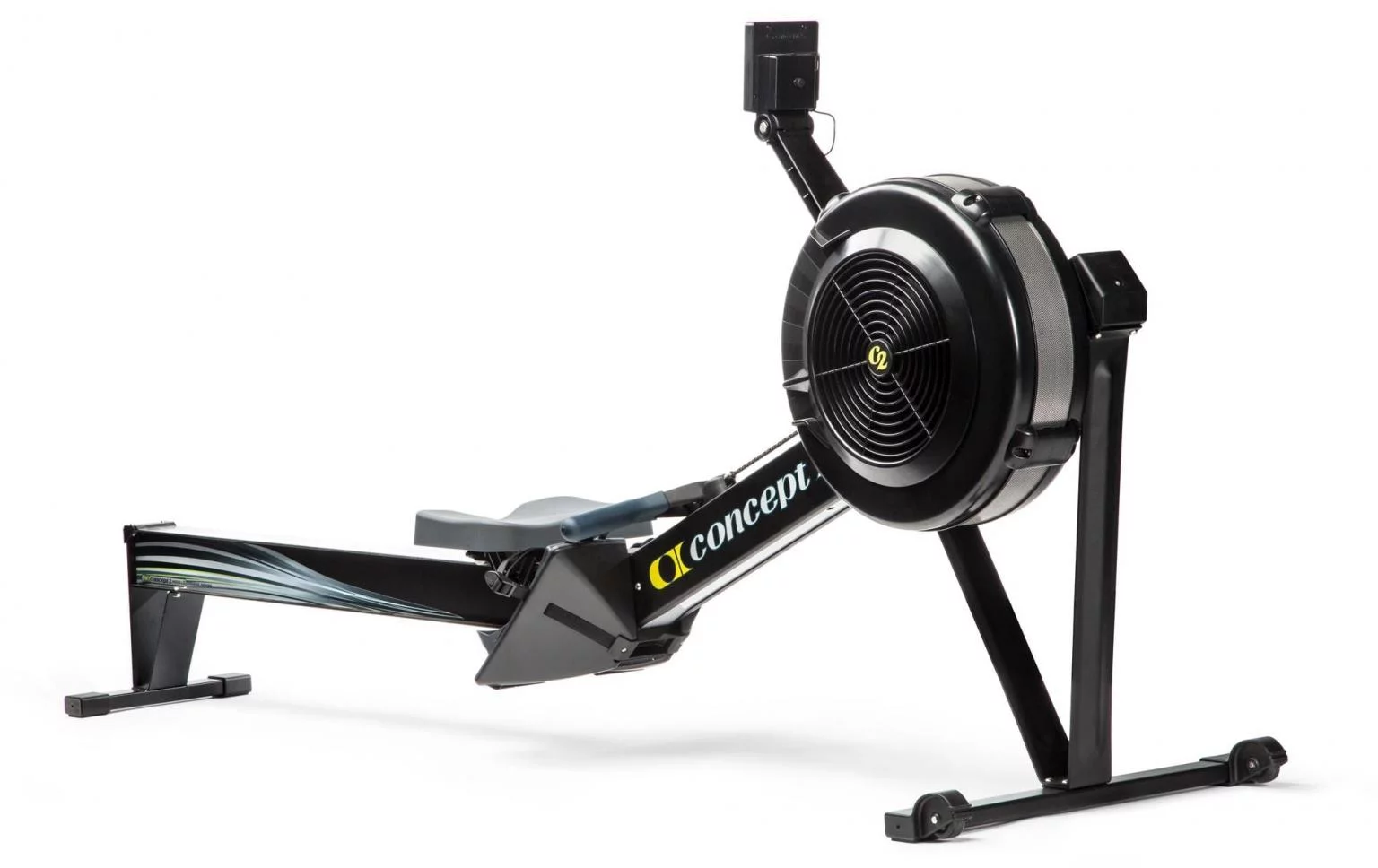 GGR Score: 4.6
Community Score: 3.4
Product Highlights
Priced around $1,000

Uses air resistance generated by the fanned flywheel

Advanced PM5 Performance Monitor

Low impact full-body workout fitness machine

Lightweight and easily portable

Can be broken down into two pieces for storage

Can also be hung for storage
Pros & Cons
Pros
Best-selling rowing machine in the world
Easy assembly
Accommodates users up to 6.6 feet tall and 500-pound weight
Ergonomic seat and handlebar
Seat is 14"
10-degree angle on handle for natural grip
Air-resistance
Adjustable airflow
Performance Monitor 5 (PM5) monitor
Nickel-plated steel chain
Adjustable footrests
Easy to store
Limited 5-year warranty
Cons
Priced around $1,000
Few built-in workouts
Bottom Line
The Concept 2 Model D Rower is the best rowing machine we've tested and reviewed, including those that are much more expensive like the WaterRower. There's a reason you can find Concept 2 products in nearly every gym in the world, including CrossFit Boxes, and home gyms. After having the Model D for over two years, we are still as satisfied with it as we were on day one.
Though we've been comparing the Blitz Air Rower to the RowErg throughout this review, here's a dedicated look at the difference in specs between the two rowers. Read our full Concept2 RowErg review for all of the details on the gold standard rower.
| | | |
| --- | --- | --- |
| | Bells of Steel Blitz Air Rower | Concept2 RowErg |
| Price | $850 | $990 |
| Product Weight | About 90 lbs | 57 lbs |
| Dimensions | 95" L x 24.24" W x 37.5" H | 96" L x 24" W x 14" seat height |
| Max User Weight | 320 lbs | 500 lbs |
| Max User Height | Not stated, but max inseam likely around 36" | 6'6" (38" inseam) |
| Monitor | LCD | PM5 |
| Bluetooth | Yes | Yes |
| Warranty | 5-year frame, 2-year parts | 5-year frame, 2-year parts |
Customer Experience
Bells of Steel has great customer service. Lindsay had to reach out about the rower's Bluetooth connectivity and workout programming and says a company representative was in touch with her within 15 minutes.
There are also multiple ways to contact the company: email, phone, or online contact form. There is no chat function, but BoS does invite customers to their Indianapolis showroom to view equipment and ask questions, which I think is a really nice touch if you're able to get there. 
The Blitz Air Rower has a 5-year warranty for the frame and a 2-year warranty for parts. The return policy is as follows:
"For product returns, simply pack up your items (preferably in the original boxes) and we'll send you a shipping label. Then just drop the item at your closest freight or package carrier. Once the goods are received, we'll refund you in full, return shipping will also be included in most cases."
Customers who buy from Bells of Steel directly are eligible for a full refund, including any shipping charges and taxes, if returns are made within 30 days from receipt of the product.
Ordering and Assembling the Bells of Steel Blitz Air Rower
If you're in the U.S., order the Blitz Rower from bellsofsteel.us. If you're in Canada, order from bellsofsteel.com. Financing is available through Affirm at checkout for those who qualify. The rower is not yet available on Amazon, but we suspect that it might become so since the Blitz Bike is available on Amazon.
Lidsay says the delivery process was smooth and that the product came well-protected and packaged in two boxes. "Assembly was super easy and took one person less than 30 minutes to do," she says. "It was just attaching the rail, handlebars, pedal, and monitor to the frame."
Customer Reviews
At the time of writing, there are no customer reviews on the Bells of Steel Blitz Air Rower. The product just launched in September 2023, so we'll continue to check back for customer reviews to see what people think.
Final Verdict of Our Bells of Steel Blitz Air Rower Review
Our final recommendation to garage gym athletes and beyond is to go with the Concept2 RowErg if you can afford the additional $200 or so.
"This is a great rower, but when you compare little things to the Concept2, it just doesn't make sense to buy this one versus that one," Lindsay says. "There are a lot of little things, but the biggest reason is that the PM5 monitor on the Concept2 is so much better and has so much more to offer than the monitor on the Blitz."
Coop concurs, saying the Blitz is a "middle of the road" rower, but it's nice to have this option on the market, because for many people, $200 really can be a make-or-break decision.
Bells of Steel Blitz Air Rower Full Rating
Bells of Steel Blitz Air Rower
The Bells of Steel Blitz Air Rower is a sturdy home rowing machine with a fan flywheel and a spiral damper. It is very similar to the Concept2 RowErg, although our product testing reveals it is not as durable and doesn't have any built-in workouts like the Concept2. It costs about $200 less.
Product Brand: Bells of Steel
Product Currency: $
Product Price: 849.99
Product In-Stock: InStock
Bells of Steel Blitz Air Rower FAQs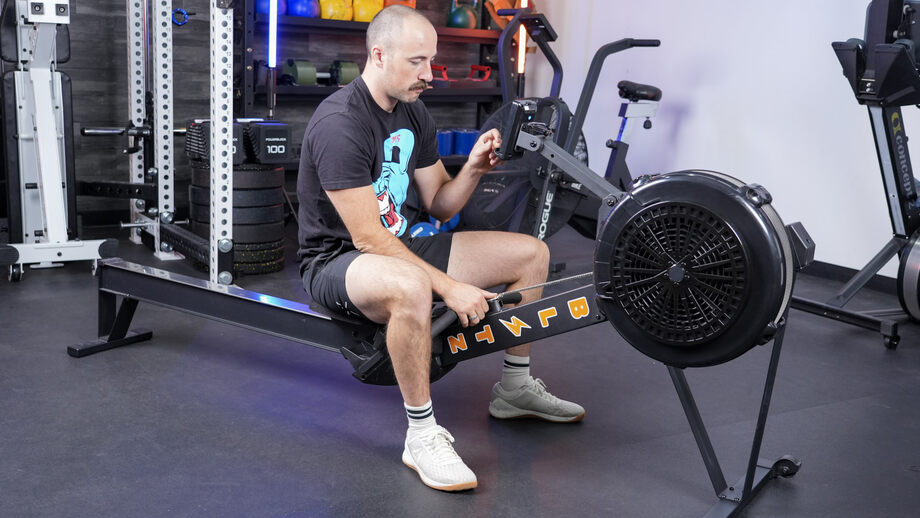 Should I get a rower or an air bike?
Air bikes, like the Rogue Echo Bike, AssaultBike, and Bells of Steel Blitz Bike, are a great addition to a home gym or garage gym. A fan bike is a unique type of exercise bike with moving arms, so it provides a full-body workout just like a rower does. Both are good for low-impact exercise that's easy on the joints, although rowers aren't always ideal for people with lower back pain due to the body positioning required. Either one is a good choice and both will get your heart rate up and improve your fitness.
In our guide to the best air bikes, you can see all of our top picks, including the Blitz Bike: included for its removable wind guard/fan guard, phone holder, water bottle holder, and foot pegs, among other features. 
Can you adjust the resistance on an air rowing machine?
Resistance on air rowers is a little funky. Some air rowers have dampers, which alter the amount of air allowed into the flywheel. But rowing machine manufacturers say that this doesn't change the actual resistance, just the way the rowing stroke feels—which is, in a way, the resistance. The main thing to know is that the harder you pull on an air rower, the harder the resistance will feel. 
Are home rowing machines any good?