We review free products that we receive and participate in affiliate programs, where we may be compensated for items purchased through links from our site.
See our disclosures page for more information.
The Rogue Flat Utility 2.0 Bench is one of, if not the best flat bench available on the market. Rogue has kept the design simple, but yet effective in durability and stability. With its lifetime warranty and structure that can handle just about anything you throw at it, the Rogue Flat Utility 2.0 Bench will be a great addition to any home or commercial gym.
Rogue's Best Value Flat Bench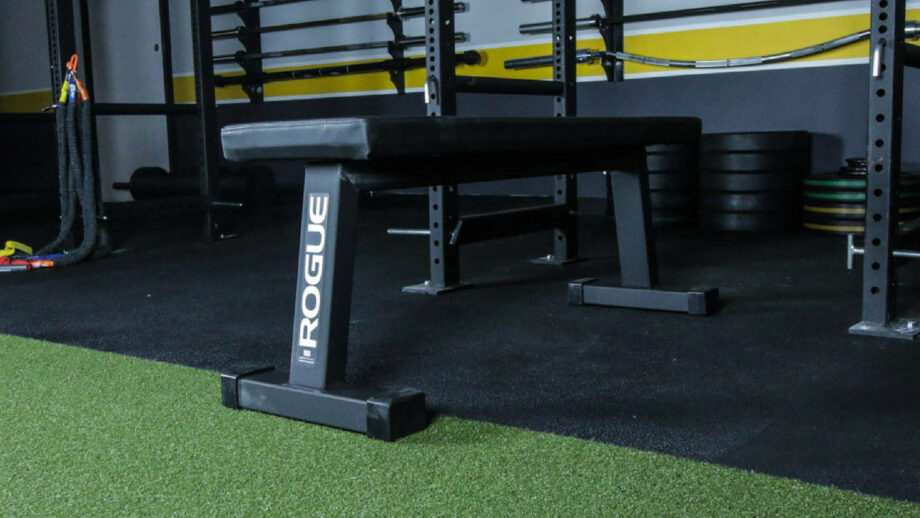 Rogue Flat Utility Bench 2.0
No nonsense. No limitations. No assembly required. The redesigned Rogue Flat Utility Bench takes the weight bench back to basics, featuring 2x3" 11-gauge steel construction, a high-density Neoprene pad, and a pair of angled, wide-set legs for maximized stability.Ergonomically designed and built in the USA, the Flat Utility Bench 2.0 ships fully assembled and offers a needed antidote to the wobbly flat benches and unwieldy FID weight benches routinely imported by the big box stores. While easy to maneuver at just 40 pounds, the Flat Utility Bench is also heavy-duty enough for a tank to sit on it. So no matter the size of the athlete or the intensity of the workout, you've got a rock solid foundation underneath you.
Rogue Flat Utility Bench 2.0 Review
Arguably, one of the most important pieces of equipment in any home gym or commercial gym is a bench. Without a bench, how is the living water of gains supposed to flow through a body? In fact, benching is so important to the fitness community that Monday has been deemed, International Chest Day.
Whether you participate in International Chest Day or not, bench-day is a day we all look forward to in the week. It's what can get us through the dreaded leg-day…but oh so important leg-day ;).
The Rogue Flat Utility 2.0 Bench does not mess around. It doesn't get cute with its design. True American craftsmanship went into the creation of the Utility 2.0 Bench, and should be at the top of any list when looking at purchasing a new bench.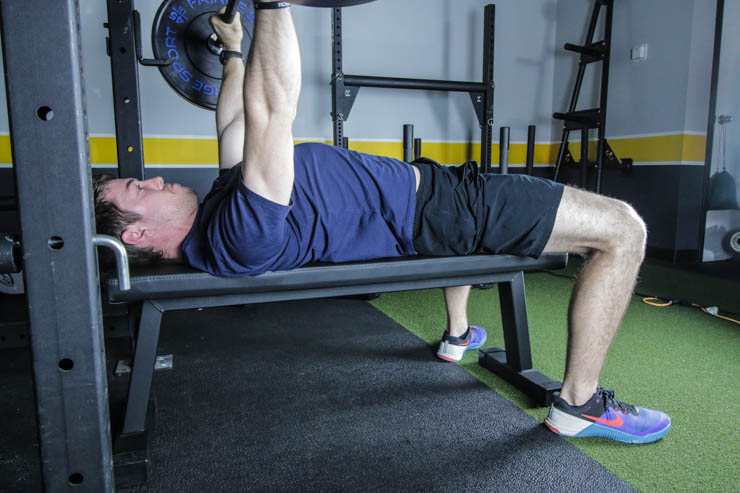 Rogue has always produced some of the best quality equipment available, including barbells, racks, and the Flat Utility 2.0 Bench lives up to the standard Rogue has created.
Once the Rogue Utility Bench has found its way to your front door, different from other companies such as the Titan Flat Weight Bench, the Rogue Flat Bench arrives almost completely assembled. The only assembly required with the 2.0 is simply screwing the pad on to the already welded together steel. This makes things head-ache free for people who might not excel in working with their hands.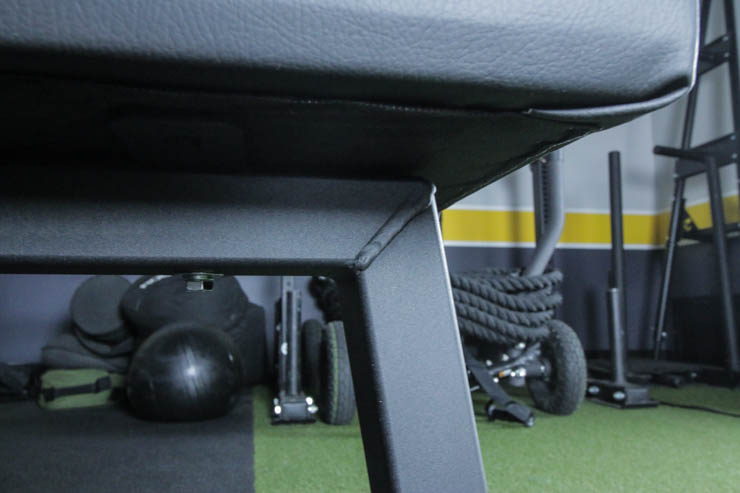 The steel used to create the Rogue Flat Utility 2.0 Bench is the same 2×3″ 11-gauge steel used on a majority of their machines like the Abram GHD 2.0 and Reverse Hyper. 2×3″ 11-gauge steel is also what's used to construct Rogue's racks and rigs.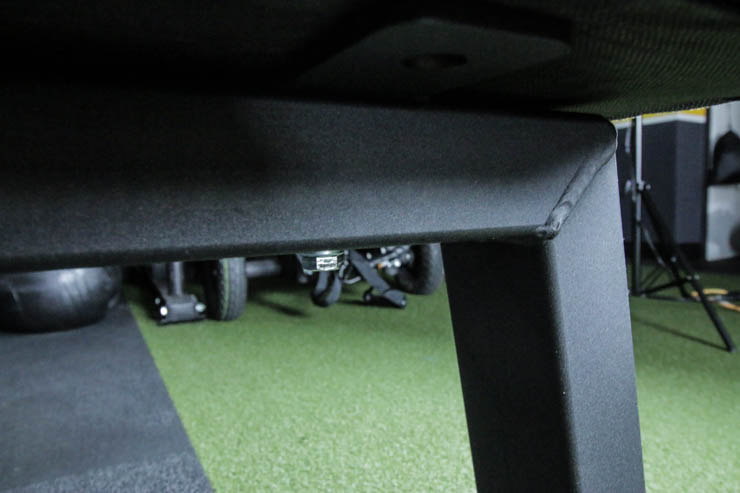 Rogue has also improved the stability with its flat bench by making the new frame have an angle profile for the legs of the bench. This angle profile adds to an already stable foundation for the Rogue 2.0 Flat Utility Bench.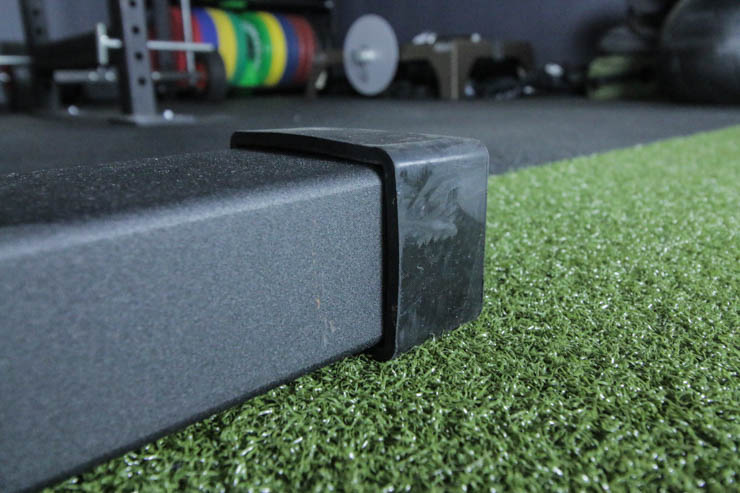 The angled profile and overall frame of the bench is rounded out with rubber feet, replacing the plastic caps. These rubber feet not only add to its stability, but it will also not scratch and scrape up your flooring.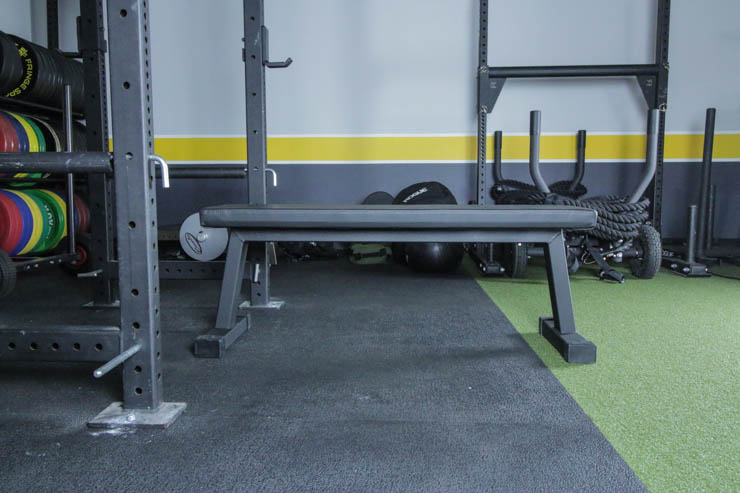 Not only has Rogue increased the stability of the bench by making it an angle profile and rubber feet, the entire bench is a welded together single piece steel frame. This single piece enhances stability yes, but it also adds another element of quality.
Overall, a single piece steel frame is better than a bolted together flat bench in terms of durability. This frame will likely last forever and doesn't budge whether you're a 100 lb or 1,000 lb bencher.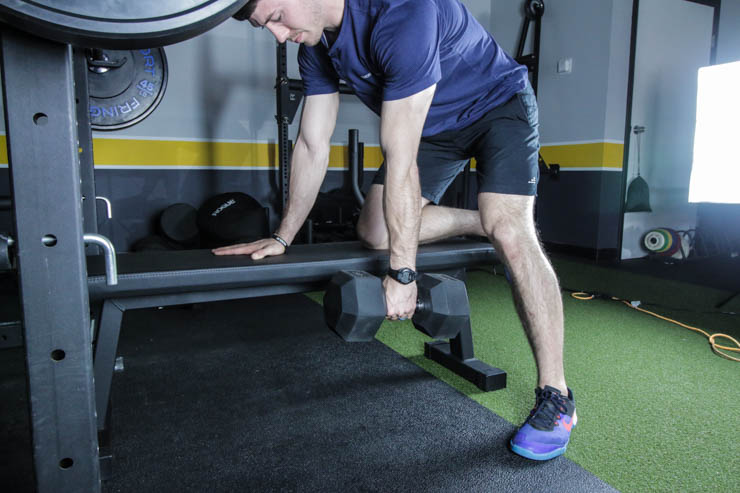 For those that remember, Rogue's Flat Utility Bench used to connect the frame and the feet with a butt joint base. Rogue has redesigned their utility bench to make a much stronger and stable pass-through joint to give maximum durability and increased life of the bench.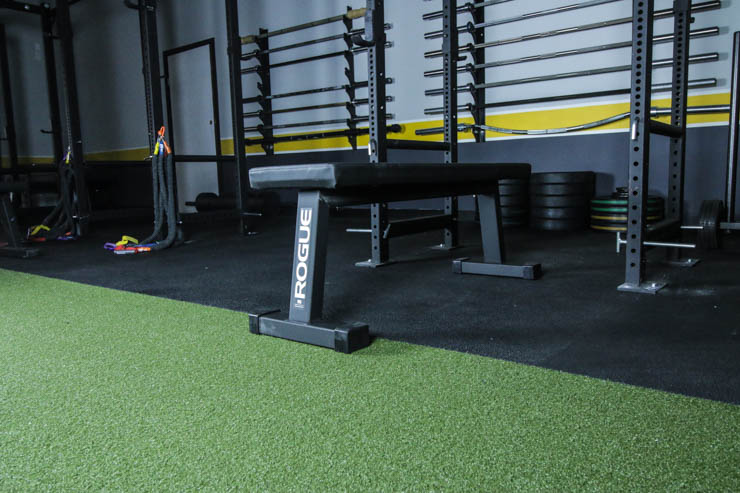 The Rogue Flat Utility Bench 2.0 is 48″ long, 14″ wide and sits 18″ off the ground. The pad that is sent with the frame is a 12″ wide pad and is 2 1/4″ thick. The default pad that is sent with this bench is better than most companies upgrade pads.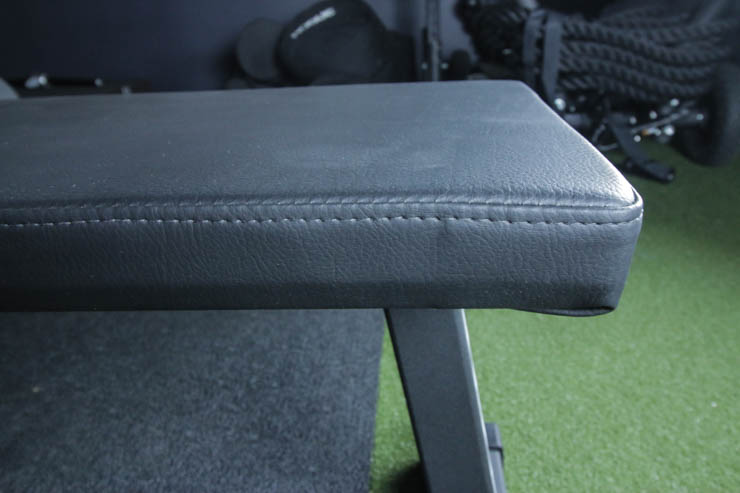 The foam that the pad is made with is incredibly dense. A lifter will not be sinking into the pads while getting their body ready to lift and at the same time, it isn't uncomfortable. The vinyl that Rogue uses to house the foam is built to last as well. Most vinyls that come with benches are manufactured cheaper with a slick finish on top. The Rogue Flat Utility Bench 2.0 has a little more of a grippy top so thelifter won't slide.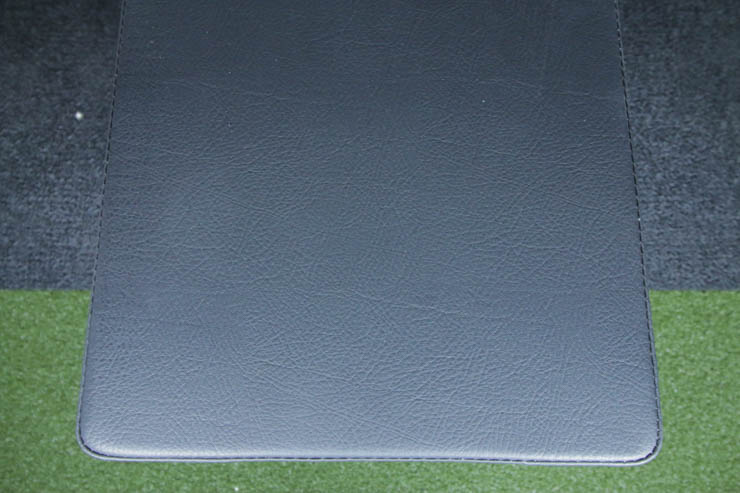 A great option with this bench is the versatility it has by being able to attach different pads.
One of Rogue's more popular products is the Thompson Fat Pad. This bad boy is 4.5″ thick and is 48″ in length and has a grippy top so a person won't slide around while lifting…and yes, it does attach to the Flat Utility 2.0 Bench.
You can see our full review of the Rogue Westside Bench here.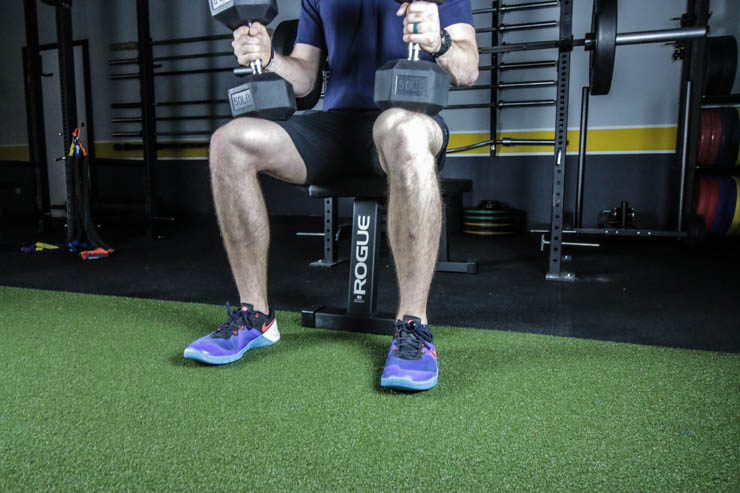 A comparable bench to the Rogue 2.0 is the Titan Flat Weight Bench. The Titan Flat Weight Bench is 52″ long, sits 17″ off of the ground and the base is 17″ wide. Titan manufactures their steel out of China, which isn't always an issue, but for those wanting American craftsmanship, the Rogue is the way to go.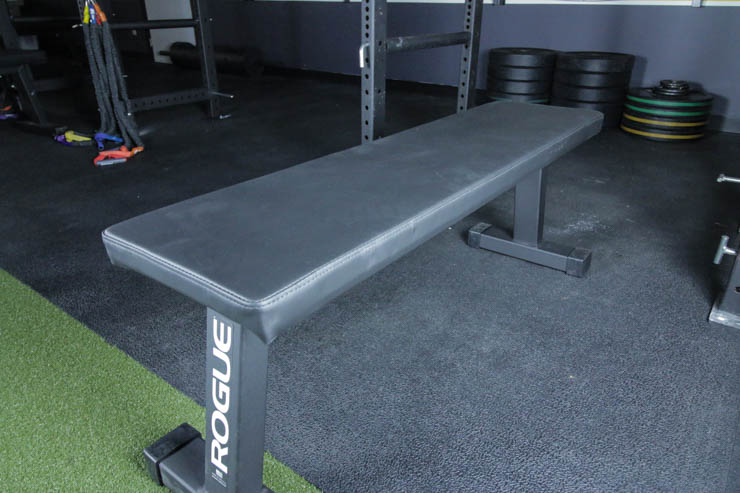 An advantage to the Titan Flat Weight Bench is the steel frame is rounded out with a handle and back wheels that make it a little easier to transport around your gym. The Rogue Utility Bench weighs about 40 pounds so it is not difficult to pick up and move. Rogue also offers a bench hanger so it doesn't just sit there and take up space.
Without a doubt, the Titan Flat Weight Bench is a great price point option bench, but the one piece construction of the Rogue Utility Bench is hard to beat.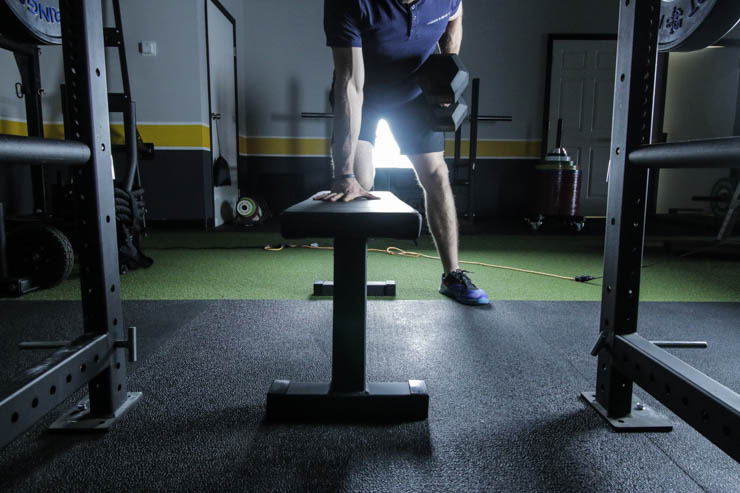 Overall, the Rogue Utility 2.0 Benchis one of the most durable benches available on the market. Add in it's stability, vinyl top, foam padding, and price point, it's hard to beat. We love the lifetime warranty and actually recommend it so much I've added to my personal training facility.
Suggested Improvements
The Rogue Utility Bench 2.0 is one of the best wieghted benches available, with that being said there are a couple of things that could be added to the bench.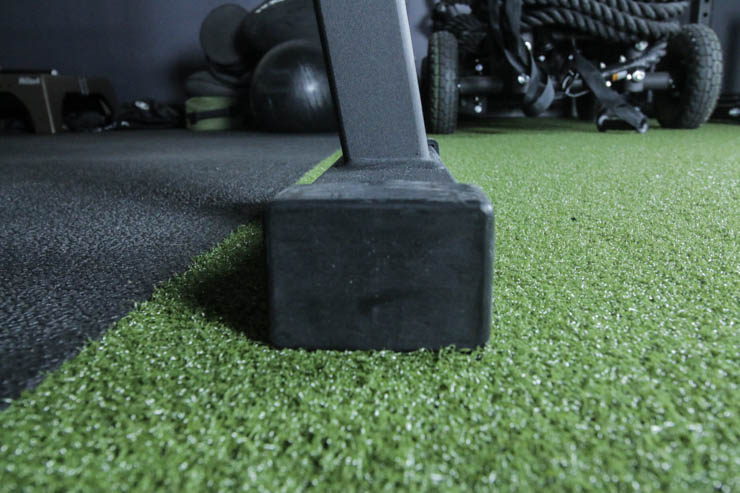 The first thing is, since the bench is a fully welded frame (which I love) the bench will always remain level. This is fine if it's always being used on a level surface, but most people's garages are not level. An easy fix for this is for Rogue to offer adjustable feet like what is seen on many best air bikes.
The other thing I would suggest is for Rogue to laser cut their logo on the bench. Rogue has one of the cleanest logos in gym equipment and have always pasted a sticker on their equipment. I think it would be great if they started laser cutting their logos instead of having a sticker that can easily be ripped off.
Full Rating
Where to Purchase