We test and review fitness products based on an independent, multi-point methodology. If you use our links to purchase something, we may earn a commission. Read our disclosures.
Versatile doesn't even begin to describe Rogue's latest addition to its multi-grip speciality bar line. Building on its predecessors, the Rogue MG-4 is newly released, adjustable, and sold out within just days. Fret not, more will be available, and in the meantime, you can check out our Rogue MG-4 Multi Grip Bar review to see why we can't wait to get our hands on this bad boy.
Why You Should Trust Us
Barbells are kind of our thing. In fact, among our team, we have had our hands on hundreds of them, assessing their knurling, spin, tensile strength, and even how well they hold up to being dropped with significant weight from overhead.
When it comes to specialty bars like the Rogue MG-4, we use them for all the same exercises you would. Additionally, we know to look for the details, like handle width options, storage, and more.
Rogue MG-4F Multi Grip Bar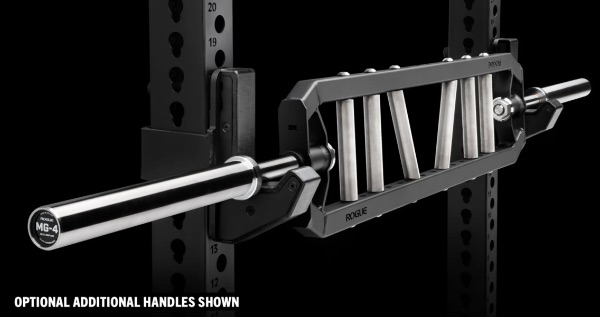 Rogue Fitness MG-4F Multi-Grip Bar
The Rogue Fitness MG-4F Multi-Grip Bar is the latest upgrade to the brand's line of specialty bars and offers optionality for users, including:Multiple handle positions as well as multiple handle angles (straight, 16 degrees, and 20 degrees) Two loadable sleeve lengths: 9 inches and 15.5 inches Two finishes: matte black and stainless steel (upgraded cost)The bar itself comes unassembled with two straight handles. If you wish to have angled handles or additional handles, you can purchase them at an additional cost. The handles can be spaced every 2 inches on the bar, giving you options for handles just 6 inches apart or a pair as long as 26 inches apart, with multiple options in between.
Rogue MG-4C Multi Grip Camber Bar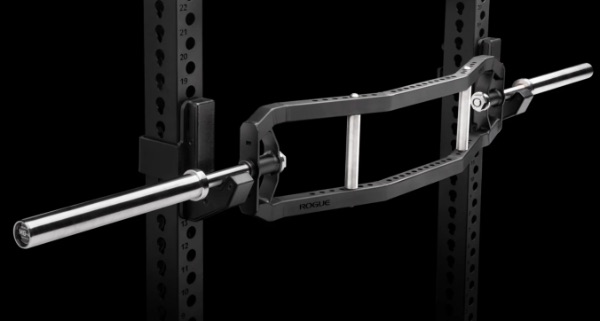 Rogue Fitness MG-4C Multi-Grip Camber Bar
The Rogue Fitness MG-4c Multi-Grip Camber Bar is a patent-pending design that offers you rotating sleeves as well as options for the width and angle of the handles. Essentially, you can build this bar any way you want it for your training.Select from several options:A short bar with 9-inch loadable sleeves A standard bar with 15.5-inch loadable sleevesBoth options come in either Rogue's proprietary matte black finish or in stainless steel (stainless steel is an additional charge for the upgrade).There are straight handles that come with your purchase. Rogue also gives you the choice to purchase additional handle pairs at 16 or 20 degrees, available in both finishes. Each handle can be added to the frame in 1-inch-spaced intervals, giving a number of options for close-grip work, tricep-specific movements, or simply adjusting the width of the handles to accommodate your frame.On the MG-4C, there is a 3.5-inch camber drop.The bar arrives unassembled but with all the tools necessary to put it together.
Video Review
Everything We Know About the Rogue MG-4 Multi Grip Bar
We first saw the MG-4 when we were at the Arnold Classic. At the time, Rogue only had the flat multi-grip bar on display, and Coop specifically stated that he was hoping it would have a camber (check the video if you don't believe us).
As we have seen, you get two options on this latest iteration of Rogue's MG Bar: a flat version, the MG-4F, and a cambered version, or the MG-4C.
Price
Right up front: You're going to pay for quality. If you like Rogue Fitness equipment, you already know this.
Both are right around $400, with the camber bar a little over, and the flat bar a little under. That's definitely on the higher end of multi-grip bars. We know this might price some people out, but there are plenty of people (like Coop himself) who love over-built, top-of-the-line equipment like this.
Versatility
We thought that the Rogue MG-3 Multi Grip Bar was versatile because it offered both straight and angled handles.
Then the MG-4 came along and said, "Hold my beer."
You want to see versatility? How about this:
The MG-4 is a build-your-own-bar setup that allows you to put straight and angled handles essentially wherever you want them. On the flat bar, there are 14 holes spaced 2 inches apart for configuration; the cambered bar offers 25 such spaces that are 1 inch apart.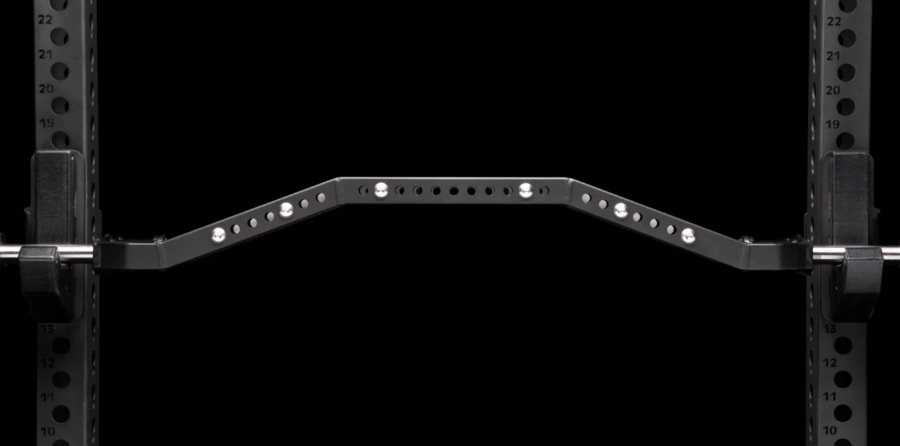 Generally speaking, multiple grip options means you can perform close grip exercises, tricep exercises, you can press, you can pull … the list goes on.
However, one added benefit of the MG-4 handles is that they are fully adjustable. Sure, you can create different exercises, but you can also cater to your particular frame and biomechanical needs.
Not only that, but you get choices in terms of neutral grip and angled grip. The handles come in three options:
Straight
16 degrees
20 degrees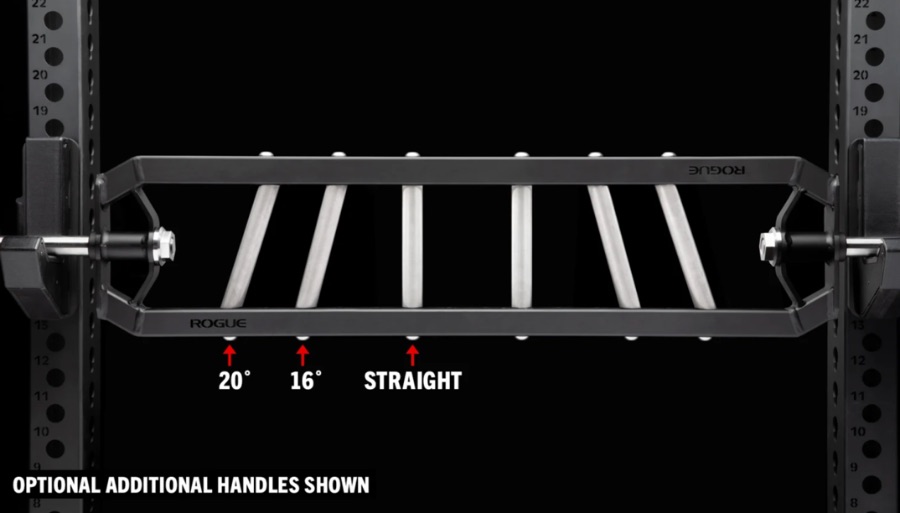 A set of straight handles is included with your purchase of the MG-4, though you can buy additional handles for $45 a pair.
The handles are all 28.5 millimeters in diameter and come with a standard knurl.
Sleeves
There are two options on both the camber and flat bar for sleeve lengths: 9 inches or 15.5 inches. They fit Olympic-sized bumper plates.
For each, the sleeves are friction-welded and have a bushing bearing. The distance between the sleeves is 51.5 inches, which means that both bars are rackable in standard power racks.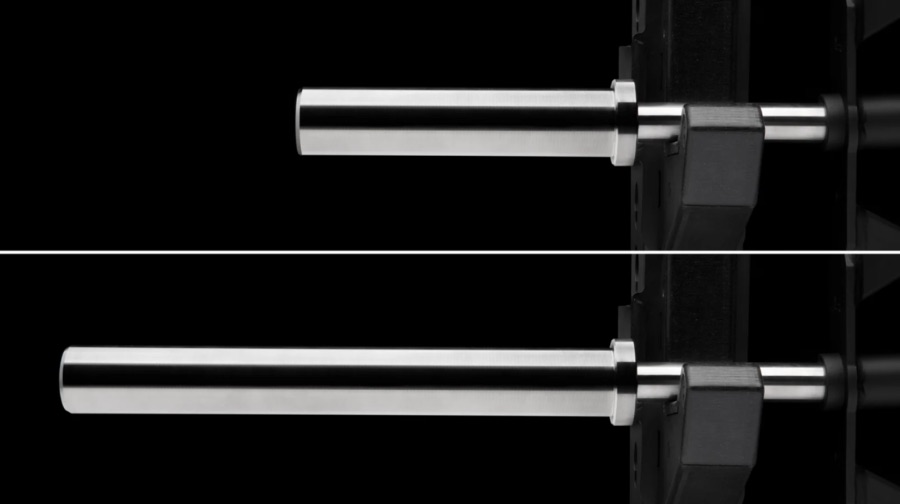 Finish
Both the MG-4C and the MG-4F come in either Rogue's proprietary matte black finish or a stainless steel option. Note: The stainless steel option is an upgrade that will add $120 to the purchase price of the bar. Rogue calls both the stainless and the matte black powder coat finish "corrosion-resistant." While we know that all bars can still rust, we also know that these two finishes are heavy-duty and increase the durability of the bar.
Whichever choice you make, the sleeves, handles and hardware will all match. Rogue notes that the matte black finish does not add much additional thickness to the knurled handles, so they should feel similar in diameter to the stainless steel handles.
Rogue MG-4 Multi Grip Bar Specs
| | |
| --- | --- |
| Price | $425 for Camber, $395 for flat |
| Tensile Strength | 200K PSI |
| Knurl | Standard |
| Grip | Customizable |
| Loadable Sleeve Length | 9" or 15.5" |
| Weight | 45 or 55 lbs |
| Bar Length | 70.8" (short sleeve) / 83.8″ (standard sleeve) |
The Competition
While we haven't gotten to test out the MG-4 yet, we already know we will be comparing it closely to two bars: the REP Fitness Cambered Swiss Bar and the Kabuki Strength Kadillac Bar.
REP Fitness Cambered Swiss Bar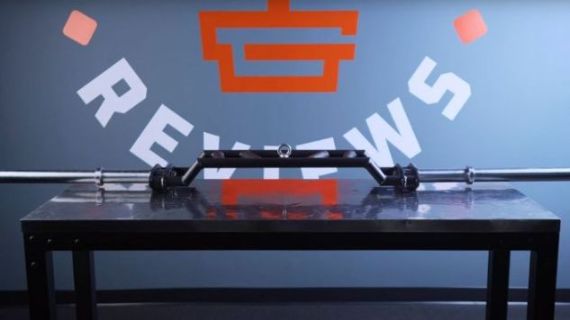 REP Fitness Cambered Swiss Bar
The REP Fitness Cambered Swiss Bar is an incredible value for a specialty bar at less than $300 with free shipping. It has a multi-grip Swiss bar, with a powder coat finish, built with round tubing so it feels comfortable on your chest during pressing. It also features chrome-plated Olympic sleeves on either end.This Swiss bar features passive knurling on all grips, and a removable eye bolt screw so you can attach it to any cable machine for lat pulldowns or low rows. Our two complaints is that the eye bolt screw has to be removed during pressing movements (it can hit your chest if left in), and the sleeves can't be detached quickly when you want to use it on a cable machine.Overall, we'd recommend this specialty bar for most home gym owners looking to diversify their barbell collection. It's not the best on the market, but it's certainly the best value out there.
We love a lot about the REP Swiss Bar: it's rackable, it has chrome-plated sleeves, and it's under $300. The handles are fixed, just like on most bars of this variety, and have a passive knurling. Our complaints about this bar are minimal, like that the knurling is inconsistent among the handles. Also, the thread for the eye-bolt screw is long; you'll have to remove it if you want to do presses without it digging into your chest.
But, at more than $100 less than the Rogue MG-4C, the REP is a solid competitor. If you want versatility, the edge goes to Rogue. If you want affordability, REP is the clear winner.
Kabuki Strength Kadillac Barr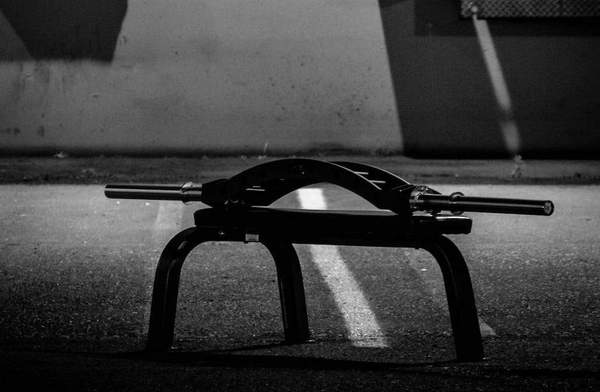 Kabuki Strength Kadillac Bar
Cambered the same angle as the Duffalo Bar for increased range of motion. Machined Sleeves allow the use of regular barbell collars and include our signature end caps. 10°, 12.5°, and 15° grip angles promote optimal, stacked joint position and improve movement mechanics. Useable in both standard and reverse grip positions. Plated sleeves and powder-coated center for durability and corrosion resistance. Removable sleeves to reduce shipping cost.
The Kabuki Strength bar is, quite literally, the "Kadillac" of multi-grip bars. It has a $500 price tag, features the highly popular curved camber angle replicated from the brand's Duffalo Bar.
Where we think the Kabuki bar can improve is by adding knurled handles, which the MG-4 has, and by swapping out the x-plate in the center of the bar for an attachment.
For the price, we think the Rogue bar might have the edge here, but again, we'll have to wait until we actually get to test it to know for sure.
Final Verdict of Our Rogue MG-4 Multi Grip Bar Review
We are standing by patiently for our chance to use the Rogue MG-4. From what we can tell, this is possibly the most versatile multi-grip bar on the market. Yes, it comes at a price, but we have a hunch that Rogue delivers with this one.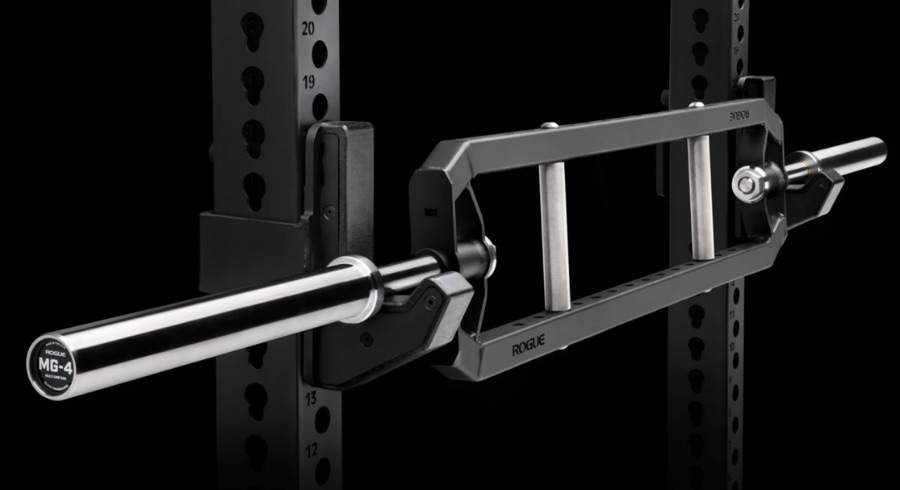 Rogue MG-4 Multi Grip Bar FAQs
Is a multi-grip bar worth it?
A multi-grip bar, also known as a Swiss bar or even a football bar, is a great specialty barbell for those who are looking to build strength. It enables you to perform a significant variety of exercises compared to a traditional Olympic barbell. 
Specialty bars, like trap bars, squat bars and weightlifting bars, all have their place. While we might not say that a multi-grip bar is a home gym essential, we would say it's a great addition to your garage gym if you can afford it.
How much does a Rogue Multi Grip Bar weigh?
There are two weight options for the new Rogue MG-4, depending on if you go with a shorter loadable sleeve at 9 inches, or the longer loadable sleeve at 15.5 inches. The shorter bar is 45 pounds, and the longer bar is 55 pounds.
What is a multi-grip bar good for?
There are several benefits to using a multi-grip barbell, especially compared to a traditional Olympic bar or power bar. 
Due to the different grip options, including neutral grip and angled grip, a multi-grip bar is often more comfortable for people with shoulder issues.
The versatility of grip options means you can do a number of exercises, including bench press, floor press, JM press, deadlifts, hammer curls, push-ups, clean and press, back rows, inverted rows, skull crushers, and shoulder press.
There are several different shapes and sizes to multi grip bars, which means you can choose one that is ideal for your fitness goals.
If you buy a multi-grip bar, it's wise to get one that would fit the Olympic plates you use on a standard barbell, simply so you don't have to double up on equipment.