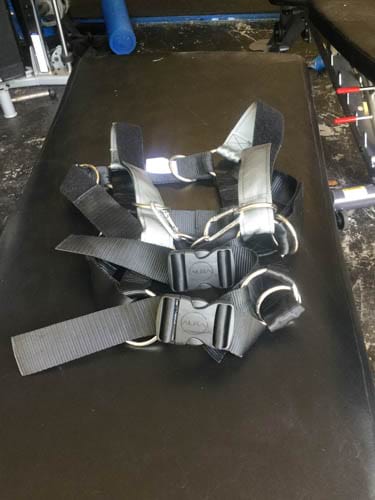 Contained within the manual are the instructions for you to properly tighten and adjust the harness to your body. It is really easy to adjust – there are Velcro straps to make it snugger to your ribs as well as straps to make it fit optimally onto your shoulder/trap area.
Even though the harness weighed in a 3-lbs – with it on your body it truly feels lightweight. Mobile! Agile! 
As an RTS® guy (Resistance Training Specialist), I had quite a few ideas on how I wanted to load myself with the harness besides typical sled dragging variations (which actually had another awesome feature compared to other sled dragging harnesses I hadn't even thought of and will show in a bit).
First up…
Cable Push-Ups
I usually Gerry-rig some straps crisscrossed around my torso and attach it to a cable or weight pin. With the Ki-Ro Core however, it felt like it was designed to do this!
Being able to load up a push-up is usually a hard feat to accomplish since you either have to juggle a weight balancing on your back or chains cutting the circulation off your neck. The harness disperses the weight so all I really had to focus on are my bench press-ey muscles (chest and triceps). It was an awesome feeling! Since I had the weight attached to the sliding rings on the harness, it was also really easy to get in and out of!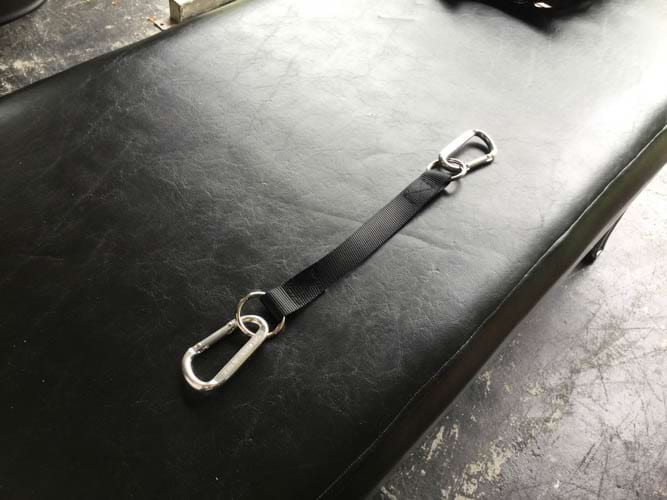 Standing Back Extensions
Oh buddy! This was a treat – I really noticed how awesome the sliding rings are on this type of exercise. I had the rings set up to adjust so that the load would be heaviest at my strongest part and let up when I would mechanically be at my weakest.
Similar exercises you could do (If you didn't have an Edge Fitness Systems Standing Back Extension) are a good morning type movement with either band or cable.
Seated Spinal Extension
To hit a good spinal extension type movement where you actually move through a good ROM, you either need an expensive machine or a 45° back raise (which often still is tough to keep your glutes and hams from coming involved).
The Ki-RO Core allowed me to keep the load to just involve my spinal erectors. Not having to worry about grip was awesome as all of my focus could be directed to getting those muscles that run along the side of the spine big and strong.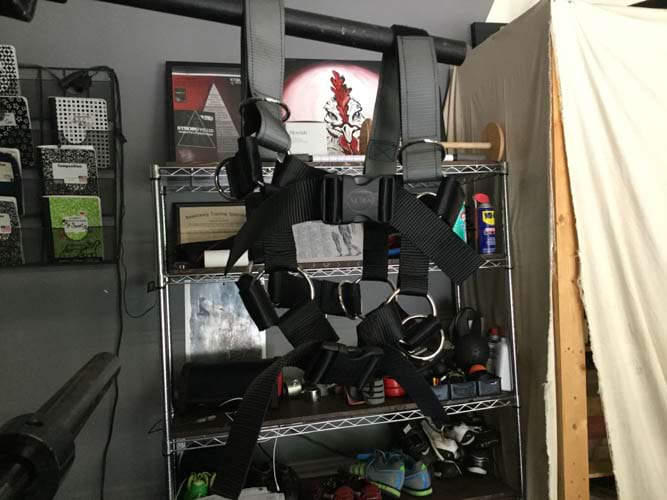 Multiple directions of force Side-Bend
This exercise was super cool! Having a cable pull your side up on one end (on the harness) and holding on a dumbbell opposite of that creates a unique load profile to your obliques and ab musculature. This feels like a full range-of-motion dumbbell side bend.
Unique Sled Dragging Capability
With the Ki-Ro Core's sliding ring technology, you're able to switch back and forth on forward and backward sled dragging without having to reattach! This is a great time-saving feature!
There are several other exercises I came up with, but these are the ones that I definitely wanted to highlight.
I would highly recommend purchasing one. I know when I got mine, training definitely got less boring and more fun. Strategically varying your "core" lifts is key to a healthy strength training program.