We test and review fitness products based on an independent, multi-point methodology. If you use our links to purchase something, we may earn a commission. Read our disclosures.
The Bowflex Max Trainers were introduced as the brand's new combination cardio machine after the TreadClimbers were discontinued. Max Trainers combine the benefits of an elliptical and stepper machine and are designed for high-intensity interval training. Bowflex claims you burn 2.5 times more calories on a Max Trainer than a traditional elliptical in the same amount of time.
The Bowflex Max Trainer M5 was discontinued and replaced with the M6, so we haven't personally worked out on the machine. We have used and reviewed other Max Trainers like the M6 and M9, however. We'll use that experience combined with online specs and reviews of the M5 to help you determine if you should try to find a M5 for your home gym.
We Know Cardio
We love our barbells but that doesn't mean we skip our cardio. We've tested numerous cardio machines, from bikes and ellipticals to treadmills and rowers. Our team of CrossFit-L1 trainers, nutritionists, athletes, and home gym owners knows our stuff. We'll share our knowledge of fitness equipment to help you decide if the Max Trainer M5 deserves a place in your home gym.
Looking for an Alternative to the Bowflex Max Trainer M5?
Best Alternative to Bowflex Max Trainer M5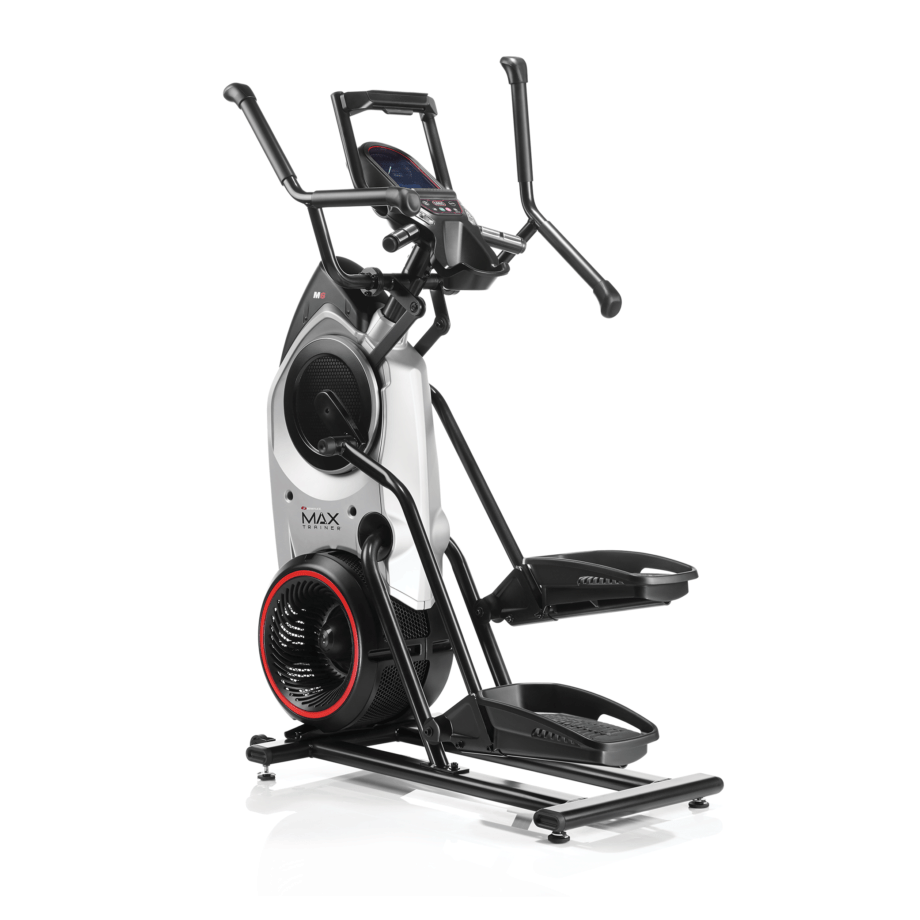 GGR Score: 4.2
Product Highlights
Gets harder as you get stronger
Stair-stepping design targets muscle development
Compatible with JRNY app
Ideal for HIIT workouts
Pros & Cons
Pros
Stair-stepping design targets muscle development
Compatible with JRNY
Ideal for HIIT workouts
Cons
No interactive touchscreen
Pretty basic display
Expensive
Bottom Line
The Bowflex M6 provides a heart-pumping, low-impact workout that resembles stair-stepping.
If you're looking for an alternative to the M5 because you can't find one on the secondhand market, the Max Trainer M6 is the best place to start. These are two very similar pieces of equipment. The M6 is slightly more expensive ($100) than the M5 was when it was available. They both have very similar dimensions, 16 levels of resistance, and similar pre-programmed workouts. The main difference is that the M5 was designed to connect to the Max Trainer App and the M6 connects to the newer JRNY app.
If you're looking for something similar outside the Bowflex brand, it's going to be tough, but try looking into ellipticals with inclines. These will be different from the Max Trainers because they are still traditional ellipticals instead of combination machines, but you can get some of the same benefits with a high incline. Our overall favorite elliptical with incline is the NordicTrack Commercial 9.9. It is a very similar price range to the M5 at just under $1,500. It has a 7-inch touchscreen, iFIT compatibility, and 22 resistance levels.
A Quick Look at the Bowflex Max Trainer M5
The Bowflex Max Trainer M5 is a unique hybrid machine that combines the benefits of an elliptical and a stepper. It is designed to provide home gym users with quick, high-intensity, low-impact, full-body workouts. There are multiple built-in programs to help you get a workout in as little as 14 minutes. When it was available it retailed for $1,599, and you can now find it on the secondhand marketplace for less—but is it worth it? Let's find out.
Pros:
Compact machine with small footprint
Compatible with chest strap heart rate monitors
Great for HIIT workouts
Cons:
Short warranty
Basic display
Expensive
Customers complain that it is loud
Bowflex Max Trainer M5 Specs
| | |
| --- | --- |
| Dimensions | 46.1" L x 25" W x 62.9" H |
| Weight | 143 lbs |
| User Weight capacity | 300 lbs |
| Minimum ceiling height | Tallest user height + 15" |
| Resistance levels | 16 |
| Flywheel | Front |
| Display | Backlit display |
| Preset workouts | 8: max interval, smart max interval, calorie burn, fat burn, calorie goal, stairs, steady state, fitness test, manual mode |
| Heart rate monitoring | Contact grip, chest strap |
| User Profiles | 2 |
| Bluetooth | Yes, sync workout results with phone via Max Trainer App |
| Warranty | 2 years |
Key Features of the Bowflex Max Trainer M5
The standout feature of the M5 is its unique elliptical and stepper combination design. This machine also features a compact design, 16 levels of resistance, heart rate monitoring, and the ability to sync with the Bowflex Max Trainer App to log workouts.
Footprint, Portability, and Durability
The Max Trainer M5 has a footprint of 2 feet, 1 inch wide and 3 feet, 10 inches long. This is smaller than most traditional ellipticals and treadmills, meaning you can get a quality workout even if you don't have room for a dedicated home gym. Bowflex has included front-mounted transport wheels to make moving the machine around your home easier.
The M5 has a short, 2-year warranty, which makes us nervous about its durability. Customer reviews also complained about having multiple issues requiring assistance from Bowflex to fix. So, you'll want to be careful if you're buying this on the secondhand market because a warranty won't apply and you'll have to troubleshoot any issues on your own.
Ergonomics
The M5 features both stationary and moving handlebars. The stationary handles have integrated contact grip heart rate monitors. The moving handlebars have premium grips and can be used in multiple positions to help incorporate your upper-body into the workout.
Bowflex claims the Max Trainer M5 provides a low-impact workout, so you should be able to increase your heart rate without increasing your joint pain. However, there were mixed reviews on that. Some users found the M5 increased their knee and back pain, and there were complaints about the handlebars being too far forward for shorter users to comfortably hold. But many reviews loved using the machine and liked the quick workouts.
Technology Benefits and Conveniences
The M5 lacks a lot of modern conveniences users are accustomed to, which is why it was replaced with the M6. The M5 syncs with the free Max Trainer App available on Android and Apple devices. This app is primarily used for tracking workouts, stats, and progress. The newer M6 syncs with the Bowflex JRNY app, which provides access to the best personal training apps via a subscription.
The M5 console includes eight built-in workout programs, such as calorie goal, smart max interval, stairs, and the 14-minute max interval workout. The console displays a variety of information including traditional stats like time, heart rate, and calories. It also includes a target zone LED range to indicate how intensely you are working out and burn rate which shows how many calories you are burning per minute. The console also includes a media shelf for your tablet or phone and a water bottle holder.
Final Verdict of Our Bowflex Max Trainer M5 Review
The Bowflex Max Trainer M5 was a popular combo machine that was replaced by the M6, an upgraded version designed for better integration with Bowflex's JRNY app. The main draw of the M5 is the unique design combining an elliptical trainer and stepper. If you are interested in a Max Trainer but apprehensive about the steep price, purchasing a discontinued M5 is a more affordable option. Be careful, though, as some users have had issues with the durability of these machines and you'll have to handle those without the assistance of Bowflex if you purchase a secondhand machine.
Bowflex Max Trainer M5 Rating
Bowflex Max Trainer M5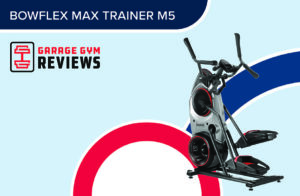 Thinking about getting a Bowflex Max Trainer? Learn about this now-discontinued model with our Bowflex Max Trainer M5 review.
Product Currency: $
Product Price: 999
Product In-Stock: InStock
Bowflex Max Trainer M5 FAQs
Is the Bowflex Max Trainer worth it?
The Max Trainers are expensive machines due to their unique design. If you're interested in this type of machine you'll have to pay a premium. You'll have to decide if it is worth it to you.
How much does the Bowflex M5 weigh?
The Bowflex Max Trainer M5 weighs 143 pounds.
Is the Bowflex M5 noisy?
We haven't personally tested the M5 so we can't speak from firsthand experience. However, multiple customer reviews did complain about the M5 being noisy.
Is a Max Trainer better than an elliptical?
That depends on what you're looking for. If you want to burn as many calories as quickly as possible, the Max Trainer is probably better. Bowflex claims you can burn 2.5 times more calories in equivalent time on a Max Trainer. If you're looking for steady state cardio instead of interval workouts, then an elliptical machine will be better than the Max Trainer.