We test and review fitness products based on an independent, multi-point methodology. If you use our links to purchase something, we may earn a commission. Read our disclosures.
Peloton came out with strong marketing during the pandemic that put their premium indoor exercise bike ahead of the indoor cycling competition. However, they now have plenty of competition for high-end exercise bikes with integrated programming from Stryde, Echelon, Bowflex and Nordictrack. 
The Stryde Bike—one of many worthy Peloton alternatives—and Peloton go head-to-head in a number of categories, including screen size, resistance levels, warranty and more. However, there are some important, though small, differences that could make one a better fit for you than the other.
Before you invest your money, take a look at Stryde vs Peloton to see if one of these bikes, which could be considered two of the best exercise bikes on the market, is right for you. We've thoroughly tested and reviewed both, and we're here to spill our knowledge.
Quick Look: Stryde vs Peloton
The Stryde Bike and Peloton are both fairly sizable investments for an indoor cycling bike. For that reason, these models are for those who will use a fitness bike for the majority of their fitness needs. In some cases, they can replace a gym membership, thanks to their integrated programming with live and on-demand classes and leaderboards. The versatility of the programming goes beyond bike workouts for strength, floor, yoga and HIIT.
The Stryde's specs match the Peloton's on many accounts. However, a few key places to notice differences are in the programming options and the maximum user weight. The Stryde's 21.5-inch HD touchscreen can stream the Stryde app for $29.99 per month, or it can stream other fitness apps and streaming services, like Netflix, if you want to catch up on your favorite show while you ride. The Stryde will also work without any app at all, which can save money on a monthly subscription.
Peloton's app is still one of the absolute best on the market. From its instructors to the types and variety of classes they offer, it's a motivating app that's hard to beat. Peloton also offers different packages that can include extras like Peloton cycling shoes (which you have to buy to use the bike), dumbbells, bike mat, heart rate band and/or a yoga mat. However, those packages can take the price point from $1,495 to over $2,500. Plus, the Peloton app is required to use the bike and a monthly subscription comes in at $44, which increases the overall cost of the bike.
Stryde vs Peloton Comparison Chart
| | | |
| --- | --- | --- |
| | Stryde | Peloton |
| Price | $1,495 | $1,445 |
| Footprint | 49.5" L x 24" W x 46" H | 59" L x 23" W x 53" H |
| Weight | 135 lbs | 135 lbs |
| Display | 21.5-inch HD touchscreen | 21.5-inch HD touchscreen |
| Resistance | 100 levels of magnetic resistance with manual knob | 100 levels of magnetic resistance with manual knob |
| Drive | Belt | Belt |
| Flywheel | 30.5 pounds | 38 pounds |
| Pedals | SPD pedals with toe cages | Delta-compatible aluminum |
| Seat adjustment | Vertically and horizontally | Vertically and horizontally |
| Handlebar adjustment | Vertically | Vertically |
| Device Holder | No | No |
| Water Bottle Holder | Yes | Yes |
| Max User Weight | 350 pounds | 297 pounds |
| Connectivity | WiFi and Bluetooth | WiFi and Bluetooth |
| Programming | Stryde and other apps | Peloton |
| Heart Rate Monitoring | No | Yes (must purchase your own band or strap) |
| Dumbbells | No | Cost extra |
| Warranty | 5-year frame, 12-month parts, 12-month labor, 12-month touchscreen | 5-year frame, 1-year touchscreen, components, pedals, and labor |
Who Should Buy the Stryde Bike
Users who want the option to stream or use different fitness apps
Users who will primarily use the Stryde bike for their fitness needs
Families who need a bike to fit multiple users
Users who prefer the option to wear bike cleats or running shoes
Stryde Bike
Product Highlights
Smart exercise bike with magnetic resistance 

21.5" HD touchscreen

Can use the Stryde app for programming or stream other apps like Peloton 

Stryde app costs $29/month
Pros & Cons
Pros
Stream live fitness classes
Large tablet touchscreen
Magnetic resistance
Heavier weight capacity 350 lbs
Community leaderboards for competition
Cons
Monthly Stryde subscription at $29 per month
Software on the bike is not as advanced as competitors
Bottom Line
Overall, reviews say that the Stryde Bike is a quality machine that produces a smooth and quiet ride. This bike is created more for the everyday rider and even though it comes with a large tablet screen, you are not locked into a membership with the company to get workouts.
Who Should Buy the Peloton Bike
Devotees of a boutique cycling class
Users motivated by competition
Users who will primarily use the Peloton Bike for their fitness needs
Peloton Bike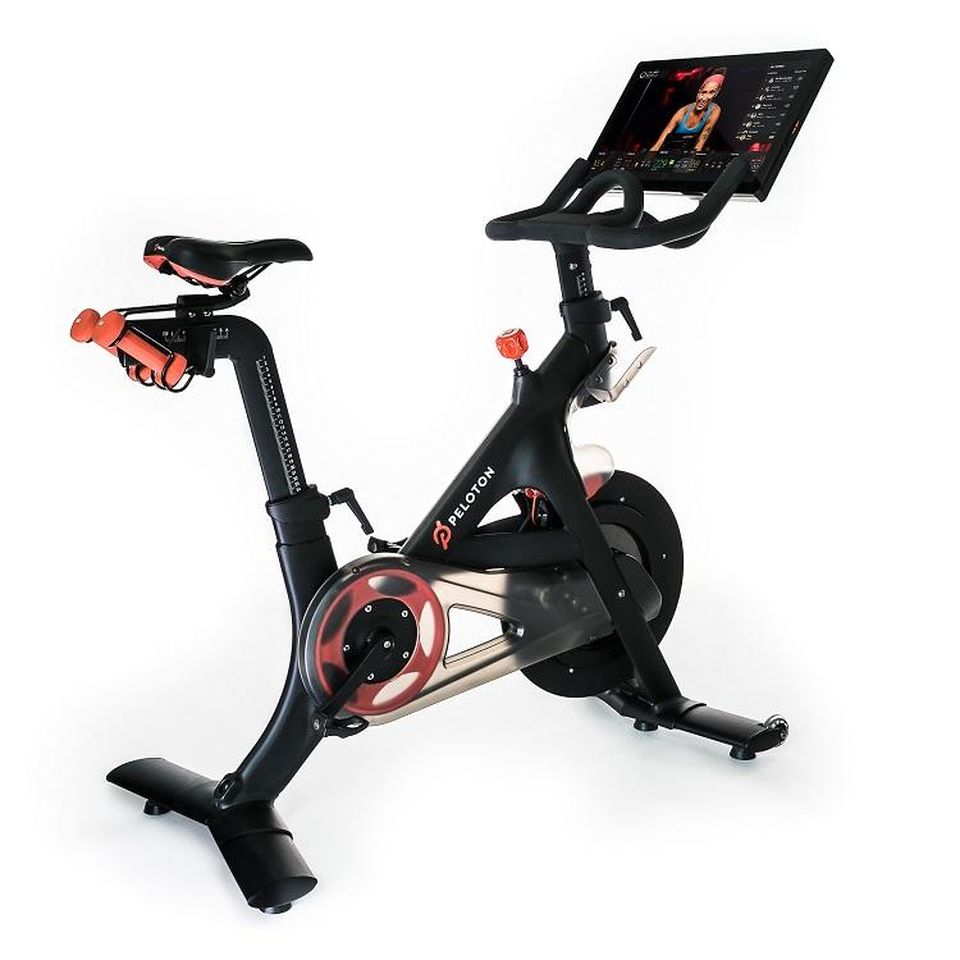 Community Score: 5
Product Highlights
The Peloton Bike is more than just a bike—it's an entire fitness community and experience that brings training from home to new levels. This bike itself is a well-made indoor stationary bike with a large, vivid 21.5-inch touchscreen display that enhances the immersive training experience. 
Featuring a compact footprint, adjustable screen, seat and handlebars, a 5-megapixel front-facing camera, Bluetooth connectivity, USB microport, and a sport series saddle with ergonomic center channel, the Peloton Bike is stacked with impressive specs. 
What has brought this bike a cult-like following is the Peloton fitness platform. All-access membership to Peloton provides exclusive access to thousands of on-demand and live classes, coaching, challenges, and leaderboards for those who need some external motivation during a sweat session. The Peloton Bike is most certainly a costly investment, but one that brings with it an entire training experience.
Pros & Cons
Pros
Immersive experience
Access to thousands of classes, challenges, and a large variety of workout options
Compact footprint
Sleek design
Financing options
"Try before you buy" option
Cons
Disappointing warranty
Membership is required to use bike
Expensive
Shipping is not included
Bottom Line
One of the more expensive options for virtual biking, the Peloton Bike is designed to be an all-in-one fitness solution on a high-quality cardio machine. You're paying not only for the bike, but the unique training experience it makes accessible from the comfort of your home.
Key Similarities Between Stryde and Peloton
21.5-inch HD touchscreen
100 resistance levels with manual resistance knob
Solid frame build
Horizontal and vertical seat adjustment
Vertical handlebar adjustment
WiFi and Bluetooth connectivity
Silent magnetic resistance system
Five-year frame warranty, 12-month warranty on parts, labor and screen
Smooth, quiet, comfortable ride
Important Differences Between Stryde and Peloton
Stryde can stream other fitness and streaming apps
Quality of the Peloton instructors is superior
295-pound maximum user weight for the Peloton versus a 350-pound maximum user weight for the Stryde bike
30.5-pound flywheel on the Stryde versus a 38.5-pound flywheel on the Peloton
Stryde works with cycling cleats or standard running shoes whereas Peloton requires clip-in SPD cycling shoes
Built-In Programming & Community Access
Programming and community access are probably the biggest difference between these two home fitness machines. For many people, their final decision will come down to their workout style and how they feel about each of these bikes' native platforms and apps.
The Stryde comes with the Stryde app, which includes cycling classes (and other fitness classes), leaderboards, and access to your workout history. The instructors aren't the same quality as Peloton, but there are lots of options that will provide a good workout. However, where this machine really shines is the option to connect to other fitness apps. You can use the Peloton app on the Stryde bike as well iFIT and any others to which you have a subscription, expanding your home gym options.
Not only that, you can watch streaming services like Netflix to pass the time. The other perk is you don't have to use a fitness app to run the bike. There's a tab in the Stryde app that shows your stats, like distance and speed, even if you don't have a Stryde membership. The bike will still monitor your metrics even if you don't use programming, which means you don't have to pay a monthly subscription if you're happy with a free ride experience where resistance is all up to you.
The Peloton app, on the other hand, offers an exclusive experience. You can only connect to the Peloton app on the Peloton Bike, and you have to pay the monthly Peloton subscription for the bike to monitor and record your stats. However, our expert product testers think Peloton's app is one of the best available, especially for cycling.
The instructors consistently get high ratings for the quality of the workouts, and the variety of class offerings is pretty impressive. You get the option of going on rides through historic locations in addition to studio cycle classes. There are also live classes, on-demand classes and access to leaderboards. The app also includes yoga, barre, strength training and other types of fitness classes, too.
Maximum Weight Capacity and Pedals
We have to include a note on the maximum weight and pedals with these two bikes because it's two more places where there are differences that affect your purchasing decision. The Stryde Bike has a higher maximum user weight of 350 pounds compared to the Peloton's 295 pounds.
The Stryde Bike works with cycling cleats or standard running shoes, opening the door for multiple family members, including kids to use the bike. Peloton, on the other hand, requires SPD cycling shoes, which you have to buy in addition to the price of the bike.
Customer Reviews
Both Stryde and Peloton seem to be fan-favorites for at-home cardio. Here's what reviewers have to say.
Stryde
The Stryde gets repeated positive reviews for a few features, including the open-platform touchscreen, smooth ride and the option to use regular shoes and quality of the build. Here's a glimpse of what customers are saying:
"Very sturdy well-built bike that is exceptionally smooth," says David F. on the Stryde website. "Screen is open architecture, so no forced subscriptions to use bike, thats the best part, but the paid subscription is very good and realistic to ride along too."
There are a few downsides to this stationary bike that show up fairly consistently, too, including the clunkiness of the Stryde app and some connectivity issues. Stryde's app doesn't have the instructor quality of Peloton, but that's usually overridden by the fact that you can use other fitness apps.
"I'm very happy with the purchase and have no regrets – just hoping the tablet interface and the app get updated regularly and looking forward to seeing those improvements!" says customer Meghan K.
Peloton
The Peloton gets top marks for the class and instructor quality, according to reviewers. Programming is one of the No.1 reasons users stick with the Peloton despite the price of the monthly subscription.
"Great way to work out," says reviewer Waheed on the Peloton website. "The bike is okay, it's the classes that make it interesting. I prefer getting engaged and not being bored like I can on an elliptical machine or a treadmill. The hardware on the bike is very sturdy, and I do not expect a problem for a long time. I wish there was an easy search option with filters to enter the duration of the class and the type of music, the difficulty of the class to have the options narrowed down."
"The bike is awesome," says Peloton reviewer Jordan. "The classes are what keep me coming back. There is excellent variety. My only concern is that I keep having bearing issues."
As far as downsides, arriving with missing parts can be an issue. There are also reports here and there of the bike breaking fairly soon after purchase. However, it usually still falls under warranty, though many users expect the bike to last longer based on the high price tag.
"Peloton came and was missing many parts," explains Abby Cleaver, Amazon reviewer. "We had an expert come to assemble, and he said this has been happening a lot. He said it was the second Peloton just that day that was shipped with missing parts."
Company Policies
Let's see how Stryde vs Peloton stack up when it comes to brand policies.
Warranty
These two bikes have fairly similar, and somewhat disappointing, warranties. Both have a five-year frame warranty with 12 months on parts, labor and touchscreen. Considering the price you pay for these bikes, we'd like to see a longer warranty on parts and the touchscreen at least.
However, Peloton offers an additional 48 months of coverage for hardware and labor for $199. At this time, Stryde does not offer any additional coverage.
Return Policy
Both bikes have a 30-day return policy. After that time, any issues you have with the bike will fall under the warranty.
Financing
Both companies offer financing options, though the final price of your payment will depend on your credit history. Stryde offers payments over three, 12, or 36 months.
Peloton has a little more flexibility in its financing options, with 12-, 24-, 39- or 43-month terms. Their greater flexibility is in part because they offer packages that go well above the $1,495 price of their basic package, which Stryde does not.
Shipping
Peloton includes delivery and assembly in their shipping price, which is typically around $250. The Stryde's price typically includes shipping, and sometimes it runs deals reducing the overall price and shipping.
Final Thoughts: Stryde vs Peloton
Although the bike itself is very similar, Stryde and Peloton do offer different experiences.
Stryde is an open-platform bike, meaning you can stream an array of interactive programming on it, whereas the Peloton Bike uses exclusively Peloton programming.
The Stryde Bike has an edge with a higher user weight capacity and more versatile pedals.
Peloton programming is top-notch, and may be worth it if you place a high value on a boutique cycling experience.
FAQs on Stryde vs Peloton
Is Stryde as good as Peloton?
As far as build quality, the Stryde is as good as the Peloton. Their programming is different, with Peloton's winning out on quality, but the Stryde can connect to other fitness apps for greater quantity.
Does the Stryde Bike work with Peloton?
The Stryde Bike can work with the Peloton app. 
What machine is better than Peloton?
If you're not devoted to Peloton's app, the Stryde offers the same build quality and features for a similar price, plus the ability to use other fitness apps or streaming services.