We test and review fitness products based on an independent, multi-point methodology. If you use our links to purchase something, we may earn a commission. Read our disclosures.
The great American lyricist Fabolous once said, "Often imitated, never duplicated," which not only applies to emcees, but to exercise bikes as well. And these days there's nobody more imitated than the Peloton bike, but unfortunately for them, many stationary bike manufacturers have been able to duplicate, and often exceed their success.
Our Stryde bike review won't stress you, but it'll let you know if this bike be killin' the competition. As always, we'll take a close look at every part of the bike, its technology features, and how it stacks up to the other bikes on the market.
Honest Exercise Bike Reviews That Should be Taken in Stride
Our home gym equipment reviews will always give you the good, bad, and ugly aspects of every product we get our feet (and hands) on. Not everyone is happy when we criticize a certain aspect of an exercise bike, barbell, or squat rack, but we do it to give you the most honest and thorough reviews so you can build the home gym of your dreams.
As certified personal trainers, CrossFit L-1 coaches, and competitive weightlifters, we know products' strengths and weaknesses because we use them on a daily basis during our own training and when working with clients.
Stryde Bike
Product Highlights
Smart exercise bike with magnetic resistance 

21.5" HD touchscreen

Can use the Stryde app for programming or stream other apps like Peloton 

Stryde app costs $29/month
Pros & Cons
Pros
Stream live fitness classes
Large tablet touchscreen
Magnetic resistance
Heavier weight capacity 350 lbs
Community leaderboards for competition
Cons
Monthly Stryde subscription at $29 per month
Software on the bike is not as advanced as competitors
Bottom Line
Overall, reviews say that the Stryde Bike is a quality machine that produces a smooth and quiet ride. This bike is created more for the everyday rider and even though it comes with a large tablet screen, you are not locked into a membership with the company to get workouts.
A Quick Look at the Stryde Bike
The Stryde Bike is an indoor exercise bike with a built-in touchscreen that seeks to bring the studio cycling class experience to your home gym. It takes up four feet by two feet of floor space, weighs 125 pounds, and is made with welded powder-coated steel.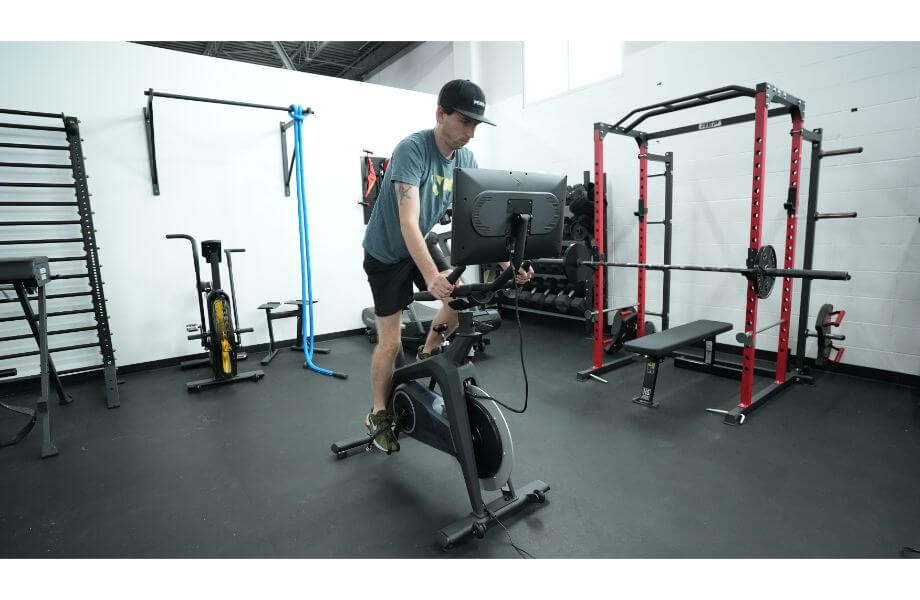 The bike itself utilizes low-maintenance magnetic resistance with 100 micro-adjustable levels and has hybrid pedals with adjustable SPD toe cages, and the other side can be used with any cross-training shoe. Like most exercise bikes, it comes with a built-in monitor where you can access on-demand cycling and strength training at-home workouts.
And unlike most smart home gym equipment, you don't need an app to take full advantage of the bike and can also use other companies' apps such as iFIT or Peloton.
My Tips
Not sure if this bike is for you? You can test it out for 30 days and return it for a full refund if you don't like it
Pros:
100 micro-adjustable magnetic resistance levels
Hybrid pedals
Can be used with other cycling and media apps
Don't have to pay the $29 monthly membership to use the bike 
350-pound user weight capacity
Made with durable materials
Can have up to four profiles on Stryde app
Cons:
Only 12-month warranty
Costs around $1,900, which is at the higher end of exercise bikes
Stryde app workouts are not as engaging as those on the Peloton app or iFIT
No live classes (at this time) 
Doesn't come with an included heart rate monitor
Stryde Bike Video Review
Is the Stryde Bike Worth It?
The Stryde Bike sells for $1,895, which is at the higher end for an exercise bike. There are many other options available for less than this, but we think there are quite a few people who would find this bike well worth the price over a budget exercise bike. 
Here's who we think should go for the Stryde bike, and who might want to go for something else.
Great for:
Those who want to use multiple cycling apps, or none at all
Anyone looking for an overbuilt, durable exercise bike
Trainees who want to switch between cycling cleats and training shoes
Families or home gym owners who want a bike that fits multiple people
Not recommended for:
Those on a budget
People who want the best of the best
Anyone who wants a bike with a multi-year warranty
Stryde Bike Specs
| | |
| --- | --- |
| Footprint | 49.6" L x 24" W x 46" height (with handlebars at highest position) |
| Weight | 135 lbs |
| Weight capacity | 350 lbs |
| Display | 21.5" HD touchscreen |
| Resistance | 100 magnetic micro-adjustable levels |
| User heights | 5',1" to 6',4" |
| Pedals | Hybrid SPD toe cages/adjustable toe cages |
| Warranty | 12 months |
Taking the Stryde Bike for a Spin
Garage Gym Reviews founder and expert product tester Cooper Mitchell, who's ridden more indoor cycling bikes than I can count, tested the Stryde Bike and his conclusion was that it's "nothing to ride home about." Get it?
In other words, the riding experience was good, but there's nothing special about it that separates Stryde from the countless other bikes on the market, at least when it comes to the hardware. We'll touch on the software in a bit.
Resistance
The Styrde bike uses silent magnetic resistance, which not only provides a quiet ride but also reduces the amount of maintenance needed down the road.
Friction resistance, the other type, works by having two pads restrict the movement of the flywheel. When the pads meet the flywheel, it can often create a slight screeching sound. Over time, those pads will wear down and need to be replaced, and that's not always cheap or easy.
Magnetic resistance works with…well, magnets that create no noise. Coop said the Stryde bike was whisper-quiet during his rides.
There are 100 micro-adjustable resistance levels on this bike, so you can make it as easy or as challenging as you want. The resistance was challenging at its highest setting, Coop says, but again, not anything that you can't find on other bikes.
The resistance is controlled via a knob on the bike's frame, which is where the emergency brake is located.
Stryde App and Workouts
The Stryde bike's software is where I think it shines over other exercise bikes, especially the Peloton or the NordicTrack S22i (two of the best exercise bikes, in our opinion). I'll say that I think those two are superior to Stryde in terms of their value, quality of their online workout classes, and features (the S22i, for example, has incline and decline adjustments and the Stryde does not).
But, Stryde gets major points for not requiring an app, though they have one. There's an option on the screen to select "Free Ride," which is just using the bike as a bike (imagine that).
With Peloton and the S22i, or even the MYX II Bike, you either need a monthly subscription to the Peloton app, iFIT, or the BODi app respectively, to use the bike even if you're not planning on taking an online workout class (you can use the S22i in manual mode, but there are no external apps so you'd be paying a lot of money for a big screen that only shows your riding metrics).
With Stryde, you can simply use the bike on its own.
That's a huge plus as you're already paying a large amount of money for these bikes (even if you choose to finance them). Peloton charges $39 per month for its app, which comes out to an additional $486 per year. That's not chump change for some people.
Even better, the Stryde bike allows you to use other companies' apps on its bike. So if you have an iFIT, Echelon Fit, MYX Fitness' BODi app, SoulCycle, or Peloton account (or you use a friend's…we won't tell) you can connect it to this bike to follow their cycling workouts and access their leaderboards.
If you're someone who's buying a bike for the sake of taking daily workout classes, we'd recommend that option. Stryde's optional app is $29 per month, but according to Coop, it's just not up to par. "Class quality is far off Peloton's," he says. "The coaches on Peloton are overall better and the production quality and user interface is much higher."
If you're still curious about the Stryde app, it offers hundreds of on-demand cycling and strength training classes. At this time there are no live classes, which may be a negative for some.
Oh, and for those who are wondering—yes, you can watch Netflix, Hulu, or Disney+ on the Stryde Bike.
Display
The monitor is a 21.5-inch HD touchscreen with an Android interface. There is a separately sold attachment that can make the monitor swivel, but that's not necessary unless you're using it for off-bike workouts.
Pedals
The Stryde bike has dual pedals that can be worn with cycling shoes or with everyday training shoes. This helps increase the versatility of the bike and gives it a slight edge over Peloton (continue reading for our full comparison of these two bikes).
Seat and Handlebars
The Stryde bike's four-way adjustable ergonomic seat is comfortable but nothing too special. The handlebars, unfortunately, are not adjustable but should work for people of most sizes.
Conveniences
The Stryde bike comes with two water bottle holders, Bluetooth and WiFi connectivity, a headphone port, dumbbell holders (weights not included), and two speakers on the screen.
Footprint and Portability
The Stryde bike takes up four feet by two feet of floor space, and it's recommended that you have at least two feet of space on all sides of the bike. It's about the average size of an indoor exercise bike, and it comes with smooth transport wheels for easy portability.
Construction and Durability
The Stryde Bike is made with high-end welded powder-coated steel, which doesn't tell us much about its durability. But Coop, who has a good eye for these things, said the bike is solid and he's not worried about it deteriorating anytime soon.
"The bike is not as good as something like a Keiser M3i, but it's still a solid bike for the price," he says.
Stryde Bike vs Peloton Bike
Peloton Indoor Exercise Bike
Honestly, we have to give the win to Stryde here and there's quite a few reasons why. The biggest, however, is that Stryde can be used with multiple or no cycling apps. Peloton's instructors are still the best in the industry, but the bike itself is just OK.
So even if you're a Peloton fanatic and love their motivating instructors (like us), we'd say go with Stryde because the bike is just about the same, and you can use other apps (like Netflix) on it when you're not taking a class.
Plus, the Peloton bike only comes with SPD clips so you'll either have to buy cycling cleats or new pedals that can be used with training shoes. The Stryde comes with hybrid pedals, making for a more seamless cycling experience.
Peloton has a longer warranty period, five years for the frame compared to Stryde's 12-month coverage period, but customers have found it hard to get repairs scheduled with customer service.
The bikes are the same price until Stryde's sale ends on Sept. 30, but after that Peloton will be cheaper by $400.
For more, read our full Peloton bike review.
Stryde Bike vs Bowflex C6
Peloton Indoor Exercise Bike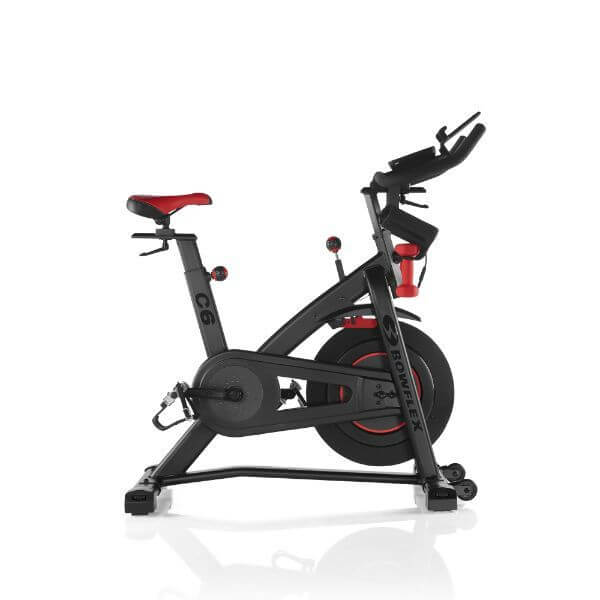 The Bowflex C6 is one of the only other fitness bikes that allows you to use other companies' fitness apps and watch Netflix (the Bowflex VeloCore also lets you do this). It's a little more lightweight than Stryde, but it has a ton of plastic parts and an uncomfortable seat.
On the other hand, it costs $999 (before shipping), you can replace the seat, and it comes with a 10-year frame warranty. If you're on a budget, go for the Bowflex C6. If you're looking for a more heavy-duty bike frame, Stryde's your ride.
Check out our full Bowflex C6 review for our full thoughts on this bike.
Warranty, Financing, Returns
The Stryde bike has a 12-month warranty for all parts, which is well below the industry standard of 10 years for the frame. Coop says the bike is solid and that he doesn't have concerns of it breaking down, but there are many people who would like the peace of mind that warranties offer.
Stryde has its own financing programming that can split the cost of your bike into three-, six-, 12- or 36-month installments. You can see if you qualify for financing at checkout.
You have 30 days from the date of delivery to return it for a full refund, minus the cost of shipping and handling.
Ordering and Assembling the Stryde Bike
Assembling the Stryde Bike involves screwing in the mainframe into the legs, and attaching the monitor to the handlebars. With two people, it should take no longer than 45 minutes. The tools needed for assembly are included with the bike.
Customer Reviews
The Stryde bike only publishes positive reviews on its website, and isn't available on third-party sites like Amazon.
Final Verdict of Our Stryde Bike Review
If you're a serious cyclist looking for an indoor riding experience that simulates road biking, the StrydebBike isn't for you. If you're a home gym owner or fitness enthusiast who wants a bike that can connect to multiple apps, or you enjoy binging Love Island during your cardio workout, then we think you'll love it.
We would like to see them offer an extended warranty on the bike, and perhaps introduce live classes to the Stryde app, but for now they get major brownie points for not requiring an app as well as giving us access to Netflix.
Stryde Bike Rating
Stryde Bike FAQs
Is Stryde resistance the same as Peloton?
Yup! Both bikes have 100 micro-adjustable magnetic resistance levels.
Can you use a Stryde bike without a subscription?
Yes you can! You can also use it with a Peloton subscription, iFIT subscription, and watch Netflix, Hulu, and Disney+.
Does the Stryde Bike auto-adjust resistance?
No. The Stryde bike's resistance must be manually adjusted.