We test and review fitness products based on an independent, multi-point methodology. If you use our links to purchase something, we may earn a commission. Read our disclosures.
We don't need to tell you that treadmills are an investment, especially if you opt for a high-end model with all the fancy tech features. And like anything else you spend money on, you probably want to protect that investment as best you can. In addition to cleaning the treadmill and tightening bolts when necessary, lubricating the belt is a vital part of regular maintenance.
Doing so not only prolongs the life of your machine, it can also potentially fix annoyances like squeaking and belt hesitation. Most manufacturers recommend lubricating your treadmill once every one to three months, or every 30 to 50 hours of use.
If you've never done this before, it's natural to have questions (and we have answers). In addition to a bunch of tips for general treadmill maintenance, we've also put together a step-by-step guide on how to lubricate your treadmill. Of course, to effectively do the job, you'll need one of the best treadmill lubricants first, which we've highlighted below.
Keep in mind that every treadmill is different, so while the recommendations here will work for many, it's important to consult your user's manual to make sure you're choosing the right lubricant for your machine.
We've Lubricated A Lot Of Treadmills
During our testing, we've run hundreds of miles on dozens of the best treadmills on the market. Many of us also own treadmills of our own. Naturally, we've had to lubricate those treadmills regularly to keep them functioning as they should. We'd like to say this alone makes us experts in the subject, but our credentials—our testers are certified personal trainers, CrossFit coaches, and nutrition coaches—also help.
Best Treadmill Lubricants in 2023
Best Treadmill Lubricant Overall: Horizon Fitness 3-Pack Silicone Treadmill Lubricant
Good for: Anyone who wants to stock up on lubricant for a treadmill
The Horizon Fitness 3-Pack is basically three bottles for the price of two. Obviously they're endorsed by Horizon for the brand's treadmills, but they work on all types of treadmills. Each bottle contains 50 milliliters of 100% silicone lubricant, which is enough for two applications. Note: These can't be used with infinity belts or decks.
| | |
| --- | --- |
| Number of bottles | 3 |
| Bottle size | 50 milliliters (1.7 fluid ounces) |
| Ingredients | 100% silicone |
Best Squeeze Bottle Lubricant: Impresa Products Treadmill Belt Lubricant
Good for: Those who prefer USA-made lubricants
Another 100% non-toxic silicone option, the Impresa Products lubricant comes in squeeze bottles for easy application. It's manufactured in the USA and compatible with almost all popular treadmill brands, including NordicTrack, ProForm, Sole, Horizon, LifeSpan, Nautilus, Schwinn, Woodway, and more. You'll get two bottles when you purchase.
| | |
| --- | --- |
| Number of bottles | 2 |
| Bottle size | 4 ounces |
| Ingredients | 100% silicone |
Best Budget Treadmill Lubricant: IPO Multi-Purpose Silicone Lubricant
Good for: People ballin' (or running) on a budget
If you want to save some cash upfront, you can buy a single bottle of the IPO Multi-Purpose Silicone Lubricant, which already has a budget-friendly price to begin with. Like all 100% silicone treadmill lube, it's odorless and non-toxic, so you don't have to worry about added ingredients. This one also comes with an applicator tube that makes it easier to get underneath the walking belt or use on other exercise equipment with smaller areas.
| | |
| --- | --- |
| Number of bottles | 1 |
| Bottle size | 4 ounces |
| Ingredients | 100% silicone |
Best Treadmill Lubricant With Applicator Tube: Noosa Life Treadmill Belt Lubricant
Good for: Getting into tighter spaces
The Noosa Life treadmill lubricant is 100% silicone oil that's USA-made and regularly tested for purity, performance and effectiveness. The main callout here is the applicator tube, which has a safe-close applicator that keeps the treadmill oil secure in between uses. Of course, it also makes it easier to get underneath the treadmill deck so you don't have to fuss with loosening the belt too much.
| | |
| --- | --- |
| Number of bottles | 1 |
| Bottle size | 4 ounces |
| Ingredients | 100% silicone |
Best 100% Silicone Treadmill Lubricant: Essential Values Silicone Treadmill Belt Lubricant
Good for: All types of treadmills that need silicone lubricant
The Essential Values 100% pure silicone lubricant is made in the USA in accordance with recommendations from most modern treadmill manufacturers. It's compatible with NordicTrack treadmills, as well as other major brands like ProForm, Sole, and many others. You'll get a 3-pack and each bottle contains 30 milliliters which is about enough for one application.
| | |
| --- | --- |
| Number of bottles | 3 |
| Bottle size | 30 milliliters (1 fluid ounce) |
| Ingredients | 100% silicone |
Best Treadmill Lubricant Aerosol Spray: DuPont Teflon Multi-Use Aerosol Treadmill Lubricant
Good for: Those who prefer aerosol spray
If you prefer an aerosol can, this multipurpose silicone-based lubricant from DuPont may be an option. It's water-resistant and has an easy application tube that helps you put it exactly where you want it. Keep in mind that it does have corrosion-resistant additives and Teflon added in so it may not work with all treadmills. Check your treadmill's user manual for more specific information about what type of lubricants you can use.
| | |
| --- | --- |
| Number of bottles | 1 |
| Bottle size | 11 fluid ounces |
| Ingredients | Silicone and teflon |
Other Treadmill Lubricants We Researched
Spot On 100% Silicone Treadmill Belt Lubricant
This treadmill lubricant has a lot going for it: It's made in the USA of 100% silicone and has a precision twist cap that helps eliminate leaks and spills. Ultimately, it didn't make the list because it's more expensive than other similar options of this size and caliber.
Cartegory Food-Grade Silicone Belt Lubricant
This is another good option, but the bottles are smaller than most of our picks so you'll have to repurchase more often. That's the main reason it didn't make our list.
Lube-N-Walk Treadmill Lubrication Kit
This is a novel idea—it comes with applicators that lubricate your treadmill as you walk on it—but we think it's easier (and cheaper) to just buy a small bottle of lubricant and quickly do it yourself.
GSM Brands Treadmill Belt Lubricant
You may be noticing a theme here: There's nothing especially wrong with this treadmill lubricant, we just liked the options we picked better because they have more (and better) reviews. A plus side to this one? If you're an artist, this lubricant has the right viscosity for acrylic pour painting.
How We Picked
It's impossible to make a one-size-fits-all recommendation for treadmill lubricants since every machine is different. That being said, 100% silicone lubricant is a safe bet for many types of treadmills. Keeping versatility in mind, we focused on picks that had a clean ingredient list and didn't contain any additives that could damage your machine. All of the picks can be used on budget-friendly treadmills to heavy-duty smart models.
We also considered user reviews. We made sure that most consumers were happy with the lubricant's performance and didn't have any major complaints.
We've also used a lot of these brands ourselves. We've had to lubricate many a treadmill and while we all have different favorites, collectively, we come back to the options on this list the most often.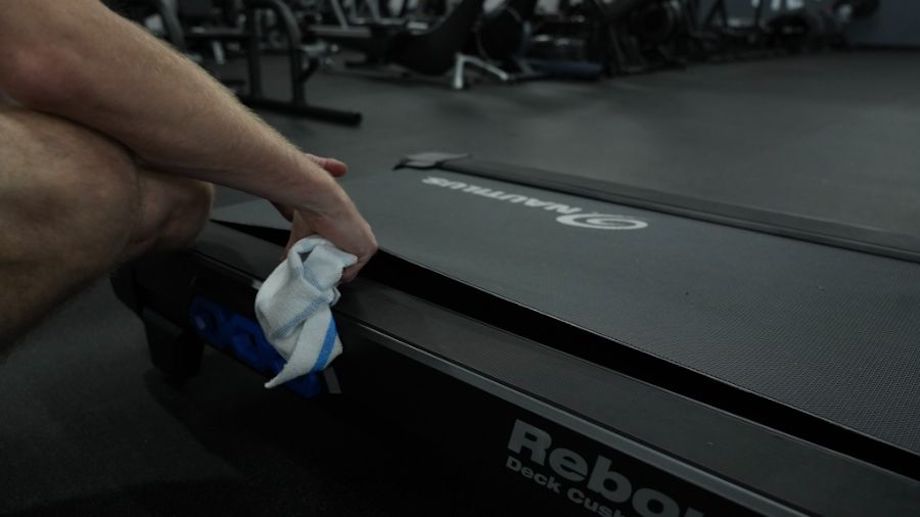 Benefits of Using Treadmill Lubricants
Lubrication is a vital part of treadmill maintenance.
"Without the proper lubrication, the deck and belt can rub, which creates excess friction that can damage the belt and the treadmill motor," says Amanda Capritto, certified personal trainer and GGR editor. "Lubricant oil also keeps the belt supple so it doesn't dry out and become brittle, which can drastically reduce the belt life."
This is especially important to think about if you don't use the treadmill often or it's stored somewhere with a dry, high temperature. Keeping the belt lubricated also reduces noise as you run.
RELATED: How to Clean a Treadmill
Buying Guide: What to Look for in a Treadmill Lubricant
Although it seems simple to just purchase a bottle of lubricant, there are a few things to consider.
Ingredients
The ingredients are key when it comes to treadmill lubricants. The specific recommendation for your treadmill may differ slightly, but as a general rule, 100% toxin-free silicone lubricants are recommended. In addition to checking the main ingredient, you want to make sure the one you choose doesn't have any additives or solvents that can damage the treadmill belt.
Application
Method of application is also important. Some lubricants come in a squeeze bottle, while others are aerosol-propelled. Some include an applicator tube or spout that makes it easier to perform regular maintenance, since you can get under the belt without loosening it as much.
Price
A single bottle of 4-ounce treadmill lubricant should run somewhere between $8 and $13. There may be some variation from this range, but you shouldn't be paying much more than that. There are lots of options out there, many of which offer a similar product, so do some price comparisons before deciding on one.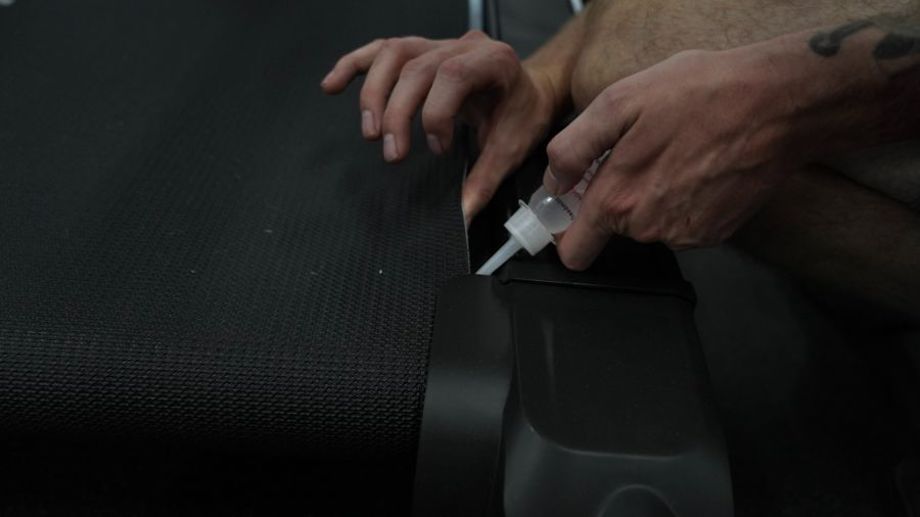 FAQs About Treadmill Lubricants
Can I Use WD-40 Silicone On My Treadmill?
WD-40 Specialist Silicone, which is non-petroleum, is compatible with many treadmills (and other fitness equipment like ellipticals and rowers). Just make sure to double check the user's manual for your specific machine before using it. If some spills on top of the belt, clean it immediately to avoid damaging the machine. Do not use regular WD-40, which is a petroleum-based product that can ruin the belt.
Is It OK To Use Silicone Spray On My Treadmill?
It's okay to use silicone spray on many treadmills, but again: Check your user's manual because it could be an expensive mistake if your machine isn't compatible. Make sure you only get the spray under the belt, too. If you get it anywhere else, wipe it off as quickly as possible.
Can You Put Too Much Lubricant On A Treadmill?
Yes, it's possible to put too much lubricant on a treadmill. If you do, you risk damaging the motor control board. Excess silicone can also fly out from under the belt as you run, splattering on your floors, walls, and anything it can touch. When lubricating a treadmill, start small and work your way up for best results.