We test and review fitness products based on an independent, multi-point methodology. If you use our links to purchase something, we may earn a commission. Read our disclosures.
You may notice at the gym they encourage everyone to wipe down fitness equipment to get rid of the sweat and keep everything sanitized. However, there is a lot more that goes into treadmill maintenance that you don't see.
To keep these machines working longer, it's essential that you know how to clean a treadmill. You have to clean all parts, not just where the sweat drips. Think of your cardio equipment like a car: Every now and then, your car engine needs to be checked to make sure it's running efficiently. Most treadmills have motors, too, and they need maintenance and cleaning to keep working.
Here we will outline the basics of how to clean a treadmill and break down the do's and don'ts so you can keep your machine running smoothly.
Which Treadmill Parts Should You Clean?
First let's understand the basic parts of the home treadmill:
There is a belt that rotates over a front roller and a rear roller.
The platform you run on is called the deck, also referred to as the running surface.
The console is the area where the screen or monitor is and helps you change speed, incline levels, and select various workouts.
The treadmill motor adjusts your workout accordingly by speeding up or slowing down the belt. There may also be a motor that controls the incline of the treadmill.
Other parts in and under the treadmill deck help with shock absorption and stability to make the workout easier on a runner's joints so you can run longer.
You can break down how to clean a treadmill into three categories:
Mechanics: The mechanics of your treadmill include the motor, rollers, and incline mechanisms. Dust build-up is your enemy and can clog the motor. The best way to keep these parts working is to prevent dust build up with frequent wipe-downs and vacuuming.
Belt: This is a very important part! A lot of dirt can build up here, and if you sweat a lot, you should wipe the belt down after each workout. If you can't get to it after you work out, perform belt cleaning once a week.
Console: The console is the computer of your treadmill. Do not use glass cleaner! Clean this part with an electronic cleaning solution or wipes to keep your screen dirt- and fingerprint-free.
5 Tips for How to Clean a Treadmill Properly
Cleaning your treadmill doesn't have to be a daunting task. If you regularly wipe down your equipment after a workout, you've already cut your work in half! These five steps will help you increase the lifespan of your treadmill so you can get the most out of it.
1. Wipe Down After Every Use.
This will help prevent sweat and dirt build-up on the surface of the treadmill that over time could cause damage to the belt. A general wipe down with damp cloth or paper towel after every workout will do the trick. Hit the console, handles, and wipe up any sweat drops you find.
2. Vacuum the Mechanics
Wiping down and vacuuming around the motor and the rollers will help prevent dust build-up. This is not a deep clean but a general clean to remove the dust, hair, and carpet debris that has built up. We recommend doing this on a weekly maintenance schedule.
Use a vacuum attachment to reach underneath the treadmill, around the base, and over the vents. Every couple of months, you should remove the motor cover and wipe down and vacuum inside the machine as well.
3. Read the Owner's Manual
Understand your warranty before using any products! Use any recommended products or avoid products if specified. Not cleaning your treadmill or using the wrong products could potentially void your warranty. For example, using glass cleaner on a touchscreen could destroy the unit—which would be a huge mistake.
4. Clean Under the Machine
This may sound like a lot of work, but cleaning underneath the treadmill is important because a lot of debris could build up and block the motor or the belt. Read the user manual on how to move your treadmill, and get someone to help you if necessary. We recommend vacuuming the spot where your treadmill usually sits about every three to six months. Using a treadmill mat is one way to protect your floors but also prevent excess dirt from getting into the machine.
5. Know How to Properly Clean the Screen
Cleaning the electronics is important. Wipe away any sweat, dirt, or water that gets on the display during your workout. It's important not to use glass cleaner because it can damage and streak screens. Use an electronic cleaner and wipe down screens, buttons, and handles with heart rate monitors after each workout. A plain, microfiber cloth will also work.
How to Clean a Treadmill Belt
The running belt on your treadmill is a very important part. It's the largest area on your treadmill and can easily collect dirt and grime. To clean the belt, first turn the treadmill off. Use a damp towel with disinfectant and wipe it down. As you're cleaning it, slowly push on the belt to rotate it all the way around so you are able to clean the entire thing.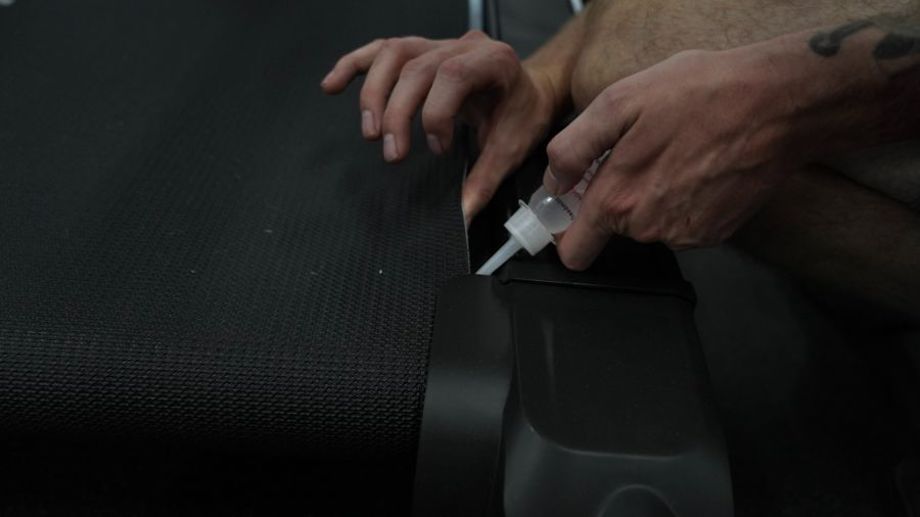 Keep Your Belt Lubricated
Lubrication keeps your treadmill running smoothly. The process to apply it should be specifically outlined in your user manual, or you can use our guide to lubricating a treadmill. Most treadmill lubricant is silicone-based, and it is not recommended to use substitute products. Follow the manual instructions and use the recommended lubricant.
Final Thoughts on How to Clean a Treadmill
A regular cleaning on your treadmill and all your gym equipment will help you get the most use out of your home gym. A simple wipe down after a workout and a weekly cleaning will help prevent dust and dirt from building up and causing issues.
It is especially important to deep clean your treadmill motor, console, and running deck every few months to keep it running smoothly. You can use these general cleaning practices on other cardio equipment as well!
FAQs About How to Clean a Treadmill
How do you clean a dirty treadmill belt?
The best way to clean your treadmill belt is with disinfectant and a damp cloth.Turn off the treadmill. Wipe down the belt with moderate pressure to get the dirt out of the grooves. Manually rotate the belt by pushing until you have wiped down the entire belt.
How do I get sweat stains off my treadmill?
The best way to prevent and remove sweat stains is to wipe down your treadmill after every workout. This will not only keep your workout area sanitized but it will prevent sweat from building up and causing stains on the console or the belt.
How do you clean treadmill belt oil?
To remove belt oil you need a soft cloth, hot water, and soap. Start with small spots clean and wipe dry to prevent the belt from warping.