We test and review fitness products based on an independent, multi-point methodology. If you use our links to purchase something, we may earn a commission. Read our disclosures.
NordicTrack knows how to build an exercise bike that goes the distance. But what about a commercial-grade model for the beginner or intermediate cyclist? That's the category of the NordicTrack VU 19. This compact, lightweight upright has an impressive maximum user weight, is iFIT compatible, and comes loaded with 32 onboard workouts.
In this NordicTrack VU 19 review, we comb through the fine details, including the silent magnetic resistance, touchscreen, and NordicTrack's return policies. This isn't a spin bike, but it has tech upgrades that can offer some of the best exercise variety for less experienced exercisers. We'll also give you a glimpse of the specs and features so you can determine if this is the right bike for your home gym.
We've Pedaled for Miles (So You Don't Have To)
We're more than just a bunch of gym junkies at GGR. Our team of expert testers includes certified personal trainers, CrossFit-L1 trainers, nutrition experts, and Olympic athletes, all with a passion for fitness. Our combined expertise and years of experience give us unique insight into fitness equipment and trends.
We haven't tested the VU 19 for ourselves, but we've tested NordicTrack bikes with similar features, like the NordicTrack R35, to help inform our insight into the VU 19. We always take customers' experiences into account, combing through customer and third-party reviews for assembly and performance patterns and red flags.
NordicTrack VU 19
GGR Score: 4.2
Product Highlights
7-inch HD color touchscreen 

Two 2-inch Bluetooth speakers 

30-day free iFIT trial 

Silent Magnetic Resistance (SMR) 

24 levels of digital resistance 

Automatic trainer controls when using iFIT

32 preprogrammed workout options

Included heart rate chest strap
Pros & Cons
Pros
Onboard workout options
Good range of resistance
Includes iFIT chest strap
Interactive touchscreen
Economical
Free iFIT trial included
Cons
Smaller screen
Lighter flywheel
Bottom Line
NordicTrack's Commercial VU 19 Exercise Bike is an upright stationary bike that syncs with iFIT for an interactive workout experience and offers 30 pre-programmed workouts.
A Quick Look at the NordicTrack VU 19
NordicTrack is well-established in the fitness industry and is known for the quality of its cardio equipment, including treadmills, ellipticals, rowers and, of course, exercise bikes. As a brand, NordicTrack has embraced new technology, using integrated fitness through the iFIT app in many of its cardio machines. iFIT rivals many of the top fitness apps in depth and breadth of fitness classes.
The NordicTrack VU 19 is an upright exercise bike with a strong frame that can support up to 325 pounds despite only weighing 115 pounds. Consequently, it's a compact, portable exercise bike with the resistance to challenge beginning and intermediate exercisers. We suggest this model for beginners because the 19-pound flywheel won't offer the workout intensity that advanced and competitive exercisers or cyclists may need. While this bike isn't cheap, it's a reasonable price for the quality of the frame and the tech upgrades.
Before You Buy
A monthly iFIT subscription will let you take full advantage of this exercise bike, but even without it, you get access to 32 onboard workouts.
Assembly for the VU 19 exercise bike is pretty standard, but it will be easier if you have power tools. Installing the console handlebars may require an extra set of hands, too.
Before assembling, check to make sure you have all the parts. This model has been known to arrive with a few pieces missing.
Is the NordicTrack VU 19 Worth It?
In all honesty, there's no one piece of cardio equipment that's perfect for everyone, and the VU 19 definitely caters to a certain type of rider. It's not a rival for a Peloton, though NordicTrack has one of those. But you can get some of the same features, like integrated programming, which can be a big workout incentive for the right person.
Great for:
Beginning and intermediate exercisers
Those with limited space in their home gym
Those who need a bike they can easily move around their workout space
Those who want integrated programming
Those who want a good selection of onboard workouts
Not recommended for:
Advanced and competitive exercisers or cyclists
Users who have a weak WiFi signal
Users who don't want integrated programming
Shorter users
NordicTrack VU 19 Specs
| | |
| --- | --- |
| Footprint | 43.6″ L x 24.9″ W x 59.4″ H |
| Weight | 115 lbs |
| Weight capacity | 325 lbs |
| Display | 7-inch smart HD touchscreen |
| Frame | Upright |
| Resistance | 24 digital resistance levels |
| Seat | Oversized cushion seat |
| Pedals | Extra-wide, ergonomic foot pedals |
| Flywheel | 19 lbs |
| Conveniences | Two Bluetooth-compatible speakers |
| Connectivity | Bluetooth, WiFi |
| Heart Rate Monitor | EKG group pulse heart rate monitor, iFIT Bluetooth Chest Strap |
| Programming | 32 onboard programs, thousands of workouts through iFIT |
| Transport | Front-mounted transport wheels |
| Warranty | 10-year frame warranty, 2-year parts warranty, 1-year labor warranty |
Customer Reviews for the NordicTrack Commercial VU 19
The NordicTrack VU 19 has glowing positive reviews on NordicTrack's website but mixed reviews on Amazon. Many of the positive reviews come from people who appreciate the VU 19's ease of use. It's not hard to assemble, and the 19-pound flywheel, though lightweight, is quiet.
There's always the bad that comes with the good, though. With the VU 19, that starts with shorter users. Those under about five-foot-three may not be able to get the seat low enough to pedal comfortably. Connecting to WiFi can also be an issue, which means you need a strong signal to use all of the UV 19's features.
Workout Experience on the NordicTrack R35
While we haven't tested the VU 19 ourselves, we have put the NordicTrack Commercial R35 through intense in-person testing with its own bike review. The R35 has a sturdy build and a high 350-pound maximum weight capacity, which is only 25 pounds more than the VU 19. Recumbent bikes like this are an excellent choice for people with limited mobility or balance issues, and the R35 is built for comfort.
The R35 may have a 14-inch full-color touchscreen to the VU 19's 7-inch touchscreen (also full color), but the programming, automatic trainer adjustments, resistance levels, and even the pedals are similar. The R35 has the option for integrated iFIT workouts that include spin and cycling classes, but iFIT also offers classes in strength training, pilates, yoga, and various boot camps. The screen on the R35 gives you a real-time view of your metrics, just like the VU 19, though on a smaller scale.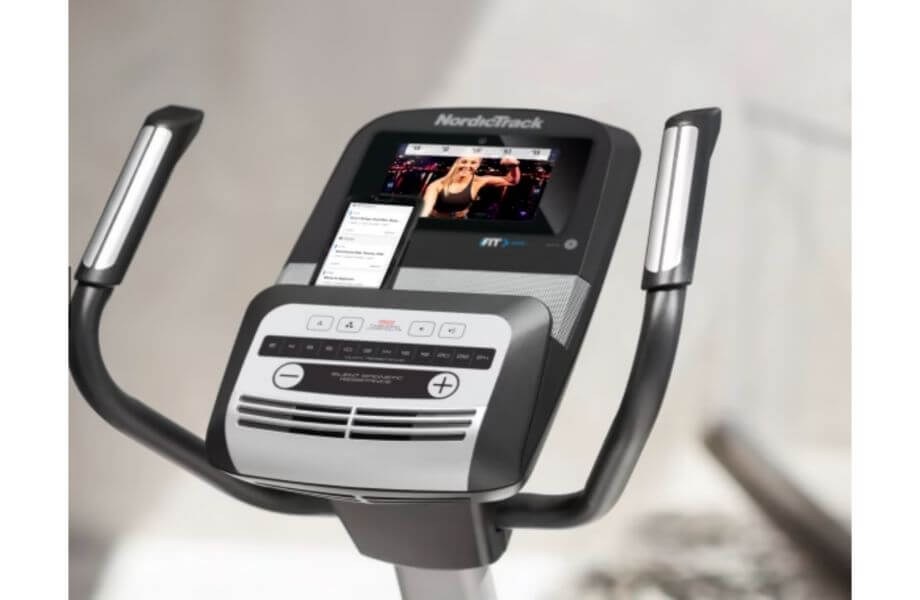 One of our favorite features that the R35 shares with the VU 19 is the automatic trainer control, also known as auto adjust. The resistance level automatically adjusts according to the trainer's instructions in the iFIT workout. We found that this feature helps you stay engaged in the workout rather than fiddling with resistance adjustment for a smooth, focused workout.
Like the VU 19, the R35 has large pedals with a strap rather than clip-in pedals so you can use it wearing standard workout shoes. Both the R35 and the VU 19 are better suited to beginner and intermediate riders. The R35 is more expensive because of its larger screen, footprint, and recumbent design. The R35 is a smart choice for those who want to invest in an exercise bike that's gentle on the back and joints and is easy to get in and out of.
Footprint, Portability, & Durability
With its small 43.6-inch long by 24.9-inch wide by 59.4-inch high footprint, the VU 19 is an excellent exercise bike for small spaces. At that size, it's definitely usable in a shared space. This model is also relatively portable for a stationary bike, weighing only 115 pounds even though it has a 325-pound maximum user weight capacity. (The average stationary bike max user weight hovers between 275 and 300 pounds.)
The combination of a compact, lightweight frame is coupled with front transport wheels, allowing most users to easily lift the back of the frame and push the bike around as needed.
We appreciate that NordicTrack doesn't compromise on the frame quality, offering a 10-year frame warranty, two-year part warranty, and one-year labor warranty. Reviewers on NordicTrack.com and Amazon have no complaints about wobbling or shakiness, which bodes well for the durability of the bike.
The Ergonomics
The VU 19 has a comfortable screen position and heart rate sensor on handles at the sides of the console. The manual controls on the console are easy to reach and intuitive to use. The adjustable seat moves horizontally and vertically to give riders a better, more comfortable ride.
However, the seat's vertical adjustments aren't quite enough for shorter users, which can make it difficult to reach the pedals in a comfortable riding position. Seat comfort, even when the seat is at the correct height, is also an issue for some users, despite the VU 19 coming with an oversized, cushioned seat.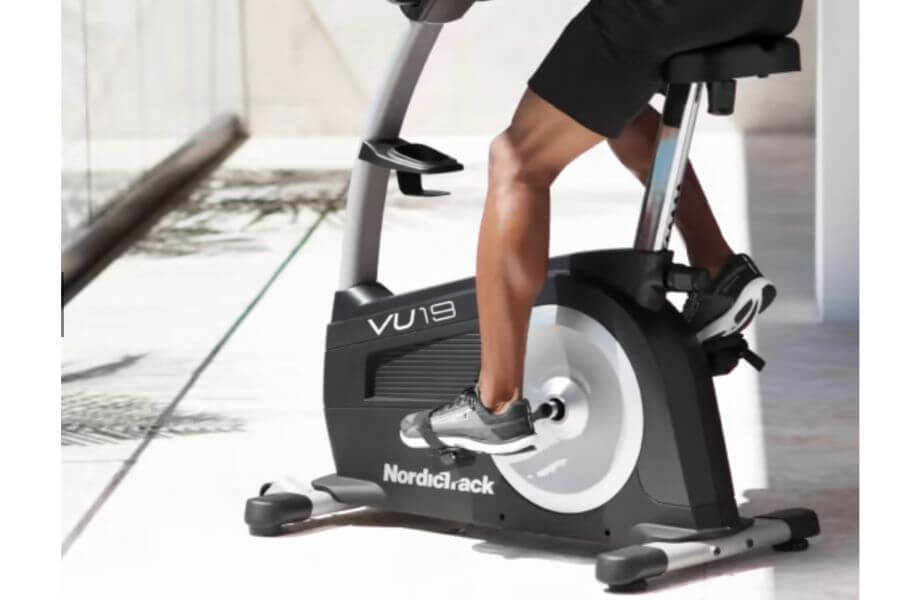 Technology Benefits and Conveniences
The VU 19 comes loaded with 32 onboard workouts. That's an extensive built-in library with everything from intervals and hills to HIIT and fitness tests. You can expand the 32 workouts with iFIT to include a workout library filled with thousands of classes and cycling routes. The VU 19 connects to iFIT using a WiFi connection, and you need a strong signal to get the best download speeds.
The VU 19 also has automatic trainer control that automatically adjusts the bike's resistance according to the iFIT class instructor's cues. It gives the rides a studio feel and lets you focus on the workout.
A 7-inch smart HD color touchscreen is attached to an integrated pivoting tablet holder. That gives you the option of using iFIT or watching streaming services on another device while using one of the onboard workouts.
The VU 19 also comes with two Bluetooth-compatible speakers, an auxiliary music port, water bottle holder and a workout fan. However, a reviewer on Amazon reports that the fan is a little loud.
Comparison to Schwinn 170 Upright Bike
The Schwinn 170 Upright Bike has a similar design to the NordicTrack VU 19, but ultimately, it lacks the VU 19's tech upgrades and durability. Both of these bikes have compact footprints, similar seat adjustment features, and Bluetooth compatibility. To look at the Schwinn 170 and the VU 19 side by side, they don't visually look that different.
They have a similar number of onboard workouts, with the Schwinn 170 having 29 built-in programs to the VU 19's 32 preset programs. Both are Bluetooth compatible to sync with a heart rate strap or to connect devices to play through the console's speakers. However, the VU 19 also allows you to connect Bluetooth headphones to listen to iFIT workouts.
The integrated iFIT programming is a major difference between these two. The Schwinn 170 has a small, backlit LCD screen, which isn't quite on par with the VU 19's 7-inch touchscreen. You need that screen on the VU 19 to view iFIT workouts. Because of the touchscreen, the UV 19's console is sleeker and more intuitive compared to the Schwinn 170s, which relies on manual buttons that look and feel clunkier even though they work well.
These two bikes share similar warranties, except that the Schwinn 170 only has a 90-day labor warranty. The VU 19 costs almost twice the Schwinn 170. That price difference comes from the option of integrated programming and tech upgrades like the automatic trainer control. You also have to factor in the price of a monthly iFIT subscription ($39.99 per month) over the lifetime of the bike. The Schwinn 170 is a better deal, but the VU 19 has impressive upgrades for those who use the integrated programming.
Schwinn 170
GGR Score: 3.9
Product Highlights
Upright bike 

Bluetooth-enabled 

25 levels of resistance

29 built-in programs

Dual LCD screens

300-lb user weight capacity
Pros & Cons
Pros
29 preset exercise programs
25 different levels of magnetic resistance
300-lb user weight capacity
Cons
13-pound flywheel
Reviews say seat isn't very comfortable
Bottom Line
The Schwinn 170 is a Bluetooth-enabled upright bike with overall positive reviews.
Customer Experience
This bike comes with a solid warranty that includes 10 years on the frame, two years on parts and one year on labor. That's good coverage, but you do need to register the bike once you get it set up. You have 30 days to return it, but that includes a nonrefundable $250 return shipping charge plus a 10% processing fee. Those fees apply as soon as you order, so even if the bike hasn't been delivered to your house and you want to cancel your order, you'll get charged the return fees.
Customer service with NordicTrack, whether when buying directly through the website or through Amazon, is a mixed bag. Some people have had issues with missing parts, and others with a timely response from customer service.
Ordering and Assembling the NordicTrack VU 19
When you order the NordicTrack Commercial VU 19 Upright Bike, you immediately get the option of sticking with the free 30-day iFIT trial membership or signing up for a one-year, two-year, or three-year membership, each with increasing savings the longer the membership. (An annual membership costs $396 or $39 per month.)
There's also an option to purchase a three-year extended warranty for $149 and/or a three-year maintenance plan for $199. Standard curbside delivery is free, but you can upgrade to room-of-choice delivery and assembly for an additional $199. NordicTrack also includes some bundle and save options, where you can buy a heart rate monitor, yoga kit, or strength and recovery kit at a reduced price when bought with the VU 19.
Most reviewers on Amazon and NordicTrack.com report that assembly is straightforward, though it can still take 1.5-2 hours. Many people find it easier with the help of a friend, too.
Final Verdict of Our NordicTrack VU 19 Exercise Bike Review
The NordicTrack Commercial VU 19 Upright Cycle is worth considering if:
You want integrated programming and don't mind paying for a monthly fitness app subscription.
You need a lightweight, compact exercise bike for indoor cycling that won't disturb other people in your workout space.
You're a beginner to intermediate exerciser.
The VU 19 comes loaded with 32 workout programs but really tips the scale in its favor with the integrated iFIT programming that takes the workout options from 32 to the thousands. Plus, the trainer-controlled resistance can keep you focused on your workout.
NordicTrack VU 19 Rating
NordicTrack VU 19
In this NordicTrack VU 19 review, we look at a lightweight, compact upright bike that caters to beginners more than it does to competitive athletes.
Product Brand: NordicTrack
Product Currency: $
Product Price: 800
Product In-Stock: InStock
NordicTrack VU 19 Review FAQs
Is a NordicTrack bike worth the money?
NordicTrack is known for making high-quality stationary bikes in the recumbent, upright, and studio cycling categories. Nordictrack has equipped most of its bikes with high-tech upgrades through integrated iFIT programming that are definitely worth it if you use the iFit app regularly.
How much does the NordicTrack VU 19 weigh?
The NordicTrack VU 19 weighs 115 pounds.
Are NordicTrack bikes any good?
NordicTrack makes many good exercise bikes. The VU 19 is just one option that's targeted toward beginning and intermediate exercisers. However, the brand makes stationary bikes worth considering in each of the major categories—recumbent, upright, and studio.
Which NordicTrack is comparable to Peloton?
NordicTrack makes a series of studio bikes—S27i, S22i, and S10i—that can rival Peloton. The NordicTrack S22i Studio is probably the closest in features to the Peloton Bike, with the S27i rivaling the upgraded Peloton Bike+.