We test and review fitness products based on an independent, multi-point methodology. If you use our links to purchase something, we may earn a commission. Read our disclosures.
If you're looking for top-of-the-line quality in an exercise bike, then a commercial bike may be the way to go. These stationary bikes are among the most durable on the market and come with high-end features like touchscreens and interactive programming. On our list below, you'll find options for the best commercial exercise bike for your budget, wellness needs, accessibility options, and cardio workout goals.
We Know Exercise Bikes
We've tested, researched, and compared the best exercise bikes on the market to assess each one's value for home gym owners. Our expert product testers include certified personal trainers, weightlifting coaches, endurance athletes, and fitness enthusiasts who know exactly what to look for when examining home fitness equipment.
The Best Commercial Exercise Bike Options
Best Overall Commercial Exercise Bike: NordicTrack Commercial S22i Studio Cycle
Good for: Those looking for a high-end bike that has every feature you could want
Best Overall Commercial Exercise Bike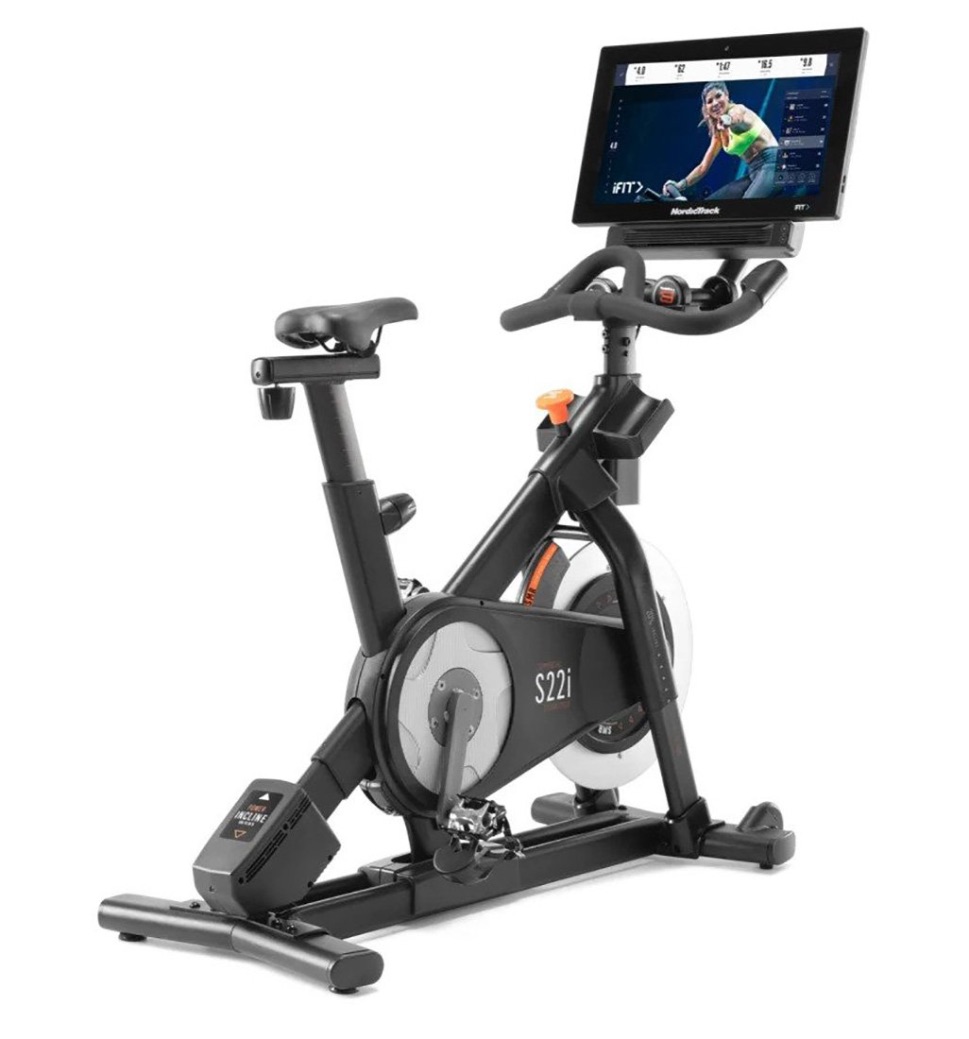 NordicTrack S22i Studio Bike
Join high energy studio classes, mountain bike rides in Moab, or ride a Tour de France stage all from the comfort of your home. Access on-demand classes with the world's best personal trainers for beginners or the hard-core cyclist. Interactive Personal Training comes to life as your personal trainer controls the incline, decline and resistance of your ride, a truly Interactive Experience.
Pros:
Incline and decline features
Compatible with iFIT programming
Auto-adjusts with iFIT
22" 360-degree rotating HD touchscreen.
Two 3-lb dumbbells included
Cooling fan, water bottle holder included
Financing available
Cons:
iFIT requires monthly subscription
Heavy at around 200 lbs
Expensive at almost $2,000
If you want the bike that has it all, then the NordicTrack Commercial S22i is it. Perhaps the most notable features are the incline and decline options—that's not something you often see on an exercise bike! You can truly simulate riding hills on a -10% decline and a 20% incline (not to mention the 24 levels of digital resistance).
Our expert product testers also love iFIT programming, which plays out on the S22i's 22-inch high-definition touchscreen that swivels and has surround sound. When you purchase this bike, you get a free 30-day trial membership of iFIT, granting you access to countless live and on-demand cycling classes with certified iFIT trainers.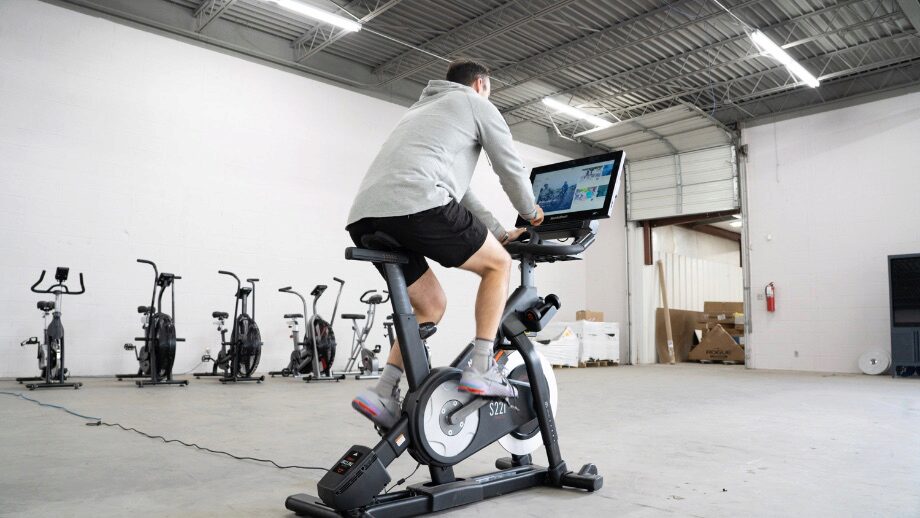 The integrated Google Maps technology on the S22i means you can ride through the Grand Canyon or along the streets of France. Want to cross-train? Swivel the screen for off-bike workouts like yoga, boxing, strength training, and much more.
Unfortunately, the immersive workout experience on such a high-end bike comes at a price: The machine is close to $2,000, and iFIT requires a monthly membership. The S22i is also very heavy, and our expert product testers found it difficult to assemble alone.
For more on this machine, check out our in-depth NordicTrack S22i review.
| | |
| --- | --- |
| Footprint | 61" L x 22" W x 58" H |
| Built-in Workouts | Yes, it connects with iFIT. |
| Resistance Levels | 24 magnetic resistance levels. |
| Extra Features | Wi-Fi connectivity, Bluetooth headphone access, dual-sided pedals, dual water bottle holders, adjustable seat, cooling fan |
Best Peloton-Alternative Commercial Exercise Bike: ProForm Carbon CX
Good for: Those looking for a high-quality bike at a reasonable price.
Best Peloton-Alternative Commercial Exercise Bike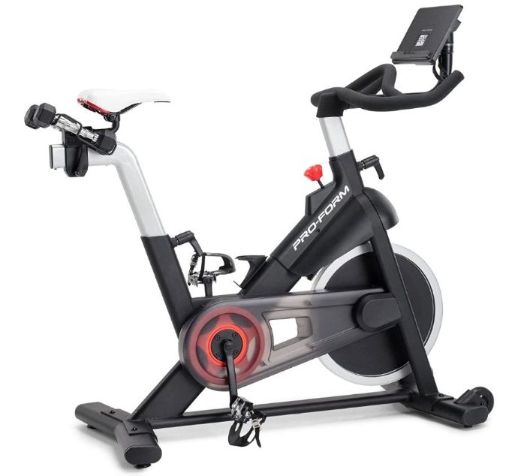 ProForm Carbon CX
The ProForm Carbon CX is a budget-friendly Peloton alternative that, despite the lack of a built-in monitor, has many tech features that make it a great value for its price point (just around $600). Best of all, the iFIT-enabled bike has automatic tension control, which allows trainers to adjust the resistance on the bike for you mid-workout for a hands-free experience.What this bike lacks in built-in tech it makes up for in functionality. Even our tallest product tester, 6-foot-3-inches Anthony O'Reilly, didn't feel much wobble when riding this. That said, even the highest resistance setting won't be much of a challenge for the conditioned athlete (pun intended there).One thing we don't like about this bike is the very small display that shows all your metrics, but if you connect your smartphone or tablet you can see everything there. The device holder is sturdy and you should have no problem following your workouts on whatever screen you use.
Pros:
Budget-friendly, starting at $599
Connects to iFIT programming
Auto-adjust with iFIT
Heavy duty
Adjustable handlebars, seat, and pedals
3-lb dumbbells included
16 levels of resistance
Cons:
LCD screen, no touchscreen
250-lb weight capacity
No SPD clips, only adjustable toe cages
ProForm will void your warranty stored in a home gym garage
We've rated the ProForm Carbon CX as one of the best Peloton alternatives. Why? Because it's a low-cost, home use bike option that integrates with iFIT, which our product testers like almost as much as the Peloton app.
Beyond that, this bike features solid construction and adjustability options on the seat, handlebars, and even the pedals. You can truly fit this bike to fit your needs.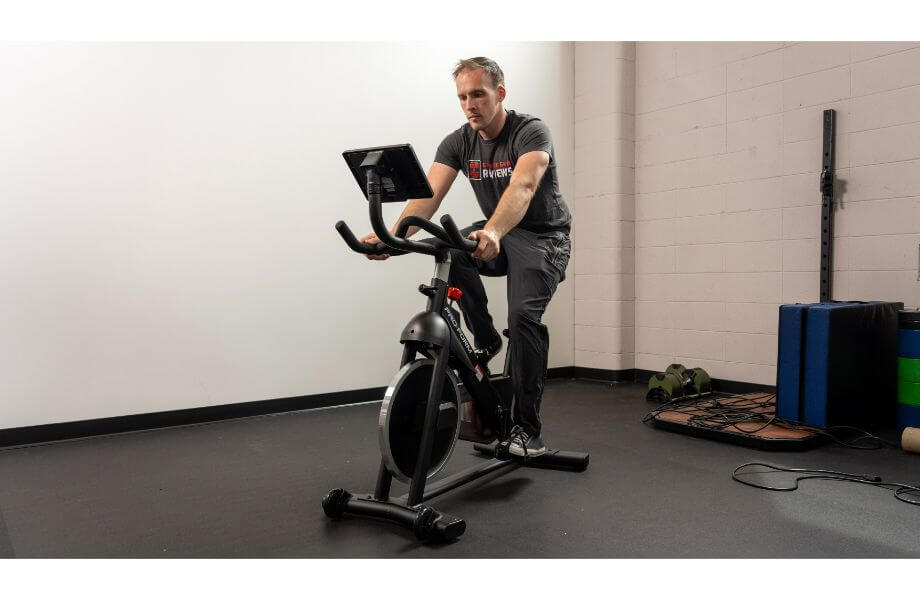 Unfortunately, this bike does not have a large display screen or TV, but the LCD display will track metrics as you ride. Plus, you can subscribe to the iFIT app and stream workouts from a tablet, phone, or TV anytime. Our favorite feature is that iFIT's syncing function automatically adjusts your bike during the workout so you can stay focused on the ride. And finally, the dumbbells on the back of the bike can provide a workout for your upper body.
Our testers found the 16 levels of magnetic resistance to be challenging enough. And the heavy frame with a 28-pound flywheel provides a quiet, smooth ride for your cardio routines. The ProForm Carbon CX may not be a direct copy of the Peloton, but it is an excellent alternative.
Check out our in-depth ProForm Carbon CX review for more on this machine.
| | |
| --- | --- |
| Footprint | 51" H x 21.9" W x 52.5" D |
| Built-in Workouts | iFIT |
| Resistance Levels | 16 magnetic resistance levels. |
| Extra Features | Water bottle holder, rack for dumbbells, Bluetooth connectivity, phone or tablet holder |
Best Smart Commercial Exercise Bike: Echelon EX-8s
Good for: People looking for a commercial bike with lots of fun tech-y features
Best Smart Commercial Exercise Bike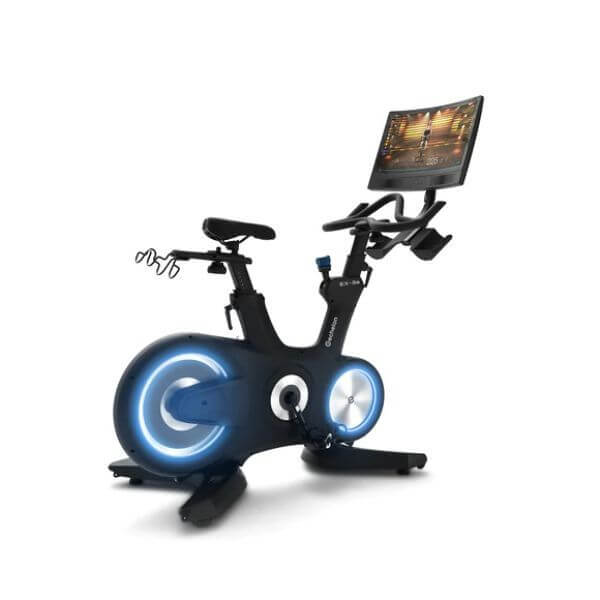 Echelon EX-8s
Exercise bikes have become much more than just a bike, taking on an entirely new immersive experience that branches out beyond cycling. Smart exercise bikes are taking the at-home workout experience to the next level offering a connected, high-tech, interactive, and motivating fitness routine. The Echelon EX-8s is a premium smart bike designed to add to user's motivation and to enhance the immersive nature of the entire experience.The EX-8s features a 24-inch curved interactive HD screen that not only mimics the feeling of being in a cycling studio, but also enhances the entire experience. While a curved screen may not seem like a big deal, trust us when we say it is. What's more, this screen swivels 180 degrees, which allows users to jump off the bike and into another workout by just flipping the screen.This bike is incredibly cool-looking as well. Its sleek design is highlighted by the dual-ring design that includes illuminating wheels. These wheels rotate through 15 LED color variations synced to your live fitness metrics. You can literally watch the colors change based on the intensity of the workout, which is very motivating. The EX-8s is equipped with some impressive specs including adjustable handlebars that  maximize comfort and enable good form. These handlebars have control buttons that allow users to change resistance levels even when out of the saddle, a feature not seen on many other smart bikes. Other notable features are the Bluetooth 5.0 connectivity, a fast processing speed, 32 levels of magnetic resistance, and water bottle holders to keep you hydrated throughout the workout. The EX-8s does require a membership to Echelon's online fitness platform, which costs $35 per month. Without it, the bike really cannot be used, which is a bummer. That said, the platform is stacked with live and on-demand workouts, a ton of music and playlists, and over 60 world-class instructors. 
Pros:
Sleek and modern design
24" curved and swivel HD touchscreen
Low-impact frame
Adjustable seat and handlebars
Auto-adjust resistance with Bluetooth
15 synced LED colors on flywheels
Financing available
Cons:
Expensive at $2,299
Echelon Fit requires monthly subscription
Heavy and difficult to move
Doesn't connect to fitness trackers
Short 12-month warranty
"Smart" is just a start when talking about the Echelon EX-8s indoor cycling bike. This tricked-out exercise bike features an impressive 24-inch curved touchscreen, LED lights on the wheels that sync to your workout, and Bluetooth resistance control on the handlebars.
The EX-8s bike syncs with the Echelon Fit app, a Peloton app rival that features more than 40 live daily workouts. The on-demand workouts range from cycling classes to strength training off the bike. Our team has used the Echelon Fit app and felt the instructors were motivating and the workouts were challenging, though it does pale in comparison to Peloton and iFIT.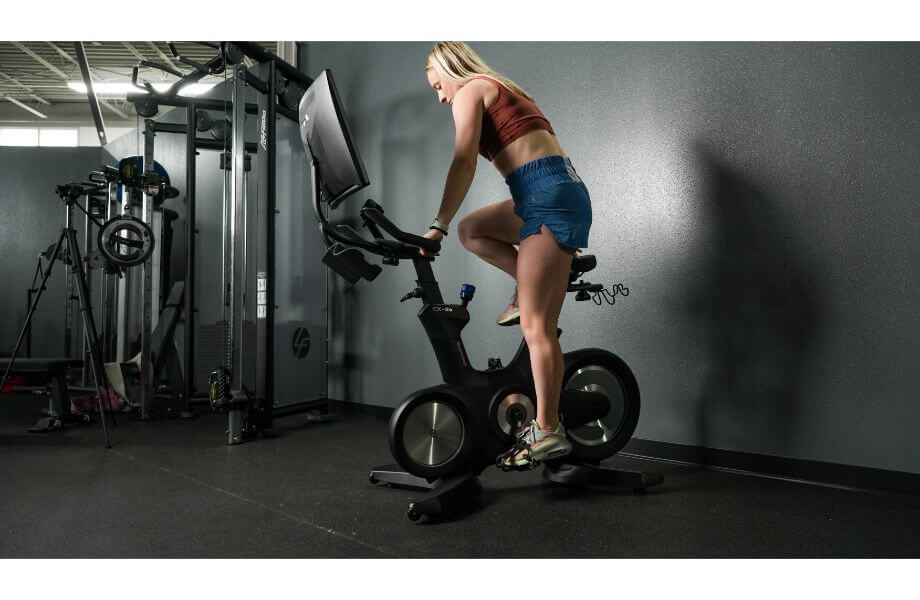 The Echelon EX-8 is customizable, from the tech features to the adjustable seats and handlebars. It also features 32 levels of resistance and dual-sided pedals.
The biggest downside we found was the high price of the bike (over $2,000) in addition to the Echelon Fit app membership fees. The app offers a monthly subscription for $34.99 or a Fit Pass for $11.99 with minimal features. Our testers also noted that the screen shakes slightly when you move into high resistance, but the bike itself felt sturdy.
For more on this machine, check out our in-depth Echelon EX-8 review.
| | |
| --- | --- |
| Footprint | 59″ L x 23″ W x 65″ H |
| Built-in Workouts | Echelon Fit App |
| Resistance Levels | 32 magnetic resistance levels |
| Extra Features | Dual front-facing speakers, dumbbell rack for weights, heart rate monitor, dual-sided pedals, two water bottle holders, 180-degree screen swivel |
Best Budget Commercial Exercise Bike: YOSUDA Indoor Cycling Bike
Good for: Anyone who wants a great price for a compact bike with limited tech features
Best Budget Commercial Exercise Bike
Pros:
Great low-budget price at $300
Compact for small spaces
Easy to move around
Heavy-duty steel frame
35-lb flywheel
Adjustable handlebars and comfortable seats
Free replacement parts for a year
LCD monitor tracks your metrics
Cons:
No touchscreen
Doesn't have built-in workouts or smart features
Friction resistance may need replacement
Cage pedals only, no SPD clips
Low weight capacity at 270 lbs
The YOSUDA Indoor Cycling Bike is a great, budget-friendly option for those who don't mind making a few sacrifices. The bike has a heavy-duty steel frame, a 35-pound flywheel, and a belt drive system that our product testers found to be quiet.
Available on Amazon, the YOSUDA features a sleek black look with a compact frame that is easy to move around. Therefore, it's ideal for those in small places. We found the setup process to be quick and easy, though you can also opt for professional assembly for an additional fee.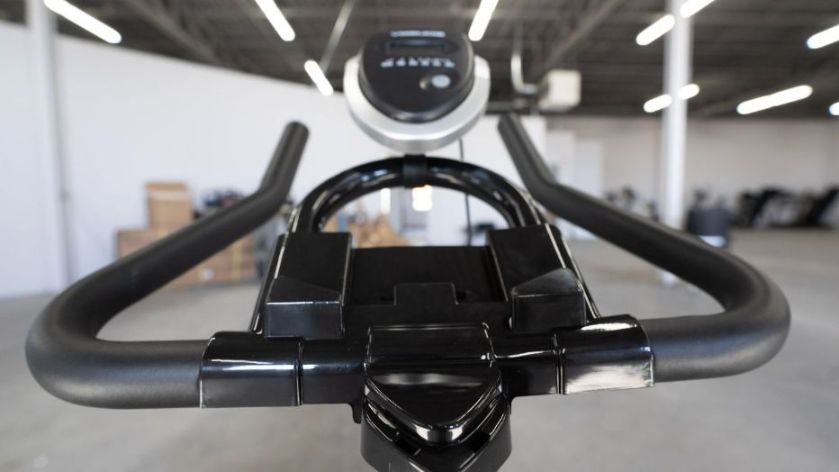 The YOSUDA is fully customizable; our testers found the adjustable seat and handlebars to be easy to maneuver. The bike uses friction resistance, which saves you money initially. However, those brake pads tend to wear down over time, so you may need to replace them sooner rather than later.
Unfortunately, the YOSUDA Indoor Cycling Bike does not have built-in workouts, dynamic programming, or smart features other than the LCD screen. A very basic LCD monitor tracks your time, speed, distance, calories burned. You can, however, use the device holder to watch workouts on your phone from apps like Peloton or iFIT.
For more on this machine, check out our in-depth YOSUDA Indoor Cycling Bike review.
| | |
| --- | --- |
| Footprint | 40.16" L x 21.65" W x 46.06" H |
| Built-in Workouts | No |
| Resistance Levels | Friction resistance |
| Extra Features | Water bottle holder, and a tablet or phone rack, two transport wheels |
Best Commercial Exercise Bike for Streaming Netflix: Bowflex Velocore
Good for: People who love tech features and want to stream shows during a cardio workout
Best Commercial Exercise Bike for Streaming Netflix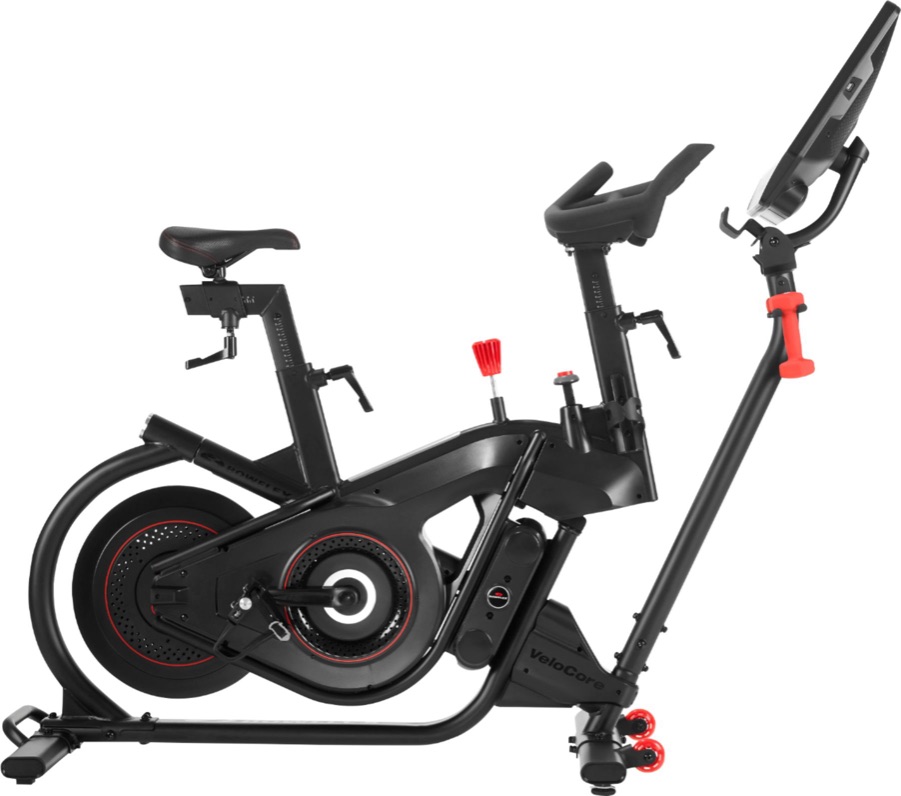 Bowflex VeloCore
Meet the indoor bike that's thoughtfully engineered with leaning mode to create a wildly immersive riding experience. You'll rock, sway, and bend to life down winding roads. Tilting gently from side to side as you sprint like a banshee toward the finish line. It's a high-intensity escape that'll help to ignite your arms, core, and your thrill for epic outdoor adventure…all from your living room.Take a look at our full Bowflex VeloCore Bike review.
.
Pros:
1 free year of JRNY workout membership
Access to popular streaming apps
Leaning bike feature for a core workout
Steel frame
User weight capacity of up to 325 lbs
Handlebars adjust in all four directions
3-lb dumbbells with holding rack
Financing available
In-home assembly options
Cons:
Expensive at $1,800 for the 16″ screen and $2,300 for the 22″
Need extra space for leaning feature
You must have JRNY to stream shows
Not compatible with MyFitnessPal or FitBit
The Bowflex Velocore bike is one of our favorites because it is one of the few commercial exercise bikes that allows you to stream shows and movies.
How? The bike comes with one free year of the JRNY workout membership (which costs $149/year or $19.95/mo after that). The membership includes on-demand classes, real-time workouts with coaches, and virtual destinations for you to ride and explore. However, it also gives you access to streaming entertainment like Netflix, Hulu, Disney+, JRNY radio, and more.
All of this plays out on a 16-inch or 22-inch touchscreen. One important note: If you do not have a JRNY membership, you will not be able to stream apps on the Velocore.
However, there's more to the Velocore binge-watching our favorite series. This is an interactive, high-quality indoor bike that gives you the full experience of leaning into corners and climbing hills. As our product testers discovered, the leaning feature blasts your core and gives you the feeling of road riding. And if the leaning is too much, you can switch it to stationary mode.
The high-quality exercise bike has a heavy-duty steel frame and inclusive user weight capacity of up to 325 pounds. You will need extra space for the bike to lean and move around, plus it needs to be near an outlet. We know firsthand that the assembly process can be difficult, but there are options for in-home assembly and white-glove service for $199.
For more on this machine, check out our in-depth Bowflex Velocore review.
| | |
| --- | --- |
| Footprint | 59.8″ L x 24.1″ W x 55.3″ H (But you will need 48.4" of width space for the leaning feature) |
| Built-in Workouts | JRNY app |
| Resistance Levels | 100 magnetic resistance levels |
| Extra Features | Dual water-bottle holders, tablet or phone holder, heart rate armband that connects with Bluetooth, dual-sided pedals |
Best Commercial Exercise Bike for Motivation: Peloton
Good for: People who want encouraging instruction as they exercise
Best Commercial Exercise Bike for Motivation
Pros:
21.5" touchscreen
Outstanding programming
Quiet
Fully adjustable
Bluetooth connectivity
Compact and portable
Financing available
Cons:
Constantly fluctuating price
Peloton app price is an additional cost
No fan or tablet holder
Requires Delta-compatible cycling shoes
When it comes to exercise bikes, the Peloton just might be the gold standard. It put interactive cycling workouts on the map and set the tone for what other manufacturers have since been trying to replicate (and only few have come close).
What sets Peloton apart from the pack is the programming. Our product testers have used iFIT, Zwift, Echelon Fit, JRNY, and many other interactive workout apps, and we still think Peloton reigns supreme. The coaches are encouraging, the leaderboard is motivating, and the experience is what keeps people coming back for more.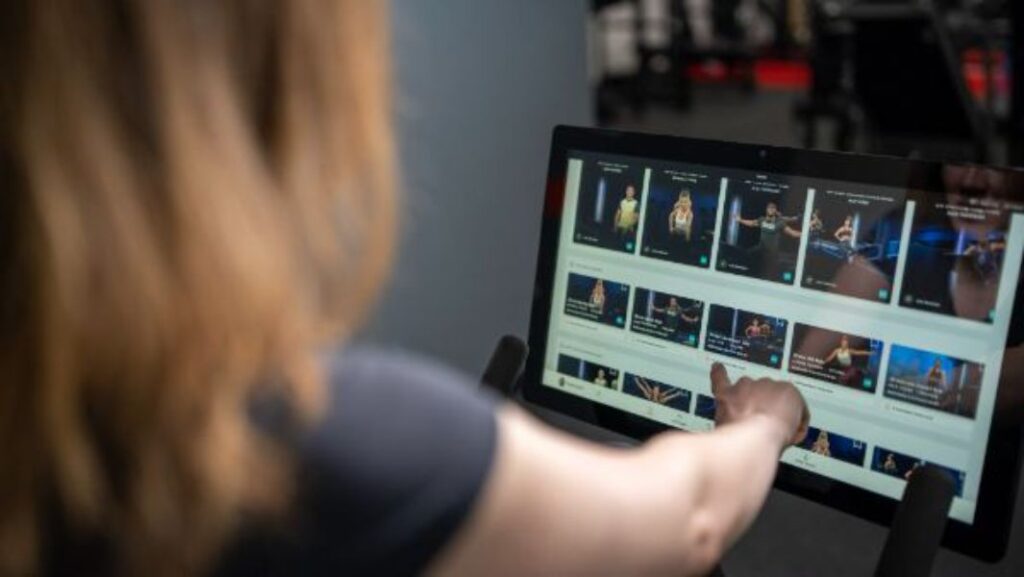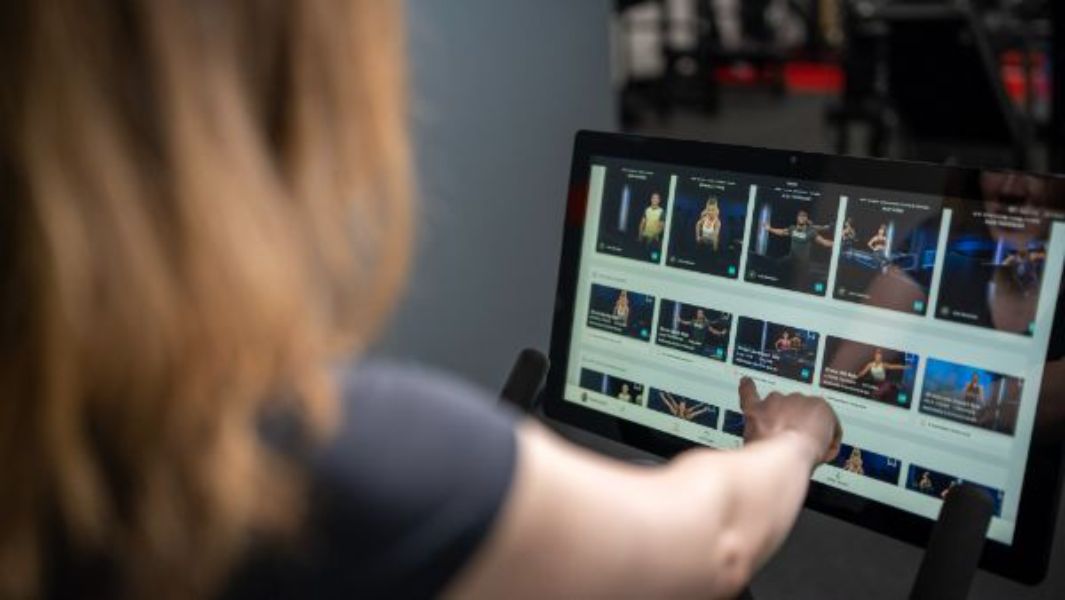 The bike itself is fully adjustable, with the seat moving vertically and horizontally, and the handlebars moving vertically as well. The pedals, however, require Delta-compatible clip-ins. This is one thing we don't love about Peloton; you will likely need to buy a new pair of shoes to use the bike.
It's hard to pin down a price on the Peloton. We have seen major swings in the cost as the brand made adjustments through a global pandemic. There is now even an option to rent the Peloton for a month at a time, no strings attached.
For a deeper look, check out our Peloton Bike review.
| | |
| --- | --- |
| Footprint | 59" L X 53" H X 23" W |
| Built-in Workouts | Peloton App |
| Resistance Levels | Magnetic |
| Extra Features | Adjustable seat and handlebars, dual speakers, headphone jack, USB port, two water bottle holders, dual dumbbell holders |
Best Compact Commercial Exercise Bike: MYX II Plus
Good for: Those who don't have much space but want a studio bike's full, interactive experience
Best Compact Commercial Exercise Bike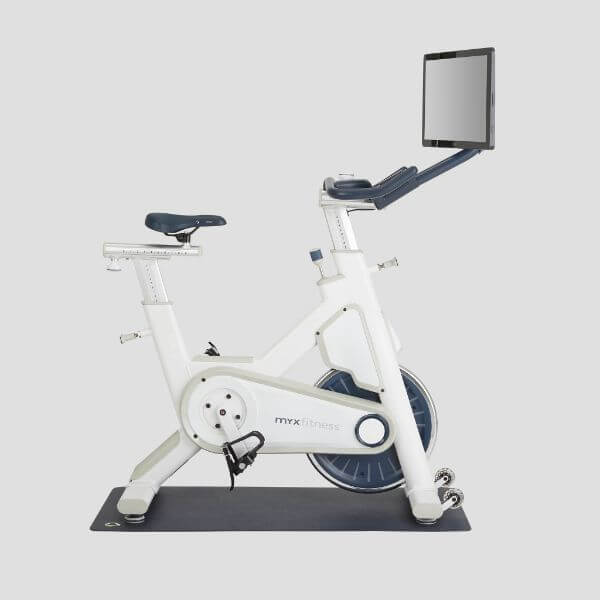 Pros:
21.5″ swivel touchscreen
Polar OH1 Heart Rate Monitor
Full-service delivery and setup options
Includes dumbbells, resistance bands, and more
Ability to stream some apps like Google TV and Roku
Dual-sided pedals
41-lb flywheel for smooth rides
Cons:
Friction resistance requires maintenance sooner
Costs $1,600
Short 1-year warranty
No tablet or phone holder
For a compact, stationary bike, the MYX II Plus really packs a big punch. Its footprint is a little over 4 feet long and under 2 feet wide. However, the bike features a 21.5-inch swivel touchscreen that displays thousands of live and on-demand workouts with a Beachbody On Demand Interactive (BODi) membership (which is an additional cost).
Thanks to the swivel touchscreen, you can follow workouts on and off the bike. They have yoga, pilates, cycling, and other workout options. With your purchase of the MYX II Plus, you receive a four-piece kettlebell set as well as resistance band, foam roller, and Polar OH1 Heart Rate Monitor.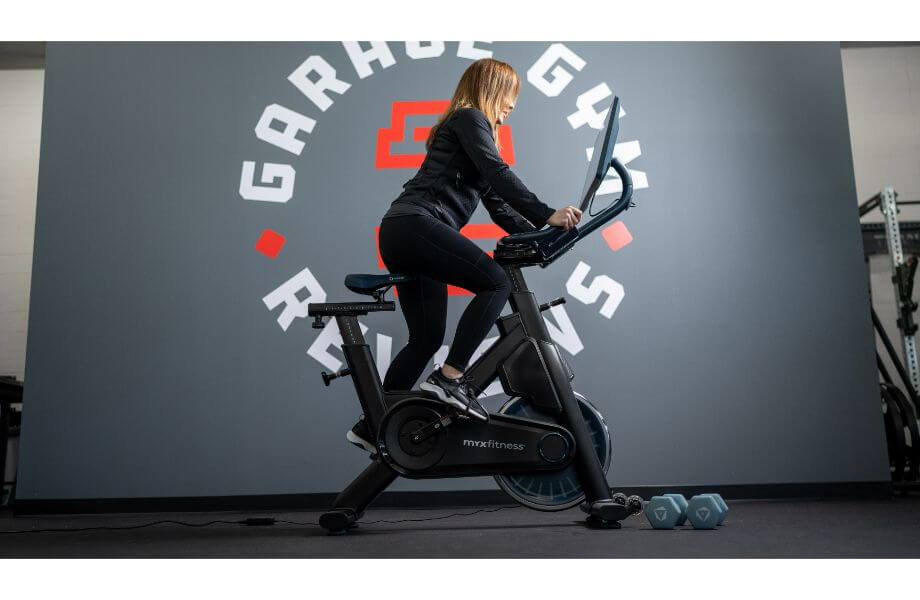 Our product testers found the 41-pound flywheel to provide a smooth and quiet ride. However, the friction resistance is a bit of a drawback due to the maintenance it will need. With a price point of $1,600, the MYX II Plus is on the expensive side. Also, the BODi membership is an additional cost.
For more on this machine, check out our in-depth MYX II review.
| | |
| --- | --- |
| Footprint | 54" L x 21" W x 47" H |
| Built-in Workouts | Yes, with the BODi and MYX+OpenFit memberships. |
| Resistance Levels | Friction resistance. |
| Extra Features | Dual water-bottle holders, dual-sided pedals, stabilizer mat, and EVA foam roller. |
Other Commercial Exercise Bikes We Have Tested
Here are a few bikes that didn't make the cut but are still worthy of consideration.
Peloton Bike+: Peloton is a top-tier indoor cycling option. The high-quality machine feels sturdy, and the workout programs are motivating and accessible. An excellent runner-up and an expensive one at $2,495.
Echelon EX-5: The EX-5s has great features, like the Echelon Fit App. But we don't think they are worth it for the price and limited one-year warranty.
Schwinn 130 Upright Bike: The Schwinn is a great option for a budget-friendly, low-tech indoor bike. The upright exercise bike is $500 with magnetic resistance but doesn't include on-demand workouts or a screen, just an LCD display.
How We Picked and Tested Stationary Bikes
The Garage Gym Reviewers do the research, tests, and comparisons to help you find the best commercial-grade quality options. When researching the best commercial exercise bikes, we had to consider a few factors first.
Screen and Tech Features: Does it come with a touchscreen? Does the bike come equipped with Bluetooth, speakers, and WiFi?
Resistance: How many levels of resistance are on the bike? Is the resistance challenging enough?
Durability: What is the bike's weight capacity? Does it feel sturdy while in use?
Customization: Can you adjust the handlebars, seat, and pedals for a more ergonomically-friendly bike ride?
Programming: Is there built-in programming? Does the bike sync with an app?
Benefits of Commercial Exercise Bikes
There are many benefits to buying a commercial exercise bike, whether it's an air bike or a recumbent bike. Here are a few reasons we love them.
High-Grade Materials and Quality
Commercial exercise bikes are made with durable materials that are meant to last a long time. Yes, the price is typically higher, but that should mean paying less for maintenance (or a total bike replacement) in the long run.
Warranty Options
Most of the indoor exercise bikes from our list have excellent warranties, covering the frame for up to 10 years. Unfortunately, some of the standard warranties are not great, but they provide options to cover for longer with a fee.
Programming
High-quality bikes tend to come with high-quality programming. You'll find that many commercial bikes either feature a built-in library of workouts, or they sync with an app that streams interactive workouts.
What to Look for in a Commercial Exercise Bike
There is some pressure when deciding on a large purchase like an exercise bike, so taking the following considerations into account is key.
Price
Most people look at the price tag before they fall in love with a big item purchase, and that's ok. It may help you set a budget before you start shopping to help eliminate bikes that aren't accessible or for you. Like high-end treadmills, rowers, and ellipticals, commercial bikes often come with options for financing.
Bike Features
Commercial bikes typically have the newest and most exciting features, making it fun and a little overwhelming to pick your best match. You essentially have your pick of options, including:
Bluetooth speakers
Cooling fans
Incline and decline options
Large touchscreens
Water bottle holders
Media shelf
Included dumbbells
Programming and On-Demand Workouts
There's nothing more motivating than virtually biking in the Tour de France or bringing your cardio workout to the floor with a guided cool-down stretch. If you are investing in a commercial bike, you may as well find one that comes with workout options to keep you going.
Read Customer Reviews
In addition to our expert team of reviewers, it may also help to look at online reviews. People are providing insight into real-life experiences with each bike. Look for comments about setup, warranty, customer service, quality complaints, and positive feedback to help you make a decision. You'll surely find the commercial-grade bike you love and feel confident in buying.
FAQs About Commercial Exercise Bikes
Which company's exercise bikes are best?
What exercise bikes are advertised on TV?
How does ProForm compare to Peloton?
ProForm is an excellent comparison to Peloton, especially if Peloton's prices are holding you back. ProForm is known for being affordable without losing many bike features and benefits. As evidenced in our he ProForm Carbon CX review, the iFIT App is perfect for on-demand workouts.