We test and review fitness products based on an independent, multi-point methodology. If you use our links to purchase something, we may earn a commission. Read our disclosures.
If you've read about the benefits of indoor cycling and you're looking for a budget-friendly exercise bike to add to your home gym, the Schwinn 130 Upright Bike might be a good contender. While not as technology-rich as some of the other Peloton alternatives, this bike costs less than $500. As long as you manage your expectations about what you'll get (you won't find any fancy screens here), we think it's a good value. 
While we haven't personally tested the Schwinn 130 yet, we've tested other Schwinn models, including the IC3 and the IC4, and are very familiar with the company. Overall, we're impressed with the brand's high-quality construction, customer service, and policies. In this Schwinn 130 Upright Bike review, we'll look at this specific bike in detail, compare it to other similar models, and answer some of the most commonly asked questions so you can decide if it's right for you.
Pedals Up!
At Garage Gym Reviews, we've personally pedaled hundreds of miles on various exercise bikes and compiled dozens of exercise bike reviews. Our goal is to provide an unbiased, expert opinion on setup, performance, ergonomics, technology, and eventually, longevity to help you make a decision that works best for you.
Our lineup of product testers includes certified personal trainers, certified Crossfit L-1 trainers, marathon runners, and nutrition experts. Not only do we have a personal interest in exercise equipment, it's our professional mission to find the best of the best.
Schwinn 130 Upright Bike
Schwinn 130 Upright Bike
The Schwinn 130 Upright Bike can be a great addition to any gym. It comes with 13 workout programs built in that you can follow along to on the 5.5-inch LCD screen, which helps with visibility and goal tracking. If that doesn't work for you, you are also able to connect with cycling classes on apps like Explore the World and Zwift on your phone or tablet. The bike also allows you to place your handheld device or book on a media shelf so you can watch or read while you bike. The bike itself provides a smooth, quiet ride due to its flywheel system. The product has a sturdy frame, 16 magnetic resistance levels, and a one-piece pedal crank and oversized pedals with toe straps. On the front of the bike, there is a water bottle holder so you can stay hydrated while you ride. The seat is padded and the handles are positioned in a place that is easy to reach for most. If not, they are easily adjustable so they can fit the height and placement that you're looking for.
A Quick Look at the Schwinn 130 Upright Bike
Schwinn Fitness is owned by Nautilus, Inc., which also makes Nautilus and Bowflex exercise equipment. While the company is known for its bikes, it also makes ellipticals.
In addition to air bikes, recumbent bikes, and spin bikes, Schwinn has two upright bikes: the 170 and the 130. The 130 is the "budget model," although the brand is known for making affordable exercise equipment overall. Even the 170, the higher-end model, is considerably less expensive than other upright bikes from different brands.
RELATED:Schwinn 170 Upright Bike Review
But does "budget" mean you have to sacrifice quality in this case? When it comes to Schwinn, we have mixed feelings. We're not huge fans of the Schwinn IC3, but we think the IC4 is well worth the investment. It really depends on what the specific piece of exercise equipment has to offer.
On the surface, the Schwinn 130 seems pretty solid for a bike at this price point. It has a steel frame, a 13-pound flywheel, and magnetic resistance. It's also Bluetooth-enabled, so while it doesn't have its own fancy screens, you can connect it to your tablet to follow along with Zwift or other cycling apps. It's also ergonomically designed for a comfortable ride and comes with most of the basic features, like a water bottle holder and a media shelf.
In this Schwinn 130 Upright Bike review, we'll dig deeper into the bike's features to help you determine if it's a good investment for you. We'll also compare it to other similar models that we have tested so you can see how it stacks up against the competition.
My Tips
Get someone to help you if you're setting the bike up yourself.
Plan to subscribe to a fitness app like Explore the World or Zwift if you want a more immersive experience.
Manage your expectations; this is a great bike for the price but isn't winning any technology awards
Pros:
Budget-friendly price
Magnetic resistance with high-inertia flywheel
Bluetooth connectivity for heart rate and fitness apps
Cons:
300-lb weight limit
Some users say the seat is uncomfortable
No fan or sound system
Is the Schwinn 130 Upright Bike Worth It?
The Schwinn 130 is a budget-friendly model that comes with all the basics. While it's probably not the best choice for dedicated riders, it will work well for anyone looking for an entry-level bike for getting your weekly cardio in. We'll break down everything you need to know to decide if it 's worth it for you.
Great for:
Casual riding
Anyone looking for a low-tech bike
Those with limited space in their home gym
Not recommended for:
Heavy use or high workout intensity
Those who want a fully immersive riding experience
Riders over 300 lbs
Schwinn 130 Upright Bike Specs
| | |
| --- | --- |
| Footprint | 41.3" L x 21.4" W x 54.5" H |
| Weight | 58.4 lbs |
| Weight capacity | 300 lbs |
| Flywheel weight | 13 lbs |
| Type of resistance | Magnetic |
| Number of resistance levels | 16 |
| Screen size | 5.5″ |
| Pre-programmed workout programs | 13 |
| Frame material | Steel |
| Warranty | Frame: 10 years; parts: 2 years; electronics: 1 year; labor: 90 days |
Customer Reviews
Reviewers are pretty happy with the Schwinn 130. At the time of writing, the bike has an average rating of 4.3 out of 5 on the brand's website (although it's worth noting there are only seven total reviews), a 4.5 average rating at Best Buy, and a 4.4 on Amazon with thousands of user reviews.
One 5-star reviewer on Amazon who wasn't looking for fancy technology says, "It has a sufficient number of pre-programed rides to keep it interesting and the resistance is smooth and much quieter than I was expecting for the price."
Others agree that it's well-built for the price, and although it wobbles a little bit at higher speeds, it's quiet and does the trick.
Workout Experience on the Schwinn 130 Upright Bike
While we haven't used the Schwinn 130 ourselves, we have lots of experience with other Schwinn models and upright bikes in general. As such, we can give an educated overview of what the workout experience will feel like.
The Schwinn 130 has magnetic resistance like the IC lineup, so overall it's a smooth and quiet ride. At 13 pounds, the flywheel is lighter than others in this price range. This means it takes less pressure to get the bike moving—a plus for anyone with joint issues—but it is a bit more difficult to keep your momentum and the stability may be affected slightly.
When using the bike itself, you won't get a fully immersive experience since it has a basic LCD display. But it does offer 13 pre-programmed workouts that will be suitable enough for most users. You also have the option to hook up your tablet, so you can really make the machine as "smart" as you want it by connecting a third party app, like Zwift, via your tablet.
As far as design goes, it has everything you need to ensure a comfortable ride: a contoured, padded seat, padded handlebars, and oversized pedals with foot straps. And since the seat adjusts vertically and has a fore/aft adjustment, you should be able to find a good fit. Tall riders (those over 6-foot-2) may feel a little cramped.
Footprint, Portability, Durability, and Construction
At 41.3 inches long by 21.4 inches wide by 54.5 inches tall, the Schwinn 130 is fairly compact. For comparison, the Schwinn IC4 is 48.7 inches long and the Peloton bike is 59 inches long, so you won't have to dedicate as much space to this bike.
When fully assembled, it weighs 58.4 pounds and supports 300 pounds of user weight, which meets industry standards but is still on the lower end of weight capacity. It doesn't fold for storage, but it has transport wheels and it's lightweight, so it's easy enough to push out of the way when you're not using it.
It has a steel frame, which gives it high marks for construction, but the flywheel is only 13 pounds. For comparison, another budget bike, the YOSUDA, has a 35-pound flywheel. In general, a heavier flywheel will give you a smoother, more continuous ride.
That being said, this bike does have a high-inertia wheel design which makes it easier for this bike to keep its momentum. Some users do report lag time as you increase and/or decrease resistance, but that's to be expected at this price point.
Overall, you're not going to get the smoothest ride on the Schwinn 130, but it likely won't shake and wobble like lower-quality bikes with less sturdy frames.
The Ergonomics
The Schwinn 130 upright exercise bike has a padded, contoured bicycle seat and padded handlebars. The adjustable seat has a 13-inch vertical range. You can also adjust the saddle setback for optimal foot-pedal connection. If you prefer to swap the saddle, you can switch it for any clamp and rail bicycle seat, which is a nice perk.
It has non-adjustable handlebars, but they're ergonomically positioned and have multiple grip positions to accommodate most users as-is.
The platform-style pedals are oversized and have toe straps for a secure fit. Some users do report that it feels a little cramped for larger feet.
Technology Benefits and Conveniences
If you're looking for advanced technology, you're not going to find it in the Schwinn 130, but it does have plenty of basic features.
There's a 5.5-inch LCD screen that displays pertinent metrics, like time, RPM, distance, pulse, speed, calories, heart rate, and resistance level, among other things. Heads up: It's not backlit, so it's difficult to see in low light.
There are 13 preset workouts and 16 levels of resistance that you can toggle through via the quick keys on the console, but only one user profile. That means you can't save your individual workout history or progress if you're sharing the machine with others.
There's a grip heart rate monitor, but you can also connect a chest strap via Bluetooth for a more accurate reading.
As for convenience, the Schwinn 130 has the basics, but none of the extras. There's a water bottle holder and a media shelf for your tablet, but no sound system or fan.
Comparison to Similar Products
If you like the idea of a stationary bike, but are looking for something a little different, here are some other options that we have tested:
YOSUDA Indoor Cycling Bike
YOSUDA Bike
YOSUDA Indoor Cycling Bike
The Yosuda Bike is a budget-friendly Peloton alternative perfect for people in small spaces or who just want a simple machine for cardio workouts. It features a heavy flywheel, a belt drive system, has an iPad mount, and adjustable cage pedals.To be clear, this isn't the best indoor cycling bike out there and there's some concerns about its durability. There are several hundred reviews stating it starts to fall apart after a few months, but people seem to love it for the most part. So buy at your own risk.One great thing about this bike is that you can buy it and then stream Peloton workout classes.
Another sub-$500 option, the YOSUDA Indoor Cycling Bike is best for casual riders. While it's not the sturdiest or most durable bike we've tried, it does the trick if you're just using it to get your cardio workouts in a few days a week. It has a 35-pound flywheel, which is considerably heavier than the Schwinn's, with magnetic resistance and a similar basic console. The weight limit is slightly lower at 275 pounds.
Schwinn IC4
Schwinn IC4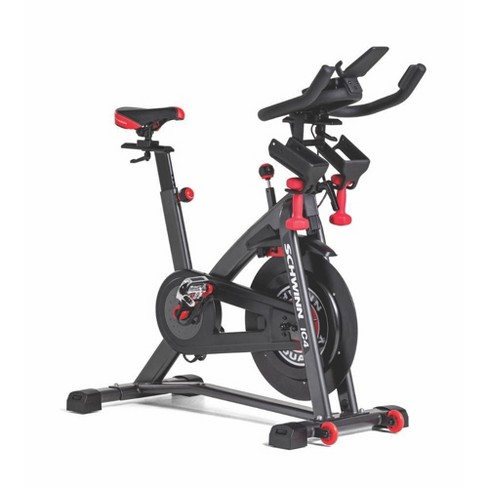 Schwinn IC4
Designed to work with the Peloton® and Zwift® apps, allowing you to stream thousands of classes directly into your home and compete against others in a virtual world that motivates you at every mile. Access the Explore the Worldâ"¢ app and digitally immerse yourself in a world of virtual races, exotic locales, and stunning trails from around the globe. Smooth, magnetic resistance. Full color backlit LCD display. Media rack. Slim, comfortable Bluetooth® LE (BLE) heart rate armband. 3 lb. dumbbells with easy-reach cradles. USB charging station
The Schwinn IC4 is technically a spin bike, but it falls under the upright bike umbrella. It's about double the price of the Schwinn 130, but you'll get a heavier-duty bike with a 40-pound flywheel and some extras. This bike has a basic console, but it offers 100 magnetic resistance levels, dual-sided pedals with toe cages, and a USB charging station. It also comes with a pair of 3-pound dumbbells and an armband heart rate monitor.
NordicTrack S22i Studio Bike
NordicTrack S22i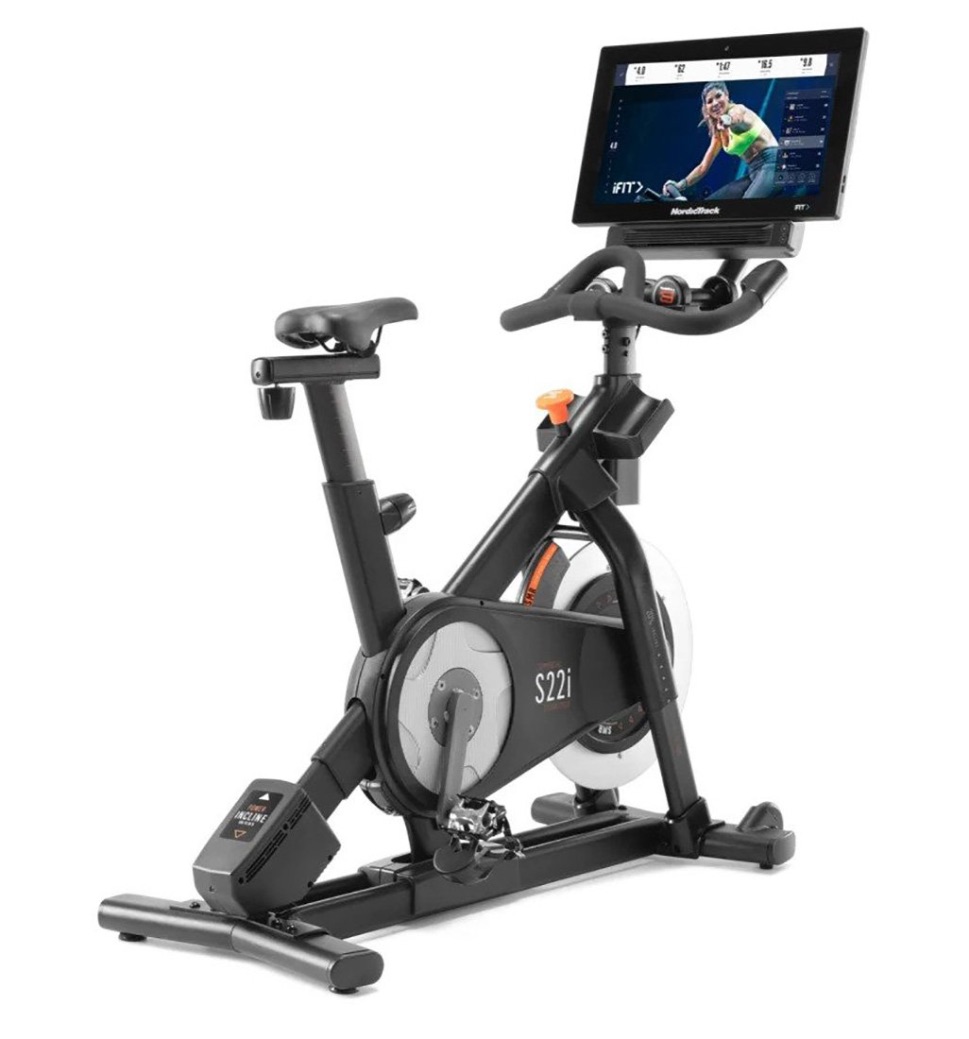 NordicTrack S22i Studio Bike
Join high energy studio classes, mountain bike rides in Moab, or ride a Tour de France stage all from the comfort of your home. Access on-demand classes with the world's best personal trainers for beginners or the hard-core cyclist. Interactive Personal Training comes to life as your personal trainer controls the incline, decline and resistance of your ride, a truly Interactive Experience.
Admittedly, the NordicTrack S22i is on a vastly different level than the Schwinn 130, but if you're looking for a Peloton-esque bike, it's worth considering. It's not cheap—it has a $2,000 price tag—but you'll get an enormous 22-inch screen, 24 digital resistance levels, and incline and decline training. The assembly is more difficult, but once it's all hooked up, you'll be able to access iFIT (with a separate subscription) for a fully immersive workout.
Related: NordicTrack S22i Studio Bike review
Customer Experience
When it comes to Schwinn's customer service, it seems like a mixed bag. Many users are happy with the experience, but others report delays in service and shipping.
According to the brand's website, the return policy seems pretty straight forward. If you're not happy with your purchase, you can return the bike within six weeks of delivery for a full refund (minus shipping and setup fees).
The bike is covered by a decent warranty, too. You'll get 10-year coverage on the frame, 2 years on parts, 1 year on electronics, and 90 days on labor. This is pretty standard in the industry, although the labor coverage is on the shorter side.
Ordering and Assembling the Schwinn 130 Upright Bike
At the time of this review, the Schwinn 130 Upright Bike is in stock on the company's website and typically ships within one week of ordering. You can pay for the bike in full, or opt for the in-house financing, which lets you pay over the course of 18 months without interest. This comes out to just $25 per month. After the 18-month promo period, you'll start accruing interest fees if the bike isn't paid off.
The bike can ship to the contiguous U.S. and there's a $99 shipping fee that applies to all orders. If you don't want to set the bike up yourself, you can opt for in-home assembly when you order, which costs an additional $129 on top of the shipping fee. This includes full assembly of all bike parts, plus removal of boxes and trash when setup is finished. Appointments are scheduled in four-hour blocks and an adult aged 18 or older must be present at the time of assembly.
The bike is also available at Best Buy and on Amazon (although it's currently sold out at the time of publication). If you buy from a third-party retailer, these details will be different.
Either way, if you opt out of in-home assembly, you'll have to set the bike up yourself. Speaking from general experience, bikes with less technology have a much more streamlined setup. However, since we haven't set this bike up ourselves, we can't give you an exact time frame.
Many users report an easy assembly that took less than an hour, though. There are 10 steps and the assembly requires two people.
Final Verdict of Our Schwinn 130 Upright Bike Review
Overall, the Schwinn 130 is a solid bike that will work well for most casual users.
It might not stand up to intense workouts or really high speeds due to the lighter flywheel. If you're an avid rider you might want to invest in a higher-end model.
It has basic technology and shows all the important metrics, but doesn't provide the immersive experience of a smart bike unless you set up a tablet with a third-party app.
The magnetic resistance system ensures a quieter ride, so it's good for those looking for something that won't disturb others in the house.
Full Rating
Schwinn 130 Upright Bike
The Schwinn 130 is a budget-friendly exercise bike model that comes with all the basics. While it may not be not the best choice for dedicated riders, it will work well for anyone looking for an entry-level bike for getting your weekly cardio in.
Product Brand: Schwinn
Product Currency: $
Product Price: 499
Product In-Stock: InStock
Schwinn 130 Upright Bike FAQs
Is the Schwinn 130 a Good Exercise Bike?
The Schwinn 130 is a decent exercise bike at a reasonable price. It's not the best bike out there, but it offers a lot for the under-$500 price tag. If you're looking for a budget-friendly way to get your cardio workouts in, this one is solid enough to get the job done. However, if you want a bike for more serious training or heavy use, you might want to invest a little more in a machine with a heavier flywheel.
What's the Difference between the Schwinn 130 and 170?
The Schwinn 130 and 170 have a similar design with a steel frame, padded handlebars, and magnetic resistance, but the Schwinn 170 Upright Bike is an upgraded version. It has a dual LCD screen, 29 resistance levels (compared to 16) and 29 pre-programmed workouts (the 130 has 13). It also has a fan, a sound system, and USB charging; the 130 doesn't.
Can I Stand Up on the Schwinn 130?
The Schwinn 130 is designed for seated riding. While you can stand and pedal, it's not recommended. If you prefer to stand as you ride, you'll be better off with a spin-style bike like the Schwinn IC4.